Web push notifications
What are Web Push Notifications?
Push notifications are subscriber based messages which can be received on PC, Mac, Android phones and tablets.
PCs and MAC devices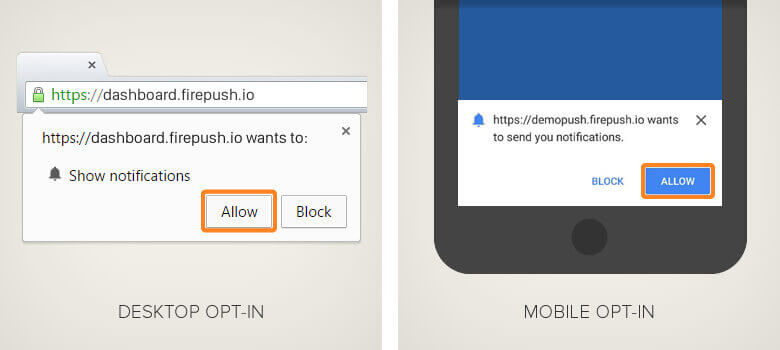 Websites can send push notifications directly to people who've subscribed to receive notifications from their web browsers.
They are sent via web browsers like Google Chrome, Firefox, Opera, Safari which means that your customers will receive them even if they are not on your web site.
They allow you to send messages to your customers directly, wherever they are on the internet.
Who gets my Web Push Notifications?
You can send push notifications to any customers who have subscribed to your notifications.
Anyone who visits your website will be given the option to sign up, and this process is hassle-free.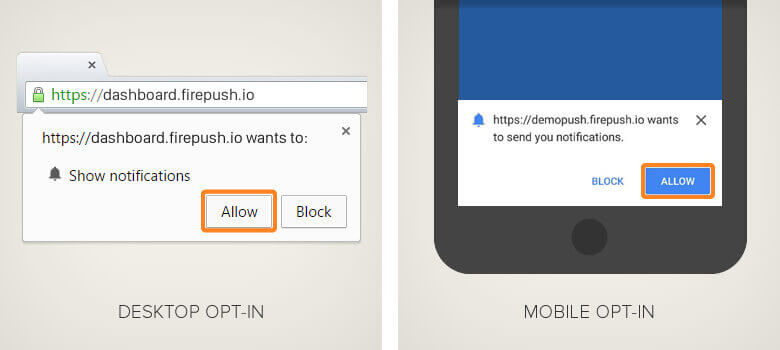 In one click, they're subscribed, without any redirects or extra information needed - that's why sign up is much higher than other tools like email marketing. Then, depending on the type of notifications you choose to send, subscribed customers will get messages in different circumstances.
For example, if you choose abandoned cart notifications, customers who add products to their cart then leave your website will receive a notification.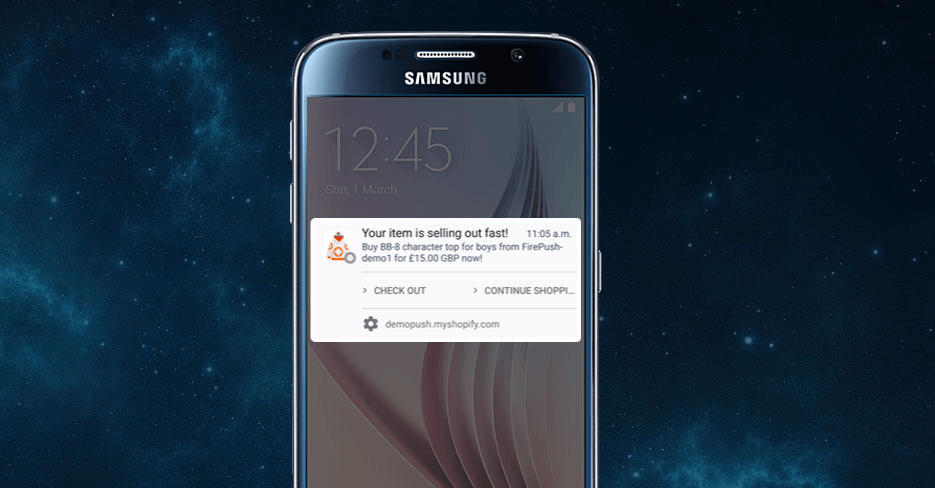 To give you the best marketing edge possible, Firepush will track all of your subscriber's online activity and sends them pushes that matches their behaviour.
How to get more subscribers for Web Push Notifications?
Most of you run Facebook ads which means that your customers opens your store inside Facebook native app. Web Pushes does not work there. Your customers can't subscribe inside Facebook app.
What to do?You have to make sure your ads will be opened in a default users browser.
1. Choose Product Catalogue Sales ads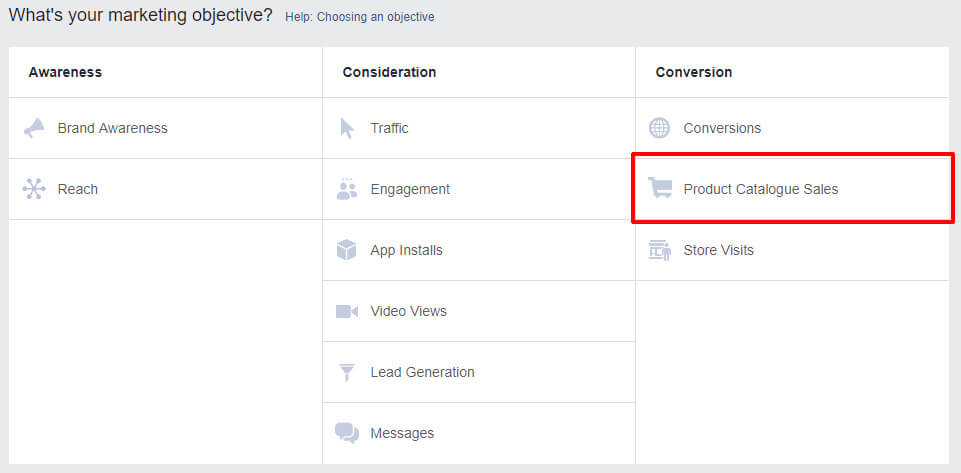 2. Fill in all required information up to section Ad > Links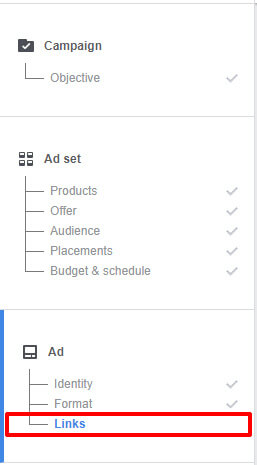 3. Find App link destination dropdown. If you leave it as it is all your ads will be opened inside Facebook native app.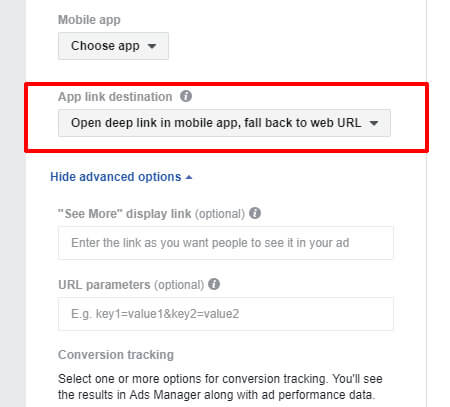 4. Click on App link destination dropdown and choose open deep link in a mobile web browser. Users will be directed to their default web browsers to view a deep link.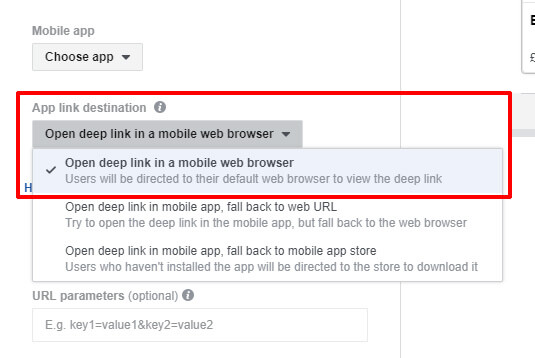 Please note that Web Pushes do work on:
Browsers:
Web pushes do not work on iOS devices such as iPhones and iPads. Apple does not support pushes at the moment. However their should do that in near future.
How could I select the most relevant Web Push Notifications for my store?
We truly believe that you would benefit most from activating all FirePush notifications.
However, our experience from other Shopify stores show that to collect subscribers you should start with the Welcome push with Auto-prompt messages.
Auto-prompt message has by far the best conversion rate for gathering new subscribers, it's about 30% - so it really help drive up those subscriber numbers and get you started.
After you have 100 subscribers you then start using Promo Pushes, which are promotional pushes that you can send to all of your subscribers offering them special deals etc. This is a great way of reaching out to all of your subscribers at once, especially if you have a large subscriber base.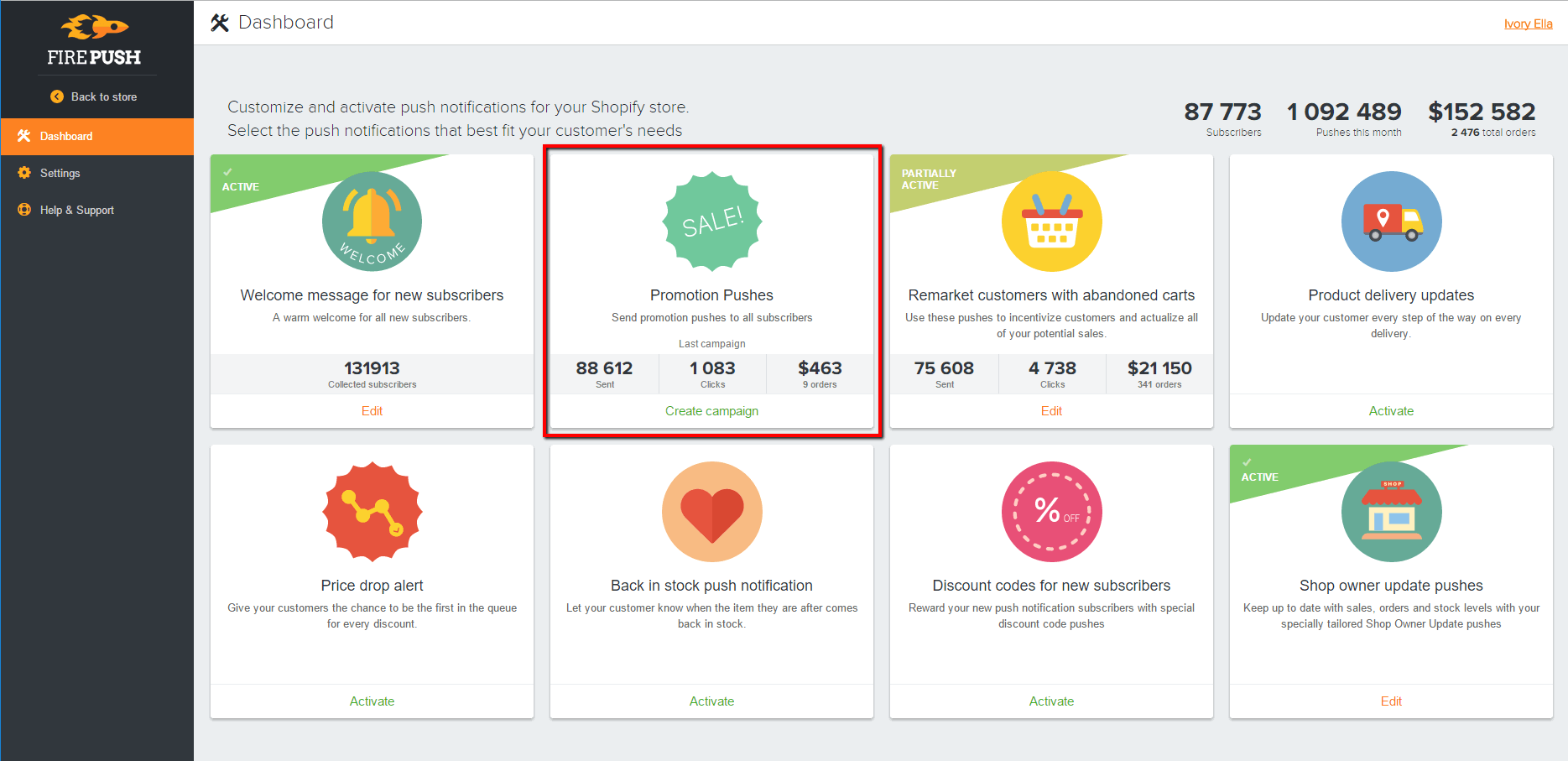 Of course you should also always use Abandoned Cart Pushes.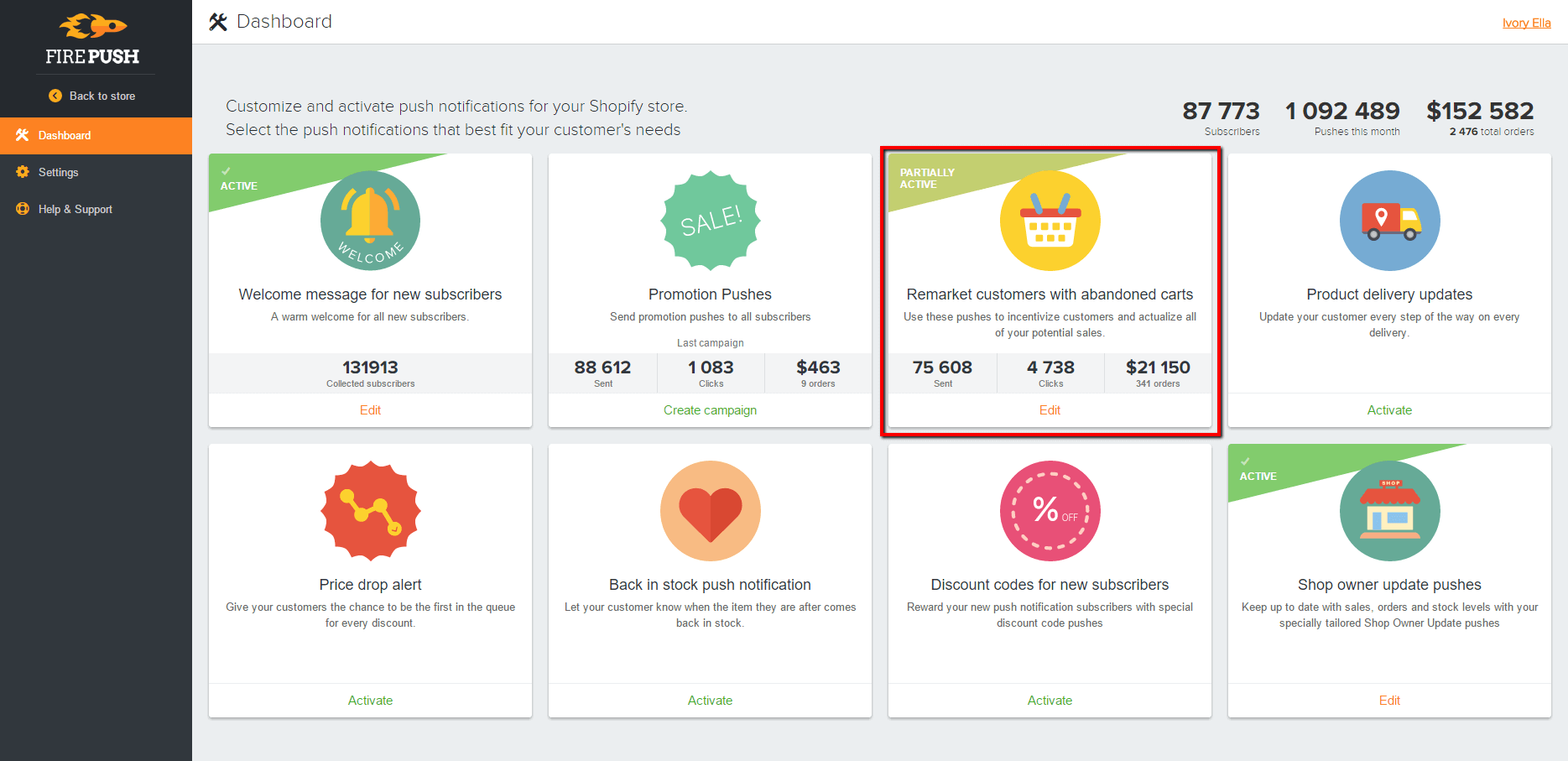 These pushes are sent to customers who have left an abandoned cart in your store as reminders of the great offer they have left at the checkout.
There are three individually timed abandoned cart pushes, which are sent at 20 min., 1 and 24 hours after abandonment and it is recommended that you use all three.
These 3 messages are a great place to start but to really optimise your sales potential, you should use all of the pushes on offer.
Does my subscriber have to subscribe to each Web Push Notification separately?
No, one click will subscribe your customer to all of your pushes.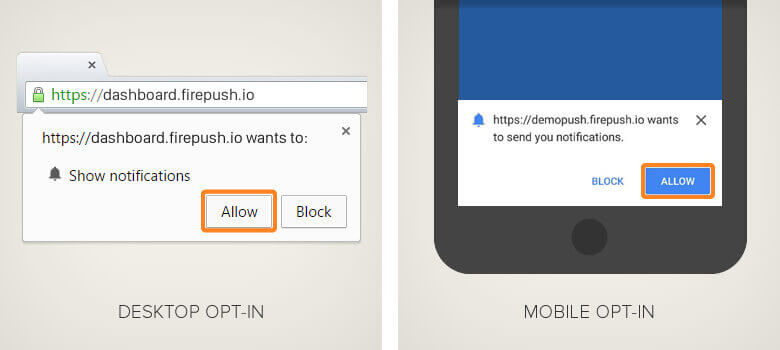 If they find that some of your pushes don't match their needs, they can simply unsubscribe by clicking on the "Settings" icon inside the message and selecting "unsubscribe."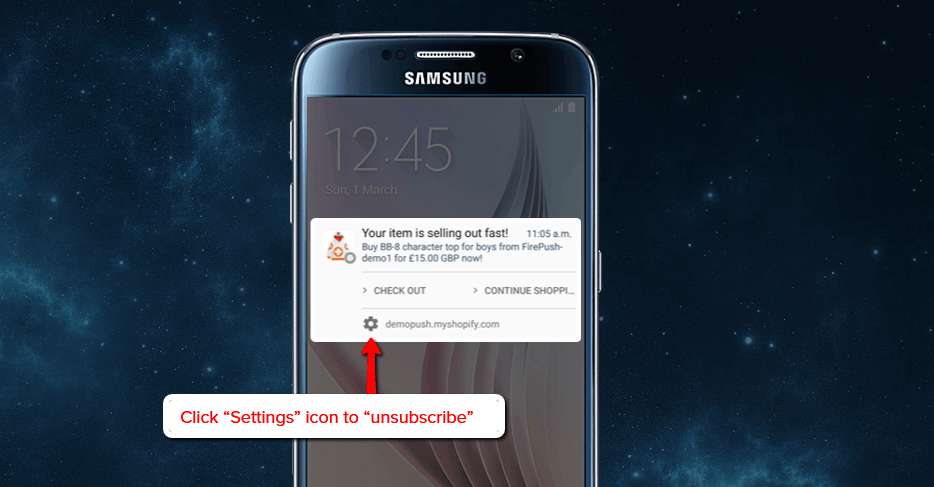 Can I amend the copy of the Web Push Notifications?
All of the FirePush's notifications come with pre-populated copy. You can, however, easily change this copy to make it more it sound more unique to you. What's more, you can select from a number of various push icons or add your own.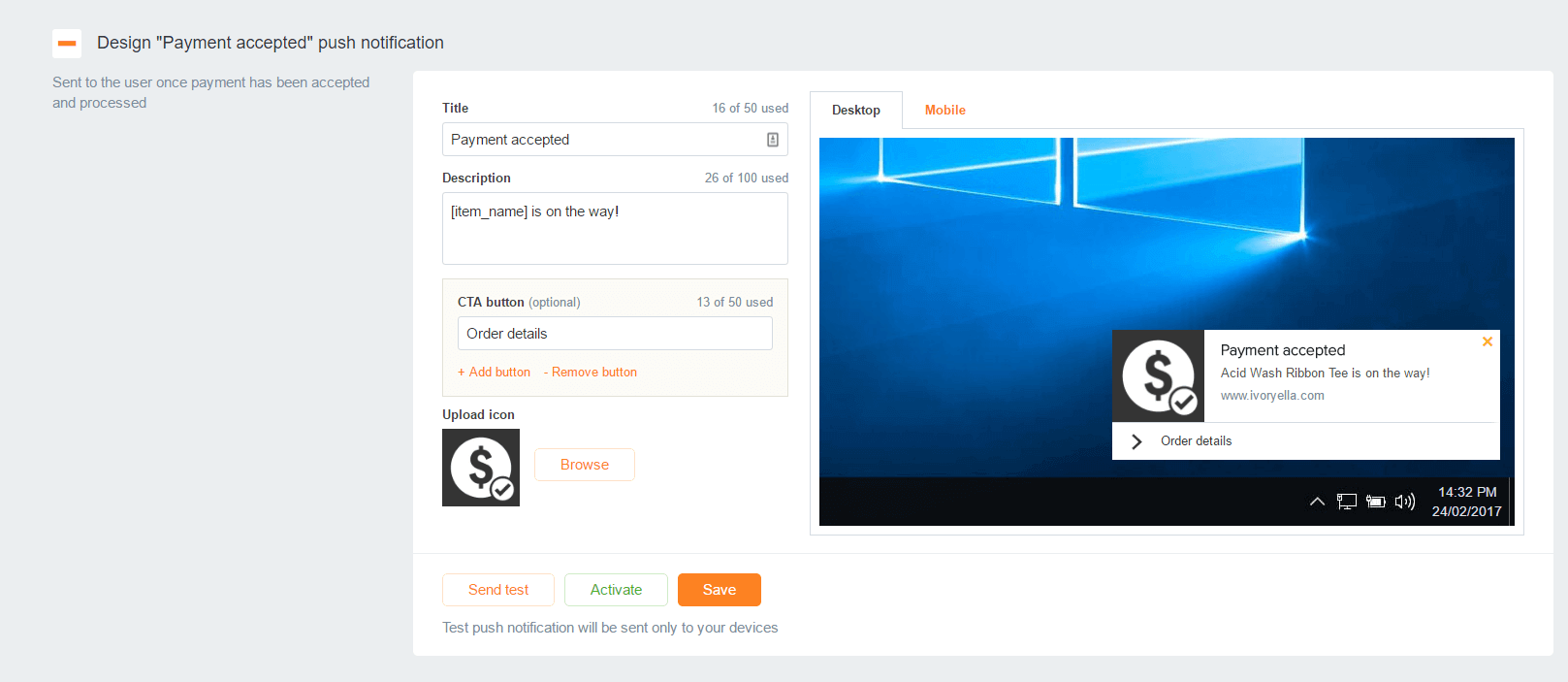 What languages do Firepush support?
At present Firepush supports only English.
You can, however, choose to translate all of your pushes and sign up boxes into the language you require.
There are some popups that can't be translated for the time being.
How can I translate all my Web Push messages?
Simple. Just select the Push and change the copy however you like.
How do I unsubscribe from Web Push Notifications?
Every push has a settings button. You have to click on that settings button and remove the website from the permission page.
Do I require HTTPS to use Firepush?
The short answer is no. We built a system that allows you to use https and http.
For http only shops, we automatically create a sub-domain name for you which looks like this: xxxxx.firepush.com.
The main drawback here is that your user will see only this subdomain name and not your site domain name. This also means that you will not be able to export your subscribers should you choose to leave Firepush.
Without https, you also won't be able to use auto prompt message which collects up to 30% of subscribers.
Alll shopify shops can activate SSL certificate, if you have not done it yet you can check Shopify SSL instructions.
What browsers do Firepush support?
At present Firepush offers near 99% penetration. It supports:
Chrome: 50+
Firefox: 44+
Opera: 37+
Firepush pushes work on all android devices, Macs and PCs. Unfortunately, at present Apple does not support pushes on iPhone's and iPad's. We will install them as soon as this becomes available.
What is a back in stock push notification?
A back in stock push notification automatically alerts potential buyers to let them know when a product they're interested in (that was originally out of stock) is available again in your store. Subscribers are prompted to opt-in to this type of notification directly on the page where they're viewing the product that is out of stock.
What is a welcome push notification?
This type of notification is used to welcome new subscribers when they first opt-in to receive communications from you. You'll simply set up a generic greeting that would be appropriate for all new subscribers, perhaps including a discount or other incentive, which might tempt your new subscriber to make a purchase. Then you can sit back and relax in the knowledge that your welcome greeting will be sent out automatically every time you receive a new sign-up.
What is an abandoned cart push notification?
Whenever a potential buyer abandons their shopping cart, you can send them a friendly message that pops up on their mobile or desktop device automatically, a little later on, to remind them to continue with their purchase. Sometimes, shoppers get distracted halfway through making their purchase, and a reminder can be all that's needed to direct them back to where you want them to be - the checkout! Read more about: retargeting customers through web push notifications.
Marketer's tip: A great strategy for getting started is to only use push notifications at first. They are the most affordable channel, and are usually highly effective - you can always add higher cost channels like SMS once you're up and running. Push notifications have a couple of other big advantages:
More subscribers: Because customers don't need to leave an email address or phone number, getting subscribers is easier and faster.
Triggered sooner: Because subscribers typically sign up when they first land on a site, you can actually track abandoned carts earlier than with phones or email. In the case of SMS and email, customers have to proceed to the checkout page and enter their phone number or email address before an abandoned cart message can be triggered. But with pushes, abandoned cart messages are triggered when a customer adds an item to their cart then leaves the site, even if they don't go to checkout. So pushes can catch a larger number of potential sales.
What is a promotional offer push notification?
A promotional offer can be anything from a discount, incentive, flash sale, special offer, free gift, free shipping, and more. You can send your offer via a push notification where it will appear to your subscriber via their mobile or desktop device when they connect to the internet. An automated promotional offer push notification can help you boost your sales and improve customer retention.
What is a delivery update push notification?
This type of notification helps you to keep your customers informed at every stage of their order. You can use it to let your customers know when you've received their order, when payment has been processed, upon dispatching their order, and perhaps when you've received verification that the order has been successfully delivered. This automatic notification helps you build trust with your customers and can help to avoid refunds caused by them changing their minds after purchase.
What is a price drop push notification?
Similarly to the back in stock notification, the price drop push message alerts interested prospects when a product they like the look of drops in price. These prospects are already "hot leads" - they want the particular product, but they're waiting before they buy in the hope the price might reduce. By encouraging subscribers to opt-in to price drop notifications, you can reach these hot leads automatically, whenever you run a price drop promotion.
What is a new product push notification?
If you're launching a new product (or product range) into your store, the new product push notification helps you to automatically spread the word about it to your subscribers. This type of message can help you achieve early sales for your new products, which in turn, can speed up the process of getting reviews, to help reassure future buyers.
What is a seasonal update push notification?
This notification type is useful when you want to push seasonal stock, in time for major holidays like Easter, 4th July, back-to-school, Black Friday and Cyber Monday, Halloween or Christmas. By planning your seasonal marketing campaigns well in advance, you can boost your sales significantly at certain times of the year. Check out our 4th July and back-to-school marketing templates for ideas.
What is a countdown push notification?
A countdown push notification helps create a sense of urgency and scarcity around your chosen products. For example, you can use this to offer a heavy discount on a product for a limited amount of time. When subscribers see the countdown bar in the notification they receive, they may decide to buy that discounted product on impulse, before the countdown ends, so as not to miss out.
What is a cross-sell push notification?
You'd use this type of push notification when you want to upsell/cross-sell a second (or third) product to a customer that would complement the original purchase they made. For example, if a customer buys a set of watercolor paints, common sense would deduce that this person might need a set of artist paintbrushes or an easel. You could employ this notification to automatically promote other products that would add value to the customer, bearing in mind their previous purchase. Cross-selling and upselling enables you to extract more value from your existing customers.
What is a win-back customer push notification?
It's much easier to try to extract sales from existing customers than it is to attract new customers. The reason for this is that existing customers already know you/your business, having bought from you before, and they hopefully like and trust you/your products. The win-back customer push notification helps you reach old customers who haven't made a purchase from your store in a long time. You can send a friendly message reminding them that they are a valued customer and include a special offer to tempt them to visit your store again.
What is a push notification character limit?
A push notification character limit is the amount of characters you can have within your push notification message. This isn't the same as a word limit. Characters are the letters, numbers, symbols, and spaces within your message. Firepush push notifications have a limit of 50 characters for the title section and 100 characters for the description section. Note, however, that some browsers may not display the full content of your message even if you stay within our character limit. For best results, remember that the shorter your notification is, the better.
Why do my test push notifications show a different domain?
If your test notifications are showing a different domain instead of your store domain, don't be concerned. The reason this is happening is that when you signed up to your store's push notifications, you did so from a domain that wasn't your store.
Here are a couple of examples as to when this might happen. When you create a Firepush account, we ask you to subscribe to notifications from your store. But as you're in the Firepush dashboard at that time, your test notifications will use the 'dashboard.firepush.com' domain.
Similarly, if you sign up to notifications via your store preview while in the Shopify dashboard, you may see 'shopifypreview.com' as the sending domain on your test notifications.
However, please be reassured that when you send out push notifications to your customers for real, these will show your store domain.
Reasons why you won't achieve a delivery rate of 100% on push notifications
You might notice that whenever you send out a push notification campaign with Firepush, you're not getting a 100% delivery rate - that is, the same number of impressions that is equal to the number of subscribers you have. This isn't a technical problem, it's a normal occurrence, and one that is related to reasons or issues at the subscriber end. Below, you'll find a list of why this happens:
1. The subscriber clears their browser history and cookies
From time to time, a subscriber will delete their browser history and clear cached files, cookies and other site data. When this happens, the browser 'forgets' that the subscriber has given permission to receive your push notifications and therefore won't deliver them. The subscriber will become an active subscriber again once they visit your store as Firepush will identify them as a previous subscriber who hasn't opted out before.
2. The subscriber doesn't have their browser open
In many cases, push notifications are sent to the subscriber's screen, even when their browser is closed. This is made possible because those browsers run in the background. On some devices though, this doesn't happen. In this case, your subscriber will receive your notification as soon as they open up their browser again.
3. The subscriber uninstalls their browser
Push notifications are controlled and delivered through a browser. Sometimes, subscribers decide to use another browser for their internet activities and uninstall the one they were using when they signed up to receive your notifications. When this happens, the original browser can no longer deliver push notifications to the subscriber.
4. The subscriber disables background app activity
One way to save battery life on mobile phones is to disable apps running in the background. If a subscriber does this, or if they turn on 'battery saver mode', they will be unable to receive push notifications until normal operating power is resumed.
5. Your push notifications have expired
Typically, push notifications expire automatically after 28 days. However, sometimes you may need to set an earlier expiry date for your push notifications, for example, when you run a 24-hour flash sale.
Setting an expiry date in this situation makes sense, because you wouldn't want to carry on promoting your flash sale to subscribers after it has ended. But if your subscribers don't happen to use their device online until after the expiry time, they won't receive your push notification. This may also happen if browser apps aren't able to run in the background of a subscriber's device.