Top rated Shopify Apps to boost your Black Friday sales.
Increase your sales this Black Friday with these exclusive deals on top-rated Shopify Apps. Find the best Black Friday apps for improving your marketing, design, SEO and more.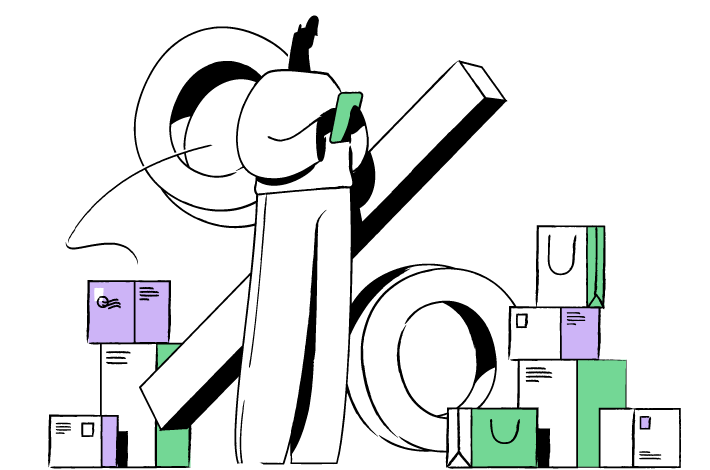 Get 20% off on all plans
Flits: Customer Account Page
Summarize all shopper data like profile, order history, recently viewed products and delivery addresses in one place. Make shopping easy!

Get 20% OFF for BASIC & PRO plans
SMS, Email & Web Push notifications
Get your Shopify store Black Friday prepped by automating your marketing.
Set up SMS, Emails & Web push promotional campaigns, & abandoned cart automation using just ONE app.

Your first month free on Loox!
Loox Reviews
Loox is the #1 most installed reviews & referrals app on the market. Build social proof that matters with photo and video reviews, boost conversions, create customer referrals in under a minute and integrate with your favorite apps!

20% OFF on all paid plans
UpPromote: Affiliate Marketing
UpPromote: Affiliate Marketing is rated as the no #1 affiliate marketing app on Shopify App Store which helps you build, manage and succeed with your affiliate marketing campaign.

Pick an offer
Ali Reviews
Empower E-commerce businesses to enhance reviews presence on all pages, more review collecting with email, SMS, and discount. Build trust and scale your business to new heights.
Special offer:
When install Ali Reviews, new users will get 1 of these 3 offers based on their business size:
- The Giant deal: Up to 40% OFF all plans for first 2 months
- The Fighter deal: Full access to 2 premium apps, Ali Hunter & Swift
- The Guardian deal: 30 days money-back guarantee

20% OFF on all plans
Koala Inspector
Reveal all the secrets behind every Shopify shop with one click — Shopify apps, themes, products, and much more!
To redeem:
use code BFCM20%

14 days free trial on all paid plans
DSers - AliExpress Official Dropshipping Partner
AliExpress official dropshipping partner to source products, find better suppliers and place orders faster for free

Get 20% off for any selected plan
Intelligent Image and SEO Optimization App
TinyIMG helps compress your images by up to 70% (with no loss of quality) and improve your store's loading speed, increase organic traffic to your online store by improving your site's SEO structure, solve the most common SEO issues, get your broken link reports

20% Off
Profit Calc & Reports
BeProfit provides an intuitive dashboard to track and analyze business profits and expenses in one place. Discover your TRUE bottom line, create custom reports, analyze LTV, get marketing performance insights, and much more.

20% OFF on all plans
Growave: Reviews, Loyalty & Rewards, Wishlist, UGC
All-in-one marketing platform with powerful tools for photo reviews, wishlists, loyalty programs, referrals, gift cards, and UGC. Collect reviews on autopilot, increase lifetime value and customer engagement, give your best customers the VIP treatments, boost brand loyalty.

20% OFF on All Plans
EPROLO - Dropshipping & Branding
Best dropshipping supplier for free product sourcing, print on demand, auto-order fulfillment, 1 to 1 support agent. Offer branding service to help store owners build brands. Custom products, labels, and packages are available.
To redeem:
Use code: BFCM20%

30 days free of Rewind Backups
Rewind Backups
Rewind Backups allows businesses to back up, copy, and restore your SaaS and cloud data quickly. With the ability to quickly undo mistakes, businesses are protected against the chaos caused by lost data.
How to claim the offer:
Please sign up at the link above, once you have activated your account please contact [email protected], referencing 'firepush partnership program' to redeem your 30 days free

Extra 30 Days of Free Trial on All Plans
Shopney - Mobile app builder
Shopney helps you launch a world-class native mobile app for your store in no time! Make buying easy for your customers with faster mobile checkout and increase conversion rates on mobile up to 70%!
Promote your products with free & unlimited push notifications. So you don't have to pay for social ads anymore!
Tor redeem:
Share the FIREPUSH-EXTRA code with support team via live-chat

20% OFF on all plans
Syncee - Global Dropshipping
Syncee is a global B2B dropshipping and wholesale platform designed to help retailers and suppliers connect. On Syncee Marketplace retailers can find 4 MILLION+ high-profit products from suppliers from US/CA/EU/UK/AU + more. Automated product uploads, updates, and order synchronization available.
Offer applies to new users only.
To redeem:
Use code FIREPUSH-BFCM21 after choosing a plan

Extended 30-Day Free Trial
ModeMagic - A No-Code Store-Automation Toolkit
Powered by automation, ModeMagic is a no-code store-automation toolkit that helps you run a successful online store on autopilot.
To redeem:
use code FIREPUSH20

20% OFF on ALL plans
sixads - Ad Automation App
Boost your store's traffic and increase sales with sixads, a Shopify ad automation app that helps entrepreneurs with little or no advertising experience run ads on Facebook, Google, and Instagram.
To redeem:
Install sixads app and use promo code PantsOnFireBFCM2021 at the checkout.

45-day free trial of Judge.me Awesome plan ($15/month)
Judge.me Product Reviews
Judge.me helps you collect product and site reviews via automatic request emails and display your reviews on user-friendly, customizable widgets on your storefront.
Offer expires
12 15 2021

20% OFF on all plans
Kiwi Sizing - Customizable Sizing Chart
Kiwi Sizing improves your customers' shopping experience with customizable sizing chart, fit recommender, and more. Support all eCommerce platforms!
To redeem:
use code KIWIBFCM
Offer valid:
NOV 26 - 29 2021 for new sign-ups

20% OFF on all plans
Candy Rack — One Click Upsell
Boost your sales with the best upsell app on Shopify. Trusted by 4000+ merchants. The app allows users to easily create upsell & cross-sells offers and display them on product pages when a customer clicks on the "Add to Cart" button. Free 14-day trial