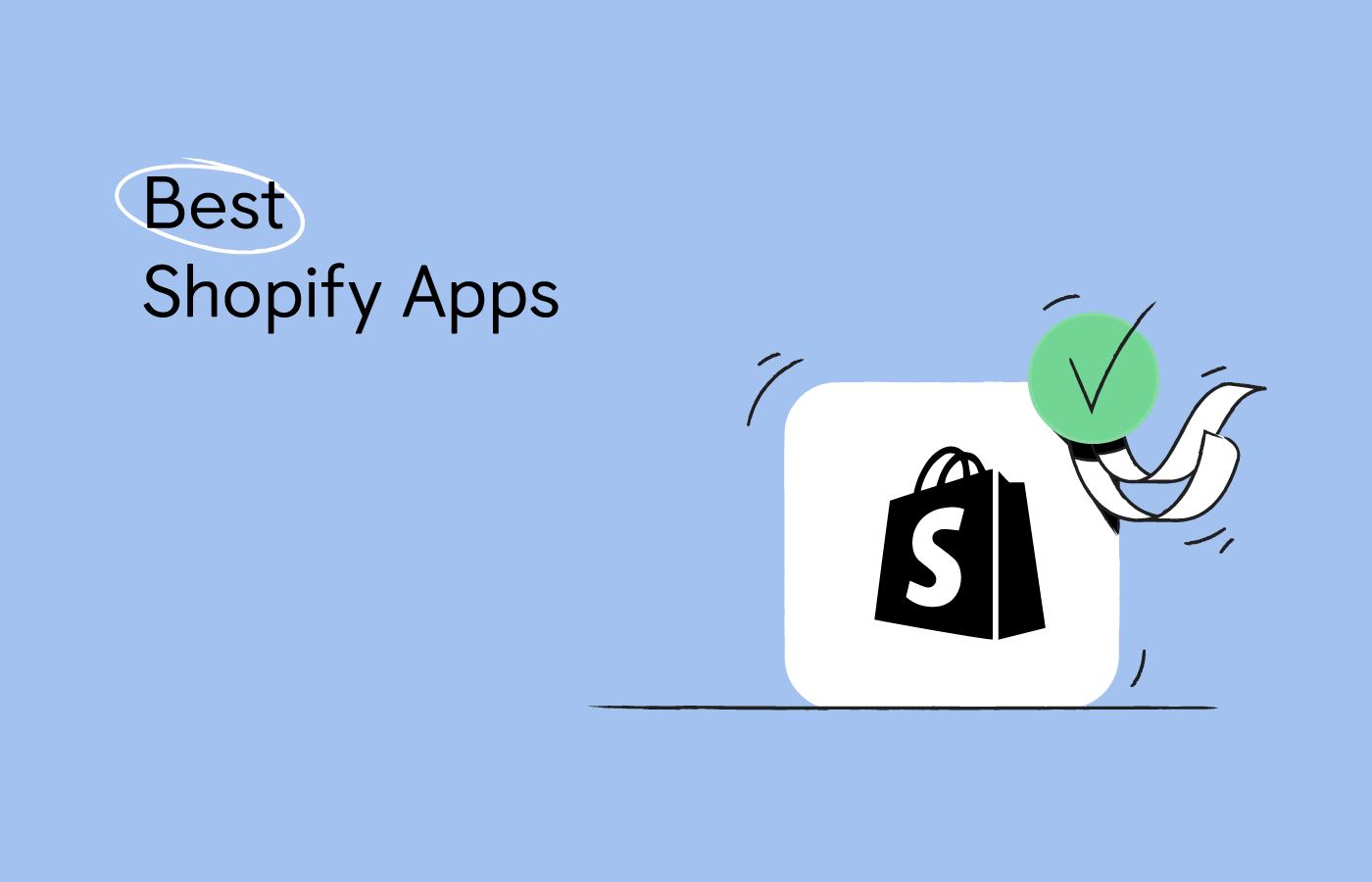 Whether you're a large Shopify business owner or just started, you must know that you need Shopify apps to help you grow the revenue. They automate tasks, help your store get noticed, and may increase an overall customer experience.
Shopify app store offers thousands of apps, so choosing the best ones is overwhelming. But we decided to make it easier by listing 20 Best Shopify Apps that will help you increase your Shopify store sales. We reviewed apps for different purposes and included free, paid, and freemium options so that everyone could find something for themselves.
Let's dive in!
Best Shopify Apps – our shortlist:
We researched many Shopify apps, and to pick the best ones, we checked their app score, user reviews, features, and overall user experience. Here's our shortlist of the must-have Shopify apps:
We'll review each of these apps in more detail and introduce you to their features and pricing. You will also find alternatives so you can choose the best Shopify app for your use case and your store.
How to choose the best Shopify App
It's easy to get lost between thousands of Shopify apps. Here are a few tips of how to pick the best app for your store:
Know what problem you want to solve. Unfortunately, you won't get one app that solves all the problems, so it's important to know what exactly you want to get from the app. For example, if you're looking to increase a page loading time, then you need an app that resizes your images. But if you're looking to boost an overall shopping experience, you will barely find one app to help you.
Research. The good news is that you're in the right place. We have done a lot of research to put up a list of the best Shopify Apps. Additional steps that you can take are reading reviews of the apps that you like the most. Try to find out if they were able to solve the problems that you're facing.
Try out different apps. Most Shopify apps offer free trials, which means that you can try out the apps before committing to buy them. Take advantage of this opportunity, and try out different apps so you can compare them and find out which one is the best for your store.
Best Shopify Apps – our detailed list
Ecommerce business owners need top apps for Shopify to win leads and customers, increase customer satisfaction, and create a steady income flow. We have a collection of the best Shopify apps to run a store and increase sales.
These apps have the highest ratings in their categories (also, many are free or have free plans).
Let's dive into the best Shopify apps!
Email Marketing Apps for Shopify
Email is in the top three most effective marketing channels for 94% of businesses. Here are the best Shopify email marketing apps to collect subscribers and send campaigns.
1. Firepush Email Marketing

Firepush is easy to set up and create email campaigns. No designer skills are needed thanks to a simple email design tool. Also, there's a collection of email templates to share coupons, sales, product news, and recover abandoned carts.
We built Firepush for Shopify store owners who need a simple email app. We'd rather not over-promote it—just know that Firepush has a 4.8 rating from 780+ Shopify store owners and you can try it for free.
Best features:
One-click customer segmentation for more personalized campaigns
Email templates for different marketing goals (promotions, welcome emails, etc.)
Includes SMS marketing and web push notifications
Pricing:
Free to try for 14 days and 300 emails. Premium plans cost $15/mo (6,000 emails) and $29/mo (15,000 emails).
Why use Firepush?
Connects to a Shopify store in seconds
Provides valuable analytics to track the performance of email campaigns
Contains both promotional and transactional email templates to promote your store and improve customer experience
Has one of the most affordable premium plans among Shopify emails apps
This app is also great for dealing with abandoned carts because it combines three recovery methods: email, SMS, and push notifications
2. Automizely Emails & Pop Up

Automizely is an all-in-one marketing app that has special features for email campaigns. The app helps set up newsletters, welcome messages, cart recovery pop-ups, and other notifications that can boost your sales.
For email address collection, Automizely offers various pop-ups. Their email capture pop-up has customizable templates, so you can easily build your personalized campaigns and synchronize the app with your CRM.
This email and pop-up app has loads of users and an impressive rating of 4.9.
Best features:
Customizable email capture pop-up
Inventory countdown to boost the sales
Real-time dashboard for performance tracking
Pricing:
The free version offers most of the features for up to 300 contacts. The Basic plan costs $11 a month for up to 600 contacts, the Essentials plan is $25 for 3,000, and the Pro subscription is $95 for up to 10,000 contacts.
Why use Automizely?
Automizely has loads of useful features for all-around email marketing. The app covers every step of email campaigns - from email address collection to sending newsletters. The free plan should be enough for a small business to test out the app, so you can see the benefits for yourself.
More email marketing guides for Shopify:
Best Shopify Apps for Conversions
You need the best Shopify apps to increase sales. In this section, find top Shopify apps that help with recommendations, lead generation, customer reviews, and social proof.
3. Wiser Personalized Recommendations

Wiser by Expert Village Media Technologies is all about personalization. This app helps boost sales up to 30% by showing your visitors content that is relevant to them. Wiser creates unique product recommendations with the help of Artificial Intelligence. All the recommendation sections can be customized to match different store designs.
Recommending relevant products can highly increase order value and sales, which makes Wiser one of the best apps for conversions.
Best features:
AI-based personalized recommendations to your visitors
Smart upsell pop-ups show up whenever you set them to
In-depth analytics for tracking sales
Pricing:
The free plan covers widget customization, basic analytics, featured products, and a couple more features. The Early Startup plan bills $49 a month, while the Power plan costs $99 every month. The Premium subscription is $299 monthly, and it's the only plan that includes AI recommendations and smart upsell pop-ups.
Why use Wiser?
Recommendations are one of the most powerful tools when it comes to conversions. Clients love personalized recommendations and are more likely to spend more money in your store if you customize your suggestions. Wiser focuses on creating the most accurate recommendations, so if that's what you're looking for, Wiser is the best app for you.
4. Loox - Photo Reviews

Loox is one of the best review apps for Shopify with 6,100+ 5-star testimonials. With Loox, you can get visual customer reviews—a powerful Shopify marketing strategy.
Getting reviews with Loox is pretty easy. First, you add your data and send out automatic review emails to collect reviews in one place. Then, you choose how to display them on your Shopify store: pop-ups, carousels, sidebars, etc.
Best features:
Customer review collection on autopilot thanks to automatic emails
Add a discount code and other incentives for reviews
Multiple ways to showcase photo reviews in different places on Shopify stores
Pricing:
Loox has a 14-day free trial but no free plan. If you'd like a try, consider the cheapest paid plan for $9.99/mo with 100 monthly review request emails. This way, you can check if Loox generates reviews for your Shopify store.
Why use Loox?
Loox is one of the best Shopify apps for conversion optimization because of three things. One, the app does most of the work automatically, so you save time. Two, Loox effectively takes care of the essential trust signal: customer reviews. Three, the app does photo reviews, which are more credible than traditional ones.
5. Instafeed - Instagram Feed

Did you know that 4 in 10 online shoppers begin product searches on Instagram and Facebook? They often check out inspiration-packed Instagram feeds and end up buying products they love. If you'd like to generate more sales from social media, too, consider Instafeed.
Instafeed places an Instagram feed with photos of customers enjoying your products on your Shopify store. You can turn your business's Instagram account into a sales-generating machine by tagging products and driving people to your online store.
Best features:
Good-looking, elegant Instagram feed for Shopify stores
Shoppable Instagram features to generate sales from people visiting your Instagram profile
No coding skills are needed to add the feed, customize it, or integrate with mobile store versions
Pricing:
A free plan has a simple feed with pictures and usernames. You can either try the free version or go for a cheap Pro version ($3.99 per month) because it adds likes and allows product tagging.
Why use Instafeed?
If Instagram is a part of your Shopify marketing strategy, Instafeed can be a tool to drive potential customers to your online store. Instafeed is one of the best Shopify apps for this purpose because it's lightweight, elegant, and fully compatible with Instagram.
6. ReConvert Upsell & Cross Sell

Even if you don't have any technical knowledge, you'll quickly find your way around ReConvert. This app automates upselling and cross-selling processes, so you can sit back and watch your conversions grow.
As the name suggests, ReConvert focuses on re-converting, or re-engaging your clients by optimizing your store's Thank You page.
Best features:
Simple Thank You page customization with drag and drop interface
Helps collect important client information such as birthdays for upsells
Advanced analytics to track page performance, including visits, best upsells, etc
Pricing:
ReConvert offers one free and three paid monthly plans. The free subscription covers up to 50 store orders and includes all the main features. Other plans cost from $7.99 to $29.99.
Why choose ReConvert?
This app offers a less common approach to upselling. Most stores try to upsell with emails, social media posts, and text messages. ReCovert suggests re-engaging the client at the Thank You page. The app offers loads of great widgets to help convert the buyer into a returning customer.
More tips to increase Shopify conversions:
Best Shopify SEO Apps
Here, find the best Shopify SEO apps for your ecommerce store. SEO Booster is an all-in-one option to manage every SEO need and TinyIMG is a dedicated app for image optimization.
7. SEO Booster ‑ SEO Marketing

SEO Booster promises to prepare Shopify stores for the busiest sales seasons by making them easier to discover on search engines. One of the best features of SEO Booster is that it doesn't require the users to have any technical SEO knowledge. The app takes care of all the optimization while also providing 24/7 client support.
Best features:
The full site scan identifies SEO issues and provides guidelines to fixing them
Website Diagnosis provides your site's and competitor's SEO status
Extensive SEO reports with SEO health score and other relevant information
Pricing:
SEO Booster offers a free plan that does not have an expiration date. The plan includes bulk meta tag optimization, alt texts for up to 50 products, broken link identification, and a sitemap. The Pro plan costs $39.99 and includes more features for search engine optimization. The Unlimited plan is $79.99 and contains advanced SEO features.
Why use the SEO Booster?
SEO Booster covers all the main steps needed to get your store optimized for search engines. The app also identifies the site's SEO issues and helps solve them. This is a great option for everyone, who doesn't have technical SEO knowledge and wants their shop to rank higher on search engine result pages.
8. TinyIMG SEO & Image Optimizer

Unoptimized images are the top reason for slow-loading websites. Since site speed is a ranking factor, getting those product images optimized is important. And you can still make them look stunning enough to attract clicks and sales.
TinyIMG is the app you want for that. It's one of the best apps for Shopify when it comes to optimizing images and improving SEO performance. You can reduce image sizes by up to 70% without sacrificing the quality.
Best features:
Image reduction technology that reduces image sizes by three quarters and preserves the quality
Automatic addition of ALT tags and titles to make images more SEO-friendly
Deep check of Shopify store for image optimization opportunities
Pricing:
If you're running a small Shopify store, consider a one-month subscription for $4.99/mo for 300 optimized images. There's also an annual subscription with $0.99/mo and 1,000 image optimizations.
Why use TinyIMG?
TinyIMG is the best Shopify SEO app for image optimization because of several reasons. First, it's simple to set up and use for beginners. Also, there's no need for technical SEO expertise to optimize images—the app does that for you. Plus, Shopify store owners love it: TinyIMG has a 4.9 rating and lots of positive reviews mentioning superb customer support.
Best Shopify Review Apps
About 87% of customers read reviews for online businesses. To get a good chance to get sales and grow your business, you need the best review apps for Shopify.
9. Judge.me

The folks at Judge.me know what they're doing. Their product is the best review app for Shopify with the highest rating. Judge.me has 5 stars on the Shopify App Store from 4,200+ users, which is amazing.
Photo and video reviews, email requests, reminders, on-site widgets and badges—Judge.me has an impressive range of features. This must-have Shopify app also adds review stars in Google search results like in this image below.

Also, you can use many features of this essential Shopify app for free. This makes Judge.me an excellent option for new eCommerce platforms.
Best features:
Review widgets and emails in 34 languages
Fast and easy collection of reviews with automatic email requests
Lots of opportunities to display reviews: on-site widgets, photos, videos, and even in Google search results
Pricing:
A new Shopify business can choose the free version (unlimited review requests + site and Google snippet reviews). The only premium plan costs $15 per month.
Why use Judge.me?
Judge.me is one of the top Shopify apps for many reasons. You can set it up in two minutes, import existing reviews, collect new reviews automatically, and showcase them both on your website and search engine results.
10. Stamped.io

Stamped.io is a highly-rated Shopify review app used to improve reputation and build trust with customers. Besides traditional and photo reviews, you can collect video reviews, Q&A-style reviews, and more.
What also makes Stamped.io a useful Shopify app is analytics. You can see products that received the best reviews, customers who wrote the most reviews, and other helpful stats for marketing.
Best features:
Automatic email product review requests
Photo reviews that can be made into shoppable Instagram posts
Analytics and reports on reviews and reviewed products
Reward system for reviews to encourage more purchases
Pricing:
There's a free version that lets you collect reviews for 50 orders per month. More review requests and features like photo and checkout reviews are available in paid plans that start at $23/mo.
Why use Stamped.io?
Stamped.io is one of the best Shopify apps because it automates review management. You can collect reviews automatically and reward customers for writing them.
Another cool thing is the feature that turns a photo review into a shoppable Instagram post. This means you can showcase your products being used, which is great to earn customer trust.
Best Shopify Referral Apps
Want to try referral marketing? That's a good idea—referral leads convert 30% better than leads obtained from other marketing strategies. Here are the two best Shopify referral apps—ReferralCandy (paid) and Smile (free).
11. UpPromote

Affiliate marketing uses the affiliate's voice such as their social channels, networks, websites, etc. to advertise your products and increase sales without any upfront cost. This marketing campaign is an ideal option for all all-size businesses. If you'd like to generate more revenue from affiliate marketing, you can consider UpPromote.
UpPromote: Affiliate marketing will help you build, manage and succeed with Affiliate marketing. With UpPromote, you can automatically track all referral orders and the affiliate's performance via the accurate and real-time tracking systems. It's easy to use, especially for non-tech people.
Best features:
Quickstart guideline, and "Check your setup" feature helps you easily start to build your affiliate team

Motivate affiliates by generating m

ultiple commission programs, auto-tier commission, or a lifetime commission

Auto-generate referral affiliate links and coupons to save time

Growing affiliate team by

free listing on

UpPromote Marketplace

Automatic payout via popular payment methods including PayPal
Pricing:
UpPromote has a free plan and different pricing options to choose from: $19.99/ month with Growth plan; $59.99/ month with Professional plan; and $119.99/ month with Enterprise plan. With all pricing plans, you will get a 14 day free-trial.
Why use UpPromote?
What differs between UpPromote and others is that you can list your offer on UpPromote MarketPlace to approach more ambassadors. The app also offers a free plan. This is a suitable option if you are just starting your business and are looking for the right marketing solution.
12. ReferralCandy

ReferralCandy is a good Shopify referral app for growing businesses. It's an all-in-one platform for referral marketing where you control everything and get analytics in one dashboard. No worries if you're a beginner in referral marketing. The reviews from store owners on Shopify App Store mention superb customer support, so you should be in good hands.
Best features:
Easy-to-use dashboard to track referral campaign performance and sales
Helpful referral campaign analytics (top referrers, most popular products, etc.)
Branded landing pages and emails for campaigns
Pricing:
No free plan. Growing Shopify businesses can choose a Premium plan for $49 per month, which includes most features.
Why use ReferralCandy?
ReferralCandy is a Shopify referral app you can use to manage your campaigns from one place. You can launch any kind of campaign and give many different rewards for those taking part in the referral program. Helpful reports will give all the data you need to control spending.
13. Smile: Rewards & Loyalty

Smile.io can be a useful Shopify app for new and small stores. It comes with a free plan and has everything to help generate referral sales. You can create a loyalty program and encourage orders with bonuses, discounts, and exclusive perks.
Another reason why Smile is among the best free Shopify apps is analytics. You get a simple dashboard to see how your campaigns perform and make timely decisions.
Best features:
Custom referral programs with personalized emails and pop-ups
Custom loyalty programs with rewards for specific customer actions (leaving a review, placing an order, etc.)
In-app analytics to monitor the performance of your campaigns (referral traffic, sales, referrers, etc.)
Pricing:
Free plan with 10+ ways to reward customers (should be enough for small stores). A disadvantage of the free version is the lack of integrations with other apps. Integrations and advanced features are available in premium plans starting at $49/mo.
Why use Smile?
Smile is a popular Shopify app for referral marketing you can use even for free. With a few clicks, you can build referral campaigns and drive sales with discounts, coupons, and other perks to reward your loyal customers. This may even reduce your customer retention rate.
Best Shopify Apps for Dropshipping
Starting a dropshipping store? Or need an app to manage inventory and shipment? These best Shopify dropshipping apps are helping thousands of entrepreneurs with those tasks.
14. DSers‑AliExpress Dropshipping

DSers is an AliExpress dropshipping solution. The app helps find new suppliers and products at a better rate. You can also place multiple orders at once, which saves loads of time, and helps grow your store quicker.
With DSers, you can even manage multiple Shopify stores with one account, which means more sales and more profit.
Best features:
Shipping and tracking information is automatically synced to your Shopify account
Receive price and stock changes notifications, so you can always be up to date
You can set country-specific suppliers to ensure that your goods are delivered quickly
Pricing:
The free plan allows managing up to three stores and 3,000 products, so it's a good option for beginners. The advanced plan costs $19.90 and works on 10 stores. The Pro option bills $49.90 monthly and covers 25 stores and 75,000 products.
Why use DSers?
If you're using AliExpress to get your supplies, this app will be a real game-changer for you. DSers app optimizes your orders and helps you find new suppliers for a better rate. You can be sure to get the best deal for your store and maximize your profits.
15. EPROLO‑Dropshipping & Branding

EPROLO is a one-stop dropshipping solution for Shopify companies. It covers sourcing and warehousing, provides customized packing, and takes care of shipping. The app offers fast worldwide shipping and customized branding for your products. You can choose from various labels, tags, and tapes to brand the products you dropship.
Best features:
All products are shipped from the EPROLO warehouse, so your clients will receive their orders in one package
Real-time inventory management to stay on top of your stock levels
Your customized packing and branding on all the products
Pricing:
EPROLO is free. It doesn't have any paid plans and promises to stay free forever, to everyone.
Why use EPROLO?
First and foremost, the app is free. So you can try it without losing anything. It also offers advanced customized branding options. The clients will never know that you are a dropshipping business because EPROLO makes sure that all the items arrive in one package, and with your branding.
More best Shopify apps and tips for dropshipping:
Best Shopify Apps for Sales and Discounts
Discounts and sales are a big part of online customer experience. If you'd like a dedicated Shopify sale or discount app, this section has the top-rated options.
16. Free Shipping Bar

Boost your cart value with the Free Shipping Bar app. The app allows displaying different free shipping offers based on location, device, pages, or time. Free shipping offers can show up on a slide-out or a customizable bar.
When clients see that they're just short of free shipping, it motivates them to purchase more from your store and get free delivery. According to Free Shipping Bar, 88% of buyers would be more likely to shop online if they got free delivery.
Best features:
Progressive messages motivating clients to add more items to their cart
Advanced targeting allows advertising on your chosen display page
You can fully customize the look of the bar to look smooth and fit your store's design
Pricing:
Free Shipping Bar has two subscription options: Free and Premium. The free plan has all the basic features, including a fully customizable banner, device and page targeting, and an option to add a link to the bar. The premium plan costs $9.99 a month and includes additional features, such as auto-scheduling, and performance tracking.
Why use the Free Shipping Bar?
Customers love free shipping, and it's a great motivation for them to increase their order value. The app allows customizing the free shipping bar to fully fit into your store's design, track what offers work the best, and, most importantly, boost your sales.
17. PickyStory

PickyStory is an upselling & cross-selling app for Shopify that enables merchants to generate more revenue from every customer by adding deals anywhere in their store.
PickyStory comes with a whole host of benefits and seemingly endless upselling potential. One of this app's best features is its diverse range of upsell bundles and other deals that can be displayed on any page in your store.
Best features
Create and display deals on any page in your store

Auto-sync your inventory at SKU level for all deals
Add optional discounts to any deal
Customize your deals to integrate seamlessly into your store
Pricing:
PickyStory offers several pricing plans to suit merchants of all sizes:
Start:

For merchants who sell on a small scale; $19.50/month

Pro:

For merchants scaling their business; $34.50/month

Expert:

For merchants selling in multiple locations and currencies; $99.50/month
As an added benefit, all plans are free for the first 14 days.
Why use PickyStory?
PickyStory is one of the top upsell apps on Shopify. Use PickyStory's deals to sell products together with bundles (auto or manual) on your product pages, create a gallery of shoppable looks, use kits for tiered pricing, and so much more.
Want to know how to sell more with discounts? These guides should help:
Best Shopify Apps for Shipping and Returns
Fast shipping and returns are a must for a successful Shopify store. Ecommerce studies found that customers who made a fast and easy return can increase spending at that store by 158%-457%.
These Shopify shipping apps can speed up your work and keep customers coming back.
18. Returns & Shipping Automation (by Shipway)

How this best shipping app for Shopify can improve your customer experience? Its name gives a hint: the app automates processes related to shipping and returns to process orders faster.
Shipway does these tasks automatically: allocation of tracking numbers, generation of shipping labels, making invoices and tax reports (GSTR), self-return services, and tracking all shipments. Thanks to cooperation with major shipping companies (FedEx and DHL included), shipments get sent and delivered quickly.
Best features:
Automation of all shipping- and return-related processes
Generation of shipping labels and documents
Integration with 500+ shipping couriers from around the world
Branded tracking pages
Pricing:
The app has a 7-day free trial for 500 shipments. The premium subscription cost starts at $50/year.
Why use the Returns & Shipping Automation app?
This is the best shipping app for Shopify with a flawless 5-star rating from 370+ online store owners. You can automate most processes related to product shipping and returns, and speed them up to keep customer satisfaction high.
19. Intuitive Shipping

Calculating shipping rates, especially when processing large orders, can be a challenge. Luckily, the Intuitive Shipping app takes care of all the calculations for you. The app calculates the shipping costs based on clear rules and maximizes profit by providing conditional free shipping.
Best features:
SmartBoxing helps accurately calculate the shipping costs based on box sizes and weight
Rule-based shipping rates work based on over 40 rules, which leaves no place for errors
Live shipping rate calculations from the largest carriers around the world
Pricing:
Intuitive Shipping offers a free 14-day trial in live mode and an unlimited trial in testing mode with all three subscription options. The Silver plan costs $29.99 a month and includes 600 orders. The Platinum subscription costs $49.99 a month and covers 2,000 orders, while the Prestige plan is $99.99 a month, and includes 8,000 orders.
Why use Intuitive Shipping?
Accurate shipping calculation is important because it can highly affect your sales. Smart calculations can boost your sales and increase your profit. If you deal with many orders, optimizing shipping costs is important, and using the Intuitive Shipping app is the best way to do it.
20. Multi Carrier Shipping Label

The Shopify Multi Carrier Shipping Label app is a best way to integrate with all major carriers such as UPS, USPS, FedEx, DHL, Stamps, Aramex, Blue Dart, Australia Post, Canada Post, and others and complete the shipping process seamlessly. You may also select from a list of main shipping carriers' domestic and international shipping services. This way, you won't need to use numerous shipping solutions to send to different locations.
Best features:
Display Live Rates at checkout
Print Shipping Labels in a click
Carrier Pickup Requests & Manifests
Multiple Parcel Packing Methods.
Shipping Cost Adjustment for Shopify Shipments
Automatically Choose The Cheapest Shipping Services
Estimated Delivery Date on Checkout
Pricing:
The app gives 14 days free trial and familiarizes you with the settings and features. Then based on your requirement you can choose from the $9/mo, $29/mo, $49/mo, and $99/mo subscription plans.
Why use Multi Carrier Shipping Label App?
The Shopify Multi Carrier Shipping Label app completely automates your shipping process. It saves you time and cost by allowing you to display live rates at checkout, print shipping labels in a click, and retain customer satisfaction displaying live tracking updates directly from the Shopify dashboard.
More tips and apps for faster shipping:
Best Business Reporting App for Shopify
Keeping track of sales, expenses, and profits is a must for successful budget management. BeProfit is an all-in-one profit calculator and business reporting app.
21. BeProfit Profit Calc & Reports

The BeProfit profit tracker app is a reliable Shopify app to calculate many useful business metrics. In one dashboard, you can track and download reports about total profits, profits per order, marketing expenses, cost per goods sold (COGS), and others.
Using BeProfit is a great way to keep track of critical financial information. Besides, you'll be able to monitor which products are selling, how much inventory is left, and whether all the taxes are paid properly.
Best features:
Automatic tracking of essential business metrics (orders, taxes, inventory, COGS, etc.)

Customize and download reports on any metrics on demand

Integration with all major advertising platforms and Shopify
Pricing:
BeProfit has a free plan for 20 monthly orders. Paid plans with advanced analytics begin at $25/mo.
Why use BeProfit?
BeProfit is a straightforward app for tracking profits and generating business reports, even for beginners. You have every metric in one dashboard, so no need to search for information elsewhere. Besides, all reports are simple, and you can view and edit them on the go.
How we selected and tested best Shopify Apps
We used a simple methodology to select and test the best Shopify apps. This is what we based our selection on:
Shopify app score. We checked how many people downloaded the apps and rated them on Shopify app store. We found that the score alone is not a good enough indication because if only five people have used the apps their rating may not be objective. So we carefully checked how many users rated the apps to get a neutral point of view.
Features. We carefully researched what features each app offers, and how useful they are. Many additional features does not necessarily mean that the app is better than others. But if these features are well developed and solve relevant issues then we consider it to be an advantage.
Reviews. A part of our research included going through forums and review sites to find what apps are the most loved by Shopify store owners. This was not the main factor but we were interested to learn whether the most talked about apps are also the best ones to use.
Summary
We have researched many Shopify apps and picked 20 that we think are the best to boost your online stores. To come up with the list, we checked the Shopify app score of each app, had a close look at their features, and researched related reviews.
For easier navigation, we separated our list into different categories depending on app functions. The article lists the best Shopify apps for marketing, conversions, reviews, and other essential parts of growing your business.
With so many Shopify apps out there, it's easy to get lost. We hope that our list helps you find the best Shopify app for your business needs.
FAQ
Which are the best Shopify apps to increase sales?
The best Shopify apps to increase sales are Firepush, Wiser, and TinyIMG. These apps are great because they cover different aspects of the sales process and customer experience.
Firepush helps with email marketing, promotions, and abandoned carts. OptinMonster has lead generation features, and TinyIMG helps optimize your store for search engines and resize images for a better customer experience.
How many Shopify apps should I have?
It depends on your store, and also on what functions you want the apps to perform. Most Shopify apps have multiple features, so even a couple of apps may be enough for your needs.
For example, Firepush is an all-in-one marketing platform and automates most marketing tasks. So you can get one app instead of downloading and managing multiple applications.
What are the must have apps for Shopify?
The must have apps for Shopify are Firepush, Wiser, SEO Booster, and TinyIMG. These apps are great for marketing and SEO image optimization, and they will cover most of your needs. Depending on your store, you may want to have other apps, but we find these the best ones.