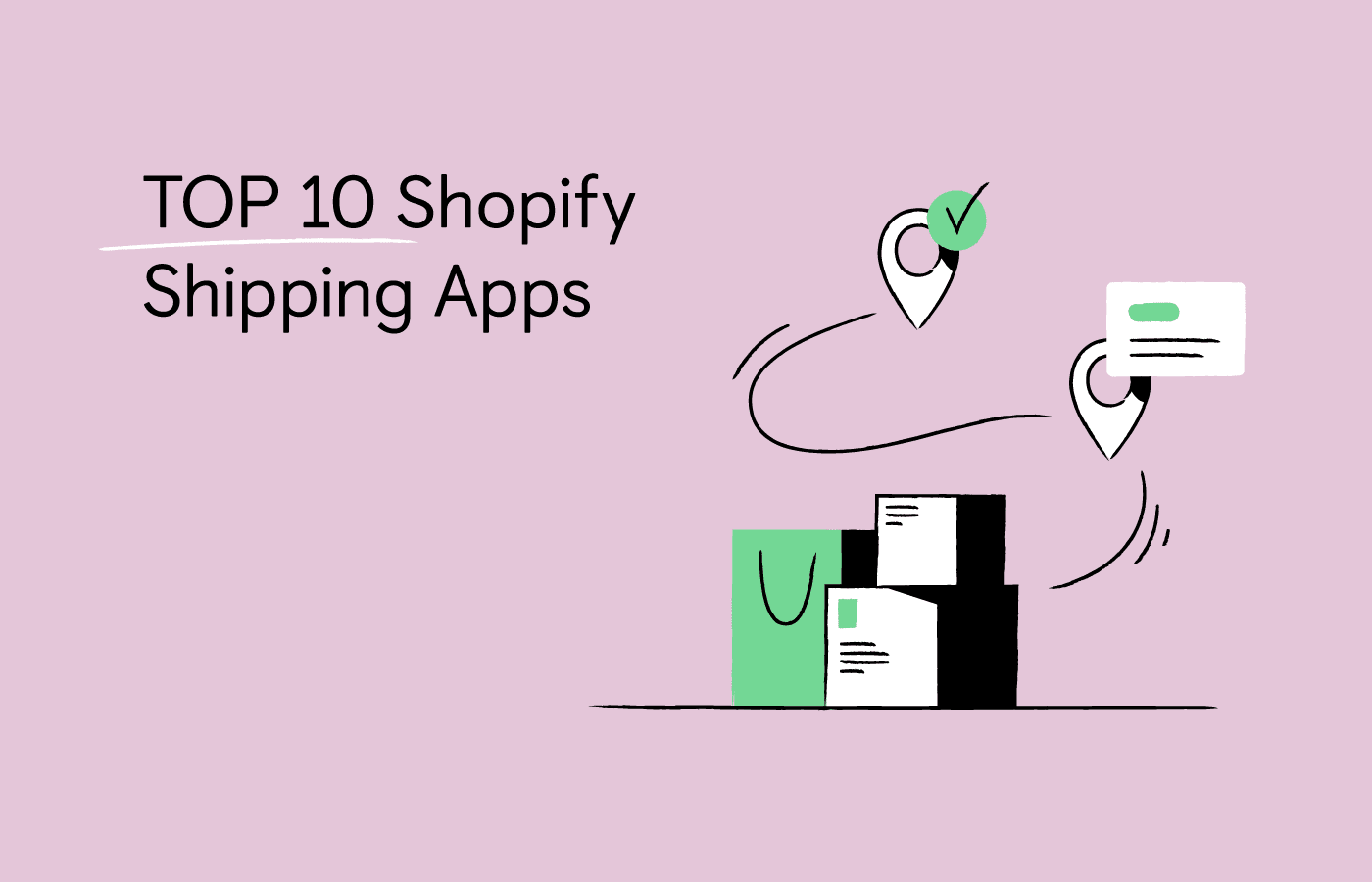 Running an eCommerce company has more to it than just setting up a store and listing products.
You must look into each aspect of the business and ensure that everything is prim and proper if you want your eCommerce store to thrive. Some of these aspects include the digital storefront, customer support system, shipping operations, and customer service.
In this post, we'll be focusing on:
Here are other helpful apps for Shopify if you changed your mind:
How Important Is Shipping To Your eCommerce Store?
Whether you're running an established eCommerce store or are just stepping into this market, you have a lot to consider in terms of shipping. Just as you have to consider a lot for accounting. For instance, you might need to cater to the following:
establish shipping rates;
print shipping labels;
create return policies;
consider logistics for local and international;
set up shipping calculators.
Shipping is equally important from your customers' perspective as well. According to a report published in 2018, 79% of US consumers are enticed by free shipping and 54% of consumers under the age of 25 only order online if same-day delivery is being offered. By ensuring that your shipping operations are running seamlessly, you are directly impacting your sale in a positive manner. It is critical to choose the right shipping method for your niche. Like running a print-on-demand dropshipping business.
Top 10 Shopify Shipping and Order Tracking Apps
Check out the following list of Shopify shipping apps that can be integrated into your eCommerce store and can help you to effectively handle your shipping process.
1. Trackr Shipping App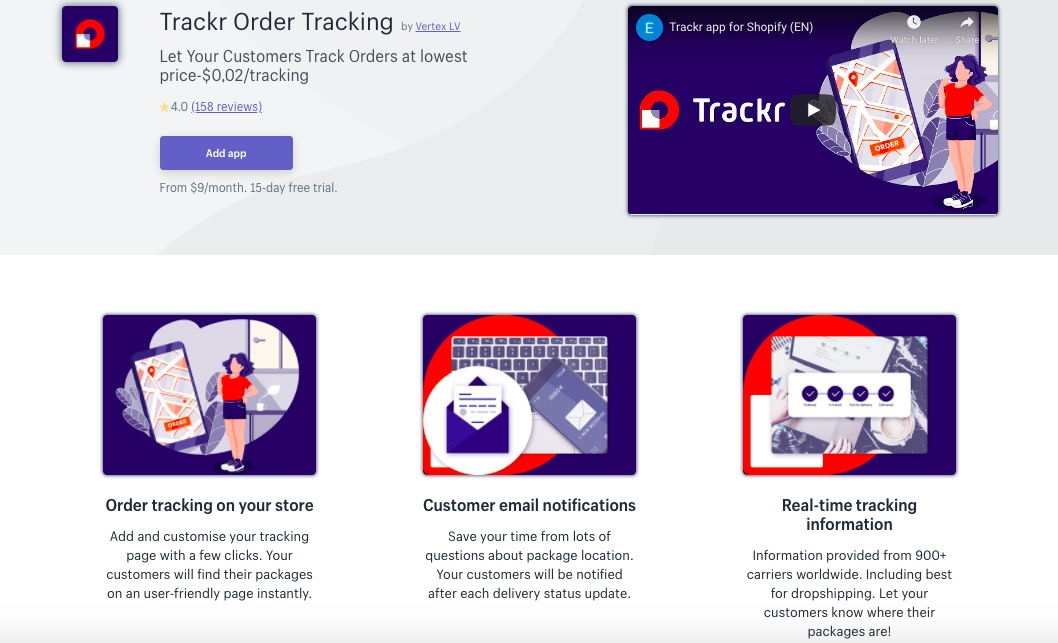 Developed by: Vertex LV
App features: Accurate real-time order tracking
Compatibility: 900+ carriers
Trackr shipping app lets you create a branded order tracking page on your website. It can be easily integrated into your existing Shopify e-Commerce store, and you can change its outlook so that it perfectly blends in with your brand. Offering order tracking right on your store allows you to increase visitors' number to your site while enabling you to upsell to them.
As far as order tracking goes, the Trackr shipping app automatically sends out emails to your customers about order status changes, thus reducing the load on your customer support teams. It offers flexible payment plans as well.
Price: $4/monthly on an annual plan (billed at $48/year) or $9/monthly (billed monthly). 15-day free trial available.
2. Tracktor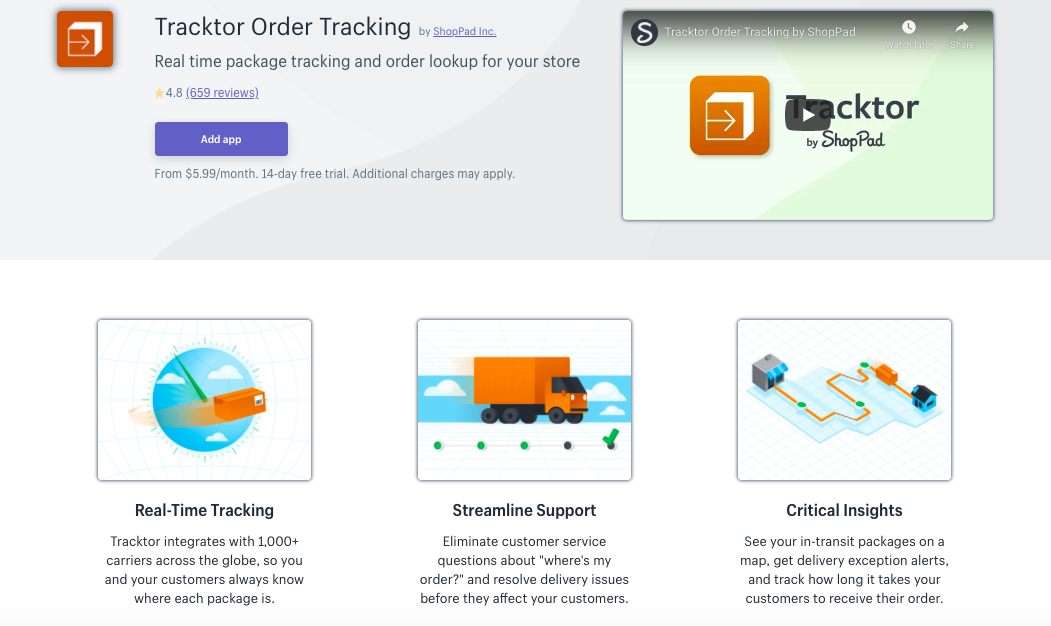 Developed by: ShopPad Inc.
App features: Real-time order tracking from e-commerce store
Compatibility: 500+ package carriers
Tracktor allows customers to check the status of their orders using a registered account. The only two things required to follow the journey of the package are their order code or order number along with their email address.
Furthermore, it has been designed so that it's compatible with all devices and thus doesn't spoil your store's look. You can also incorporate tracking links generated by Tracktor in your emails and even in Shopify customer notifications.
Price: From $5.99 per month. 14-day free trial. Additional charges may apply.
3. Easyship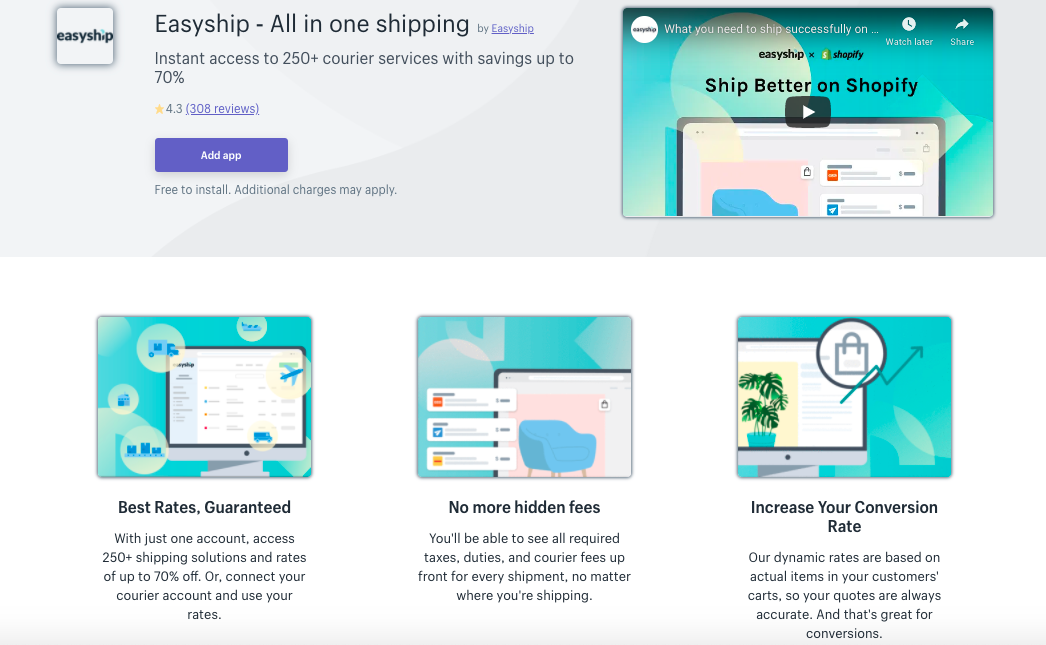 Developed by: Easyship
App features: Reduced shipping cost & order tracking
Compatibility: 250+ carrier solutions
Easyship is a shipping app that enables you to reduce shipping costs while being able to sell worldwide and bump up the conversion rates. When you're using this app for your Shopify e-commerce store, you can access multiple courier solutions, thus being able to save time and money.
It offers simple shipping rules; for example, you will only need one account for connecting with more than 200 carriers. Furthermore, you can sync your orders and even print the labels using a single click.
The order status is automatically updated to 'fulfilled' along with the tracking numbers and courier names. Easyship also provides you with ready-to-go documents, including declarations, shipping labels, and customs invoices.
Apart from that, you will only have to pay the shipping fee since it guarantees the taxes and duty. It can automate every shipment from the tracking number to packing. The app is free to use and allows you to negotiate with different couriers to get the best possible deal for yourself.
Price: Free to install. Users pay for what they ship only. External charges may apply.
4. AfterShip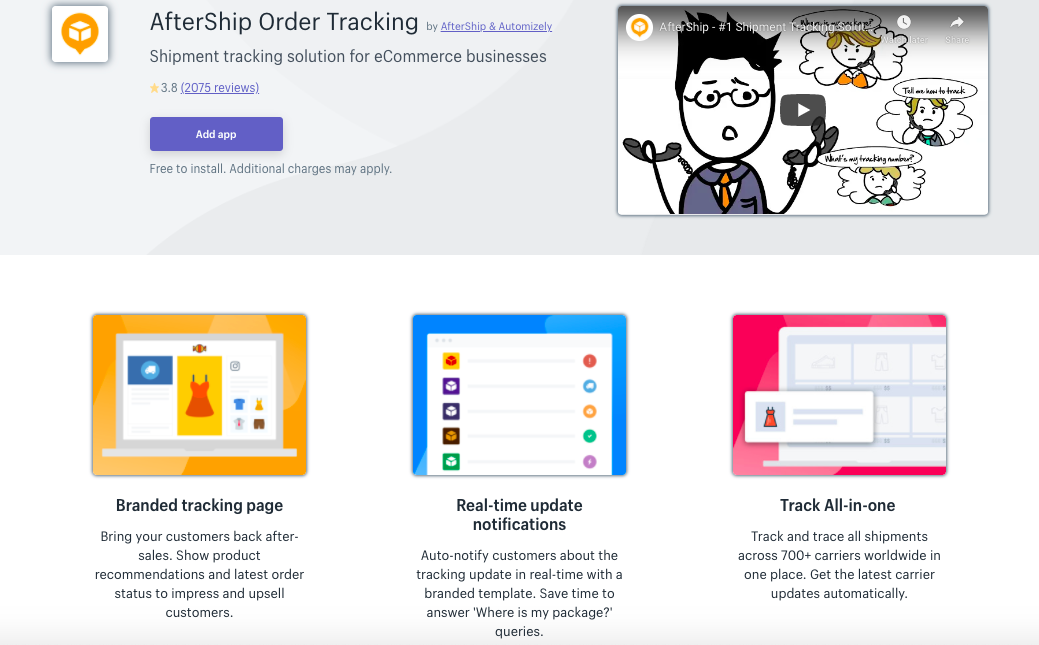 Developed by: AfterShip & Automizely
App features: Informing customers about order status
Compatibility: 700+ carriers
The app also offers a variety of other features. For instance, you can craft your own branded tracking page, thus allowing you to entice and upsell customers using image feeds or marketing banners.
The tracking link generated by AfterShip can also bring more traffic to your site since you won't be using the tracking link generated by the carrier, thus resulting in an increase in conversion rate and sales.
Furthermore, AfterShip lets you send automated, timely, and personalized texts and emails to your customers. This results in reduced customer frustration and also reduces the load on your customer service team.
Price: Free (50 shipments per month). External charges may apply.
5. Shipping Tracker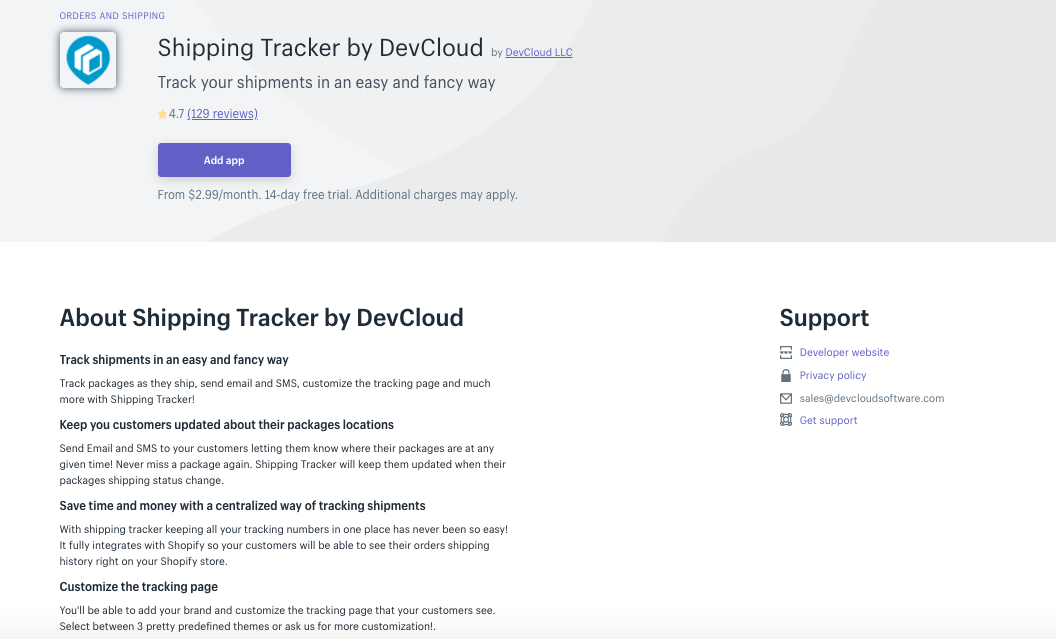 Developed by: DevCloud
App features: Fancy but simple order tracking
Compatibility: 60+ carriers
Shipping Tracker is one of the best Shopify shipping apps out there. When you're using Shipping Tracker, you will be able to track when packages are shipped while sending messages and emails to your customers and even carrying out some general customization of the tracking page.
Apart from that, you can also see your customers' shipping history in your Shopify store since Shipping Tracker completely integrates with Shopify.
Furthermore, you can very easily decide which features are open to your customers. It comes with three pre-made eye-catching themes, or you can ask for a customized one.
Price: From $2.99 per month. 14-day free trial. Additional charges may apply.
6. Order Lookup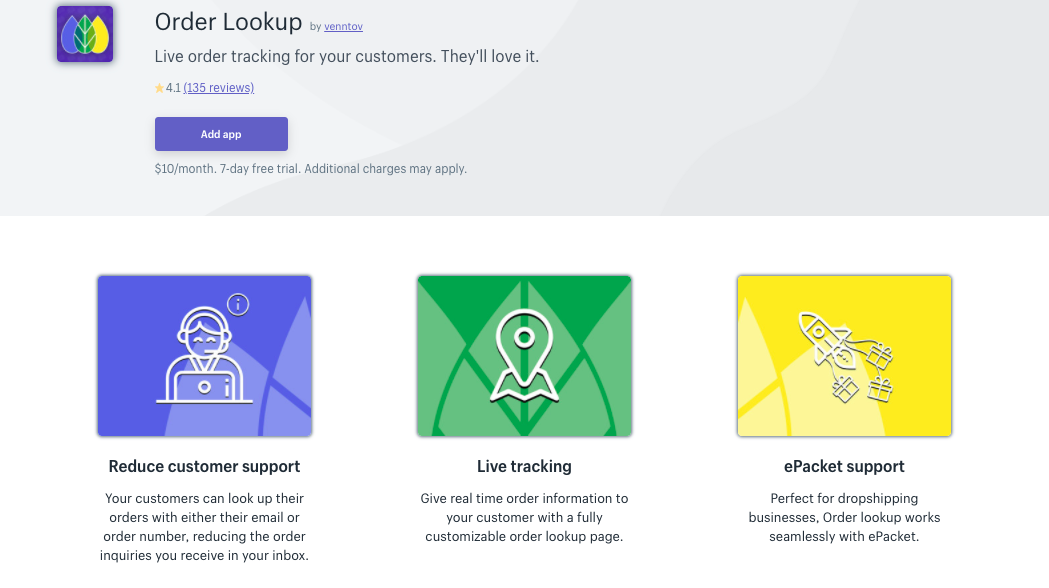 Developed by: Venntov Team
App features: Real-time order tracking information
Compatibility: 400+ carriers
Order Lookup helps you significantly reduce your support team's workload by providing your customers with order tracking information in real-time.
Thanks to Order Lookup, you can incorporate a user-friendly portal into your Shopify storefront. The customers can use their email address and the order number to track their order.
Once your customers enter the required information, Order Lookup immediately contacts several package carriers all over the world and relies on its algorithm to carry out order tracking and present the relevant information to the customers.
Furthermore, you can also add different notes or tracking information. You can even alter its design and change the output information as well. It also supports different languages thus can be used for any region hassle-free.
Price: $10 per month. Offers a 7-day free trial. Additional charges may apply.
7. Shipway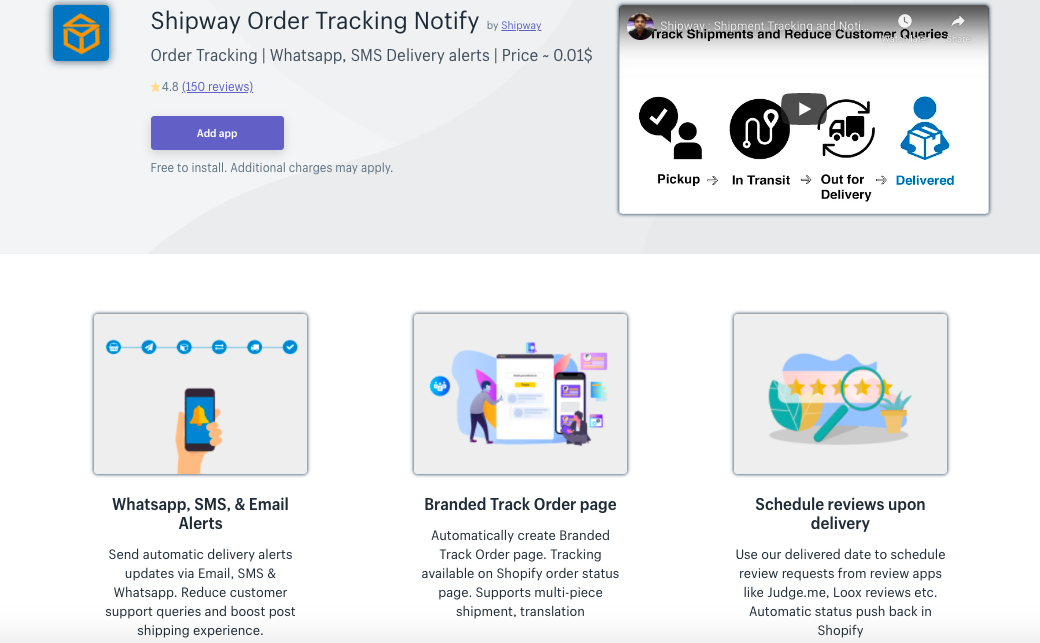 Developed by: Onjection Labs
App features: Offers a tracking widget
Compatibility: 400+ carriers
Say hello to Shipway - one of the best Shopify shipping apps that are currently available. You can use its tracking widget to let your customers know about shipment details and help them with their order tracking.
Shipway allows you to notify your customers about their order status by making use of SMS and email. Your customers can also carry out order tracking from your website.
Other key features of Shipway include measuring your customers' happiness, customizing tracking URLs, a custom tracking page, and notifications.
Price: Free to install. Plans start from $9.99 per month for 500 shipments.
8. ParcelPanel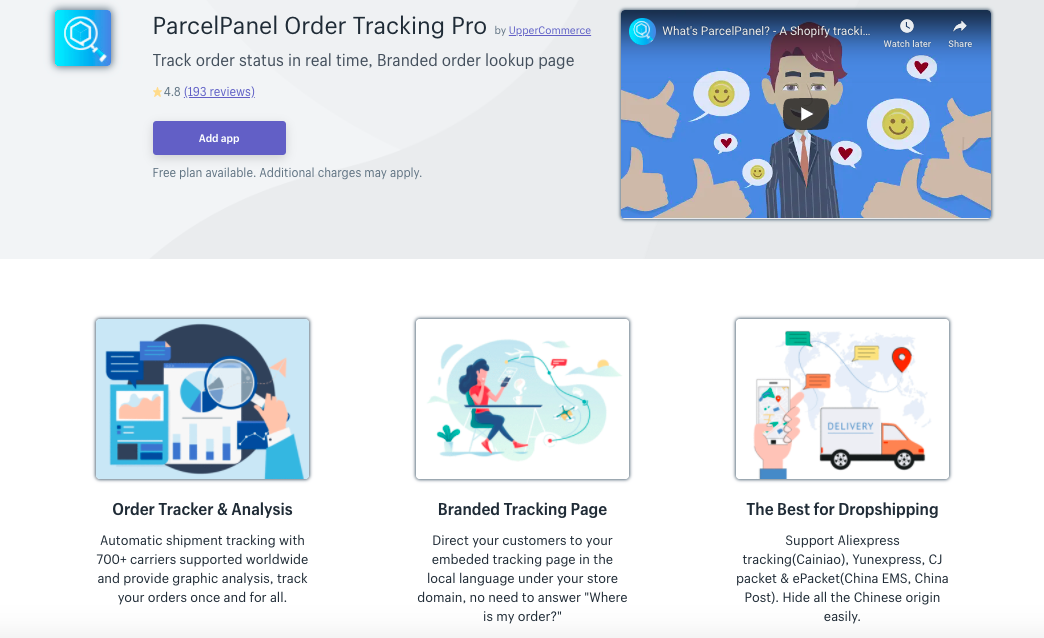 Developed by: Uppercommerce
App features: Graphical analysis of order status
Compatibility: 500+ carriers
ParcelPanel Order Tracking Pro allows you to manage everything inside Shopify with ease. It helps you to ascertain which deliveries are performing well and which aren't. This allows you to come up with a solution even before your customer finds out about it.
Apart from that, you can choose the shipping details that will be given to the customer. You can disclose carrier name, logo, product quantity, and even maps if you deem it right. ParcelPanel also features a 'Carrier Matching' service that enables customers to pick the actual carrier that they wish to track even if it isn't incorporated with Shopify.
It also offers a branded tracking page, thus allowing you to offer your customers a delightful experience in sync with your brand.
Price: Free with plans starting from $9 per month.
9. Auto Fulfill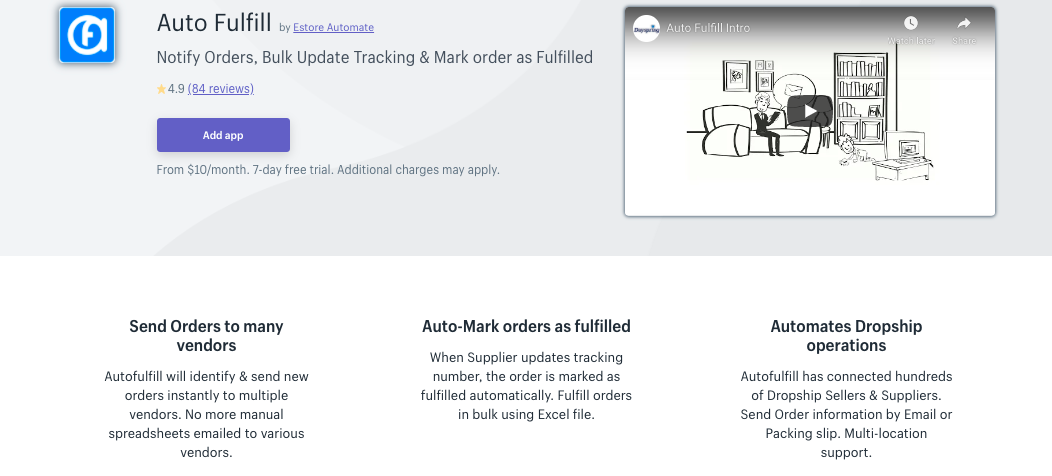 Developed by: Estore Automate
App features: Finds the best carrier for you
Compatibility: NA
Auto Fulfill can send orders and updated tracking numbers and fulfillment details. Thanks to Auto Fulfill, you can save time that would have been spent looking for the right carrier for each order and then send out the relevant information via email.
Auto Fulfill also notifies you if there are any delays in the shipping process. It can also automatically mark orders as fulfilled without your need to intervene.
It allows for bulk update tracking as well and can cater to orders of digital products that don't have any tracking number.
Price: From $10 per month.
10. UpTracker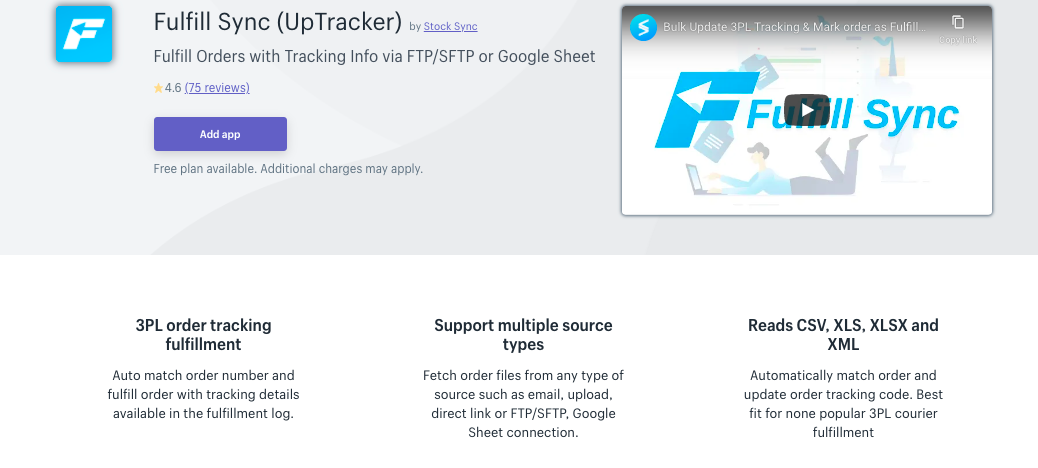 Developed by: Stock Sync
App features: Can handle more than 5 million order tracking codes
Compatibility: Each order fulfilled by Fulfill Sync - costs $0.01 or less
Thanks to UpTracker, you can download links to your drop-shipper, supplier, vendor, or warehouse to learn about the latest fulfillment status, such as Tracking Company and Tracking Code, to keep your Shopify store regularly updated.
You can also use a variety of connection methods that are completely supported, ranging from SFTP, Upload, Email, FTP, and SFTP, to mention a few.
Price: Free with a premium paid version that costs $29 per month.
How to Choose a Shopify Shipping App
Now that we have gone through different Shopify shipping apps, let's also talk about things you should consider when selecting the right shipping app for your Shopify store. The shipping app is meant to make it easier for you to find the most optimal shipping rates while allowing you to print shipping labels and make it easier for you to communicate with your customers regarding their order tracking. Check out the following factors to know what to look for in a Shopify shipping app.
1. Learn About Its Core Functions
You should start by listing down how your Shopify shipping app is supposed to help you out. Make sure to ask yourself questions so that you can create a thorough list. For instance, what are the core features of the app? How can it optimize your shipping process? Will it be a good fit for your e-Commerce store?
Different Shopify shipping apps offer different shipping preparation times. You will have to ensure that the app you're choosing helps you to execute shipping timely. The expectations of customers are growing and many of them expect same-day delivery with 48% of them happy to pay extra for it.
Other important features to focus on include types of shipping labels, tracking, and numbers of users and mailing accounts that the app supports.
2. How Much Will You Be Paying?
Whether you're a small business owner or running an established e-Commerce store on a bigger scale, the price remains one of the decisive factors. This is where you have to weigh the pros and cons of the app and consider the tasks it will take over and the time that it will save you. If the app helps you save time by automating tasks and finding the ideal shipping prices, it is definitely worth the investment.
3. Do Check The Customer Reviews Of Shopify Shipping Apps
You've seen the demo of the app, and you've checked out its website. What else is left? Customer reviews! In fact, customer reviews are one of the best ways to ascertain if an app is worth your time and money since it allows you to learn about others' experiences with the app. Make sure that you're selecting a shipping app that has positive reviews with a low number of bad reviews.
Shopify Shipping and Tracking Apps: Conclusion
Here's one last piece of advice before this post is concluded – ensure that your order status page is responsive, has been designed according to the theme of your website, and has been linked up with automatic email notifications, thus enabling you to keep your customers informed.
All of the Shopify shipping apps mentioned above are great choices and can help you streamline your shipping process. The factors that must be considered when you're making a selection have also been mentioned to make it easier for you to select the ideal shipping app for your business.