OneSignal alternative - Firepush
Firepush and OneSignal both provide an automated push notification service for Shopify stores. However, both apps differ in terms of features and pricing. Firepush, for instance, includes the ability to send SMS and email campaigns as well as web push notifications. Read this detailed comparison below to see which marketing app is right for you.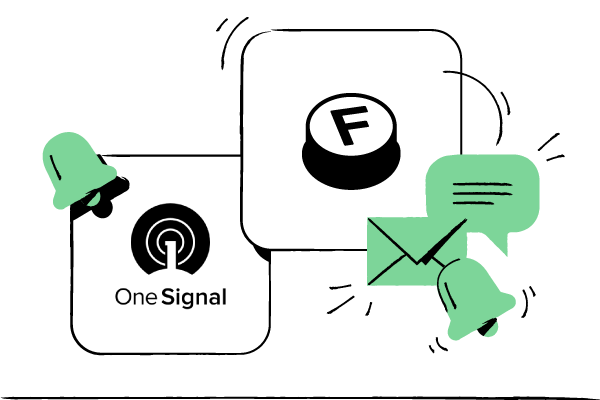 Channel comparison
Compare Firepush and OneSignal below to help you make an informed decision.
| | | Firepush | Smart Push Marketing |
| --- | --- | --- | --- |
Channels
Feature comparison
See how Firepush and OneSignal compare in terms of features.
| | | Free plan comparison | Paid plan comparison |
| --- | --- | --- | --- |
Basic promotional campaigns
Notification scheduling
Advanced promo campaigns:

Include a large image inside your push notification for maximum impact.

Hero Images (large image inside the push notification)

Promote your flash sale and set an expiry time for your campaign.

Flash sale (notifications with expiry time)

Reward new push notification subscribers with a special time-limited discount code.

Countdown + discount code

Send the same campaign again and again, for example, daily, weekly, or monthly.

Campaign boost
Welcome new subscribers, to keep your store on their radar and increase the chances of early sales.

Welcome campaigns

Improve sales via abandoned cart campaigns and encourage would-be buyers to finish their purchase.

Abandoned cart campaigns

Give your customers the chance to be the first in the queue for every discount.

Price Drop

Let your customer know when the item they are after comes back in stock.

Back-in-stock

Send to the user once payment has been accepted and processed.

Payment accepted

Update your customer every step of the way on every delivery.

Order dispatched

Send SMS confirmation once the refund is issued.

Payment refund

Tracking number assigned: Send tracking numbers to customers as part of your delivery update messages.

Tracking number assigned

Ask your customers for a product review a few weeks after the order was fulfilled.

Ask for review campaigns

Keep up to date with sales, orders and stock levels with specially tailored Shop

Store owner update notifications
Step one is a popup where you can explain what type of notifications your subscribers can expect. Step two is the automatic browser prompt used to capture permission.

2 step opt-in

The fly-out widget is an icon that sits at the side of your website. When clicked on, a subscriber popup form appears.

Flyout widget

Add a signup box to your webpages to encourage subscriber growth.

Sign-up box

Embed a subscriber signup button into your website.

Embed button
Analyze campaign performance with basic stats, including impressions, clicks and total revenue.

Basic reports (subscribers, CTR, revenue)

Analyze campaign performance in detail with stats on CTR, ROI, conversions, orders and revenue generated by channel.

Advanced reports (CTR, conversions, orders, revenue, ROI)
Get speedy responses to your questions with round-the-clock customer support.

24/7 Email and Chat Support

Speed up your omnichannel marketing efforts with a strategic phone call from one of our marketing experts.

Phone Support

Shopify Plus clients benefit from a dedicated Customer Success Manager to help you make the most of Firepush.

Dedicated Strategy Manager

Get fast help with app integrations by using our expert Integration Engineer.

Integration Engineer

Easily import existing subscribers from other platforms and export them whenever you need to.

Subscriber migration (import & export of existing subscribers from other platforms)

Easily importing existing subscribers from Shopify account data.

Subscriber Details (sync subscribers with Shopify account data)

App automatically segment subscribers into various group based on our curated algorithm.

Subscriber segmentation

Set up and launch campaigns quickly with ready-made templates that you can tweak to your requirements.

Templates
Summary of the key differences:
Firepush includes advanced promotional campaign features, for example, a countdown timer with discount code, flash sale promos and a campaign boost option in both its free and paid plans. OneSignal doesn't include these at all.
Firepush includes many more automation campaigns and growth tools than OneSignal.
Firepush includes the option to add a 'Hero' image into web push notifications as part of its paid plan.
OneSignal doesn't include advanced reporting options, whereas Firepush does.
Firepush has more support options available compared to OneSignal.
(Date of analysis: 05/019/2020)
Plan comparison
Free plan
| | | |
| --- | --- | --- |
| Length | Forever Free | Free through August 1st, 2020. After that, free for 1000 subscribers. |
| No. of subscribers | Unlimited | Free through August 1st, 2020. After that, free for 1000 subscribers. |
| No. of free web pushes | 1000 web pushes per month | Free through August 1st, 2020. After that, free for 1000 subscribers. |
Paid plan
Starter plan
$19 / month
10,000 pushes
$9 per month + $3 per 1000 subscribers after August 1st, 2020.
Enterprise
Custom
$9 per month + $3 per 1000 subscribers after August 1st, 2020.
Summarized the key differences:
Firepush offers a 'forever free' plan, which is for an unlimited number of subscribers and is based on the number of web push notifications sent. OneSignal limits its free plan to the first 1,000 subscribers from August 2020.
OneSignal's paid plan is cheaper than the Firepush paid plan initially. However, the cost increases by $3 for every 1,000 subscribers (after August 2020).
Firepush offers a custom plan for enterprise stores that may have bespoke marketing needs.
(Date of analysis: 05/019/2020)