SMSBump alternative - Firepush
Firepush and SMSBump are both strong SMS marketing apps for Shopify stores. Each is packed with features you can use to drive sales. But how do they differ? To start with, Firepush covers three marketing channels, all in one dashboard. View this comparison to learn all about each app's features.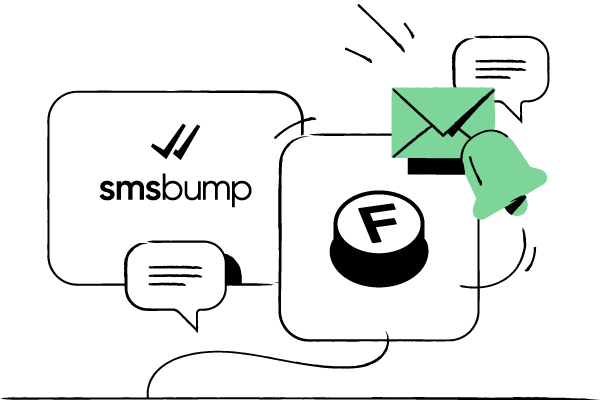 Channel comparison
Compare Firepush and SMSBump below to help you make an informed decision.
Channels
Feature comparison
Advanced promo campaigns:

Schedule campaigns to be delivered according to specific dates and times.

Campaigns scheduling

Reward new push notification subscribers with a special discount code.

Discount code

Reward new push notification subscribers with a special time-limited discount code.

Countdown with a discount code

Send personalized and targeted campaigns based on subscriber criteria and behavior.

Segmentation

Send the same campaign again and again, for example, daily, weekly, or monthly.

Campaign boost

Set up your sender ID to reflect your brand name or a dedicated phone number. (Not available for every country.)

SMS Sender ID

Helps to avoid double-texting the same customer in a short periods of time.

Smart sending

Using your brand name as a Sender ID in specific countries.

Use your business name

Setting your timezone according to the location of your Shopify online business.

Messages based on your time zone

Configure your own shortening solution.

Custom Short URL

Splitting test campaigns targeted to the same audience and compare results on what works best.

A/B Testing
Improve sales via abandoned cart campaigns and encourage would-be buyers to finish their purchase.

Abandoned cart campaigns

Deliver better service by sending an automated receipt of a customer's order post-purchase.

Receipt notification

Update your customer every step of the way on every delivery.

Order dispatched

Send SMS confirmation once the refund is issued.

Payment refund

Tracking number assigned: Send tracking numbers to customers as part of your delivery update messages.

Tracking number assigned

Ask your customers for a product review a few weeks after the order was fulfilled.

Ask for review campaigns

Win back customers who haven't bought anything in the past few months with automatic messages.

Win back customers

Reward new customers with a discount code to boost your sales

Reward new customers

Making more on every sale by offering upsell products.

Product upsell
Capture subscribers with an eye-catching popup signup form.

Sign-up boxes

Displays at the bottom of your website and opens the signup form when clicked.

Floating widget

Copy the embeddable form code and paste it in your theme files to display on any page.

Embed form

Converting email subscribers to SMS subscribers by sending an email campaign.

Email subscribers converter

Generating a link to a subscription page you can share.

Shareable Subscribe Link

Texting a keyword to number to subscribe.

Keywords (Text a keyword to number to subscribe)

Obtain marketing consent during checkout to comply with data protection legislation.

Checkout page
Analyze campaign performance with basic stats, including impressions, clicks and total revenue.

Basic reports (subscribers, impressions, clicks)

Analyze campaign performance in detail with stats on CTR, ROI, conversions, orders and revenue generated by channel.

Advanced reports (CTR, conversions, orders, revenue, ROI)
Get speedy responses to your questions with round-the-clock customer support.

24/7 Email and Chat Support

Shopify Plus clients benefit from priority support through the Firepush Customer Success Team.

Priority support

Shopify Plus clients benefit from a dedicated Customer Success Manager to help you make the most of Firepush.

Dedicated Strategy Manager

Get fast help with app integrations by using our expert Integration Engineer.

Integration Engineer

Custom solutions are available if your store needs customised features.

Custom solutions

New customers will automatically be added as new subscribers in Firepush.

Automatic sync with Shopify

Easily import existing subscribers from other platforms and export them whenever you need to.

Subscriber migration (import & export of existing subscribers from other platforms)
Summary of the key differences:
Firepush has 3 abandoned cart messages, whereas SMSBump has 2.
You can get much more value from a Firepush free plan, e.g. use your business name and custom short URL. These are significant features while setting up your campaigns and are very important for brand awareness.
Firepush has a discount with a countdown timer, an ideal tool for creating urgency and helping to grow sales.
SMSBump has more SMS subscriber growth tools. Although Firepush is planning to develop additional subscriber growth tools within the next month.
(Date of analysis: 04/24/2020)
Plan comparison
Free plan
| | | |
| --- | --- | --- |
| Channels | SMS, Emails, Web push | SMS |
| SMS Credits | $0 | $0.30 |
| SMS Price | Pay as you go | Pay as you go |
| Bonus | 1000 web push notifications | |
Paid plan
Basic plan
$10 / month
SMS: Pay as you go
5000 Pushes
Price per email $0.001
$19.99 / month
SMS: Pay as you go
Sign up credits: $0.50
Pro plan
$19 / month
SMS: Pay as you go
10,000 Pushes
Price per email $0.001
$34.99 / month
SMS: Pay as you go
Sign up credits: $5
SMSBump Plus
Custom
$59.99 / month
SMS: Pay as you go
Sign up credits: $15
Bonus credits on purchase: 5%
Summary of the key differences:
The Firepush free plan includes three marketing channels, including web push, SMS and email. SMSBump offers SMS marketing only on both its free and paid plans.
Firepush's free plan includes 1,000 web push notifications as a bonus.
SMSBump includes $0.30 of credits to try out SMS marketing.
Firepush's paid plans start at $10 per month, up to $19 per month. SMSBump's paid plans begin at $19.99 per month up to $59.99 per month.
Both Firepush and SMSump's paid plans offer SMS marketing as a Pay As You Go service. SMSBump offers signup credits, whereas Firepush offers inclusive push notifications as part of its package.
Firepush offers a custom plan for Shopify stores that have specific marketing requirements.
(Date of analysis: 2020 April 24)