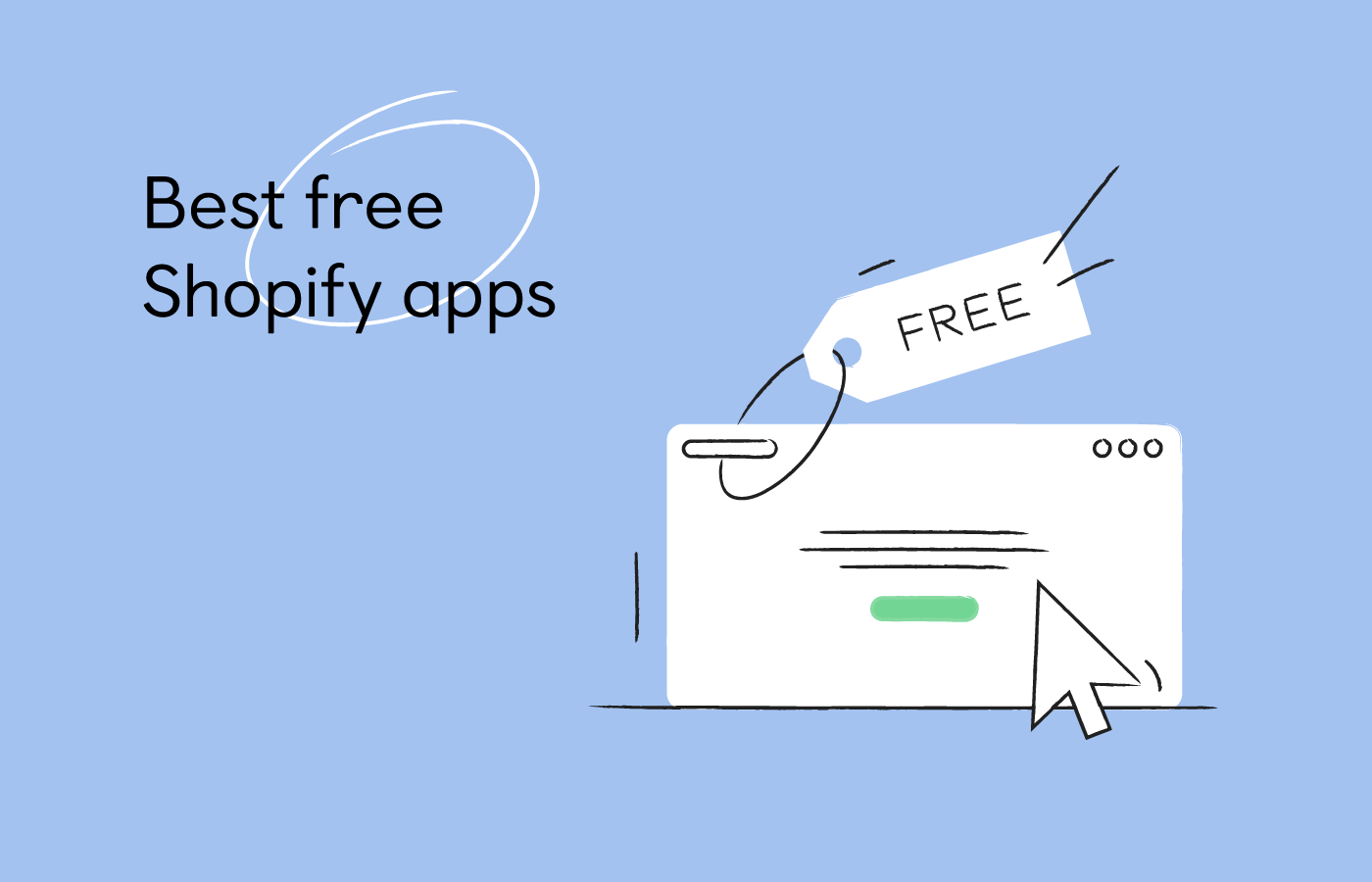 Shopify apps can add a ton of value to your store but they can also be quite expensive.
If that sounds like a bummer, don't worry—it is possible to cut down on monthly expenses and use the best Shopify apps at the same time. Luckily, many great Shopify apps are on free plans so you can use them without paying a penny.
So, if you want to cut down on payments but not your store quality, go ahead and check our list of must-have apps you can get for free.
In this guide, you'll find the following best free Shopify apps:
Firepush — For customer retention
UpPromote — For affiliate marketing
Oberlo — For dropshipping
Printful — For printing on demand
Omnisend — For email marketing
Numbers 6-17 of best free apps for Shopify
Didn't find what you were looking for? Look at these:
Best Free Shopify Apps for eCommerce Stores
You can grow your eCommerce business on auto-pilot, even if you are on a tight budget. The free apps we listed here offer a range of great features for freemium users. They will help you retain more customers, improve customer service, SEO rankings, and much more.
1. Firepush — For Customer Retention

Firepush is an all-in-one free Shopify app that will enable you to send remarketing campaigns via email, web push, and SMS channels.
You can conveniently send promo messages, win back customers, recover abandoned carts, and upsell/cross-sell products across all three marketing channels using just one dashboard.
Freemium users can send 100 web pushes per month and collect an unlimited number of subscribers via web push messages.
Who is it for?
Firepush is a great choice for Shopify sellers who want to increase customer retention, store revenue, and customer lifetime value. Sellers will be able to keep the customers engaged and encourage them to keep coming back to their stores.
Features in the Free Plan:
'Welcome' web push campaigns to engage new customers

Basic subscriber growth tools

Basic engagement reports

100 web pushes/month
2. UpPromote - For Affiliate Marketing

UpPromote: Affiliate Marketing is an all-in-one marketing tool to support you build, track and succeed with affiliate marketing.
No technical knowledge is required, UpPromote is friendly for newbies. With UpPromote, you can create unlimited offers, get affiliates signed up on a registration form and let them promote with links or coupons. The app helps to report your affiliate performance with details of affiliate clicks, or sales via in-app analytic tools. Also, the tracking systems will monitor all referral traffic, orders, and analyze most popular products that drive the highest sales.
Who is it for?
UpPromote will be an ideal free app choice for all Shopify merchants who would like to increase their sales via affiliate marketing campaigns.
Features in the Free Plan:
Unlimited affiliates

Approve/deny 200 referral orders/month

Product commission

Using UpPromote Marketplace
3. Oberlo — For Dropshipping

Oberlo platform makes it easy to find products you want to sell online. With this Shopify app, you can access a variety of different products such as cosmetics, electronics, home decor, and toys.
Oberlo will help you find products from suppliers all over the world and add them to your online store. You can also automate bulk orders and track them in real time.
The free plan allows for unlimited monthly orders and having 500 products in your Import List and Products page combined.
Who is it for?
This best free Shopify app is made for new online entrepreneurs who want to start their low-investment businesses. They get quality dropshipping guides and access to many international product suppliers.
Features in the Free Plan:
Resources to listen to and read

Oberlo Chrome extension

Product variant mapping

500 products (import)
4. Printful — For Printing-on-Demand

The Printful app is one of the best Shopify print-on-demand apps you can find in the App Store. It also provides dropshipping and warehousing services for your custom prints.
You can add your designs to over 270 high-quality products, from apparel and accessories to homeware.
Printful has no payment plans and you can fully use it without any upfront costs. You only pay for the products and the shipping.
Who is it for?
If you want to create and sell a variety of custom-designed products but do not want to worry about warehousing and fulfillment, then this free Shopify app could be just what you need.
Features:
High-quality products for printing

Warehousing and fulfillment

Product personalization

Control over profit
5. Omnisend — For Email Marketing

Omnisend is an email & SMS marketing platform that offers pre-built automation workflows, email templates, and intuitive, no-code editing.
With Omnisend, you can recover abandoned carts, reactivate lost customers and engage them throughout their customer journey using email, SMS, and push messages.
Shopify merchants who opt for a free plan can send only email campaigns.
Who is it for?
Omnisend could be a good free app choice for new and low-income sellers who want to send email marketing campaigns without any unnecessary setup or email design hassle.
Features in the Free Plan:
Segmentation and Customer Analytics

Sales and Performance Reports

15,000 email/month

Signup forms
6. Smile.io — For Loyalty Programs

Smile.io app lets you set up a loyalty program on your Shopify store to create more loyal customers who will drive more revenue through repeat purchases.
With this free Shopify app, you can reward your customers with points for creating accounts, leaving reviews, placing orders, and more.
Free Smile.io users can reward their customers in ten different ways and send default reward emails.
Who is it for?
We recommend Smile.io to all Shopify merchants who would like to increase their buyers' engagement, purchases, and retention in a variety of ways.
Features in the Free Plan:
Points and referral programs

Default rewards emails

Visual customizations

10+ ways to reward
Loyalty programs, social proof, and abandoned cart recovery are just a few examples of apps that can help you produce higher revenue. Check out these 24 Best Shopify Apps for New Stores for more ideas.
7. Yotpo — For Referrals and Rewards

Yotpo helps Shopify businesses generate product and site reviews, photos, videos, Q&A, and other UGC (User-Generated Content) they can leverage to drive qualified traffic to their stores.
Merchants can moderate their customers' content and showcase it on the homepage, product pages, at checkout, Instagram, Facebook, and Google.
By choosing this best free app for Shopify, you get basic customization, on-site widgets, and automatic request emails.
Who is it for?
The Yotpo free Shopify plugin is a must-have for sellers wanting to boost their conversion with the help of content generated by their customers. They must not be afraid of receiving public negative reviews and be ready to act on them immediately (Yotpo will flag such reviews for them).
Features in the Free Plan:
200 extra review credits for 1st month

Automatic review request emails

Up to 50 monthly orders

On-site widgets
8. Plug in SEO — For Higher Google Ranking

Plug in SEO is one of those essential Shopify apps you cannot miss if you are serious about your store discoverability.
It is an all-in-one on-page SEO (Search Engine Optimization) app for managing SEO optimization, improving search rankings, and driving more organic traffic to your Shopify store.
Freemium app users get unlimited SEO checks and fix instructions from the support agents.
Who is it for?
Shopify entrepreneurs who have just launched their store and are new to SEO. They will receive all the essential tools and support they need to improve their stores' rankings and fix their SEO problems.
Features in the Free Plan:
Unlimited SEO and speed problems checks

Fix instructions and code

Automatic email alerts

Broken link checker
9. HelpCenter | FAQ & HelpDesk — For Customer Support

HelpCenter is a customer service app that will help you make your interactions with customers more effective and efficient.
It comprises three support solutions, namely FAQ builder, HelpDesk ticketing, and live chat. Any of these solutions alone can positively impact your customer experience and save you a lot of time.
The free version includes the FAQ and Help Desk tools and their respective selected features.
Who is it for?
HelpCenter can be a true lifesaver for online merchants who value customer experience and their own time. This free solution is one of the best free apps for Shopify store owners who run their business on their own or have a person or two to help.
Features in the Free Plan:
(Help Desk) Unlimited ticketing agents, email, and social chat accounts

(Help Desk) 50 tickets/month (Email, Chat, FB Messenger)

(Help Desk) Macros, workflow, and reporting

(FAQ) Unlimited Questions & Answers

(FAQ) Customizable FAQ page

(FAQ) Search bar
10. PDF Invoice: Order Printer+ — For Accounting and Taxes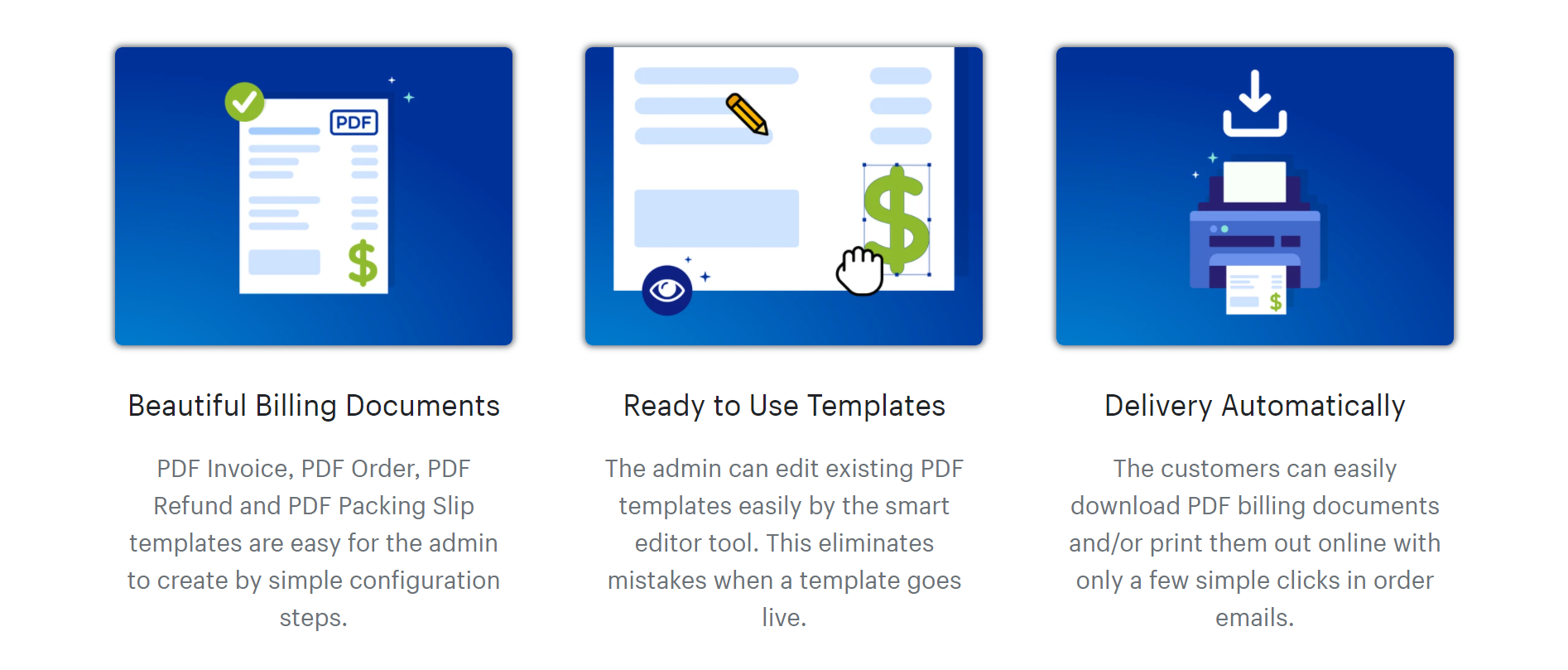 Running a Shopify store is not just about sales or marketing—it also means handling paperwork for your store and customers. Luckily, you can leave the paperwork to PDF Invoice: Order Printer+ free Shopify app.
With the PDF Invoice app, Shopify store owners can issue documents for orders and refunds, invoices, and shipping labels. You will also find templates and themes for several document types.
You can create all the document types for free but you will not have access to every template.
Who is it for?
PDF Invoice is a must-have app for all store owners who do not want to struggle with issuing billing documents manually. They can choose from the many templates available and contact customer support if they need help with any document.
Features in the Free Plan:
Print order at storefront

Unlimited order prints

Basic invoice themes

Unlimited templates
11. Ultimate Trust Badges — For Increasing Customer Trust

The Ultimate Trust Badges app brings the social proof element to your store and lets you earn your customers' trust. It shows your visitors and customers they can buy safely from you.
You get over 300 different badges you can customize in a variety of ways, such as appearance, alignment, location, and messages
This app is completely free to use and there are no hidden fees.
Who is it for?
Online sellers who want to win their customers' trust and help them make the purchase decision will find Ultimate Trust Badges as one of the best free Shopify apps to go for.
Features in the Free Plan:
Custom tagline (works with any website language)

Hundreds of badges in a variety of segments

Easy badges customization

Concierge setup
12. Aftership — For Tracking Orders

AfterShip provides automated shipment tracking. It currently supports over 600 shipping services worldwide, including DHL, FedEx, and UPS.
Having this plugin added to your store will enable you to check the status of your shipments across multiple carriers. Aftership will also let you send out emails and notifications automatically at different stages of your shipments.
If you choose the free plan, you will be able to track 50 shipments and access 7 different standardized order statuses.
Who is it for?
AfterShip is one of the best free apps for Shopify businesses that want to boost post-purchase experience to increase loyalty and get more sales. It will help them monitor all their orders and keep customers posted on the shipment progress.
Features in the Free Plan:
7 standardized order statuses

700+ courier integrations

50 shipments/month

Order lookup
13. Instafeed, Instagram Feed Shop — For Social Media Marketing

With the Instafeed app, you can tag your products or specific variants directly on your images, videos, and carousels to create shoppable Instagram feeds.
You can also add CTAs to your widget to let your customers add items to shopping carts or go directly to the checkout. You can customize your feed freely by setting theme and overlay styles in-app.
You get unlimited access to all the Instafeed features for free.
Who is it for?
Shopify sellers looking to grow social proof and increase cross-channel sales to both Instagram and their product pages. They can customize their feeds and galleries for stronger visual impact and higher customer engagement.
Features in the Free Plan:
Import media from multiple accounts and hashtags

Unlimited number of custom widget galleries

Multiple display layouts and options

Responsive feeds on mobile
14. Bundle Products — for Volume Discounts

Bundle Products is designed for creating bundles of products that are similar or frequently bought together.
You can offer fixed and percentage discounts to motivate your customers to buy more. You can also customize your bundles to match your store theme and display them on any page.
The Bundle Products app is free to use.
Who is it for?
Online merchants who want to increase their average order value and sell less popular products should Give Bundle Products a try. They can upsell mixed products or variants to see which bundle type sells the best.
Features in the Free Plan:
Customizable bundle layout and color scheme

Percentage discount on product bundles

Fixed discount on bundles

Variant based bundles
15. Facebook & Instagram Shopping — For Selling to Social Media Users

The Facebook & Instagram Shopping plugin makes it easy for Shopify merchants to sell with Facebook Shop and Instagram Shopping.
You can connect your product catalog to Instagram Shopping and share products through your posts and Instagram stories.
This Shopify app is free to use.
Who is it for?
Businesses looking for new places to sell their products or wanting to leverage the Facebook assets, including Facebook product catalog, Facebook Pixel, Facebook Page, and Instagram Profile.
Features in the Free Plan:
Checkout on FB and Instagram (available to the US sellers)

Product listing and customizable profiles

Order management and notifications

Facebook Business Extension
16. Affiliate Marketing Goaffpro — For Affiliate Campaigns

Goaffpro is one of the best free apps for Shopify when it comes to affiliate and influencer marketing. With Goaffpro you can turn your customers into business partners who will help you grow your revenue and brand recognition.
To begin the process, you need to create an affiliate portal. Your customers will use it to register as your partners, receive a referral link to your store, and claim rewards for purchases that were made through that link.
The free option gives you all the essential features to start a serious affiliate program, including an unlimited number of customers you can get.
Who is it for?
Online merchants who would like to reach new audiences and get more sales. They may find it reassuring that they can create a basic program for free and pay the commission only for the referred purchases.
Features in the Free Plan:
Unlimited affiliates, revenue, and sales

Post checkout popup

Welcome emails

Analytics
17. EPROLO — For Print on Demand Dropshipping

EPROLO is a one-stop dropshipping Shopify app. Features of the platform include: auto order fulfillment, free products sourcing, exclusive support agent, private inventory, product and packaging branding, and other print on demand services.
There are over 300,000 dropshipping products in EPROLO which cover more than ten popular categories. As of 2021, the app has fulfilled more than 30 million orders for international customers.
Who is it for?
EPROLO is a platform for online stores selling globally. Businesses can use it to sell products all over the world via local suppliers.
Features in the Free Plan:
Import products from EPROLO's own marketplace and AliExpress

Source products from Chinese and international suppliers

Custom packaging and POD branding for businesses

One-on-one customer support for users
Best Free Apps for Shopify: Summary
With the right selection of Shopify apps, you can optimize your online store for a better customer experience and higher sales—at no cost.
While the list of free Shopify apps we recommend is not exhaustive, they are a very good starting point for the eCommerce businesses who want to explore new functionalities but are not ready to pay for them yet.