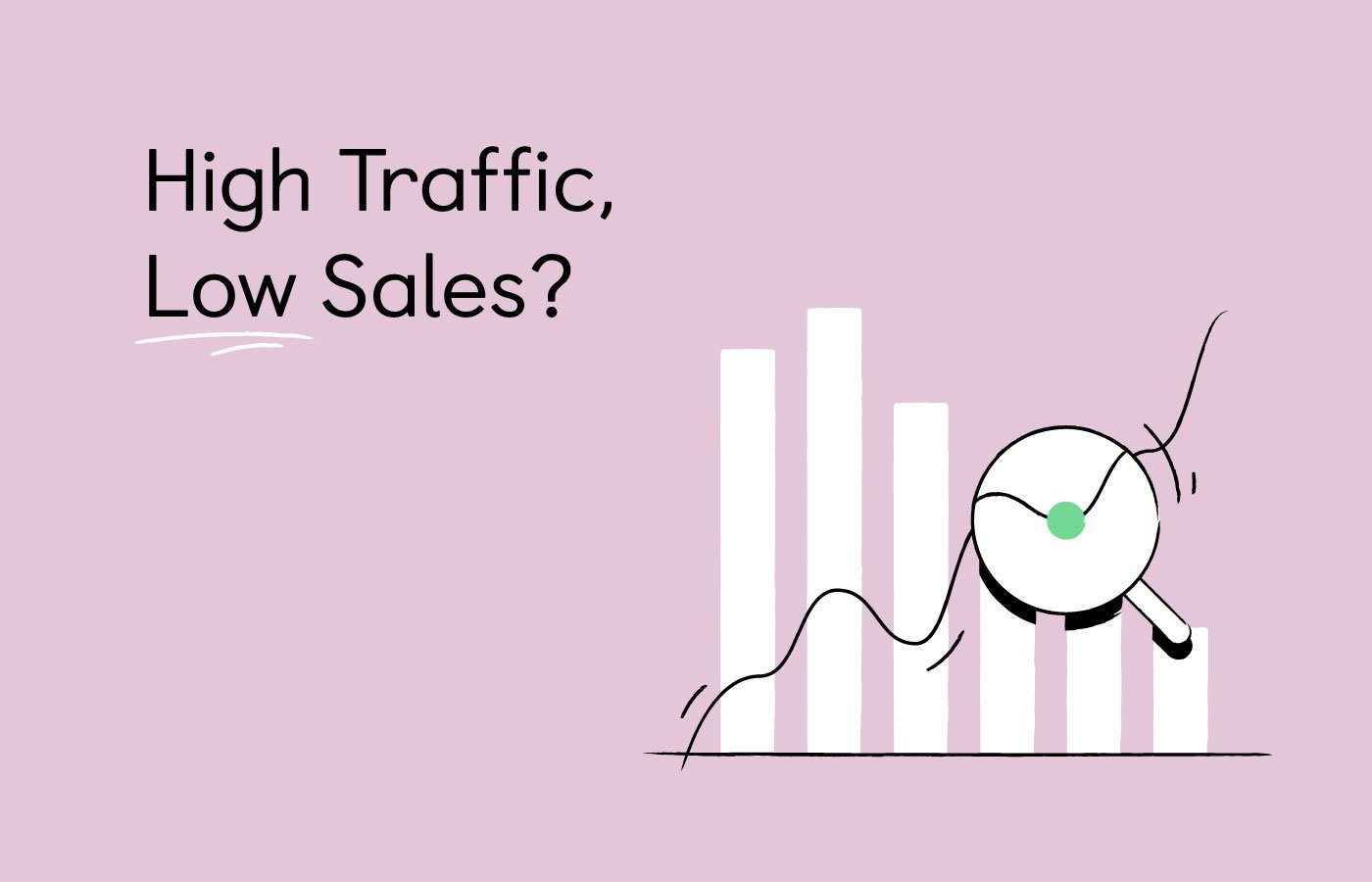 "My Shopify store is getting 1.5K visitors and no orders. Why am I not making sales?"
This Shopify forum message reminds of that nasty issue:
Traffic but no sales on Shopify.
After the hard work business owners have done to create and promote Shopify stores, they deserve to get returns. If you're looking for some help to make the first sale, you're in the right place.
In this guide:
5 Reasons Why a Shopify Store is Not Making Sales
Let's investigate why a Shopify store could be getting traffic but no sales.
Generic Product Descriptions
A Shopify store may be getting traffic but no sales because product descriptions aren't compelling. If the descriptions are generic, they won't excite customers. So, they leave within minutes after visiting a Shopify store.
Reasons why Shopify product descriptions are unengaging:
No benefits—too much focus on product features
No storytelling—mini-stories encourage customers to imagine having products
No sensory words—"crunchy," "smooth," and similar adjectives can make descriptions more engaging
Complicated language—such a description often sounds unnatural
Bland and obvious phrases—"excellent product quality" says nothing to customers
Even one of these reasons can cause a low conversion rate or no Shopify sales even despite having traffic.
Zero Trust Factors
Wondering why your Shopify store is not making sales despite high traffic? Considering checking your store for trust signals. About 17% of customers leave shopping carts because they don't trust online stores with credit card information, says Baymard Institute. To reassure your visitors of the security of their sensitive data, install "trust badges" on your store.
Shopify provides:
Security badges
Payment badges
Money-back guarantee badges
Third-party endorsements.
Here's how Shopify trust badges look:

Source: Shopify
Need one right away?
Free Trust Badge is a payment trust badge Shopify recommends adding to product pages, landing pages, and homepages.
Poor Design and UX
Customer experience browsing your Shopify store defines if they decide to buy. For example, too much focus on technical features leads to a risk of low or no sales on Shopify because it might make navigation difficult.
The most common UX problems with Shopify stores:
Too few navigation buttons—a lack of them make navigation more difficult
"Unappetizing" interface—too many products on one page makes a store come across as too pushy
Complicated checkout process—too many unnecessary steps add friction and frustrate customers
Check for these Shopify store UX problems with heatmaps. They are visualized maps showing where visitors click, stop scrolling, and what captures their attention. Like this heatmap below showing the most clicked areas on a homepage.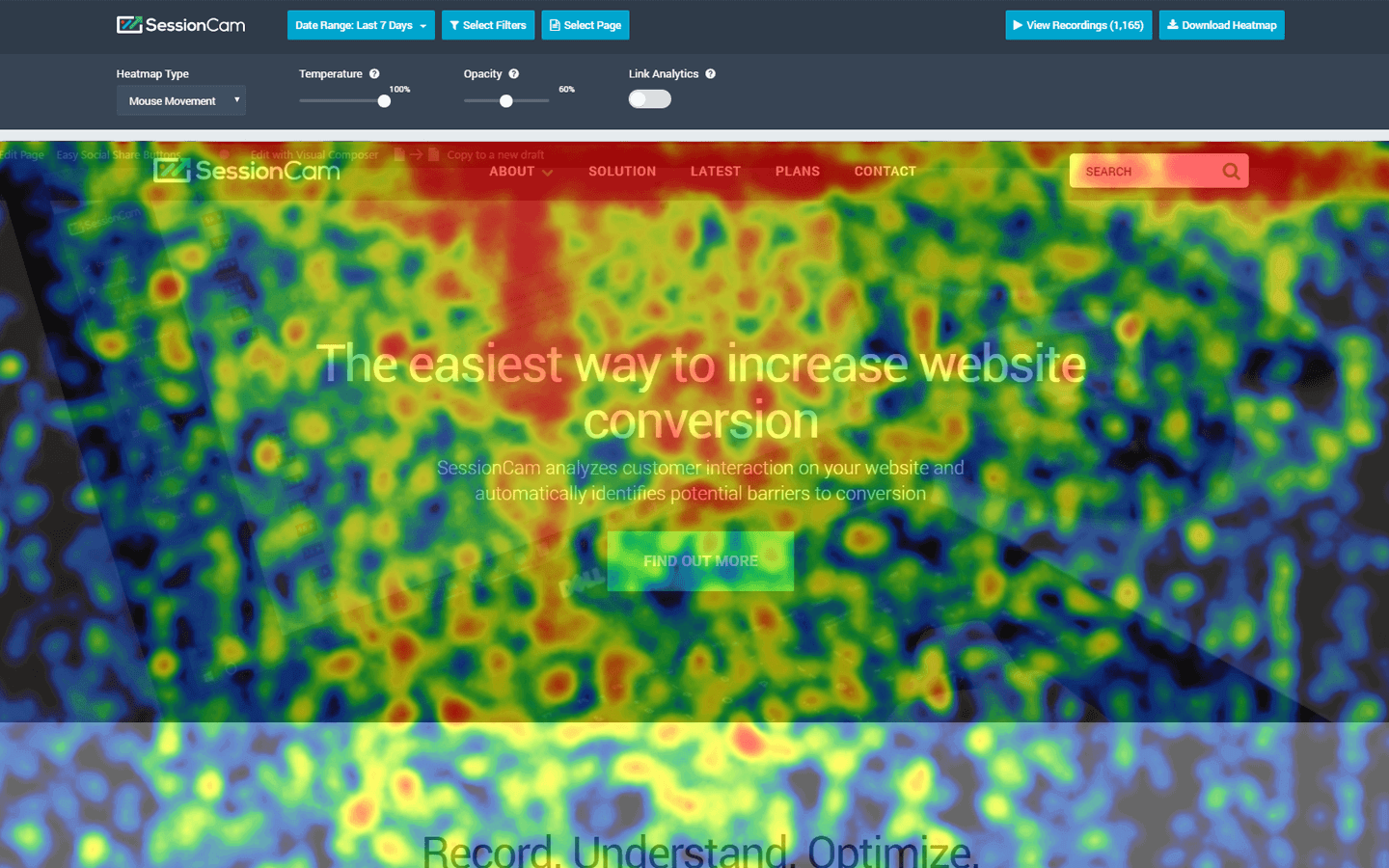 Need app recommendations? The most popular heatmap tools to collect user behavior insights are Hotjar and Crazy Egg.
Complex Navigation
If you're getting traffic but no sales, your Shopify store might have complex navigation. It prevents visitors from converting by confusing and overwhelming them.
Common signs of complex Shopify store navigation:
Extensive menu—the main menu contains over ten categories
Long menu descriptions—menu items contain more than two words
Unclear navigation—links to product pages aren't clearly visible from the homepage.
Proozy, a Shopify fashion store, is a good example of clear navigation. All menu options are accessible from the home page. A large product image with a CTA makes it easy to start shopping.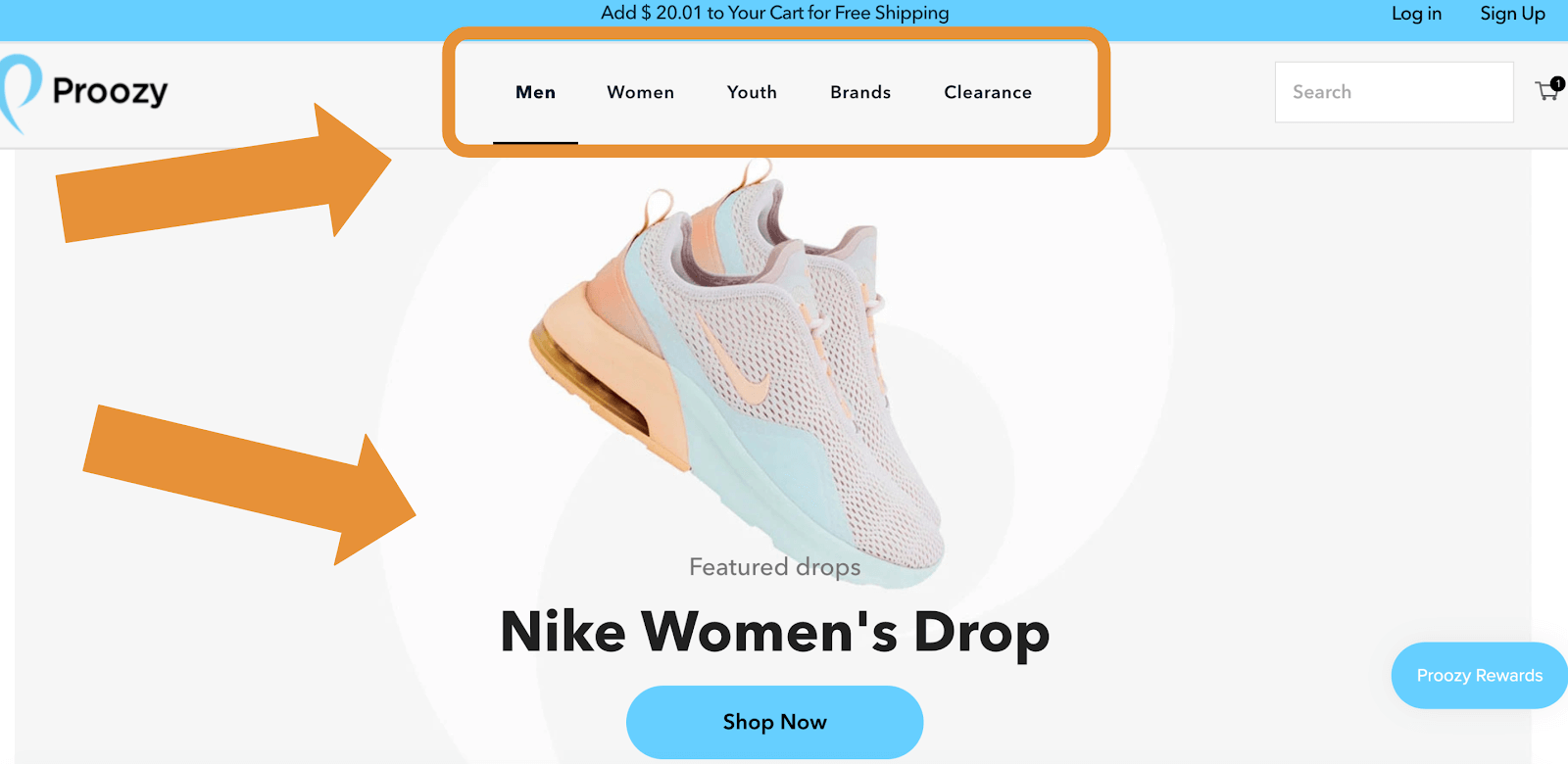 So if you're asking why you're getting traffic but no sales, check your Shopify store's navigation. Clear and effortless navigation is key to a positive shopping experience, so test your store to find issues hurting it.
Abandoned Shopify Shopping Carts
Shopify shopping cart abandonment happens when a customer adds a product to a cart but never checks out. All Shopify stores are struggling with this - the average online shopping cart abandonment rate is at whopping 70%. That's why it's one of the biggest reasons for the "Shopify traffic but no sales" problem.
Baymard Institute found that customers abandon orders because of:
Unexpected shipping costs
Mandatory account creation requirement
Long checkout process
No opportunity to calculate costs before checkout
Slow delivery.
Store owners who have no sales on Shopify can start selling if they address these reasons. For example, enabling a guest checkout option eliminates the mandatory account requirement issue.
Helpful resources for recovering more abandoned carts:
Proven Ways to Get Shopify Sales
Use these strategies to make Shopify sales in one day. We collected 11 different, low-cost strategies, so you'll definitely find at least some that meets your budget. Let's resolve that "traffic but no sales" problem once and for all.
1. Send Welcome Push Notifications
Website push notifications with discounts attract attention of Shopify store visitors and encourage them to buy. Shopify stores offer visitors to subscribe to pushes and send them a discount or another perk right away to encourage buying.
How to make your first sale on Shopify this way:
Get subscribers—Ask your store visitors to subscribe to getting push notifications
Share a discount—Send the first push notification with a discount code
Make a Shopify sale—Customers claim the discount and buy.
Here's how this works in more detail. A visitor subscribes to welcome push notifications and gets a message like this one from Intelligent Blends. The customer claims the discount code, applies it, and places an order.

Speaking of orders, Intelligent Blends were able to generate $92,000 with welcome push notifications. They welcomed visitors with custom messages with an offer for first-time customers. Every push notification subscriber received a coupon with a 10% discount. The click-through rate of the welcome messages was an impressive 10%!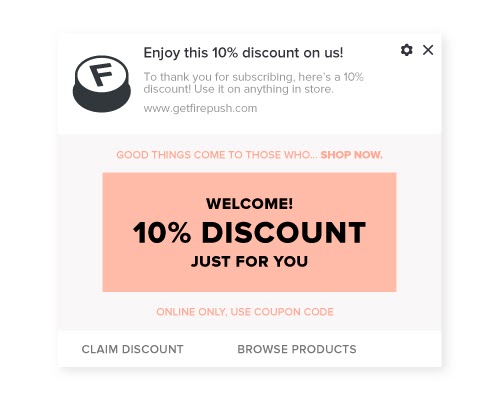 You, too, make the first sale on Shopify with welcome push notifications. Just add them to your store thanks to a dedicated Shopify app and start collecting subscribers. Of course, customize your welcome push with a nice offer, and you might solve the "no sales on Shopify" problem quicker than you think.
Adding a push notification app to Shopify only takes a minute, and it's 100% free.
2. Send Shopify Abandoned Cart Recovery Emails
Abandoned cart emails are sent to customers who left without finishing the purchase. It's a good strategy to increase Shopify sales because it appeals to customers' desire to buy a product they're interested in.
A typical shopping cart recovery email looks like this.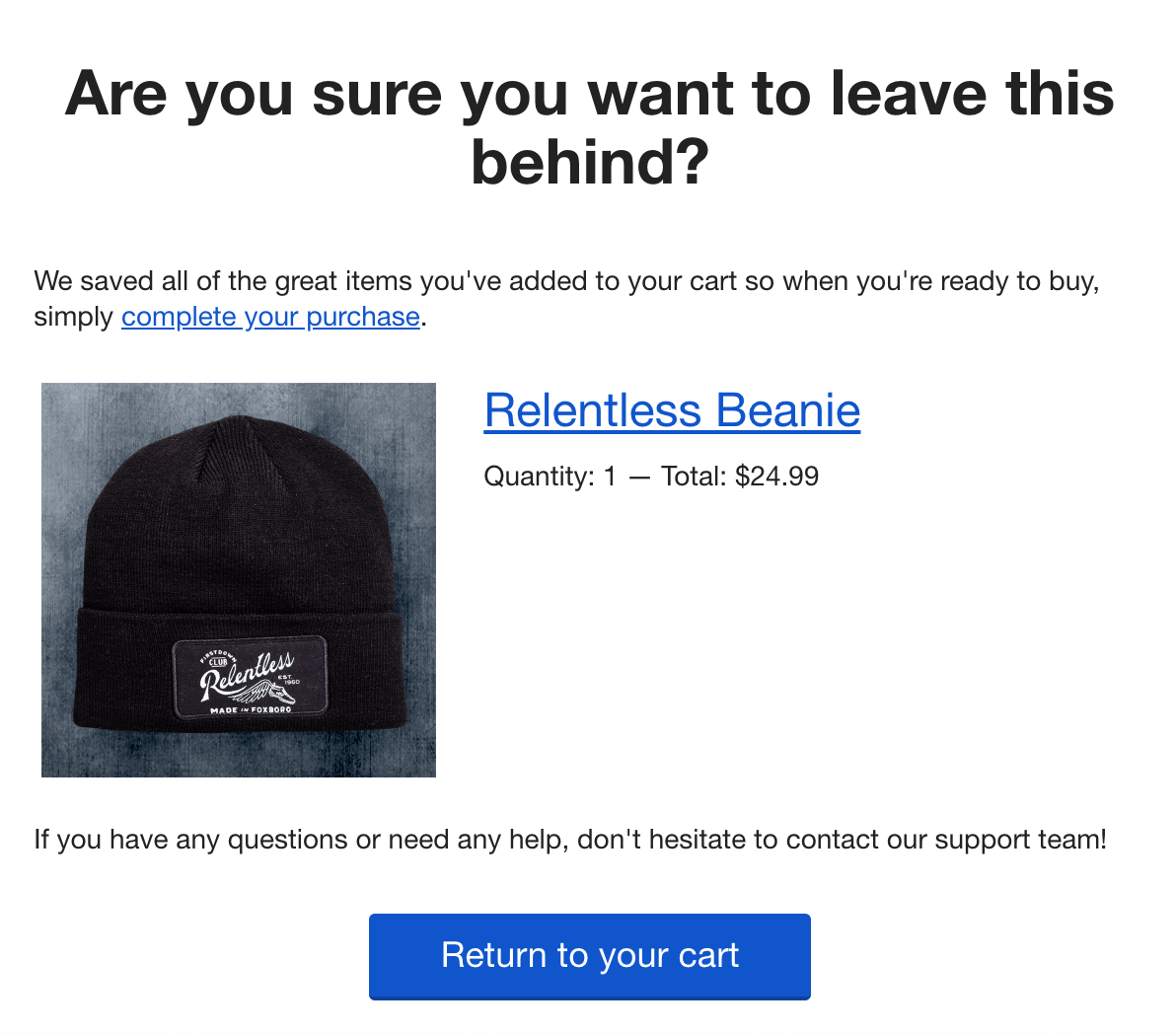 The trick is to send a link to an abandoned cart quickly and automatically. If the customer still wants the product, they can click the link and return to the cart. Thanks to a Shopify email marketing tool, you can send these emails automatically.
Here's how to make your first sale on Shopify with such emails:
Add an email marketing tool to your store
Customize abandoned shopping cart email templates
Configure how and when to send out emails
3. Use SMS Marketing
Listen to this: 98% of text messages are opened and read.
No other marketing method enjoys such an incredible open rate. If customers don't ignore SMS messages, they could be a game-changer for Shopify stores.
Get the first sale on Shopify with:
Abandoned cart SMS—a message with a link to the abandoned shopping cart
Promotional offer SMS—special offers, flash sales, and discounts
Welcome message SMS—send a discount as a welcome to encourage first purchases.
So many chances to solve the problem of no sales on Shopify, automatically.
An abandoned cart SMS looks like this.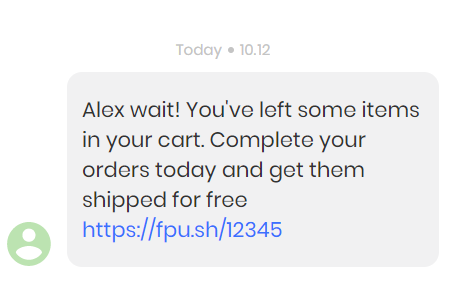 But that's not all. With an automated SMS marketing app for Shopify like Firepush, you can request customer reviews and update on order delivery with quick messages.
So, you can both promote your Shopify store and help customers. A win-win!
4. Add Customer Reviews
Encourage your first customers to leave reviews and add them to your Shopify store. This way, you're increasing customer trust—a critical factor given that 35% of customers buy because of customer reviews (Oberlo). If a visitor checks out that other people had good experiences with your business, they'll be much more likely to buy. So, if you're getting traffic but no sales on SHopify, this strategy is a must.
The best places for reviews are product pages and checkout pages. These pages attract high-intent visitors that are likely to buy, so they have a good chance to help get Shopify sales. Proozy, an apparel store, displays them even on product menu pages.
This way, the brand is earning visitors' trust—a must to get Shopify sales.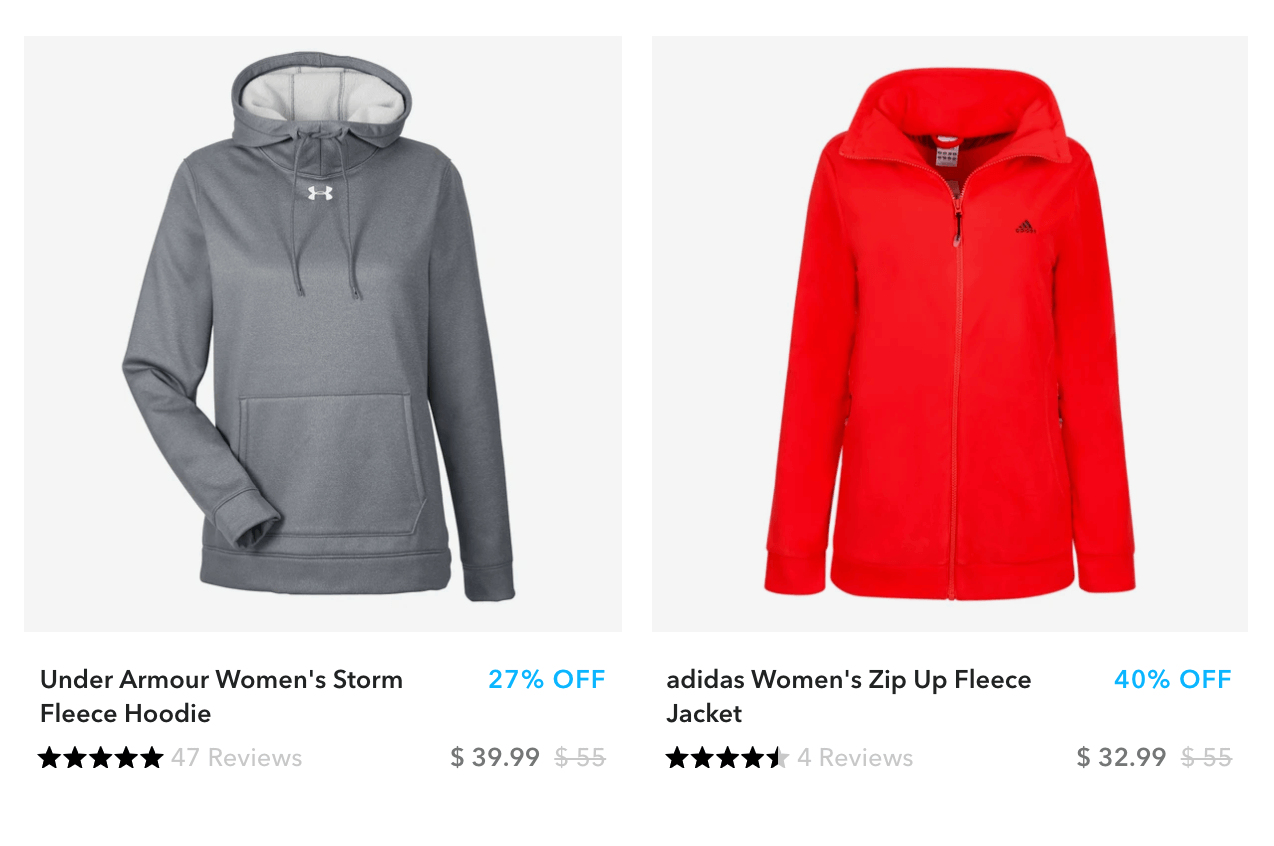 How to use reviews to make more sales on Shopify? With a plugin, of course. If you need recommendations, check out the Product Reviews plugin. It's top-rated, free, and is easy to add to Shopify stores.
5. Check Product Descriptions
"Wearing this will make me so cool!"
That's what customers think while reading compelling product descriptions. No Shopify sales are possible with generic descriptions because people read tons of them while looking for products online. So give them something engaging—they'll love you for it. And that "Shopify traffic but no sales" problem will be history.
Look at this Shopify product description from Pura Vida. Instead of genetic "These earrings will look nice," it says they'll make the customer "The best-dressed girl in the galaxy." That's how to get Shopify sales in an awesome way!

Write creative product descriptions to attract customers. People love creative stuff, so they might be even more likely to remember your store among others.
6. Add a Live Chat to Your Store
Don't have live chat on your Shopify store? Consider fixing that immediately, because 46% of online customers prefer it for contacting businesses. It's a legit way to connect with customers in real time and get Shopify sales, which is already used by thousands of stores.
Live chat works like this. A visitor clicks on a live chat widget to begin a conversation (shown in the image below). The store manager gets a message immediately and gives an answer. The whole thing can take less than a minute.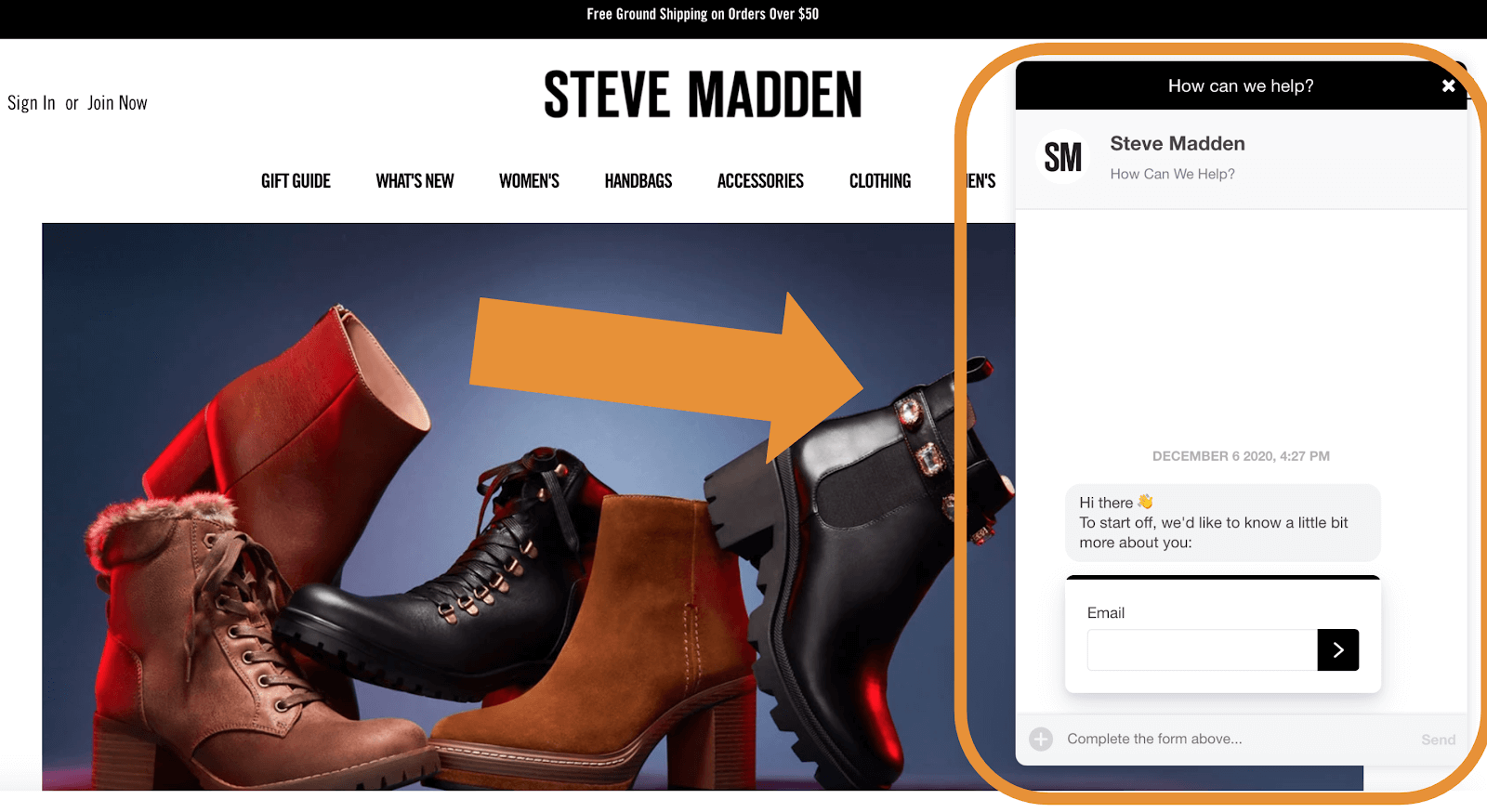 That's why customers use it to get quick answers about products, delivery, returns, etc. A lack of a live chat can easily cause a Shopify store to have lots of traffic but no sales.
When choosing your Shopify live chat, ensure it has these features:
Real-time visitor list—it means you can see a list of your store visitors in real-time, and message them your deals
Quick responses—pre-written answers to save time on replying; this helps to speed up work
Email request—get emails from visitors to start a chat and build a list of subscribers
Most live chat apps for Shopify have these features, but checking for them is still a good idea.
7. Optimize your store for search engines
Search Engine Optimization (SEO) helps your store get more visibility on the largest search engines. Optimized stores appear higher on the search result pages when someone searches for related products. This way, you get more organic traffic to your store. Studies show that organic search can bring as much as 38% of overall traffic to your website.
The best and the easiest way to optimize your store to bring in more organic traffic is by using an SEO app. SEO Booster can help you make your store easy to find on Google.
Use the SEO optimization app to:
Improve your store's ranking on Google
Increase the site's loading speed
Automatically add meta and alt tags to your images
Get suggestions for fixing SEO issues on your site
Enhance mobile customers' experience
The SEO Booster application is easy to use and doesn't require any technical knowledge. The provider offers 24/7 support, so you're never left alone if you have any questions. The app also has a free plan, so you can try it out before committing.
8. Launch a Google Ads Campaign
Google Ads advertise your Shopify store by showing it at the top of search results. With these campaigns, you can solve the "Shopify traffic but no sales" problem by making your business more visible. Many businesses started making sales by running campaigns only for a few days—it's enough to generate several hundred of high-intent visitors.
A Google Ad looks like this (see below). An ad appears when people use specific keywords—those used by customers to find products or services like yours. This way, Google Ads get your business in front of the right audience.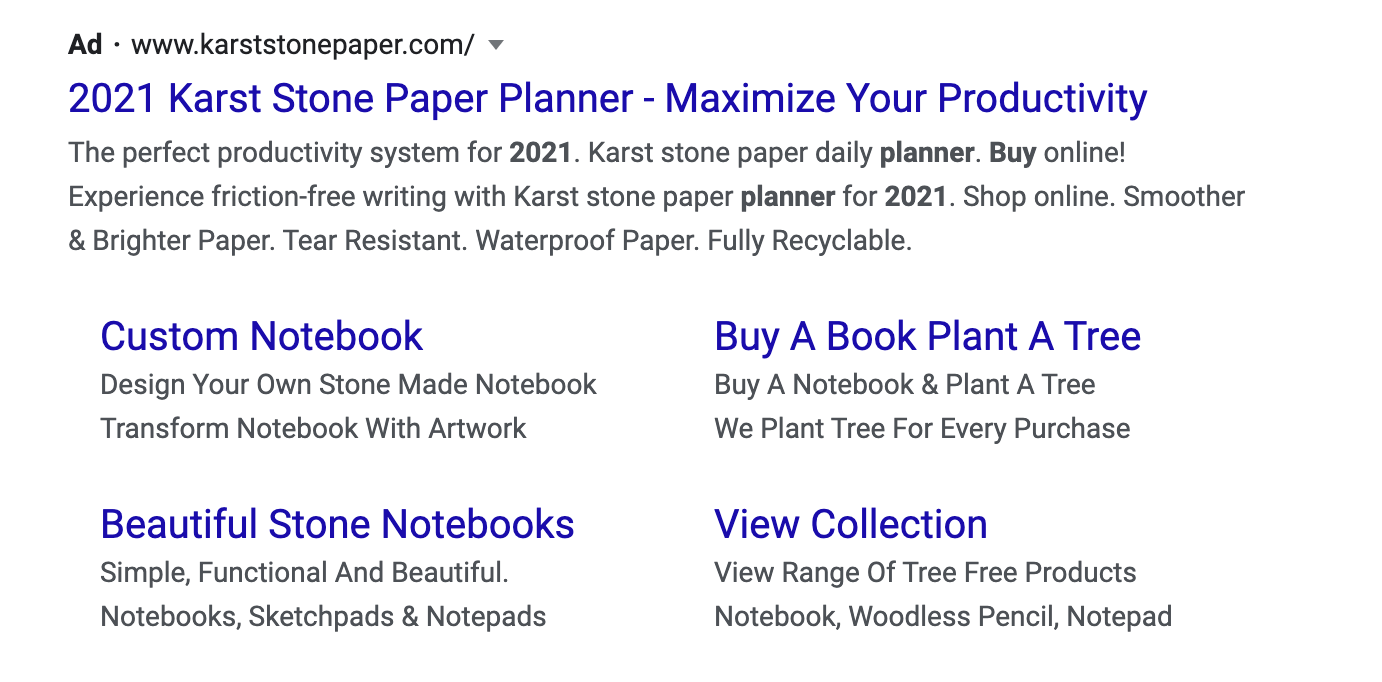 Google Ads help to stand out. That's why they're an easy way to get sales on Shopify for dropshipping businesses and brands.
Many business owners choose them because:
Campaigns cost from $5 per day
Charges apply only when a customer clicks on an ad and visits a Shopify store
Each campaign targets specific keywords and Google users
Any changes can be made quickly.
How to start with this method and solve "Shopify traffic but no sales" problem? Create a campaign in Google Ads account, choose keywords, and configure tracking.
Want to try Google Ads to solve the "Shopify traffic but no sales" problem? Read these to maximize the effectiveness of your future campaigns:
9. Start Blogging
If your Shopify store is getting traffic but no sales, try blogging. Online customers read blog articles when researching products, so you can become a go-to website for yours. Partake Foods, a seller of allergy-friendly foods, is a good example. The brand shares holiday gift guides, recipes, snack ideas—lots of useful content for their customers.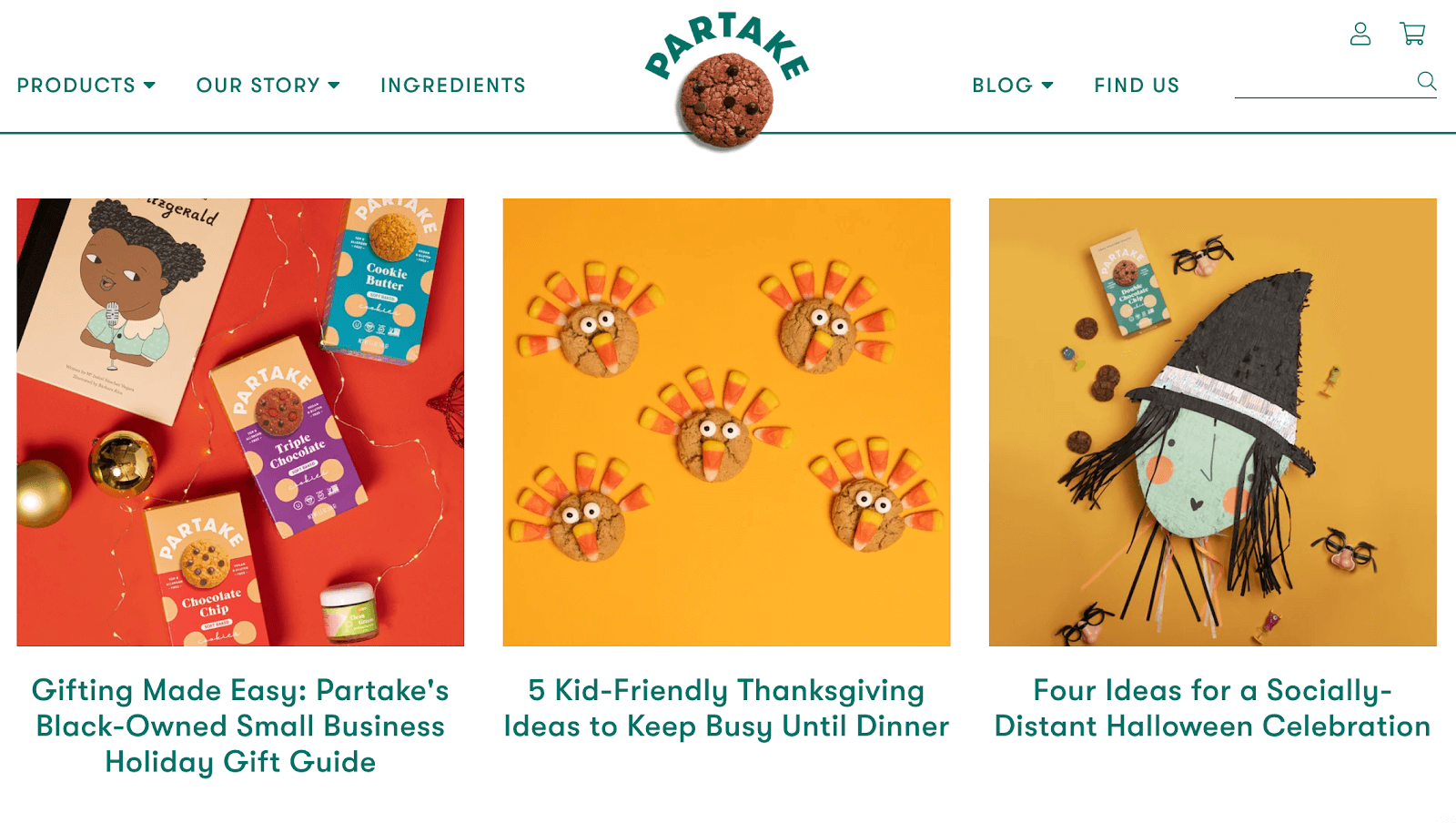 Source: Partake Blog
Do the same to get sales on Shopify. The platform has a built-in blog feature, so you can start creating awesome content. Also, consider giving 10% off for blog subscription to get more customer emails.
Blog post ideas to convert your Shopify traffic into sales:
Gift ideas
Product reviews
DIY ideas and how-to guides
Gift guides for specific holidays
Try the official Shopify blog guide to know how to build a value-packed blog. Also, check out some your competitors's blogs—there might be many ideas to inspire you.
10. Send Promotional Emails
Got some email subscribers to your Shopify store? If yes, we can get started with email marketing. If you want to know how to advertise a Shopify store for free, it's the way to go.
How to get the first sale on Shopify with promo emails:
Welcome emails with discounts for first-time customers
Sales announcements (here are sales promotion examples for your inspiration)
Product newsletters (product updates, descriptions of benefits, etc.)
Customers receive these emails very often. Here's an example: this sale announcement email shares a discount—a common way to increase conversions.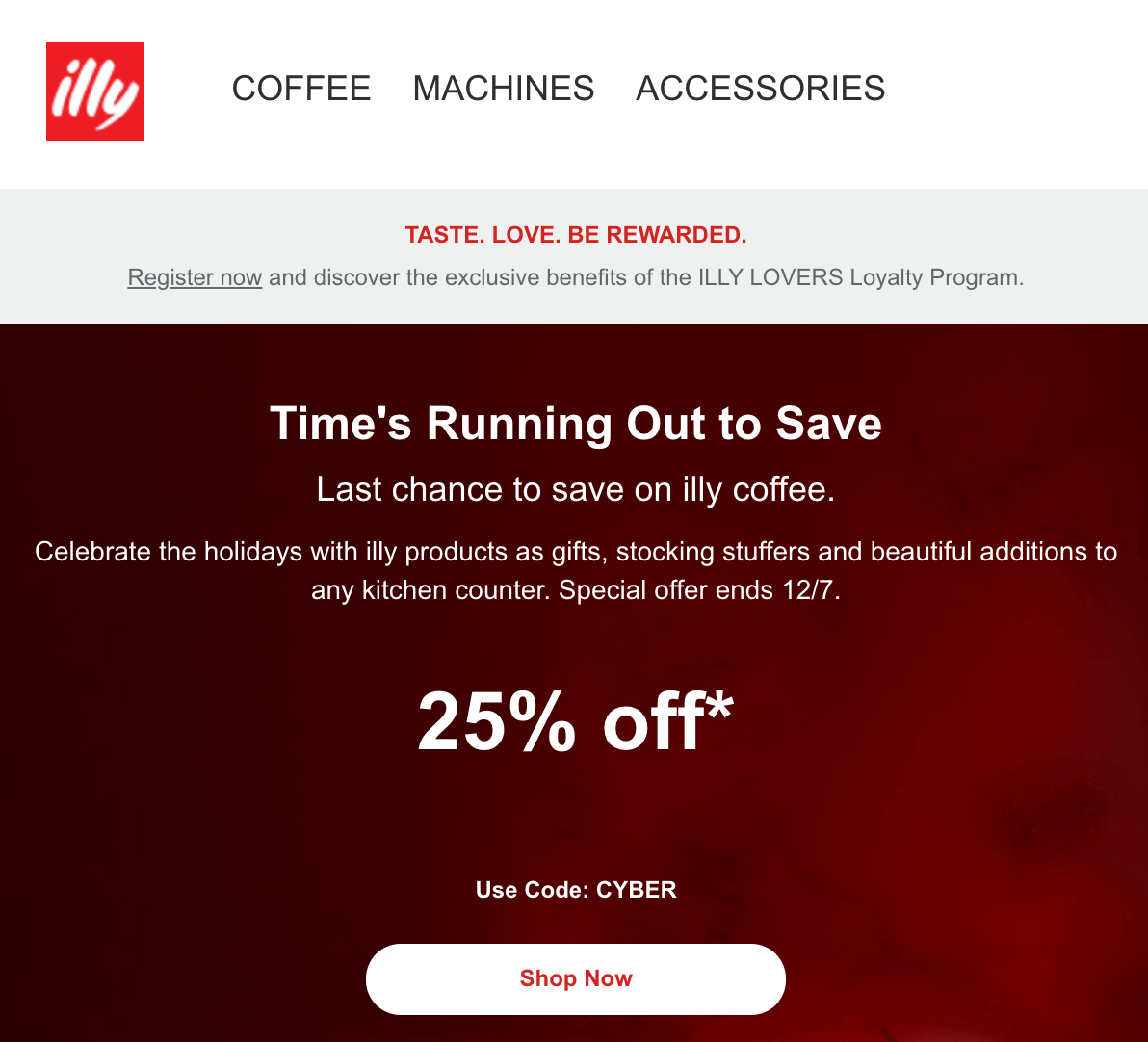 Keep in mind that email marketing tools provide email templates. So, you don't need any graphic design or coding skills—just add your logo, product images, text, and send it out. Besides, there are many free email marketing tools, so choose one and save your marketing budget.
Want to know how successful Shopify stores use emails? Check out these resources:
11. Give a Free Gift
Offer a gift for the first order to get Shopify sales. Since you've got traffic, we need to give customers one more reason to buy. A free gift as a "thank you" for choosing your Shopify store is a great one. Many businesses rely on this strategy.
Package Free, for example, gives a gift for orders over $60.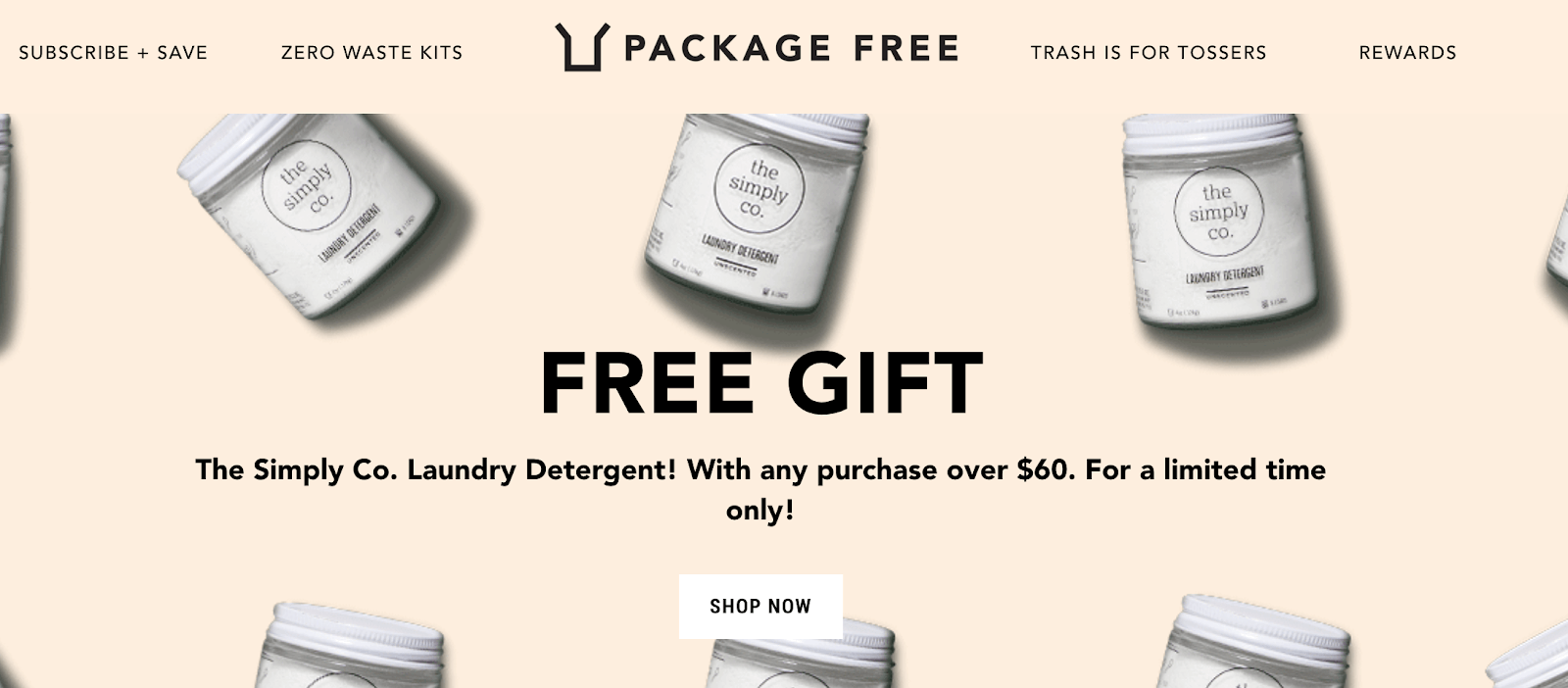 Encourage your visitors to place orders with this tactic, too. Add a free product to first orders over $50—and convert that Shopify traffic into sales.
Giving away a gift is awesome way to solve "traffic but no sales" problem because it:
Creates a good first impression
Shows customer appreciation
Stimulates visitors to make first orders
Encourages customers to share their experience on social media.
Also, create some sense of urgency by making this offer time-limited. This way, customers would be more likely to place an order to avoid losing a good deal.
12. Share Discounts
Give discounts for first-time customers. People like those, so it's a good way to get Shopify sales. The Oberlo's research says 41% of customers make purchasing decisions if given discounts. So a lack of discounts might be the reason why you've been getting Shopify visitors but no sales.
Shopify recommends these discount types:
Free shipping—53% of customers are more likely to buy to get free delivery (Oberlo)
Free gift—e.g., "Get an extra item if you buy X products"
Percentage-based discount—Discounts anywhere between 5% and 50%
Dollar value discount—e.g., "Spend $100, get $20 off"
How to get sales on Shopify store with discounts? Share them in emails, SMS messages, and push notifications—but mind your profits. Start with anywhere between 10% and 20% off—just enough to encourage buying and solve the "Shopify no sales" problem.
Solve The "Shopify Traffic But No Sales" Problem Once And For All
Making Shopify sales is easier said than done. But you can overcome the "no sales on Shopify" quicker than you think.
There are many ways to achieve this goal:
Website push notifications
Shopify abandoned cart emails
SMS marketing
Customer reviews on product/landing pages and checkout
More engaging product descriptions
Live chat messages
Google Ads campaigns
Blog articles
Promotional email marketing
Free gifts
Discounts
Go get them!