How Pura Vida Bracelets generated over $1 million in revenue with a low touch web push strategy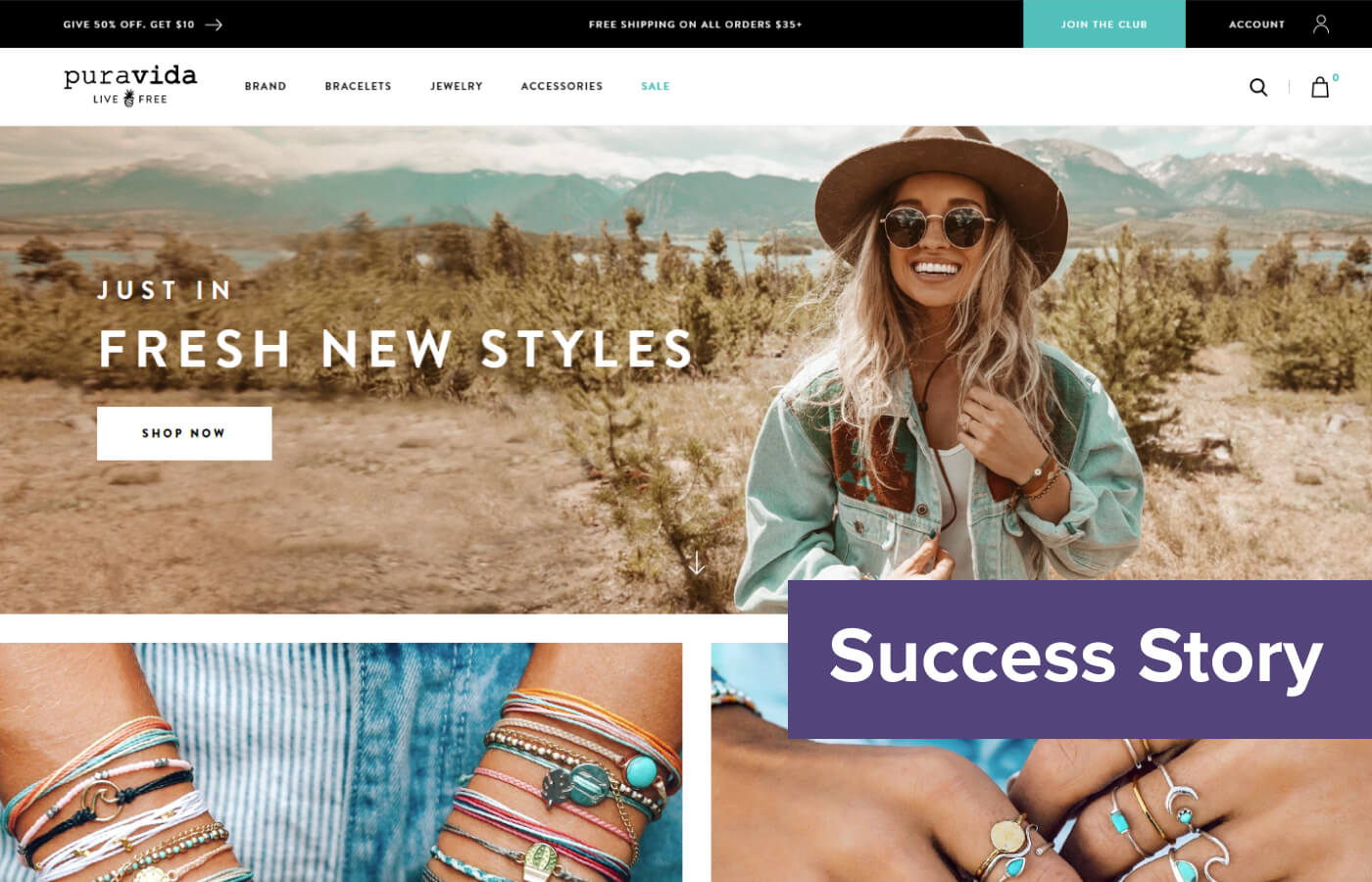 Puravida bracelets partnership with Firepush in numbers
Total number of push subscribers: 213,557
Total number of orders through push notifications: 23,390
Total revenue from orders through push notifications: $1,004,761
Total return on investment (ROI): x106
Most used push notification type: Power Push
Most effective push notification type: Abandoned cart push sequence
Click through rate on abandoned cart pushes: 7%
Conversion rate from those who clicked on abandoned cart pushes: 21.5%
How Pura Vida Bracelets was born
The best kinds of businesses are those that just seem to grow organically. There's an idea, a great product, someone with an incredible talent, and from there everything just spreads.
And you'll find few better examples of a company that grows as organically as the materials it uses in its products that Pura Vida Bracelets. In 2010, 2 college friends from Southern California, Griffin Thall and Paul Goodman, were travelling in Costa Rica. They stumbled across 2 artisans producing incredible, hand-woven bracelets.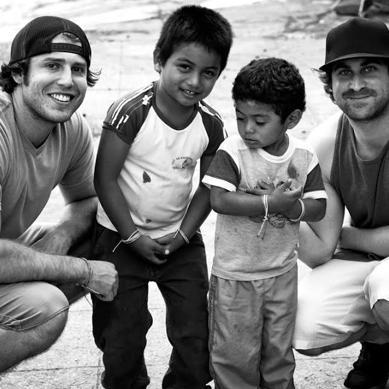 Griffin and Paul on their 2010 trip to Costa Rica
Discovering that the artisans were struggling to make a living, they decided to buy 400 bracelets and sell them in boutiques and surf shops back home. The bracelets sold out almost immediately, so they bought some more and set up puravidabracelets.com. And the rest, as they say, is history.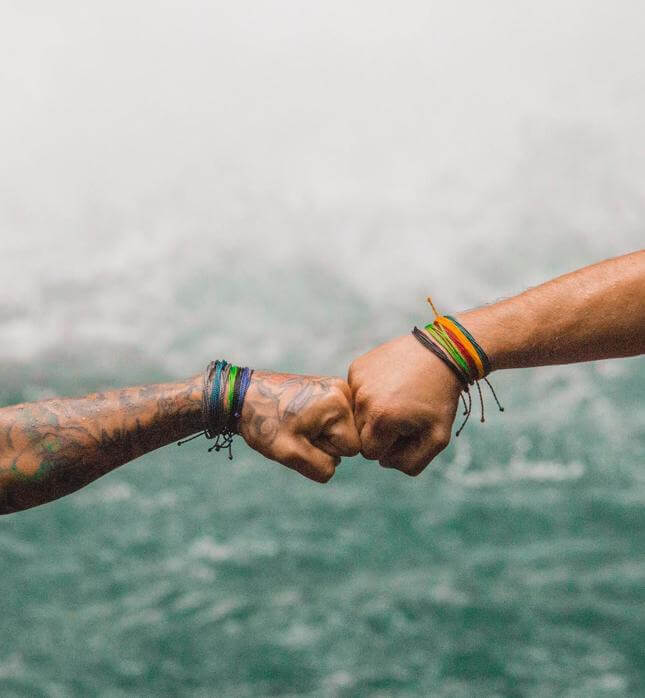 Some of the original bracelet designs Griffin and Paul discovered in Costa Rica
A lean team with a growing audience
Since 2010, it is fair to say that Pura Vida Bracelets has exploded. While the company still works with the same 2 artisans who kicked the whole thing off, it also partners with 800 others around the world. This has enabled Pura Vida Bracelets to grow its sales, and add a wider variety of jewellery for its 1.6 million instagram followers to melt over.
But one distinctive feature of this company is that it still maintains a lean operation with a small team. And there's a good reason for this. Pura Vida is a company that gives back.
Since its inception, Pura Vida Bracelets has donated $1.9 million to a range of charities. It partners with 175 charities in total, everything from emergency disaster relief to cancer research.


Maintaining a lean team enables the company to give back more. But this approach does have some downsides when it comes to marketing, as Margaret from the Pura Vida marketing team explains.
"We are a very lean team, a very small team," she explains. "And we need our marketing tools to have wide reach and to be impactful without too much effort from our side." This is something which has become increasingly important as Pura Vida's audience and product range has grown.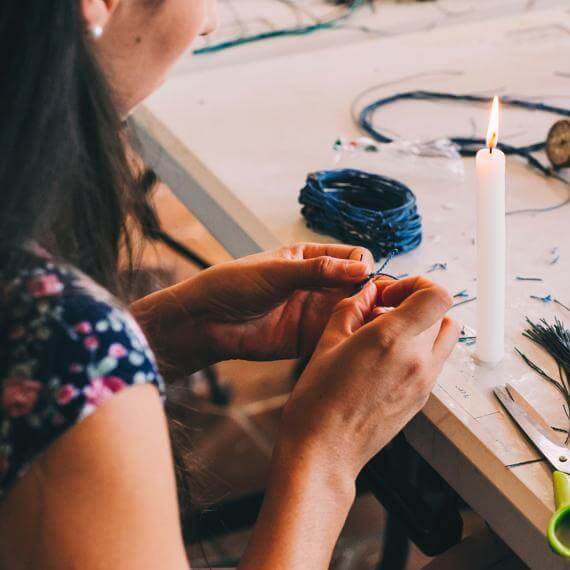 Pura Vida give back to their artisan producers, which means they aim to keep their operations lean
Frustrations with email marketing
As you would expect with an ecommerce venture, email became an important part of Pura Vida's overall marketing strategy. But as the company grew, this channel began to put strains on the company's lean model of operating.
"With email, I think the most frustrating part is the level of effort around getting emails together – it's extremely high," Margaret told us. "The whole process of coming up with copy, subject lines, body copy, creative. And then there's the set up and all of that, the QA process. There is just a lot involved in getting an email up and running."
Pura Vida's unusual audience demographic also meant an omnichannel approach (using multiple marketing channels simultaneously in a coordinated fashion) was essential, as opposed to relying solely on email. Pura Vida's marketing is aimed at two audiences, as Margaret explains: "Our customer profile is heavily female, and in terms of the brand and aesthetic it leans towards teens and young adults. But in terms of who's purchasing the product, it's often the moms of these teens or young adults." Speaking to these two groups simultaneously required multiple marketing channels.
And with a predominantly young target audience, using mobile-oriented channels was also essential. This was becoming even more pressing as the store's Instagram community was blowing up.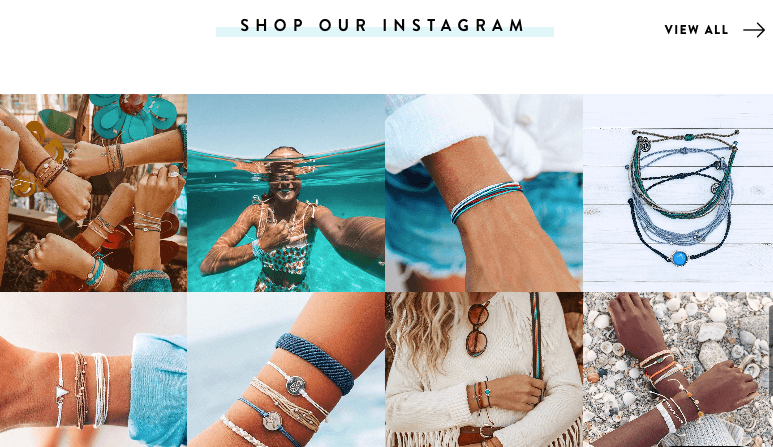 Pura Vida Bracelets has an active community of 1.6 million followers on Instagram
So Pura Vida's marketing team was on the lookout for a low touch, mobile-friendly marketing tool that could deliver the reach, engagement, and impact Pura Vida's wider horizons required.
In the summer of 2018, Pura Vida started using Firepush.
Pura Vida Bracelets' recipe for success with Firepush
As befits a company focused on lean operations and committed to giving back to its community, Pura Vida does not take decisions on new marketing tools quickly or lightly. Wasting time and money on a solution that's not up to scratch is not an option.
"We don't jump in and use apps without a strong vetting process," Margaret explains. "When it comes to Shopify Plus apps that are more than simple plug-ins or tools, we place a heavy focus on customer-support in the decision-making process. And we lean more towards vendors that offer a white glove service, especially if it's something new to us, such as a new channel."
"Price always comes into play at some point along the way, but usually the first thing we're looking at is the knowledge base, the strategy they can provide along the way. We don't want it to be a "set it and forget it" kind of thing, we want them to do a monthly or quarterly check in with recommendations and really provide their expertise and insight on it. But it would be a lie for me to say that pricing doesn't play a part because it definitely does."
So Pura Vida had high expectations for Firepush, which it wanted to use for web push notifications. This was a new channel for Pura Vida, and the team decided on two push notification types from Firepush - Power Pushes and abandoned cart pushes. Power Pushes are push notifications with either GIFs or rich visuals. Abandoned cart pushes are automated messages sent to customers who add items to a cart but don't complete the purchase.
Pura Vida customers can subscribe to push notifications via a pop-up on the website. They then receive a welcome message with a link to the store.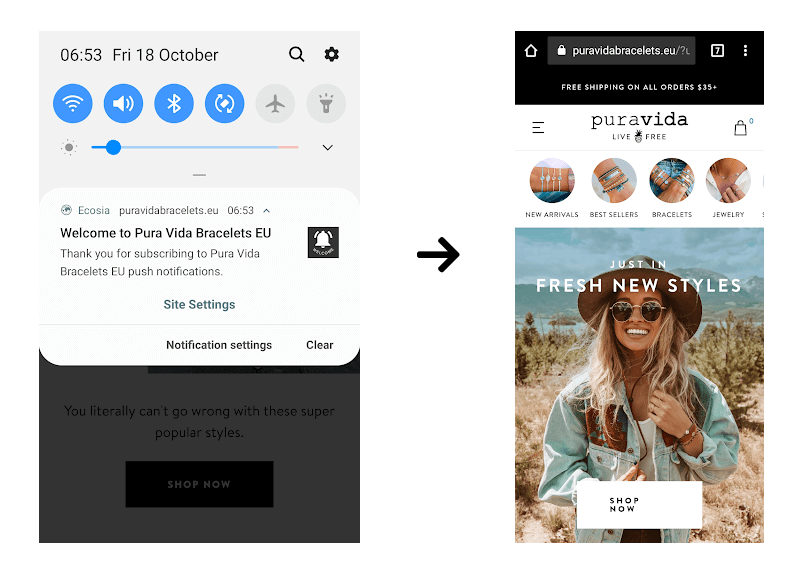 New subscribers receive a welcome push on their mobile or desktop
Subscribers then receive push notifications alerting them to new product arrivals or when there is a deal on. They will also receive a flow of abandoned cart notifications if they add an item to their shopping cart but don't complete the purchase.
"We mostly send Power Pushes," says Margaret. "We use these if we have a new product launch, and if we are running any kind of sale or promotion, such as Black Friday and Cyber Monday sales. We also use Power Pushes to send exclusive offers to our subscribers – different discounts that are unique to them with a special discount code. We utilise it in different ways, but I would say the majority of it is highlighting new releases, or content like holiday gift guides, things like that."
Low touch marketing with Firepush
Pura Vida Bracelets' motto is "live free." And with Firepush, they are enjoying freedom from hassle, as well as high overheads.



Whereas preparing email campaigns still takes a lot of time and resources, push notifications are proving simply yet effective.
"What stands out for me about using Firepush in comparison to other tools or channels is the ease of use,". The ability I have to duplicate a campaign, and then just quickly edit the different unique fields that need changing is very very helpful."

Margaret Odisho, eCommerce Manager at Pura Vida Bracelets
This speed and ease of use is ideal for a lean team like the one at Pura Vida. It also affords them more flexibility.
"At times there might be spur-of-the-moment decisions when we need to set up a campaign really quickly. Firepush makes it really easy for us to get a campaign up and running fast."

Margaret Odisho, eCommerce Manager at Pura Vida Bracelets
Revenue and ROI with a minimum of fuss
The Power Pushes and Abandoned cart pushes that Pura Vida use are helping this lean marketing team score some impressive results.
"We are consistently making $30K in revenue per month using Firepush. And the amazing thing about that is that, out of all of our channels, it takes the least amount of time and effort."

Margaret Odisho, eCommerce Manager at Pura Vida Bracelets
Let's take a closer look at how Pura Vida's campaigns using Firepush are set up, and the results they are achieving.
Overall results since May 2018



Pura Vida's overall results using Firepush since May 2018
Pura Vida has built a subscriber base of 213,557 for push notifications in just over 1 year.
From this base they have generated $1,004,761 in sales.
This is equivalent to $4 in revenue per subscriber.
Pura Vida's total return on investment with Firepush has been 106%. This equates to a ratio of 10:1. In other words, for every $1 spent on push notifications, Pura Vida generates $10 in revenue. Typically, a ratio of over 5:1 is considered good for a marketing campaign, and anything over 7:1 is a very strong result.
Results using Power Pushes since May 2018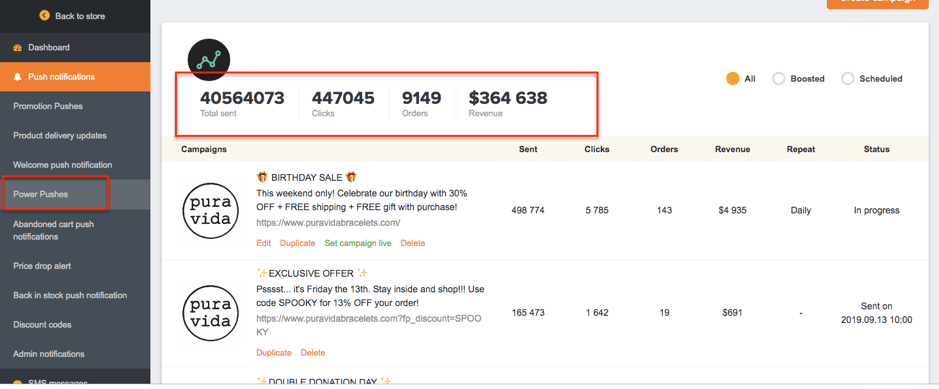 Pura Vida's results for Power Pushes
Pura Vida uses two types of push notification to engage with its audience - Power Pushes and Abandoned cart pushes.
56% of the revenue they generate from push notifications is driven by Power Pushes.
In total, Power Pushes have led to over 9,000 orders, generating over $350,000 in revenue.
They send Power Pushes to promote sales events, announce the arrival of new products, and share quality content such as gift guides.
Results using abandoned cart pushes since May 2018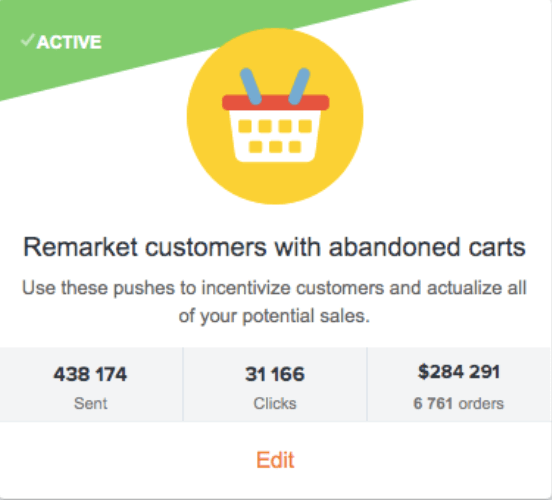 Pura Vida's results using abandoned cart pushes
44% of the revenue generated by push notifications comes from abandoned cart pushes.
These push notifications have an average click through rate of 7%. By way of comparison, a strong email marketing campaign should aim for a 2.5% click through rate.
Pura Vida's abandoned cart pushes also convert well. The conversion rate of those who clicked is 21.5%. In other words, 1 in 5 customers click through on a Pura Vida abandoned cart push go on to make a purchase.
Abandoned cart pushes have led to over 6,700 additional orders, generating close to $300,000 in revenue since May 2018.
Consistent month to month performance
One point that Margaret emphasises when discussing the results they get from Firepush is the level of consistency this tool delivers. "On a month to month basis, when we review our metrics, we have never seen a downtrend or anything concerning," she points out.
And this is also an important factor for a small team. When results vary from month to month, it can take a lot of time to dig into why one campaign worked but others didn't. It can also ramp up the stress for a marketing team when they feel uncertain as to whether their time and effort in putting together a campaign will bring rewards.
On the other hand, if you are confident in the results a campaign will deliver you'll spend less time deliberating. Plus, this can make planning and budgeting easier as well.
Just getting started with Firepush
By their own admission, Pura Vida Bracelets are just getting started with Firepush.
The brand's blend of Power Pushes that promote deals, present new products or offer VIP discounts, combined with abandoned cart pushes, is certainly performing well so far.
Pura Vida successfully generates over $30,000 in revenue every month using Firepush, and has made a total of almost $650,000 in 17 months.
One skill they have been perfecting is getting the cadence of messaging right. "We noticed that if we were sending a push every day, we were seeing more return on those campaigns," explains Margaret. "But we also noticed that our subscription list wasn't growing, and it was probably because people were getting frustrated by the volume and either unsubscribing or disabling their push notifications."
As Margaret concludes, while Firepush is certainly delivering for their Shopify Plus store, this is only the beginning. "I feel like we only use 1% of what Firepush has to offer, but still get amazing ROI from it."