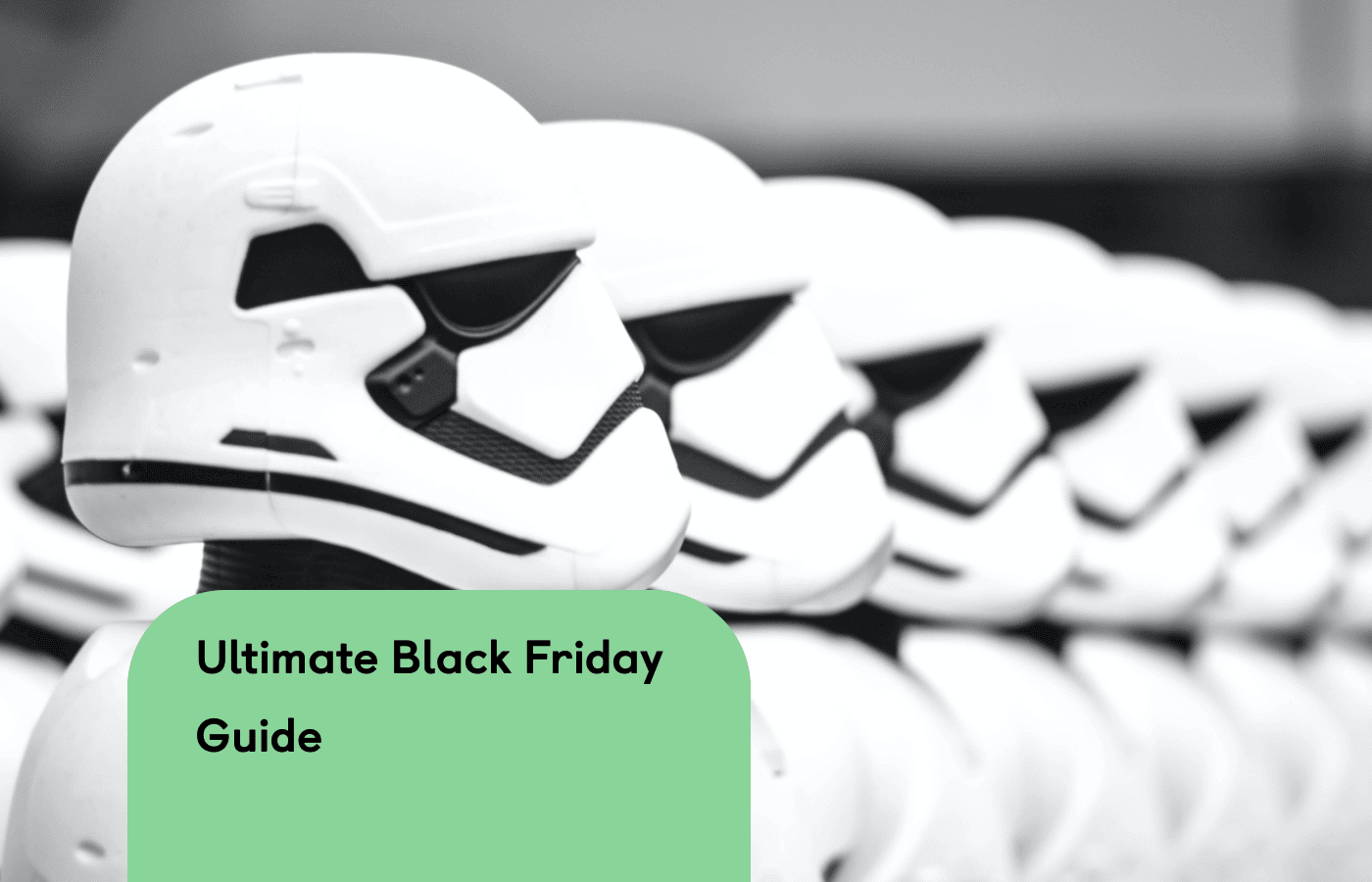 Black Friday is a big deal for businesses. And, while concepts and ideas on Black Friday campaigns are interesting, what most marketers are really looking for is the specifics:
How many SMS, push notifications or Facebook Messenger messages should you send over the Black Friday sales period?
Which of these channels perform best over the Black Friday weekend?
What days and times are best for sending?
What should the content of these messages be?
Where should these messages link to?
So we decided to put together this detailed guide to using SMS, push notifications and Messenger over the whole Black Friday and Holiday season. It includes insights from our Black Friday data, and a detailed strategy you can follow in 2021.
Insights and takeaways from Black Friday Marketing Campaigns
We dived deep into our Black Friday data from past years so we can show you what has been proven to work for Shopify stores. We have analysed Black Friday campaigns by Firepush users that reached over 7 million shoppers and brought in almost 1 million orders.
Here are some of the key insights we have discovered from this data, and what they mean for your Black Friday strategy:
1. Push Notifications and Messenger convert best
Conversion rates were strong for all three channels last Black Friday. Web pushes performed the strongest, but they all averaged above 5%.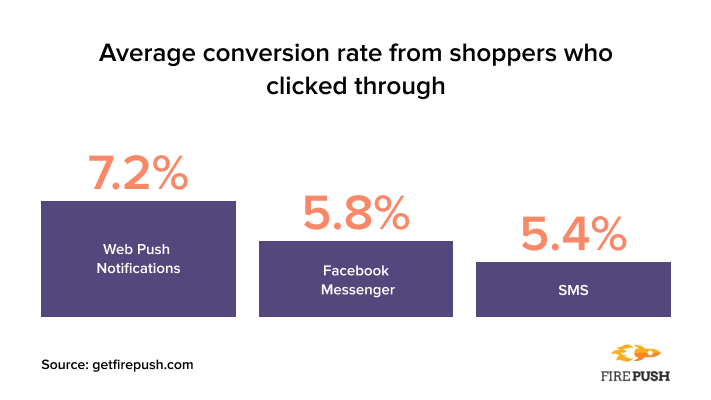 2. Messenger and SMS offer the highest click through rates
While all of the channels performed well, and Messenger and SMS offered the highest click through rates over the weekend.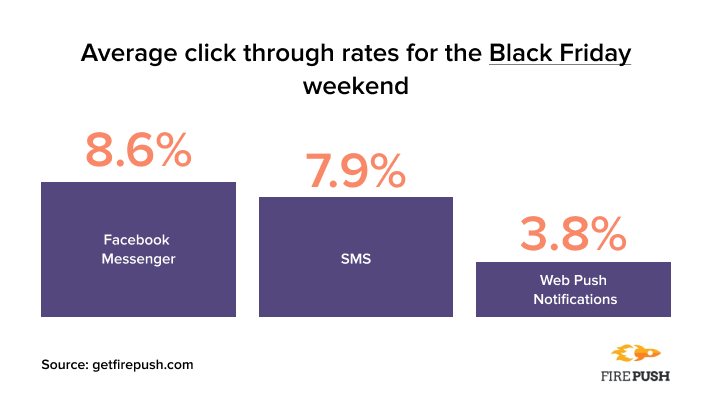 One possible reason for this is that the volume of push notifications sent by Firepush users was much higher. Over 1 million more pushes were sent than SMS or Messenger messages, so they were probably reaching a much broader audience.
3. Different channels perform better on different days, so use an omnichannel approach over the Black Friday weekend
One fact that stands out from the data is that different channels perform better on different days. This could be related to different generations and when they engage, or attitudes to specific channels at specific times. Based on our data, an effective pattern would be:
Focus on Web Pushes and Facebook Messenger on Black Friday,
Use SMS on Saturday,
Use Messenger on Sunday,
Use all 3 channels on Cyber Monday.
Here are the top performing days for each channel.
Best day for sending Push Notifications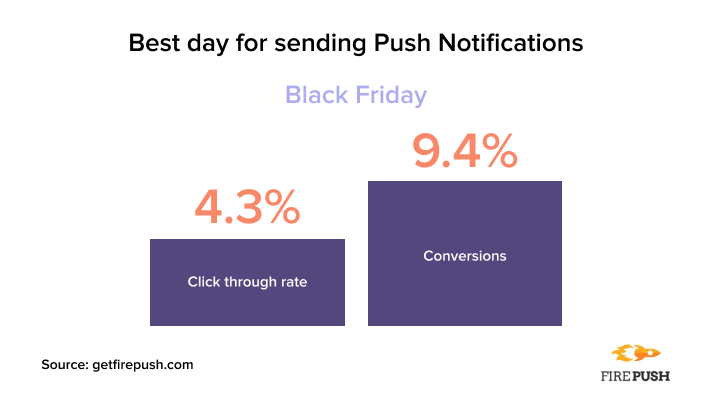 Best day for sending SMS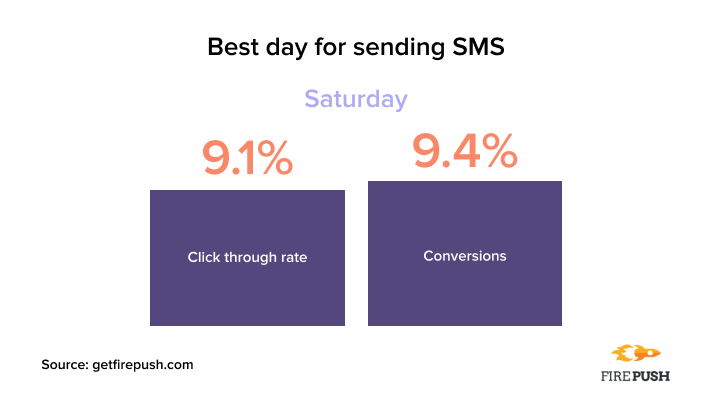 Best days for sending Facebook Messenger messages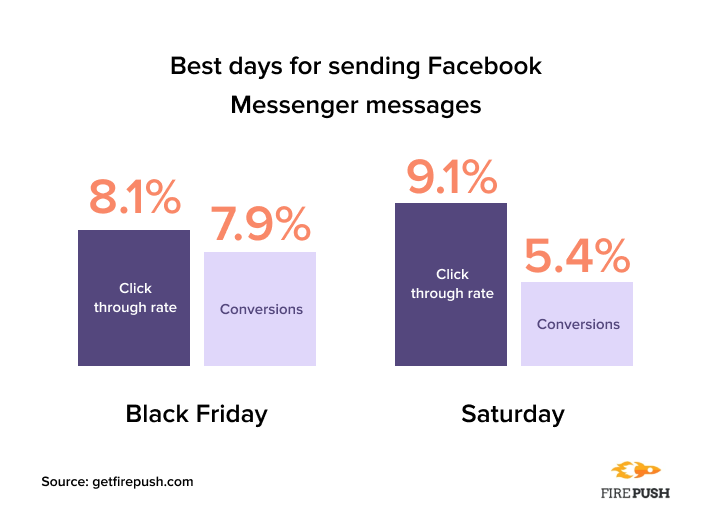 4. Bounce rates for SMS, Push Notifications and Messenger remain low over Black Friday
Across all channels and days bounce rates remained low, and were best on Cyber Monday. Shoppers were also spending large amounts of time browsing for deals once they were on a site.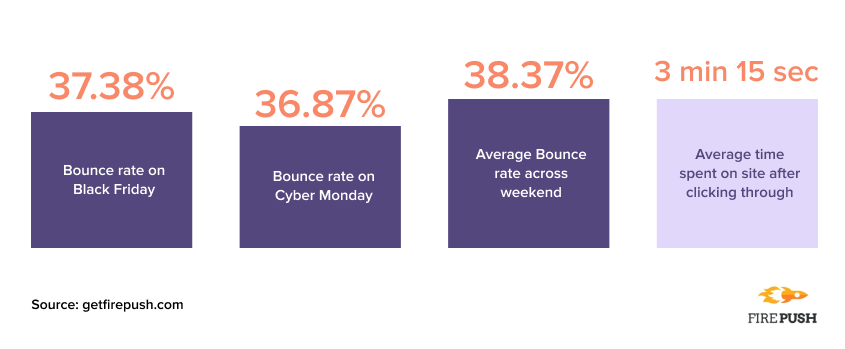 This data means firstly that these channels are effective at engaging with the right audiences, which is going to be great for ROI.
It also indicates that shoppers are active and looking for deals, especially on Black Friday and Cyber Monday. This means you can get away with sending a higher volume of messages on these days.
5. Abandoned cart messages are a must
Abandoned cart messages outperformed any other message type for Firepush users over Black Friday. One interesting fact is that both the click through rate and conversion rate remained high across the whole weekend, indicating the shoppers are happy to respond to abandoned cart messaging outside the traditional shopping days of Black Friday and Cyber Monday. That said, peak performance for abandoned cart messages were on Black Friday and the Tuesday after Cyber Monday.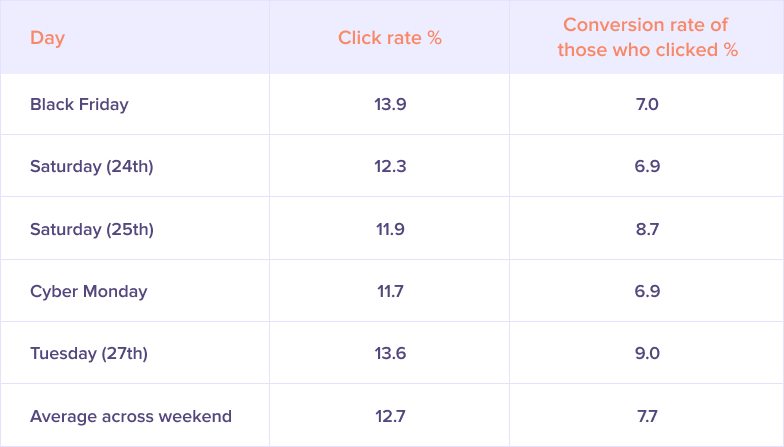 What you'll need to prepare
Taking these insights, we have then adapted a proven strategy for email marketing by Ezra Firestone, a marketer with over 10 years of experience in driving massive sales over Black Friday on his Shopify store.
The strategy is divided into 6 specific stages, each with its own focus and aim. The pre-sale stage is all about building a buzz around your sale, and creating a dedicated audience for a special early-bird offer. The BFCM stage is the main focus, and is about both building your brand and most importantly, driving traffic to your sale. Then the period from the end of the Black Friday weekend until December 31stis divided into 4 distinct sales periods, each with its own specific messages and product focuses.
Here's what you'll need to prepare for this strategy:
Products
You will need to have identified your top 2 best selling products as part of this strategy (if you have a very specific sales / discount strategy in mind, you might adapt the strategy to suit this)
Landing pages
1 x pre-sale landing page
1 x holiday sale landing page
1 x sale landing page for your best selling product
1 x sale landing page for your second best selling product
You will also be landing customers to specific product pages during the campaign, so anything you can do to enhance these pages (such as adding sale-related banners, making sure discounts are already applied etc) will enhance the effectiveness of this strategy.
Blogs
Ideally, you will also have a range of blogs that you can land leads to, each with a PS message that then links them to one of your sales pages. The idea here is that some of your communication over this period should still be focused on your normal content marketing approach, in order to educate your audience and build awareness of your brand as well as your product. If you don't have the resources to create new content, try adapting high performing or evergreen blog content that you already have.
Stage 1: Pre-sale (Friday November 8thto Thanksgiving Thursday Nov 28th)
The aim of this stage:
You want to create buzz and excitement around your deal before it actually drops. Plus, people like knowing about deals in advance and waiting for them. So the purpose of this stage is to create anticipation, and also to build up a list of early bird subscribers that you will target on Black Friday itself.
What you will need:
An early bird landing page where your audience can sign up for exclusive early deals on Black Friday. Structure this page as a mini collection page, featuring your most popular and profitable items first. Add a countdown timer to this page to increase the sense of urgency and anticipation.
Number of pushes / SMS to send:
For this period (November 8thto 28th) you should send 3 – 4 pushes / SMSs on top of your usual output.
2 of these messages should be specifically about the your early bird sign up, and should link directly to that page.
2 of these should be about blogs you are publishing. They should link to these blogs, and on these blogs there should be a PS message about your early bird sign up and a link to this page.
When to send them:
Message 1 – between 8thand 15thNovember
Message 2 – between 15thand 21stNovember
Message 3 – between 21stand 24thNovember
Message 4 – between 25thand 28thNovember
Stage 2 – Black Friday to Cyber Monday (Friday 29th November to Monday 2nd December)
The aim of this stage:
Simple. Your sale is now live, and you want as much quality traffic to your site as possible.
One way you can test if the quality of your traffic is good is by observing the bounce rate (the percentage of users who land on your site and then leave again without performing an action). Bounce rates for websites average around 50%. And the trend is that bounce rates over Black Friday are increasing every year.
But SMS and push notifications have some of the lowest bounce rates of any channel. Last year, average bounce rates for Firepush users were 38% over the Black Friday weekend. This compares favourably with other channels, especially paid ads.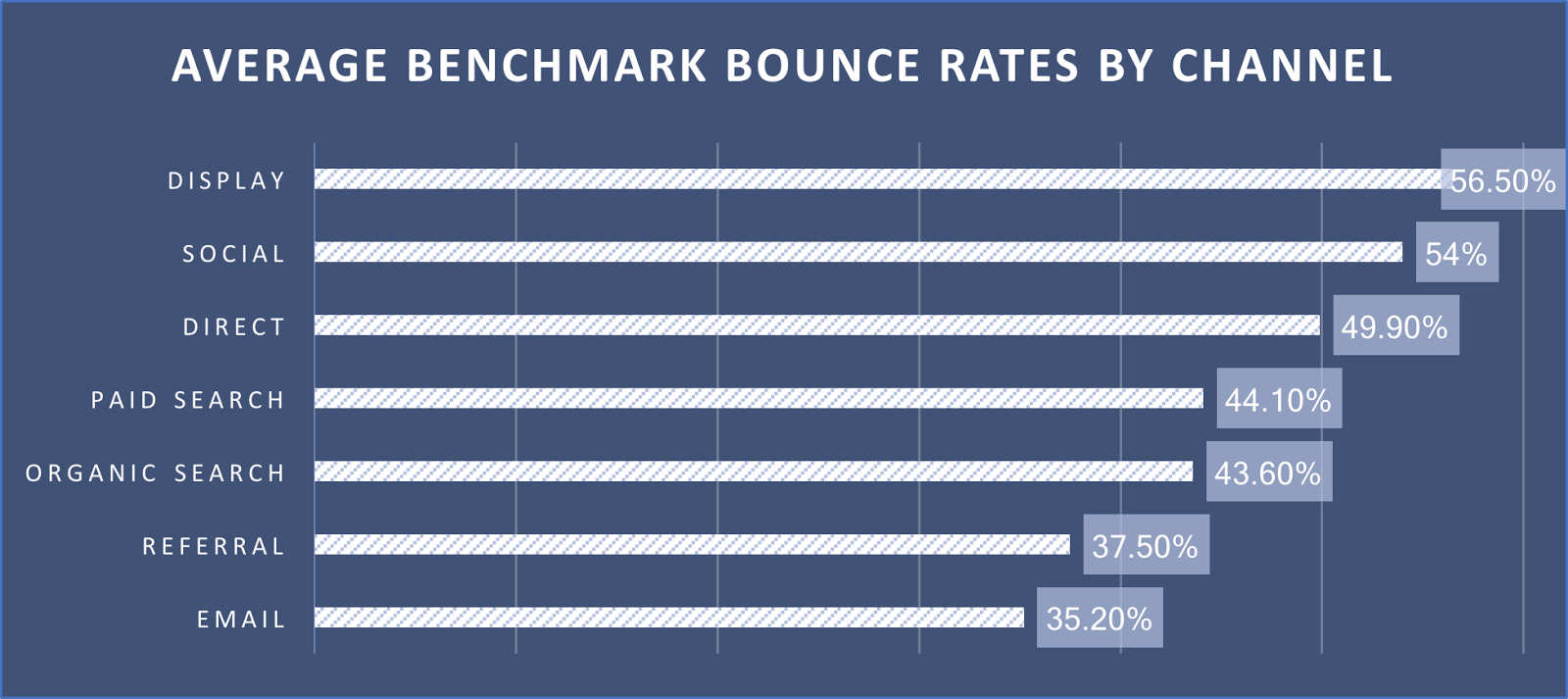 (Source: Conversionxl)
Because the bounce rate is low, you can afford to send a higher volume of messages over this period, which is what we will do with our strategy.
You can also use this as an opportunity to promote your brand more, as customers are typically spending more time on your site. More than 7 million users visited Shopify sites that use Firepush last Black Friday. And on average, these users spent over 3 minutes on the site. This means you have time to make an impression on them in terms of your brand and identity.
What you will need:
A holiday sale landing page. This should include a banner showcasing your best offers or deals, plus the products you want to promote during the sale.
Automated abandoned cart pushes or SMSs.
Number of pushes / SMS to send:
In total, you should send 11 messages over this period:
4 on Black Friday
2 on Saturday November 30th
1 on Sunday December 1st
3 on Cyber Monday
Plus your automated abandoned carts should be set up to retarget any shoppers who add an item to their cart but don't complete the sale.
These 4 days bring the highest volume of sales over the whole holiday period. Stores received 427,407 orders through Firepush just on the BFCM weekend. This compares to 488,535 in the three weeks prior to Black Friday.
So let's look at each day in detail in terms of the timing and content of these messages.
Black Friday – Friday 29th November
This is the big day. On Black Friday, Firepush messages helped to bring 118,254 orders for Shopify stores.
The page views of stores using Firepush on Black Friday gives a clear indication of when shoppers are active on this holiday:

Sales start to pick up around midday, and peak at 18.00. So you should time your messages to correspond to this pattern.
09:00 – Send your first 2 messages. Message 1 should be for your early bird list with a unique offer for them. Message 2 should be to your whole audience telling them that you sale is live. Both should link to your holiday sale landing page.
14:00 – This is the start of the busiest shopping time. Send another message, again linking to your holiday landing page.
18:00 – This is peak shopping time. Send your final message of the day, which can communicate urgency, especially if you are running specific deals only on Black Friday itself. Link to your holiday page.
Saturday 30th November
12:00 – Send your first message. This should be reminding your customers that discounts are still available on your store. Link to your holiday page.
16:00 – Send you second message. This should be a soft message relating to your brand and vision. If possible, link to a blog with a PS message directing shoppers to your sale.
Tip: Use SMS on this day
One interesting feature in our data is that, from 200 campaigns we analysed, SMS performed especially well on the Saturday after Black Friday. At over 9%, both CTR and conversions were higher on this day than any other over the Black Friday weekend. The 200 merchants analysed achieved 1,429 orders on this day, compared to 1,605 on Cyber Monday from 3X more messages sent. This could be to do with different audiences engaging on those days.
Sunday 1st November
12:00 – Send your first message. This should be a soft message relating to your brand and vision. If possible, link to a blog with a PS message directing shoppers to your sale.
Cyber Monday
This is the day when the action ramps up again. Last year, Firepush helped Shopify store owners achieve 99,251 orders on Cyber Monday.
As this graphic of traffic to pages shows, the action happens later on Cyber Monday:

So the timing for your 3 messages on Cyber Monday should be slightly later.
10:00 – Send your message informing your audience of any specific deals for Cyber Monday, or reminding them that your weekend deals are still on. Link to your holiday page.
15:00 – This is the start of the busiest shopping time on Cyber monday. Send another message, again linking to your holiday landing page. You can start to focus on urgency as the weekend deals are nearly over.
19:00 – This is peak shopping time on Cyber Monday, and the end of the Black Friday weekend, so send a final message emphasizing that the sale is nearly over. Link to your holiday page.
Stage 3 – Holiday sale (Tuesday December 3rd– Sunday December 8th)
The aim of this stage:
With the Black Friday weekend over, now is the time to move fully into focusing on Christmas. The aim of this stage, along with continuing strong sales after Black Friday, is to boost profitability. You can achieve this by focusing on one hero product – your bestseller – and offering only a small discount from its typical retail price.
What you will need:
Your hero product. This should be your stores best seller.
A sale landing page for your hero product with a small discount available. Include a countdown timer and any sale bundles you want to offer.
2 blogs with a PS message linking to your hero product's sale page.
Number of pushes / SMS to send:
Over this period should aim to send 6 messages in total.
4 of these messages should be pieces of "mini-content" related to your hero product that link to the sale landing page. With this mini-content, focus on the main user benefits of this product and why it is your best seller, plus simple guidance on how to use it or social proof such as testimonials.
The other 2 messages should link to the blogs with PS messages, and should not be written in relation to your sale. Treat these as content marketing unrelated to your deal.
When to send them:
Aim to spread your messaging out over this period, with no more than 2 messages sent in a single day. Base the timing on the patterns for traffic to your store.
Stage 4 – Standard Shipping deadline (Monday 9thDecember to Friday 13thDecember)
The aim of this stage:
The focus here is on driving sales volume and capitalising on last minute Christmas purchases. This sales period begins with Green Monday – this a term original coined by ebay and refers to last Monday with at least 10 days before Christmas. It is known to be the best sales day in December. So on this day we want to launch a new sale featuring a range of our products. And this period will run through to Friday 13thDecember, which is the final day for standard ground shipping to arrive before Christmas (this may vary based on what type of shipping your offer).
What you will need:
For this campaign, we will be landing customers on a different product page every day. You should aim to apply a small discount for one to day to the featured product. If you have the time and resources, you can optimized each product page for the day it is on sale with a countdown timer or banners.
This campaign will feature 5 products in total – focus on popular products with high margins, and don't include the hero product you used in the previous campaign, or your 2ndmost popular product.
Number of pushes / SMS to send:
For this period we are going to increase the cadence of message once more to create a feeling of urgency.
You will need 5 messages, one for each day, and each featuring a different product. In each message, showcase the product – mention who it would be a good gift for and why customers like it. And emphasise that it is the last chance to get it with standard shipping.
When to send them:
Send one message per day in the morning.
Stage 5 – 2 day shipping deadline (Monday 16th December – Friday 20th December)
The aim of this stage:
After a short break in messaging over the weekend, this is your final push before Christmas. Focus on Friday 20th, the last day to send by 2nd day air delivery. This will focus on another hero product, just like in stage 3 – this time it should be your 2ndbest seller.
What you will need:
You should apply a discount to your hero product for this period. Again, if you are able to optimize the product page with a countdown time and banners this will help to boost your sales.
2 blogs with a PS message linking to your hero product's page.
Number of pushes / SMS to send:
You should aim to send 6 messages in total. 4 should be focused specifically on your hero product – mention its benefits, who it is suitable for and what existing customers think of it. Mention the 2 day shipping deadline in these messages. The other 2 messages should land to blogs which have a PS message linking to the product page of your hero product.
When to send them:
Send 1 message per day, except on Friday 20th December, when you should send 2.
Tips and tricks for your Black Friday campaign
Audience
The idea of this strategy is to leverage your warm audience (past buyers, past subscribers, past website visitors, past social media followers). This makes sense for a couple of reasons.
Firstly, paid ads are very expensive throughout the Black Friday and holiday season, and especially over the BFCM weekend. You will struggle to get good ROI from paid channels.
And secondly, paid channels in general perform poorly in comparison to warm ones. According to a huge analysis by Bigcommerce of traffic to 60,000 online stores, paid advertising on social and display ads are the least effective channel for conversions. Just 1.2% of visitors from paid social advertising and 1.3% from display days will make a purchase. The conversion rates for email and other 'warm audience' channels are almost 3 times higher.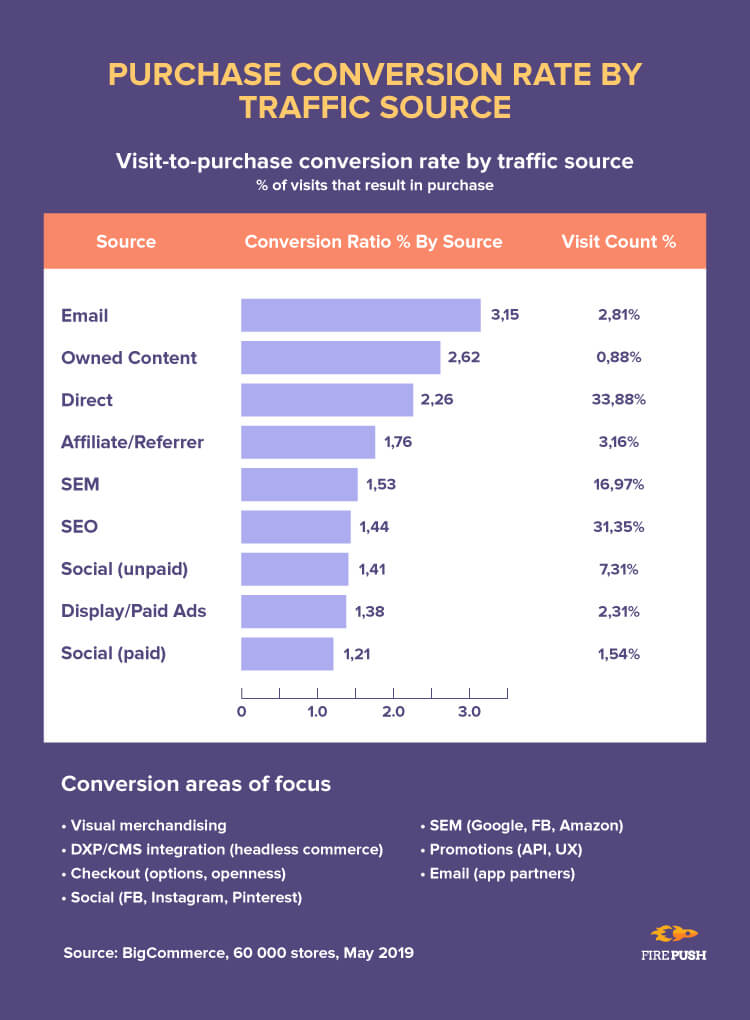 Managing your audience
Because the volume of communication is going to be quite high, you definitely don't want to continue messaging someone who has already made a purchase. So make sure you exclude anyone who makes a purchase from any further communication over this period.
Discounts
This campaign is built around promoting your Black Friday sale. So clearly an important component of an effective strategy will be deciding upon which items to discount, by how much, and how to structure your sale. You should consider:
Your typical amount and level of discount over the whole year;
Your competition, and how much they discount their products;
Your inventory and whether you are aiming to shift specific products.
Check out this blog for a detailed exploration of different discount strategies you can follow for Black Friday.
In general, Black Friday sales will be more effective if you have refrained from offering substantial discounts over the rest of the year. This will also allow you get away with a higher messaging volume as your audience will get more value from your messages. If they have heard from you multiple times in the year about sales and promotions, they are less likely to get excited about your Black Friday deal.
Content
One thing you'll have noticed as you read through this strategy is that a lot of the content used is not directly sales focused. Some of it is about building your brand and sharing your vision, some is for showcasing individual products and how you can use them.
One important feature of the strategy is the idea of producing interesting blogs related to your user's needs, and adding a PS message at the end for communicating about your sale.
So it is important you spend some time developing quality content for this strategy to be effective. The focus of this content will depend a bit on how suitable your product is for giving as a gift. If it is a popular gift item, focus on why the receiver will love it and what value it will bring to their life. But if your product is not so suitable for gifting, don't worry. You can shape messages around treating yourself over the holiday period which can also work very well.
Seize Black Friday 2021
There's a reason why this guide is so detailed and long. Black Friday is your number one opportunity to make money and gain exposure for your brand. It's a time to go all in, where it's message volume, the number of channels you use, or the number of deals you offer. And hopefully this guide will help you to maximise the effectiveness of your campaign.