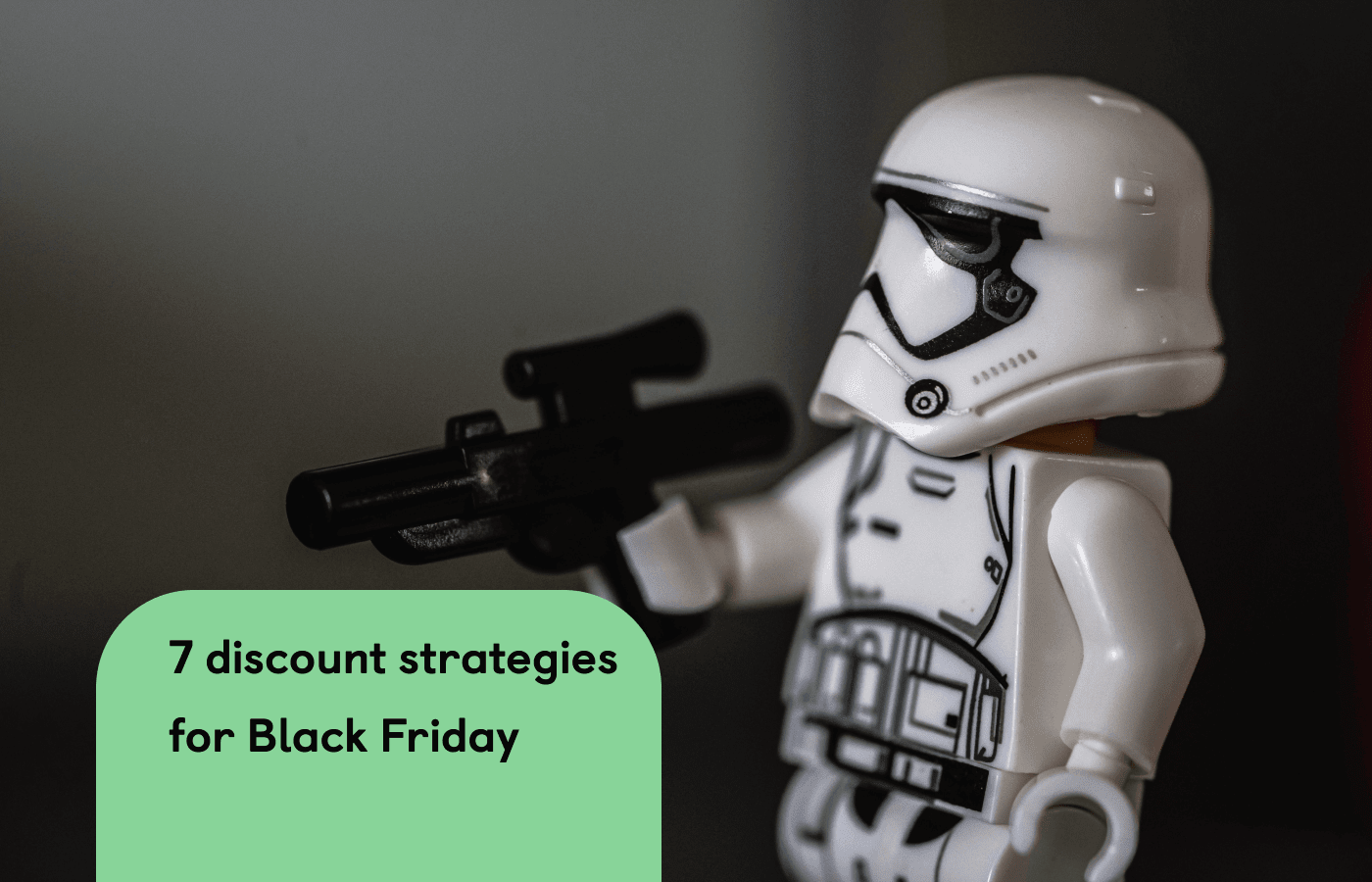 Discount. Say it to yourself a few times. How does it sound?
To some people, it sounds a bit … cheap.
And there's a logical reason for that – shoppers will assume cheaper or discounted items are lower quality. Even the word feels like it could cheapen your brand and reduce the perception of quality. Discount legal services anyone? Or who fancies a trip to the discount dentist? Didn't think so.
Elon Musk has even gone as far as to completely ban discounts at Tesla!
When discounts don't look bad
Basically, the jury's out on discounts – some marketers love them, some hate them. But on one weekend of the year, all these considerations go out of the window – Black Friday Cyber Monday weekend (or BFCM for short).
As Chase Fisher, the super surfing CEO of sunglasses ecommerce store Blenders, explained in a Shopify blog about Black Friday last year:
"It's the one time out of the year you can lower your prices without feeling like you're losing brand integrity."
A shopping day you can't afford to miss
In other words, whatever your usual approach to discounts is, forget it for the Black Friday weekend. Here's why:
1. BFCM weekend is huge!! Last year, Shopify stores turned over more that $1.5 billion. At the busiest times, Shopify merchants were selling $850,000 of stock every minute.
2. Shoppers have been trained to expect huge discounts. Last year, average discount rates at the biggest retailers in the US were between 45%-70%. If you decide to be high-minded about discounts, or go half in on them, shoppers will simply look elsewhere.
In this blog I want to help you select and implement the right discount(s) for you Shopify store for this coming BFCM. We're going to:
Quickly run through some guidelines on how to decide on the right deal;
Look in depth at 7 different types of discounts (plus a couple of bonuses).
Offering the right deal on Black Friday weekend
The first big decision you're going to have to make about your Black Friday campaign is what discount or deal to offer. You can do all the marketing wizardry in the world, but if your deal sucks then so will your sales.
This process doesn't have to be complicated, and here I want to keep it really simple so we can get onto looking at the specific discounts for you to choose from (this Shopify blog on BFCM promotion ideas has some great in-depth questions to consider when framing your BFCM strategy.)
To keep things simple, we're just going to think about 2 quick steps:
Step 1 – Defining your business goal(s) for BFCM
Hopefully you're going into BFCM with a clear sense of how your ecommerce business is going. If you aren't, it's probably best to stop and take stock before you jump into the mayhem of Black Friday. Going half in or botching your strategy could be worse than sitting it out.
But if you feel confident that you know where you're at, let's narrow things down to 4 possible goals you could have for your BFCM campaign:
1. Boost your overall turnover 📈
2. Improve your profitability 💸
3. Offload inventory 📦
4. Acquire new leads and customers 👩
I have added icons to each goal, and I'll use these later on to highlight which types of discount will suit you best.
A couple of quick points on these goals.
Make sure you clearly distinguish between objective 1 (turnover) and objective 2 (profits). Turnover is just your gross sales with no consideration of your costs. Profit is your sales minus all the costs you incur to make those sales, whether that's advertising costs, production and shipping costs, or anything else.
Be cautious of chasing sales whatever the cost. It's like a sugar rush! You might feel great for 10 minutes, but it's probably bad for your long term health. In the end, anyone can sell a lot. Just offer 90% discounts and spend a fortune on ads (don't forget costs for paid ads will shoot up around the BFCM). But you'll be broke. The trick is to sell a lot profitably, and that's what the discount ideas below should help you do.
And a quick word on objective 4, acquiring new customers. This might sound surprising to you, but Black Friday is an amazing opportunity to pick up leads. Shoppers are out there looking for deals so they open more marketing emails. They are also more likely to opt-in to your push notifications and SMS marketing, or chat with the Messenger bot on your store. If you don't have these channels set up yet, Firepush offer all of them in one package, while tobibot is a great options for free Facebook Messenger marketing. So bear this in mind, and think how Black Friday can give you a long term lift as well as a short term boost.
Step 2 - Considering your audience's expectations
Once you have identified what your objective(s) are for the campaign, spend a bit of time thinking about what your audience expects. After all, you can't just create a deal and hope it's right for them – you need to know.
Here are some ways you can figure out if your deal will hit be a hit with your customers:
1. Look at data from previous years. If you've already run some Black Friday campaigns, look back at which deals performed best. See if you can find any other insights about what your audience is looking for, like comments or customer support questions.
2. Look at your competitors. Take a look back at the deals and discounts your main competitors offered last year. This will give you a good range within which to place your discount.
3. Think about the psychology of discounts. If you have well-developed customer profiles and really know your audience, try digging into the psychology of discounts. For example, is your audience more motivated by achieving a gain ("Win a free gift," "Get $30 extra to spend") or avoiding a loss ("Save 30%").
Ready, set, discount
Now I want to take you through 7 different types of discounts you can use for Black Friday. For each one I'll explain how it works, identify some strengths and weaknesses, and share tips on how best to pull it off. And don't forget, I've added icons for each one so you can quickly see what it's best for:
📈Boosting overall turnover
💸Improving profitability
📦Offloading inventory
👩 Acquiring new customers
Key concept – Average order value
One concept I'll refer to a lot in the explanations below is average order value. This is a useful concept because it helps us to better measure overall profitability.
What is it?
Simple. It's the average value of the orders made by each customer. In other words, we analyse sales based on customers, not units. So I want to look at how many items, and of what value, each customer has purchased in one order.
Why does it matter?
Your profitability will be better if your average order value is higher. That's because some of the costs related to an individual customer's purchase are fixed: they will be the same whether they order $20 worth of goods or $200 worth. The most obvious example is advertising. Compare the costs associated with these 2 orders: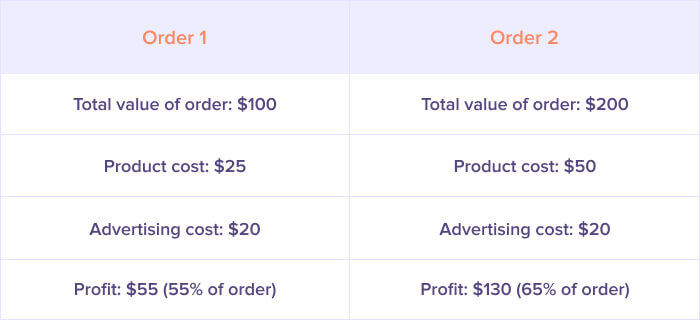 See the difference? Because the advertising costs don't change, getting more from each individual order means you make more money. Sweet.
Right, let's take a look at our 7 discount options.
1. Percentage discount📈
A really simple and easy-to-implement discount. Just offer a certain percentage off the price. You can either do this for all your customers or offer discount codes.
Strengths
This a simple, easy to understand discount. With your most popular products, offering a % off might be just what your long term customers have been waiting for.
Weaknesses
So many stores will be offering % off discounts it can be hard to stand out from the crowd.
Plus, it's harder to increase average order value.
Tip: Avoid offering blanket % discounts across your whole store. It doesn't create that feeling of scarcity that will drive sales.
2. $ off discount📈
Very similar to the % off discount, only this time you offer a fixed amount in $ off, rather than a percentage of the product.
Strengths
Just like % off discounts, it's simple and easy to understand. If you can present it as "$30 to spend" it can also connect with shoppers motivated by achieving a gain.
Weaknesses
The downsides of % discounts also apply to $ off discounts:
It's hard to stand out from the crowd.
It's hard to increase average order value.
Tip: For low value products, a % will typically appear more attractive to a shopper. Offering $5 will never feel like much, even if the product is priced at $10. A 50% discount sounds more impressive.
But for expensive products, percentages can feel underwhelming compared to $. For a $150 product, you can offer 40% off or $60.
3. Flash sales 📦 👩 📈
A flash sale is a one off discount on a selected product or product range for a limited period of time. For example, if you're a fitness store, you might offer 50% off all cross fit equipment for a 3 hour period.
Strengths
Flash sales create urgency and FOMO (fear of missing out). Because they are shorter, they also allow you to offer bigger discounts that will stand out more to shoppers. Finally, because you'll be organising many of them, it helps with engagement. You'll regularly have new announcements to make.
Weaknesses
Flash sales take more organisation and planning than other forms of discounts.
You need to plan your stock more carefully, and be ready to manage unhappy shoppers who have missed out.
You can find more great insights on flash sales here.
Tip: Focus on cross-selling as part of your overall flash sale strategy. Hopefully you're going to bring lots of traffic to your store with a marque discount of 50-70% off on a popular product. Then your aim is to cross sell to these new customers. Offer free shipping if they add more items – and make sure they opt in to SMS, push or messenger marketing. Then you can tell them about your next flash sale.
4. Threshold deals / buy more, save more 💸 📈
With buy more, save more discounts, the idea is to give your customers bigger discounts, the more they shop. You set thresholds, then if a customer spends over that amount, they unlock a new level of discount. If I set my thresholds at $50 and $100, my promotion would be something like this:
Spend up to $50 and get $10 off.
Spend up to $100 and get $25 off.
Strength
This can be a very effective approach to discounting, especially if boosting profitability is your number one goal. Thresholds encourage shoppers to add more to their order, increasing
average order value. It can also be effective for shoppers
motivated by gain – those who spend a lot will also get a bigger saving.
Weaknesses
There aren't too many weaknesses to this approach, but one issue is that it can be harder to present an eye catching deal. If you present the highest possible discount ("Up to 40% off"), shoppers may bounce when they realise they have to reach a threshold to achieve this discount level. If you present the starting level discount, you may struggle to get good traffic to your site.
Tip: Setting your thresholds needs some thought. First, you will need to work out your average order size, then set your threshold higher. You want the threshold you set to feel "within reach" for your customers, but high enough that it's profitable for you. If you are able to, A/B test some deals in the run up to Black Friday with the threshold set at different levels, so that on the day you can offer the optimum deal.
5. Multi-buys (BOGOF) and bundles 📦 💸
This is somewhat similar to threshold deals, but here it is about the number of products purchased, rather than the amount spent. For multiples of the same product, you can try:
Buy One, Get One Free
Buy Two, Get the Third Free
Or for different products, try a bundle package:
Buy X and Y product, and get Z product for free
Buy X, Y and Z products and get 30% off the total price.
Strengths
This is a great strategy for offloading inventory, either by encouraging multi-buys or adding products you have excess stock of as part of a bundle deal.
It will also increase total purchase order value, so it will help your profits.
Weaknesses
Multi-buys are not suitable for all products (especially expensive electronics or high-end goods).
And bundles may not appeal to all shoppers (whereas $ or % off discounts will). Perhaps the shopper only needs product X and already owns Y and Z.
Tip: If you're feeling more creative, you can try a mystery bundle (like the one showcased in this blog). Here you only reveal some of the products included. This approach can help you stand out in all the BFCM noise, and is a great option for subscription services.
6. Free gifts 📦 👩
With this strategy, you offer a free gift with every purchase. You could set a threshold for receiving the gift, or simply add it to every delivery.
Strengths
This is clearly a great approach if you need to offload excess stock. But you can also try it with limited edition or new products (as I mention in the tip).
It gives you a great opportunity to create interesting images and content for your campaign.
And it's also an effective approach if you're determined not to directly discount your flagship products (if you're a niche electronics retailer, for example).
Weaknesses
Finding an enticing gift item is critical. And if you approach this as just clearing out stock, you could fail hard. After all, there may be a reason why you have so much of that item left (like nobody wants it).
What's more, cheap gifts that are low quality could damage your brand.
Finally, if you have a diverse customer set then it's going to be hard to find a gift that will appeal to everyone.
Tip: A nice approach with this can be to try limited edition items. You can create real buzz and great campaigns around these items, and it will create FOMO.
If you're following this strategy, or offering high-value gifts, I suggest setting a threshold purchase. You may get fewer overall purchases, but the average order value will be higher.
7. VIP discounts 👩 📈
This is where you offer specific discounts or deals only to your subscribers or loyal customers. This can be done alongside other general discounts that are offered to all your customers.
Strengths
When done correctly, VIP deals convert really well. So this is a great approach for driving up sales.
It's also a nice approach for stretching out the sales period before and after BFCM.
And of course, it's great for building customer loyalty.
Weaknesses
It can take time and resources to create and market a separate discount just for your VIP customers.
You also need to make sure the offer is VIP standard – offering another 10% off is hardly going to make them feel special.
Tip: Be really restrained in how many people you offer your VIP deals to -
3-5% of your total audience is probably a good size. After all, you want these deals to feel exclusive. If you have segmented you audience, try to focus on demographics of your audience most likely to be loyal customers in the future.
BONUS 1 – Free Shipping
It's not really a discount, but free shipping definitely needs a mention. It offers a couple of really big advantages:
1. Shoppers really appreciate free shipping.
2. If you choose to add a threshold to free shipping ("Spend over $25 and we'll give you free shipping") this can really help with adding to your average order value.
BONUS 2 – Out of the box ideas
As I've mentioned, BFCM can be about more than just sales. You can use it as an opportunity to gain leads or build your brand. Here are a few out-of-the-ordinary ideas that might just work.
1. Give some of your Black Friday profits away to charity: Everlane has built its brand on ethical sourcing and production. So it makes sense that every year it donates some of its profits from Black Friday to charities that benefit the employees at its factories. And it's not alone.
2. Skip Black Friday (and tell everyone about it): A few companies choose to skip Black Friday altogether, and instead encourage people to spend time outdoors or with family. Of course this is a risky strategy, but for outdoor gear stores this could work (especially if you pop up on Cyber Monday with some attractive deals.)
So think through your business goals for BFCM and your audience expectations, then when you've made your pick, here are Shopify scripts for discounts that you can use.