How to turn abandoned carts into sales: insights and results from 5 Shopify Plus stores including Pura Vida Bracelets and Ivory Ella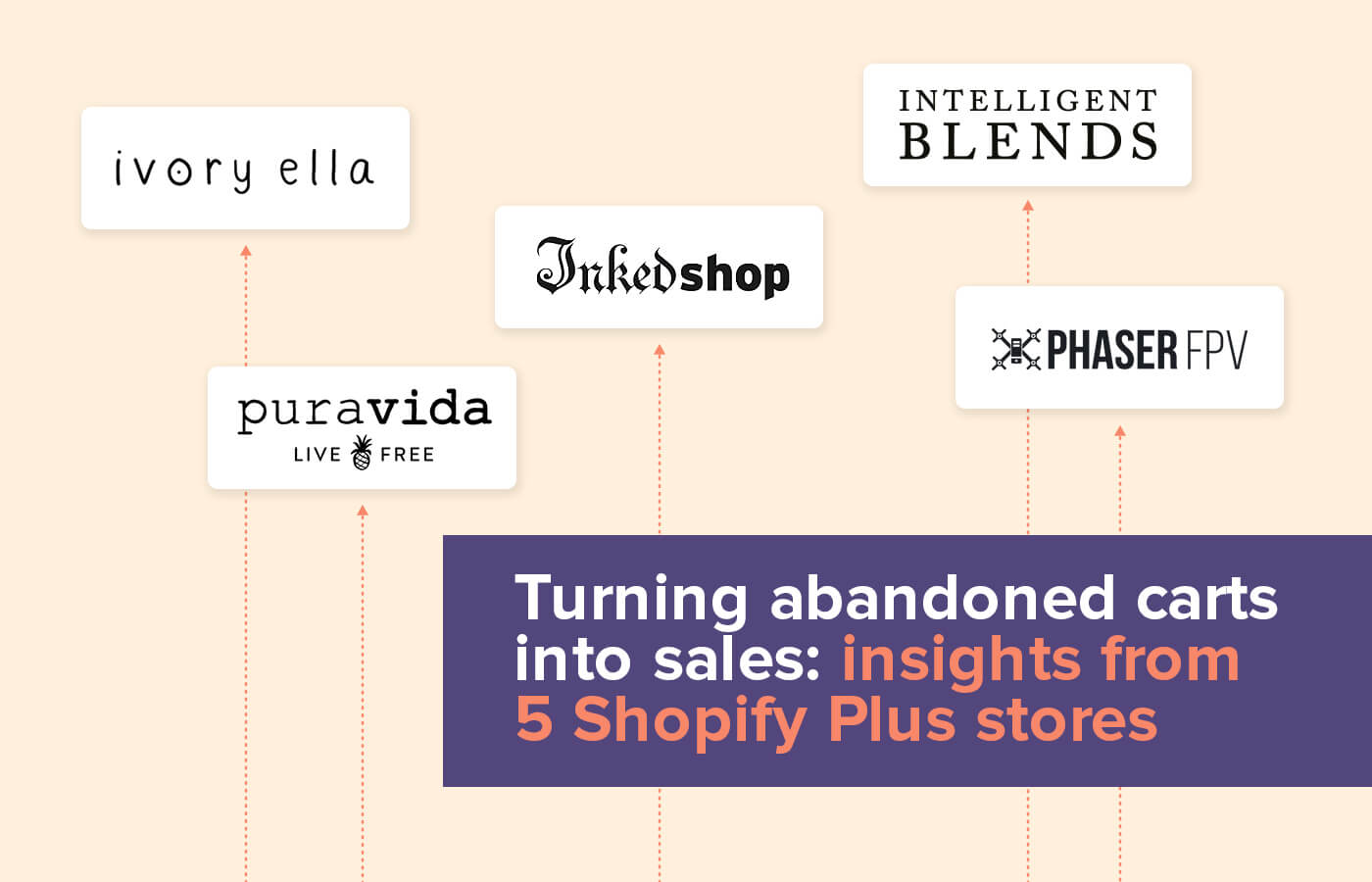 "The amazing thing is that out of all of our channels, it takes the least amount of time and effort."

Margaret Odisho, Ecommerce Manager at Pura Vida Bracelets.
Key statistics based on Firepush's qualitative analysis of Shopify Plus:
Average open rate for abandoned cart push notifications: 10%
Average conversion rate for abandoned cart push notifications: 29%
Average open rate for abandoned cart SMS: 15.5%
Average conversion rate for abandoned cart SMS: 26%
Highest abandoned cart revenue generated by one store: $408,849 Pura Vida Bracelets
Abandoned cart messages helping Shopify Plus stores grow
Over $1 million in revenue. A 10:1 ROI for marketing spend. An 81% increase in Black Friday revenue. These are just some of the results Shopify Plus stores are achieving using abandoned cart push notifications and SMS.
The stores getting these results are unique: each has specific audiences, specific objectives, and specific products. As a result, their approach to omnichannel marketing is different as well. But in all cases, abandoned cart messages are playing a big part in the marketing success stories of these stores – in fact they are usually the best performing message type.
This article will take you through an analysis of some of the different ways Shopify Plus stores are using abandoned cart recovery messages, and the results they are achieving. These results range from rapidly growing sales, through to improving ROI and profitability, and boosting customer lifetime value. Here's what we'll cover:
All the results shown are based on qualitative interviews and analysis, so you get a really detailed picture of how abandoned cart messages fit into these store's marketing mix. Let's get started.
Try Abandoned Cart and other automated push notifications for free
Get Trial
Why abandoned cart messages are so effective
As we will see when we dig into the numbers for the individual Shopify Plus stores we have analysed, abandoned cart messages via push notification and SMS are incredibly effective. Why? Here are a few key features that make them so useful to marketers:
They're omnichannel
They're automated
They're timely
They're personalised
They add value
They close sales
Let's take a quick look at these points in a bit more detail.
Benefit 1: They're omnichannel
Abandoned cart messages via push notification and SMS are truly omnichannel. That's because they help to support other channels like email, and they enable you to target customers where and when they are most likely to see you alerts. For example, abandoned cart levels are highest on mobile - 78%, compared to 67% on desktop - so pushes and SMS are great for visibility.
Marketer's tip: A great strategy for getting started is to only use push notifications at first. They are the most affordable channel, and are usually highly effective - you can always add higher cost channels like SMS once you're up and running. Push notifications have a couple of other big advantages: More subscribers: Because customers don't need to leave an email address or phone number, getting subscribers is easier and faster. Triggered sooner: Because subscribers typically sign up when they first land on a site, you can actually track abandoned carts earlier than with phones or email. In the case of SMS and email, customers have to proceed to the checkout page and enter their phone number or email address before an abandoned cart message can be triggered. But with pushes, abandoned cart messages are triggered when a customer adds an item to their cart then leaves the site, even if they don't go to checkout. So pushes can catch a larger number of potential sales.
Benefit 2: They're automated
Setting up campaigns, doing the creative and copy for a message, A/B testing to find the right message – all of this takes time. Flows of up to 3 abandoned cart messages can be set up so they are triggered and sent automatically. Having automated messages that produce results is a huge plus for time-poor marketers at Shopify Plus stores – you can get steady income or a revenue boost without having to put in a lot of time and effort.
Benefit 3: They're timely
Just like any form of retail, ecommerce purchases can often be impulsive. Furthermore, there's a specific moment when your product or service is top-of-mind for the customer, and that moment doesn't last very long. A tool that can engage with a customer in the moments when they are most likely to complete a purchase is highly valuable. And that's what abandoned cart messages offer.
Abandoned cart messages are typically sent in a sequence of 3. The first message tends to convert best, but messages 2 and 3 also have strong engagement. Only sending one message would mean leaving some sales on the table, as this data on the return on investment (ROI) for each message shows.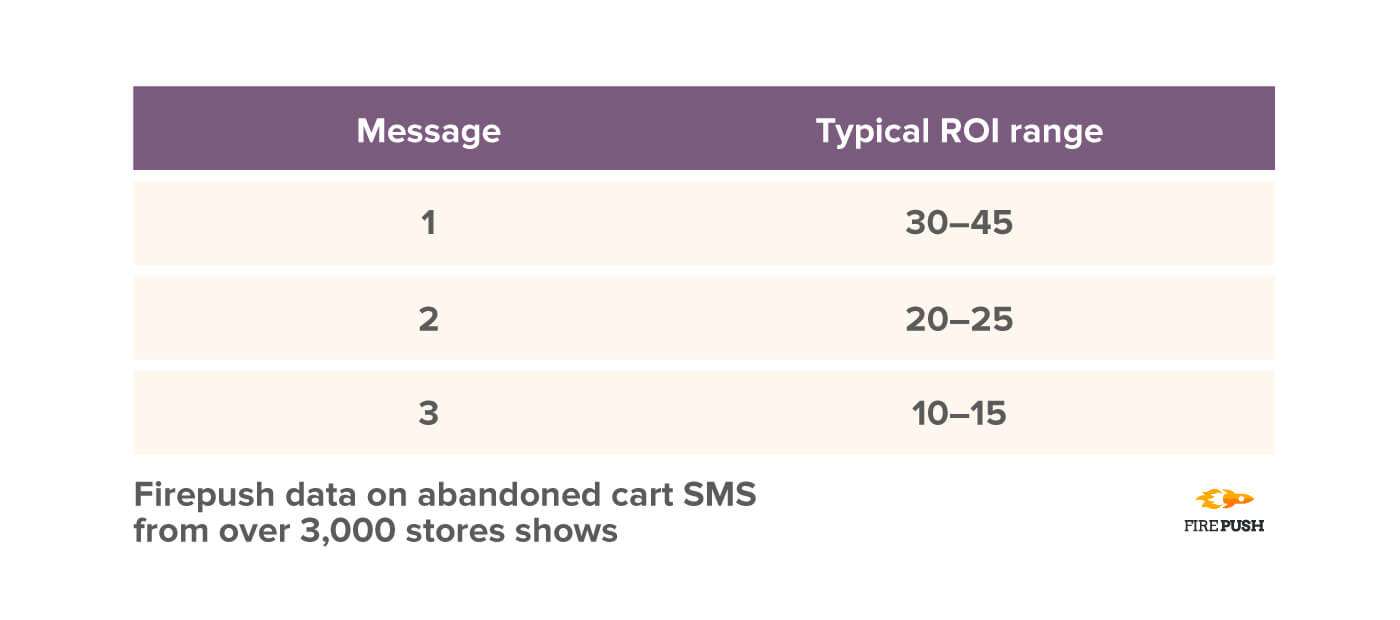 But the success of abandoned cart messages is not just based on how many messages you send, but when you send them. Here's a quick guide to the best timings to send your 3 messages if you're using SMS or push notifications: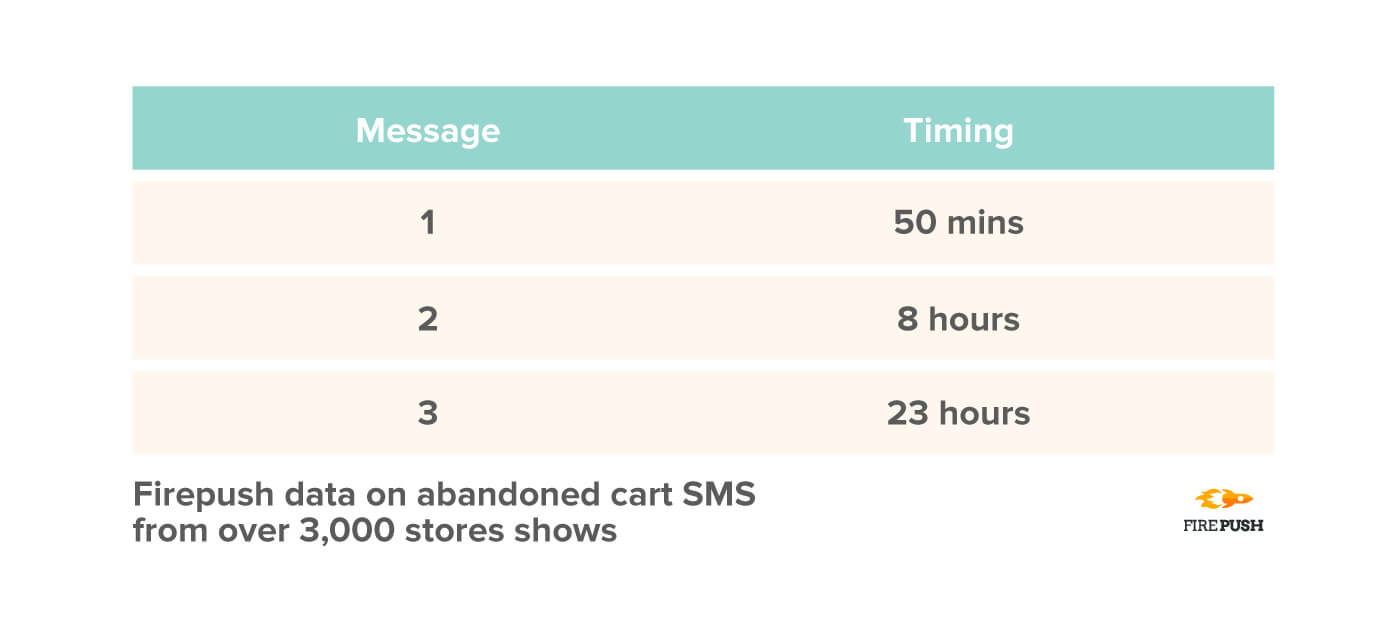 In terms of the first message (which has the highest impact), you can experiment with sending messages at 25 or 30 minutes as well – this timing performs well too, as this graph illustrates.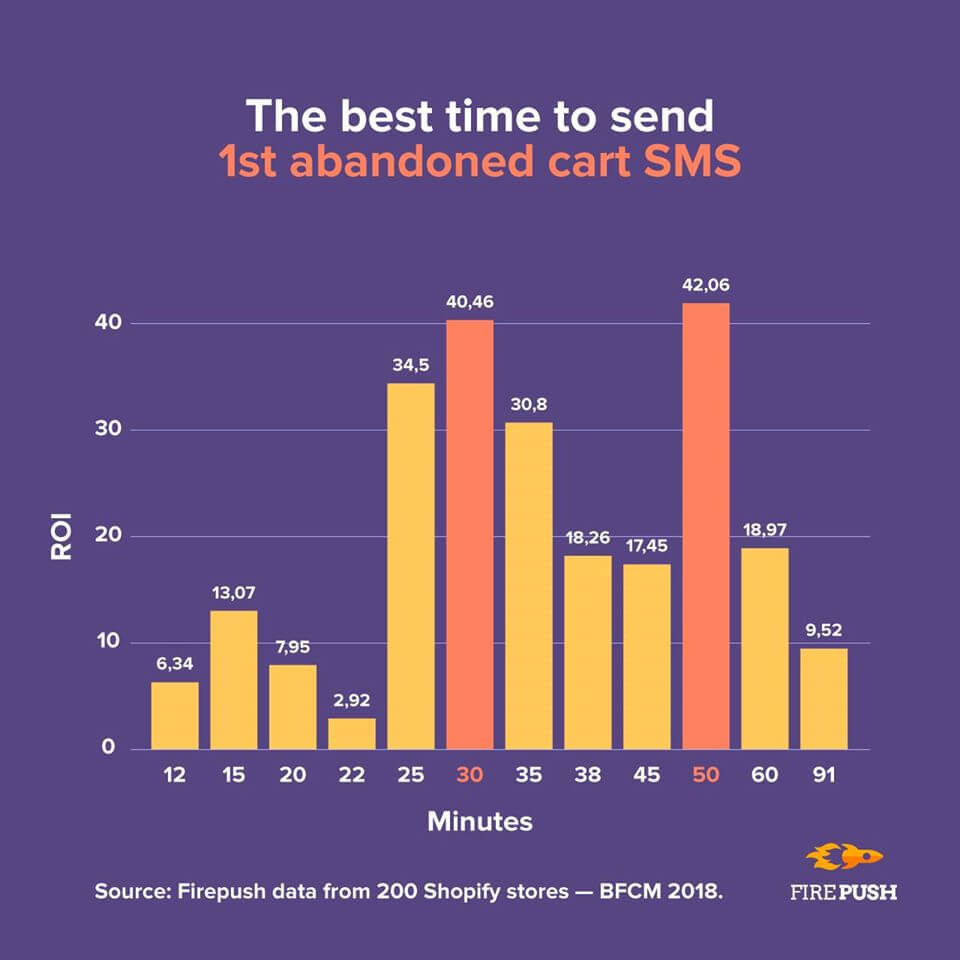 The key point is that abandoned cart messages are sent when shoppers are interested in receiving them, and at times when the item in question is still top-of-mind.
Benefit 4: They're personalised
Personalisation is the name of the game for marketers today. But it's not always easy to send specific personalised messages to your subscribers – this requires a lot of segmentation, which takes time and effort. And even with your audience segmented, it can be difficult to know which messages will be relevant to specific individuals.
But with abandoned cart messages, you know the message you are sending is relevant and personalised to the recipient. The item you are reminding them off is one they selected and added to their cart, so you know it is something they are interested in.
Benefit 5: They add value
Marketing messages can have super smart copy and amazing visuals – but if they don't give value to the customer they're unlikely to have an impact.
But abandoned cart messages give clear value to customers, because they remind customers of the products they have been browsing. If a shopper is browsing multiple stores, they may simply lose track of which product is which – your abandoned cart message can help them make the right purchase.
Benefit 6: They close sales
Along with reminding customers of their unpurchased items, abandoned cart messages are also excellent for closing sales, especially when combined with an incentive. Common incentives include percentage discounts offered via a discount code or free shipping. Discounts can be combined with countdown timers to increase urgency. And this urgency is usually reflected in the content of the message as well. A typical 3 message flow would be:
Message 1: A friendly reminder to the customer that they forgot to complete their purchase.
Message 2: Presenting a discount or free shipping. This can be combined with a countdown timer or simply a clear expiry time. Usually deals are offered to 24 hours.
Message 3: A reminder that the discount / free shipping is about to expire.
This flow is a great way to close sales that may otherwise have gotten away. As you'll see later, stores can play around with this formula to find the best message flow for their audience. But this flow is a good starting point.
Shopify Plus stores reaping the rewards
As the saying goes, the proof is in the pudding. The best way to be sure these benefits really work is to see the results actual Shopify Plus stores are achieving. So let's take a look at 5 Shopify Plus stores – Ivory Ella, Pura Vida Bracelets, Intelligent Blends, Inkedshop, and Phaser FPV - to see how they use abandoned cart messages, and what results they are achieving.
How Ivory Ella uses abandoned cart push notifications to boost revenue and customer lifetime value
Company: Ivory Ella
Ivory Ella are much more than just a clothing brand. Their T-shirts and hoodies are stylish and high quality, but what sets them apart is the ethical dimension to their business. Ivory Ella donates 10% of all its profits to conservation and environmental charities like Save the Elephans. So far Ivory Ella has donated a massive $1.7 million to charitable causes.
Industry: Fashion and Apparel
Ivory Ella design and manufacture clothes and accessories aimed at their mainly female Gen-Z audience.
Ivory Ella's abandoned cart strategy
Ivory Ella have been using Firepush since 2016, and the results have been impressive:
"Having generated over $1m in sales, Firepush has made an important contribution to our growth and most importantly, to customer retention over the years."

Ryan Duranso, Ivory Ella co-founder
These two areas – growing revenue and increasing customer lifetime value – were key priorities for Ivory Ella when it first started using abandoned cart pushes. Customer lifetime value in particular was a challenge, as is often the case with fashion and apparel stores. Their target was to find channels other than email for engaging with their Gen-Z audience and keeping them interested in the product.
Abandoned cart push notifications have played a major role in this. Ivory Ella sends a flow of 2 abandoned cart pushes to subscribers who leave an item in their cart.
Ivory Ella's abandoned cart push notification results
So far these messages have driven over 4,000 orders, generating more than $250,000 in revenue. Here are the main numbers for Ivory Ella's abandoned cart messages:
Total revenue generated: $262,551
Total orders through abandoned cart pushes: 4,128
Click through rate for abandoned cart pushes: 7%
Conversion rate of those who click: 19%
In terms of the abandoned cart messages Ivory Ella sends, the first message is the major revenue driver. For example, over the Black Friday 2019 weekend, abandoned cart pushes brought in $5,003 in additional revenue. 89% of this revenue came from the first abandoned cart message sent, which had an 8% open rate.
Crucially, the revenue of over a quarter of a million dollars that abandoned cart pushes have driven for Ivory Ella would probably have been lost if not for these messages.
Rachel Bulla, from the agency Buckland Co. that handles Ivory Ella's marketing, definitely sees it this way:
"I look at it as incremental revenue that we might not have gotten otherwise."
Let's take a look at the abandoned cart flow Ivory Ella uses.
Message 1 focuses on the limited stock of the item, with clear expressions of urgency. Statements like "your item is selling out fast!" and "Don't wait" create fear of missing out and the CTA "Shop Now!" pushes the customer to complete the purchase.

Message 2 continues the FOMO theme, repeating the headline that the item is selling out. Interestingly, in this case their push notification offers two CTAs: "Check out" and "Continue Shopping". This provides the customer with a feeling of choice - if they are having second thoughts about that particular product the can continue shopping instead.

Message 3 has a slightly different tone. While the urgency is still there ("Get it now before it's gone!"), there's also a customer service aspect to the message. First, they remind the customer that they were shopping for this item yesterday. Then they explain that they have "saved one just for you!" Given that Ivory Ella often releases limited edition items, this message can have real impact.

Key insights:
Ivory Ella has built a successful subscriber base for its abandoned cart pushes - the ease of signing up appeals to its young audience. And abandoned cart pushes has helped it generate over $250,000 in revenue it may otherwise have missed out on. It has proved an effective tool in boosting average customer lifetime value for the store.
Get the full story on Ivory Ella's $1 million push notification strategy in this case study.
Want to discuss abandoned cart strategy? Book a free consultation and demo
Book Demo
How Pura Vida Bracelets use abandoned cart pushes as a high revenue, low touch marketing tool
Company: Pura Vida Bracelets
Pura Vida Bracelets is another brand with a strong social and ethical component. It was founded by two college grads, Griffin and Paul, who brought back bracelets woven by artisans from a trip to Costa Rica to sell in the US. The bracelets proved an immediate hit, and soon Pura Vida Bracelets was working with artisans and small-scale producers across Costa Rica (and later around the world), to provide vibrant, ethically-sourced jewellery and accessories. It now works with over 800 artisans around the world, and has donated $1.9 million to charity so far.
Industry: Fashion and Apparel
Pura Vida Bracelets sell artisan-produced bracelets, jewellery and accessories.
Pura Vida's abandoned cart strategy
As the fashion and apparel industry moves away from fast fashion and becomes more sustainable, one key question for consumers is that producers are treated fairly and paid well. In Pura Vida's case this is especially important, as they work with artisans and are committed to giving their producers a fair price.
To sustain these higher production costs, Pura Vida Bracelets needs to operate a lean marketing team. The challenge has been to continue to grow sales without expanding the team. According to Margaret Odisho, Ecommerce Manager at Pura Vida Bracelets, Firepush push notifications have provided this combination of high impact and low touch that Pura Vida were looking for:
"We are consistently making $30K in revenue per month using Firepush. And the amazing thing about that is that, out of all of our channels, it takes the least amount of time and effort."
Firepush push notifications have now brought in over $1 million in revenue for Pura Vida. Abandoned cart pushes have made a major contribution to this impressive figure, with Pura Vida using a flow of 3 abandoned cart pushes to great effect.
Pura Vida's abandoned cart push notifications results
Abandoned cart pushes account for 40% of the total revenue Pura Vida have got from Firepush push notifications. And in terms of conversions, they are the best performing message type. Here are the headline figures for Pura Vida's use of abandoned cart pushes:
Total revenue generated: $408,849
Total orders through abandoned cart pushes: 9,247
Average click through rate for abandoned cart pushes: 7%
Average conversion rate of those who clicked: 22%
Let's take a closer look at how each of the 3 messages in the flow are performing.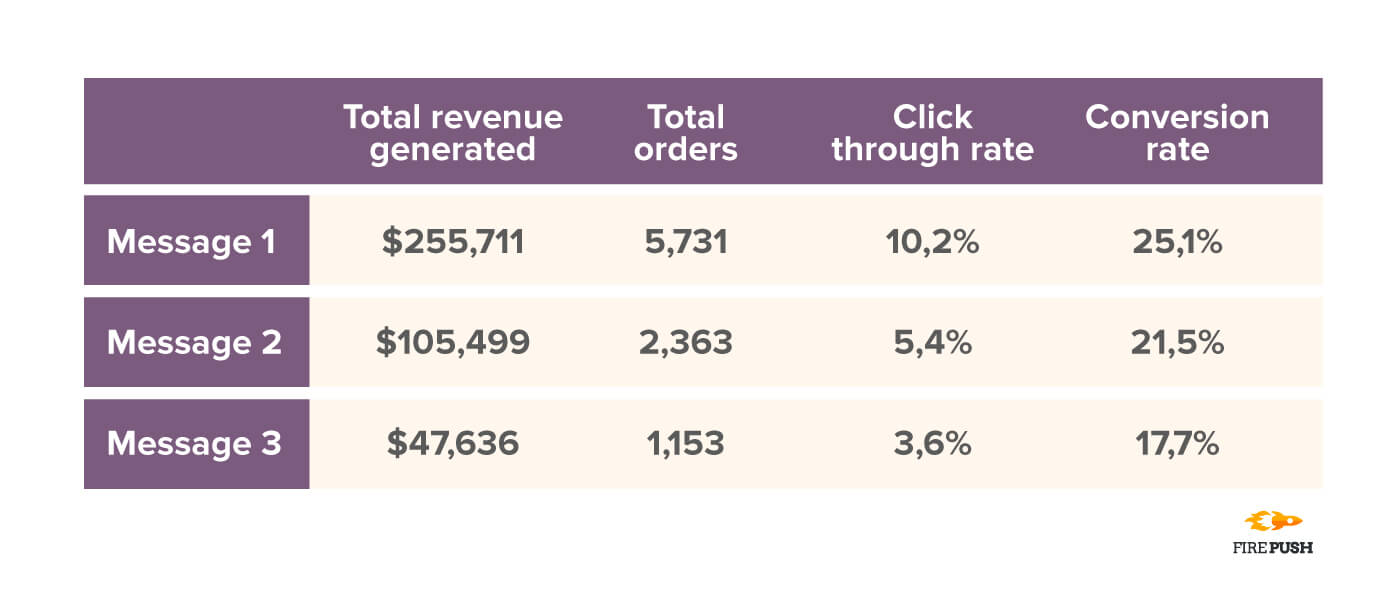 It is important to notice that sending follow up messages is also important. Pura Vida has generated over $150,000 in revenue from messages 2 and 3. And while engagement drops of the more messages you send, the fact that message 3 still has a conversion rate of 17.7% shows these messages are delivering value to customers.As is always the case, message 1 has the best conversion rates and is generating the most income. This demonstrates how important an early re-engagement of your audience is after they have abandoned a shopping cart. Because push notifications are more visible than channels like email, catching customers while they are still in the mood to make a purchase is possible.
Content and copy for Pura Vida's abandoned cart pushes
Along with being a handy reminder to customers, Pura Vida also add value with a 20% discount offer added to abandoned cart pushes.

The first message is phrased as a friendly reminder to the customer, using the headline "Oops … you left something behind."
But messages 2 and 3 focus on urgency, reminding the customer that their discount is only available for a limited time: "Your cart is about to expire!" is followed by "Last chance to get 20% off!"
This tactic makes sense - the first message in the flow accounts for more than half of all the sales, so there's no need to be too pushy when many customers will click anyway. But with messages 2 and 3, Pura Vida are doing more to persuade the customer and encourage an purchase right now.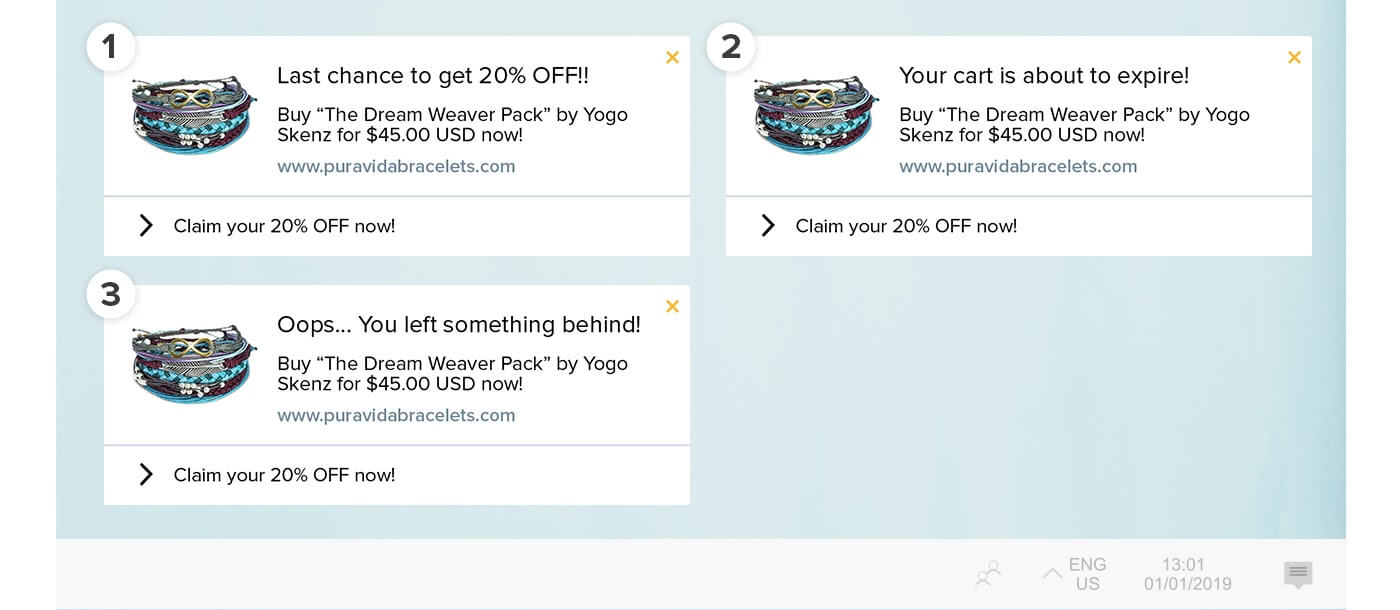 Key insights: Abandoned cart pushes are low touch, which is important because Pura Vida runs a lean marketing team. They are also excellent for profitability, with conversion rates of 22% meaning Pura Vida get plenty of revenue for their marketing spend.
Check out the full story of Pura Vida's $1 million push notification success in this case study.
How Intelligent Blends achieve high conversion rates using abandoned cart messages
Company:
Intelligent Blends is a premium gourmet coffee pod retailed, offering high quality roasts and blends direct to customers through its Shopify Plus store, shopblends.com. It offers a range of coffee blends, including in sampler and variety packs, and also sells teas.
Industry:Food and Beverage
Intelligent Blends supply gourmet coffee and tea pods for use in coffee machines.
Intelligent Blends' abandoned cart strategy:
Intelligent Blends employ an omnichannel marketing strategy, using push notifications, email and SMS to keep their returning customers engaged and informed on the latest deals and new products.
Its number one priority is having a strong conversion rate. That's because as the company continues to grow it is looking to increase its margins and profitability. "Strong conversion rates are a big focus for our company," says Jarrid Raney, Marketing Manager at Intelligent Blends. "Our company is starting to become less conservative as we succeed more, but margin is a big deal and conversion rate helps with that."
Intelligent Blends' abandoned cart push notification results:
For stores like Intelligent Blends, who are looking to achieve strong conversion rates, abandoned cart push notifications are a must. The store has generated over $93,000 in revenue from just 116,000 pushes sent. To put it another way, they are making over $0.80 for every push notification they send on average.
This very impressive ratio is mainly down to the clear value customers get from abandoned cart pushes – these reminders to complete their coffee pod purchases are clearly useful for Intelligent Blend's returning customers. Of those who click, more than 1 in 4 customers goes on to place an order. Here are the raw numbers for Intelligent Blends abandoned cart pushes:
Total number of push subscribers: 47,581
Total number of abandoned cart pushes sent: 116,467
Total revenue from abandoned cart push notifications: $93,557
Total number of orders generate through abandoned cart push notifications: 2,499
Average revenue generated per push notification sent: $0.80
Click through rate on abandoned cart pushes: 7%
Conversion rate from those who clicked on abandoned cart pushes: 28%
Firepush abandoned cart pushes are automated - if a push subscriber leaves an item in their cart and doesn't complete the purchase, they are automatically sent a flow of messages encouraging them to complete the order.
Here is the flow that Intelligent Blends sends to their customers:

Intelligent Blends choose not to include a discount with their abandoned cart pushes. Instead, the attractive visual and focus on limited stock is enough to drive orders - Intelligent Blends achieve a 28% conversion rate with these pushes.
Key insight: Intelligent Blends are all about becoming more profitable. With conversion rates of 28%, and 80 cents in revenue generated for every push sent, abandoned cart pushes are helping them achieve this goal.
Read the full push notification strategy that nets Intelligent Blends $12.7 per subscriber in this case study.
How Inkedshop achieved 10:1 ROI ratio using abandoned cart SMS
Company:
Inkedshop was developed as the ecommerce arm of the popular US publication, Inked Magazine. This lifestyle magazine is oriented towards tattoo artists and enthusiasts, and Inkedshop's inventory reflects this – the Shopify Plus store sells clothing and accessories catering to the "outsiders" lifestyle of their audience.
Industry: Fashion and apparel
Inkedshop sells mens and womens fashion, accessories and homeware.
Inkedshop's abandoned cart strategy
While Inkedshop focuses heavily on using push notifications to keep its audience engaged and to highlight the daily promotions that it runs. But beyond this, Inkedshop is using both SMS and push notifications by Firepush for abandoned cart messaging.
"The highest revenue generator for text message (SMS) is definitely abandoned cart," explains Jami Pearlman, CFO at Inkedshop. One of the advantages this brings is to improve their overall ROI for remarketing, because their abandoned cart messages perform so well. In the case of Firepush, ROI is far exceeding expectations:
"If revenue generated is at least four times spend in return then we are happy. And with Firepush it's much higher. Our monthly spend is about $1,000 a month, and we're at over $10,000 in sales in the last thirty days. So it's like 10 times spend, which is big. With Google Ads and Facebook Ads we usually only get 3x to 4x spend."
Inkedshop's abandoned cart results
Inkedshop have abandoned cart messages set up for both SMS and push notifications, and both have high conversion rates.
In the case of their abandoned cart SMSs, Inkedshop are currently generating $1.27 for every SMS they send, which is exceptionally strong. The click through rate is over 15%, and from those who click more than one in ten make a purchase
Let's take a look at a breakdown of their abandoned cart SMS results.
Total number of abandoned cart SMS sent: 70,510
Total revenue generated from abandoned cart SMS:$90,058
Click through rate: 17%
Conversion rate of those who clicked: 14%
And here is the 3 message flow Inkedshop uses for its abandoned cart SMSs.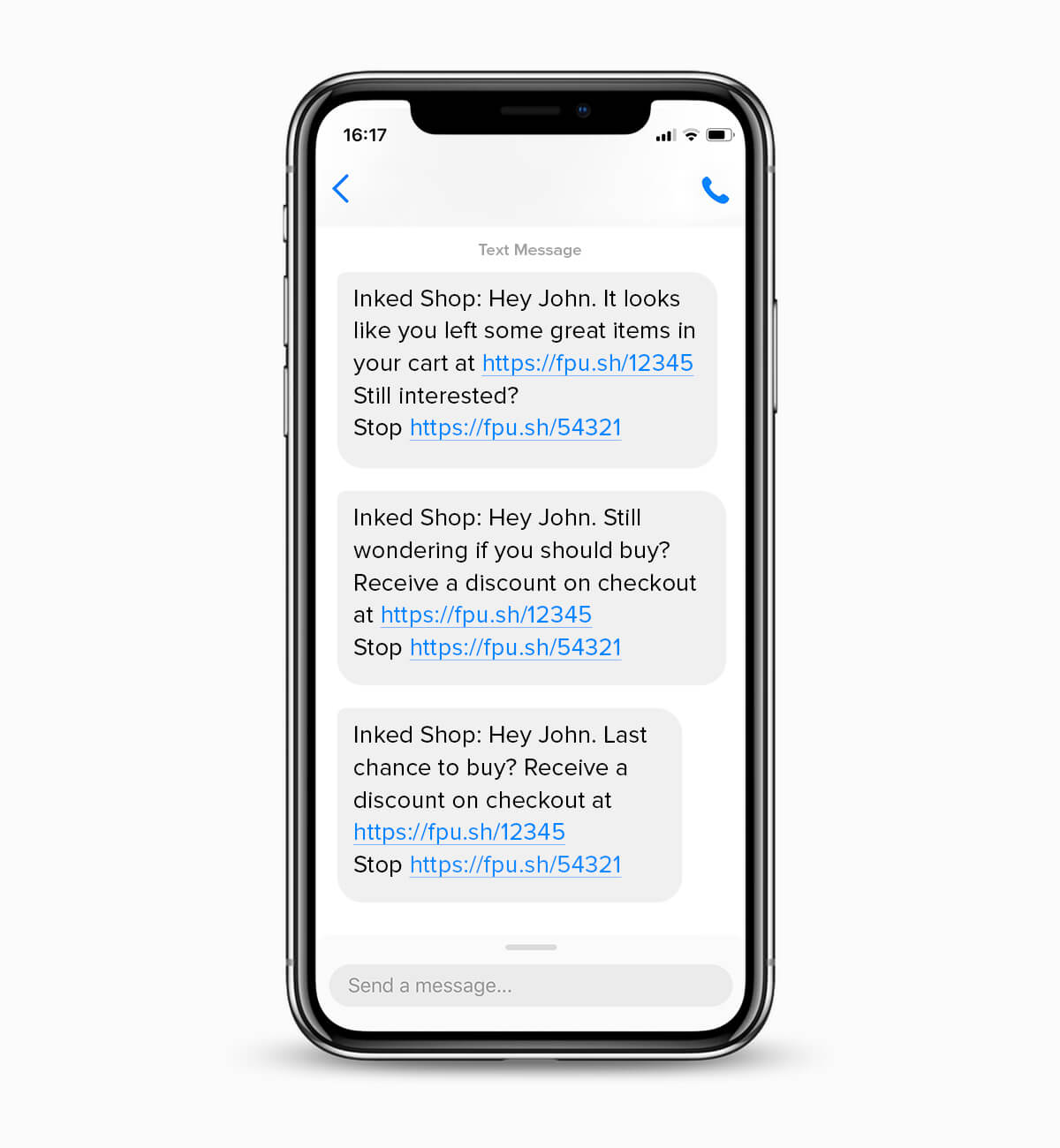 Each message is informal and personalised, adopting a conversational tone with the customer. The focus of the messages shifts as the flow progresses. Message 1 is a friendly reminder to complete the purchase. In message 2, a discount is offered with a coupon applied at checkout.
And the 3rd SMS focuses on urgency, explaining that it's his "last chance to buy." The tone and content of these messages is clearly effective, with 17% of recipients clicking through on average.
Inkedshop follows a similar strategy with its push notification flow, though the tone is less conversational and there is a greater focus on urgency.
Message 1 in the flow explains that the item is selling out fast, while message 2 introduces a time-limited 20% discount.


Key insight: Inkedshop aims to make $4 in revenue for every $1 they spend. With abandoned cart pushes and SMS it is achieving $10 for every $1 they spend. This means its ROI (and therefore its profitability) is very strong.
Check out all the details of Inkedshop's highly cost effective push and SMS strategy in this case study
How Phaser FPV use abandoned cart pushes and SMS to boost Black Friday revenue
Company:
Phaser FPV is a niche consumer electronics store that specialises in parts and accessories for FPV drones. It also sells 3D printer equipment and recently branched out into e-vehicles. It is run by drone enthusiast and ecommerce entrepreneur Rhys Evans.
Industry: Consumer electronics
Phaser FPV specialises in parts for FPV drones, 3D printing consumables and e-vehicles.
Phaser FPV's abandoned cart strategy
Phaser FPV caters to a small but loyal customer base, with 80% of sales coming from return customers. A single customer can be responsible for a large sales volume – one Phaser FPV customer has placed over 200 orders so far.
For this reason, Phaser FPV's owner Rhys plays a delicate balancing act when it comes to communication. On the one hand, he is careful not to over-communicate to his audience, which could lead to them unsubscribing or switching to a competitor.
On the other hand, he wants to keep his audience informed of the new products that he is regularly adding to his inventory. And, at certain times of the year, like the Black Friday weekend, he wants to boost revenue and push sales.
He has put together a strategy that finds the right balance – he sends email newsletters regularly, and supplements these with push notifications to inform his customers of important new product arrivals. For most of the year he does not use abandoned cart messages because this could frustrate regular customers. But for Black Friday weekend and other sales periods, Rhys sets up abandoned cart messages via SMS. "For Black Friday 2019, we set up abandoned checkout SMSs - this was based on suggestions from Tom (CEO of Firepush.) We don't have these on permanently because return buyers would get annoyed," explains Rhys.
"If we were a one product store where customer lifetime value was low, abandoned checkout SMSs would work really well. For us, we have customers browsing the site every week, so there's no need to overdo it. But for Black Friday we figured we would use it."
Phaser FPV's Black Friday abandoned cart results
Rhys' decision paid off handsomely over Black Friday 2019. Both his SMS and push notification abandoned cart messages achieved very strong numbers. The SMSs generated almost $5 in revenue per message sent, while his abandoned cart pushes brought in a staggering $10 in revenue for every message sent.
Let's take a detailed look at how his abandoned cart messages performed:
SMS results
Open rates on abandoned checkout SMSs were 14%.
The conversion rate of those who clicked was 38%.
Phaser FPV generated $4.7 USD for every abandoned checkout SMS sent.
Push notification results
Abandoned cart push notifications achieved a 12% open rate.
The conversion rate of those who clicked was an incredible 89%.
Phaser FPV generated a massive $10.2 USD in revenue for every abandoned cart push notification sent.
These results have helped Phaser FPV to increase its Black Friday revenue by 81% since it started using Firepush.
Key insights: Phaser FPV gets 80% of its revenue from return customers. So it has to use abandoned cart messaging carefully. But targeted use of abandoned cart pushes and SMS brough impressive results over Black Friday, with pushes generating over $10 in revenue for every push sent.
Get a full breakdown of Phaser FPV's strategy for niche stores in the this case study
Looking for ways to grow your sales for your Shopify Plus store?
Learn more