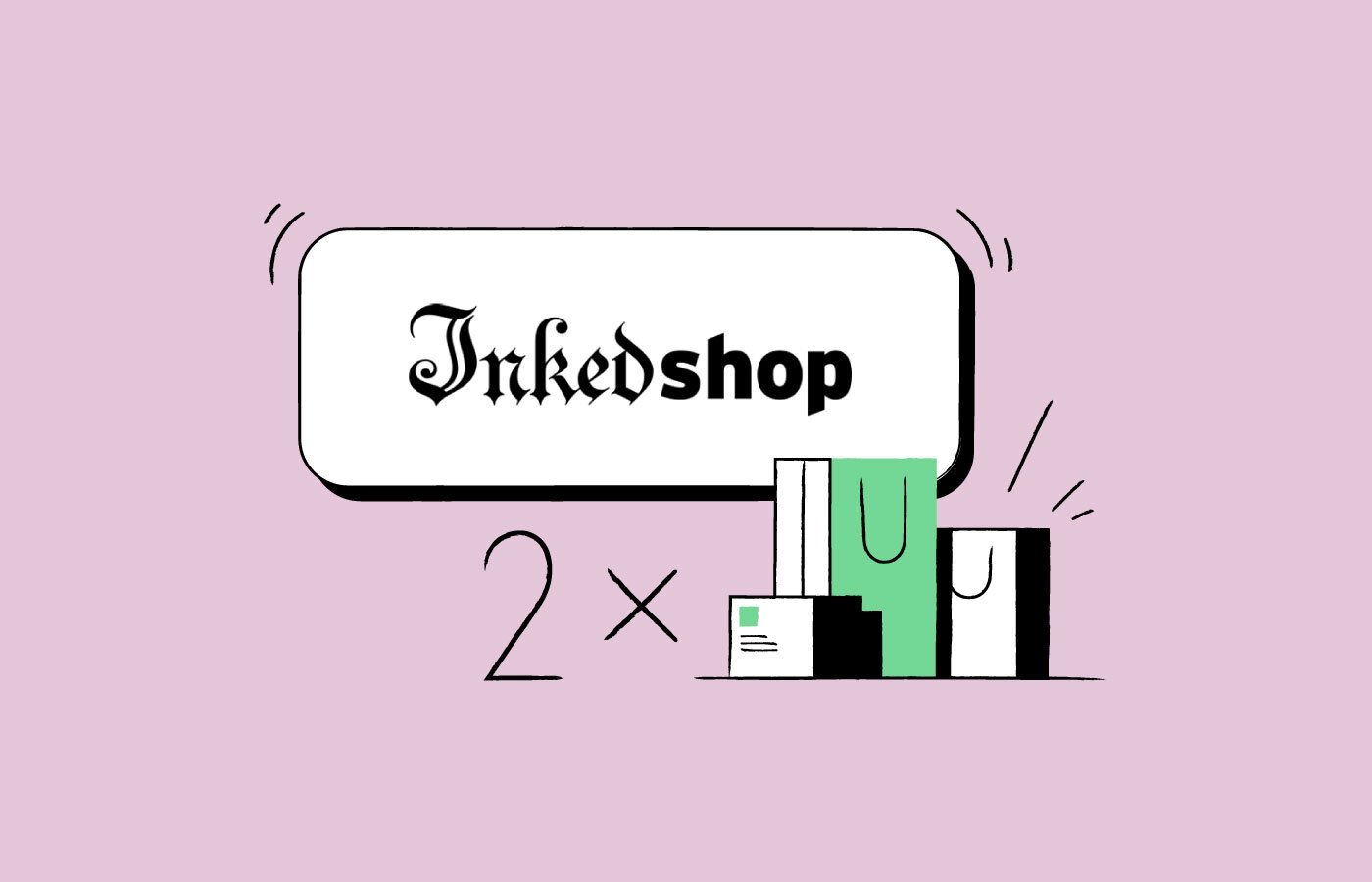 Inkedshop has an unusual, and highly effective, approach to push notification and SMS marketing. And you can learn a lot for your own Shopify store from their smart strategy.
This highly successful Shopify store uses daily push notifications to promote its Deal of the Day. But this is just the tip of the iceberg when it comes to their omnichannel marketing Shopify success story. It also runs abandoned cart messaging using SMS and push notifications. Plus, it has Win Back Customer and Welcome automations set up on both channels. And it supplements all of this with seasonal bulk SMS campaigns.
The results make this a true Shopify success story:
Total revenue generated using push notifications and SMS: $616,214
Total number of orders through push notifications and SMS: 11,036
Best message type for return on investment: Abandoned cart SMS (X51 ROI)
Most used push notification type: Power Push
Average revenue from $100 spend: $1,021
Overall, retargeting using Firepush is outperforming other marketing tools Inkedshop is using, as Jami Pearlman, CFO at Inkedshop, explains:
"The way we judge if a marketing channel is worth using if it delivers 4 times in sales what we spend. With Firepush it's much higher - we are at 10 times spend."
In this Shopify case study we'll look at how Inkeshop uses push notifications and its expert deployment of SMS messaging. We'll share the strategy in detail, look at the results, and share some tips and tricks along the way.
How InkedShop was born and started its Shopify store
Inked is a tattoo lifestyle digital media company that started life as a print magazine in 2004. Since making the transition to a digital company, it now sits alongside the likes of Esquire and Cosmopolitan in the ranks of major lifestyle brands. It has a huge online audience, with around 30 million Facebook fans across its two main Facebook pages, and its YouTube video views regularly run into the hundreds of thousands.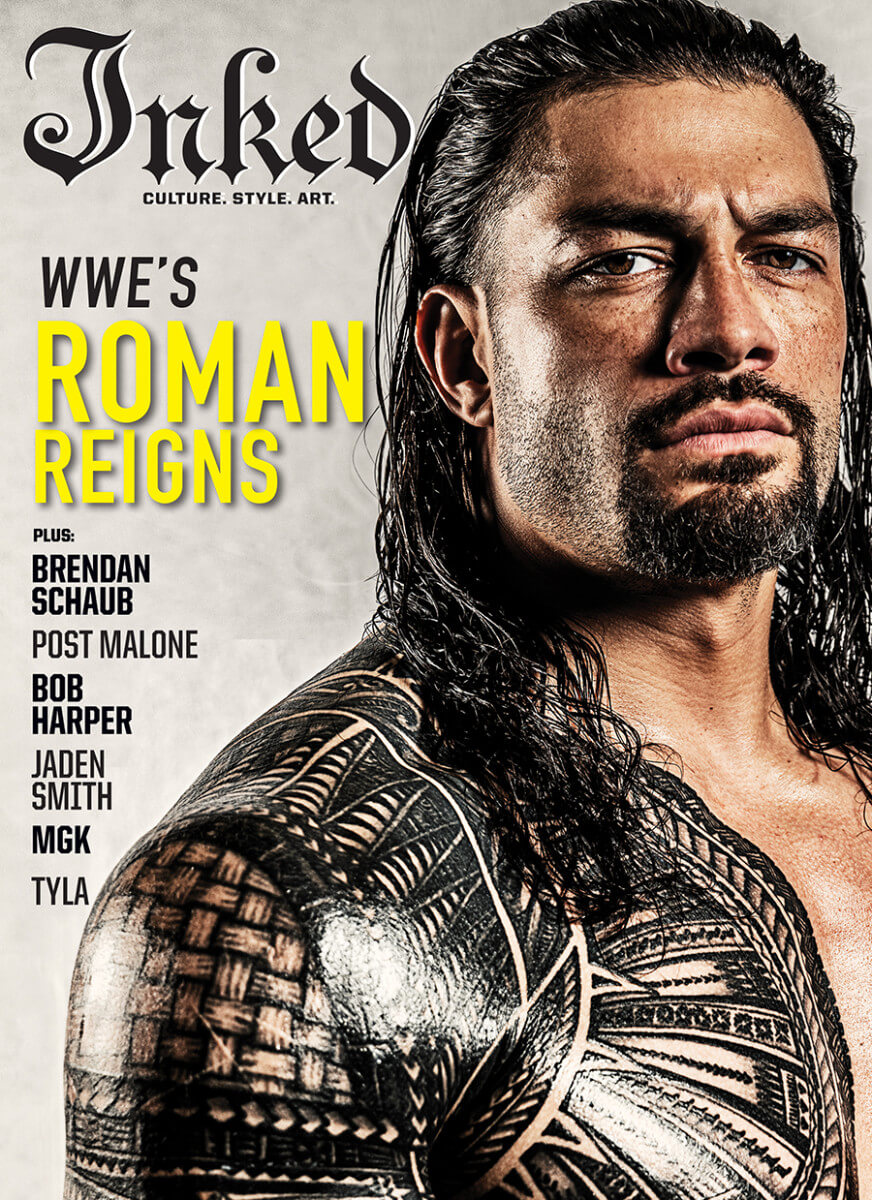 A front cover of Inked Magazine
Inked's digital story stretches back to 2009, when the company noticed that, like everyone else in the print media game, its numbers were dwindling. To compensate for this dip in revenue, and keep their core product afloat, they decided to open a new revenue stream - Inkedshop, an ecommerce store that reflects the Inked brand and includes merchandise featured in the magazine.
And it was a huge success.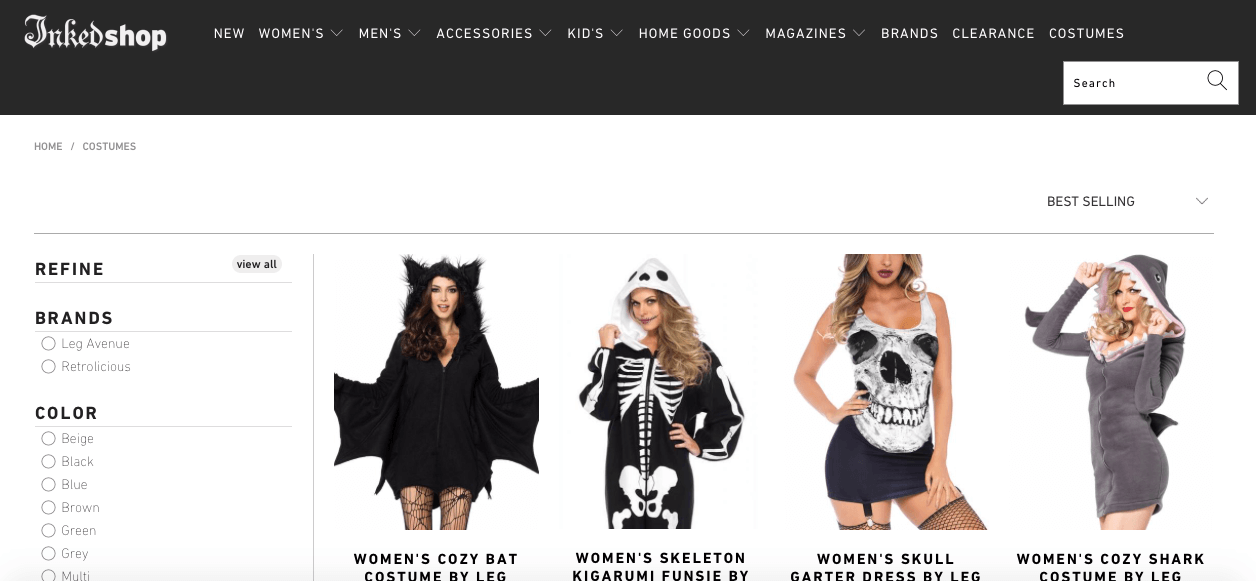 Inkedshop's Halloween costumes collection are always a hit
Around 2015/16, however, the tide began to turn. Facebook introduced a number of changes and began advertising, and Amazon started to alter its platform too. To respond to these changes, Inkedshop decided to move their store to Shopify Plus.

Inkedshop has developed a distinctive and popular brand for its Shopify Plus store
Inkedshop adds the Firepush Shopify app for push and SMS marketing
Having set up on Shopify Plus, Inkedshop was on the look out for the right apps for the store's long term growth. It needed to find new ways to engage its large customer base. This is when Jami from Inkedshop discovered the Firepush omnichannel marketing app:
"I came across another website and I got a push notification on my desktop. It was one of my kid's friends, who has a little website, and I ended up getting their push notifications. I was impressed, so I contacted Tom at Firepush and we set it up and it's been doing great ever since."
Whenever Firepush onboards a new Shopify or Shopify Plus store, the CEO Tom offers a consultation that goes beyond just a simple product demo. He suggests detailed strategies based on the specific business goals of that store.
In the case of InkedShop, because they had a large audience and were aiming for a high volume of messaging, he recommended a focus on push notifications (with occasional SMS campaigns to give sales an extra boost when needed.)
Let's take an in depth look at the retargeting strategy Inkedshop uses with Firepush.
Get a 14 day FREE trial running promo campaigns like Inkedshop's
Get my trial
Inkedshop's strategy using push notifications and SMS
Here's a basic breakdown of the different types of push notifications and SMS messages Inkedshop uses:
Power pushes - these are promotional web browser push notifications that feature a high quality image or GIF.
Abandoned cart push notifications - these are pushes sent to recover a sale when customers add items to their cart but then don't complete the purchase.
Welcome pushes - these are sent when someone subscribes to your push notifications, and are good for driving first sales.
Product delivery messages - these pushes provide customers with updates on their deliveries and help to build loyalty.
Bulk SMS messages - these are promotional SMS messages sent out to promote a specific deal or discount.
If you're new to push marketing, this detailed guide to push notifications explains how different types of pushes work
Daily promotional pushes to drive sales
One of the the most important push type in Inkedshop's strategy is the Power Push. They send one out every morning detailing their Deal of the Day to their subscribers.
Here's how their daily Power Pushes look.
Every morning, subscribers receive a browser push notification, either on their desktop computer or mobile: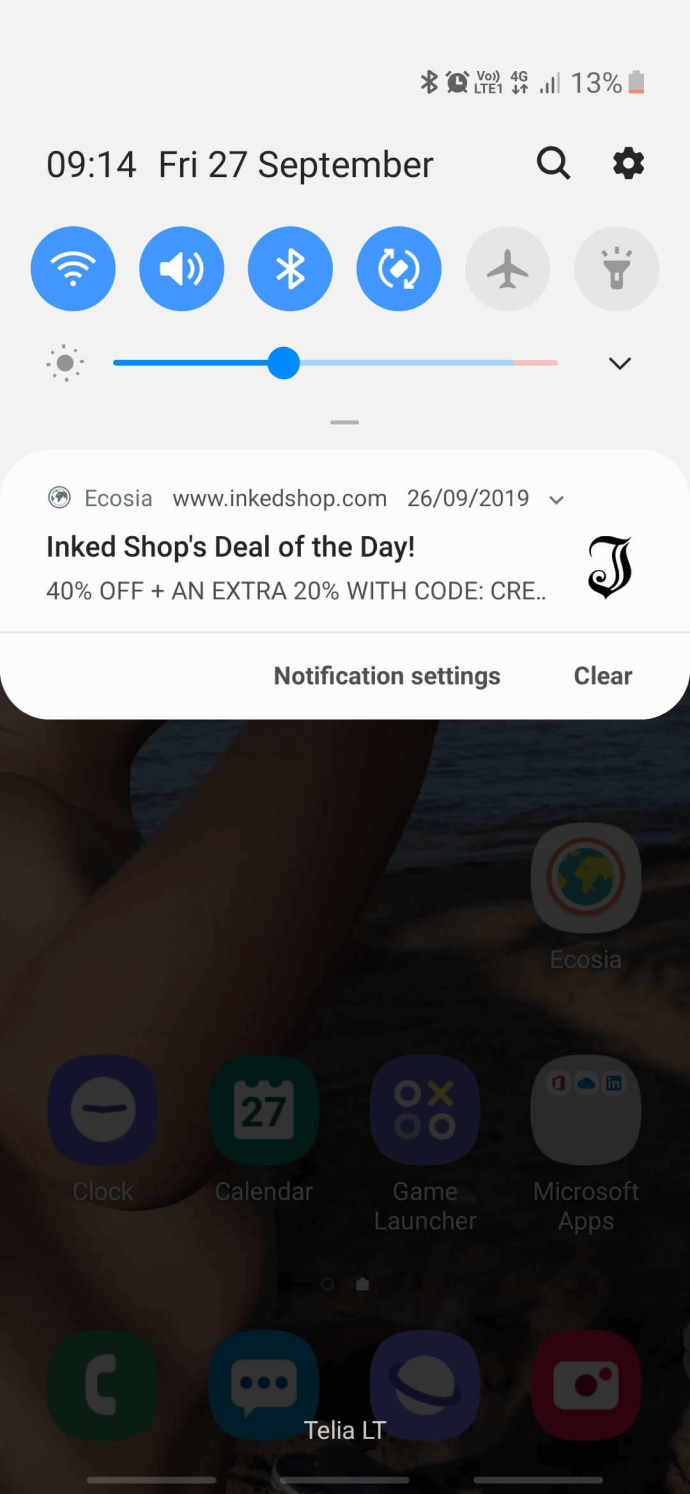 The push leads directly to the product page, where the discount has already been applied.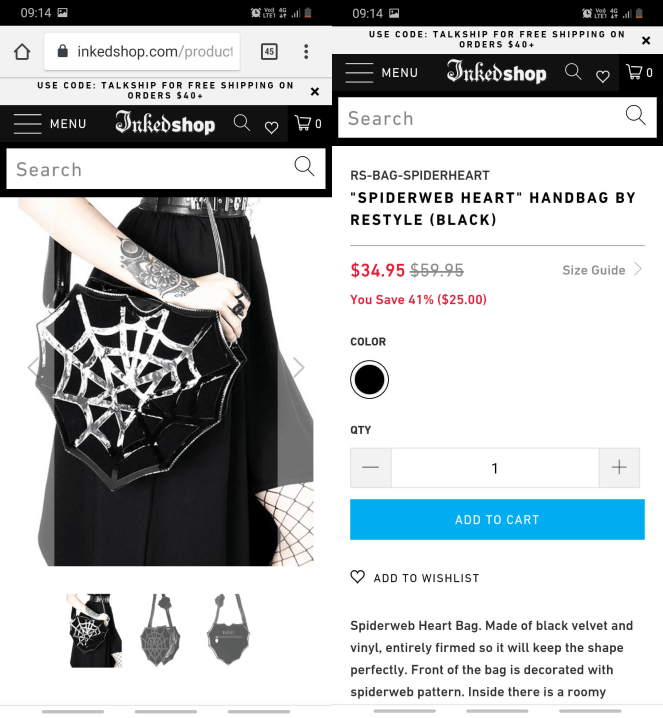 Shoppers just add the item and head to checkout - easy.
This kind of high volume messaging won't work for every store, and is quite an unusual practice in push notification marketing. But it works for Inkedshop for two reasons:
Inkedshop have a large and loyal following, so there is plenty of interest in their deals.
Inkedshop are able to offer major discounts on each daily product, which makes these daily deals engaging for their audience.
So, let's take a look at the impressive results this strategy has brought Inkedshop.
Inkedshop's pushes bring higher sales and engagement
In total, Inkedshop has generated a massive $616,214 since November 2017 using Firepush. This revenue is split more or less evenly between Inkedshop's promotional messages, abandoned cart messages and automations (like welcome and delivery update messages). Overall, abandoned cart messages account for the largest proportion of revenue.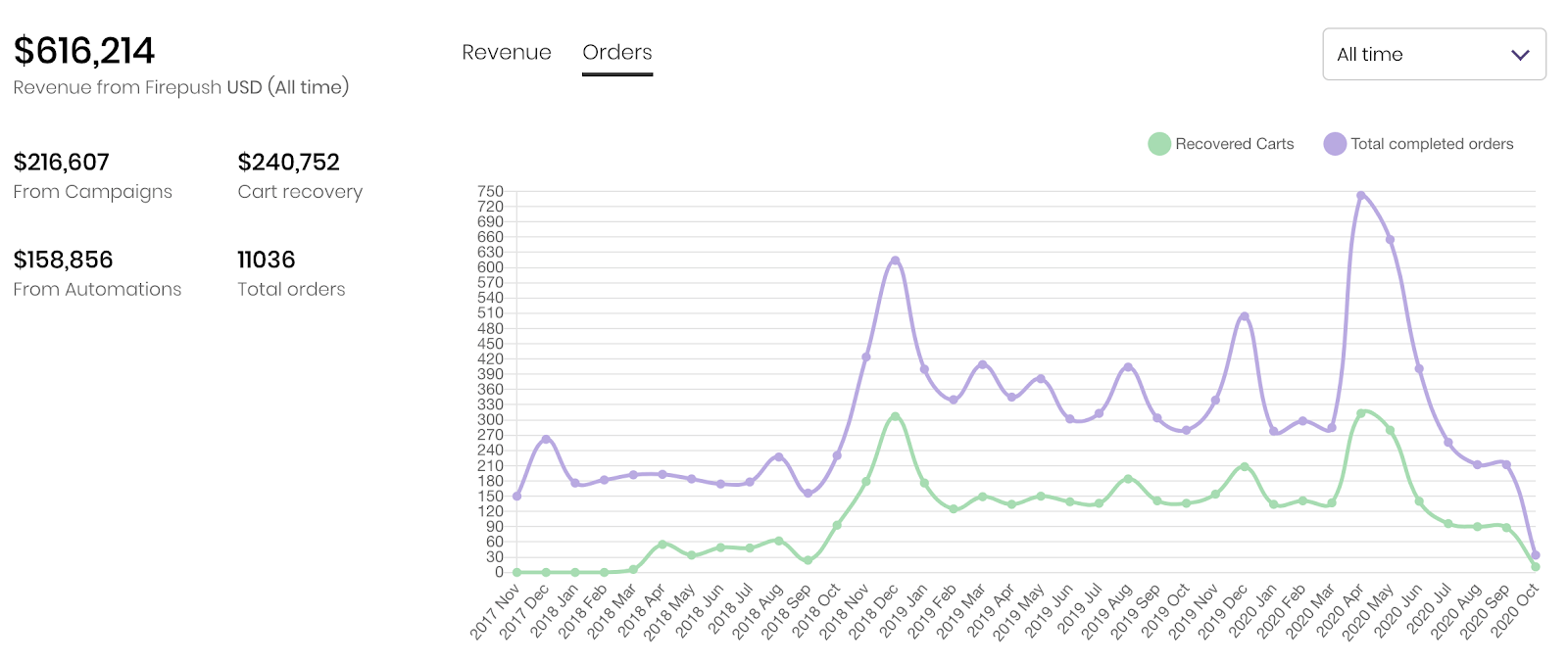 Inkedshop have consistently generated income using Firepush messages
As the chart above shows, this revenue has been generated consistently across the period Inkedshop has been using Firepush. As you would expect, there are obvious peaks in the November and December months, as Inkedshop uses pushes and SMS messages to promote their Black Friday and seasonal deals.
Power Pushes deliver high revenue consistently
Here are the overall results of Inkedshop's "Deal of the Day" Power Push campaigns so far.

As you can see, this kind of push has been a real revenue driver for Inkedshop, bringing in over $215,000.
Why is this? The key here is consistency. Inkedshop has a loyal base of subscribers who are used to receiving a deal of the day every day. Push notifications can be perceived as intrusive, but as Inkedshop shows, if they are timed to be regular and offer a clear benefit, they feel like part of the relationship between the store and its subscribers.
Using Power Pushes as a way of dropping enticing daily offers to loyal subscribers delivers impressive return on investment for Inkedshop. It could do the same for you.
Get your free consultation on push notification strategy
Book now
Abandoned cart messages and automations achieve high engagement
"We have some retargeting set up, abandoned cart messages are set up, win back customers, we do product delivery updates, we do welcome messages for new subscribers, back in stock, discount codes for new subscribers. For SMS, we have Win Back and abandoned carts,"

Jami Pearlman, CFO at Inkedshop
These abandoned cart messages and automations work on autopilot to convert visitors into customers, and one-off shoppers into return buyers.
Let's take a look at the results for a few of these message types.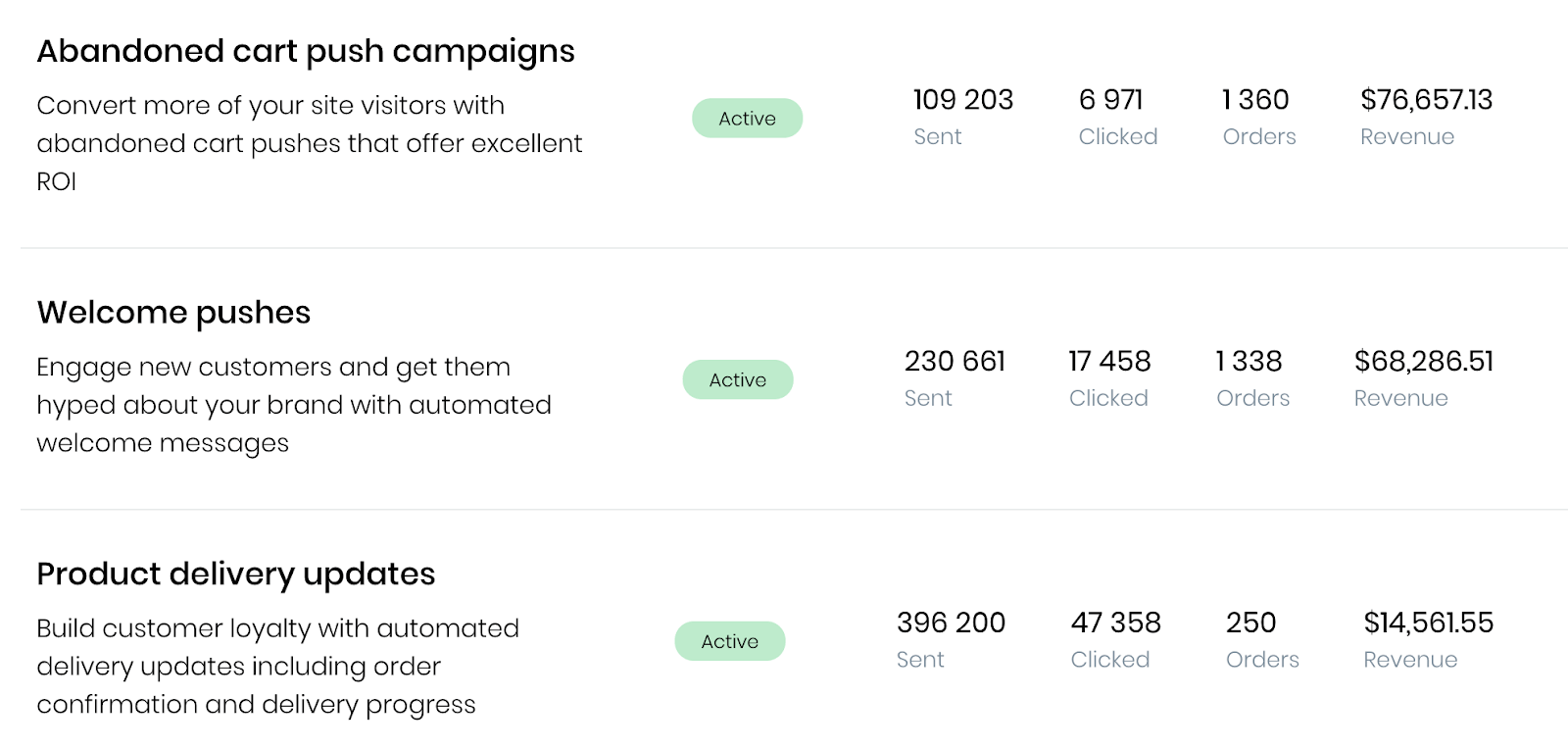 Abandoned cart messages are the top performer here:
6.4% of abandoned cart pushes are clicked on.
19% of those who click through make an order.
Inkedshop generates $0.70 for every single abandoned cart push it sends out.
If you're looking to add abandoned carts to your marketing mix, check out this detailed analysis of abandoned cart strategies used by Shopify stores.
Welcome pushes have an even higher engagement:
At 7.6%, engagement rates with Welcome pushes are even higher than those of abandoned cart messages.
These push notifications have generated almost $70,000 in revenue, which is equivalent to roughly $0.30 per push notification sent.
Product delivery messages have the highest engagement of all, with 12% of these messages clicked on. This shows these messages are providing real value to customers.
Inkedshop's SMS campaign and automation results
While Inkedshop doesn't use SMS messaging as extensively as push notifications, this channel still has an important role to play in the store's marketing mix.
Targeted SMS campaigns deliver strong ROI
Inkedshop uses Bulk SMS Messages to good effect. Whilst sent in much lower volume than their Power Pushes, as we can see from the results below, the ROI is similar. Inkedshop uses SMS when it has a major store-wide discount to promote, as opposed to the daily deals promoted via push notification.
Here is the data on a recent campaign for a store-wide sale:

So how did this campaign perform?
Inkedshop spent $90.13 on this campaign, but made $1,045 in revenue. This equates to a return on investment of over 10X.
It achieved an impressive click through rate of 11%.
Almost 5% of those who clicked went on to make a purchase.
Abandoned cart SMSs recover over $160,000 in lost sales
For Jami, Abandoned Cart SMSs are also a very important tool in their arsenal - "the highest revenue generator for text message is definitely abandoned cart." This should come as no surprise. 2020 research on abandoned cart rates shows 75.6% of shopping carts are abandoned, and the rates on mobile are even higher.
So SMS's focused on recovering potential sales are an effective way to boost revenue, and one Inkedshop is taking full advantage of.


Over 98,000 SMSs have now been sent to Inkedshop customers who added items to their carts but didn't complete the purchase. Here's what these automated messages have achieved:
Over 15% of customers clicked on these messages.
18% of those who clicked went on to make a purchase.
On average, Inkedshop makes $1.67 on every abandoned cart SMS it sends.
Win Back customer SMSs increase customer lifetime value
Because Inkedshop has a dedicated following, investing into generating more value from each customer is a smart strategy. This is much more cost effective than trying to acquire a new customer.
So the store has made good use of automated Win Back customer messages that are sent to existing customers who haven't visited the store in a while. And these messages have achieved high levels of engagement:
Over 10% of those who received the message clicked through.
A further 12% of those who clicked through then placed an order.
These messages have generated an additional $50,000 in revenue.
A key point to remember is that this additional revenue comes without any advertising spend attached to it, because these are existing customers. That means improved profitability for Inkedshop.
The importance of an omnichannel approach
Inkedshop's success with both push notifications and SMS shows that it is important to not be reliant on just one channel. Integrating both pushes and SMS messages has broadened the store's reach, and generated extra income.
Check out this comprehensive strategy for implementing omnichannel marketing on your Shopify store to learn more about this approach.
Insights and opinions from experienced marketed Jami Pearlman
Jami Pearlman at Inkedshop has been more than impressed with the results Inkedshop has achieved with Firepush. In fact, both SMS and Push notifications are outperforming Inkedshop's typical KPIs for a marketing app.
"Our thing is, if it's at least four times spend in return then we are happy about that. And with Firepush it's much higher. Our monthly spend is about $1,000 a month, and we're at over $10,000 in sales in the last thirty days."
This is a super concrete way to assess the value of your marketing spend - how much bang are you getting for your buck. And, as Jami figures out, retargeting messages using SMS and push notifications are much more impactful than money spent on Google and Facebook ads:
"With Google Ads and Facebook Ads we usually only get 3x to 4x spend. So with Firepush it's a much higher average return."

Jami Pearlman, CFO at Inkedshop
Results like that are pretty conclusive proof that push notifications can deliver significant sales increases.
Make it omnichannel and test a lot
As Jami and the team have learned, using a mix of channels is important. It enables you to vary your messaging and engage with more of your audience. Inkedshop's omnichannel approach (using both SMS and push notifications) is a great example of how to do this. For more tips on going omnichannel with your messaging, have a look at this detailed strategy for implementing omnichannel on your Shopify store.
Getting your mix right takes time, and Inkedshop has been perfecting its use of Firepush services since 2017.
Here's Jami's advice on how to find the right mix of channels and message types:
"You need to make sure you split test your messages as you use them. Also, you can try checking your purchasing patterns - when and in what frequency your customers buy from your store - and adjust your output to fit that pattern."
For Inkedshop, dropping their Deal of the Day push every morning works because they know their audience well. For other stores it might be better to present offers in the evening, or only once a week or once a month. It all depends on the audience, and testing is your way to learn exactly how your audience behaves.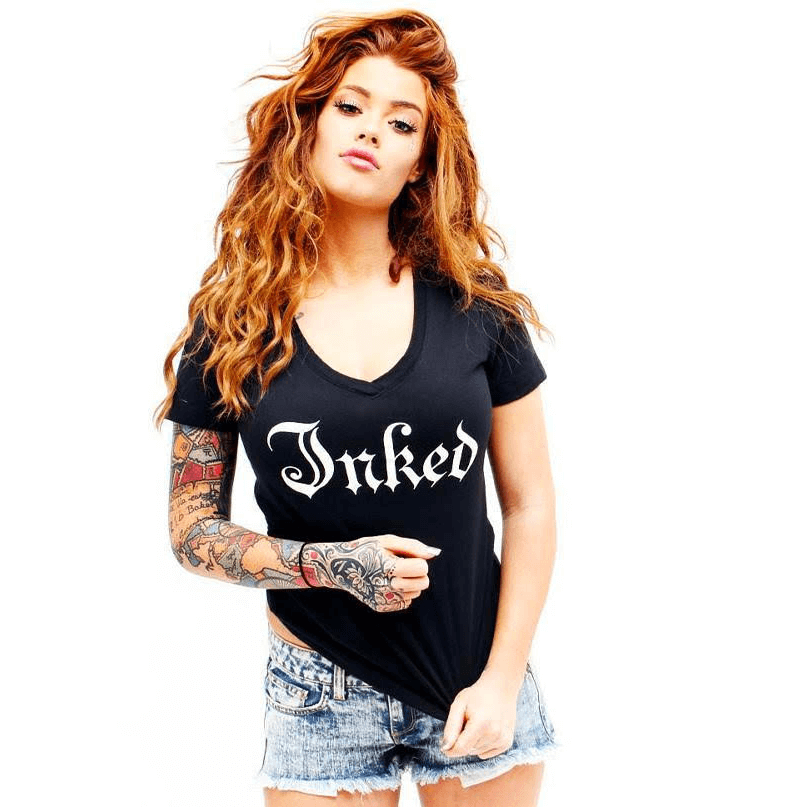 Inkedshop has a very specific audience and brand, and it has used testing to figure out the best strategy to fit them
Find an app that offers strong customer support
Jami's final tip is to look carefully at the support that's on offer from your omnichannel marketing app. You want your app provider to be easy to reach and willing to go that extra mile.
On this front, Jami is strong in her praise of her relationship with Firepush: "We are very happy with Firepush right now. Tom (the CEO of FirePush) has been very helpful. We email through Facebook, we do Facebook messaging, so it's easy to deal with him. He's actually helped me with some Facebook ads in the past too."
Inkedshop's SMS and push notification success story: the takeaways
We've covered a lot of ground in this case study, from push notifications to automated SMS messages to testing, and more. So here's a quick summary of the key points that you can learn from.
The strategy
Inkedshop's no.1 tool is the daily power push notification it sends promoting its deal of the day.
It supports this messaging with occasional bulk SMS campaigns to promote store wide deals.
It also has a range of effective automations set up, including abandoned cart and Win Back messages on both SMS and push notification.
The results
This strategy has generated $616,214 in revenue for Inkedshop.
This revenue comes in more or less evenly from the 3 main types of message it runs: promotional messages (the deal of the day pushes), abandoned cart messages, and other automations like Win Back customer messages.
On average, Inkeshop is generating more than $10 in revenue for every $1 it spends on marketing with Firepush, which is much higher than its returns from Google and Facebook ads.
Inkedshop's strategy offers some interesting and unusual ideas that you can implement on your Shopify store to boost revenue and turn more of your traffic into sales.