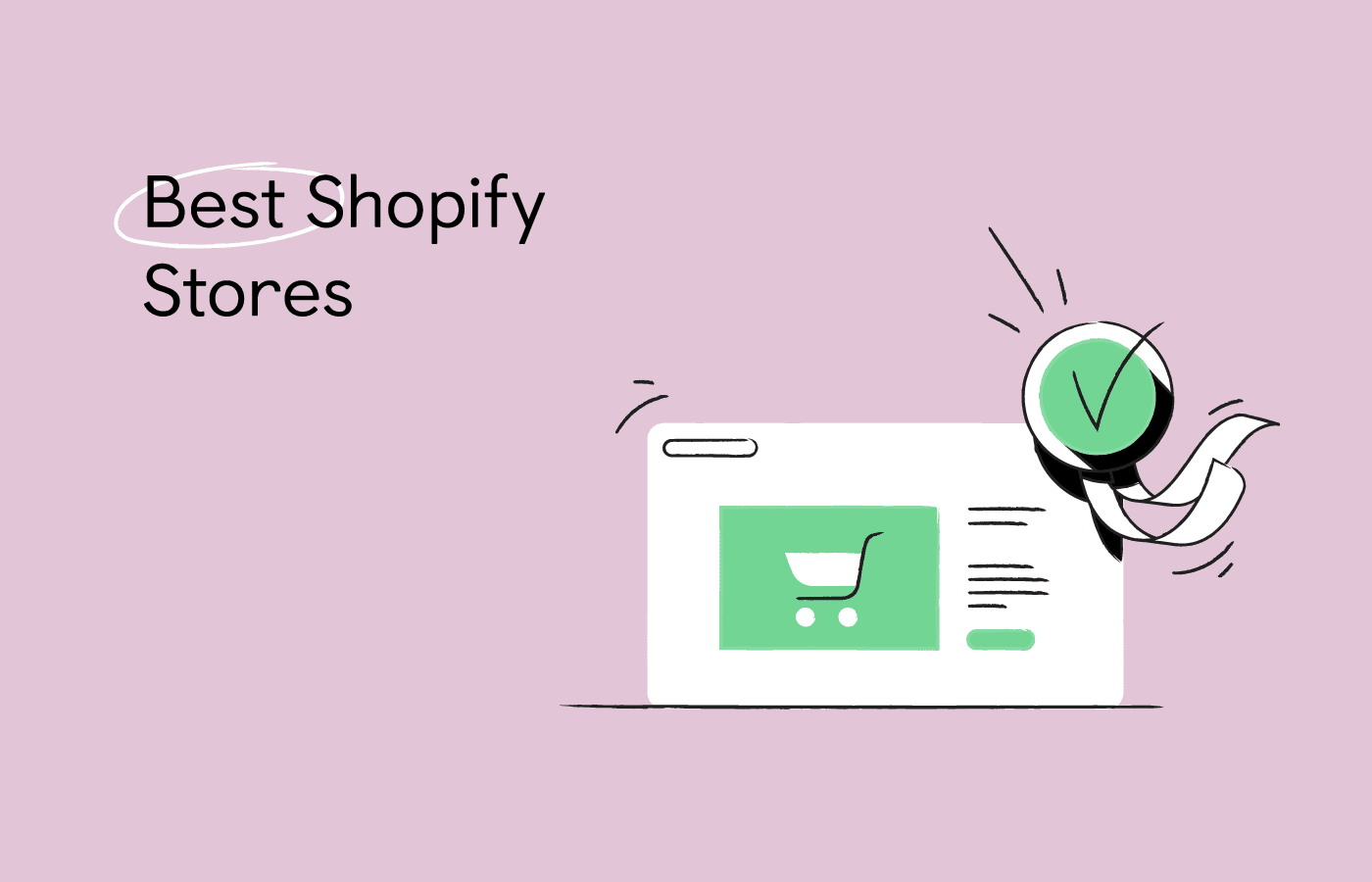 Creating a visually-appealing Shopify store is about more than just picking a template and clicking "publish." Don't get us wrong, you could absolutely do that if you wanted. Instead, though, let's take a closer look at 15 of the best Shopify stores we've found to inspire your next eCommerce venture.
Get a FREE consultation to find right marketing strategy for you
Book my demo
15 Best Shopify Stores
With a mind-blowing 31% of market share and more than 500,000 active stores, Shopify is the largest eCommerce platform around. The platform makes it easy for anybody to start their own eCommerce business with little investment and no coding or programming knowledge.
Are you ready to create your own beautiful store but unsure where to start? Here are 15 of the best Shopify stores we're loving right now (in no particular order) to give you some inspiration. We chose these Shopify stores based on these criteria:
Creativity
Compelling copy
Beautiful imagery
Visually appealing design
Navigation and functionality
While this list of the best Shopify stores is no means exhaustive, these are the stores that drew our attention. Plus, they're successful! Each store here brings in at least $1 million in revenue each year.
1. Partake Foods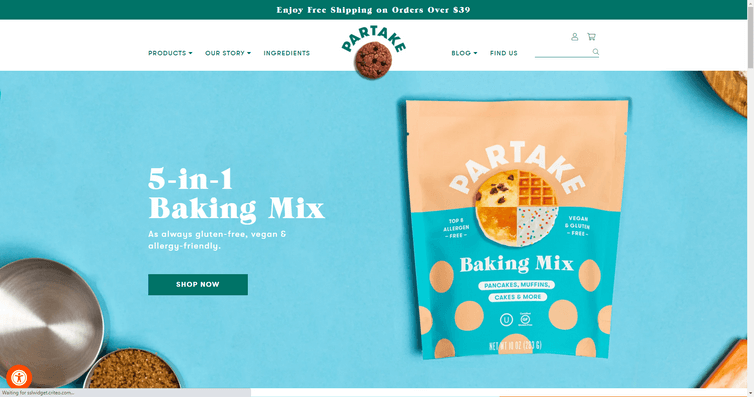 Revenue: $1 million (Partake Foods just closed a $4.8 million funding round, too!)
Traffic: 34.7K/month
Apps Used: Privy, Rakuten Integration
Business Model: B2C
Business Category: Food & Drinks
Partake Foods came to be simply because supermom Denise Woodard couldn't find healthy, allergy-friendly snacks she felt good about feeding to her daughter. Partake Foods offers up delicious cookies free from preservatives, artificial colors, GMOs, and the top 14 allergens.
This site makes our list of the best Shopify stores because, well, look at it. The soft blue background helps the images pop and the green accents make the call to action "Shop Now" unmissable!
Visit the Partake Foods website.
2. Allbirds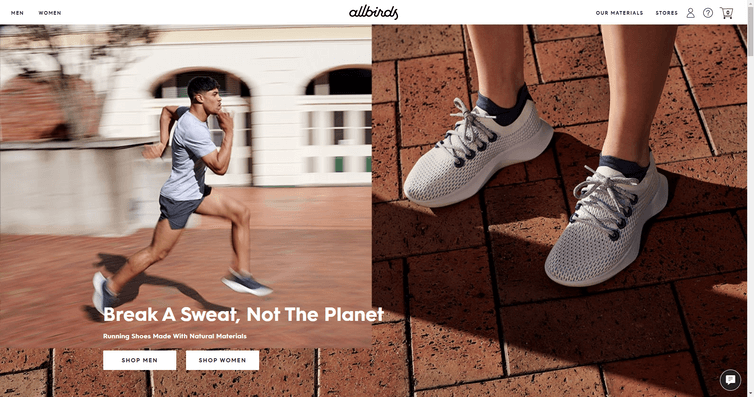 Revenue: $100 million
Traffic: 1.3M/month
Business Model: B2C
Business Category: Shoes
Allbirds is a footwear brand built with both style and sustainability in mind. The company grew from a Kickstarter campaign and is now valued at more than $1 billion. The key to the brand's success is evident on their website with their unique selling proposition prominently displayed: "Break A Sweat, Not The Planet."
With this nod to sustainability and function, Allbirds lets would-be customers know that not only is the brand eco-conscious but that customers don't have to compromise; they really can have a high-performing shoe that is easy on the environment.
Visit the Allbirds website.
3. Negative Underwear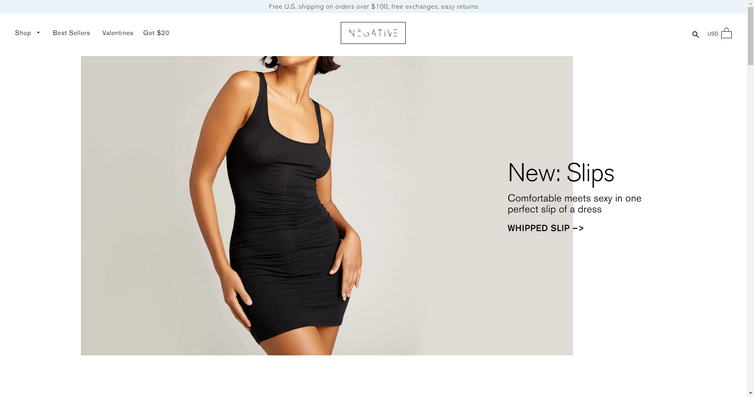 Revenue: $4 million
Traffic: 61.7K/month
Apps Used: Social Media Icons by Elfsight
Business Model: B2C
Business Category: Clothing
Negative Underwear is an intimates store that seeks to help women feel confident in their own bodies. And it seems to be working since this Shopify store increased revenue by 150% within a few years after launch.
The site is one of our picks for the best Shopify stores because the website is sleek and simple. We love a minimalist design and Negative does it so well. With the small "free shipping" notification across the top and the easy-to-use navigation, this Shopify site nails it.
Visit the Negative Underwear website.
4. UgMonk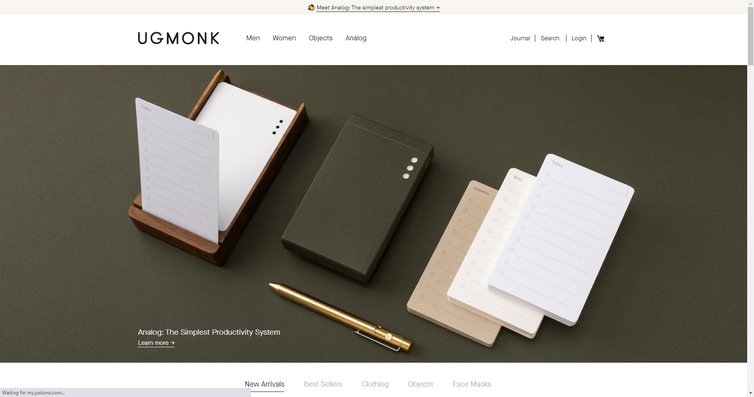 Revenue: $5 million
Traffic: 47.5K/month
Apps Used: Vwala
Business Model: B2C
Business Category: Stationary & Hobby Supplies
UgMonk is a design brand that produces high-quality products with a minimalist aesthetic. They create and curate products like clothing, bags, workplace products, and more, combining both form and function.
Their minimalist aesthetic extends to their website. The deep green of their hero image background provides warmth to the site and brings a sense of calm. UgMonk includes a small banner across the top, announcing their newest product and the nested navigation makes the site easy to navigate.
We also love that you can scroll down the page and jump immediately into available products.
Visit the UgMonk website.
5. Taylor Stitch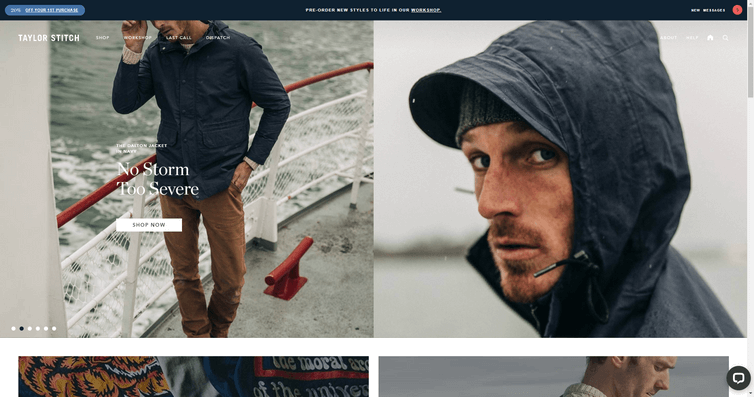 Revenue: $5 million
Traffic: 294.5K/month
Business Model: B2C
Business Category: Clothing
Next up on our list of the best Shopify stores is Taylor Stitch. This custom and tailored menswear brand launched more than a decade ago and has spent countless hours getting feedback from customers to improve their store. While we love this iteration of the site, it's nice to know that Taylor Stitch takes the opinions of its customers seriously enough to continually relaunch its website to make it even better.
Visit the Taylor Stitch website.
6. United by Blue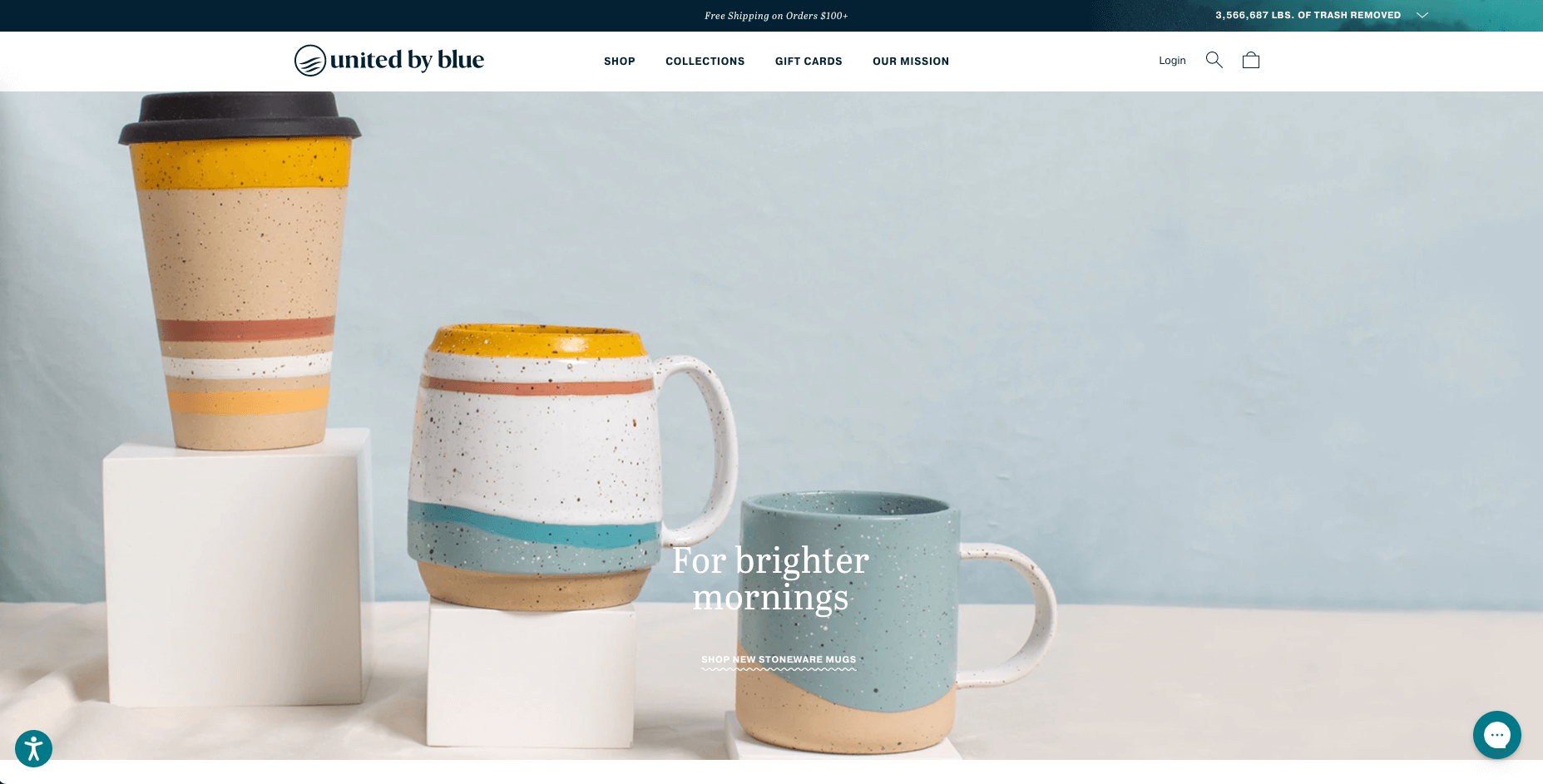 Revenue: $18 million
Traffic: 259.1K/month
Apps Used: Form Builder by POWr, BookThatApp, SMSBump
Business Model: B2C
Business Category: Clothing, Household Goods
United by Blue is an apparel and home goods company that was founded by Brian Linton. The company has sustainability built directly into all areas of its operation and even removes a pound of trash from the ocean and waterways for every product sold—a fact they proudly display on their website. United by Blue is dedicated to ending the use of bubble wrap sleeves, single-use plastics, and even plastic tape. They also host cleanups so people can get involved with their efforts even if they don't want to buy anything.
Visit the United by Blue website.
7. Gymshark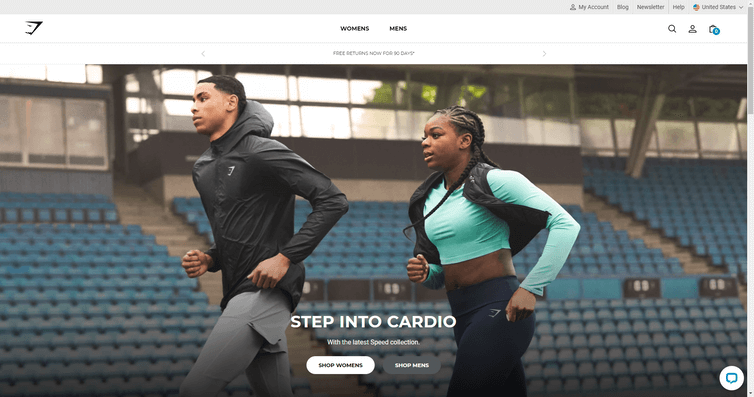 Revenue: $200 million (and a whopping $1.45 billion valuation!)
Traffic: 6M/month
Apps Used: Riskified, Nosto
Business Model: B2C
Business Category: Clothing, Shoes, Sports & Outdoor
Gymshark is, as you'd guess from the name, a fitness clothing and accessory brand. This site is one of our picks for the best Shopify stores because of its use of models that actually look like real people. Starting with the hero image at the top of the homepage and extending into the rest of the site, you'll find all different body types in Gymshark clothing.
Visit the Gymshark website.
8. Pipsnacks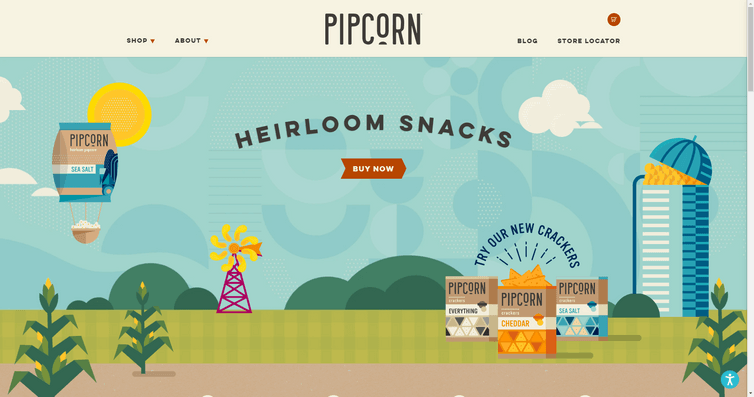 Revenue: $2 million
Traffic: 40K/month
Apps Used: Swell Loyalty & Rewards, Postscript SMS Marketing, Rebuy Personalization Engine
Business Model: B2C
Business Category: Food & Drinks
Pipsnacks has one of the most adorable site designs we've seen in a while. It includes subtle animations that are sure to keep visitors engaged and delighted. Even the site navigation keeps with the whimsical theme. When you hover over the navigation links at the top of the screen, the nested menu unfolds like an accordion.
We also love that Pipsnacks doesn't use popups to encourage people to sign up for their newsletter. Instead, when you scroll to the bottom of the page, you'll find an opt-in form. While popups are a great way to grow your email list, it's nice that Pipsnacks didn't take any attention away from their creative site.
Visit the Pipsnacks website.
9. Fashion Nova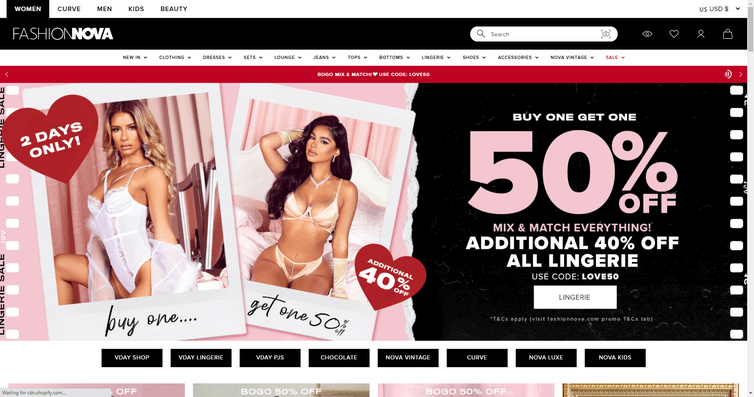 Revenue: $115 million
Traffic: 13.9M/month
Apps Used: Instant Search +, Facebook Messenger Marketing, Nosto
Business Model: B2C
Business Category: Clothing
Fashion Nova is the world's leading quick-to-market apparel and lifestyle brand with a unique selling proposition of offering affordable clothes for people of all body shapes and sizes. Their website is pretty much the exact opposite of minimalist with tons of images and visual interest along with an in-your-face promotion right at the top of the page.
What makes this one of the best Shopify stores, in our opinion, is Fashion Nova's use of influencers and user-generated content to build interest in their products. They've even had collaborations with stars as bright as Cardi B!
Visit the Fashion Nova website.
10. Rothy's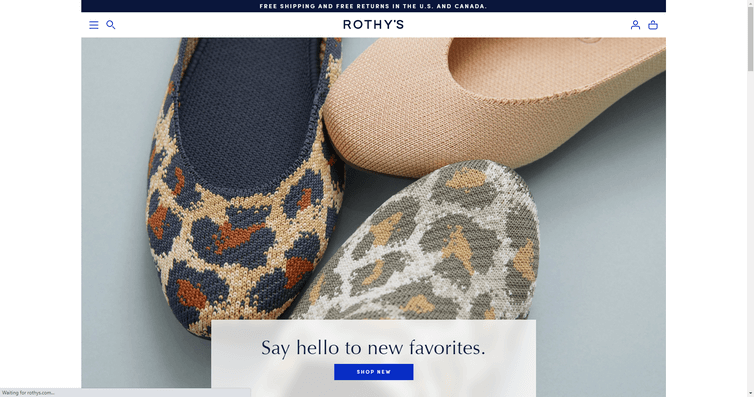 Revenue: $140 million
Traffic: 972.8K/month
Business Model: B2C
Business Category: Shoes
Rothy's is another eco-friendly footwear and accessories brand. While Allbirds highlights their functionality, Rothy's is all about style. That, and sustainability. Since their launch, Rothy's has recycled nearly 76 million plastic water bottles, repurposing the bottles into the thread used to make their shoes.
The homepage is a single column, making it easy to understand and navigate. In addition to beautiful, large images of their shoes, Rothy's includes information about their sustainability practices and links that make it easy to learn more and make purchases.
Visit the Rothy's website.
11. Uppercase Magazine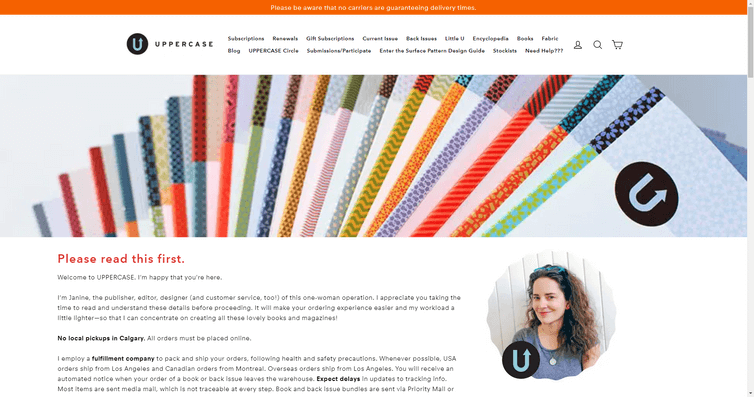 Revenue: $21 million
Traffic: 25.4K/month
Apps Used: Bold Upsell, Bold Brain
Business Model: B2C, Subscription-Based
Business Category: Books, Movies, Music & Games
Uppercase magazine shares articles and photos all about design, illustration, fashion, and more craft-related things. Janine Vangool, creator and editor of the mag, regularly features fellow creators.
The site itself is visually appealing, vibrant, and colorful. We love that you're immediately greeted by a letter from Vangool, accompanied by a picture of her. This makes both Vangool and the brand feel more approachable and personable.
Visit the Uppercase magazine website.
12. Beardbrand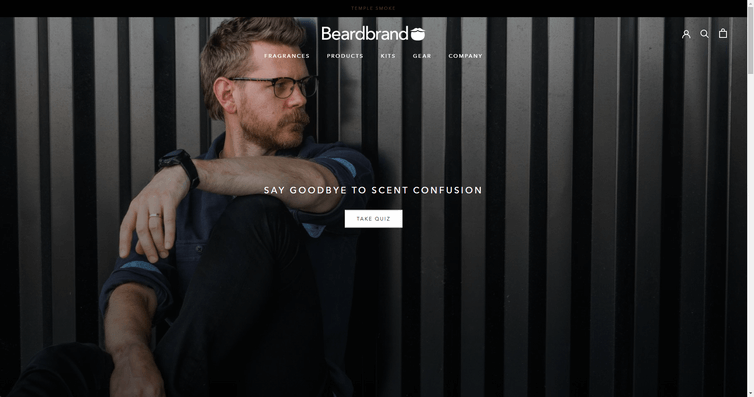 Revenue: $7 million
Traffic: 815.6K/month
Business Model: B2C
Business Category: Cosmetics and Body Care
Men's grooming company Beardbrand is next on our list of the best Shopify stores. The hero image is elegant and understated with the background creating tons of visual interest. The site starts with a quiz, an easy way to use interactive elements to keep visitors engaged.
This homepage is built to drive sales, with multiple calls to action encouraging visitors to shop or view the brand's products. We also love the sticky navigation bar that stays with you as you scroll down the page.
Visit the Beardbrand website.
13. The Honey Pot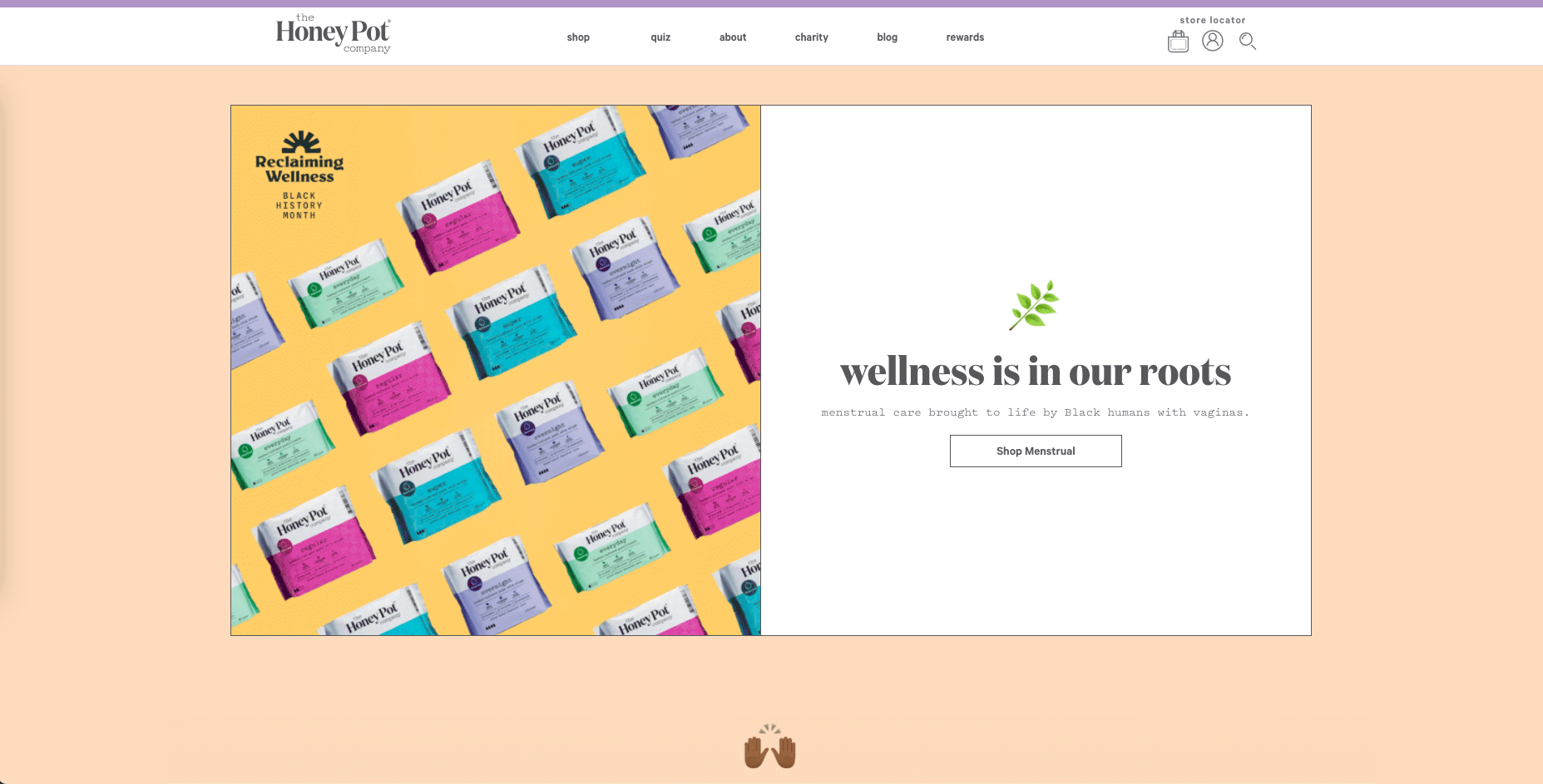 Revenue: $4 million
Traffic: 143.6K/month
Apps Used: Form Builder by POWr, NoFraud Fraud Prevention, Swell Loyalty & Rewards, Zendesk Support
Business Model: B2C
Business Category: Cosmetics and Body Care
The Honey Pot is an all-natural feminine care and hygiene company, built by women. Its founder, Bea Dixon, wanted to use a combination of herbs and science to help women like her find relief from common problems like bacterial vaginosis. The Honey Pot's products are formulated for people like expecting or current mothers, women on the go, and others who want natural ways to handle a number of issues that accompany being a woman. The website is eye-catching and engaging.
Visit the Honey Pot website.
14. Jimmy Jazz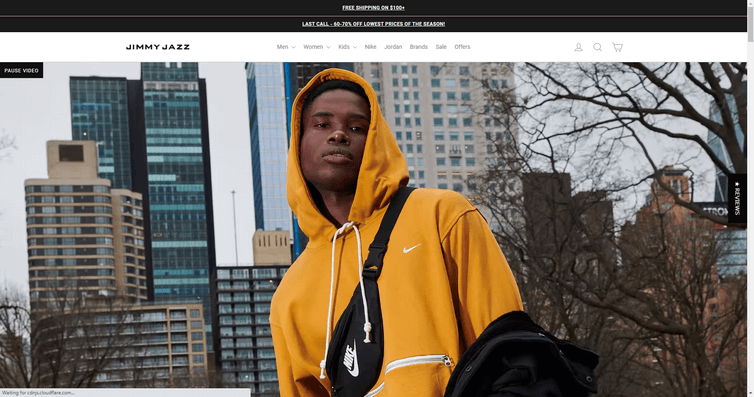 Revenue: $167 million
Traffic: 1M/month
Apps Used: Riskified, Zendesk Support, Social Media Icons by Elfsight, Store Locator by Secomapp, Klarna On‑Site Messaging, Nosto
Business Model: B2C
Business Category: Clothing, Shoes
Jimmy Jazz is a shoe and clothing brand inspired by hip hop and streetwear. The homepage has a minimalist design which is perfect to highlight the bright, vibrant colors of the products. What lands Jimmy Jazz on our list of the best Shopify stores, though, is the flow of the homepage.
After the initial rotating hero images, Jimmy Jazz includes a call to action that will take visitors to new products. If they're not interested in the new products, the next section of the homepage is an enormous promotional offer with another call to action encouraging purchases.
The rest of the page is more of the same, with eye-catching imagery and calls to action that inspire sales. Just before the footer, Jimmy Jazz includes a gallery of images from their Instagram account, still putting their products front and center.
Visit the Jimmy Jazz website.
15. Meow Meow Tweet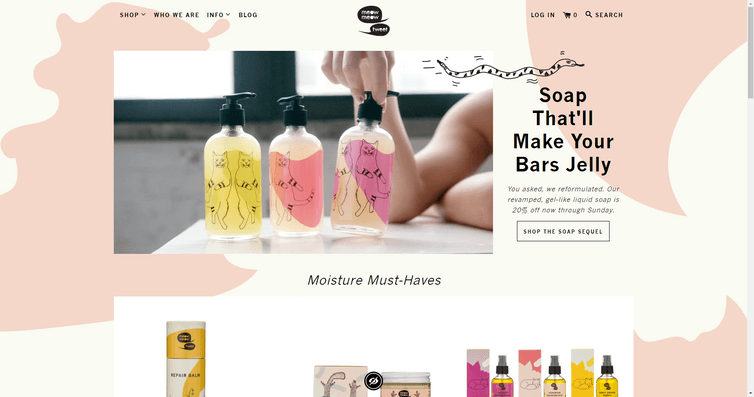 Revenue: $1 million
Traffic: 31.6K/month
Apps Used: Stamped.io Reviews & UGC, Wishlist Plus, Instant Search +
Business Model: B2C
Business Category: Cosmetics and Body Care
The last on our list of the best Shopify stores is organic vegan skincare company Meow Meow Tweet. Like, the company name, the website is whimsical and cute. The brand itself is known for natural ingredients and sustainable packaging.
While the homepage is short and sweet, it gives visitors every option to shop—exactly what you'd hope visitors to an eCommerce store would do.
Our absolute favorite part of Meow Meow Tweet's site is the accessibility options. They use UserWay, an automated accessibility tool, to ensure that everyone can enjoy their site. Visitors can control contrast, text size, spacing, change to a dyslexia-friendly font, and a lot more.
Visit the Meow Meow Tweet website.
Get More From Your Shopify Store With Firepush
By now you've probably got tons of ideas to build your own Shopify store but it's important to make sure that you're taking the right steps when you start building. Each of the Shopify stores on this list offers a great design, stunning imagery, an easy-to-navigate interface, and all the functionality shoppers need to find and buy the products they want.
If you really want to drive more sales, though, you need to check out what Firepush has to offer. We use omnichannel marketing like push notifications, SMS, and email to turn traffic into sales—automatically.
Creating a stunning eCommerce store that ends up on lists like this isn't the hard part of running your own eCommerce business or even managing how to sell your eCommerce business. Getting shoppers to your store can be tough... and expensive. With Firepush, you get cost-effective, automated remarketing tools that turn traffic into sales. Check out our case studies to see how Firepush can benefit your brand.