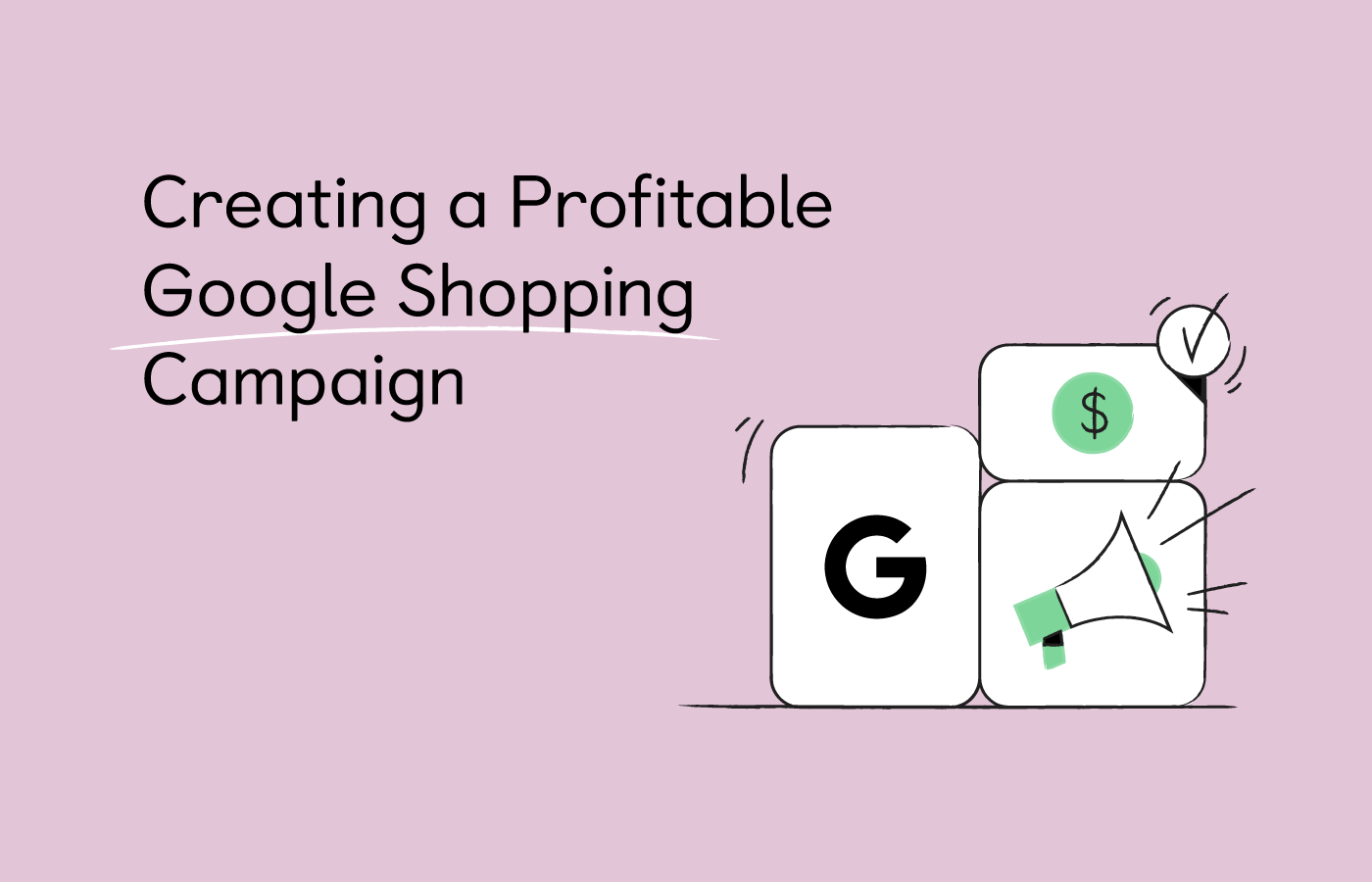 eCommerce is booming because of the COVID-19 pandemic. Businesses have gone online, and online ad campaigns have become an effective way to generate sales.
Google is the biggest search engine, so running campaigns there makes perfect sense. But there are some important things to know to ensure nice returns even for limited marketing budgets.
In this guide:
Looking for different info? Check out these guides:
What is a Google Shopping Ad?
A Google Shopping ad is a product-based ad that comes up during searches for products across Google. Online businesses invest in this marketing channel because to target specific searches with clickable ads and appear at the top of search results.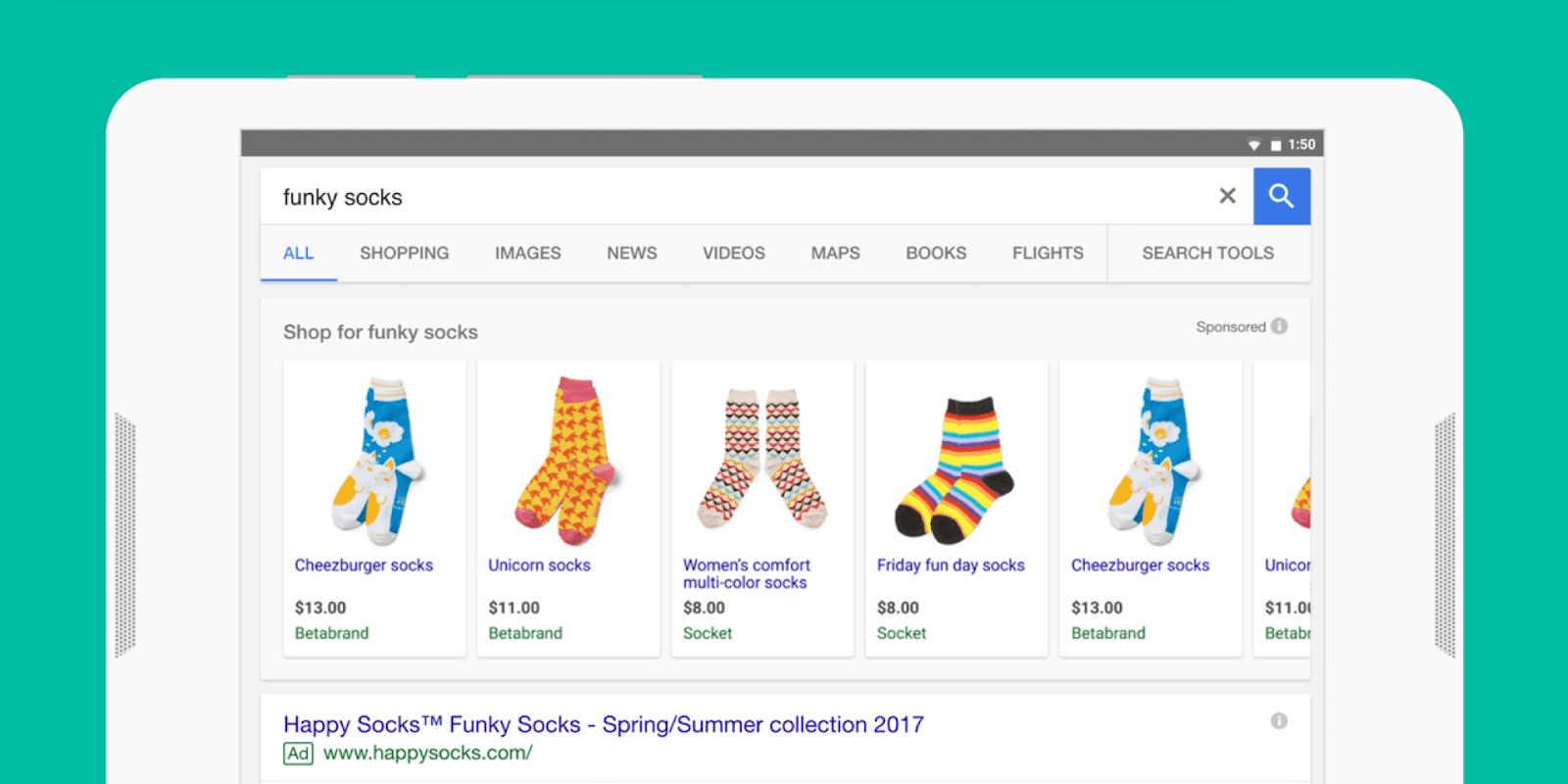 Source: Google Support
Google Shopping Ad Campaign Types
If you're considering creating a Google Shopping, here are their main three types, along with tips to make them more effective.
1. Product Shopping Ads
Product Shopping Ads are ads containing product images, titles, prices, as well as your store's name. These ads use the product data already present in Merchant Center (the dashboard where you manage your shopping ads).
Just like all the other PPC options on Google, this type of shopping ads is charged using the cost-per-click model.
Here's how these shopping ads look on different devices:

Credit: Google
If you wish to create such Google shopping ad campaigns, you will need to create a Google Ads and Merchant Centre account, and finally, link them (read instructions for later in later sections).
Product Shopping ads can bring more revenues with the following techniques:
Use product ratings in ads to enhance customer trust. A 5-star rating system is usually used along with the number of reviewers. Also, note that you can show ratings only when the product has gotten at least three customer reviews.
You could make use of the Customer Reviews service offered by Google to get feedback from shoppers. This can be in the form of a post-checkout page survey. This feedback can be used towards the rating eligibility.
You can use Merchant Promotions if you live in France, Australia, India, Germany, the US, and the UK.
Need more customer reviews on your Shopify store? This Guide to Social Proof has helpful tips and apps to put review collection on autopilot.
2. Local Catalog Ads (LCAs)
Local Catalog Ads (LCAs) are perfect for selling online and offline. This is because an LCA uses the product feed data to highlight products that are store-specific, along with prices and information to increase foot traffic to your stores.
Here's how a typical LCA looks like.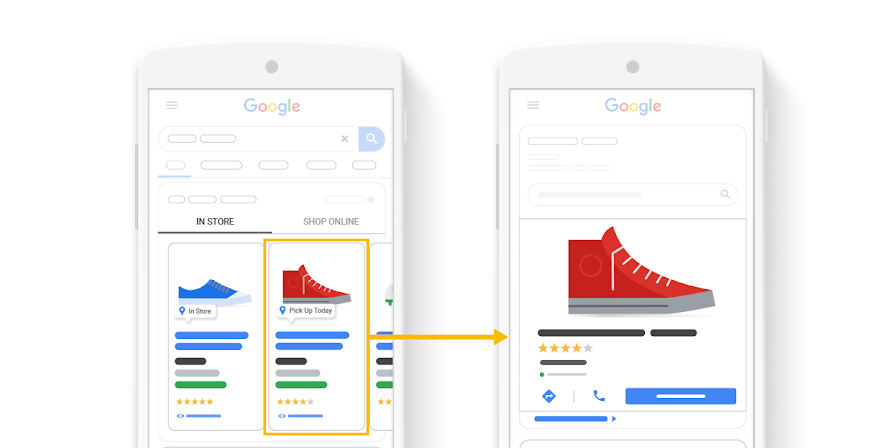 Credit: Google
LCAs are present in almost all countries that have active local inventory ads. These ads are charged using the Cost-per-engagement and are counted according to the browser scrolling and clicking on the ads.
3. Smart Shopping Campaigns
Smart Shopping campaign is a type of Google shopping ad that combines display remarketing and Product Shopping campaigns.
Creating this Google Shopping ad campaign allows expanding your reach and maximize conversions. This will help you show different ads on the Google network. Google selects the ad after testing images and test variations to see which one performs the best. In 2022 most of the Smart Shopping campaigns have been updated to Performance Max. Performance max campaigns have the same foundational features as Smart Shopping Campaigns, but they enable more dynamic advertisement.
How to Create a Profitable Google Shopping Ads Campaign
About 68% of Millennials and 73% of Gen X customers shifted to online shopping because of the pandemic. That's why many online business owners started learning how to make Google ad campaigns.
Take these steps to create and promote your products with a Google Shopping ad campaign.
Step 1. Follow Google's Photo Recommendations
Product photos must not have logos, watermarks, or borders and shouldn't contain more than one product. There should not be any patterned, multicolored, or dark backgrounds.
When uploading a photo, make sure it only features the product you are selling and it should take only around 80% of the total space of the picture. The picture must be clear with a white, grey, or a light background.
Step 2. Ensure Compliance with Google Shopping Ad Policies
The company must meet a number of specific Google Shopping Ads policies. You can find these regulations and rules in the Policies section and read them thoroughly before the campaign goes live.
Step 3. Create a Google Merchant Center Account
You must next create a Google Merchant Center account since this helps make optimized product feeds. Basically, that account will become your center of operations regardless of where you're running campaigns or what products you're promoting.
Step 4. Get Product Feeds Ready
It's crucial to add products and optimize Product Feeds appropriately to avoid potential rejections from Google. There are various parameters in the Shopping Feed that you may not be using. For example, they might relate to customer experience, product details, prices, and other optimization factors.
In the Google Shopping guide, there is a great help section that could help optimize the feed on your own.
Step 5. Link Google Ads and Merchant Center Accounts
Linking the Merchant Center and Google Ads accounts is required to access the feeds for the campaigns.
From the Merchant Center:
Select the Merchant Toolbox and look for the "Linked Accounts"
Link the Ads account in the "Google Ads" tab
Step 6. Configure Google Shopping Campaign Settings
Here are the Google Shopping ad campaign settings to take care of:
Country of sale—includes the countries in which you are planning on selling and shipping the products. Note that once the Shopping Campaign on Google is created, you cannot edit this campaign setting
Inventory filters—they help choose how many products should be used in the campaigns. The inventory filter can be edited after the creation of a Google Ad campaign.
Daily budget—Google allows you to set a limit on the amount you are willing to spend each day for a campaign. You can set a small daily budget in the beginning and then optimize the campaign later.
Bidding—choose the bidding type you want to use (CPC or CPA)
Networks and devices—choose if you want to pace your ads displayed on Google Discovery or YouTube. The same feature can be set for specific devices.
Campaign priority—used to define which campaign requires the most and the least spending. It makes sure there is no overlap and helps you choose accordingly.
Location and Local Inventory Ads—local inventory ads are used to show offline ads and it allows you to include products sold in local stores. Locations are usually used to set a limit on the locations you want the ads to be shown.
Now there's nothing to do but launch your Google Shopping ad campaign. You did it.
How to Make Improvements to Google Ad Campaigns
Your first Google Shopping ads campaigns need a bit of adjustment? Here is what you can do if you are experiencing any of these three scenarios:
1. High Clicks, Low Conversions
Consider these ways to fix this Google Shopping ads problem:
You should start considering looking at your competitors' products and analyze their pages. You could look for things like the implementation of reviews, shipping promotions, product page layout, product images, pricing, and other things you find important.
If you have not included negative keywords, then it is time to start adding some. This way, you can lower the bids slightly and improve your conversion chances.
Review the product feed and check if you have included information that may look misleading. This way, you can manage expectations before buyers click on the ads.
2. Low Clicks, High Impressions
In this scenario, people seeing your ads are not clicking on it even though Google finds the products and the search queries relevantly.
This could be happening because of these two reasons:
Product price. If the same products are sold for a lesser price by your competitors, then people will be discouraged to click on your ads.
Low-quality product images. If your competitors have more appealing images, then potential customers will click on their ads.
3. Products With no Impressions
Your product ads aren't getting any impressions and haven't been rejected? The most probable reason is that your bids are too low. To fix this, increase the bids in increments.
How to Create a Google Shopping Campaign: Summary
Google Shopping Ad campaigns can make a lot of difference for your company at this time. With the pandemic still making an impact, try creating a campaign to increase your sales. Since you can set the budget for the whole thing, this project won't break your budget.