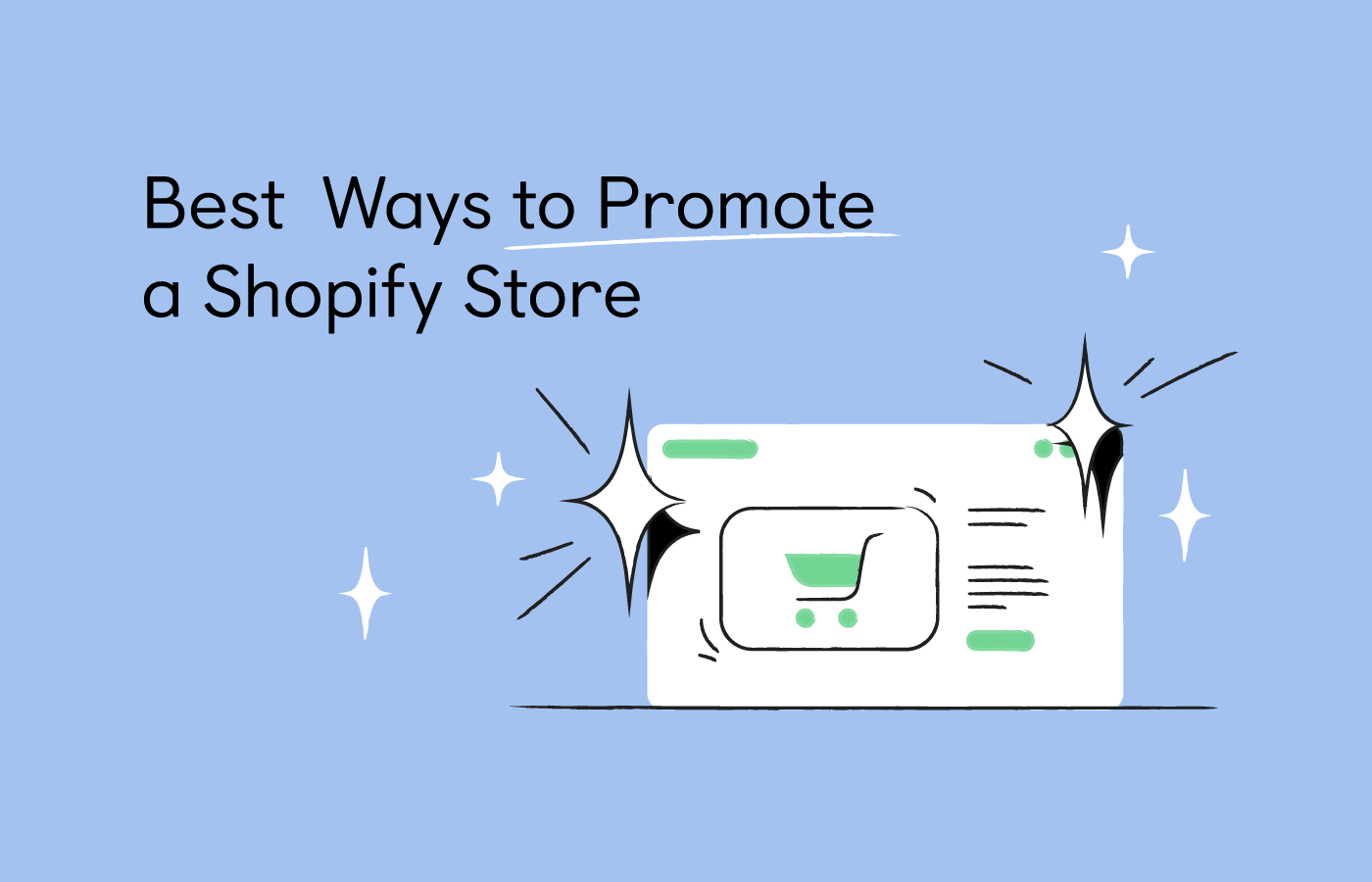 You need customers to grow and thrive.
To get them, you need to promote your Shopify store.
Thankfully, there are many ways to get your business out there. If you're looking for good ways to promote a Shopify store effectively, this article has them.
In this guide:
Examples of successful Shopify store marketing in every section
Not quite what you're looking for? Check out these guides instead:
List of Strategies to Promote a Shopify Store
1. Advertise Sales with Shopify Push Notifications
Shopify push notifications aren't the kind that gives push notifications a bad rap. They are those that can help promote your Shopify store effectively: sale announcements, price drop notifications, abandoned cart reminders, etc.
Example: a Shopify Plus retailer Proozy notifies customers about quick sales and special offers with pushes like this one below. Since pushes get delivered instantly, they're a good way to raise quick awareness of promos.

Why push notifications work:
Most new visitors to your store might not buy right away—even if they like what you offer. Building customer trust takes some time, so store owners (like this one below) often advise setting up retargeting campaigns to nurture leads.

If you follow this advice, push notifications can help nurture your leads. Unlike ads that are displayed to a broad online audience, pushes are sent to those who agreed to receive them. So, several compelling push campaigns can get those shoppers interested in buying, too.
Besides, push notifications are a direct and fast way to share news about promotions and sales. Since 55% of customers stay loyal because of easy shopping, pushes can become your approach to help shoppers get the best deals (especially if you're a retailer).
How to use pushes to advertise a Shopify store?
You can add a free Shopify push notification app to your store, build a list of subscribers, and engage them with campaigns. Creating push campaigns is easy—choose a template, add compelling text, and set the time to send out.
More info on push notifications for Shopify store marketing:
2. Share Discounts with a Chatbot
This is one of the fastest ways to promote a Shopify store. Here's why: you can set up your chatbot to offer discounts/other promos for all new or returning visitors automatically. So everybody visiting your store will get extra motivation to buy.
A Shopify store Leveret Clothing shares a 10% promo code for a newsletter signup. A visitor needs to click "Yes, sure" and provide their email to get the discount. Not too shabby, agree?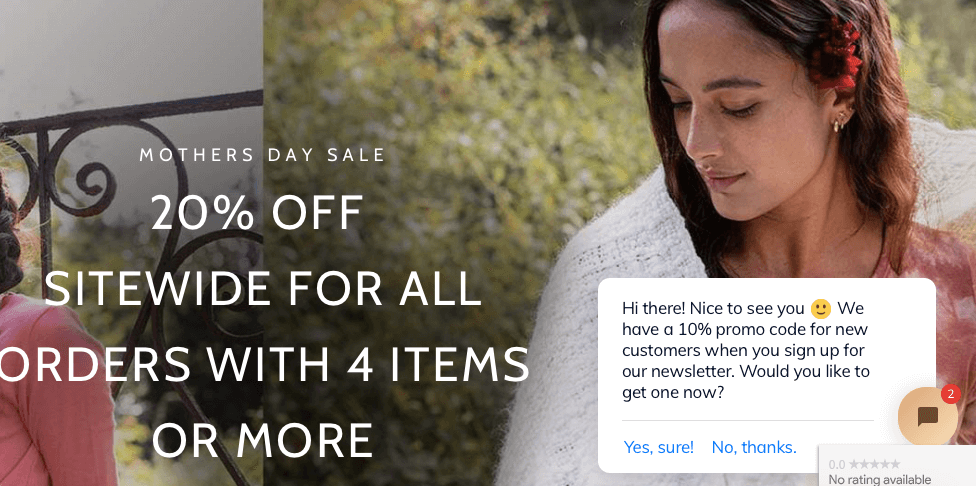 Why discount chatbots work:
eCommerce research showed that discounts have a positive effect on perceived savings. This effect, in turn, positively affects purchase intention.
Example: Kelly, an owner of Care Package Depot, started generating 140+ new leads weekly after adding discount chatbots to her Shopify store. And such examples of businesses using chatbots to promote a Shopify store all over the place.
How to use chatbots to promote your Shopify store:
Simple: install a free chatbot (yes, there are many free ones). Shopify store owners can promote their business with a 10% discount for a newsletter sign-up or a 15-20% discount for orders above $100 (or any other value).
3. Generate Leads with Website Popups
Website popups are another excellent way to market a Shopify store. To make them work, you need to a) provide value and b) gamify your customers' experience with them.
Faguo, a French online clothing store, uses this "spin-the-wheel" discount popup that meets these two requirements.
The value: a chance to win a pair of expensive shoes.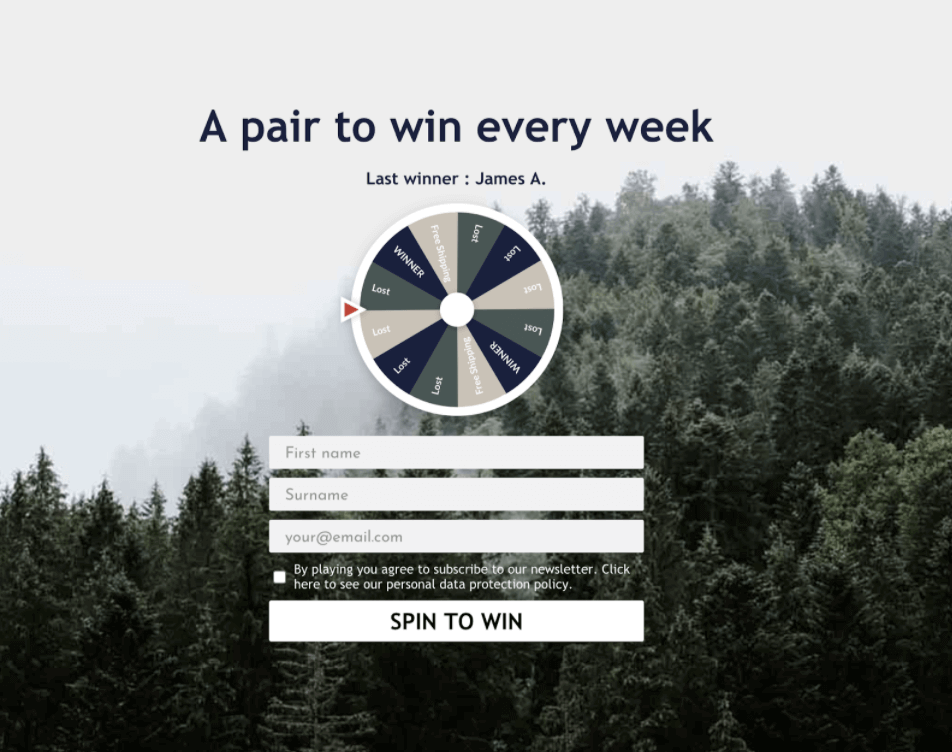 Why popups work:
Popups can be amazing for Shopify store marketing if they meet two requirements. First, they need to be engaging (interesting text, humor, etc.). And second, they should have value for customers: discounts, free shipping, pre-order list priority, a chance to enter a contest, etc.
The right targeting options will also help to advertise your store more effectively. Faguo, for example, launched dozens of campaigns to target different categories of visitors (first-time, returning, etc.). The result? The brand now generates 5,000+ leads every month.
How to promote a Shopify store with popups:
Add a popup Shopify tool to your store. The best popup software apps have features for different marketing campaigns: lead generation, customer support, etc. For example, consider trying a "spin-the-wheel" popup like Faguo to gamify the experience of your visitors.
4. Offer Help to Product Page Visitors with Live Chat
Imagine: you can chat with every customer who's thinking about buying your products. Well, it's possible. With live chat, you can talk to customers who are browsing your product pages and answer their questions about the product, shipping time, etc.
How can you know that a visitor is on a product page? Most live chat apps have a browsing feature that allows you to see visitors on specific store pages (along with info like country/region). So, you can offer them help or free shipping to convince them to buy.
Pooch Bandana, a Shopify store that sells pet accessories, has live chat available on every product page. So, both the visitor and the website owner can begin a conversation.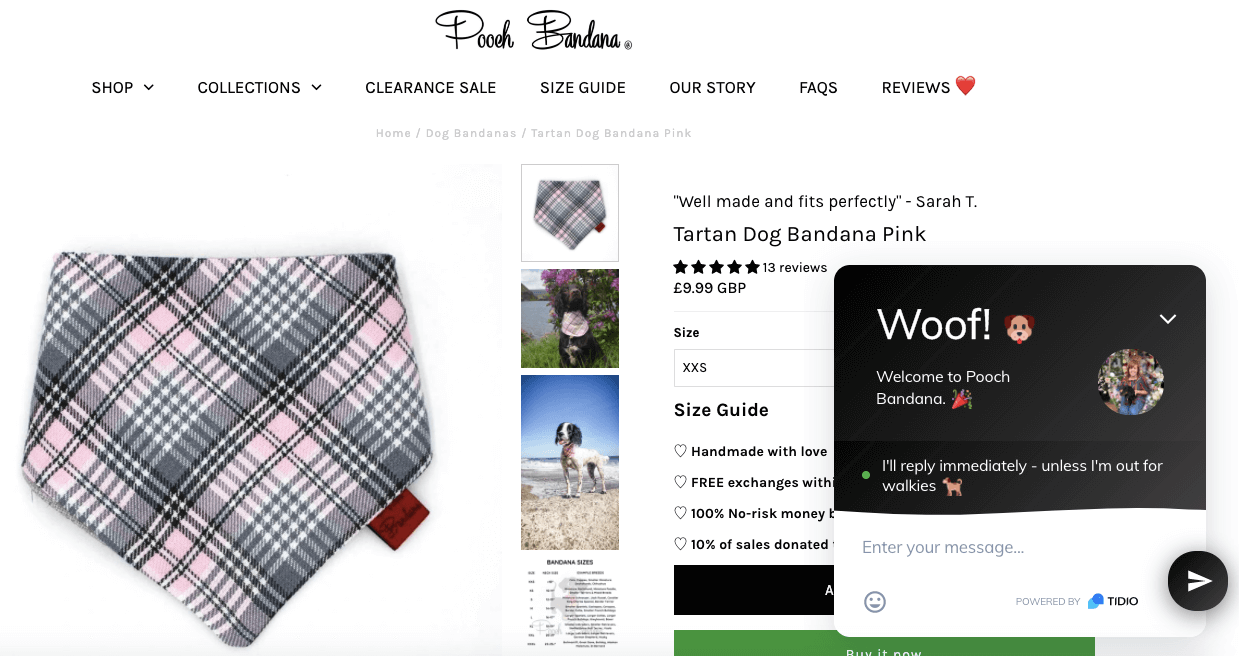 Why live chat works:
Simple: live chat is the way for shoppers to get help in real time. No waiting, no hustle. That's why 92% of customers are satisfied with this Shopify store marketing and support method.
That's why people also prefer to buy from Shopify stores with a live chat. Who wouldn't enjoy getting quick answers about shipping times, product size availability, and other questions, agree?
How to use live chat to promote your Shopify store:
Add a free live chat and promote your Shopify store while engaging your visitors. See who's browsing your product pages, strike up a conversation, and offer answers to their questions. Knowing that you're there to help will go a long way in convincing customers to convert.
5. Add Customer Reviews to Increase Customer Trust
Customer reviews are the most convincing form of social proof on your Shopify store. Adding them to your home page and product pages can help boost sales by providing a major trust signal. Why home page and product pages? Let's explain. First, the home page is where most visitors land first, so customer reviews there can help make a great first impression.
Fresh Roasted Coffee LLC is one of the online stores using this strategy. It has a review carousel on the home page to build brand trust and reassure potential buyers.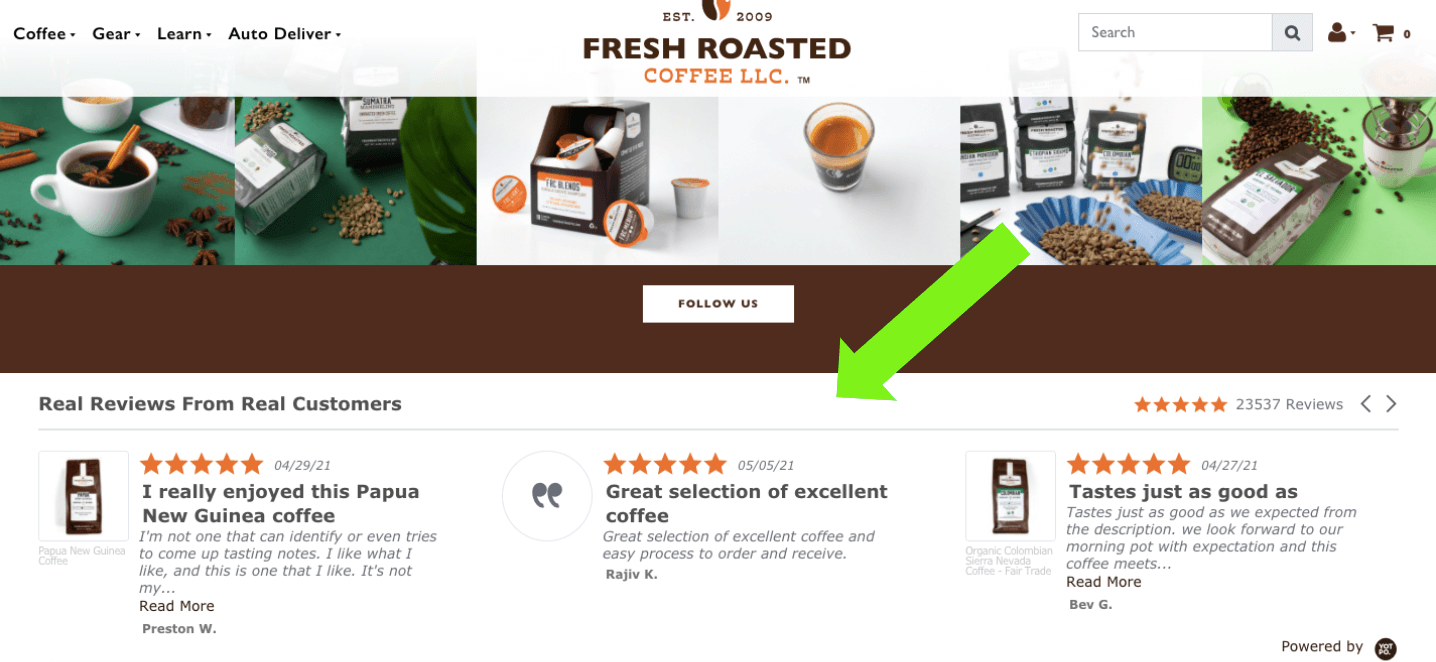 The next important place for reviews: product pages. This is where the most interested visitors go for product research, price comparison, etc., so reviews could give that gentle nudge many of them need to buy.
Notiq, a Shopify seller of luxury planners and notebooks, displays customer-given ratings right under product names on product pages.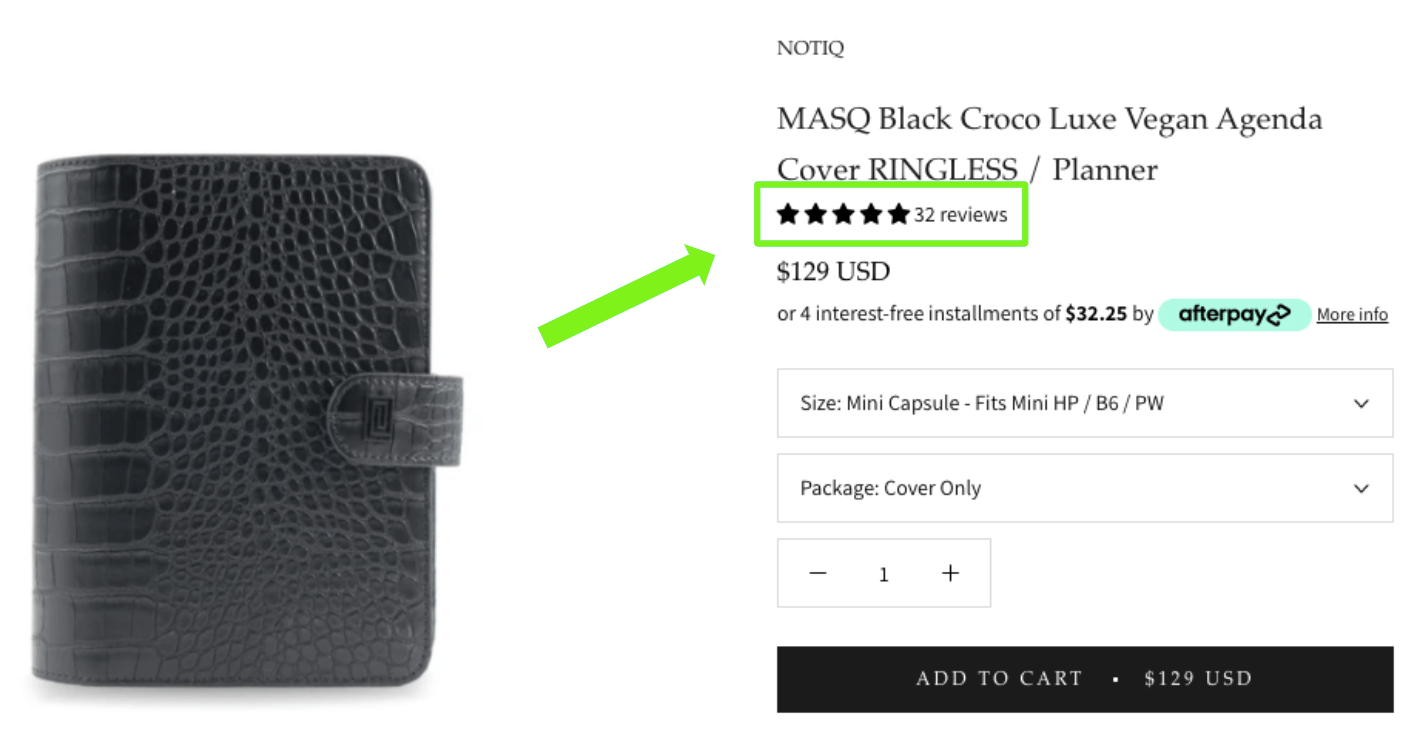 Why customer reviews work:
Simple: reviews increase trust by showing potential customers that your online business is reliable. That's why 87% of customers read reviews before considering buying from a brand.
Showcasing positive reviews in places like a home page or product pages is a great way to signal trust and credibility. These two places are where most visitors go, so consider adding reviews there first.
How to promote your Shopify store with customer reviews:
Install a Shopify review app (find free options in the list below), collect reviews, and showcase them on the home page and product pages.
A good review app takes care of both collecting and displaying reviews. First, it sends automatic emails with review requests to customers. Second, it provides multiple options to display the reviews it collected: widgets, bars, photo and video reviews, and even Google search results.
6. Display Instagram Feed on the Home Page
Instagram data suggests that 130 users interact with shoppable posts to research products and get inspired. Online consumers are so used to Instagram for product inspiration, they go there even to check out real estate prices to find out about home affordability.
Now there's a new way to use Instagram to promote your Shopify store: "Instafeed." It's an Instagram feed with shopping features embedded into a store. The goal is to let visitors see a brand's Instagram feed, check out products in action, and buy them.
Example: a beauty brand Luxy Hair has an Instagram feed on the home page. Customers can check out the looks from other customers and shop the same products.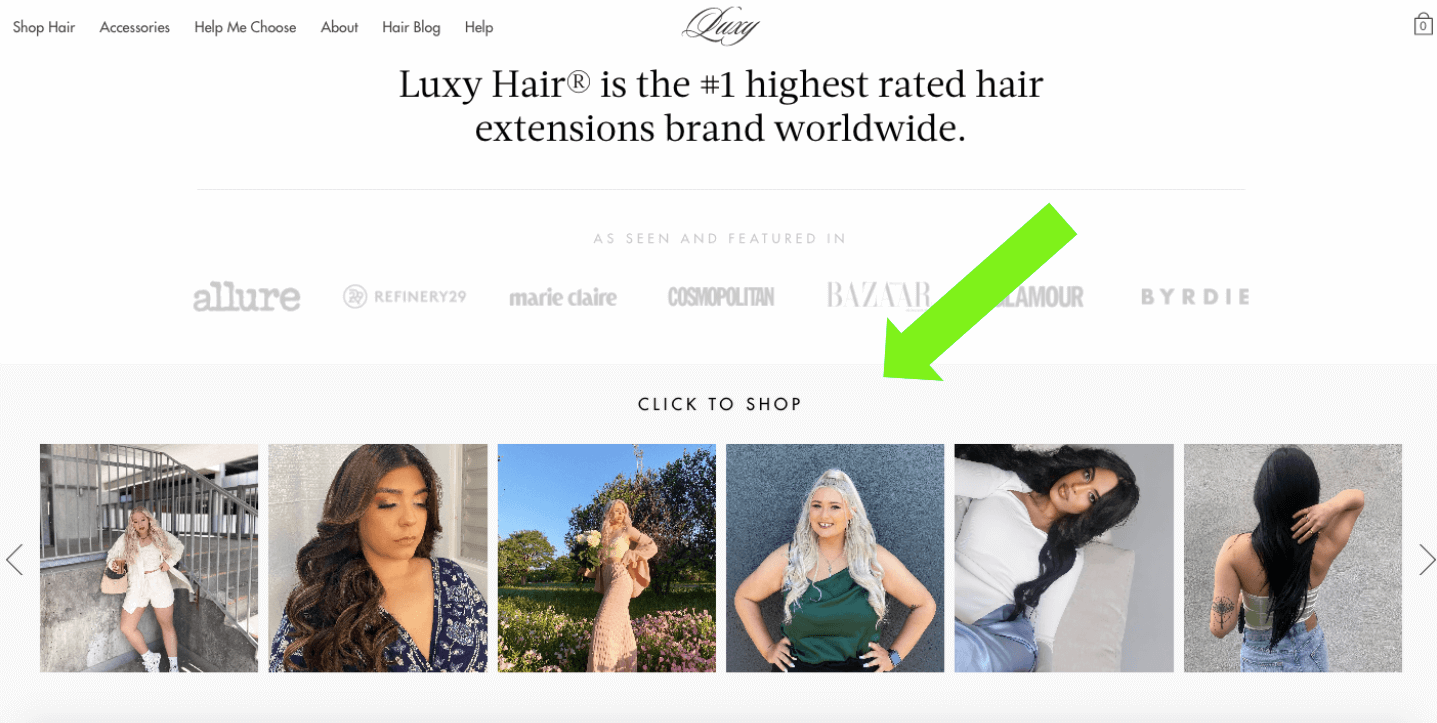 If clicked on, a post in an Instagram feed shows products. This one from the Luxy Hair feed shows a tagged product from a customer's post. A product page link is available for those interested.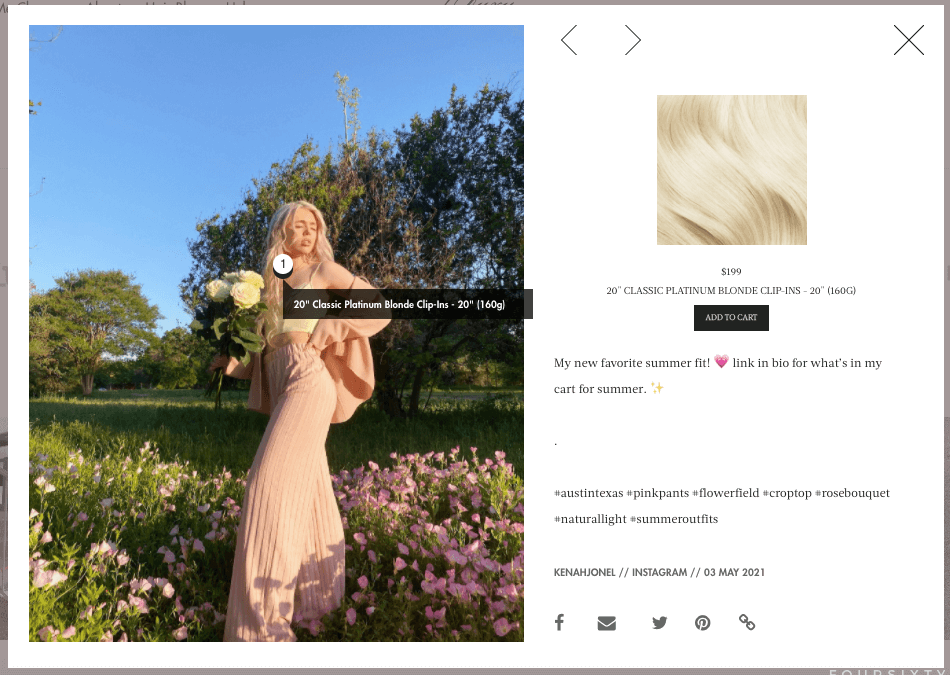 Why Instagram feed works:
Over 80% of Instagram users like to research products and services on the platform. So, using an Instagram feed on your website is a familiar way for many of your customers to get inspired and buy.
How to promote a Shopify store with an Instagram feed:
Add an Instagram feed to your store with an app. It connects your brand's account and displays the posts on your Shopify store home page. Encouraging your customers to use branded hashtags will help to update the feed more often.
To find an Instagram feed app, search Shopify App Store for "Instagram Feed" and check out the results. If you need to promote your Shopify store on a budget, consider trying a free option first. As of May 2021, the best-rated free apps were created by Allfetch and by Socialhead.
7. Run a Google Shopping Ad Campaign
Google Shopping campaigns, or simply Google ads, are a popular way to advertise a Shopify store for new entrepreneurs. If you have a budget of at least $50, you can quickly drive some traffic and market your Shopify store in Google search results.
The wide reach that Google gives is exactly what your Shopify store marketing strategy needs. You'll need to learn a bit about keywords and campaign tracking (if you haven't already), but it could be well worth it.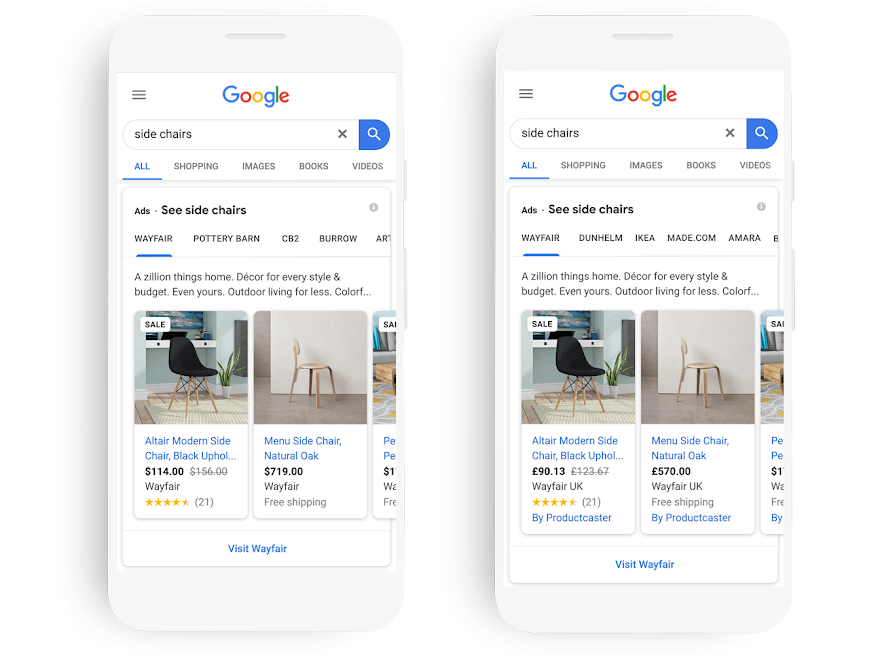 Why Google ad campaigns work:
Two important things determine if Google ads are a good way to promote a Shopify store: audience availability and traffic.
Audience availability—Google ads will work if people search for your products on Google. So, check volumes of keywords, e.g. how many people search for a specific keyword, in the Google ads account. Try keywords that have a volume of at least 100.
Traffic—consider trying Google remarketing ads (a specific type of ads) to market your Shopify store if you're already getting traffic. This means that people will see ads with products they visited on your store but didn't buy.
How to use Google ads to market your Shopify store:
Get a free Google ads account, create product listings with features and prices, and set up audiences and times. As for the cost, consider setting a daily budget at about $10 to save money. Even at this cost, you can still advertise your Shopify store to many potential customers.
Shopify store owner communities recommend trying Google ads if your customers like to do product research (rather than impulse buys—Facebook ads might be better for that).
8. Sell Custom Products as Inspired by Customers
Some eCommerce brands earned millions by creating products based on customer feedback. A French clothing brand Asphalte, for example, uses online surveys to get ideas about designing new clothing.
The latest survey from the brand asks about suggestions for the upcoming Spring/Summer collection. Those who complete the survey get personalized product recommendations and get notified when the collection launches.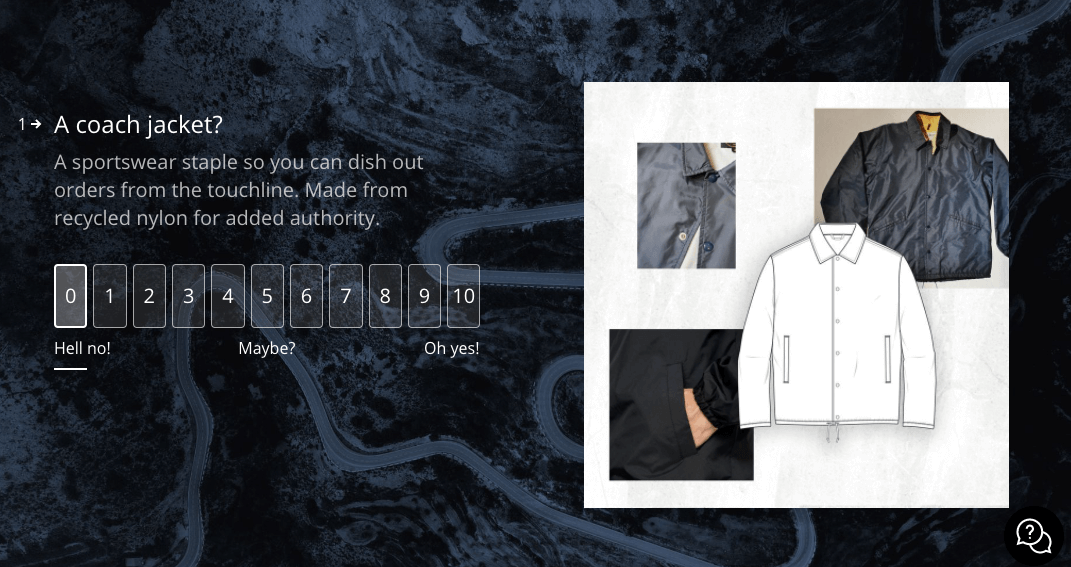 Why custom products work:
Many customers like personalized products because they want to be more unique. And a price isn't a problem for them. Deloitte found that one in five customers who expressed interest in personalized products like clothing are ready to pay a 20% premium.
How to use custom products to promote a Shopify store:
If your store collects feedback for custom products, mention this opportunity in your Shopify marketing campaigns, product pages, and all marketing channels you're using.
9. Run a Pop Up Shop
A pop up shop is a small retail place opened temporarily. It's a great way to promote a Shopify store and put your products in front of potential customers. And with coronavirus-related restrictions slowly getting lifted, using this business promotion method is possible.
Running a pop up requires a venue (but outdoor is also an option), products, and some marketing. The cost of this Shopify marketing project varies but can be around $1,500.
Do other entrepreneurs promote their Shopify stores this way? Oh yeah. This great marketing technique is mentioned everywhere online now, including this Reddit thread.

Why pop up shops work:
Customers go to pop up shops because of many reasons: get a unique experience, support local businesses, interact with employees face-to-face, and take social media-worthy pics. But the need for human connection tops the list of reasons in 2021.
Another advantage is budget-friendliness. You can even promote your Shopify store with a pop up shop in a truck like this one below. Printed advertising will only enhance the marketing effect.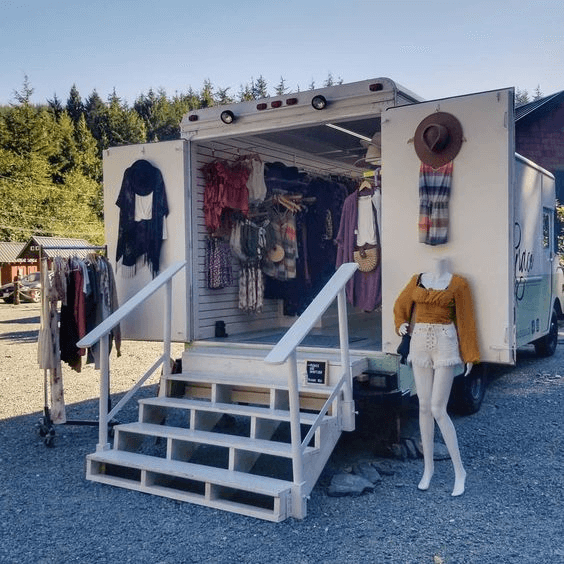 Source: Pinterest
How to market your Shopify store with a pop up shop:
You can organize a pop up shop outdoors in a truck, in a gallery, shopping mall, or event space. Besides products and shelves, print some marketing banners and handouts. They are a good idea to introduce your brand to customers.
Be sure to conduct a marketing campaign on social media and the neighborhood where you'll be running your pop up store. JE11 shop, for example, used colorful flyers that were also photographed for Facebook marketing.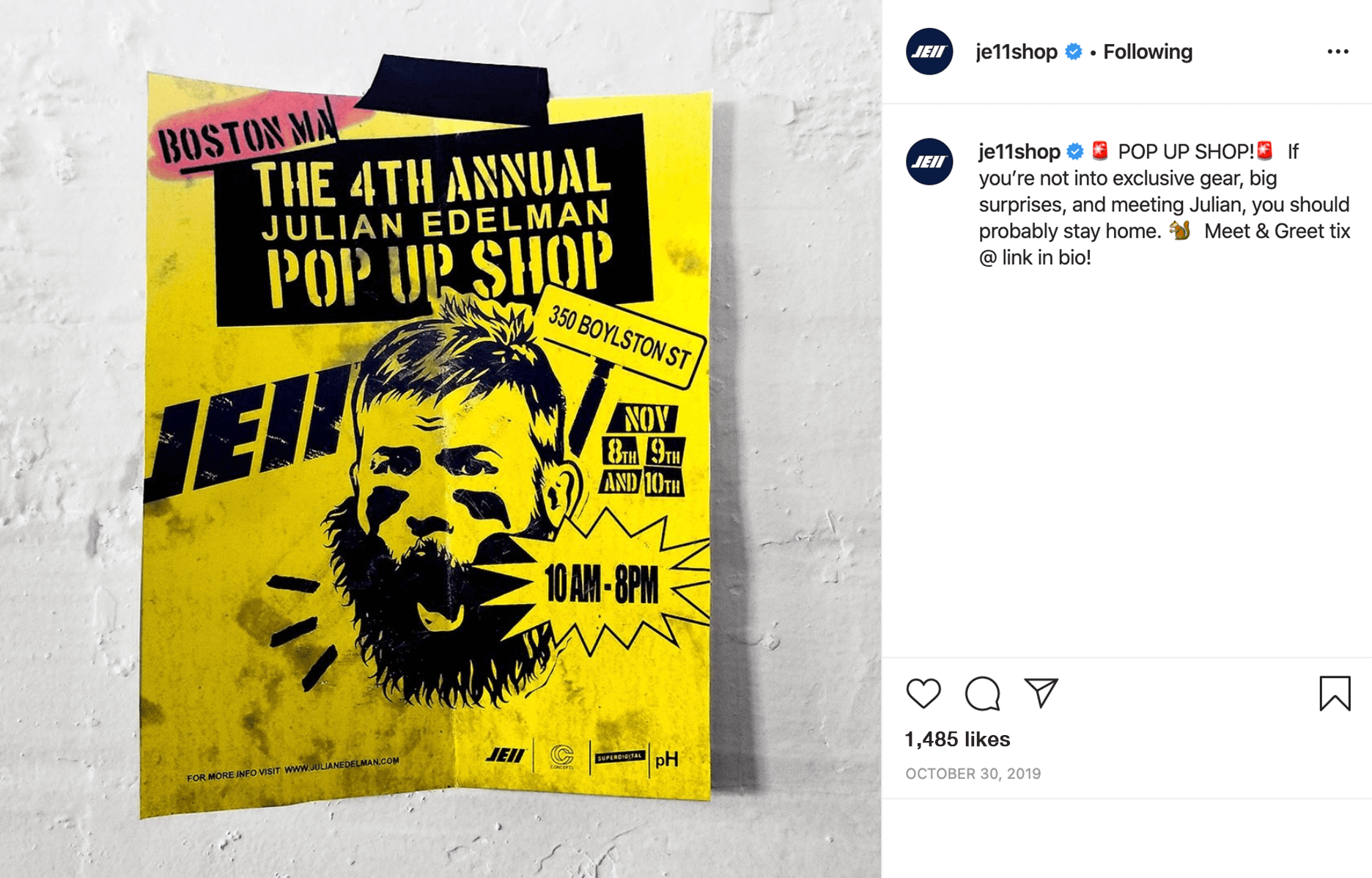 Note: Check the updated COVID-19 restrictions by state to know how to advertise your Shopify store with a pop up shop safely.
10. Conduct Shoppable Pinterest Campaigns
Did you know that customers can shop on Pinterest now? This social media platform has recently introduced shoppable posts ("pins") with product titles, pricing info, and even availability. Every pin is basically a mini product page. Take a look.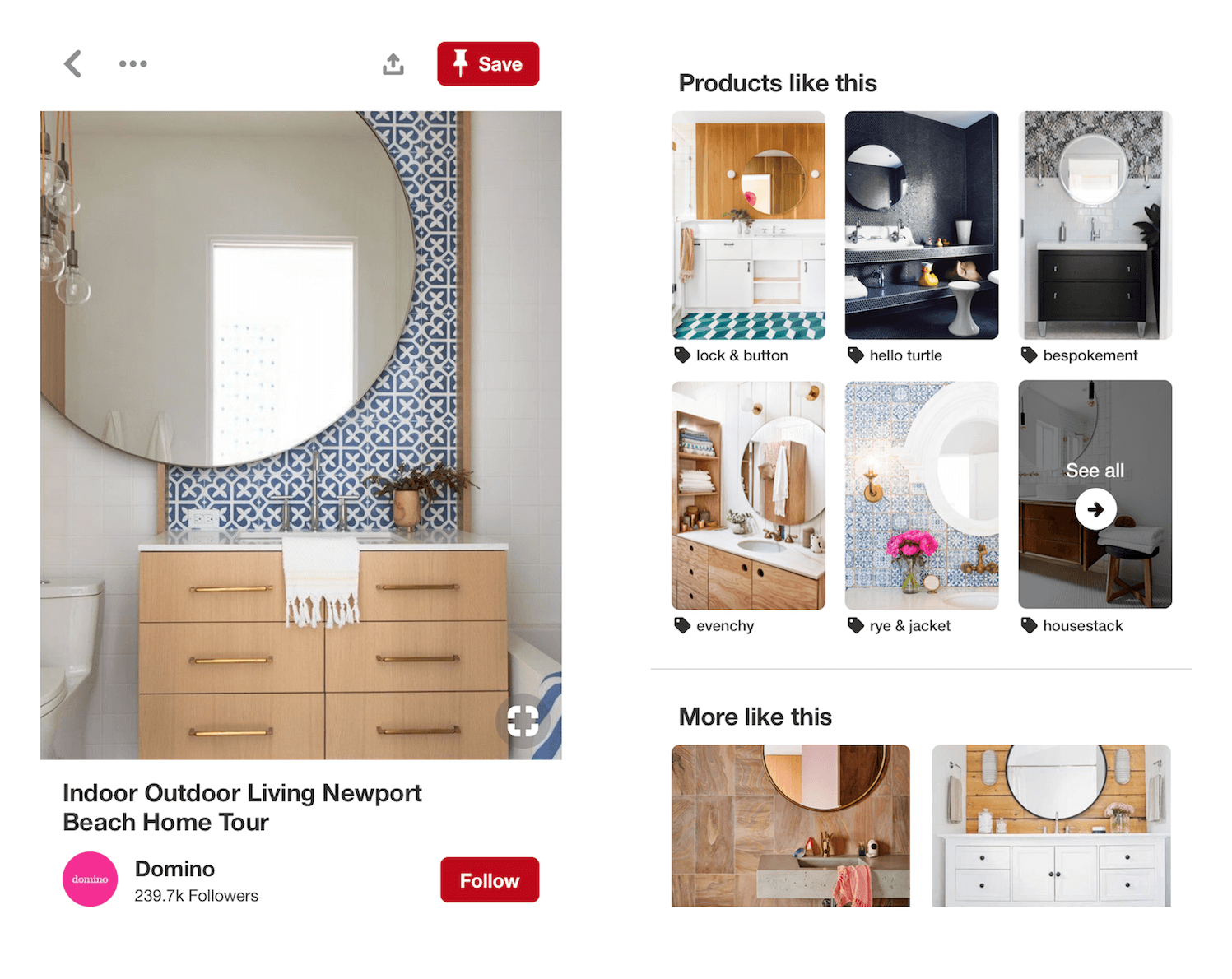 Source: Pinterest Newsroom
A great thing about Pinterest is that you can upload your product images and data directly. The platform has numerous product categories and user targeting options, so you can easily categorize your pins to be shown to the right people.
Many business owners are already driving traffic and sales with this Shopify store marketing strategy. This business owner, for example, shares that Pinterest campaigns have been working great for them.

Why Pinterest campaigns work:
About 80% of the platform's weekly active users have discovered a new brand or product there. People go to Pinterest for inspiration and non-disruptive experience, which is possible with shoppable pins.
How to market your Shopify store with shoppable Pinterest:
Get the official Pinterest app to be able to market your Shopify store. From there, it's basically a "follow the instructions" kinda deal. But in short, you'd have to provide business information, quality product photos, prices, and characteristics.
Once you're done adding data, you can run shoppable Pinterest campaigns. The platform has a built-in analytics platform for you to track clicks, views, and website visits. Visit the official Shopping on Pinterest guide to know more if you're interested.
11. Share Sales with Marketing Emails
Email marketing is a must to promote a Shopify store. Customers are used to receiving marketing emails from brands, so it's a good way to connect with them directly. Try to send a few types of email marketing campaigns: sales, newsletters, and abandoned cart recovery.
The sales emails are those that can market your Shopify store and product best. Here's an example of an email announcing a holiday sale from EnChroma, a brand that sells color blindness glasses.

Why email marketing works:
Email marketing campaigns can return up to $36 for every $1 of investment. You can create emails for different marketing purposes (share sales, product updates, discounts, loyalty perks, etc.) and reach many customers at once directly.
How to use emails to promote your Shopify store:
Get an email marketing app for Shopify and start gathering subscribers. Have a sale and share the details with emails when the subscriber list hits a couple of dozens. In the process, track how your campaigns perform (open rate, click-through rate, delivery rate, etc.).
Resources for those looking to market a Shopify store with emails:
12. Start a Referral Campaign
A referral program is a Shopify store marketing tactic where you reward and prime customers for spreading the word about your business. Typical rewards include free shipping, products, pre-order list priority, and discounts.
Rewarding loyal customers is a way to both market a Shopify store and acquire more customers through referrals. That's why this promotion tactic is popular among eCommerce businesses. Example: UNTUCKit, a menswear brand, gives 25% off for customer referrals.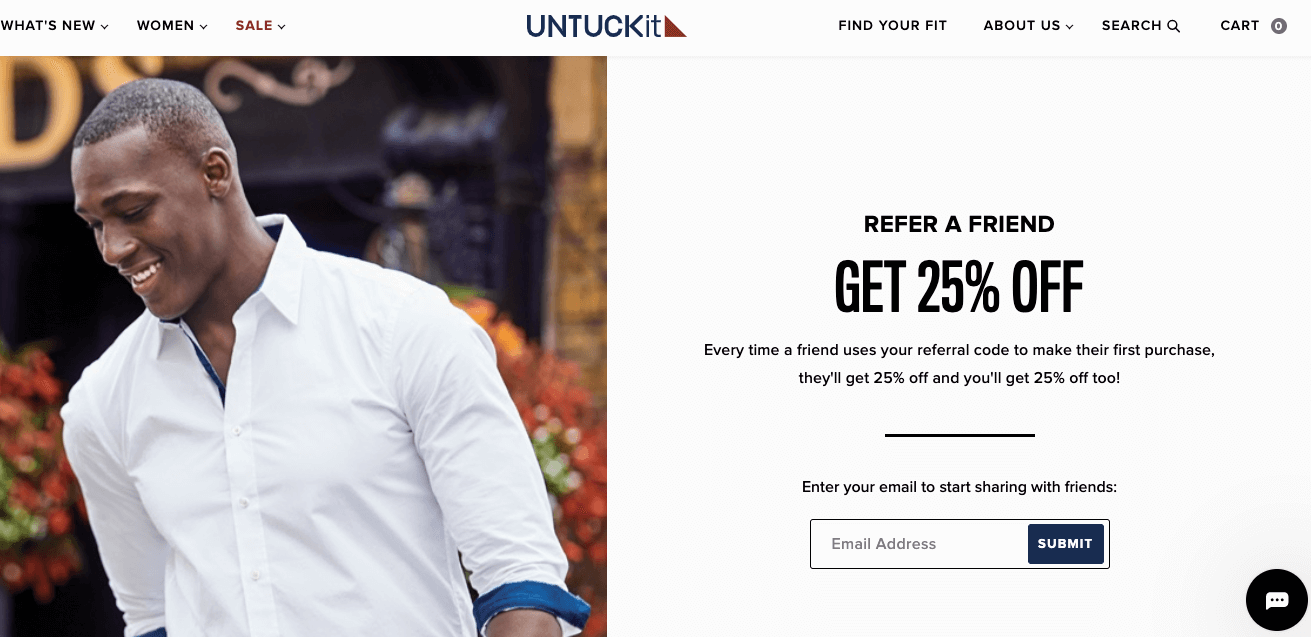 Why referral campaigns work:
About 84% of customers trust product recommendations from people they know. That's why having a bunch of loyal referrers can bring you many extra sales. But—you need to provide excellent customer support and experience to get people to recommend your business.
How to use referral campaigns to promote a Shopify store:
Get a referral marketing app from the Shopify App Store. Create a referral campaign with rewards like points and perks and share with your subscribers. They will only refer friends if their experience with you was positive, so serve your customers well.
Need Shopify referral app recommendations? The top-rated apps with free plans are made by Loyalty Lion and Booster Apps.
13. Launch Facebook Ad Campaigns
Facebook is a perfect place to market your Shopify store and products because of powerful targeting options. You can set your campaign to be shown only to your target audience, even in the geolocation of your choice.
Unsurprisingly, many Shopify store owners were successful in getting a revenue boost from Facebook ads. As you can see in this Reddit comment below, for example, even a small advertising budget can bring several hundred visitors.

Source: Reddit
As this next comment says, entrepreneurs selling highly expensive products also successfully promote their Shopify stores on Facebook.

Why Facebook ad campaigns work:
Two reasons: consumer behavior and advanced targeting.
The first reason: 63% of Facebook users who buy online use the platform for shopping activities (product discovery and purchases). And it makes perfect sense, as many people are used to finding products while browsing Facebook, either through ads or branded posts.
The second reason: Facebook has amazing audience targeting options. There are demographics, geolocations, education, job titles, interests, and many other options. You can even advertise your Shopify store to people living within a 10-mile radius from your office.
How to market your Shopify store with Facebook ad campaigns:
Get a free Facebook business account and create campaigns. The process is very straightforward—and Facebook provides help and tips at every stage. The most important thing is to target the right audience.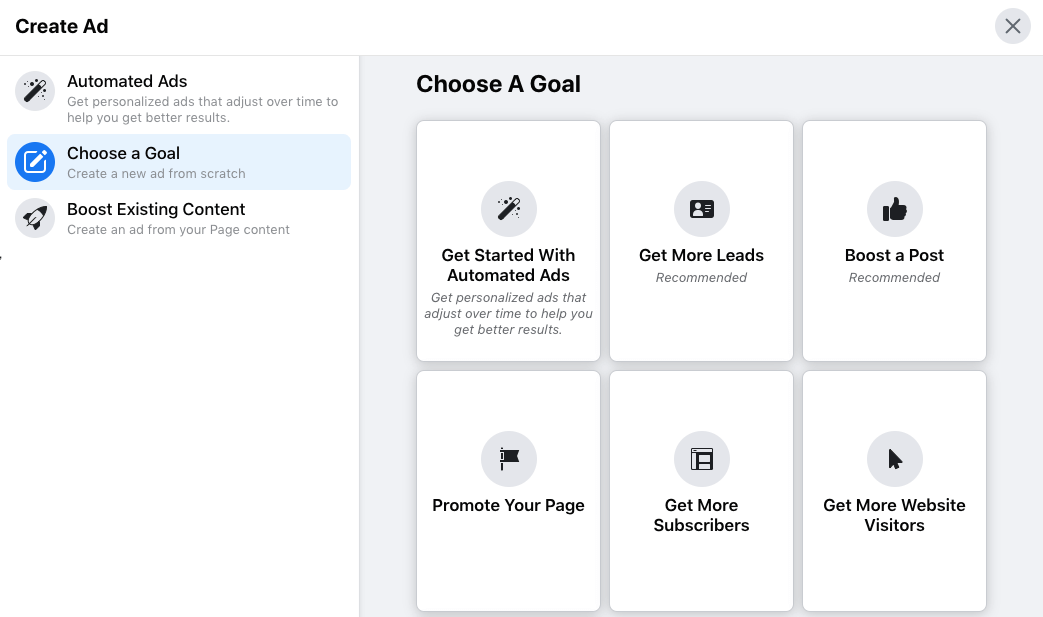 14. Get Organic Traffic with a Blog
If you're serious about building organic traffic to your Shopify store, then consider writing content. A blog can attract a lot of visitors from Google, which is one of the best ways to get orders for lower costs in the long term.
For a good blog example, we turn to The Tea Spot. This Shopify store has articles about tea benefits, tea recipes, and health & wellness tips. The articles, of course, mention the brand's products as ideas for products in a relevant way.
If you're wondering how you can write quality content, see this.
The owner of The Tea Spot Maria Uspenski writes articles, too. To support her claims, she uses scholarly research, which she always cites at the end (see the image below). That's an amazing idea to promote her Shopify business and build a good reputation.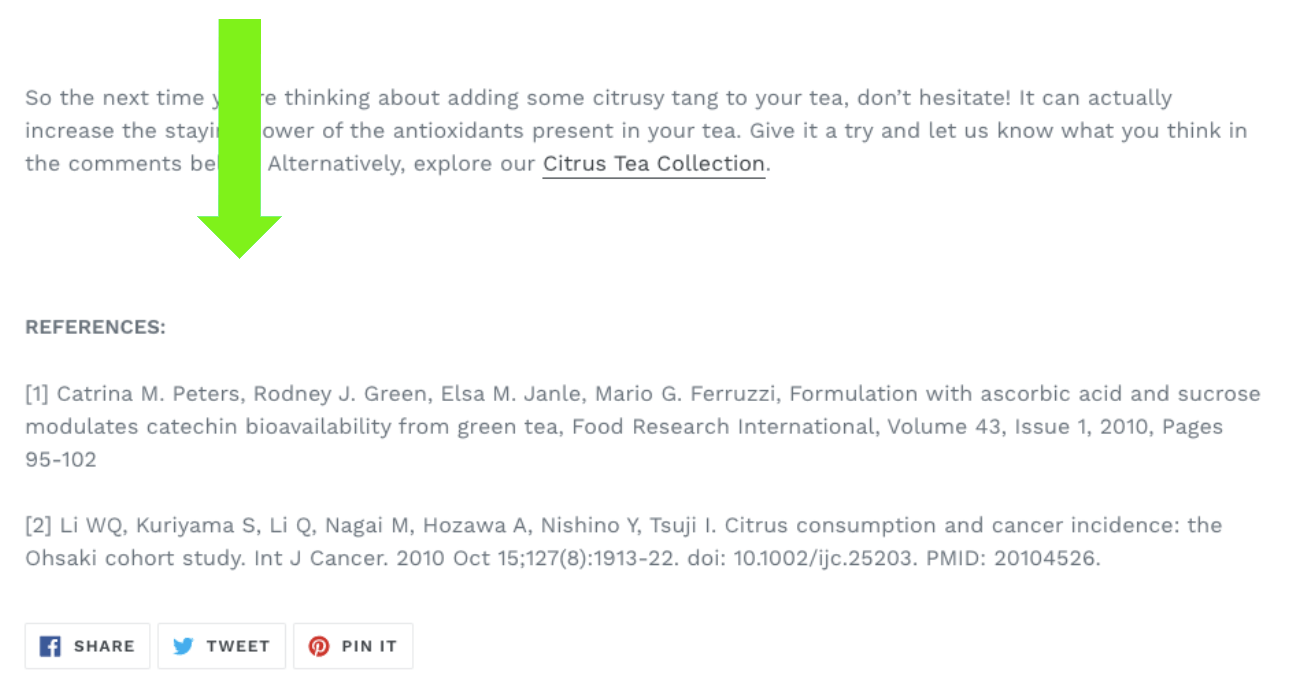 Why blogging works:
If shoppers use Google to search for your products, then a Shopify blog is a great idea. Content is a way to increase rankings, share awareness of your Shopify store, and build a reputation as a knowledgeable brand.
How to promote a Shopify store with blog content:
What challenges, tasks, or problems do your products help customers with? The answer to this question gives you topics for articles. Be helpful, to the point, and use words that people use to find your products.
No time for writing? Consider hiring a freelance SEO writer. According to a freelance platform Upwork, you can hire a U.S.-based writer from $20/hr. That means that a budget of around $200 will get you several high-quality articles (writing a single one takes about a few hours).
15. Use Targeted Instagram Ads
Instagram is another great place to market your Shopify store and products. Some campaigning on this platform can help drive a lot of traffic to your online business and score sales.
Example: Hollister, a clothing retailer, uses ads with 10 product images to drive traffic.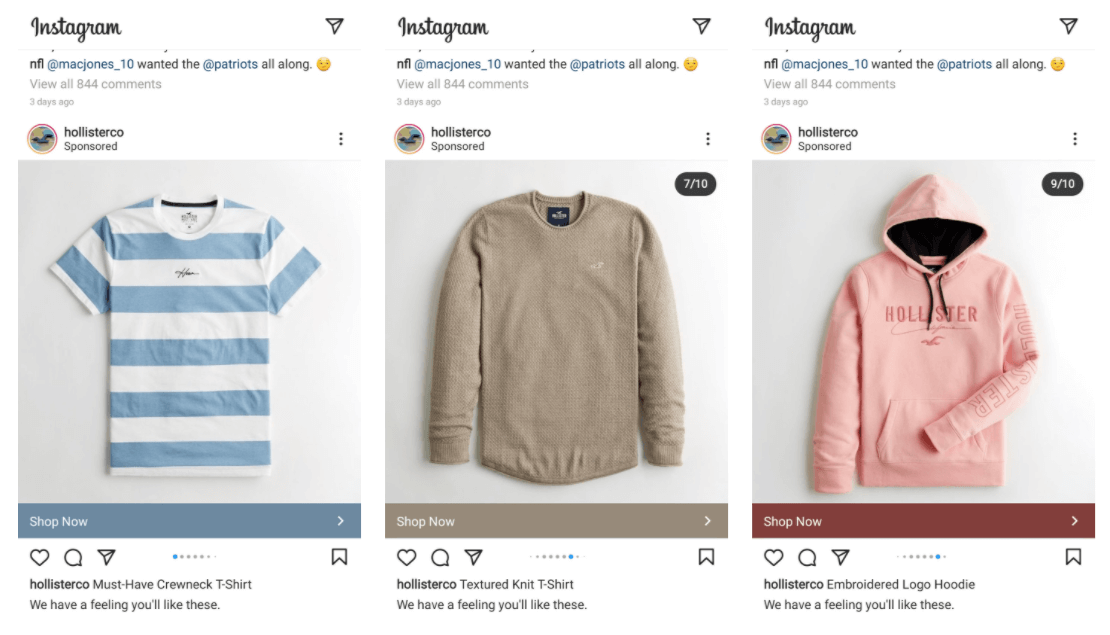 Why Instagram ad campaigns work:
Research suggests that 65% of Instagram users have visited a brand's website after seeing a post featuring a product. This result is achieved because of two reasons: people are used to finding products on Instagram + the platform has deep targeting options.
How to promote your Shopify store with Instagram ads:
Get to know your audience first. Define your target customer group's demographics, locations, interests, and so on. This information will help you create more targeted campaigns and achieve more engagement.
Run an Instagram campaign to showcase your most popular products (or items with the biggest potential). Consider adding a discount code to a few posts to encourage customers to visit your website.
How to Promote a Shopify Store: Summary
Shopify store marketing plays a deciding role in providing a good future for your online business. By promoting your products on different channels, you have a better chance to secure that future.
Hopefully this guide has given you plenty of ideas to advertise your Shopify store and get sales. Consider giving some a try—all of these marketing techniques have worked for many businesses.