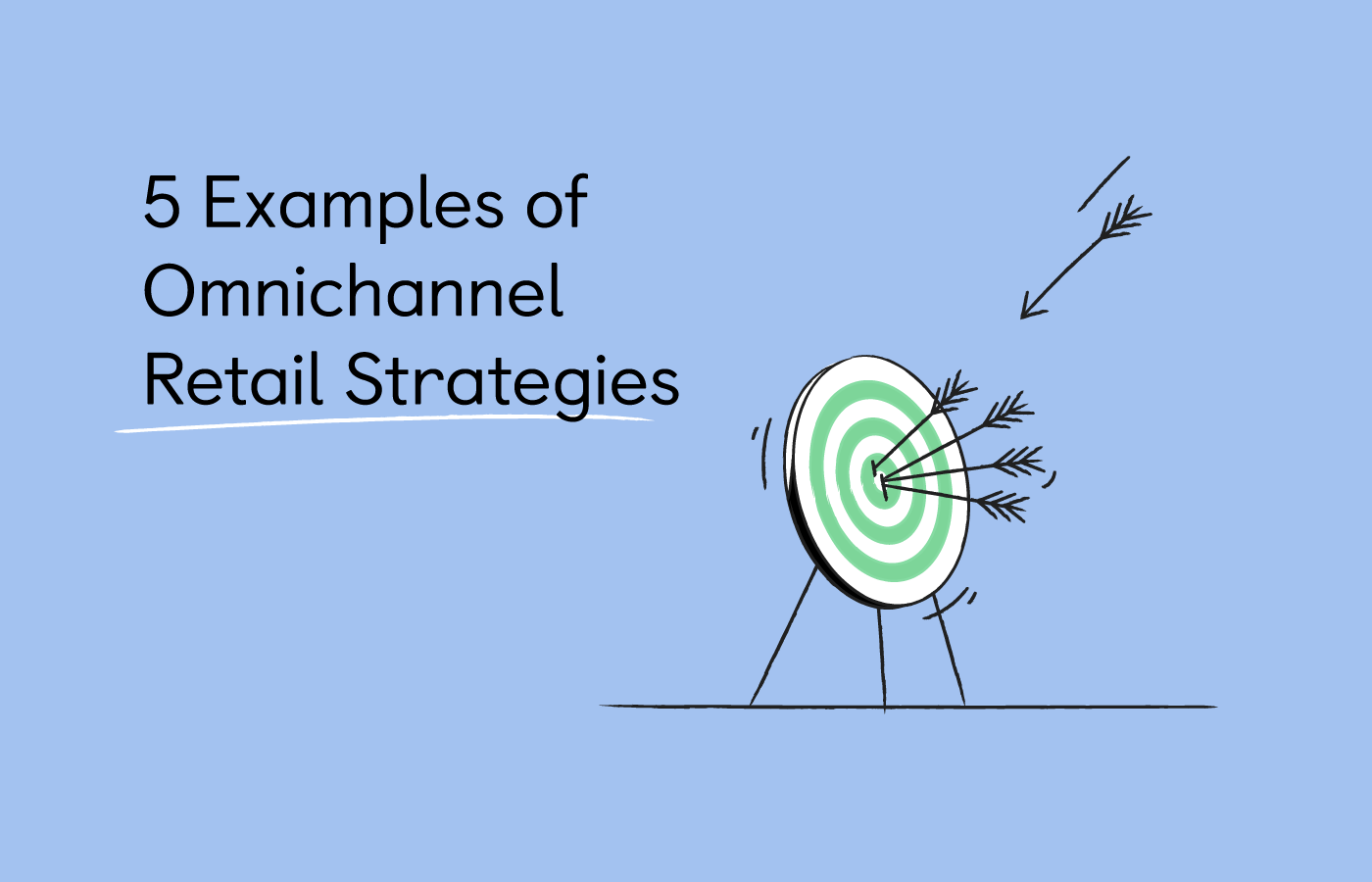 Retail practices are rapidly evolving and businesses need all the help they can get to stand out from their competitors.
Omnichannel marketing is one way to achieve that. More channels can bring more revenue. Customers that shop across multiple channels have a 30% higher lifetime value than single-channel customers (CX Network).
Keep reading to find out more about omnichannel retail strategies and how to can implement them.
In this guide:
Here for something else? Browse our marketing blog:
Firepush offers dedicated support and FREE consultations to find right strategy for you
Book my demo
Omnichannel Marketing Definition
Omnichannel marketing focuses on integrating messaging across multiple channels in a seamless, unified experience. Omnichannel strategies make the customer the focal point of a marketing campaign.
Common marketing channels in omnichannel marketing strategies:
Email
SMS
Social media
Messaging apps
Out-of-home advertising
Omnichannel marketing uses integrated data to make sure customers get the right message at the right touchpoint in their customer journey. And these messages can be sent across any channel, depending on what contributes best to the overall shopping experience.
Businesses choose omnichannel marketing strategies because 86% of shoppers regularly switch between channels before making a purchase decision. This could mean people research your products online, but visit your store to purchase offline (ROPO). Or even people in your store using their phones as a shopping assistant.
Tailoring your marketing strategies to make sure your brand's presence and messaging is consistent and integrated across all channels is what makes for a truly successful customer experience.
What is Omnichannel Retail?
Omnichannel retail ensures a consistent brand experience across the customer journey (website, social media channels, messaging apps, or brick-and-mortar stores).
Like in traditional retail, where one-on-one, real-life interactions with customers allow businesses to create personalized shopping experiences, omnichannel strategies can do the same across a variety of channels.
You can personalize your customer journey in a few steps:
Segment customers—segment them into groups according to their demographics, buying history, engagement history, etc.
Choose communication channels—find out which communication channels each customer segment prefers using.
Map customer journey—make sure it involves the preferred communication channels at each stage.
Upgrade your tech-stack—ensure you have the capabilities to contact customers at every stage of the customer journey
Automate messaging campaigns—marketing automation software makes it easy to send personalized messages to customers at specific journey stages to increase conversions.
Follow these steps and keep hypothesizing, testing, and improving where possible.
5 Omnichannel Retail Marketing Examples
Let's now see how others implement omnichannel retail marketing strategies. Here are five examples of ecommerce marketing that has been doing well.
Sephora
Cosmetics, fragrances and beauty products brand, Sephora, set up a multi-channel sales approach that provides the customer with an integrated overall shopping experience. One way the brand did this is by creating the Beauty Insider Rewards program.
Members of this program can enjoy a bunch of perks to save money, both in-store and online. Basically, Beauty Insider Rewards is a point-based system, with customers being able to exchange points for discounts, but also—as soon as social distancing restrictions are lifted—in exchange for real-life experiences.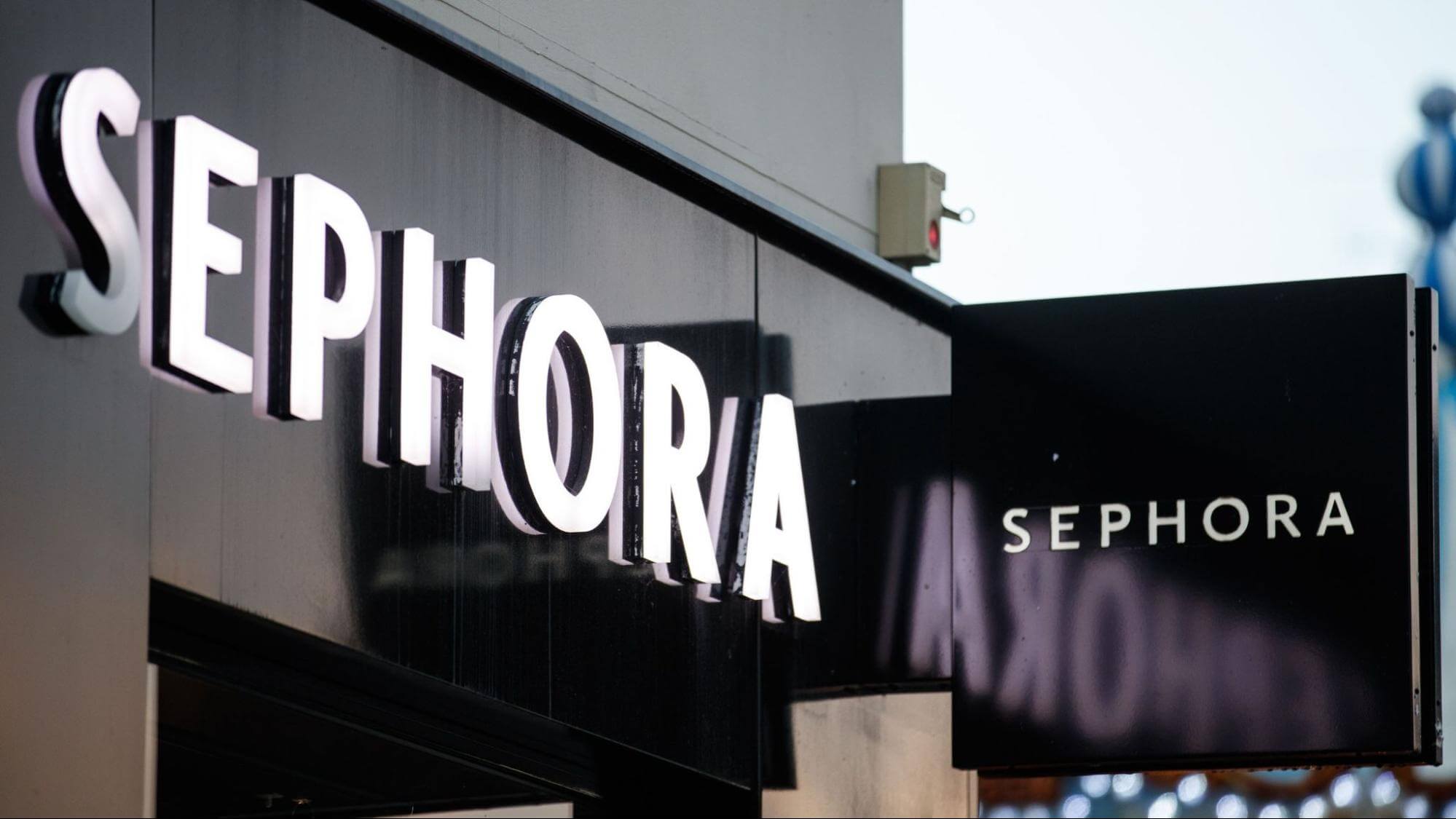 These can be events like one-on-one meet-ups with brand founders or an opportunity to see how their favorite products are made. This omnichannel marketing example not only fosters brand loyalty, but seamlessly merges the on- and offline brand experience for Sephora customers.
The Beauty Insider Rewards program also makes it easy to segment users according to customer actions and personalize messaging experiences accordingly. This strategy has already attracted 11 million members.
Customer accounts are essential for giving customers the ability to manage their brand experiences. This Guide to Creating Customer Account Pages will help to learn how to create customer accounts in your store.
Spoilt
Spoilt, an Australian gift and homeware store, wanted to feature their products on Instagram, Facebook, Pinterest, Google Shop, and make it easier for customers to buy there.
To achieve this, they used POS and Inventory management systems along with Shopify to set up Instagram Shops. This strategy allowed them to make sure that all inventory and customer data is synced in real-time.
This omnichannel retail marketing example shows you can reduce overselling, products going out of stock, and improve data accuracy. This way, Spoilt built more accurate customer profiles and improved customer communication.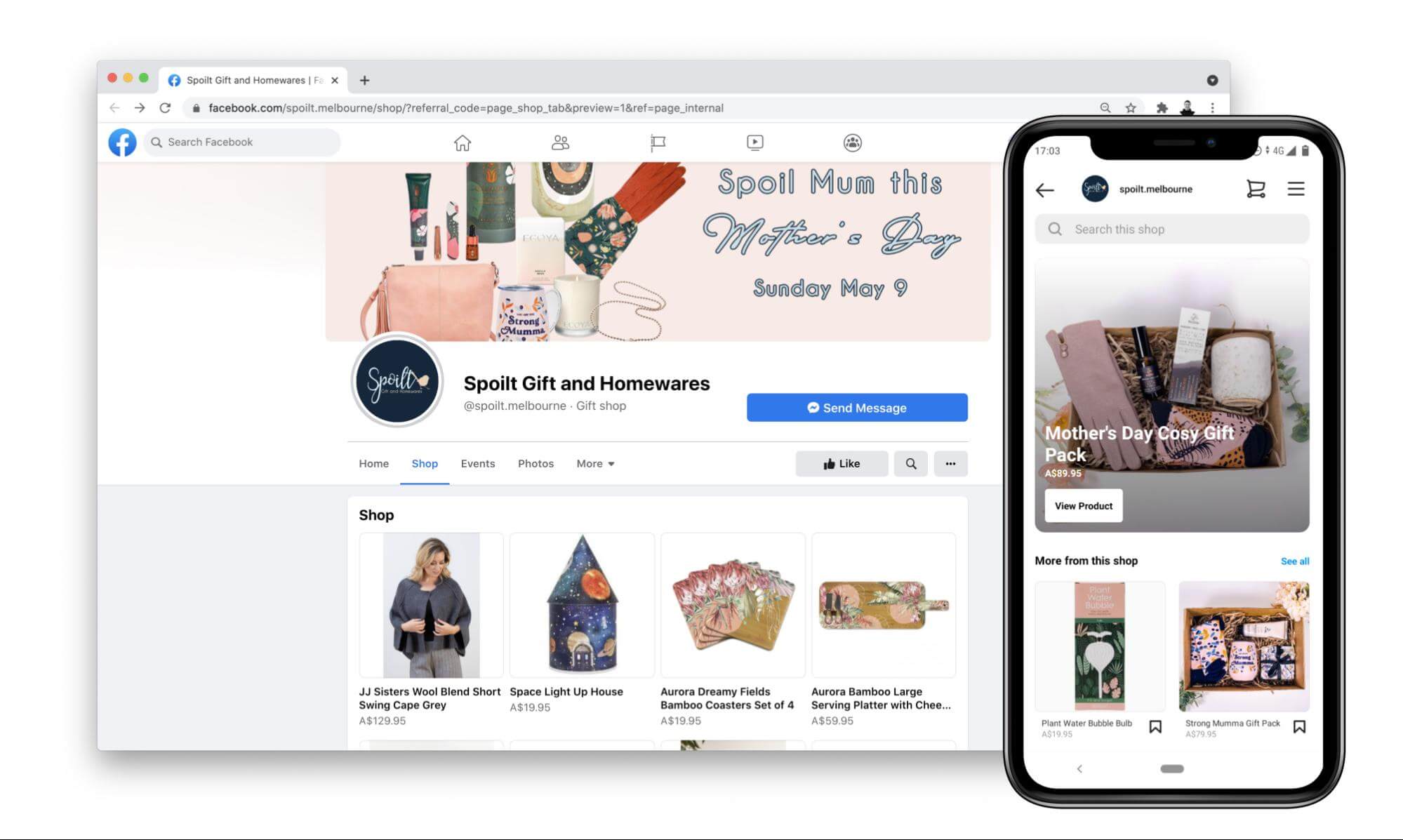 Spoilt's Facebook and Instagram Shops integrated with Shopify
Oasis
Oasis is a well-known UK fashion retail brand. They operate online and from 80 physical stores in the UK, along with 96 extra international locations.
This omnichannel marketing example involves mapping out online and offline customer touchpoints and integrating them into a frictionless omnichannel experience.
One example of combining multiple channels into a personalized experience is the 'Find in Store' feature. This feature allows visitors to find a product in a local store using a special button on the website.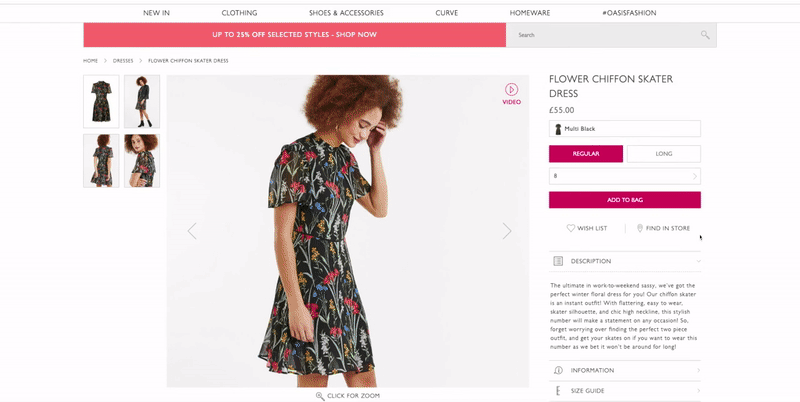 This feature helps online shoppers find items in stores near them
This feature is perfect for ROPO shoppers that would like to try before they buy. This also helps minimize returns for online purchases.
Oasis also did a great job of implementing social commerce into their omnichannel retail strategy, also with the help of Instagram and Facebook Shops. If you look at their Instagram profile, you'll see that feed posts are filled with shoppable pictures, a Shops exclusive feature.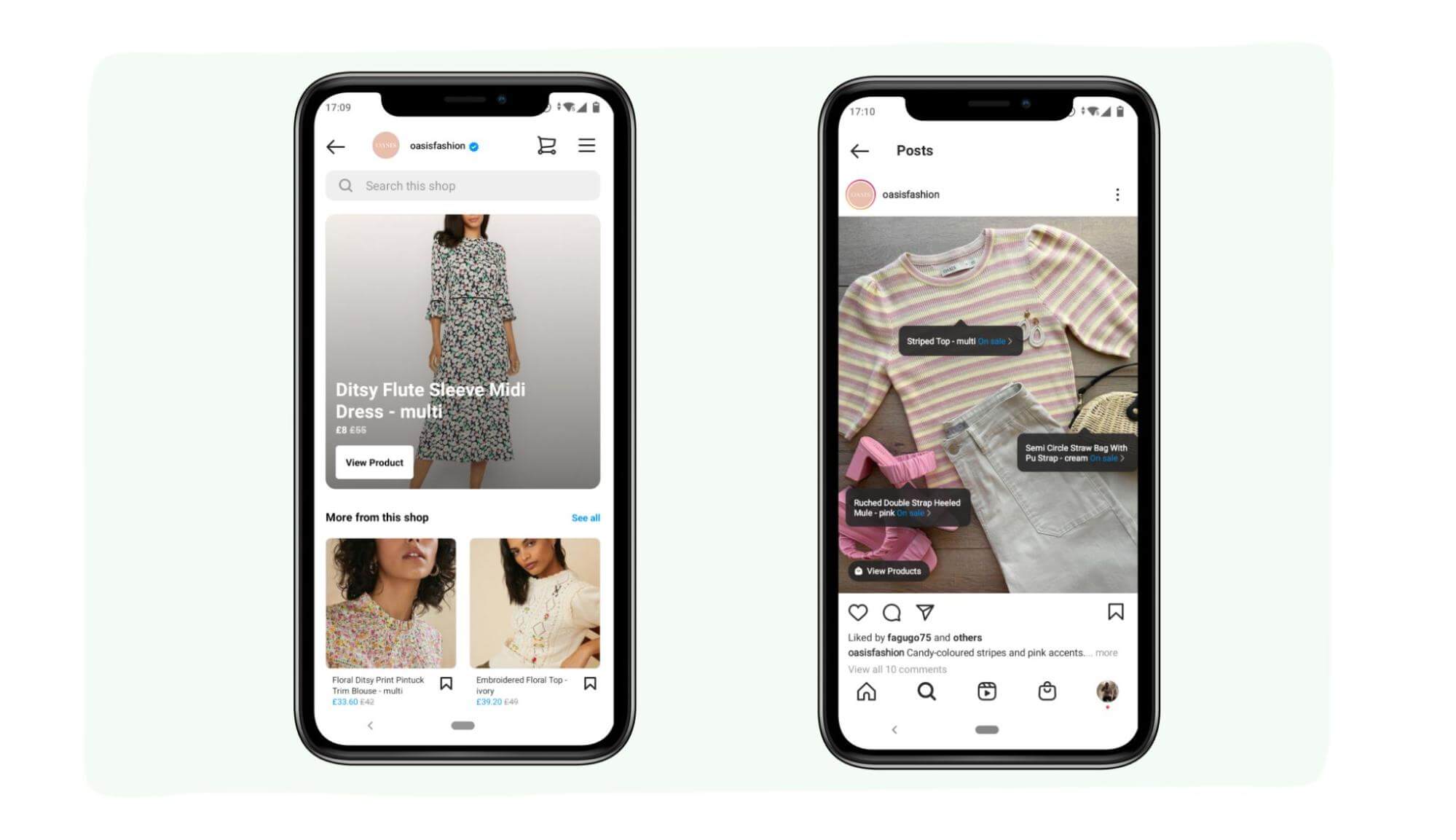 Oasis links directly to products from their Instagram posts
Neiman Marcus
Neiman Marcus is a US chain of luxury department stores. The focus of their omnichannel marketing strategy is to remove the barriers between how their customers interact with the brand on different channels.
Three examples of how the brand implement:
'Snap. Find. Shop.' app
'Memory Mirror' technology
Deep online personalization
The 'Snap. Find. Shop.' app lets people upload pictures of products they like. Using smart recognition, the app then finds a similar product from the Neiman Marcus catalog. Customers can then buy directly or reserve to try the product in a Neiman Marcus store.
The technology behind 'Memory Mirror' works like this: a camera captures a 360 video of a customer trying on a product, and lets them save, share, rewatch, or see what colour variants might look like. This technology saves customers the effort of trying on the same product multiple times.
Here's a video of what this looks like in action: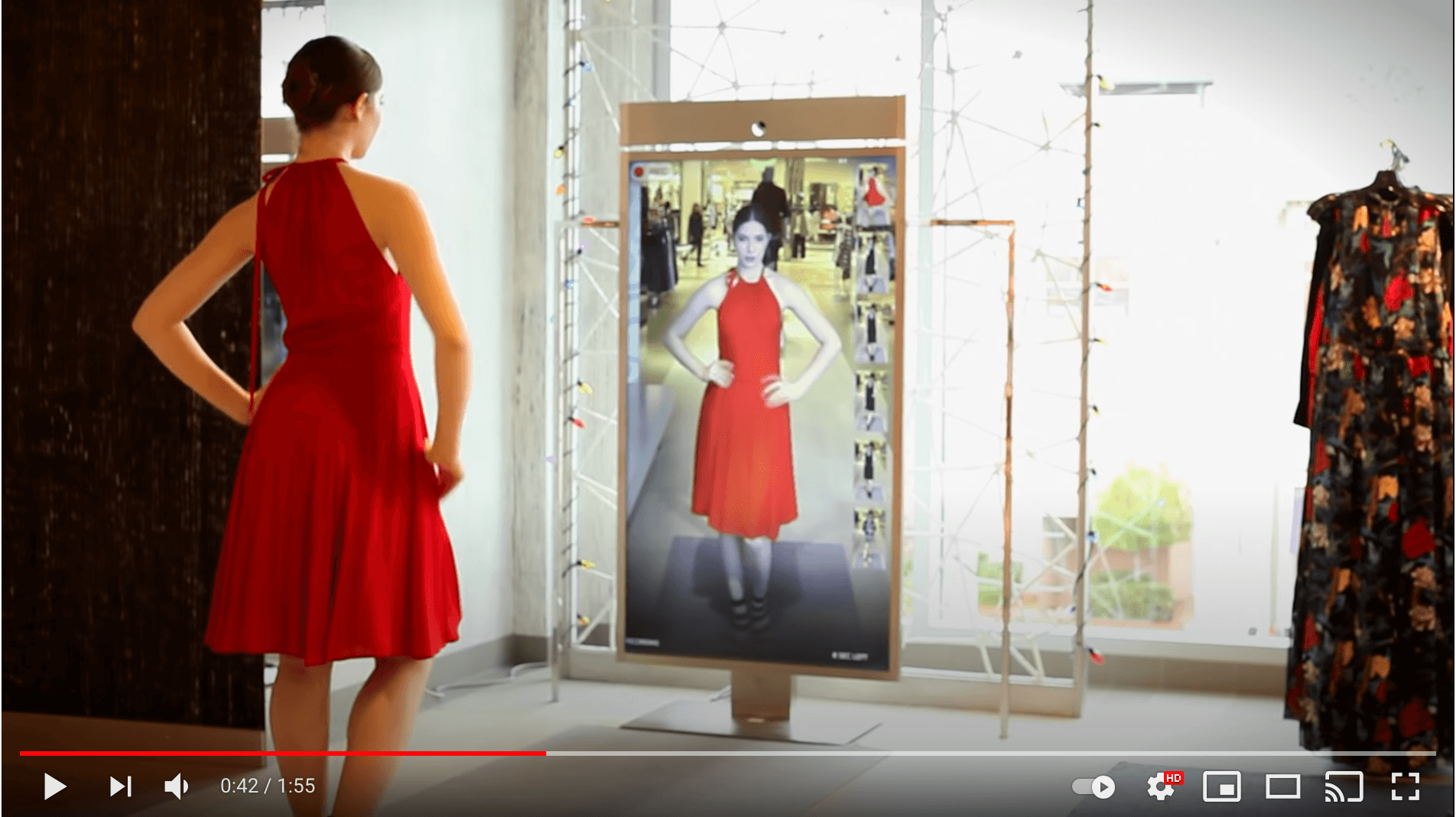 Neiman Marcus' 'Memory Mirror' is the world's first digital mirror
Neiman Marcus' online shoppers also get a deeply personalized treatment. Customers that search for the same size products will get shown results available in those sizes the next time they visit.
On top of that, geolocation tracking will show customers the nearest store that has those size products in stock.
Timberland
Outdoor fashion brand Timberland is using near-field communication (NFC) technology to allow customers to use their phones in-store and merge the physical and digital experience.
The company has implemented "TouchWalls" with large interfaces in their stores, which display online inventory. Customers can also use in-store tablets, tap NFC-tagged items to learn more about these products.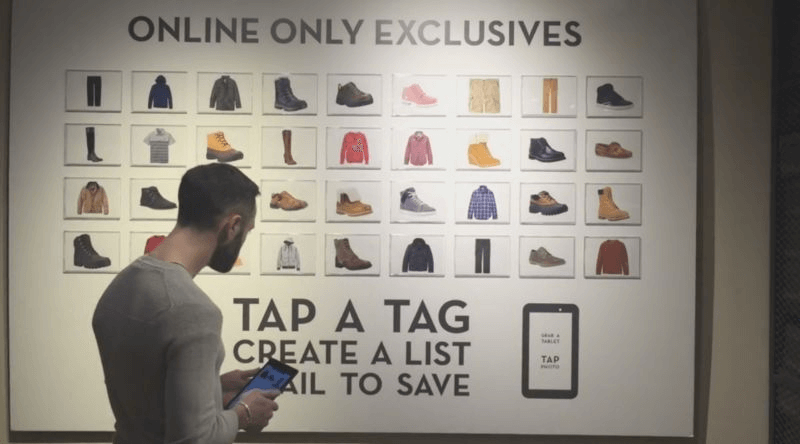 Source: Trendhunter
All their activity is saved in user profiles, allowing Timberland to use this in-store, online, and post-purchase data for further omnichannel messaging strategies, like remarketing products and personalizing recommendations.
Summary: Omnichannel Marketing Retail Strategies
Brands with omnichannel marketing retail strategies find ways to aggregate this data, segment customers accordingly, and personalize the brand experience across multiple channels.
This requires a clear understanding of the customer journey, but also a proper integration of your tech stack. And most of all, brands will need to keep experimenting with innovative technology to stay ahead of the competition.