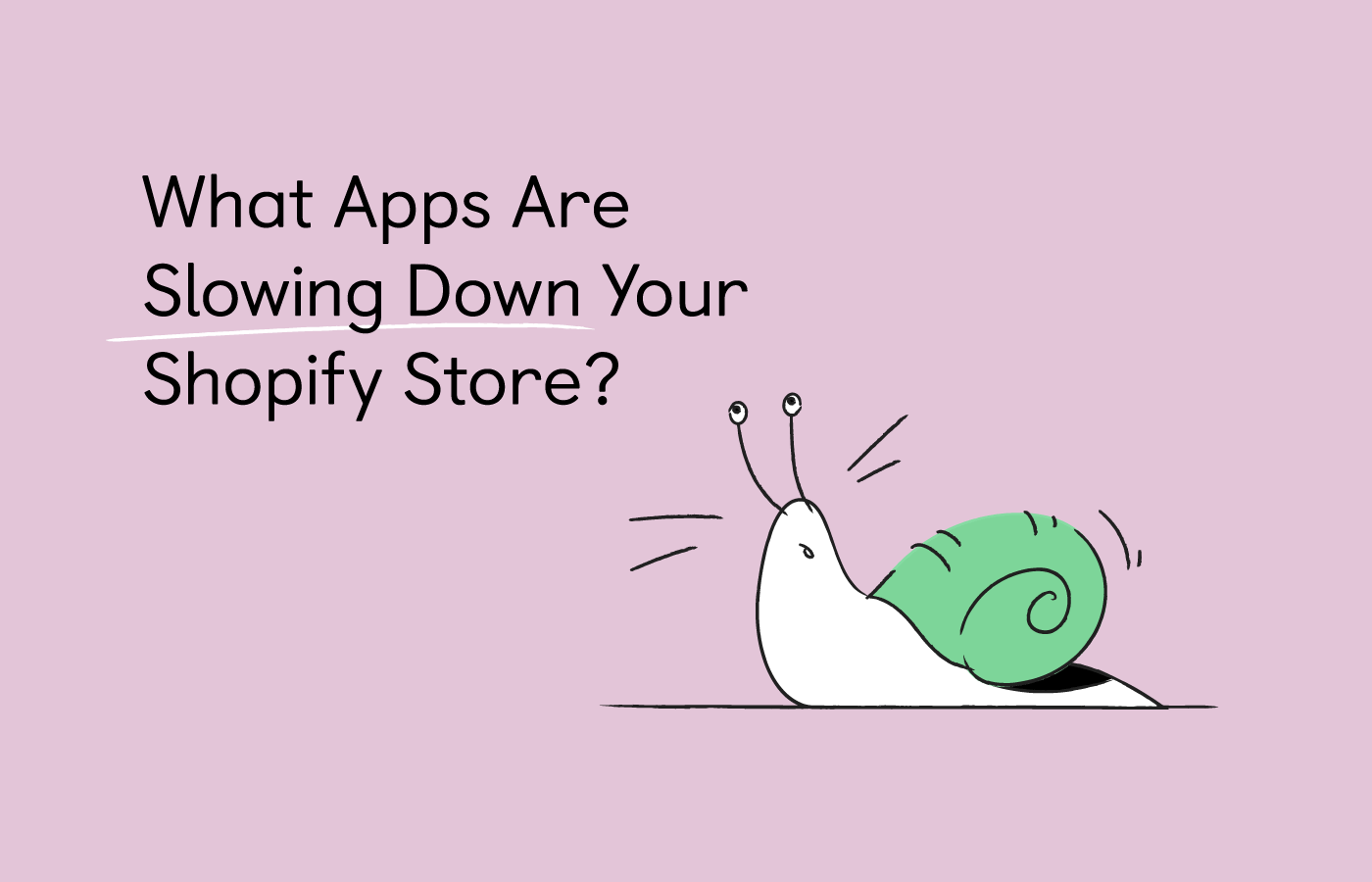 Shopify apps are great at adding functionality and style to sites but they can also make them slower. This means longer loading times, poorer visitor experience, and lost sales.
How long is too long for a loading time? And how many apps are too many? If you're wondering how to balance your favorite apps with Shopify speed optimization, we will address that here.
In this article:
Looking for something else? Check out these guides:
How to Detect A Slow Shopify Store?
Hubspot did interesting research.
They found that an optimized Shopify website should take no more than 3 seconds to load and should weigh no more than 3MB. It also states that for every added second, about 32% of shoppers are lost.
Ouch.
This ought to be the eureka moment for many Shopify store owners.
Obviously, adding too many apps (say, more than 20), can make the website slower to load.
But how do you find out how fast a Shopify store is, anyway?
Two options: a built-in Shopify feature or third-party tools.
First the Shopify's online store speed report, you can check your Shopify speed online and get an assessment in 3 working days. The feature is powered by Google Lighthouse, and the result usually comes out on a scale of 1-100.
This is a sample speed test report done using Google Lighthouse. Note that it has a general speed score and different metrics used to reach that number.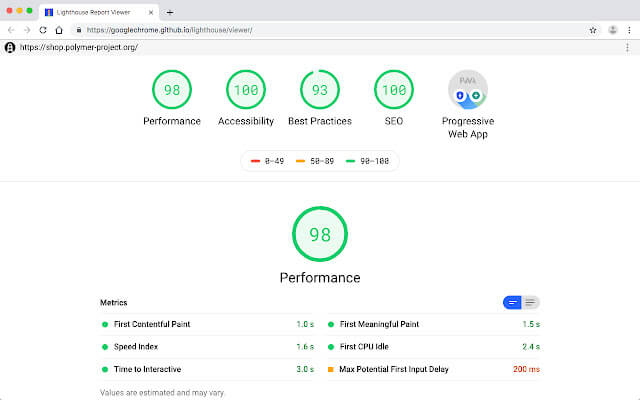 Source: Google Lighthouse
Another way is to check the speed with third-party apps. Tools such as CheckMyScoreSpeed are great for monitoring speed growth. Using CheckMyScoreSpeed in particular is simple: just add your site and click Analyze to get the report.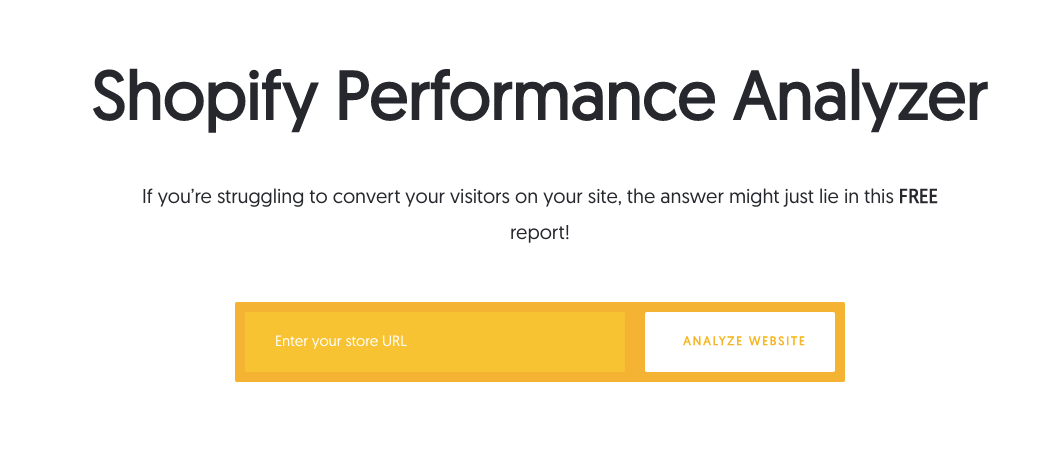 Source: Testmystorespeed
How to Spot Problematic Apps
Apps have their purposes. It is important to know the best app to use for a function. When there is a mismatch between an app's original function and what you use it for, the app becomes problematic.
With that said, here's how to spot a problematic app.
Too many requests
Request is the means through which your device communicates with the worldwide web. It simply means to ask for permission to access a bit of information, for example, an image uploaded on a website, or a file needed for website building.
A standard optimized website application should not make any more than 5 requests. On average, your website can accommodate 90 requests and still maintain an excellent speed. Anything greater than 150 requests will result in a slow site.
Lack of optimization
This is another indicator of a snail app. Website apps, especially those responsible for add-ins should always be compressed and minimized for optimization.
It is easy to spot an app that has not been compressed by judging from its formatting. For example, an app that contains the keywords ''min'' for minimized and ''zip'' for compressed have already been optimized.
Spotting an uncompressed file is simple due to its large size. Depending on the application and its function, a normal unoptimized could range from 35MB to 100Mb, while their compressed counterparts typically range from 20MB to a few kilobytes.
Heavy files and requests
Heavy files are the nemesis of Shopify speed optimization. Apart from monitoring the number of requests made by an app, you should also look into the weight of the individual requests as this is one of the factors that affects the loading time of your page.
Many such apps also store unnecessary data in the form of cache. So, even after the app has been deleted, some of its data is left behind. Over time, these files accumulate and affect Shopify speed optimization.
Poor coding
Apps that have loads of external files tend to be poorly coded. This is because every time you load the app, it has to seek a new set of requests because its files are external.
Another tell-tale sign of poor development is a large number of JavaScripts. This may be important for functionality, but you should not have too many of them, or else your site speed will be affected negatively.
How to Maximize the Speed of Your Shopify Store?
To speed up your Shopify store:
Use fewer apps- consider removing redundant apps, and make sure to clear their cache (Some apps tend to leave behind a bit of their code even after they've been uninstalled).
Compress images- large images also slow down your site. Images uploaded to your site should always be in .jpg format. Use an app like TinyIMG to compress your images.
Use apps for multiple purposes- One app can do several things, so there's no need to install an extra app for every feature. Say, a marketing app like Firepush does three kinds of marketing: email, SMS, and push notifications. This app can save you up to 600kb of memory occupied by 3 apps.
Choosing top-rated apps- To prevent the same mistake from happening again, take more care during app selection. Avoid apps with unnecessary external files and Java scripts that bulk up your program.
Hire a Shopify speed optimization agency. These businesses Shopify and Shopify Plus agencies with speed optimization services. They are vastly experienced in Shopify store speed optimization, and they can get your store right on track in no time.
Final Word
To cap it all off, maintaining a good site speed involves regular monitoring of your store's speed, and preventing costly mistakes such as redundant apps. Consider using the tips we listed for Shopify store optimization to ensure the best speed.