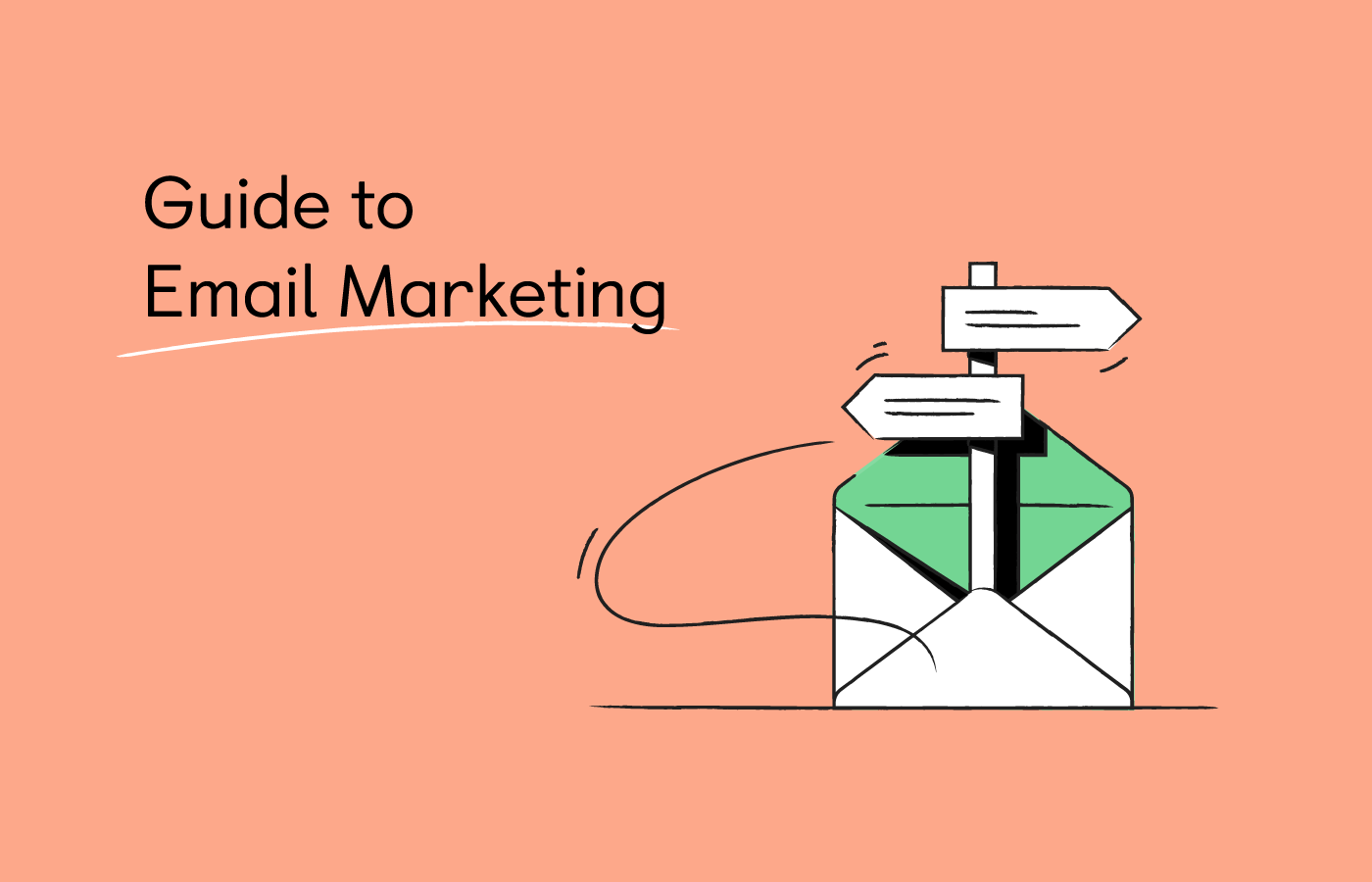 Whether you're in the process of starting a Shopify store or already have one, marketing your business is critical.
Emails should be your go-to marketing method.
Customers are used to getting marketing offers via email, which is a plus. And doing Shopify email marketing is cheap. Besides, creating email marketing campaigns is simple. So, this strategy is perfect for businesses of all sizes.
In this guide:
What is Email Marketing?
Email marketing is a marketing channel that allows online businesses to share information and content with their potential and existing customers. You can alert subscribers to upcoming sales, share discounts, announce product arrivals, and update on order fulfillment.
Email marketing is a good strategy for new businesses to build a customer base and increase sales. Sending regular messages allows them to encourage buying with sales and nurture leads who aren't ready to buy.
Shopify Email Marketing: Quick Facts
Why use email marketing to promote a Shopify store? Is creating an email campaign strategy worth it?
Here are some facts to answer these questions.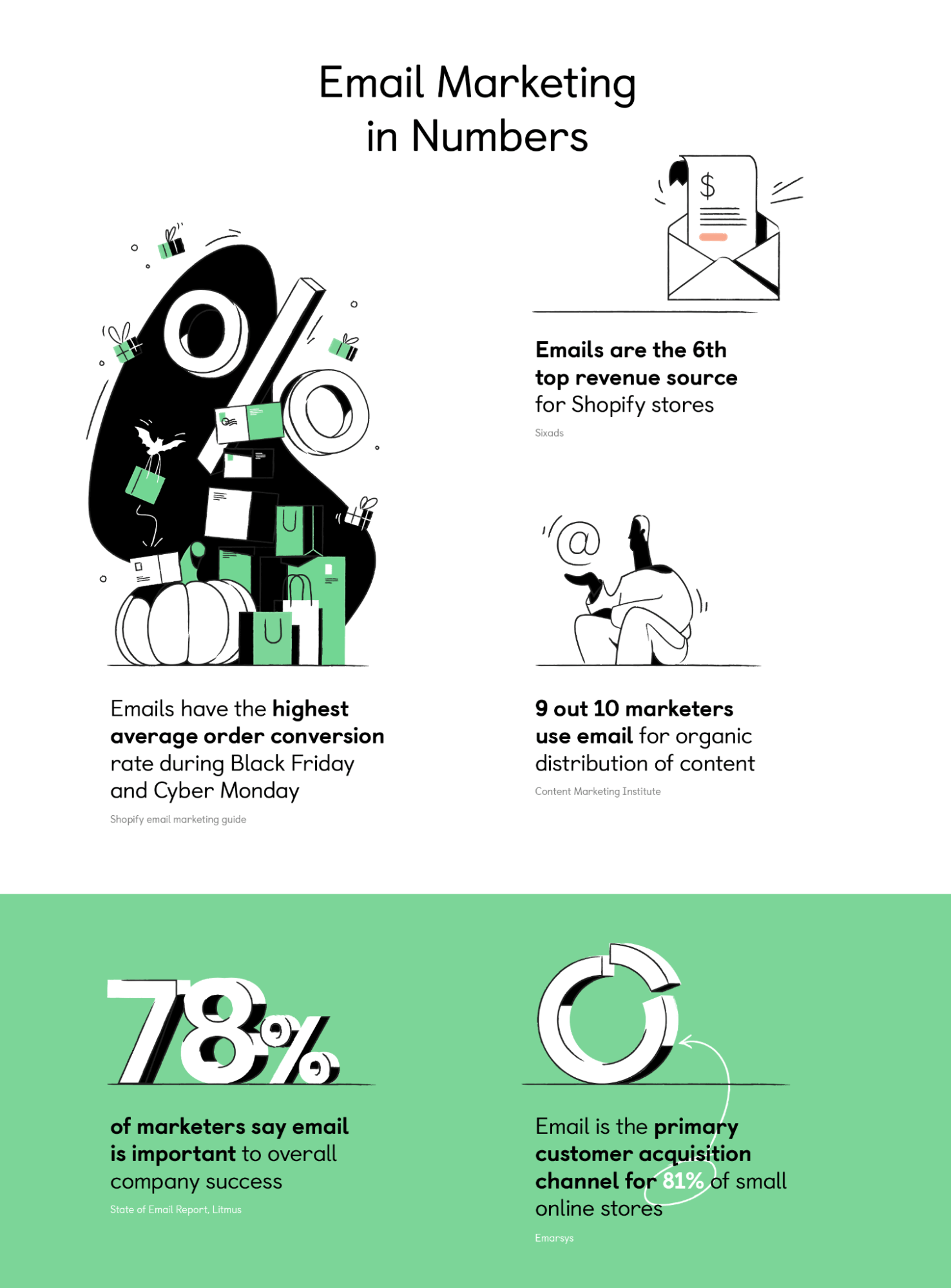 So, with a proven performance record like this, Shopify email marketing is worth doing. Let's now look at message types you can use to start email marketing.
7 Types of Marketing Emails
Whether you're wondering how to start out with email marketing or have a plan, you need to know the best email types to use.
Here are seven types your Shopify store needs to engage customers with email marketing campaigns.
1. Welcome emails
Welcome emails are the very first messages that subscribers receive. An easy way to think about them is a brand introduction. Welcome emails are sent automatically when a customer subscribes to an email newsletter or places an order.
Welcome emails get 4x more opens and 5x more clicks compared to regular marketing emails. That's why they are an opportunity to encourage customers to make the first purchase with an incentive.
Awesome welcome email example:
The founder of Partake Foods explains how her daughter's allergies led her to start a business and sell gluten-free cookies. And there are plenty of links to check out the products.

2. Newsletters
A newsletter is a regular email whose goal is to keep customers updated about everything related to a brand. You can use regular email newsletters to let customers know about new products, sales, news, and special deals.
Newsletters typically share:
News and updates about a brand
Product updates, e.g. new arrivals
Blog content such as articles and case studies
Regular marketing offers such as sales
Contests, giveaways, and promos
Newsletter example:
The email below is a marketing newsletter that contains information about a contest. H&M announces a new project where customers can win prizes.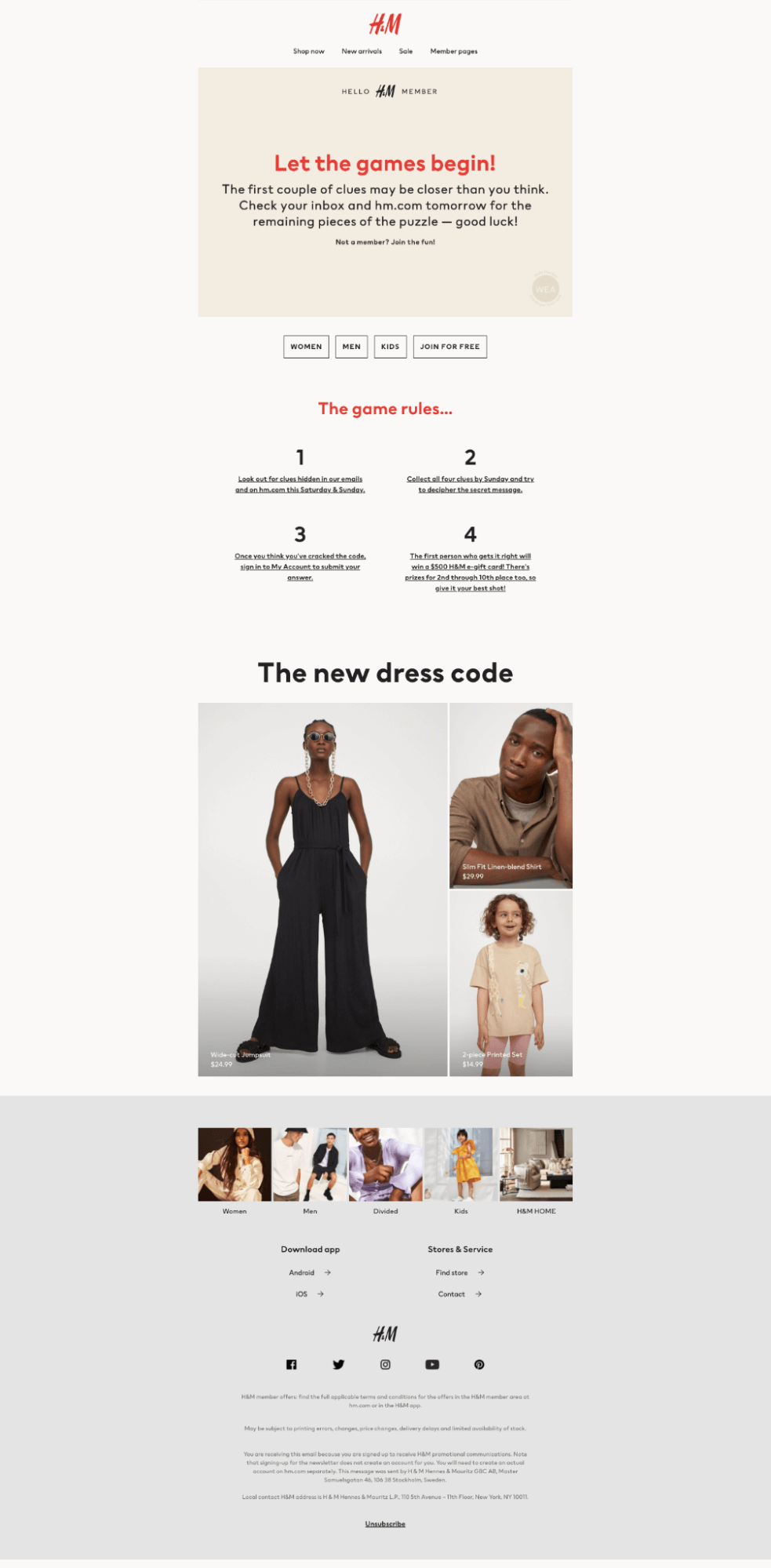 Sending regular email newsletters is a great way to promote your store. Here are 15 More Ways to Promote a Shopify Store including chatbots, popups, customer reviews, Google shopping ads, and more.
3. Brand story emails
Listen to this: 77% of customers buy from brands that share their values.
That's why brands build marketing strategies based on their unique missions, visions, and values. Here, emails are super useful since they offer a direct way to share this content with customers.
Consider adding your brand's story to your Shopify email marketing campaigns. It's simple: describe how your brand started and the values you stand for. It could be an amazing idea, especially if you try some storytelling.
Let's see a brand story email example for your inspiration.
This email below comes from Asphalte, a French clothing brand. It shares the story of the brand's founders who describe their approach to designing and manufacturing clothing: sustainability and durability.

4. Re-engagement emails
Some subscribers will stop interacting with your emails. But that's not your fault: an average email user gets around 120 messages every day. So, businesses often send re-engagement emails to win those customers back.
Re-engagement campaigns contain a few emails asking if the subscriber is still interested in receiving more. Typically, these campaigns are sent after 30-60 days after the subscriber stopped opening emails.
Here's how others designed re-engagement emails.
Threadless, a clothing retailer, reminds about what they do and how the subscriber can benefit from returning to their site.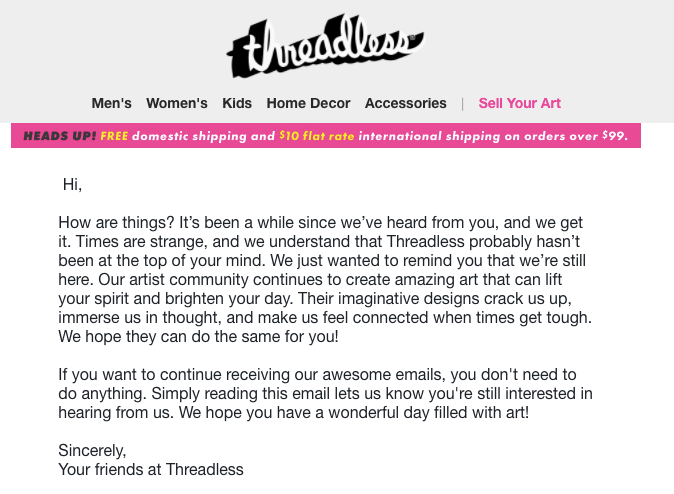 Another example:
Jeff Bullas, a well-known marketing blogger, took a different approach (more suitable for B2B businesses). In this re-engagement email, he sent a short and focused message.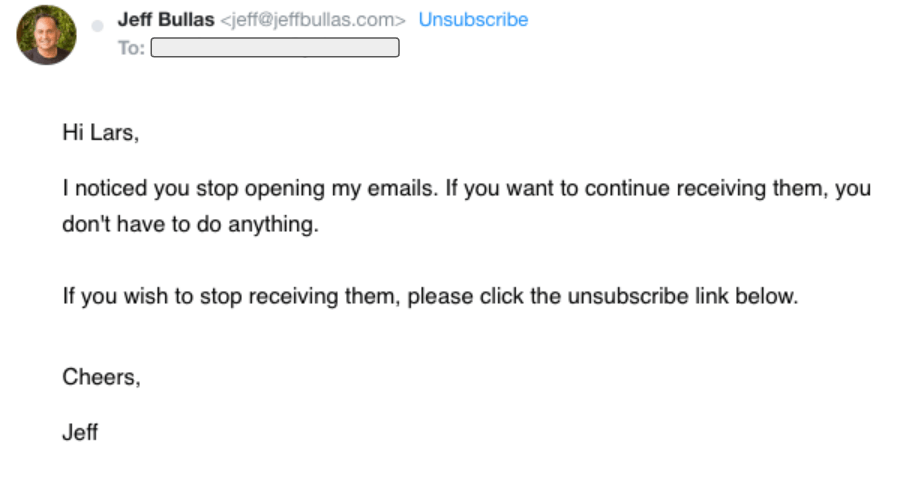 5. Transactional emails
When a customer places an order or subscribes to a newsletter, an email marketing tool sends automatic confirmation. This is an example of transactional emails: their goal is to inform or confirm customers that the action they have taken has actually happened.
Common transactional emails in eCommerce:
Order confirmation email
Order shipment confirmation email
Payment refund email
Password reset email
Delivery confirmation email
Invoice email
Legal terms update email
Newsletter subscription email
Below is an example of a newsletter subscription email. Holo Taco, a nail polish brand, tries to establish a connection with the potential customer immediately, by asking if they also like shiny "holo" products.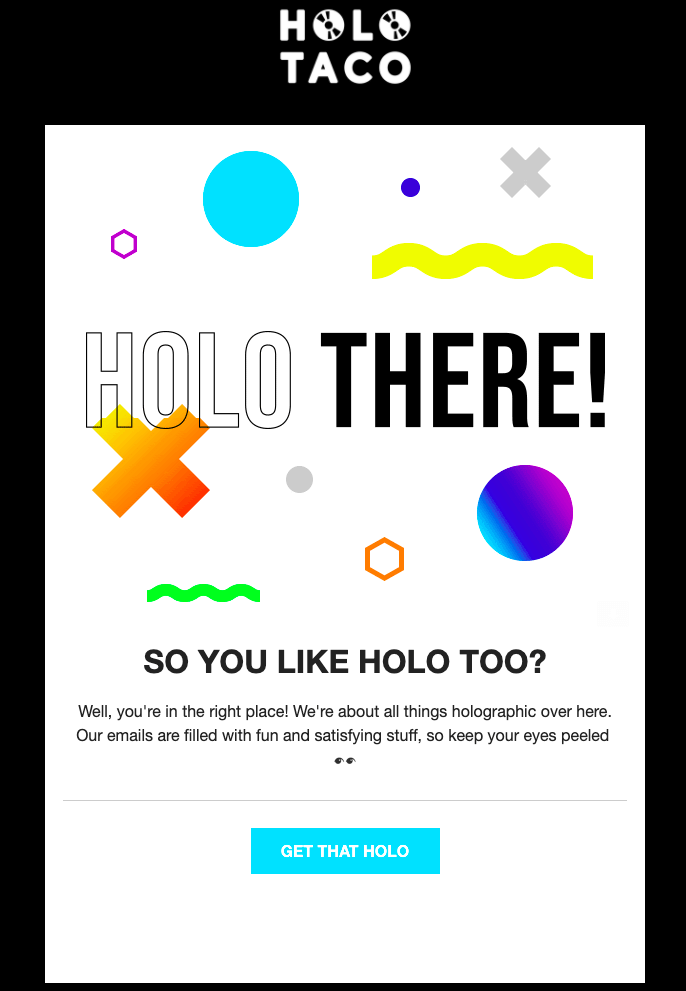 6. Lead nurturing emails
"Nice selection, let's see if they have a sale coming up..."
That's the motivation of many customers who subscribe to email newsletters. They aren't ready to buy right away—and that's okay. Your business can stay connected to and "nurture" them with lead nurturing emails.
In a Shopify email marketing strategy, the goal of these emails is to give details about products or services and explain how customers can benefit from them. This way, lead nurturing campaigns can generate up to 50% more sales than email blasts.
Lead nurturing email example:
Beardbrand explains why customers should buy men's grooming from them. The explanation comes from a happy customer—a great idea to increase credibility.

7. Abandoned shopping cart recovery emails
Abandoned shopping cart emails are automatic messages that remind customers about products they left without buying. They contain information about the abandoned product and a message encouraging the customer to finish the purchase.
Abandoned cart emails are sent in a campaign that consists of several messages. Customers receive the first message within an hour after leaving the website, and the rest is delivered later. A common email marketing tactic is to add a discount to convince customers to buy.
Abandoned cart recovery email example:
This abandoned cart email from Timberland reminds about the product and gives extra product options in case the customer wants more choices.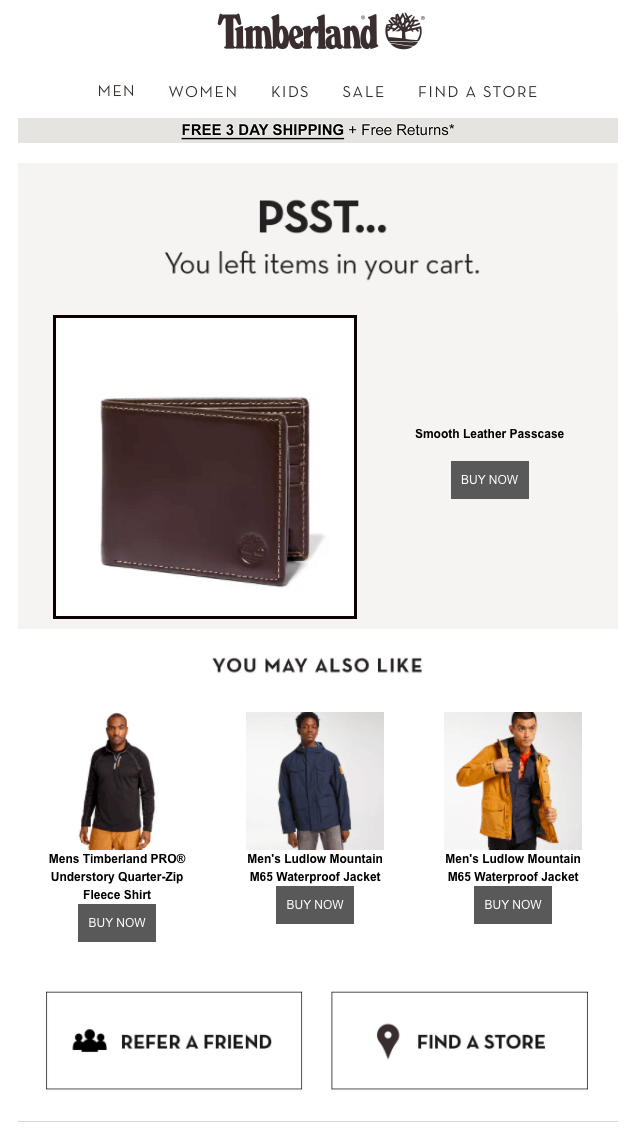 More tips to recover sales with emails:
How to Get Started with Email Marketing
Any email marketing strategy begins with making a plan, creating emails, getting subscribers, and understanding performance monitoring.
Consider these steps to start your Shopify email marketing.
Step 1: Plan Your Email Marketing
Planning several campaigns in advance is necessary to ensure that your Shopify email marketing is running on autopilot for a while.
Here are some things to get you started:
Decide on email marketing goals. You can aim to build a 1,000-subscriber list, sell for $1,000 in a month, increase website traffic by 10%, etc.
Plan content. Create emails beforehand: this involves adding unique texts, images, and changing colors of pre-made templates to resemble the visual style of your brand
Create transactional emails. Ensure that your customers will get order confirmations, payment confirmations, and other automatic emails
Plan a customer onboarding campaign. This would be the first campaign. It should begin with the welcome email and continue with messages that tell customers why your business is great (brand story, lead nurturing, and newsletters are useful for that).
Step 2: Get an Email Marketing App
Shopify email marketing is best done with an app. It gives you an easy way to create email campaigns, send them at specific times, and track performance.
A good Shopify email app has these features:
Templates—customizable templates will speed up your design work by providing ready-for-customization email versions.
Automations—you can set up campaigns to be sent to subscribers in specific stages in the customer journey automatically.
Customer segmentation—you can make marketing offers more compelling by creating emails based on segmented customer groups.
Shopify app store has 700+ email marketing apps, and you have lots of both free and paid options. If you need a recommendation, check out Firepush. This Shopify email marketing app has a healthy 4.8 rating from 740+ stores and includes all the mentioned features.
Step 3: Add Emails of Existing Customers
Got some emails from customers already?
If yes, great, you can import them into your Shopify email marketing app. Create a special email marketing campaign using lead nurturing emails and keep them informed about your offers.
Have no emails yet? No worries. Here's how to get them.
Step 4: Get Email List Subscribers
Use your email marketing app to add email capture forms to your website. They will help you start building an email list for marketing your Shopify store and products.
But here's the thing: the forms might not generate a lot of subscribers at first. It's totally ok, though: if your online store is new, customers don't know anything about it.
Consider using these tips to encourage more signups:
Add a "welcome discount" for the first purchase
Give a chance to participate in a product giveaway or contest
Promise detailed, useful blog content such as guides, articles, and videos
Want to see how other Shopify businesses do it?
Partake Foods offers this email capture form with a short and benefit-packed promise.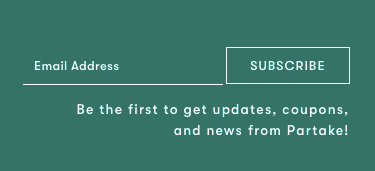 Step 5: Create First Email Campaigns
Time to build your first email marketing campaigns. The choice of email design depends on campaigns and templates, but let's go through the most common important elements.
To start:
First, add the name of your business as a sender name and a subject line. Consider adding a subscriber's name to the subject line—this technique increases the open rate by 20%.
Next, we're adding these elements to design a unique email.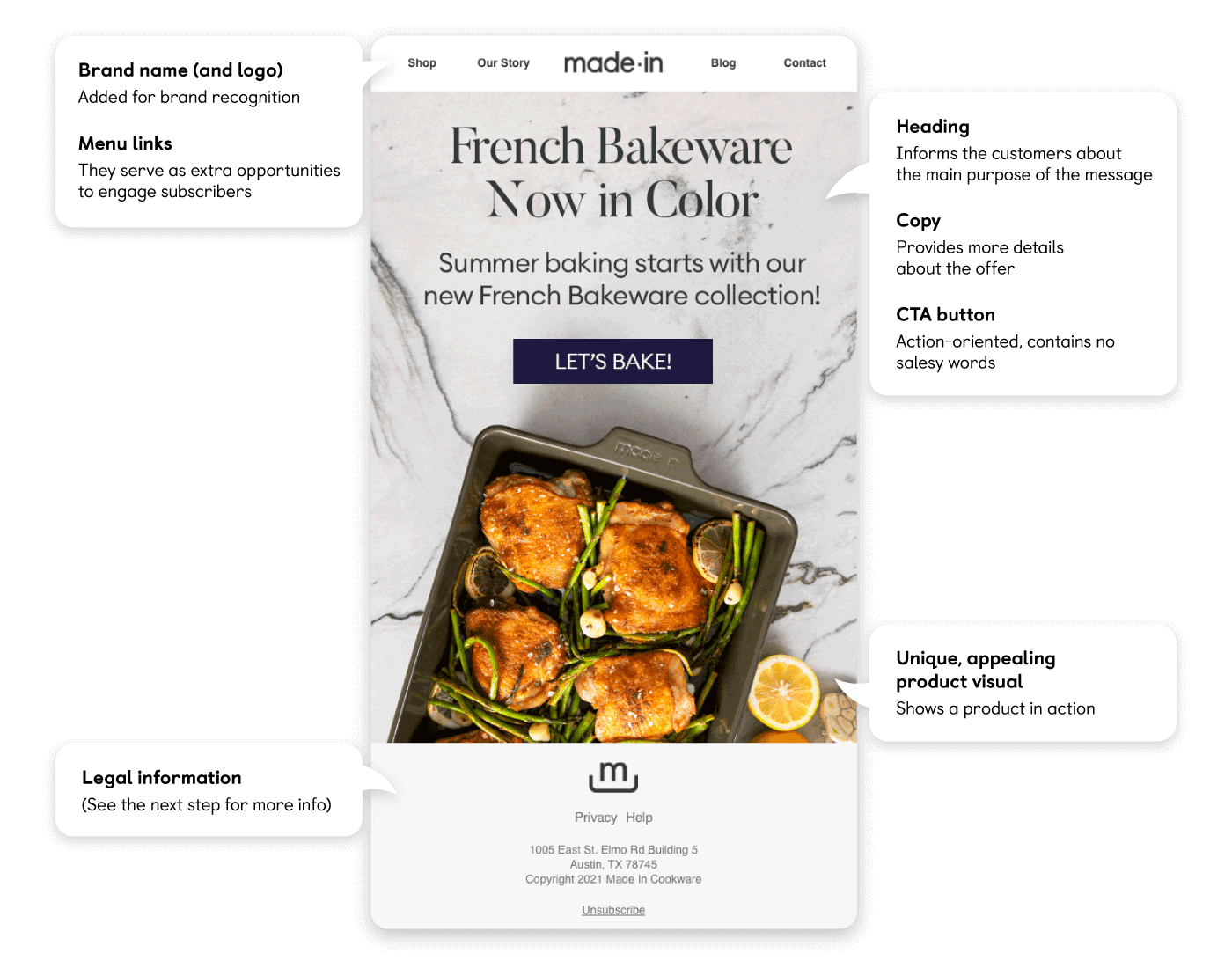 Once you've added these elements, the email is ready. Make sure to pre-set the sending time for the campaign to achieve the highest open rate (learn more in the "Best Time to Send Emails" section below).
Pro tip: create birthday campaigns. They contain one automatic email that congratulates customers and makes special offers. eCommerce research suggests that birthday emails generate 3.42 times more revenue than lead nurturing campaigns.
Step 6: Ensure Legal Compliance
So, the legal information.
Shopify merchants are required to follow several email marketing-related requirements. Those requirements are easy but nothing to be neglected.
These are the laws to follow:
GDPR. This law governs the personal data use of EU-based customers. Basically, it needs businesses to protect that data from illegal use.
CAN-SPAM Act. A law for American businesses that provides specific guidelines on sharing company data and using customer data.
CASL. Canadian anti-spam regulations on using email marketing campaigns to target customers.
Want a quick rundown?
Basically, these requirements boil down to several things: no cheating, no spam, and no illegal use of customer data. Also, you'll have to add your business's registration address and "unsubscribe" button to emails like below.

Several other factors affect an online store's sender reputation besides emails. Read about all the things that ensure email deliverability in this Guide to Email Best Practices
Step 7: Track Campaign Performance
At this point, you started your email marketing campaigns.
But sending them out is only a part of the puzzle. Checking their performance is essential for understanding which content engages customers. Doing so is easy: all good Shopify email marketing apps have an analytics section where you will see campaign performance metrics.
If you're new to email marketing, consider focusing on these essential metrics:
Open rate—shows how many subscribers opened emails
Click-through rate—measures how many people clicked on the links in emails
Unsubscribe rate—how many people unsubscribed from the list
Click-to-open rate—the number of people who opened your emails and clicked on links
Bounce rate—describes how many people didn't get your emails
Conversion rate—shows how many people clicked on the link in emails and completed the action you intended them to (made a purchase, signed up for a giveaway, etc.
Best Time to Send Emails
Once you've created stunning emails, set the time to send them out. Customers tend to open emails more often at certain times, so we need to adjust our email marketing campaigns accordingly.
eCommerce research suggests that any time between 8 am and 5 pm is a safe bet. This is the time when customers are the most active.
As for the days, Friday was the best for open rates while Tuesday generated the highest click-through rates.
Shopify Email Marketing: Summary
Now you know everything to start doing email marketing for Shopify.
This guide has covered the most important things: how to get started, build an email list, and measure performance for improvement.
If you need more help with promoting your Shopify store, take a look at our marketing blog. We've got helpful guides on email, SMS, and push notification marketing for businesses of all sizes and industries.