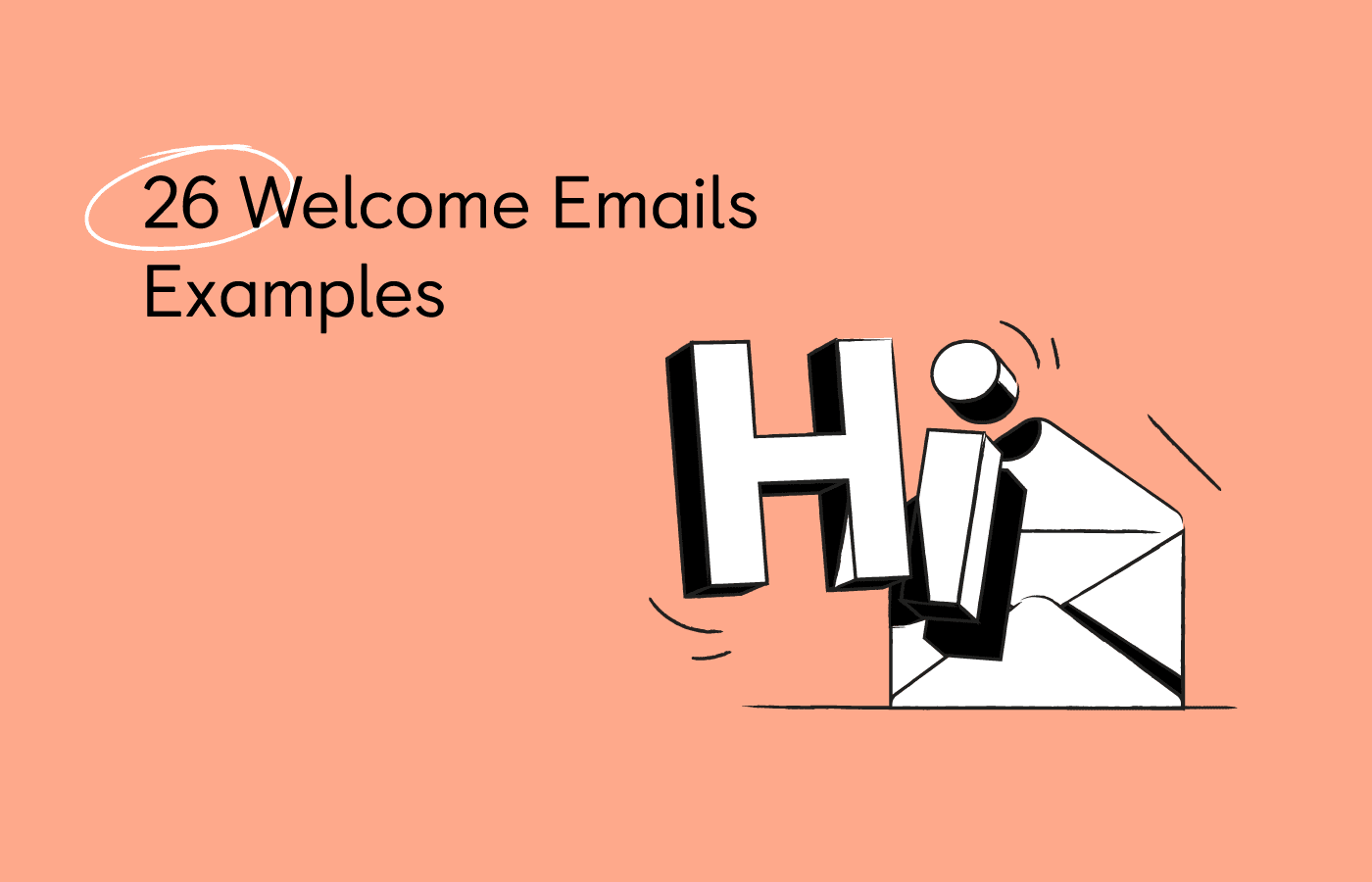 "Welcome to our store! Here are our products."
Does this welcome email example sound a bit similar?
If yes, we need to make a better strategy to sell with welcome emails for you. See, they are like conversation starters—besides a warm welcome, you need to look for ways to establish instant connection. There's a bunch of ways to make your welcome newsletters achieve that, so let's begin.
In this guide:
Not here for welcome email examples? Check out these:
Why Are Welcome Emails Important?
Greeting new customers is a good practice, but not the only reason why welcome emails are important. The catch is that welcome email series engage more shoppers than promotional emails.
Proof:
Customers open up to 82% of welcome emails because they expect them (GetResponse)
Welcome emails with free shipping have the highest transaction rate (Experian)
US customers who read welcome emails place orders with an average value of $60 (Return Path).
What Should I Write in a Welcome Email?
Here's what to write in welcome email newsletters to greet subscribers and encourage them to visit again:
Give thanks. A welcome email is often called Thank you for subscribing email because it shows appreciation
Introduce your brand. Great examples of welcome emails often build trust by sharingbrand story and values
Give a nice discount. Encourage to buy with a discount, a promo code, or free shipping in the welcome email
Offer to connect on social media. Welcoming email is a good opportunity to share business profiles on social media
Tell how often you send emails. Too many emails are a reason to unsubscribe, so welcome emails should clarify the frequency
Add a personal note from a brand owner. As you'll see in the welcome email examples in this guide, a note makes the message more personal
Best Welcome Email Examples
Subject line: Welcome | Special Savings on Your Next Order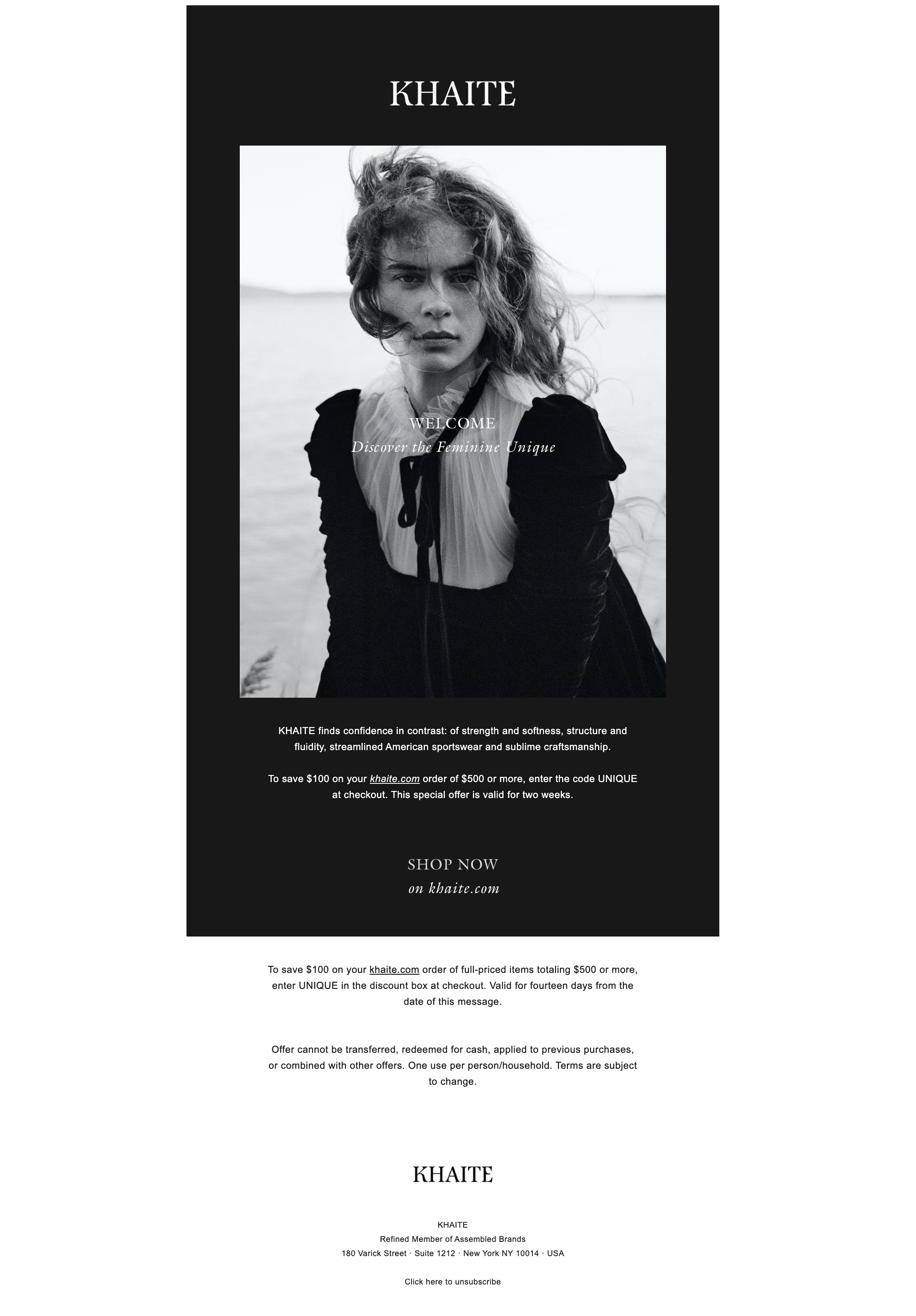 Khaite welcomes customers with a beautiful and clean black and white email newsletter design. The email looks like a page from Vogue, which is in line with the brand's design style. The text in this welcome email example is kept to a minimum: there are the brand vision and a discount code.
Why it works:
Elegant, clean design that supports Khaite's brand identity
To-the-point, concise text
A generous discount that encourages shopping.
Subject line: Thanks for signing up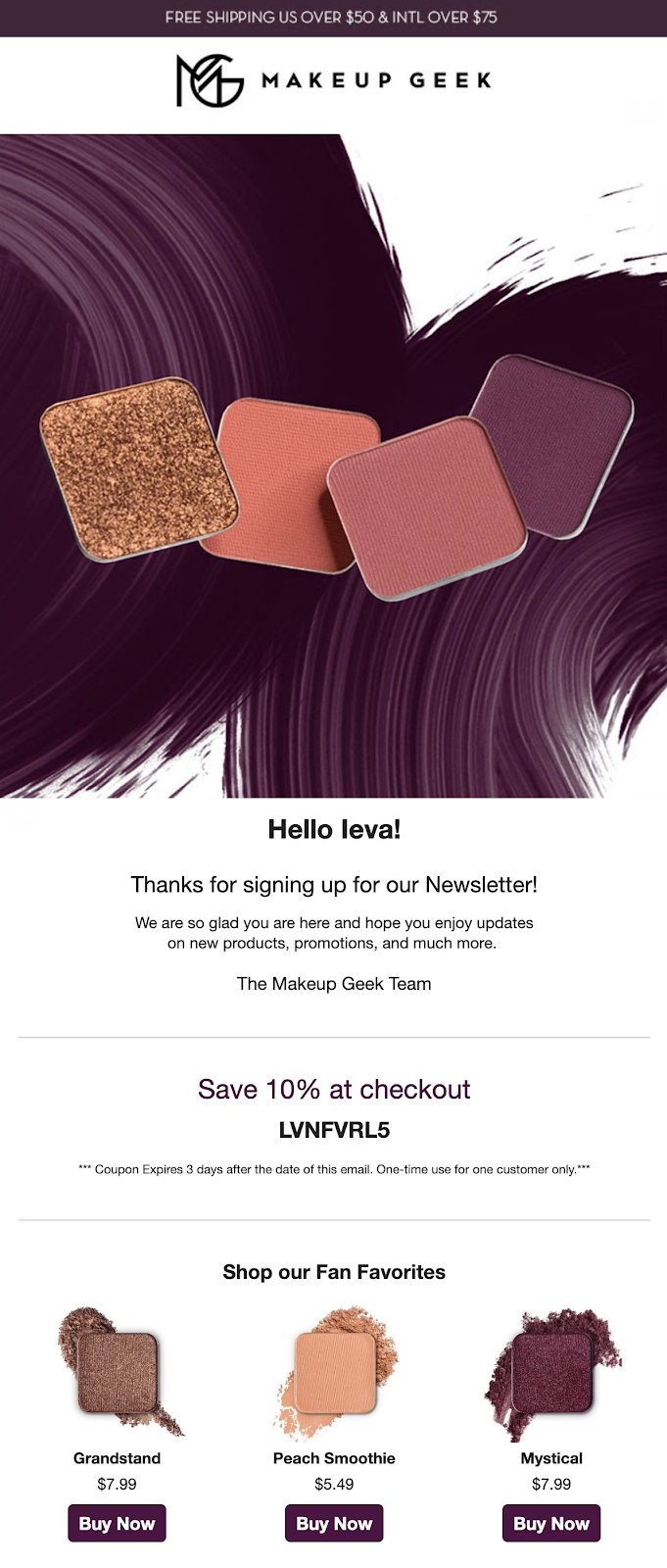 Makeup Geek's welcome email example is simple, warm, and welcoming. If you're wondering how to write an email newsletter, this simple and concise text example is a good start.
The email has a personalized text to welcome new customers and a discount code to thank them for signing up. To encourage the subscriber to use the code, this welcome email sample offers three "fan favorite" products.
Why it works:
Refers to the customer by name and thanks them – that makes email marketing for Shopify feel more personal
Shows three popular product options to invite the customer to browse more
Shares a discount to encourage the first purchase.
Subject line: Welcome to Pipcorn!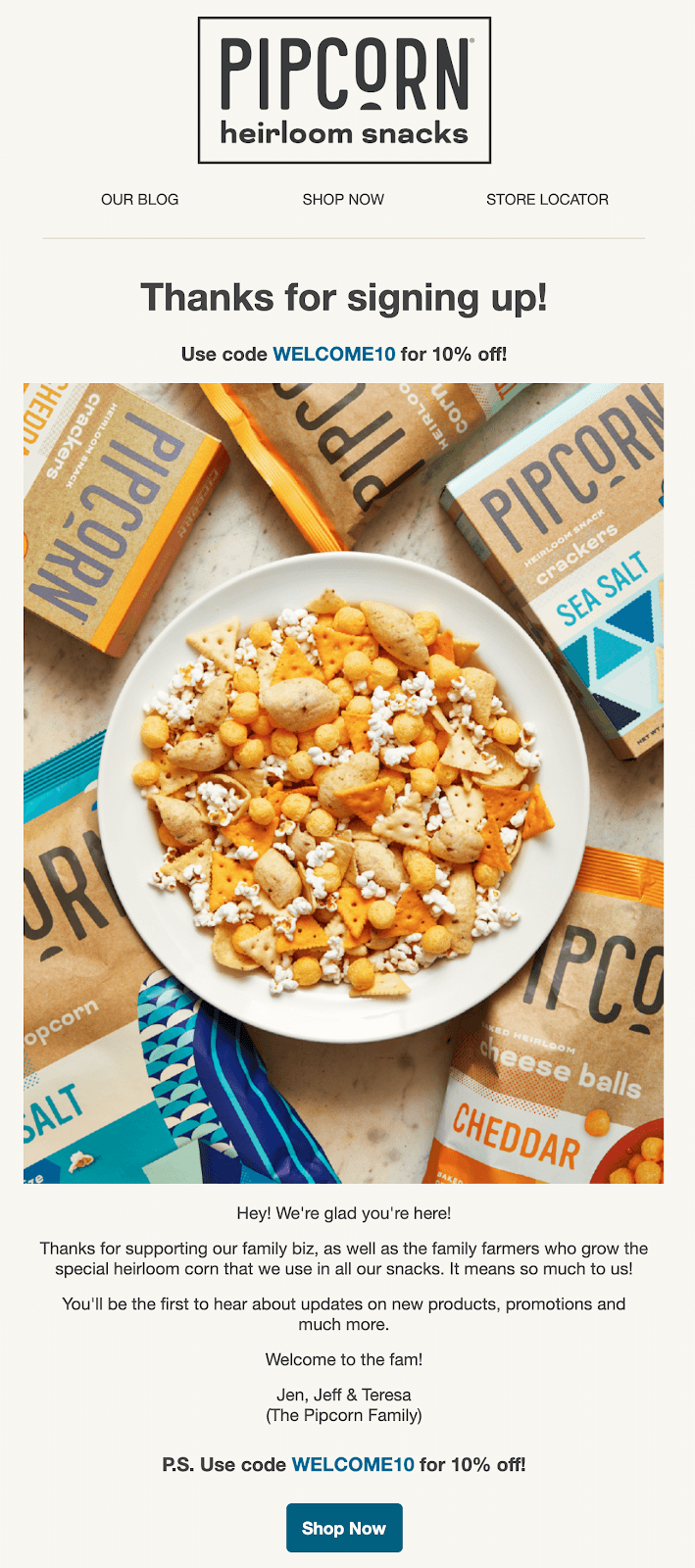 Make customer experience personal. That's an essential Shopify email marketing rule that Pipcorn mastered in this welcome newsletter. The brand's founders thank the customer for signing up in an awesome way and make a promise to send promos and updates.
And there's a 10% off as a thank-you in this welcome email example. The warm message from the founders makes it feel genuine, not like yet another hard sell.
Why it works:
Quality and colorful product photography
Introduces the beliefs and the lifestyle of Pipcorn – the brand tries to establish long-last, genuine relationships with clients
Useful links to browse the online store, read blogs, or find a local shop.
How many emails to send? What are email bounces? This guide explains email marketing essentials for Shopify store owners: Guide to Best Email Practices
Subject line: Don't forget your discount!

About 57% of customers follow brands on social media to learn about new products. BlackMilk allows new subscribers to connect by including all social media links in the welcome email. There's nice photography to attract the attention and a discount to keep clients engaged.
Why it works:
The subject line "Don't forget your discount" helps the email stand out in an inbox
A perfect "thank-you" effect thanks to multiple messages
Invites to join the brand on social media to stay updated on the brand's news, promotions, and become a part of the community.
Subject line: Welcome to Rebecca Minkoff!

Rebecca Minkoff uses a colorful and friendly welcome email template to make a unique first impression. This Shopify store's use of colors, tone of voice, and photography introduce a unique brand.
The welcome email design stands out from the entire list with blocks of bright colors. This technique helps to focus the attention of potential customers on specific marketing messages.
Why it works:
Colorful and positive photography
A discount to get an opportunity to make a sale
A referral program for extra sales opportunities.
Subject line: Confirm Your Subscription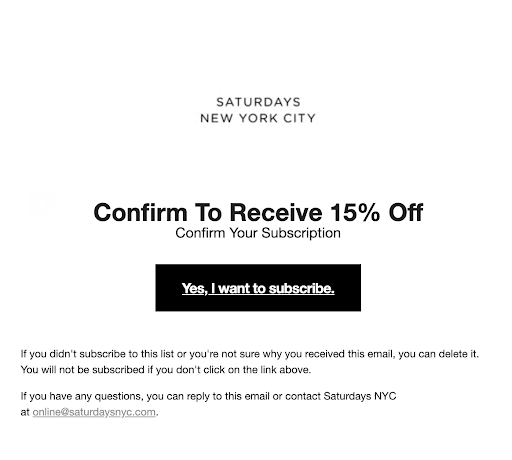 A simple black-and-white welcome email... Why is it here? This welcome email shows that Saturdays NYC, a clothing shop for men, knows its audience well.
Research showed that shopping is like a mission for male shoppers. They aren't willing to spend a lot of time browsing online stores, so getting their attention is more difficult. That's why this message gets to the point – a total opposite of other welcome email examples.
Why it works:
Focuses on the top priority: accessing the discount
Loses numerous marketing offers that might alienate male customers
Has a sleek, simple, and clean design.
Subject line: Here's 15% off to say thank you...

Customers want to be treated as insiders. They like the sense of belonging, which brands should create to promote loyalty. Emma Bridgewater tries to build a community to create that sense of belonging.
This is one of those welcome email examples that greet new subscribers in the brand's community. A discount is also there to show that it's the place to be. Colorful photography and a concise brand overview support that.
Why it works:
Colorful, inviting photos showing products and production
The brand creates a sense of belonging and community
A discount to encourage buying.
Subject line: Sweet dreams await

This welcome email sample from Lessa is interesting because of two reasons.
First, it shows that the brand participates in a social program. Such a technique encourages learning about the brand, as 50% of customers are likely to buy from companies that stand up for societal issues.
Second, Leesa makes this welcome newsletter feel like it's coming from a person with a handwritten "Welcome." This personal approach is a technique to establish trust right away.
Why it works:
It shows that the brand is participating in a social issue program
Multiple links to explore products
A creative subject line that refers to a specific need of the target audience
Brightly colored call-to-action buttons to encourage subscribers to visit the store.
Subject line: Welcome - your discount code is inside!

This welcoming email example immediately makes us feel like we belong here. The first sentence – "We're Knix and we're so happy you found us" – makes the subscriber feel like the brand is approachable.
Knix takes welcome email best practices one step further with the referral bonus. Customers can give their friends $15 off and get $15 more for the next order. It's an effective technique, considering that 87% of customers trust recommendations from friends.
Why it works:
Clean, photography-dominated email
First-time customer discount to motivate new subscribers to buy
Friendly text that makes the brand more approachable
Referral program to get discounts.
Subject line: Welcome! Here's 10% off your first order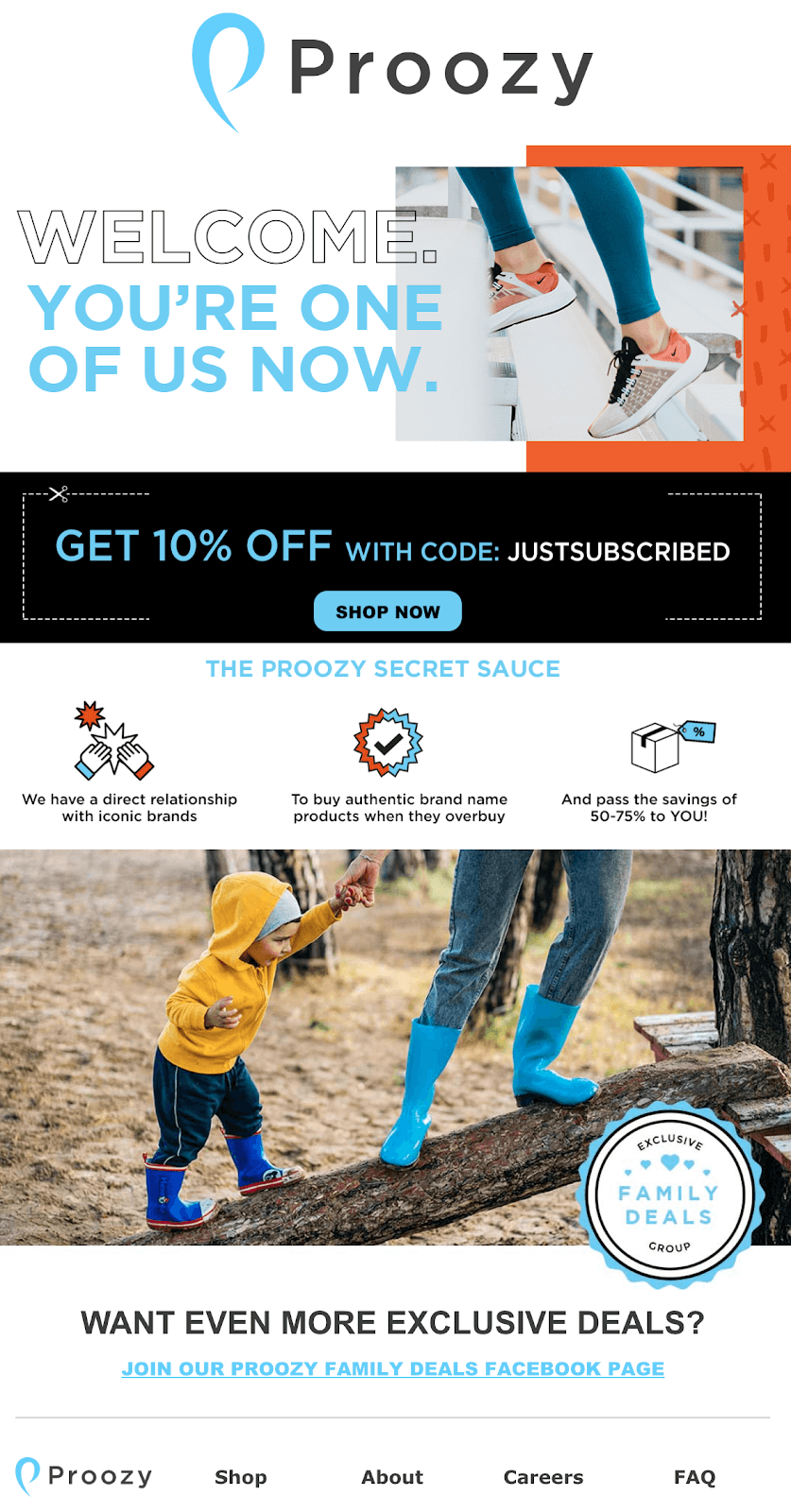 Proozy divided this welcoming email template into three sections: the welcome, the discount, and the trust signals.
The section on the top says "You're one of us now" for a reason: the brand tries to build a community around itself. The contrasting dark section offers a discount, which is a must-do Shopify email marketing technique. The next one has trust signals: the seller mentions some advantages of its business model to show why joining is a good idea.
Why it works:
The discount message stands out to ensure that the new subscriber notices it and consider buying
Proozy mentions how it works with fashion brands to keep the price lower. This inspires trust
There's an invitation to join a Facebook page with deals. This appeals to the desire to get the best and most exclusive offers.
Subject line: MEOW From Modkat - 10% Off

Modkat's newsletter welcome message is creative and friendly. The email shows the brand's understanding of the target clients' needs – taking good care of their furry pets. There are product demonstrations, a warm welcome, and nice pics of cats all over.
If you'd like to share several equally important marketing messages, choose a similar welcome email template. It has a few clean blocks of content with minimum text and maximum value.
Why it works:
Creative welcome email subject line
A friendly brand introduction and a meaningful and relatable mission
Clean content blocks for easy reading
The brand promises a refund if a client's pet doesn't like the product
Subject line: It All Starts Here | Welcome To Ally Capellino

Content-packed, long emails aren't your thing? Check out this minimalistic welcome email example, whose design is focused and clean. It restates what the brand promised when the customer subscribed and offers a few links to start shopping.
Why it works:
Very clean welcome newsletter design
Practical links to the store for an easy start with shopping
A discount to thank the customer for signing up.
Subject line: Welcome to O'Neill Women's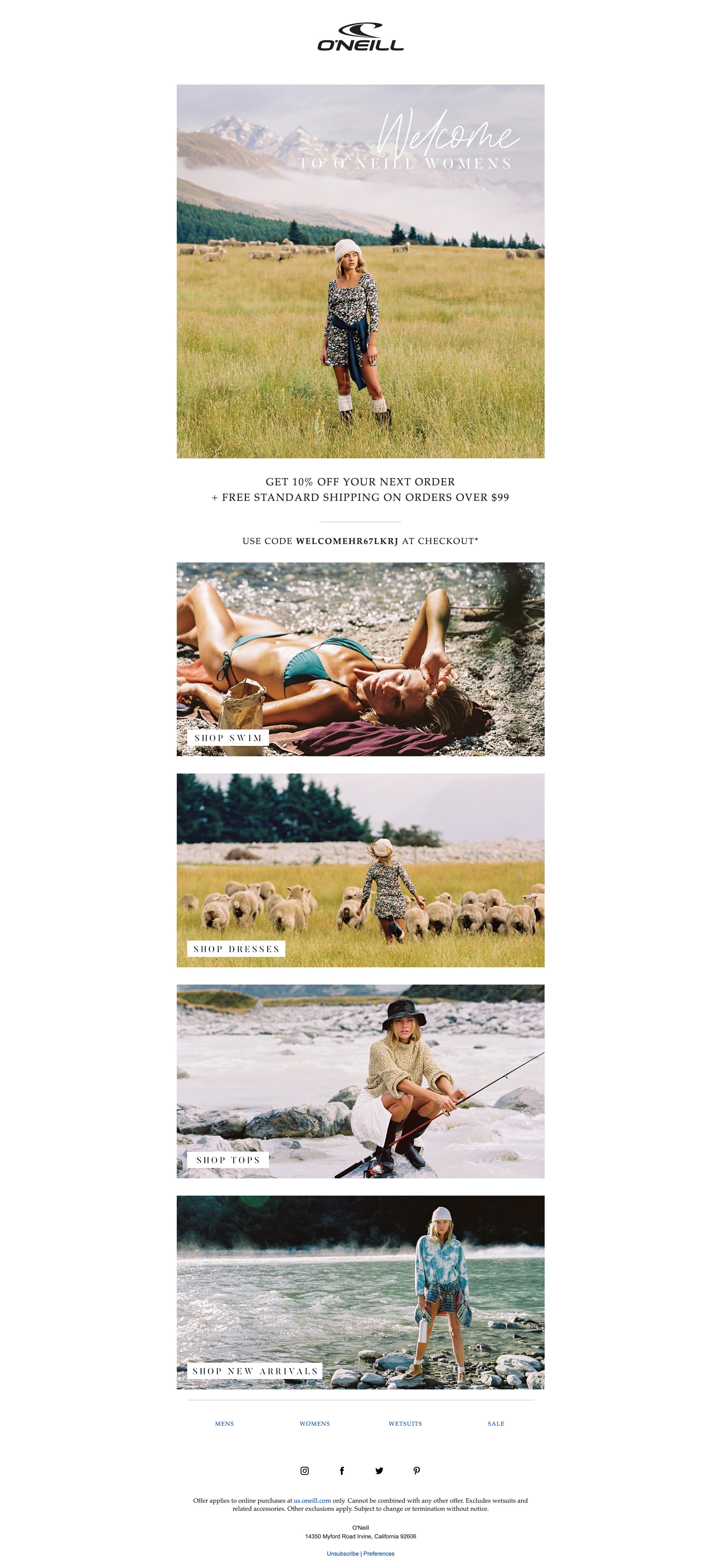 The most striking feature of this welcome email design is the organization. Clearly defined blocks with vivid images invite to check out collections of clothes.
Consider a similar welcome email template for a new customer if your Shopify store is selling multiple major product categories. Pick the most popular categories and add them to encourage store visits.
Why it works:
Colorful, vivid imagery that invites browsing
The email doesn't feel like a hard-sell
Two bonuses – a discount and free shipping – to entice shoppers to buy.
Subject line: Welcome to NOTIQ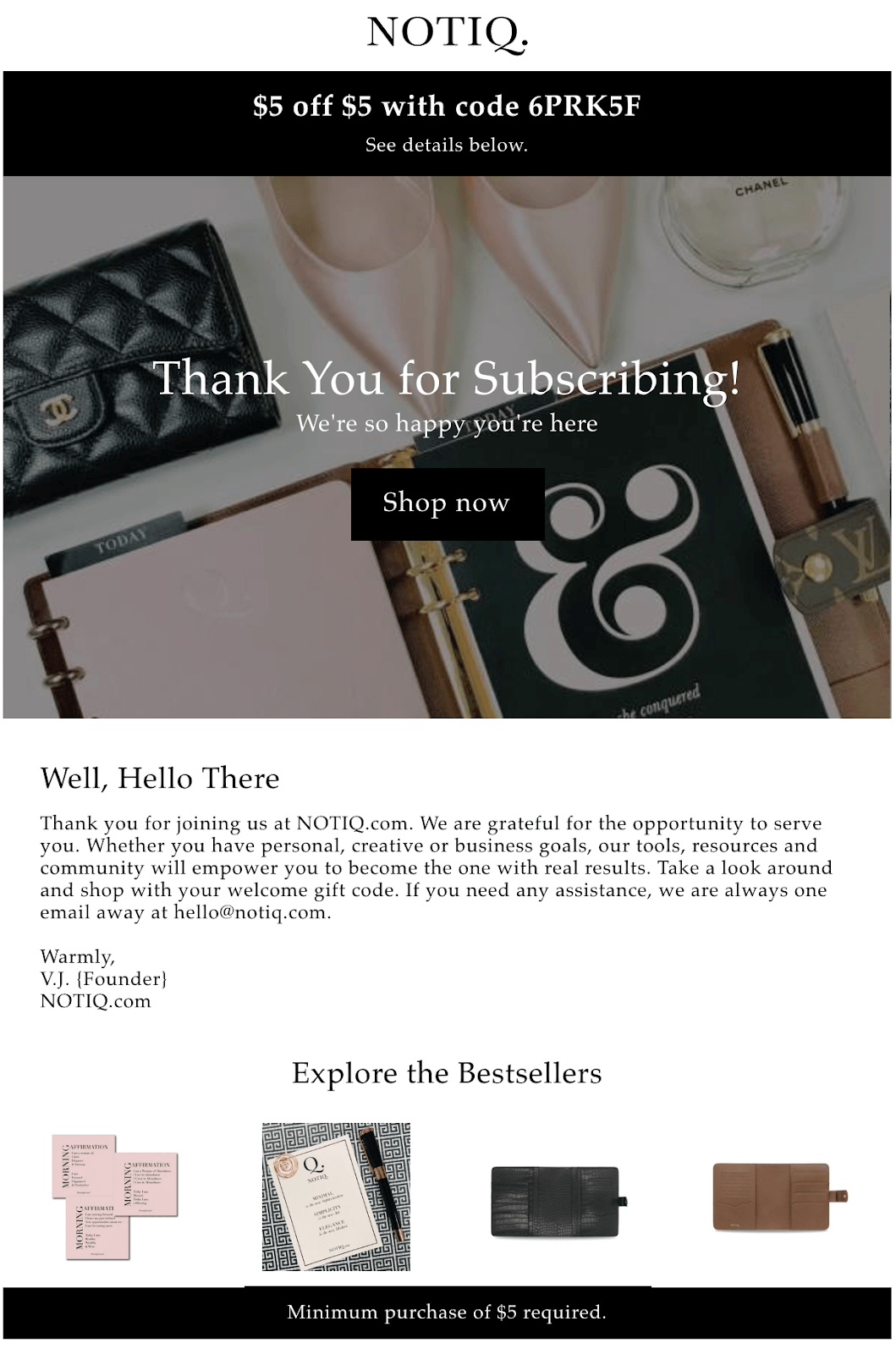 Looking for elegant welcome email newsletter examples? That's the email that should inspire you. It stands out for the classy font, lots of white space, and fancy photography.
One more idea for your Shopify email marketing from this example: welcome new customers with a personal note from the founder. Notiq's owner, Vivian, greets us like a VIP customer and invites to take a look at her store.
Why it works:
A warm personal note from the brand's founder that makes subscribers feel like a VIP
Elegant and clear design that's easy to navigate
A 10% discount for the first purchase
A selection of three popular products to encourage shopping.
Subject line: Your 10% off welcome code

"Welcome, cats!" - that's how Meow Meow Tweet welcomes new customers with this email. Nothing is ordinary about this brand, anyway, as this newsletter describes.
This is one of the unique welcome email examples. The brand's founders give us the awesome history, business model, mission, and values. Even a quick glance at the headings: "Cruelty-free & vegan," Low waste," "Accessible," "Giving" - and we know that the brand is special.
Why it works:
The welcome mail shows that Meow Meow Tweet doesn't sell products, it stands for important values
The layout is unique and appealing
The dominant color is green, the symbol of nature.
Subject line: Tofino Soap Company Newsletter: Subscription Confirmed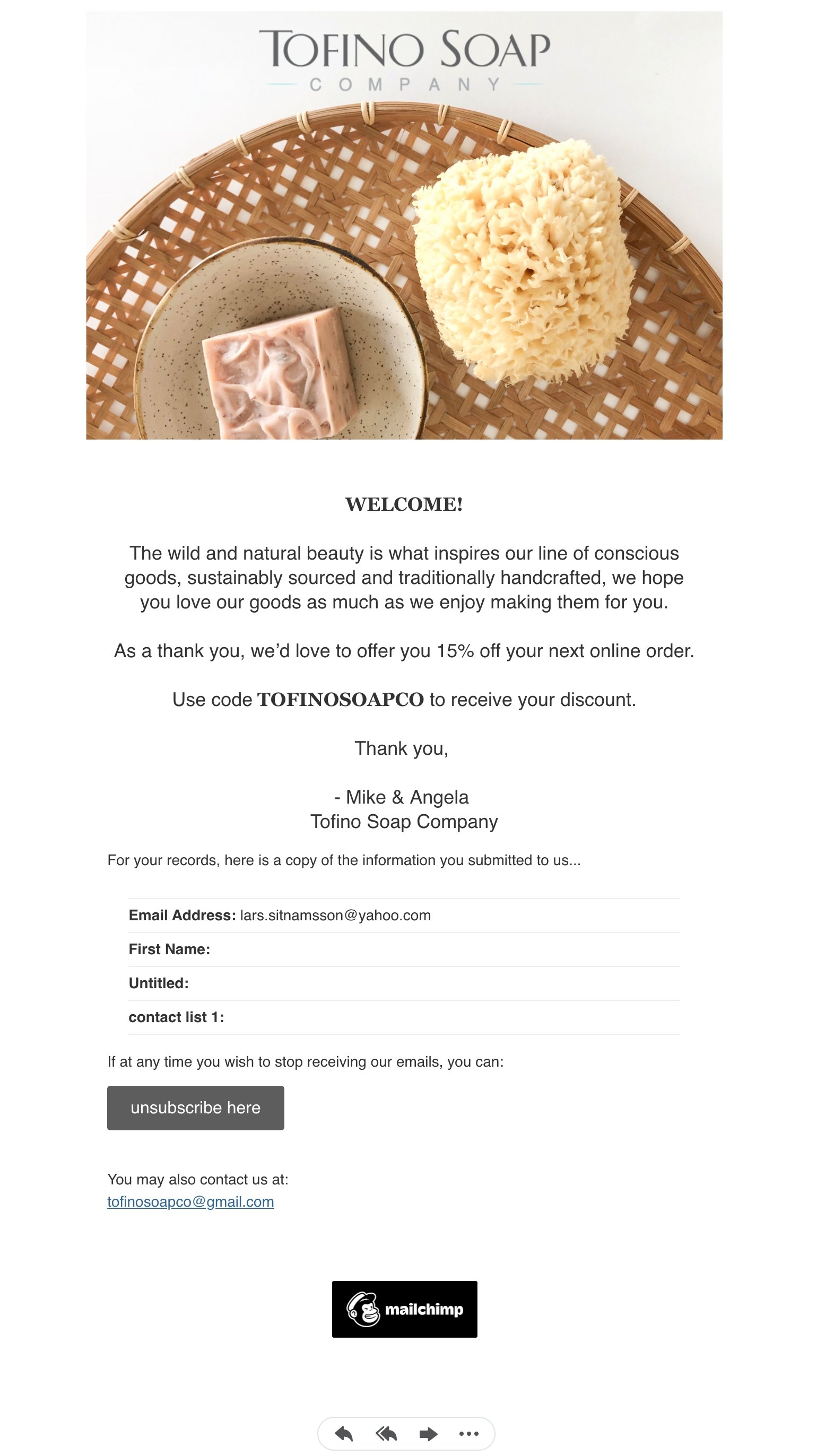 This welcome email template for new customers is simple yet elegant. It's a popular tactic among natural and organic brands. For example, traditional fonts make readers feel a greater level of trust of respectability.
Why it works:
The design of the email matches the brand's style
A natural color palette for easy reading
The welcome email template style makes it look like a classic welcome card.
Subject line: Welcome to Partake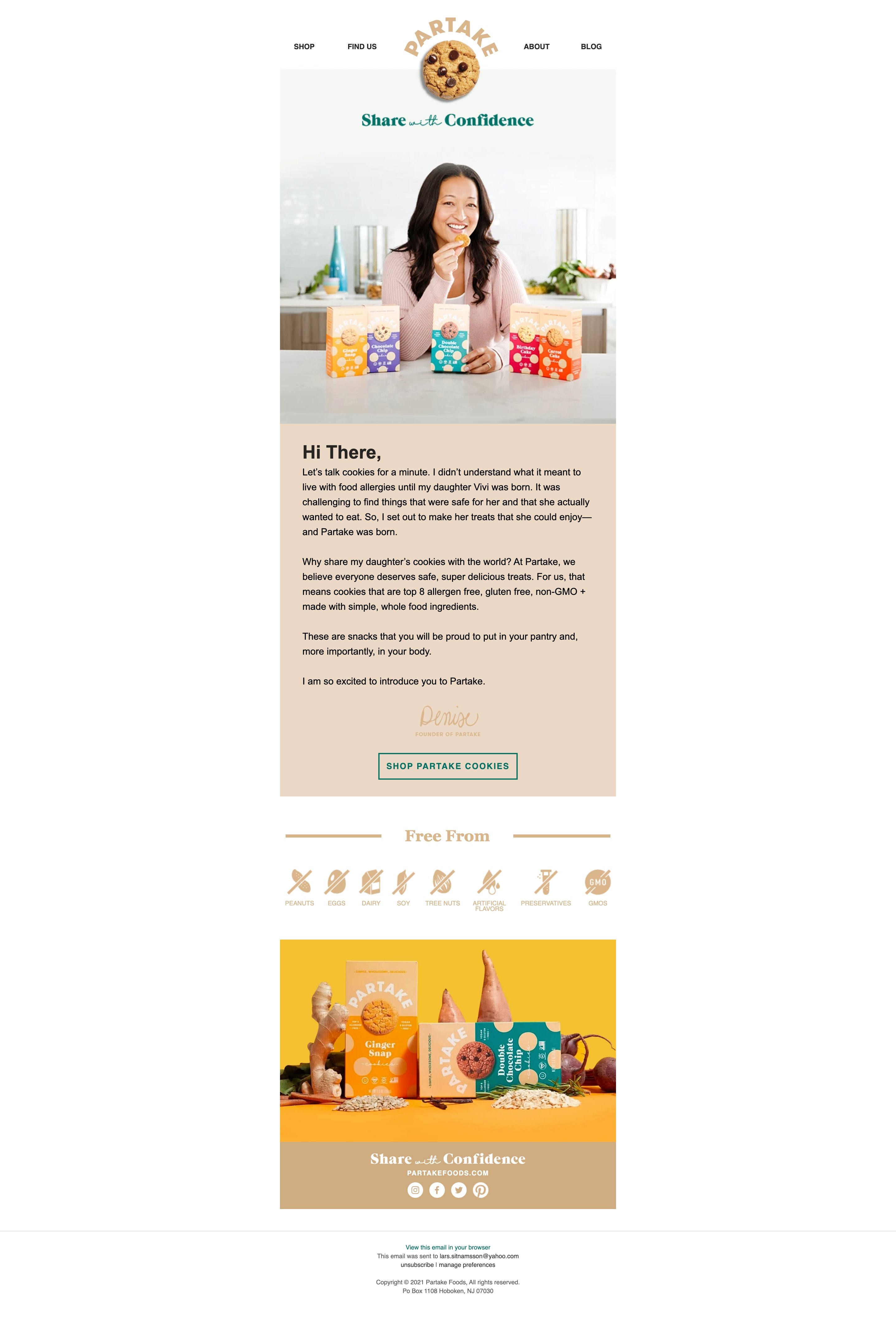 In this welcome email example, the owner says "Welcome to my store" and describes how her brand was born. She's excited to share her daughter's love for cookies, which is super meaningful and cute. Talk about making a connection with clients!
Why it works:
A personal message from the brand's owner establishes a trusting connection
The email builds excitement to begin a long-term relationship with customers
Quality product photography makes this one of the most colorful welcome email examples.
Subject line: Thanks for Signing Up. Here's Your Free User Manual For Creativity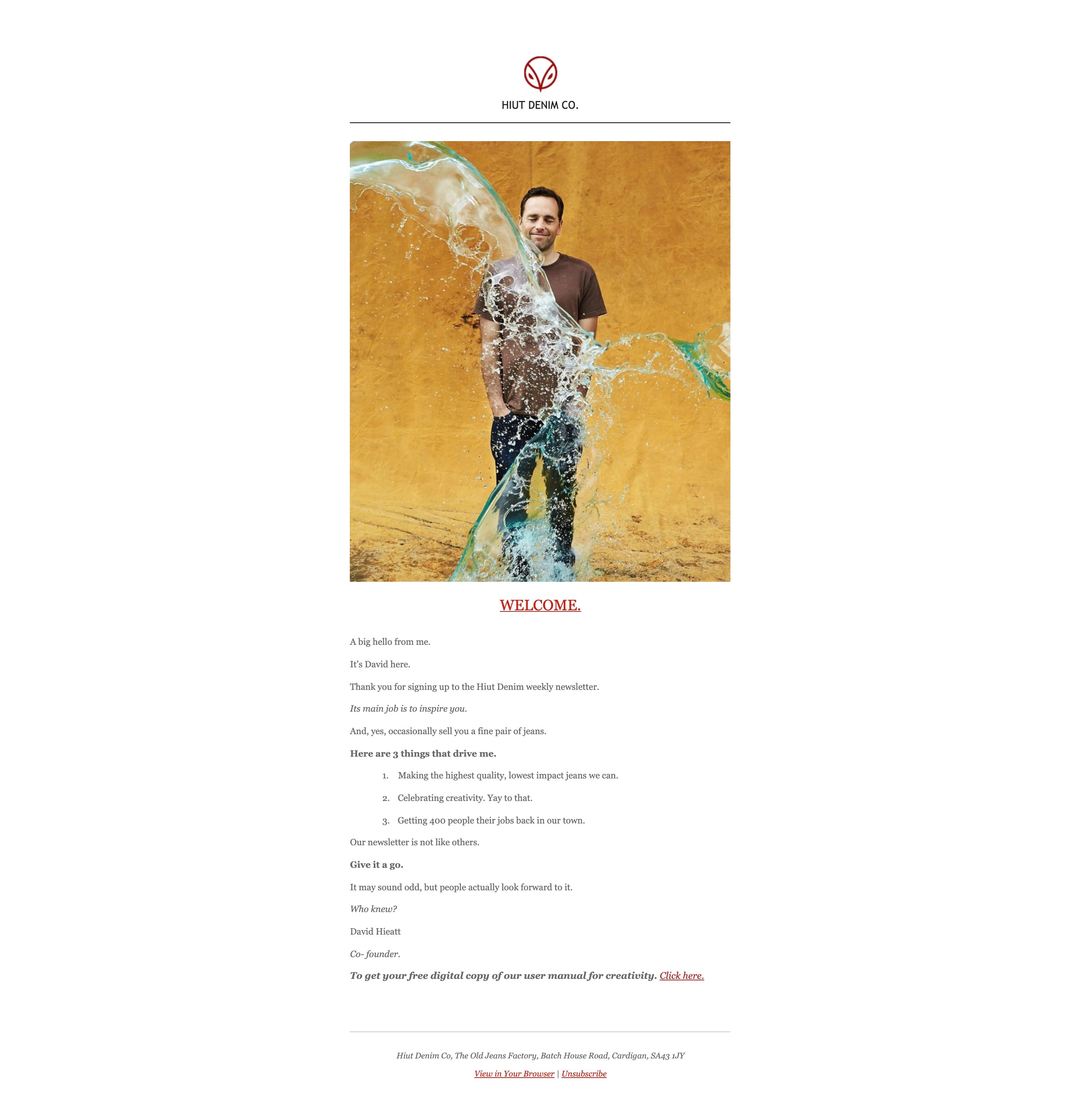 This email is unlike any other welcome newsletter examples on this list. The message is basically a letter from David, the owner, who explains why he's in the business.
An interesting technique: instead of giving a discount, David tries to inspire clients to be more stylish. He shares a "User Manual for Creativity," in which he encourages people to explore their creative strengths. That's how you build reputation.
Why it works:
A personal letter from the founder: a nice personal touch
The email focuses on value, not promotions
A creativity guide to inspire subscribers.
Subject line: Thanks for joining us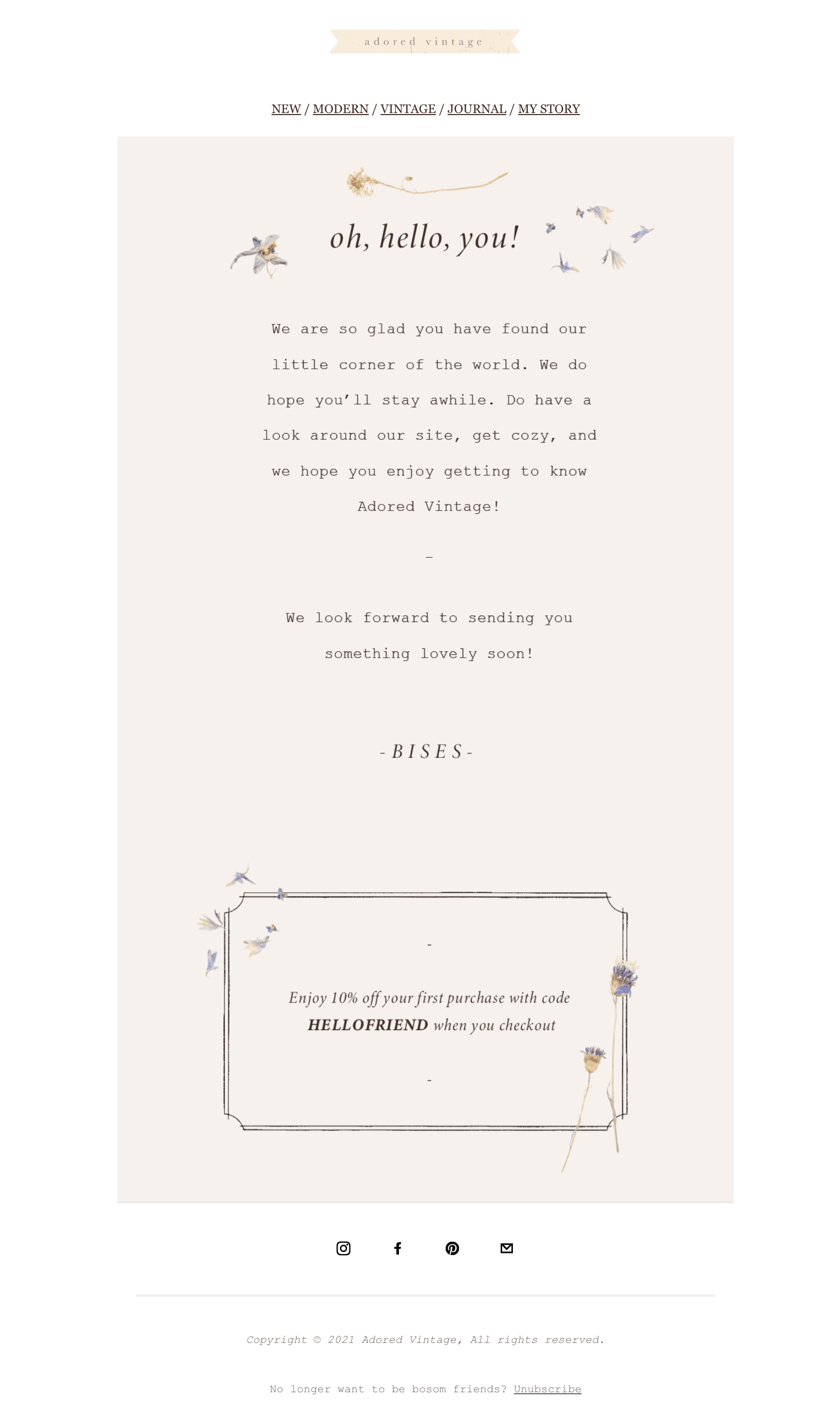 This welcome email example has a vintage vibe and a cute design. This is the effect that Adored Village was going for to stay in line with its branding style.
If you'd like your welcome emails to have the same feel, use vintage typography, textures, and minimalist design. What matters here is the message, which feels like getting a letter.
Why it works:
Classic, straightforward design that's in tune with the brand identity
Vintage font and photo frame to convey elegance and class
A 10% discount for first-time customers.
Subject line: Welcome to Holland & Barrett... Let's get to know each other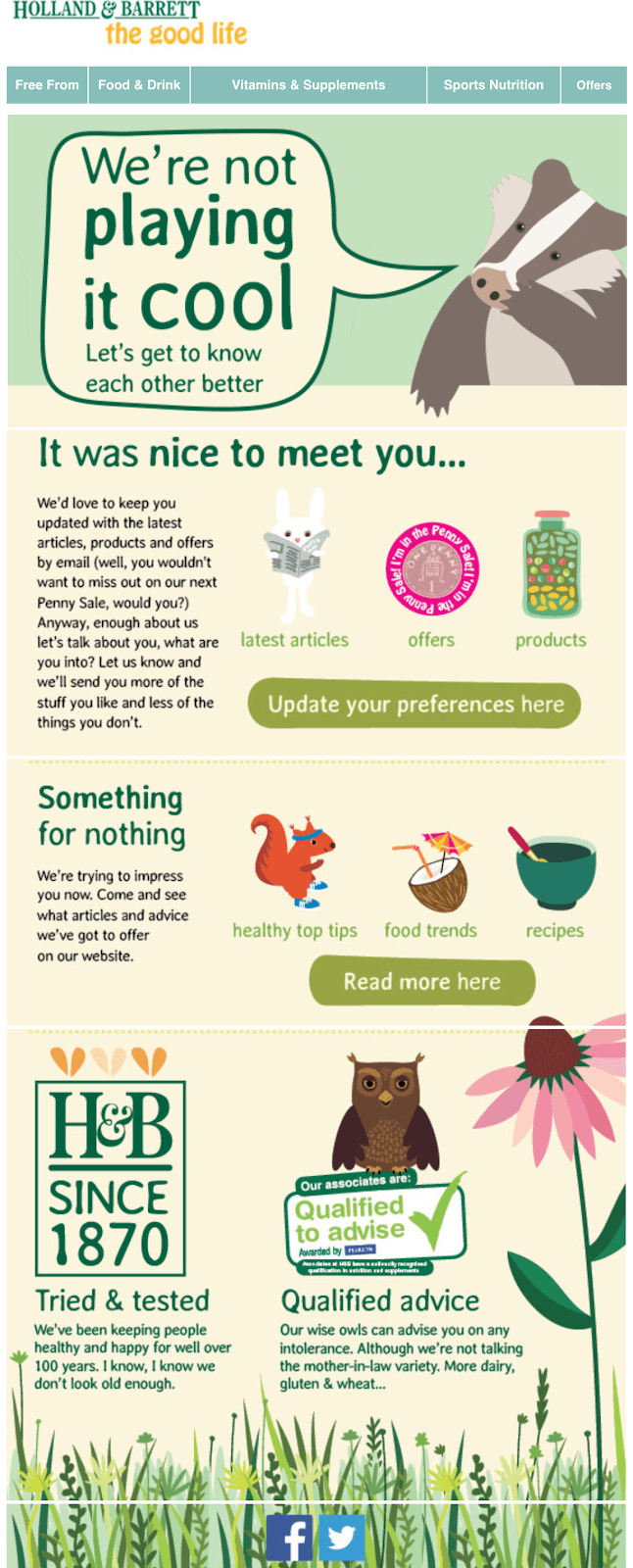 "We're not playing it cool. Let's get to know each other." This welcome email intro feels like the start of a conversation.
This newsletter is one of the cutest examples of welcome emails we've ever seen. Pics of animals, nice clean graphics, and friendly text – the brand explains the common newsletter things in a unique approach.
Why it works:
Super friendly text
Adorable appearance thanks to cute graphics
Trust badges to increase trust.
Subject line: Welcome to the Shore Club

This newsletter welcome message isn't just a greeting, it's an invitation to a club. It's a good welcome email example to give an impression of joining an exclusive group or brand community.
Pura Vida also welcomes new customers with loyalty rewards. For every $1 they spend, they'll get one Shore dollars, which are discounts. That's a way to deepen relationships with clients.
Why it works:
The email feels like an invitation to a brand community
The second part gives easy options to earn Shore dollars and get more discounts
The email has social media links - a big trust factor.
Subject line: Welcome To Chubster Nation

The welcome email from Chubbies is awesome and creative. Beautiful images and vivid colors attract our attention, and playful text builds up anticipation for future newsletters.
The takeaway here is to not be afraid to show a little brand personality. Write an email newsletter this way, track results in a Shopify email marketing app, and see if customers love it!
Why it works:
Very visually appealing thanks to colorful imagery
Multiple call-to-action buttons to drive traffic
A friendly, playful tone of the text.
Subject line: Lars, welcome to the big wide world of PRESS Health Foods

This welcome email example sets expectations and promises to deliver useful content. This way, PRESS shows the benefits of being a subscriber. There's also social proof in the form of a customer review. It's a legit tactic, considering that 94% of customers trust reviews.
You can create good welcome emails by doing the same. When writing an email newsletter, describe content you'll send later and give a discount to thank subscribers.
Why it works:
A subject line with a customer's name and an emoji to stand out
Very short and on-point text (150 words are a good length)
A customer review to increase trust.
Subject line: Welcome to Manabis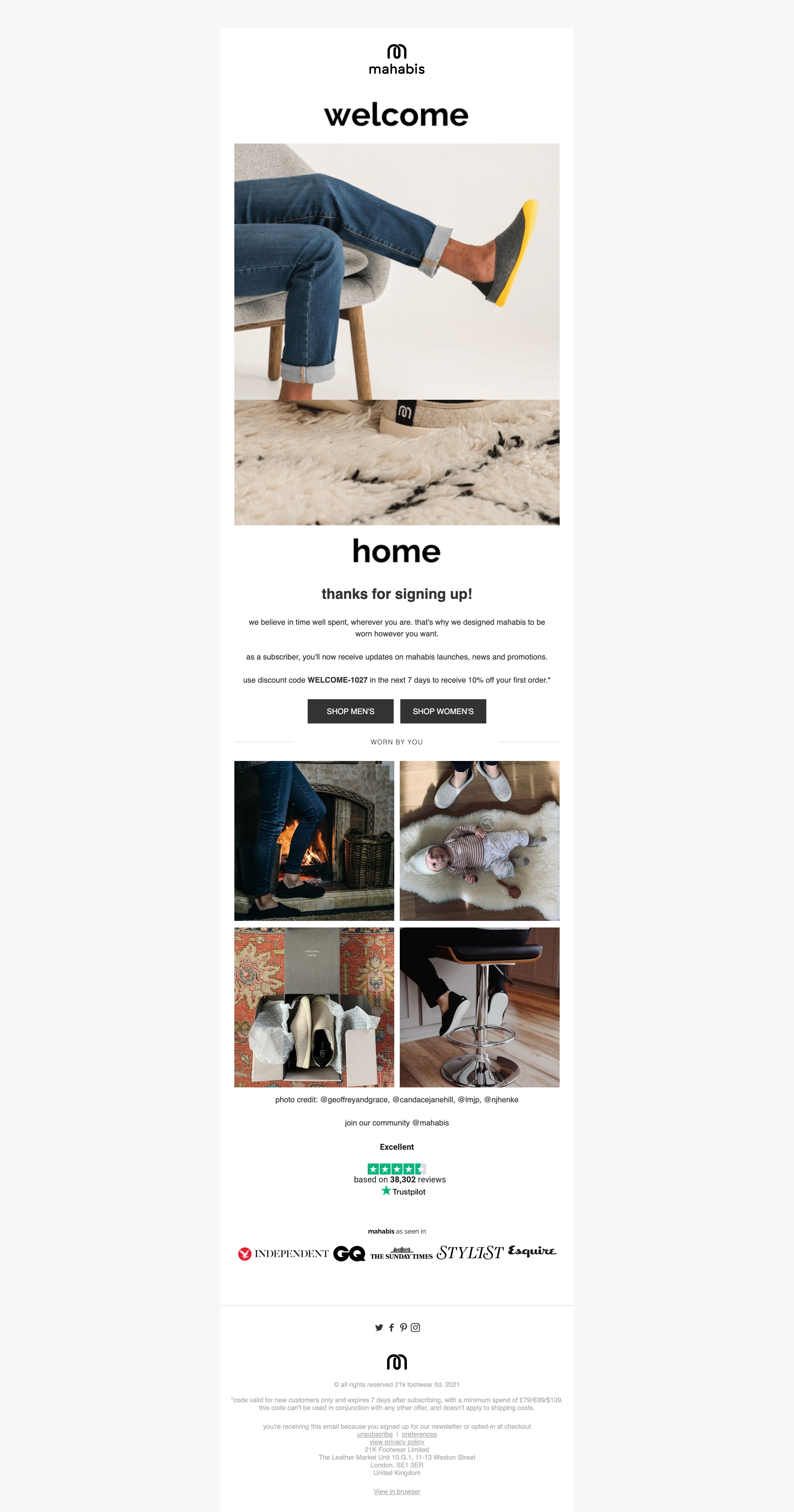 This email has three best practices of email welcome series for us. First: a large professional product image. Scholarly research showed that large-sized quality product images can increase the conversion rate to almost 30%.
Next, it's a short and sweet welcome text with a discount code. Two CTA buttons are in there to encourage shopping. The last major section includes Instagram images of the products from real users. This content encourages exploration and increases trust in new subscribers.
The result: a nice example of great email newsletters!
Why it works:
Large, top-quality image showing product in action
A discount to get the first Shopify sale
Plenty of social proof with stunning images from satisfied clients.
Subject line: Here's your random gift code
Millions of dollars. That's how much Death Wish Coffee's email list value is, according to the eCommerce marketing podcast. Michael Brown, the company's CEO, says that they achieved this result with unique branding and exclusive offers for email subscribers.
The simple welcome newsletter template begins with "Redeem your fast cash." It's a powerful statement that gives us the idea of the email right away. The overall email design keeps it simple to encourage the lead to use the discount code.
Why it works:
A welcome message can as straightforward as a single discount
A friendly and simple text that highlights the value of buying from the brand
A benefit-focused headline to encourage action.
Subject line: Let's get you started right!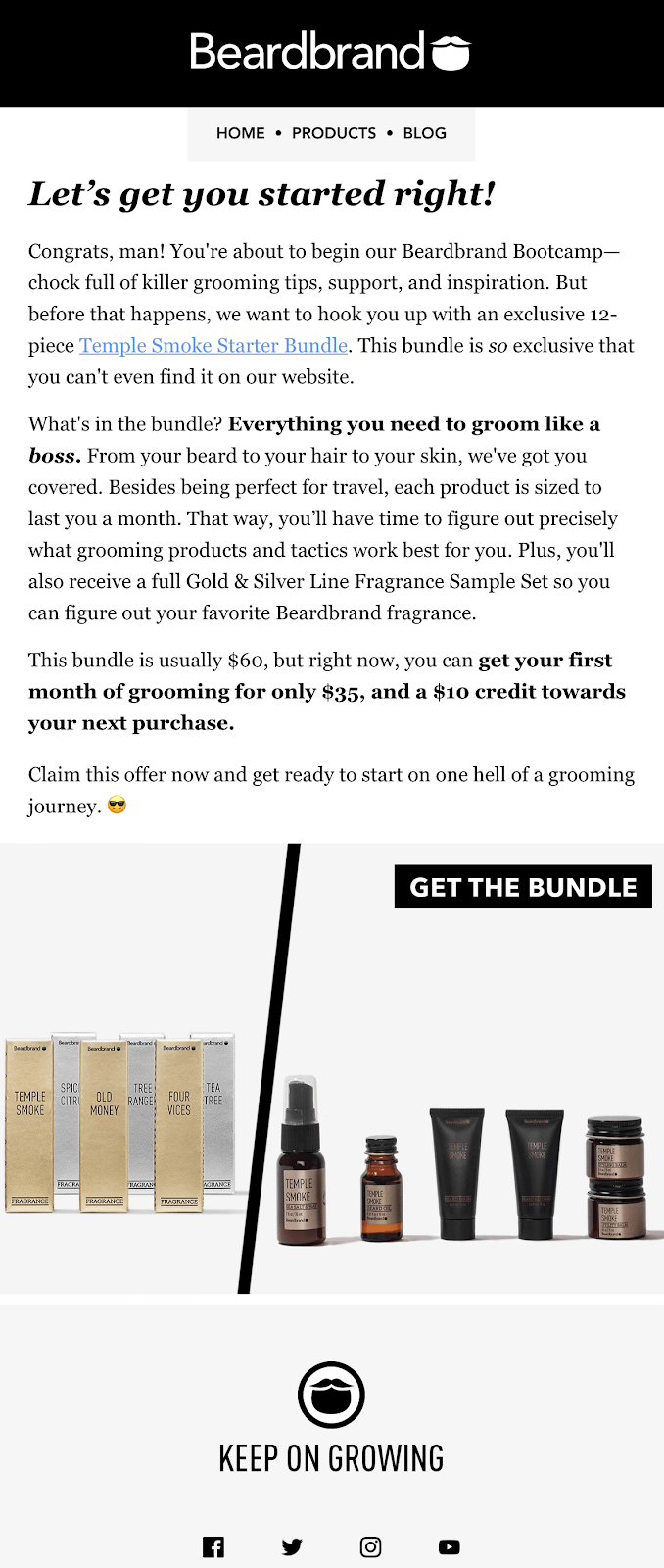 Most welcome series email examples don't have a lot of text. But this example shows how to write a long message and get your point across. The text describes how to get an exclusive product bundle for almost 50% off. That's useful. Besides, the most important messages are bolded. So, the customer will get the idea without reading the whole thing.
Why it works:
An exclusive offer to make subscribers feel special
A discount towards the next purchase
A bolded text makes it easier to understand the brand's offer.
10 Examples of Welcome Email Subject Lines
An attention-grabbing welcome email subject line. That's what makes more people open emails, browse products, and place orders. Try these best welcome email subject lines – they're short, sweet, and eye-catching.
Welcome to [Brand]! We have something for you...
Finally, you're with us! Treat yourself to 20% off
Welcome to [brand]! Here's 15% off your first order.
You're in! Let's get to know each other.
Welcome + Discount code for you
Thank you for signing up! Here's a gift for you.
Welcome to the tribe. Here's something to get you started
Glad you're with us! Take 15% off
Welcome and thanks for subscribing!
Welcome to [brand]! (plus a little bonus)
Welcome Email Examples: The Bottom Line
Welcome emails are your conversation starters with customers. You want to make a good first impression and reassure that subscribing was a great idea. The welcome email examples showed how online stores apply these tips. Keep them in mind when designing your next email marketing campaign – and let them get you visits and sales.