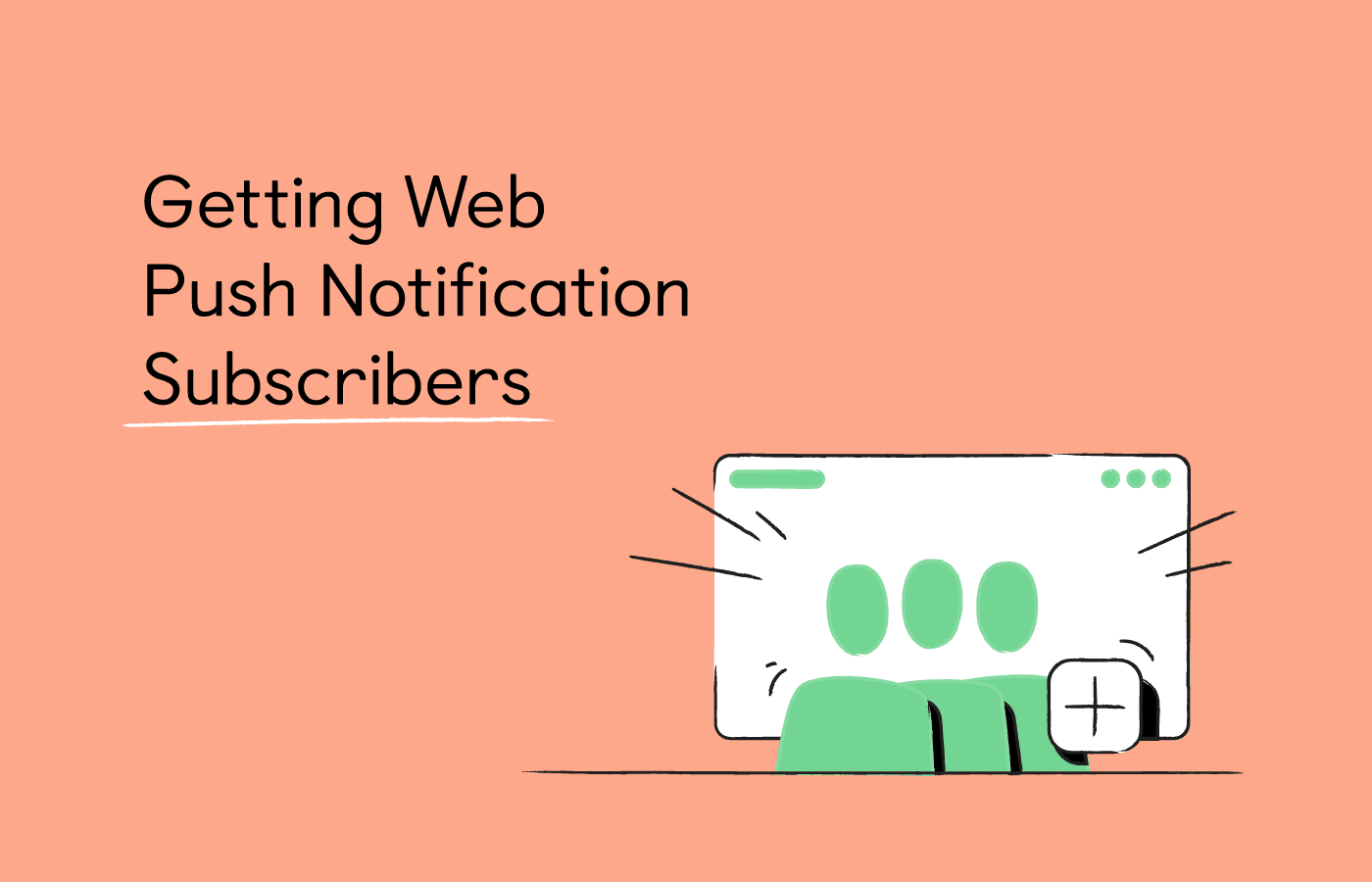 Want a million YouTube subscribers? You need about 4 years.
Maybe a million email subscribers? That's 3 years.
To get a million push notifications subscribers and thousands in monthly sales...
Well, actually...
You don't need a million notification subscribers to sell on Shopify for $1 million. You can get that million dollars with less than 20% of that amount of subscribers.
That's not all–
You can get those subscribers automatically.
In this guide:
How to collect more website notification subscribers
How to Collect Subscribers for Push Notifications?
Here are effective strategies to make more people sign up for your Shopify store's browser push notifications. We'll use eight website notification examples from Firepush to walk you through each strategy.
We'll use Firepush in this section. It's one of the best Shopify apps – easy to use, has a free trial, and a 4.8 customer rating.
1. Set a Short Delay for Browser Prompts
Browser prompts are native browser prompts asking visitors to allow website push notifications.
You've seen them before, sure, and probably used both "Block" and "Allow" options. eCommerce stores are required to ask permission to begin sharing product promotions, price drop alerts, and other browser notifications.
Here's an example from Sara Glove, an online store.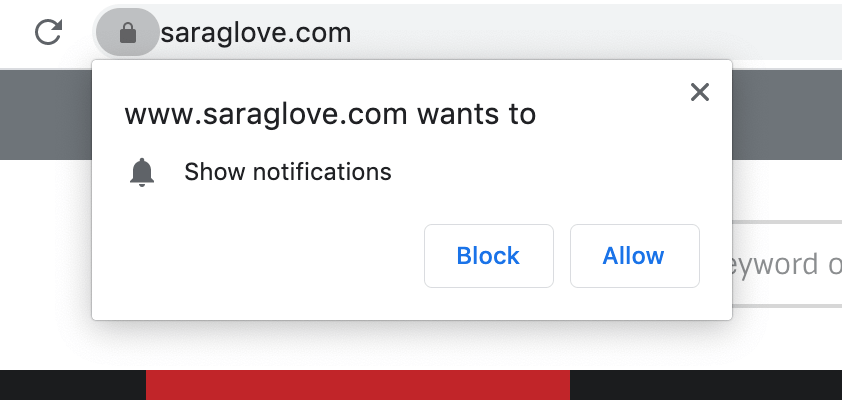 The best way to get permissions to show browser push notifications is to wait a bit for your visitors to browse around.
Let them see how awesome your Shopify store is and what deals you have. Then, show them a push subscription request when they get an idea of what your online business is about.
In Shopify push notification app slang, this means setting a delay for a subscription request.
So, how long should you wait?
Try eight seconds.
Yep, that's short, but it's a good starting point for most Shopify stores. But to be sure, look at your website's analytics to see how long visitors stay.
Firepush users easily set up push notifications with a delay by choosing a value in browser prompts settings:

2. Offer a Discount with Push Notification Pop-Ups
A pop-up notification shows a short message and a subscription button.
Here's an example from Viper Tec store.

How to convince visitors to click that "Allow" button?
We've got just a tip.
To collect more web push subscribers with pop-ups, give a discount in exchange for signing up (we know that 50% of customers want them, remember?).
Create a push notification pop-up that says:
"Subscribe to our sales promotions and get a 20% off your first purchase"
A discount will be an excellent motivation for a visitor to subscribe.
Here's an example from Nearly Natural. It's a Shopify Plus store whose effective push notification strategy increased profits by $270,000.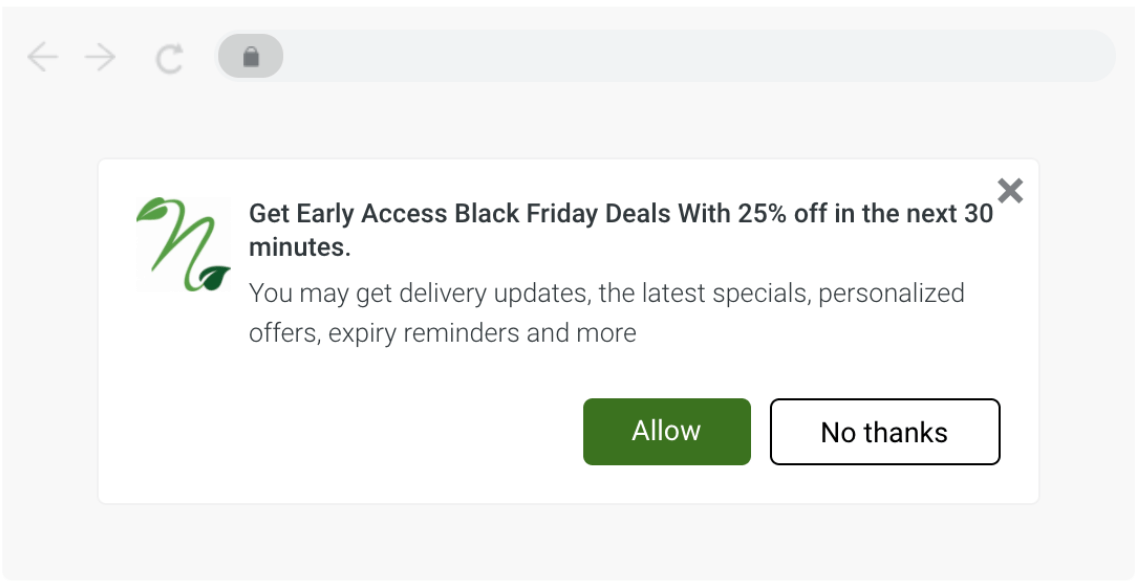 One more thing about discounts–
This customer loyalty study from the Journal of Consumer Marketing found that customers who bought once were likely to buy again if given another discount.
So get them once and give another opportunity to convert later.
Back to notifications.
When to show this pop-up to collect more website push notifications subscribers:
8 seconds after the visitor arrived at your Shopify store (recommended)
After they visit a specific number of pages views (choose between two and six pages)
How to enable and customize pop-ups for Shopify with Firepush:
3. Share Price Drops and Discounts with Flyout Widgets
A flyout widget is a web push notification that appears on the side of a screen as a bell or a present icon. It's animated, so can grab the attention of visitors.
This browser notification doesn't interfere with the shopping experience–the customers can read it only when they click it.
Here's an example from Pura Vida store.

How to get more subscribers with flyout widgets?
Try compelling copy:
Allow price drop notifications–e.g., "Get notified when the price drops"
Promise sales and discount offers–e.g., "Get the latest discounts and sales alerts first"
The best option is the one with the most value for the customer.
Ultimately, flyout widgets can share promo messages, shopping alerts, discounts, and improve your Shopify advertising strategy.
With a Shopify push notifications app, you can customize the text in the flyout widget to collect more subscribers. Just type it in, set a delay, and activate!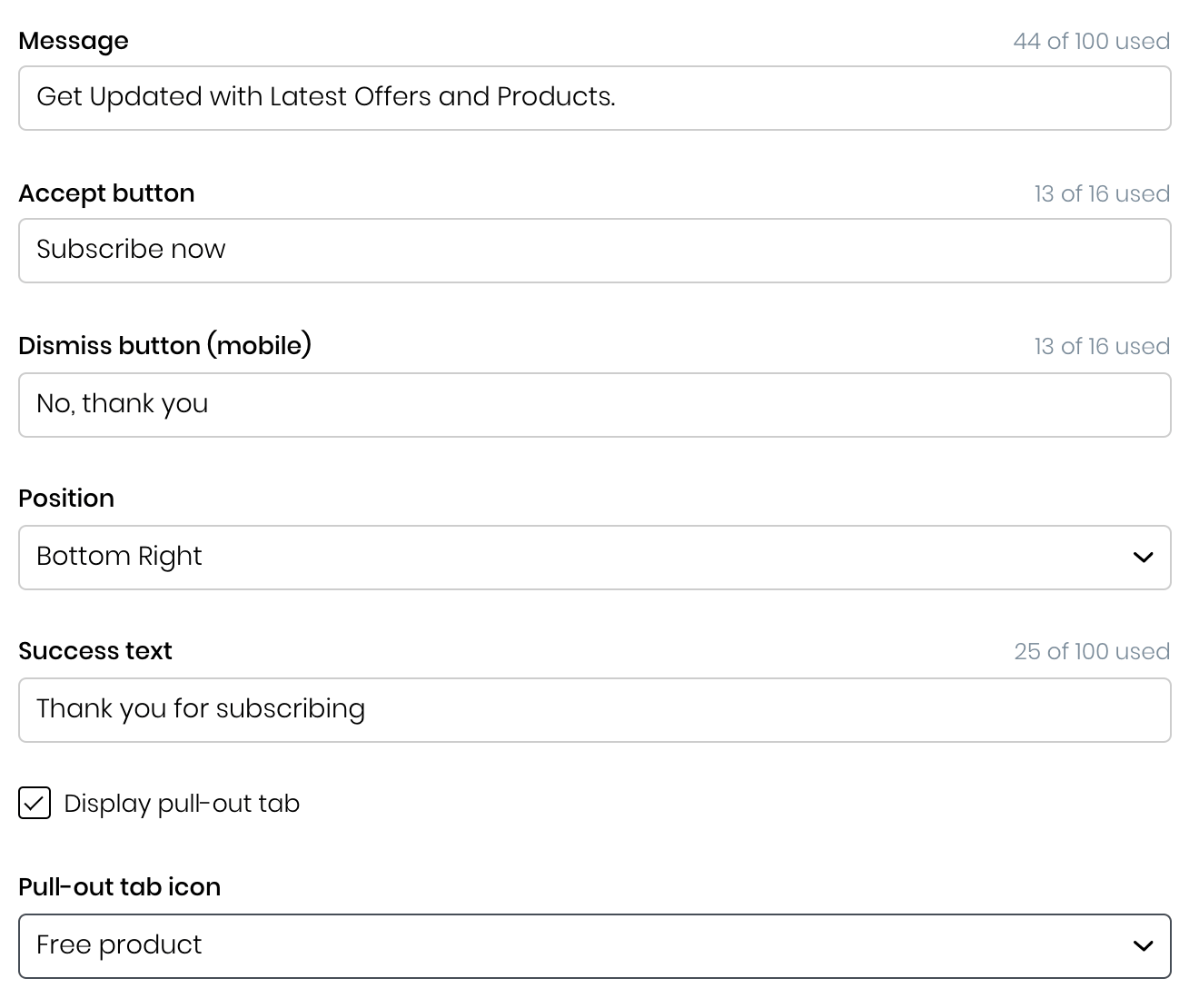 4. Show Price Drop Alert with Sign-up Boxes
A sign-up box is a small window that encourages Shopify store visitors to subscribe to get push notifications. You could show it on every product page–so a lot of visitors will see it.
A good idea is to offer a price drop alert with this web push notification.
If your Shopify store does frequent sales and promotions, having this sign-up box could score many subscribers and sales.
Here's a price drop alert example.
It appears in the right bottom corner of product pages–exactly where customers are checking out products.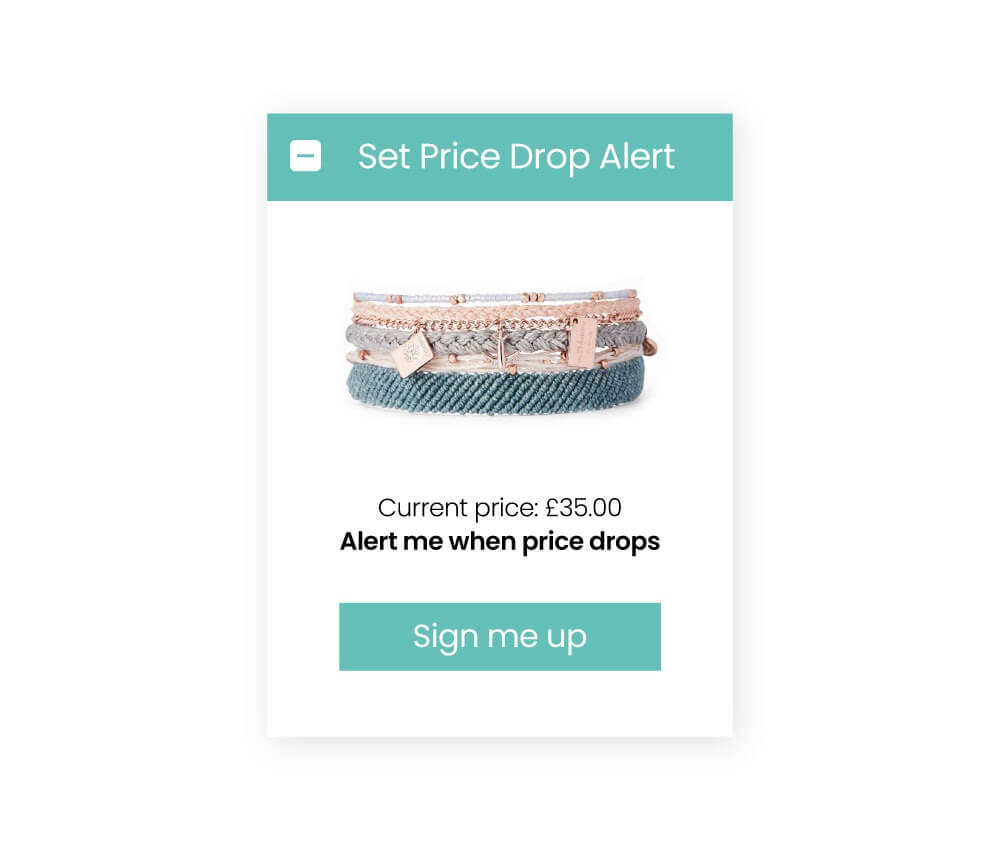 5. Send Product Delivery Updates with Sign-up Boxes
Order delivery website push notifications keep customers updated on product delivery progress. That's one more step toward a better customer experience.
This kind of sign-up box notification has a decent conversion rate of 3.3% and auto-sends an update on product delivery. It looks like this.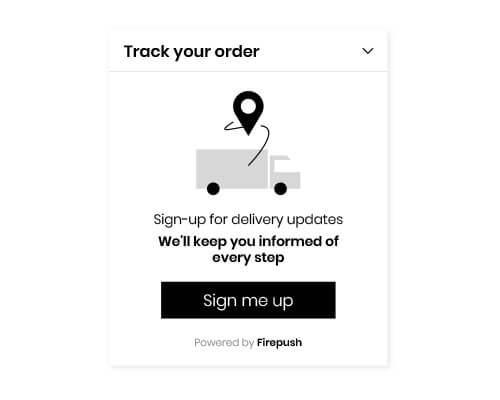 Try showing a product delivery sign-up box on product pages to engage online shoppers who made a purchase from your Shopify store.
6. Give Discount Codes with Sign-up Boxes
Many visitors to your Shopify store would subscribe if given a discount on a product they want.
We know that, so...
Why not use it to your advantage and get more customers?
Give your visitors a way to subscribe with a discount code sign-up box. It can appear almost anywhere on your Shopify store.
Here's how it looks–a nice way to share promo notifications.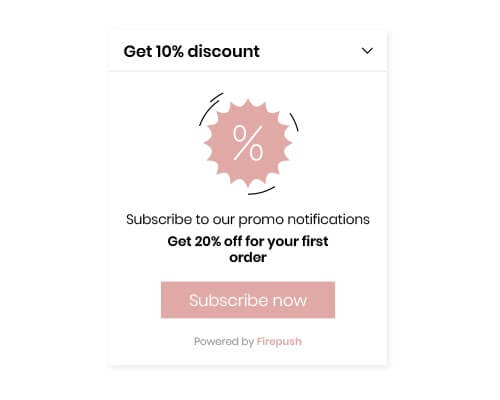 You can add this web push notification to a Shopify store in seconds with Firepush. Activate this sign-up box, write a compelling call to action, and add to your website.
Want to see Shopify discount code sign-up boxes in action? This free demo will take you to a product page where you'll see these attention-grabbing messages.
7. Send Back-in-Stock Updates with Sign-up Boxes
Some items get sold out quickly?
Don't lose sales when inventory runs out. Let shoppers know when a product becomes available again.
How? Back-in-stock web push notifications for websites.
They get delivered directly to a browser instead of a packed email inbox. So, you get a better chance of people seeing your promotional messages.
You can send web push notifications like this when a product is back in stock.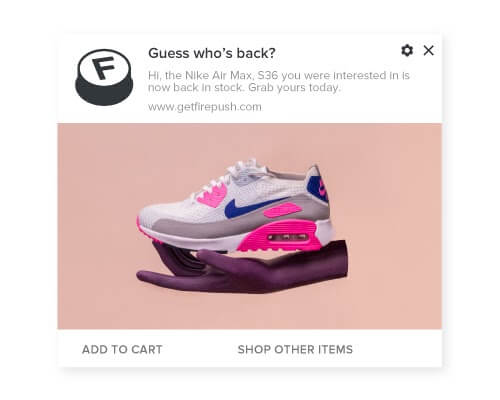 Offer your visitors to receive these delightful web push notifications, too.
How to get started?
Firepush makes adding back-in-stock sign-up boxes to a Shopify store hassle-free, without any coding, in minutes.
8. Share Price Alerts with Embedded Buttons
There's one more way to collect push notification subscribers–
A crafty button on product pages.
You can add it to the product pages with a Shopify web notification app. For example, here's a price drop button, waiting to be clicked.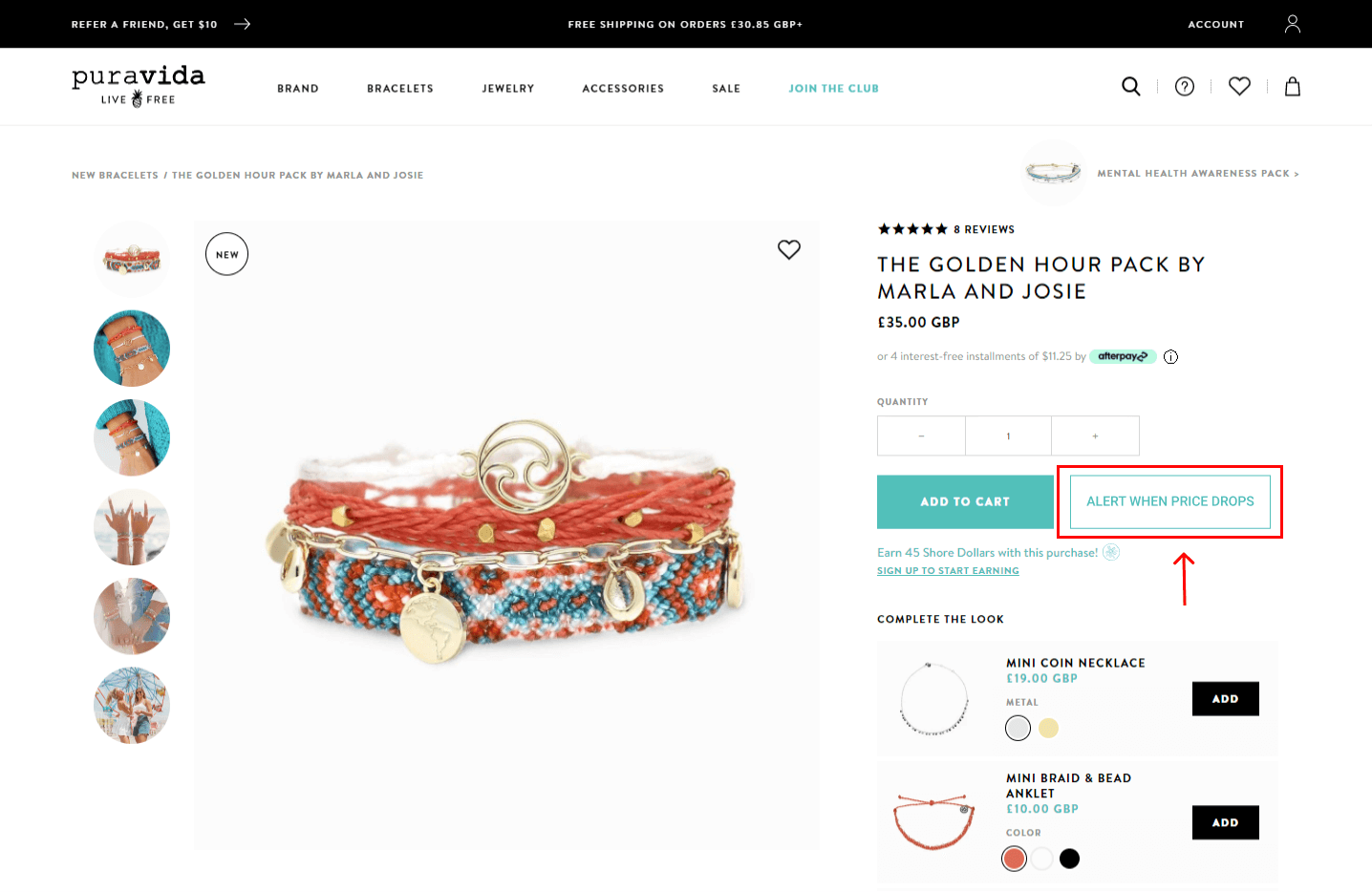 To collect more web push notification subscribers:
Placement–Place notification subscription buttons on pages with your most popular products
Color–Make price drop alert buttons stand out with a contrasting color
Text–Experiment with button text; instead of "Set Price Drop Alert," Try "Let me know when the price drops," etc.
How to Get More Website Push Notification Subscribers: Summary
When done right, web push notifications can be useful for your customers. If you add a notification app to your Shopify store, you'll be able to share:
Sales promotions
Price drop alerts
Requests to follow your brand's social media
Shopify coupons
Abandoned cart notifications
Back-in-stock alerts.
The best news is that you have many push notification options for that.
Pop-ups, flyout widgets, browser prompts, sign-up boxes, and embedded buttons–plenty of opportunities to collect more subscribers and increase Shopify conversion rate.
Here's to your success.