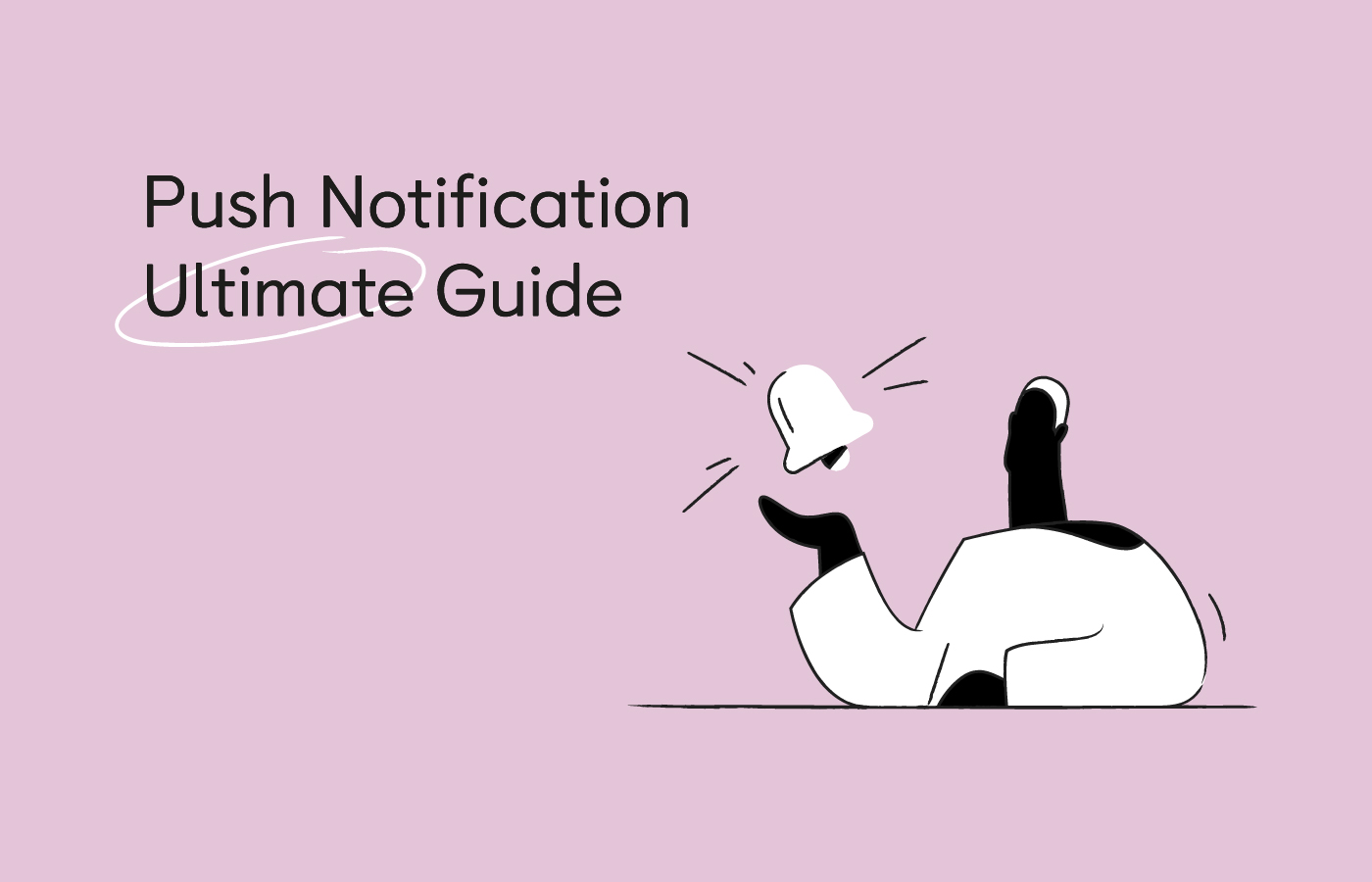 So, you're considering adding web push notifications to your marketing mix? Smart move.
Once you've figured out the basics of web push notifications and how they work, you probably have a ton of questions about push notification marketing. Don't worry, we've got you covered. In this article we'll walk you through all the steps you'll need to follow to add web push notifications to your Shopify or Shopify Plus store.
The good news is it's easy as pie.
Here's a quick breakdown of what we're going to cover:
Other helpful reads for later:
Firepush offers dedicated support and FREE consultations to find right strategy for you
Book my demo
Before we take a deep dive into our topic, check out our push notification length tester. Give it a try, just type in text and see how your notification looks on Windows, Android, and Mac devices!
Upload logo
Image size: 192 × 192 pixels
Upload hero image
Image size: 720 × 240 pixels

Google Chrome

Yay! Your order is on its way
Thanks for your purchase! Your order has now been dispatched and will be with you on Thursday.
getfirepush.com
Chrome
·
getfirepush.com
·
Now
Long time no speak!
We miss seeing you around. Can we tempt you back with a 15% discount on your next purchase?
Hero image
Glad to have you on board!
getfirepush.com
Thanks for joining our newsletter. We'll keep you up-to-date with product news, discounts and more!
Generated automatically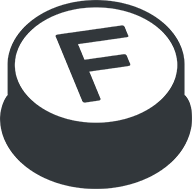 What is Push Notification Marketing?
Push notification marketing is a strategy to promote an online store by sharing marketing messages via push notifications. It's a direct way to reach thousands of customers within seconds, and share awareness of marketing offers, promotions, sales, and other deals.
To do push notification marketing, Shopify entrepreneurs add push apps to their stores.
How to Add Push Notifications to a Shopify Store
Adding pushes to a Shopify store is very simple: install a push notification app that provides web push notifications from the Shopify App Store, then sign up to the package you want.
To choose a good app, ensure that ig has:
Free plan. The app needs to have a freemium model so you can try it out first before you commit
Omnichannel marketing features. Omnichannel means it offers additional channels like SMS and email that can work together with your push notifications during campaigns. It's a smart idea to look for an omnichannel provider as you may wish to add other channels in the future, and this will save you from having multiple apps that don't work together.
Try web push notification marketing for free with Firepush's FREE Plan
Get FREE pushes
The Best Push Notification Formats to Get Subscribers
There are multiple ways to collect new subscribers for your database, but they all boil down to the user having to opt-in (a window that offers to subscribe).
The most common way is an automated pop-up that appears to new users. The clear benefit of this type is scale. Opt-in rates can be as high as 30% through these pop-ups, while more tailored ones have single-digit opt-in rates.
However, this high opt-in rate comes with a catch. With pop-ups, many users allow the notifications without looking into what they are actually signing up for. As with all things marketing, quality trumps quantity. Shopify apps for omnichannel marketing like Firepush use double opt-in, which ensures only those who genuinely want to receive pushes are signed up and any accidental opt-ins are filtered out.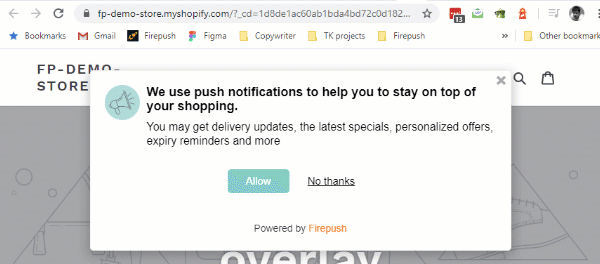 What's more, two of the biggest web browsers available, Chrome and Firefox, have recently made web push notification opt-ins "quieter." What does that mean? Put simply, pop-ups will be less effective because it will be easier for users to hide them or disable them. But you can still do push notification marketing because there are alternatives to pop-ups.
Firepush, for example offers a range of other effective Shopify opt-in options to choose from, like:
- Price drop alert opt-ins
- Product delivery opt-ins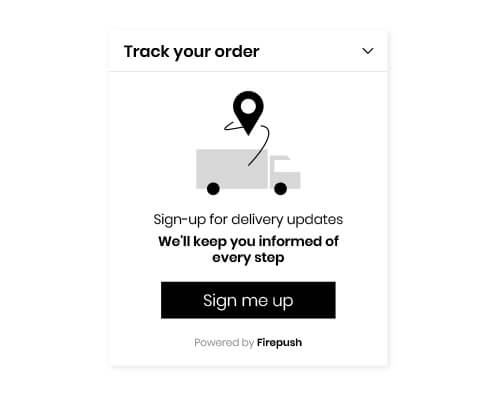 - Discount code opt-ins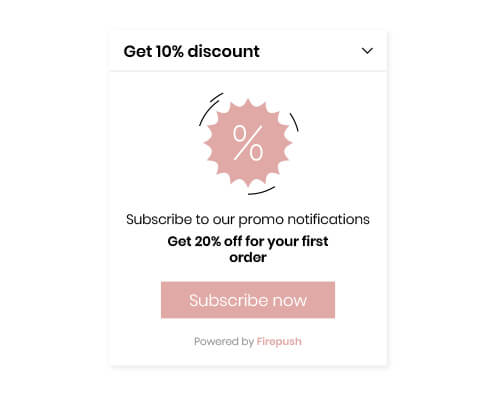 - Back in stock message opt-ins
The beauty of these types of opt-ins is that they don't just pop-up at random when someone arrives on your store. Instead, they are integrated into the customer's journey. This means they get time to look around, find products they like and learn more about them. Then, when they've found something that interests them, you are offering them added value specifically related to what they're interested in. They can find out if there are discounts available, or when a product will be in stock.
One final alternative to pop-ups is Fly-out Widgets.
Many users have learned to ignore pop-ups, or find them irritating and intrusive. Fly-out Widgets are the perfect solution. These discrete icons expand into sign up boxes when clicked on. Using icons like an image of a gift is a great way to subtly remind customers of the benefits you'll be offering them, rather than intruding into their shopping session with an unwanted pop-up.

Firepush offers Fly-out Widgets, a discrete and effective alternative to standard pop-ups.
Adding Customer Value to Opt-ins
By placing subscription boxes in different stages of the funnel, you let the users decide what kind of web push notifications will bring them the most value. In other words, they'll be signing up because you're offering them real value. Perfect.
Beyond just setting up pop-ups, it's a smart move to add some of the opt-ins mentioned above. Select the ones you think your audience will find most valuable and enable them on your dashboard.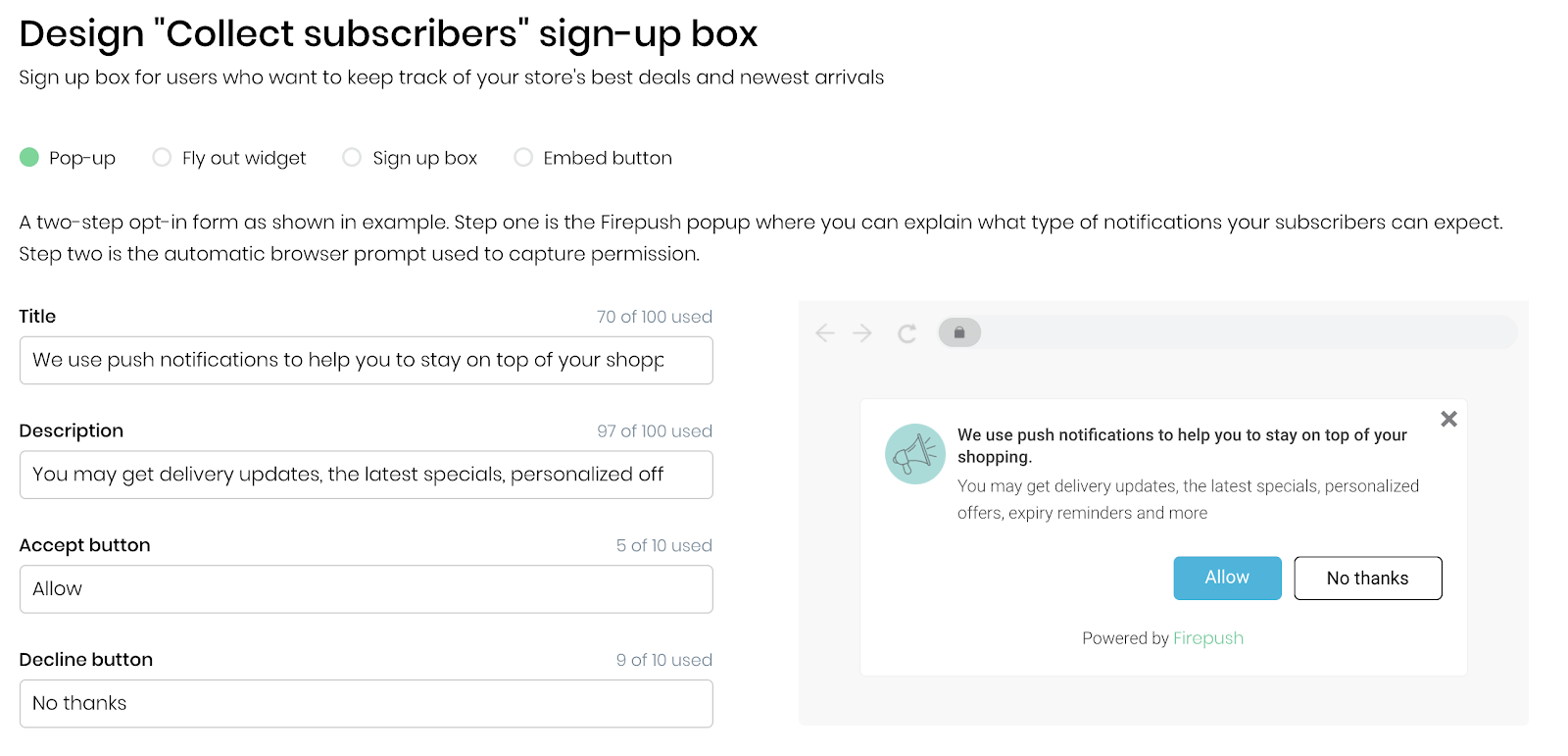 Here's how the sign up menu looks with Firepush. It takes literally seconds to set up your sign up options.
What You Need to Know About Data Regulations and Push Notifications
Unless you're also collecting email addresses and phone numbers, your users won't be prompted to leave any personal information that would be tied to their entry in the database. However, best results come from utilizing an omnichannel approach, where you use the full range of channels including email and SMS (we'll cover this more later).
While rules differ across different jurisdictions, the rule of thumb in the online space is to ensure the ways you are collecting data comply with the GDPR (Europe's General Data Protection Regulation). If you sell in Europe, this is a must, as you can get a hefty fine for failing to comply. The regulation stipulates that a fine can reach 4% of a company's annual revenue, which would devastate many.
But the solution to this is simple. Ensure you choose a web push notification app that is GDPR compliant (for example, Firepush protects user information and is fully compliant with both the GDPR and the regulations of its US counterpart, the TCPA.)
Mastering The Different Formats of Web Push Notifications for Marketing
So you've got your subscription options set up on your store. It's time to start thinking about which types of notifications you want to send to your lovely new subscribers. Let's take a look at the different formats of push notifications that are available, then outline a simple strategy you can use to get started.
Web push notifications are incredibly versatile and are used by a number of diverse industries – from publishing and streaming to e-commerce. And they are suitable for achieving a number of goals, from boosting brand awareness through to closing sales, engaging users and encouraging customer loyalty.
With web push notifications, you can deliver a wide range of timely messages to your users. While running your Shopify store, you will probably implement a range of different types of push notification depending on your audience, product type, stage of development and overall marketing strategy. Let's take a look at the 4 main categories of web push notifications and the most common push notification types for each category. The 4 categories are:
Lifecycle
Informative
Transactional
Promotional
Each of these can play an important role in your overall marketing mix.
Lifecycle Push Notification Marketing
These types of web push notifications encompass the entire lifecycle of your user, from greeting newcomers through to getting in touch with existing but inactive customers. These are automated messages, which means you simply set them up for your store then they are triggered by specific actions from your subscribers.
Tip for using lifecycle messages: The best strategy is to implement these early on in your use of web push notifications, because these lifecycle messages don't need a huge subscriber base to be successful. They're also a low touch way to extract more value from your existing customers.
Welcome message. These automated messages are sent automatically to any new subscribers. They're your first opportunity to make a good impression and a great way to offer something of value (say, a one-off discount) to your new customer.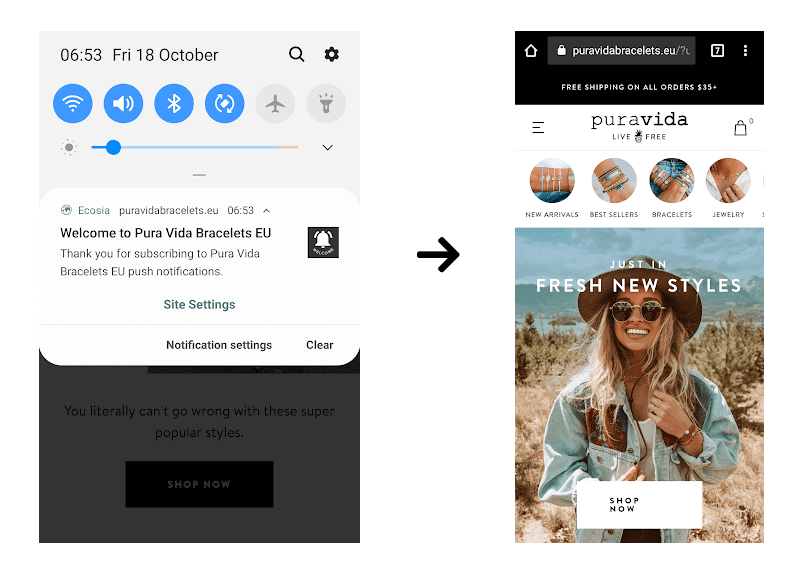 Abandoned cart messages.
These are automated flows of 2 or 3 reminders that go out to users who have added items to their shopping cart but left without completing the purchase. As this guide to managing abandoned carts explains, abandoned cart push notifications can recover as much as 30% of all abandoned carts and are highly effective at driving customers back to checkout - much more so than emails for example.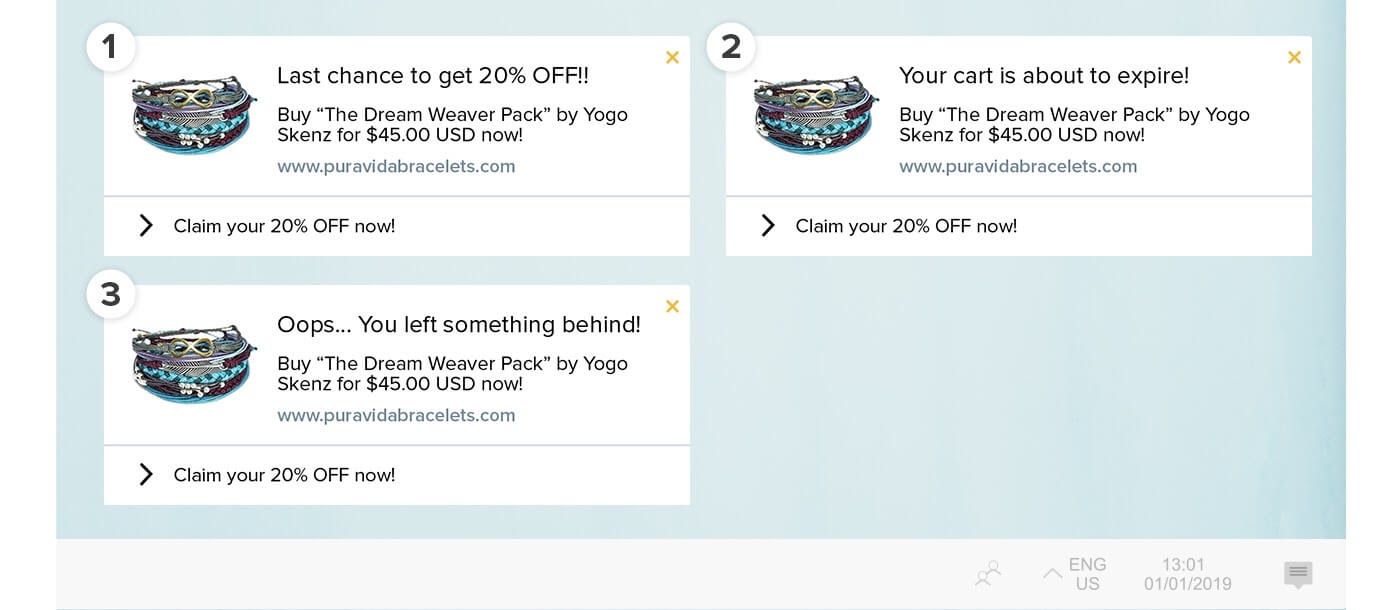 A flow of 3 abandoned cart web push notifications from the Shopify Plus store Pura Vida Bracelets
Customer win-back messages.
Boosting customer lifetime value is one of the most cost effective ways to increase your overall sales. And these automated web pushes are a smart way to do this, because they offer a timely reminder of your product range (plus a discount) to subscribers who haven't shopped or visited your store in a while.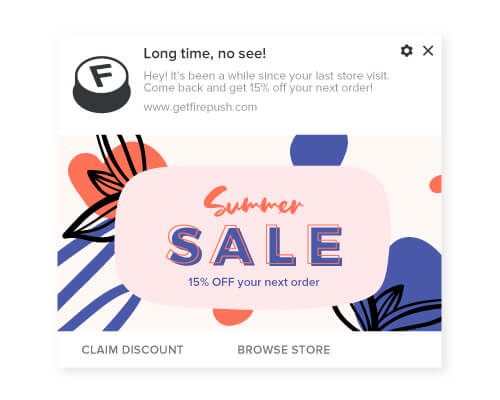 Informative Push Notifications
These web push notifications are designed to provide useful information to your audience, which helps to foster a long-term relationship. As this data from Firepush shows, 47.99% of all sales revenue comes from purchases made from 2 to 30 days after a customer first discovers your store. Therefore, nurturing customer relationships is important in growing your overall sales volume.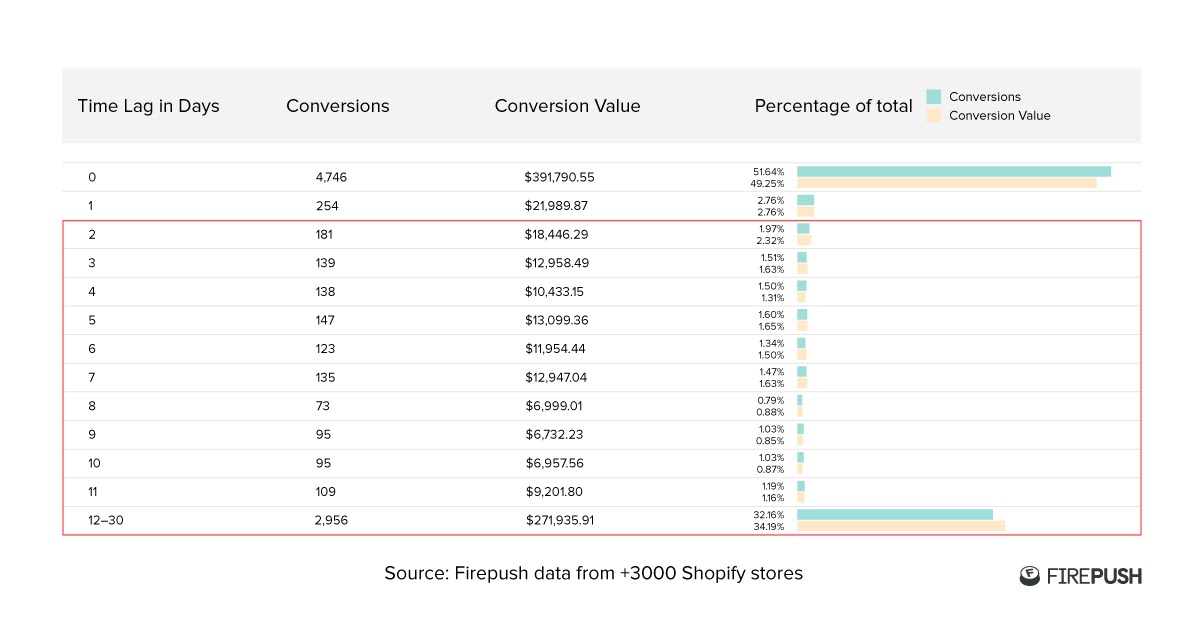 Back in stock messages.
Inform your customers instantly if an item is back in stock. If you're having inventory issues (for example, from your dropshipping suppliers), this is a handy tool to save sales that might otherwise be lost.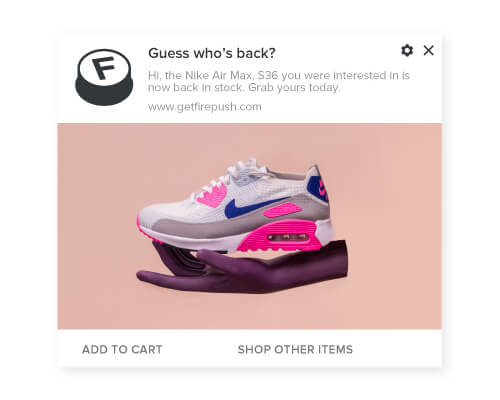 New product.
Notify your subscribers whenever you launch a new product. These messages are good for ongoing engagement and work very well for niche retailers with a dedicated following.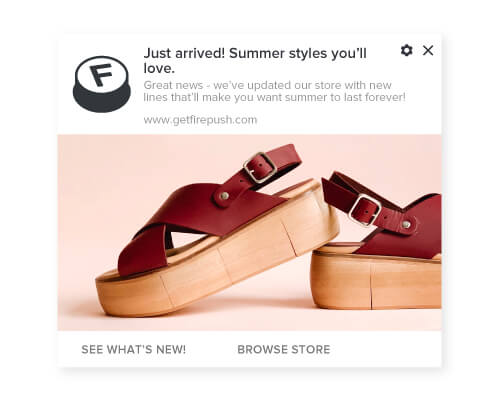 New blog post.
If you are generating valuable content for your users, you might want to offer them a simple way to get updated on new posts.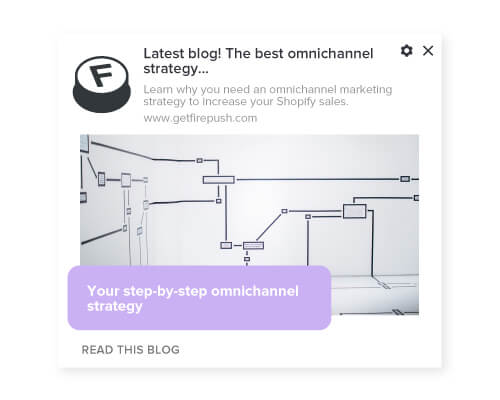 Transactional Push Notifications
People who shop online want to be sure that everything is going smoothly. These web push notifications let your customers know what's happening with their order, which helps to build long-lasting trust.
Confirmation. Simply let your customer know that you have received their order, processed their payment and that the item will be shipped ASAP.

Delivery status.
Push notification marketing also means improving customer experince. With this push notification type, you can keep your customers informed about when the order has been prepared and dispatched.

Review request.
Push notifications are a direct and easy way to ask your users to leave a rating or a review.
Promotional Push Notifications
Probably the most common type in ecommerce, promotional notifications aim to drive sales and engage a large proportion of your subscribers. Use them to inform your client base of flash sales, limited real time offers, blanket discounts on all items, and more.
Automated price drop messages.
Price is a deciding factor for many shoppers, and the web push notifications enable your customers to monitor the price of their favorite items.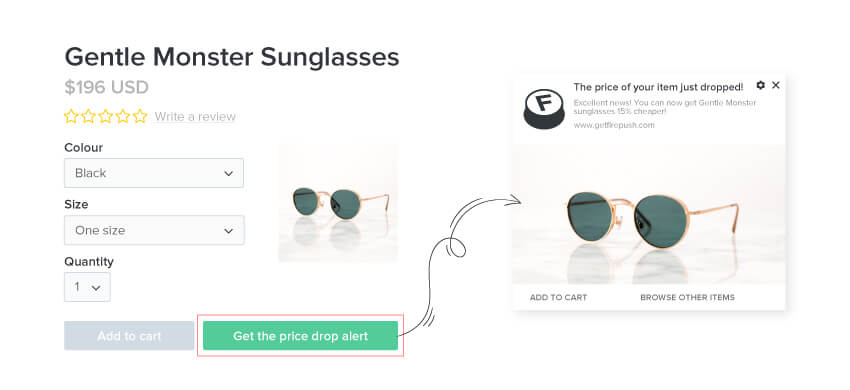 Customers can subscribe for Price Drop Alerts on your product pages with tools such as Firepush
Bulk promotions.
These campaigns can be set up in minutes to inform all your subscribers of your latest deals and offers. They are a must for seasonal sales periods.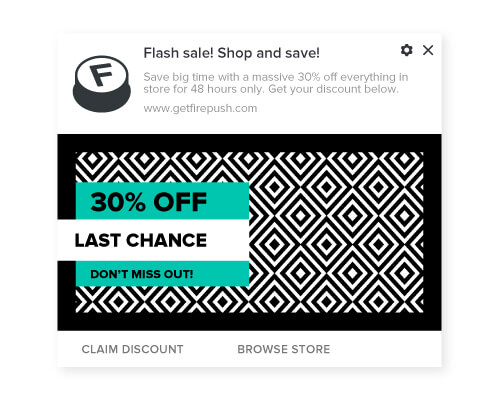 Discount pushes with a countdown.
Sometimes all it takes for someone to make a decision is a sense of urgency. Discount pushes linked to a countdown timer on your store show how long the discount is valid for, helping you to encourage your customers to "buy now" rather than leave without a purchase.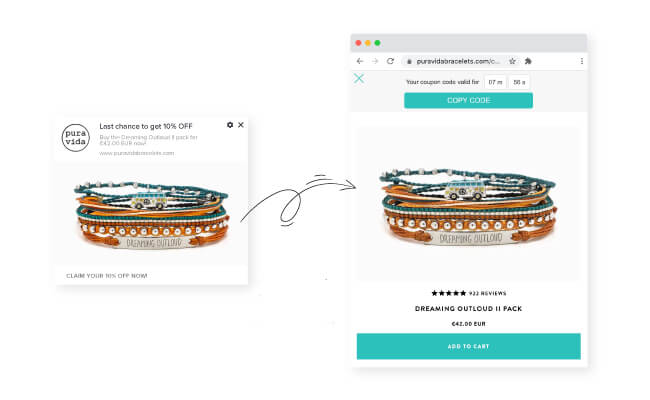 When a countdown timer is added to a discount push notification, shoppers immediately see on the product page how long they have left to use the discount code
ELO, a Shopify e-commerce store that specialises in branded merchandise produced in Pakistan, has an inspiring push notification success story. Read about it in this case study
A 3-Step Push Notification Marketing Strategy
So you've got push notifications set up for your store, and understood the different formats of push notifications available. Now it's time to bring it all together and formulate your push notification strategy for using this powerful marketing channel.
Here's a quick summary of the steps you should follow, and then we'll go through each point in detail:
Step 1: Set up abandoned cart push notifications
Step 2: Add promo push notifications
Step 3: Add other automated push notifications
Marketer's tip: Go omnichannel
Before we dive into the strategy, here's one important tip - go omnichannel. In other words, make sure your campaigns and automations are running on multiple channels - email, SMS, web push notification - at the same time. This will enable you to engage with a wider audience.
But it's not enough to just launch campaigns on different channels (a multichannel approach). It could be irritating for customers to receive the same generic message multiple times on different channels. You need omnichannel marketing, where your messaging across different channels is coordinated and synchronised. The good news is that going omnichannel is easy - you simply need to set up a Shopify retargeting app like Firepush that offers a range of different channels. These apps are configured to ensure your messaging across different channels works seamlessly.
Step 1: Start with Abandoned Cart Recovery Push Notifications
Why should you start with abandoned carts?
Boost sales immediately: abandoned cart messages will work from day 1, even as you're building your subscriber base.
Improve marketing ROI: They achieve great long term results - abandoned cart messages can score ROI of over 30 times spend.
Never miss a sale: They capture sales that would otherwise have been lost. So the sooner you set them up, the more you will benefit.
In fact, recovering abandoned carts is one of 17 essential ecommerce tactics that will drive sales, and web push notifications are a highly effective tool for achieving this.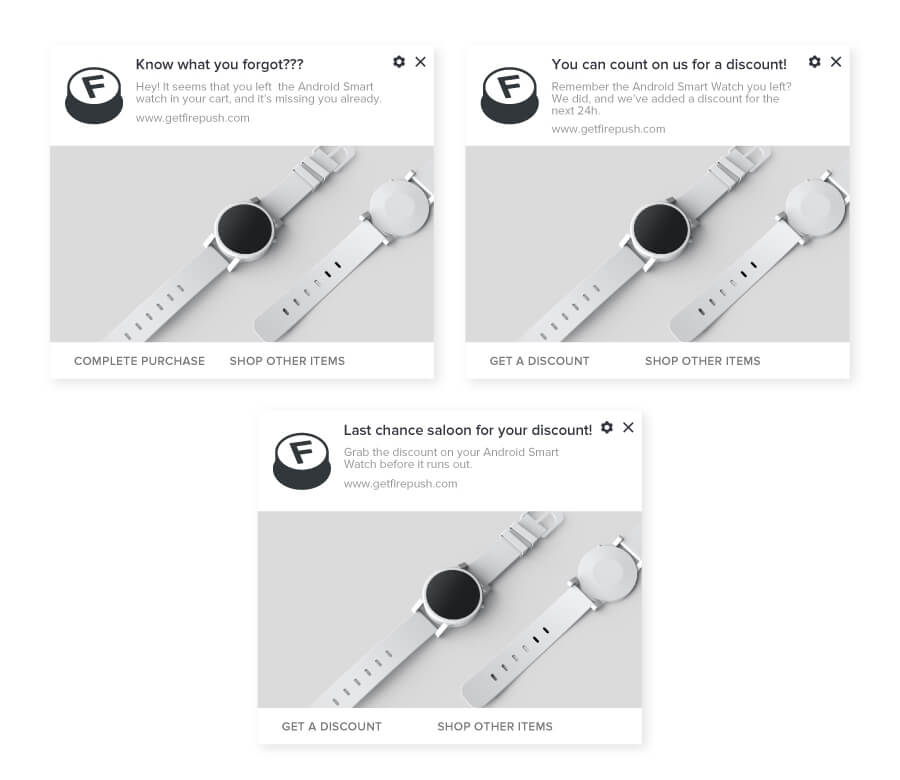 Abandoned cart push notifications should be the first type of web push notification you add to your store
Step 2: Use Pomotional Push Notifications
Once your subscriber base is big enough, it's time to get started with promotional pushes.
For Shopify stores, these push notification types will end up being their biggest overall revenue generator. Why? Well, automated pushes like welcome messages and abandoned cart messages are highly effective. But their overall long term impact is limited by the fact that they are either:
Only sent once (for example, welcome pushes or win back customer pushes)
Are not sent to all of your subscribers (for example, abandoned cart push notifications)
Therefore, to make the most of your subscriber base, promotional pushes are a must. This doesn't mean you need to be running sales every week. In fact, running too many promotions can make customers less likely to buy now because they feel like another discount is just around the corner.
But running seasonal sales, or offering promotions on individual items, will be highly effective at boosting revenue and making the most of your subscribers. For example, Shopify plus store InkedShop runs daily offers, and uses push notifications to promote them. The result? Over $100,000 in revenue from promotional pushes alone.

InkedShop uses Power Push campaigns to drive additional revenue and keep their large subscriber base engaged.
Step 3: Add Other Automated Push Notifications
With your abandoned cart pushes set up and promotional campaigns rolling, you should be seeing a good return from your web push notification strategy already. Adding in tailored automated pushes is the icing on the cake.
Welcome pushes are a must. Not only do they encourage users to subscribe, they're a great source of revenue when a discount is added, as they push customers to their first sale.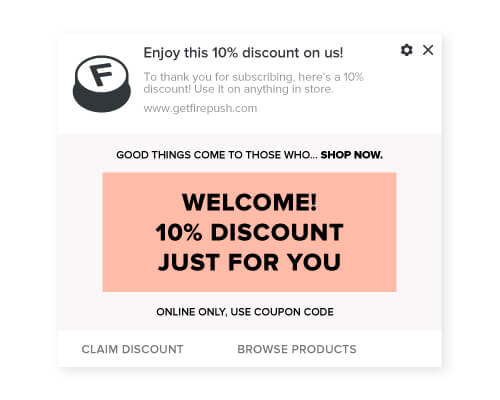 Then add in transactional web pushes like delivery updates or order confirmation messages. Push notifications are not just about driving individual sales, they're also a great tool for building customer loyalty.
And once you have a large subscriber base, informational notifications like new products or back in stock messages work very well. They drive sales without you having to offer an additional discount. So once you have a loyal following, these messages are a great way to boost profitability.
We'll talk you through the set up and help you find the perfect strategy for your store.
Book free demo
Push Notification Marketing Strategies for Seasonal Sales
Now you've got an overall strategy for integrating web push notifications into your store, let's take a look at one other useful strategy: web push notifications for Black Friday and other seasonal sales. Web push notifications perform super-well during these periods, so incorporating them is a smart move.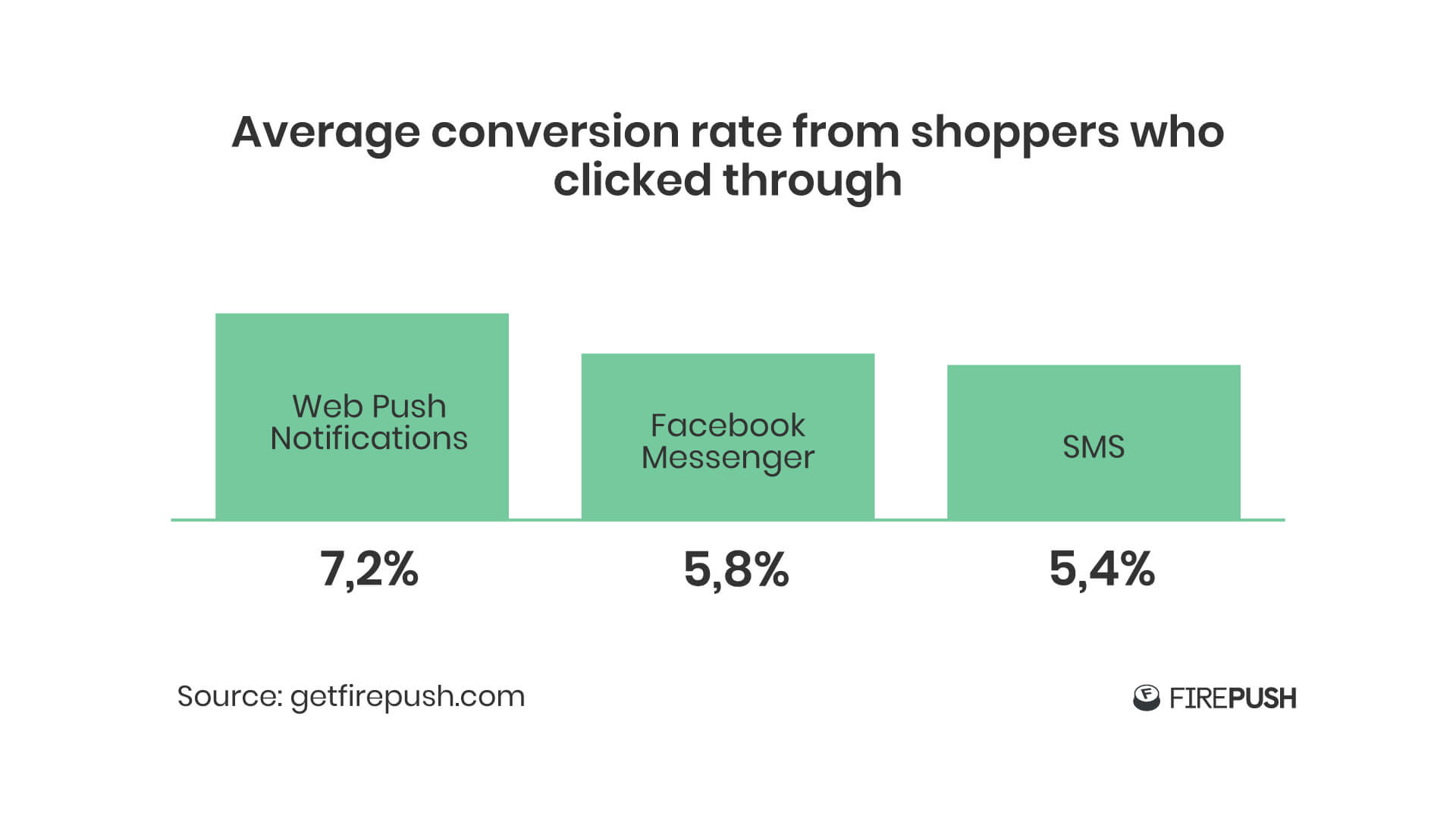 So here's the scenario. You're 4 months out from Black Friday, and you're starting to plan the discount you'll offer and how you're going to market.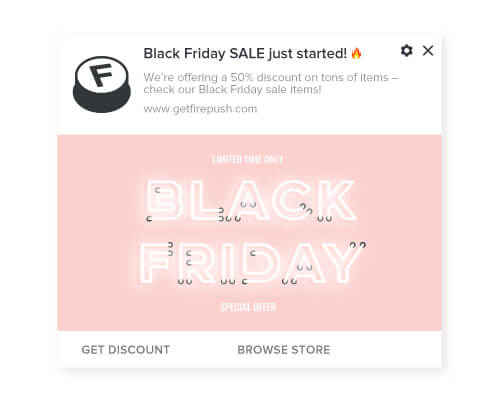 Save time in those meetings and try out this strategy – it's been used by Ezra Firestone to generate millions in Black Friday revenue, and we've adapted it to incorporate web push notifications, along with email and SMS. Check out the full details for this 2-month omnichannel Black Friday marketing strategy, or read on for a summarised version.
But before you do, one key point to understand is that for your seasonal sales you don't want to be running a ton of ads targeting new customers in November and December. Why not? Because you'll burn through a heap of cash – paid ad prices rocket over the Black Friday and seasonal shopping period.
Instead, set up the strategy we've outlined above and build your subscriber base. Then when it comes to the Black Friday sales period, focus your efforts on retargeting these customers to promote your special offers and discounts. With this approach you should achieve a higher conversion rate and much better ROI.
Black Friday Push Notification Marketing Strategy – Pre-sale, Sale and Post-sale
You can break this strategy down into 3 main periods (although the full strategy covers 5 stages in total.)
- Pre-sale: From early November up to Thanksgiving Thursday
- Sale: Black Friday through to Cyber Monday
- Post-sale / holiday sale: first week of December
Let's take a quick look at timing and content ideas for each of these stages.
Stage 1: The pre-sale
Here you want to create buzz about your upcoming deal and get your users subscribed to an early-bird list. Set up a simple landing page for early bird subscribers who will get access to your Black Friday discounts before anyone else.
Then, on top of your usual content output, you should send 3 or 4 additional web pushes over the 3 weeks leading up to the Black Friday weekend leading subscribers to your early bird sign up page.
Stage 2: The Black Friday weekend
Your sale is now live, and your goal is simple. Use web push notifications to get as much high quality traffic as possible to your store. In total, across the four days of the Black Friday weekend you should send 11 messages. Here's how they break down per day.
- On Black Friday, send 4 web push notifications spread across the whole day. Note that the evening is a crucial time on Black Friday, so aim to have one or two pushes lined up for the period between 18.00 and 20.00.
alt="Firepush black friday shopify stores traffic statistics" />Firepush Black Friday day shows that Shopify stores get the most traffic between 15:00 and 19:00
- On the Saturday after Black Friday send 2 web push notifications, one in the morning and one in the evening.
- On the Sunday before Cyber Monday send 1 web push notification preparing them for Cyber Monday.
- On Cyber Monday send 3 web push notifications, and make sure you schedule some pushes for later on in the day.

Firepush data on Cyber Monday shows shoppers are active later in the day, with traffic to Shopify stores peaking between 18:00 and 22:00
Stage 3: Post-sale / holiday sale
Over the 2 weeks following the Black Friday weekend you should send 6 web push notifications. Focus on an individual "hero product" for these pushes, and work on presenting these products as smart gift ideas for your audience.
Implementing this simple strategy can have a big impact on your Black Friday bottom line. Or you can check out a more detailed and complex version of this Black Friday push notification strategy, including specific timing and results.
Tried-and-Tested Push Notification Marketing Strategies from Shopify Stores
The best way to learn the intricacies of any trade is by following examples tried and tested by others. We have compiled a selection of case studies that show different web push notification marketing strategies at work.
Targeting different aged audiences with personal web push notifications - Ivory Ella
Ivory Ella is a fashion brand that believes in "good clothes for a good cause." It donates at least 10% of its profits to elephant conservation and other charities. Already having a dedicated following on social media, the company wanted to funnel customers into lists they had control over. However, catering to a young demographic meant that getting substantial email sign-ups wasn't that easy. So Ivory Ella decided to focus on web push notifications, developing a web push notification strategy for increasing customer lifetime value.
The result of Ivory Ella's remarketing efforts is over $1 million in revenue from web push notifications. These impressive numbers were generated from a mid-size subscriber base of
168,632. This means Ivory Ella has generated over $6 per subscriber, with roughly one order placed for every 10 subscribers. In addition, a mix of Power Push, Promo Push, Abandoned Cart and Welcome messages helped them generate over $28,000 over Black Friday.

Promotion pushes account for the bulk of the revenue Ivory Ella generates from push notifications, with abandoned cart campaigns also making a sizeable contribution
Making the most of rich media to achieved 10:1 ROI - Inkedshop
While Google and Facebook ads generate a 3:1 to 4:1 return for Inkedshop, the ecommerce store of the well-known lifestyle magazine Inked, the store manages to get an up to 10:1 return on its push notifications. While the company uses a mix of Abandoned Cart, Delivery Update, Back in Stock, and other messages for both web pushes and SMS marketing, the most important type of message for them is the Power Push.
Utilizing Power Push notifications, Inkedshop sends a daily offer enhanced with a GIF or an image each morning. Those who open the notification land on the product page with the discount already in place. Inkedshop has used Power Pushes effectively to generate more than $122,000 in revenue just from this message type .
Harnessing the Power of Power Pushes to generate +$1 million - Pura Vida
Pura Vida, a company known for beautiful ethically-sourced bracelets, managed to achieve two major business goals all at once. The first was scaling to millions in yearly online sales. The second was to do so while still maintaining a lean team so they can send more of their profits to the artisan producers who make their jewellery.
Catering to two entirely different audiences – teenagers/young adults AND their mothers – required an omnichannel approach. Using a blend of Power Push and Abandoned Cart notifications (with revenue generated split roughly 50:50 between these two message types), Pura Vida was able to generate almost $650,000 in 17 months. What's unusual about Pura Vida's approach is how many different message types they package as Power Pushes – from product launches and discounts to holiday gift guides. Pura Vida's push notification strategy has now earned them over $1 million in sales. And with a 10:1 ROI, their strategy is worth emulating if you're running a fashion brand with a fast-changing inventory.

Pura Vida use Power Pushes and Promotion Pushes to promote product launches, gift ideas and discounts, generating $664,000 in revenue from these campaigns
Generating $12.7 per subscriber for subscription-based stores - Intelligent Blends:
The goal of Intelligent Blends is to cut out the middlemen and bring top-quality coffee and tea blends directly to online customers. Striving to implement the broadest marketing mix possible, the company introduced push notifications in 2016. In its very first month using web push notifications Intelligent Blends generated $12,500 in additional revenue through a mix of Abandoned Cart notifications and Promotional Pushes . Since then, the company has managed to generate over $600,000. And if you think that their subscriber base must be enormous to achieve such numbers, you might be surprised to know that all it took was a modest base of some 47,000. That translates to $12.7 generated per subscriber.
The well-balanced strategy Intelligent Blends is implementing is quite universal and can be applied by ecommerce stores tailoring to different demographics, and is especially well-suited to subscription-based businesses.
Using Power Pushes to sell to fashionistas - Export Leftovers
Export Leftovers is one of many players in the fashion space that rely on web push notifications to reach out to their client base with deals and promotions. In just two years, the company quickly grew its subscriber database from 500 to 80,000 customers. In total, their use of web push notifications has generated almost 26,000 orders – one for every three subscribers they have.
What makes the case of Export Leftovers stand out? Well, 90% of the pushes they send are Power Pushes – messages that allow the inclusion of a store's branding and rich images. This approach is perfect for brands that have a visual product to sell, and Intelligent blends see a 7:1 or 8:1 return on investment each month following this strategy.
Phaser FPV: Engaging a dedicated audience with an omnichannel approach
Servicing the niche but growing market of racing drone enthusiasts, Phaser FPV relies on customer loyalty. With an impressive 80% returning customer rate, the challenge it faces is how to keep its audience engaged and updated without crossing into spam territory. And losing even one customer could be troubling, as most of them are buying weekly and a single customer can generate hundreds of orders.
Phaser FPV utilizes an omnichannel approach, with email used for regular updates, SMS for massive seasonal sales (Black Friday and Cyber Monday), and pushes for Price Drop and Back in Stock notifications. The store benefits from an audience that frequently browses the website for new deals, which means that 16% of users who open Back in Stock messages make a purchase.
Push Notification Marketing Tips from Experienced Shopify Marketers
We've covered a whole bunch of strategies you can take a look at and start to implement on your store. And once you do get going with web push notifications, here are a few key tips to remember from Shopify marketers who have been there, done it and bought the t-shirt.

Tip 1: Get the cadence right.
As with all things marketing, you have to test, test and then test some more. Understanding how your subscribers respond to the volume of messages you are sending them is crucial, unless you want to see your numbers dwindle.
"We noticed that if we were sending a push every day, we were seeing more return on those campaigns," explains Margaret Odisho, eCommerce Manager at ethical accessories ecommerce store Pura Vida Bracelets. "But we also noticed that our subscription list wasn't growing, and it was probably because people were getting frustrated by the volume and either unsubscribing or disabling their push notifications."

Tip 2: Use the entire mix for best results during sales.
Shopify remarketing tools provide a wide range of options to combine email, SMS, Web push notifications and other channels. Here is how Rhys Evans, co-founder of niche consumer electronics ecommerce store Phaser FPV, utilizes the omnichannel approach:
"Over Black Friday, first I send email newsletters – I start these on the Thursday. Then I follow up on the Friday and Cyber Monday with SMS and push notifications. I wanted to make sure that people who had made a purchase after receiving the newsletter didn't then receive the push notifications or SMS, as this would be irritating for them, and Firepush filters them out."

Tip 3: Don't overthink it.
We all know that email marketing requires a lot of resources. Images, descriptions, and layout all take time to create. Following the same approach with web push notifications would be a waste of your time.
"We see pushes as driving incremental value that we wouldn't have got otherwise. You can set them up in 5 minutes. So our approach is not to overthink them – use visuals from an email
campaign combined with short, clear copy," advises Rachel Bulla, VP Client Partnerships at Buckland CO, who handle the marketing for ethical fashion brand Ivory Ella.
Today's Takeaways
Hopefully this article has demonstrated that, while web push notifications are super versatile, getting them set up for your Shopify store can be quick and hasslefree. Here are a couple of key points to remember when you're getting started with web push notifications.
Web push notifications have a range of different types, and can be used for a broad range of purposes. So think carefully about your marketing goals and how you want your store to grow. Then see where push notifications can fit into thisplan.
Subscriber growth is critical, and it's important to focus on quality. A small or low quality subscriber base is going to mean your push campaigns underperform. So set up opt-ins that offer value for your customers and use double opt-ins to ensure you only get those who actually want to receive your pushes.
Go omnichannel. Every channel has its strengths and weaknesses, and web push notifications are no different. So you'll get the most out of them by combining them with other channels like SMS and email. If you are planning on an omnichannel approach for a Shopify store, make sure you choose an app that can integrate all your channels together so your channels support each other.
Now you're armed with tips, examples and strategies, it's time to get started boosting your sales with web push notifications. The first step is to download a Shopify push notifications app for web and mobile, and you're ready to go.