Web Push Notifications: A complete beginner's guide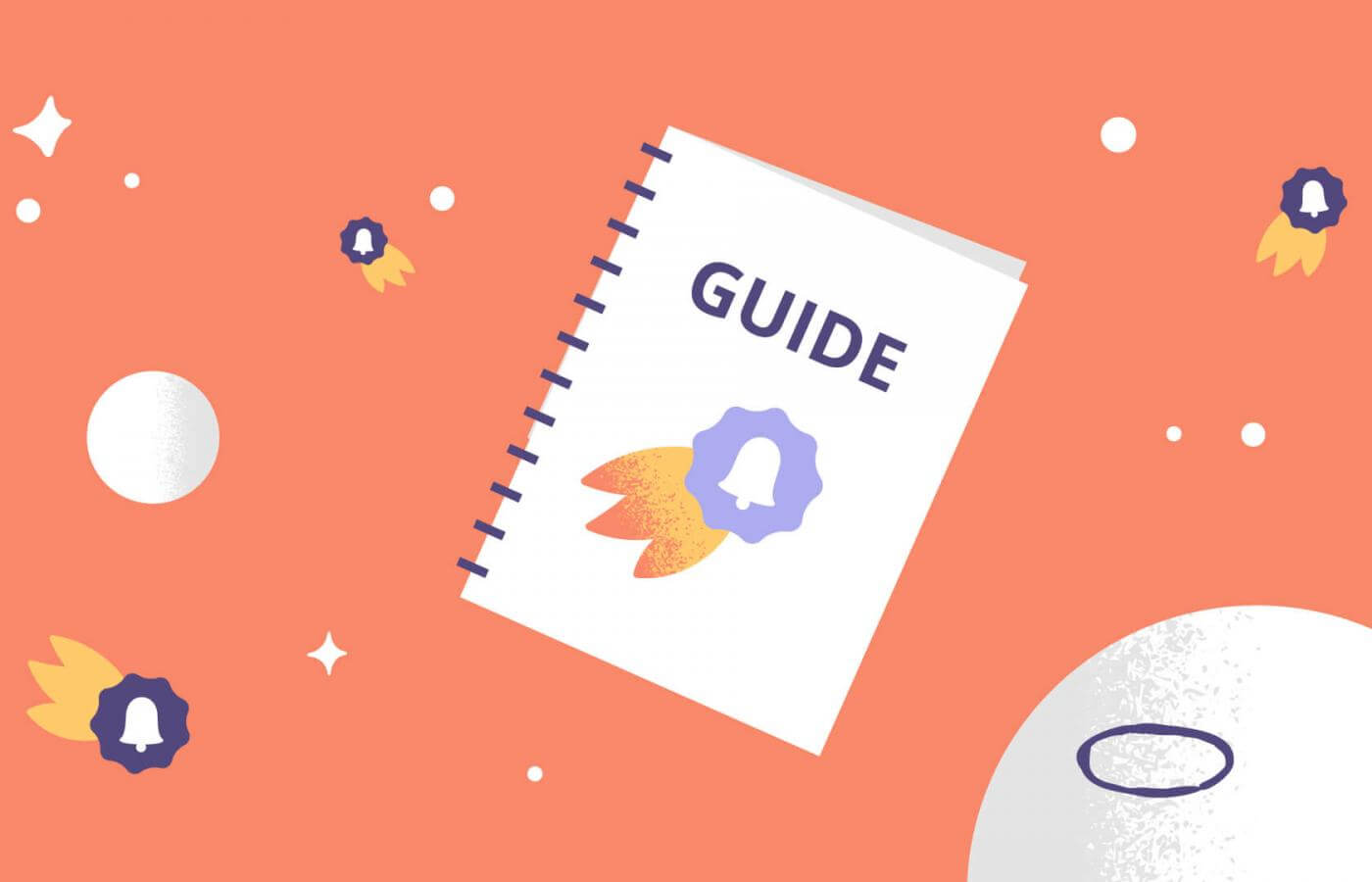 What are push notifications?
Push notifications are short, clickable messages that pop up on your customers desktop or mobile device. Basically, they're the ultimate calls-to-action. One of the best things about these instant messages is that your clients don't need to be on your site to receive them. You can send pushes any time you want and your customers will see them wherever they are on the web! They just need to be subscribed to receive notifications from their web browsers.
Web browser push notifications vs mobile push notifications

As the names suggest, web browser push notifications are the ones that appear on a website, and mobile pushes are triggered by apps. We're entering the mobile-first world in digital, so the attention is naturally shifting to all things mobile. However, as shown by Statcounter Global Stats, desktop remains just as relevant as a source of interaction with brands as mobile.

While mobile app push notifications are limited to mobile devices and tablets, website push notifications covers not only desktop but mobile and tablet web browsing as well, which means more potential customer engagement. It's especially true for US and European markets, where desktop is still the prevailing way of searching online, with around 50% and 56% of the market share respectively.
What does this mean for you as an entrepreneur? It gives you the ultimate assurance that you don't need to have an app to make use of push notifications.

More great news is that Chrome, Firefox and Safari together stand for ~78% of the total market share. This is a huge win for marketers because the most popular browsers support push messages.
What can you do with push notifications?
The painful truth for most of the websites is that only 2% of visitors convert on their first visit, which means that, having invested quite a lot in attracting traffic, entrepreneurs are still losing a bunch of potential conversions. This is were push notifications step in.
Web push notifications offer a simple and instant way of getting your message out to your customers. You can do a lot of things with them, for instance, you can prompt a user to take action, such as download a coupon or let them know about a particular event like a flash sale.
Recover abandoned carts
Send delivery updates
Retarget customers
How do push notifications work?
Speaking in simple terms, push notifications are delivered from backend servers or apps to the user interface, be it desktop, tablet or mobile. There are various 'operating system push notification services' (OSPNS) that directly connect to all the recipients through their devices and send instant messages. To make this all work, users either need to install your app and opt-in for your pushes, or simply sign up for web browser pushes (no app needed).
How are push notifications technically designed?
There are two main approaches: Local notifications and remote notifications.
Local notifications
According to this approach, pushes are scheduled into local device's OS. Think of a local push notification as a timer that is set in the app itself and runs at the backend until it has to be shown to the user. When the time to display the push comes, it's shown in front of the app's UI.
Remote notifications
As the name suggests, these type of push messages are triggered from a remote server. The client app is registered on the server and gets a unique key (UUID) for identification purposes. Then, the server "pushes" tailored instant messages to customers' apps according to each UUID.
Example of push notifications
Push messages can be text-only or include rich media like photos and/or buttons. Below are some of the most common push notifications and the reasons to use them.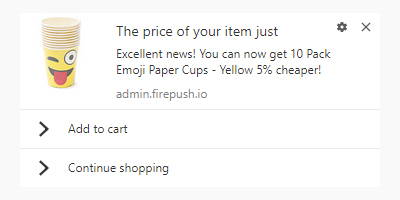 Welcome push
You only get one chance to make a first impression, so you want to do it right. Welcome push notifications come in very handy when you need to onboard first time buyers. Treat them with a discount code in your welcome message, make sure your copy is flawless and watch the magic happen!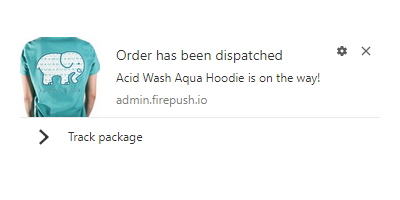 Back in stock push
Checking whether a particular item is back in stock is a tedious hassle and no one has time for that. So, by letting your customers know this information, you not only provide excellent customer service but also get karma points.
Price drop push
Who doesn't like the chance to buy something they need for a better price? Price drop push notifications trigger a state of urgency – it's very likely your potential customer will get the item he or she was checking out but was hesitating to order.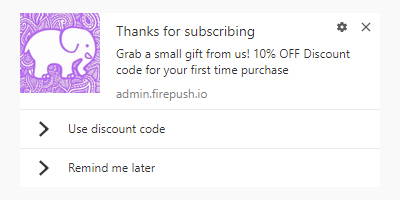 Product delivery push
People usually choose to buy online because they are pressed for time and physical stores create a whole host of issues, such as queuing. That also means that these customers really don't want to sweat over the delivery details. Product delivery pushes come in handy here because they help you to ensure pleasant online shopping experience. Keep your clients up-to-date in real time on the shipping journey and they will become regular buyers.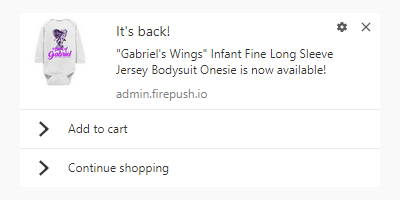 These are just some of the web push notifications that you can make use of to boost your business. On Firepush, we're proud to offer the largest variety of pushes available. Read more about how they can help you to drive sales here.
Advantages of push notifications
Web push notifications are very effective at providing convenience to your customers. They give you a chance to speak directly to your clients and, unlike emails, they don't get lost in spam filters. Push notifications are also very beneficial if you want to amplify your brand voice. Below are some of the main advantages of push messages.
Real-time communication. Push alerts reach their destination instantly.
Wide reach. Push notifications reach 7 out of 10 internet users (mobile and desktop users combined)!
Outstanding click-through-rates. They can be twice as high as email. Enough said.
High conversion rates. It may depend on the industry, but generally speaking web pushes have around 30% CTRs and mobile push notifications boast a whopping 40% CTR.
Valuable insights. You can track and analyze your customers behavior and make better informed business decisions.
Ease of use. Both web and mobile push notifications are quick and easy to implement and manage.
Disadvantages of push notifications
Everything sounds too good to be true? What's the catch? Well, the truth is that, if done right, push notifications are almost flawless. The only issue that may arise is that your customers might opt-out of push notifications if they get spammy or annoying (these two usually walk hand in hand). Obviously, you don't want your users to cancel your push messages. Which leads us to the next point.
Best practices of push notifications
In order for your push notification service to work, of all the tips you can find online you basically need to remember just one thing: Your push notifications MUST provide value to your customers.
You must never forget that having this instant connection to your customers is a privilege, not a right. Spam your audience with irrelevant, annoying content and they will opt-out of your pushes in a second. It's especially true when it comes to mobile push notifications, because a phone is a very personal space where nothing should feel interruptive or annoying.
A couple of pieces of advice on sending push notifications
✓ Don't overdo pushes

Once again, you don't want to spam your customers, or you'll be uninstalled (probably for life). Though it may vary on the industry and the type of pushes, the rule of thumb is you should not send more than one notification a day. Don't bombard them and they will be happy to get a notification from you.

✓ Do A/B testing

The most efficient way to determine the optimal amount of push messages or any other push-related tactics is to set hypotheses and to do A/B testing.

✓ Make pushes timely

Timing is everything. No one wants to hear their phone vibrating at 2 AM no matter how great the discount is, so keep different time zones in mind when scheduling your pushes. 10 AM to 1 PM is generally thought to be the best time for sending push notifications, but we recommend trying different times of the day to see when your pushes get the most attention.

✓ Personalize your messages

It's all about the content these days. You want to remind people about your products in a way that brings valuable information. Don't bombard them with vague triggers to buy from you; analyze your customers data, find their pain points, and send pushes accordingly.

✓ Use segmentation

To have good results, it will be helpful to segment your audience by interests and by engagement, or to send push notifications based on location.

✓ Use templates

One of the best things about push notifications is automation. Choose a push notification service that has the biggest variety of templates for different occasions to offer and make your life easier. Which leads us to the next point.

✓ Schedule your notifications

Of course, you can send push alerts instantly, but it's much wiser to schedule them. It's especially convenient if you have a big user base from different time zones and you don't want to wake up in middle of the night to send a promo. There are push notification platforms that integrate analytical data and suggest the best times to schedule your pushes, making your life even easier.

✓ Look twice

Remember, you can't cancel push notifications once you've sent them, so make sure you review them before sending to avoid typing or bigger mistakes.

✓ Analyze data

Don't just send out pushes from your website and sit back refreshing your bank account. Track uninstalls of the app after each promotion to see what works and what doesn't. Make changes and improve your push experience. Which leads us to the next point.
How to know if your push notifications are performing well?
The key to any successful marketing strategy is to always analyze the data and to make informed business decisions. Below are three main metrics that you should take into account when evaluating the effectiveness of your push notifications.
✓ Look at CTR

This metric is pretty straightforward. If people are interested in the content you're providing with your push notifications, they will click on the pop-up. If they don't, they will ignore it. As mentioned before, people generally click on browser push notifications 3/10 times and 4/10 times - on browser notifications. Though the CTR may vary on the industry, these numbers should be your benchmark.

✓ Analyze unsubscriptions

One of the most important things in push notification marketing is to understand your customers behavior patterns. Analyze all the push messages which led to people unsubscribing from receiving your notifications to better understand their likes and dislikes.

✓ Check conversions

This metric is the ultimate one when trying to understand the effectiveness of your push notifications. In the end, it's conversions that matter, so if your push notifications don't generate sales, you need to make some hypotheses and perform A/B tests to find out where you could improve your marketing efforts.
That's about it. Now that you've read this guide, you're good to go. The only thing you need is a quality push notification service and that's where we step in. Firepush is used by more than 15, 000 merchants worldwide and they've already increased their sales by up to 20-30%!
Try our push notification app for FREE for Shopify users. If you're doing your business on other ecommerce platform, then click here for a FREE trial.
Try our push notification app for FREE for Shopify users now and start selling more this very minute! If you're doing your business on other ecommerce platform, then click here for a FREE trial. If you have any more questions, don't hesitate to tom@firepush.io, we're here for you 24/7!