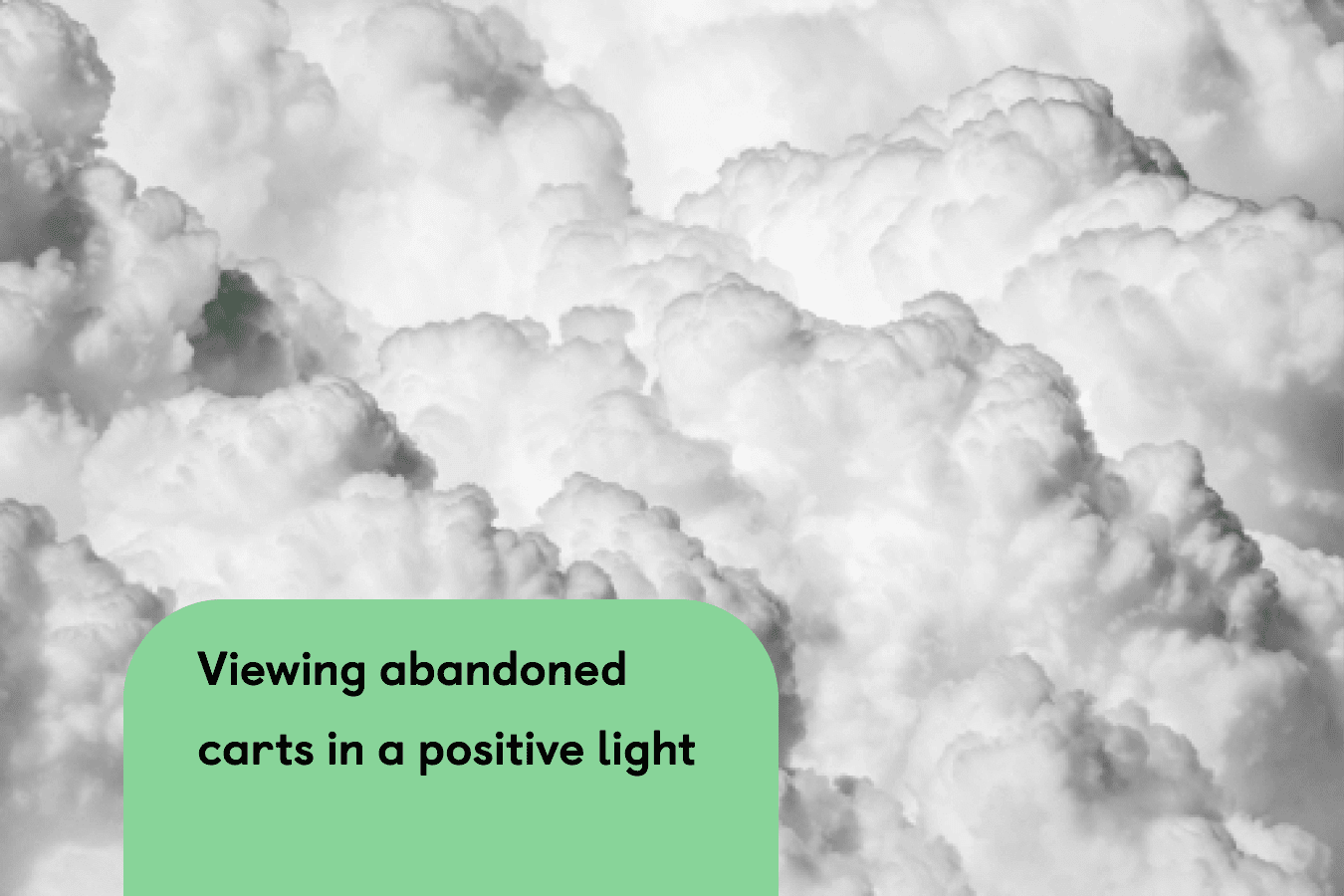 How many sales are lost annually through abandoned carts?
Too many we are told. The statistics vary a little but most studies suggest that around 70% of all sales are abandoned at the checkout. Just look at your own stats. I'm sure that you'll see that only around 1 in 4 sales go through. That's a bleak statistic.
But let's spin it the other way. That's a potential 3 other sales that you could still capitalize on. In fact, we can push the point further. Are these really lost sales? A lost sale is one in which a client goes into a shop, picks up an item with the intention of buying, takes it to the till, and then changes their mind in front of the cashier.
Is that really what is going on here?
Judge it from your own experience. Most of the time it's just virtual window shopping. You drop things in a cart, not with the actual idea that you'll buy it, but more because you want to put together a wishlist, or to get an idea, or just for fun because you are bored. You are wandering round a virtual mall, having a look around. Nothing more.
It's not that every abandoned cart is a lost sale. Of course not. That's just the schtick that the consultant selling expensive email remarketing services want you to think.
Viewed positively, what's actually being set up is a potential sale. Here we no longer need to try and work out what the customer wants, by putting it into their cart we already know.
All we need to do is give them a soft little push. How will we do this? Read on!
Jump to sections:
Changed your mind? Take a look at these:
1. Make shipping transparent and upfront
Time and again, studies have found that what de-motivates customers from making a purchase is hidden shipping costs, one recent study found that 25% of respondents gave this as a reason for abandoning a cart. They find a bargain in the store only to get to the till and discover that shipping doubles the price.
How can you counter this? Simple.
For example, if you only deal in a small selection of items for which you know that shipping is always around the same cost, you can offer a standard single shipping price for all. You can then advertise this on your store landing page. Psychologically this will give you the advantage as the shopper will be prepared before they start to look around.
If you can't standardize your shipping to one price, try to limit shipping prices to as few options as possible, again making sure that this is open and transparent throughout all of your site.
The key is, don't hide the cost. It won't help.
And if you can offer free shipping, then it's a win, win. 93% of customers are more inclined to buy if free shipping is included. Good advice as far as free shipping is concerned is to set it at a standard that is slightly above your normal order thresholds. So, if your average order is around $40, offer free shipping for orders $50 and above.
2. Don't make your client fill in a questionnaire just to buy a pair of pants
The second biggest driver of shopping cart abandonment is the dreaded create an account fail.
Ok, we all want to get as much info as we can from our customers so we can pester them into buying more and more. But if you are looking to really optimize quick sales, it is imperative that you try to keep the info asked for at checkout to a minimum. 23% of customers gave this as their second biggest disincentive.
As another blog pointed out, the best way around this is to make sure you provide a guest account option or ask your customers to register after the sale. The advice here is - the quicker the route through the till, the higher the sales. Simple as that.
3. Provide your potential customers with trust signals
Trust delivers sales. You need to clearly show on your site why your customer should trust you. How can you do this?
Customer reviews. 30% of people said that what attracted them to using an unknown site were the reviews. Display your good reviews clearly on both your landing and product pages. Use channels like Facebook and Instagram to spread the word.
Wear your security throughout your site. Display your Norton or Macafee trust sign with pride! The more recognizable the security, the more liable the customer is to make that sale.
Use pay options. Paypal is a trusted sign, there are cheaper options out there, but don't just make a decision based on cost. Put yourself in your customer's shoes, would you buy using that option?
4. Use Re-marketing to recover sales
Ok, so if we view abandoned carts not as lost sales, but as potential sales, there is a whole heap of mileage that we can gain from making effective use of remarketing. For the purposes of this blog, I'll be looking at four channels: email, SMS, web push and Facebook Messenger notifications.
Abandoned cart emails
These are pretty self-explanatory. Every time a customer abandons a cart, you send them a reminder. And if these reminders are done right, they can really deliver.
You need to think a little outside the box if you want to make the most of this channel. People won't be allured by a dull boring line of text stating the obvious. You have to give your message some creative flair. You should check out this fantastic Shopify blog for some great suggestions.
Here are some pointers:
- Give your customer an incentive to complete the purchase. This can be anything from a discount to reduced or free shipping. Include lines that motivate the customer like, "Hurry, we are nearly sold out!", or "This one is selling fast and we wouldn't want you to miss out on this great deal!".
- Use your message to sell your store. Be creative and playful with your copy if that is the image your store is going for. Also, make the most of the design options available. The following is a great example: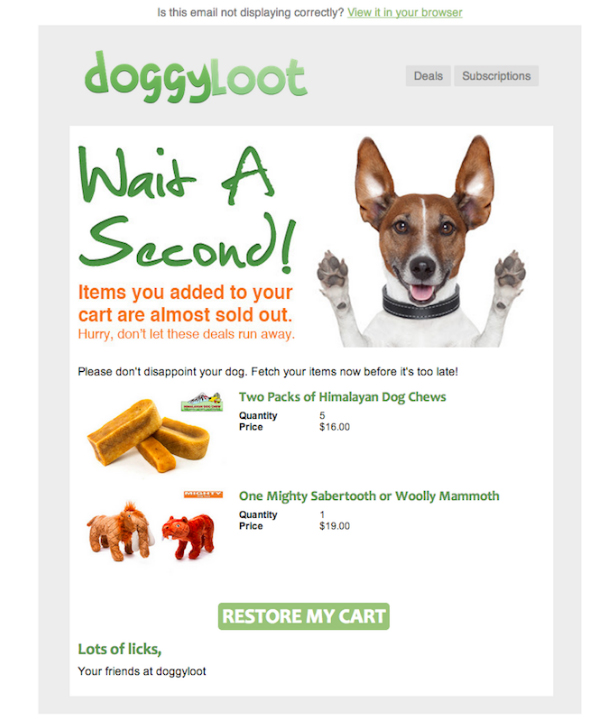 This email really sells both the spirit of the brand and contains a really good call to action line to motivate a sale: "Please don't disappoint your dog. Fetch your items before it is too late!"
Helpful tips to recover more sales with emails:
Web Push abandoned cart alerts
Email remarketing currently delivers a turnaround rate from abandoned cart to completed sale of around 4%. Not bad at all. But, of course, you'd rather have results of 7-14% and click rates up to 30%.
Take a look at a few result screenshots below:

If that's the case, then web push notifications are your solution. As a sales channel, they have started to gain a lot of traction in the last few years and it's pretty easy to see why:
They are browser-based and so allow you to send messages to your subscribers wherever they are on the net.
As they are not website tied, they avoid spam filters and inboxes and so are able to hit their target every time.
They are easy to segment according to customer spending habits
Abandoned Cart web pushes are not as detailed content-wise as emails. Here's an example of what they look like.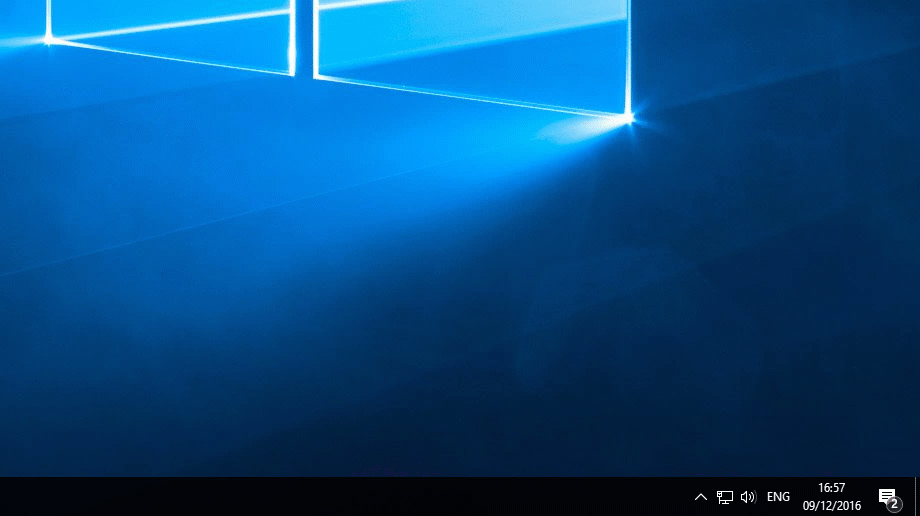 But what they lack in content, they more than make up for in effectiveness. They are guaranteed to hit subscribers every time. And you can schedule reminders to hit at 12, 24 and 36 hours to optimize re-engagement. When it comes to convenience, they are also hard to beat With apps such as Firepush coming pre-populated with Abandoned Cart messages, you needn't spend precious time on putting copy together.
In-depth guides on push notifications:
SMS abandoned cart reminders
According to Statista, there are 4.68 billion mobile phone users worldwide in 2019 - that's around 67% of the world's population. What's more, the open rate for text messages is a huge 98%, which for marketers, is fantastic news.
SMS marketing is a great way to instantly reach would-be shoppers, as most people tend to have a sound alert that notifies them as soon as they receive a text.
SMS abandoned cart alerts are short and catchy, much like web push notifications. Use them alongside free shipping incentives or product discounts and watch your sales grow!
Facebook Messenger abandoned cart reminders
More than 1.3 billion people around the world use Facebook Messenger every month. It's likely that a large proportion of your customers do too. By leveraging the power of Messenger chatbots, you can cast your net even wider and reach your subscribers where they're hanging out.
Apps like Tobi and Firepush allow you to send abandoned cart reminders automatically via Messenger when your store visitor doesn't make it to the checkout.
The verdict? Re-marketing emails + Web Browser Push Notifications = The Best Results.
To totally capitalize on the potential strengths of remarketing, why not experiment with a mixture of all channels? Emails give you the opportunity to explore the benefits of creative content, while web browser, SMS and Messenger notifications help you reach your customers across all devices with an effective and targeted push.
Fighting Shopping Cart Abandonment: The Bottom Line
Abandoned carts issues are not lost sales. They are potential sales. It's that simple. By applying all of the suggestions above with Firepush app you'll be able to grow your shopify store profits.