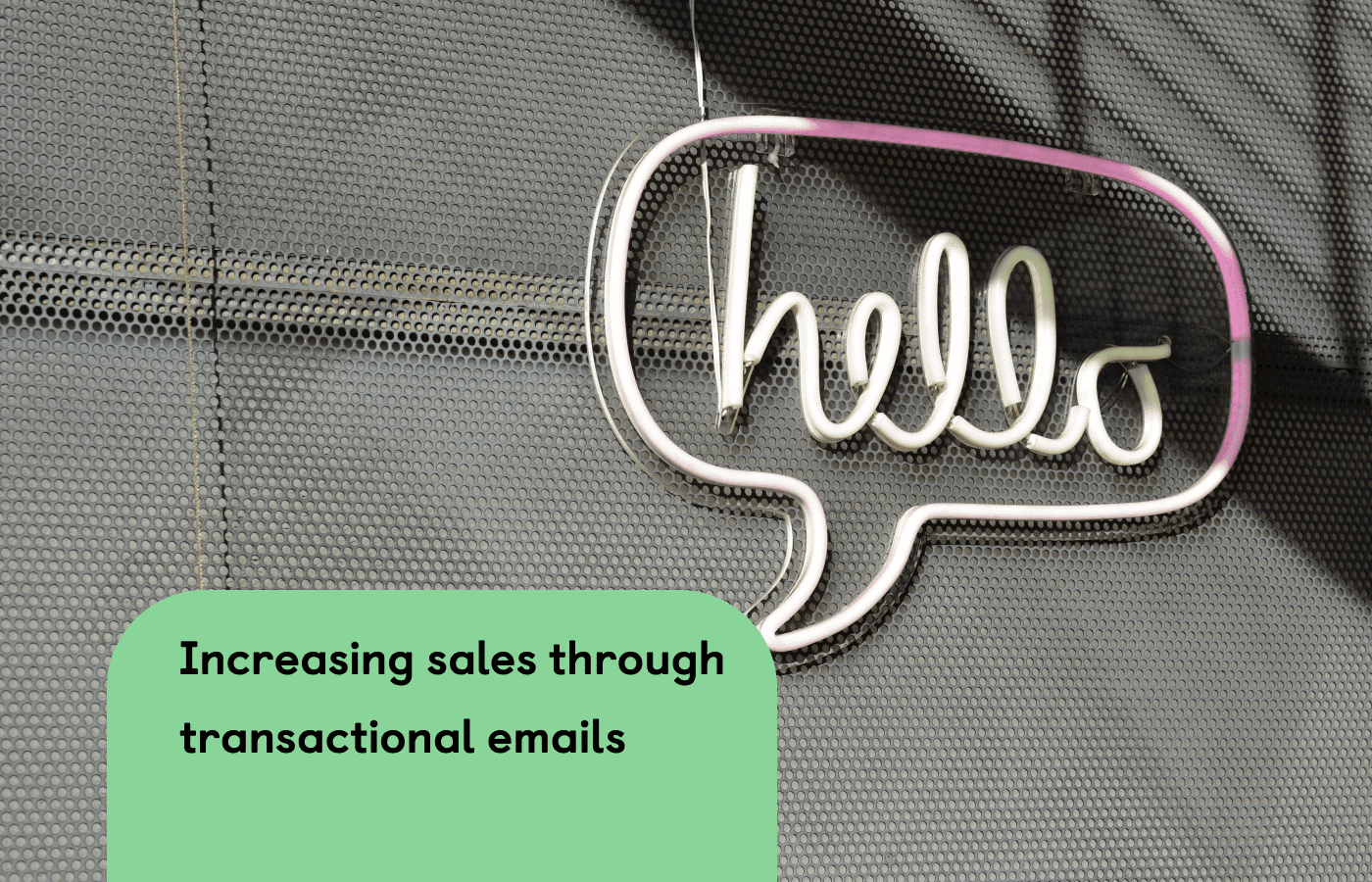 Consumers open transactional emails (shipping confirmations, order confirmations, etc.) because they have value.
Studies suggest that over 51% of transactional emails get read, which means lots of extra marketing and sales opportunities. Not surprisingly,both merchants and marketers love transactional emails.
Having said that, how can you use transactional emails to drive more sales? What are the elements you need to add to your email? Find answers below.
In this guide:
Examples of transactional emails in every section
Not here for transactional emails? We've got more useful email-related content:
4 Best Practices for Transactional Emails
Consider these strategies to drive more purchases with transactional emails.
1. Share Product Recommendations
Shoppers love product recommendations that are personalized based on their interests and purchases.
Researchers found that recommendations lead to 31% of an eCommerce store's revenues. They've also become so common that many customers even expect ecommerce stores to send them. These statistics aren't surprising, as people naturally want to find products from their favorite brand or try an alternative to a product that they've recently bought. Heirlume, a jewelry retailer, even reported a 9 percent rise in open rates and a 3 percent increase in conversions after embedding product recommendations in their emails.
Here's an example of a product recommendation email is from Pottery Barn. Not only does this transactional email thank customers for their purchase, but it also has a "You may also like" section at the bottom and similar items bought by past customers.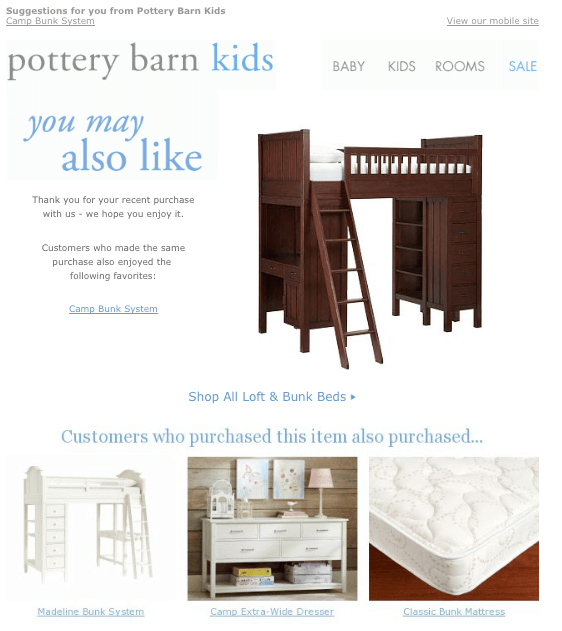 A good tip is to mention the item bought and have a category like "Similar to Product XYZ." This shows you've done your research and personalized the email.
Speaking of similar products, Shopify has plenty of upsell apps to allow you increase average order values on autopilot. These are the Top-Rated Shopify Upsell Apps to consider for this task.
2. Give Aways Coupons or Discounts
Researchers estimate that 31 billion coupons will be redeemed in 2019. Additionally, 60% of consumers love to receive digital coupons, and 68% believe that it helps generate loyalty. Consumers undoubtedly love coupons because it lets them buy more for less. Some merchants may think coupons or discounts reduce profit, but they can also be worth it in the long-term.
Smart merchants send next-purchase coupons or discount codes after a customer's initial purchase. This promotes the habit of repeat purchases, boosts customer loyalty, and increases customer lifetime value. While it reduces profit, you can gain long-time customers.
Jilt's "thank-you" email has a 10 percent next-purchase discount. This transactional email best practice could encourage some to return to the online store to make an extra purchase.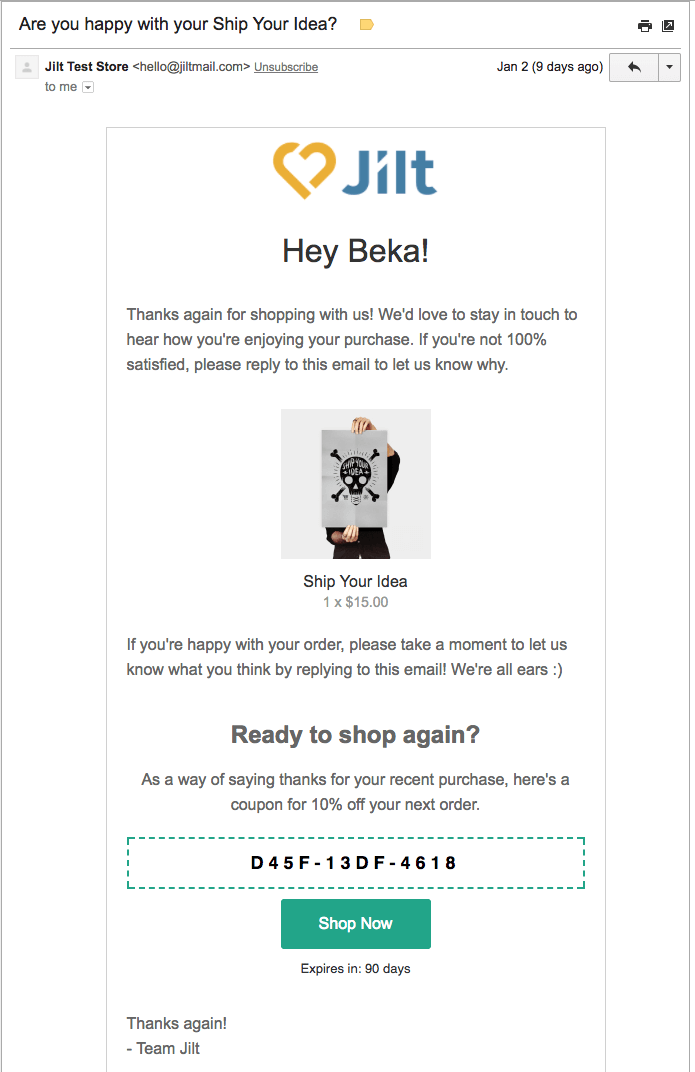 A pro tip is to make next-purchase discounts valid for a limited time only (i.e., one month) so that customers will buy as soon as possible.
3. Drive Website Traffic with a Navigation Bar
CTAs aren't the only way to get customers to your landing page.
Navigation bars can help direct users to their desired web page or product category with just one click. Reaching a webpage with only one click seems inconsequential, but a fast and efficient shopping experience is vital to most users.
In fact, 54 percent of users will abandon the search when the first click doesn't lead to the exact webpage. Moreover, 87 percent of users will complete the browsing experience if they reach their desired webpage.
These numbers show that an email with a navigation bar can do wonders for your sales. For example, Puravida's product review email has links to three main categories - story, bracelets, and sales. The text is large, and the selections are few and uncluttered, which makes it easy to click for mobile users.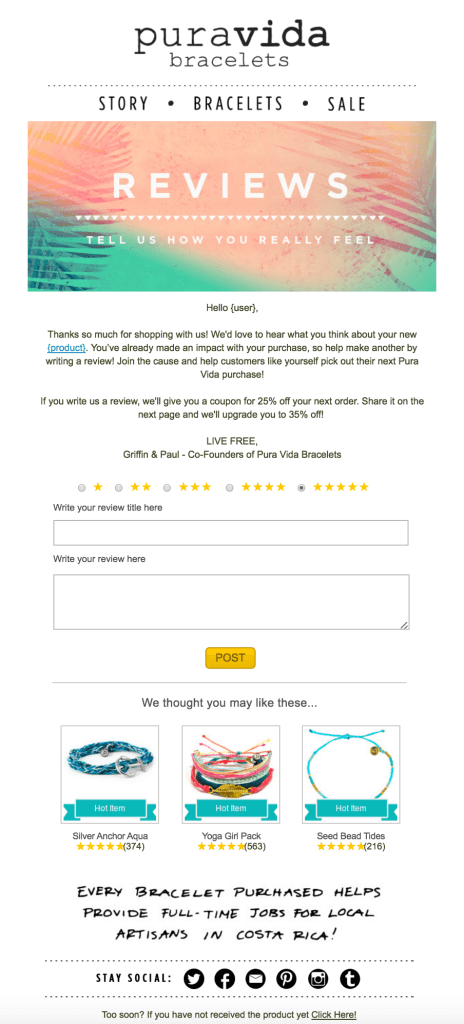 4. Use Referral Codes
Referrals can generate a lot of sales for your website.
Studies suggest that shoppers trust family members (77%) and friends (75%) than other sources of product recommendations. Referrals are also frequent on social media, with 58% of consumers sharing positive experiences with a company or ask family, colleagues, and friends for recommendations.
If you don't have a referral program yet, then you're missing out on a lot. Those who have a referral program up and running could increase membership through transactional emails.
Tradesy promotes its referral program at the bottom of their shipping confirmation email. Consumers can snag $10 for every friend who opts for their $20 welcome offer. While you might have to give out cash, at least you can include brand advocates in your marketing efforts and gain new customers.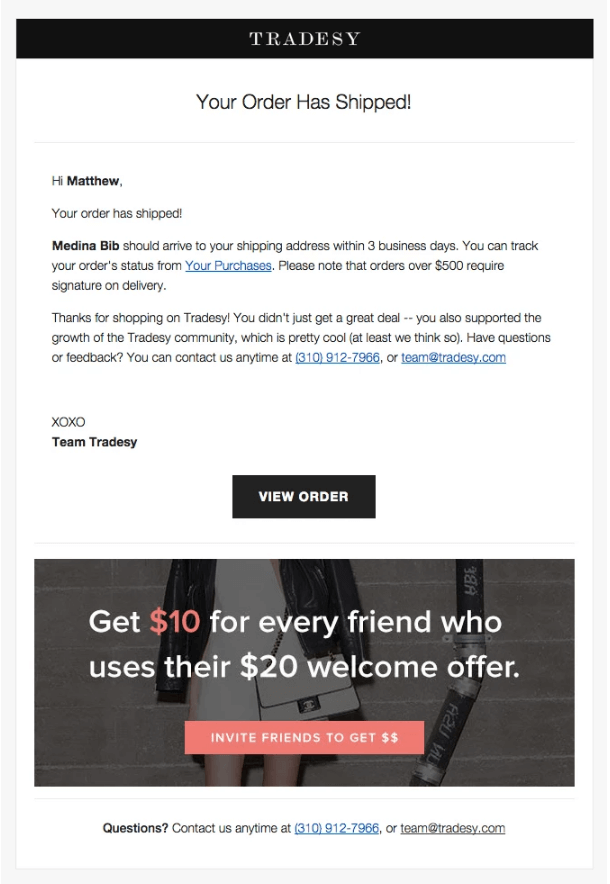 Transactional emails: Summary
Increasing sales through transactional emails is fast and easy with a Shopify email marketing apps.
Add product recommendations, so customers to find products that they're interested in. Give coupons or discounts so people will visit your website repeatedly.
You can also encourage brand advocates to promote your products by sending a referral code. You can even direct users to the right web page through a navigation bar with clear and straightforward product categories.