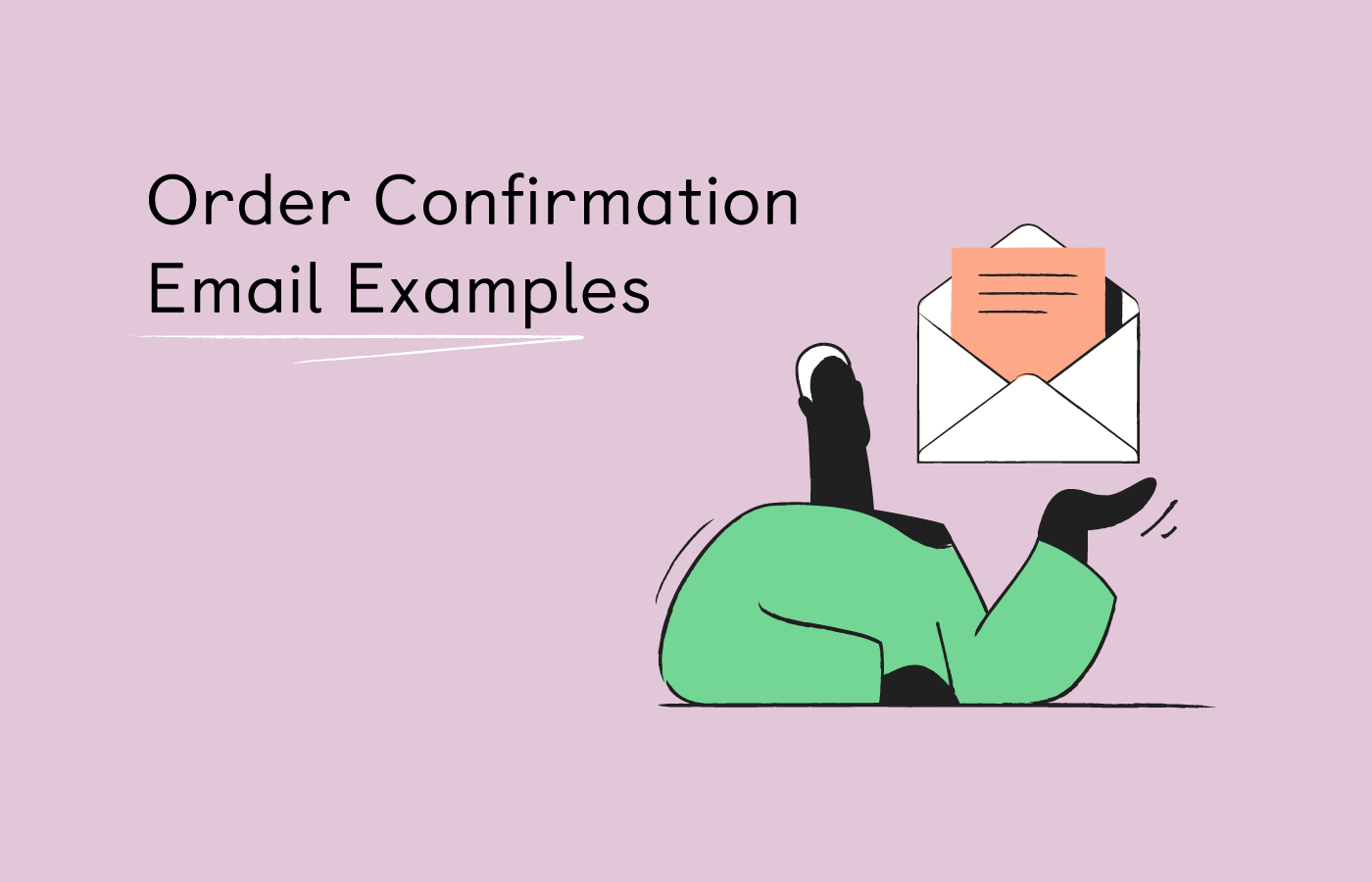 Confirmation emails are inseparable from any Shopify store that offers purchasing goods. These emails work as an agreement between the buyer and the seller, confirming that their deal has been done. Some businesses even manage to increase the rate of returning customers by including confirmation emails in their email marketing campaigns.
To help you build powerful messages, we've listed 5 best confirmation email examples. You can adapt these and use them as confirmation email templates for yourself. But first, let's see what an order confirmation is and why it's important.
What is an order confirmation?
An order confirmation is an automated email that the client receives after setting their order. It confirms that their purchase has been successful, and the company received their order. The email contains important information about the order, such as a delivery address, a payment method, list of ordered items, parcel tracking details, shipping method, and estimated delivery date.
Shopify store owners can also include confirmation emails in their email marketing strategy. The emails may include promotional information, offer similar items to the ones the customer has ordered, or provide a discount on their next purchase. These steps can increase the chances of turning the customer into a returning client.
5 order confirmation email examples
Let's look into a few examples to find out what tactics companies use in their confirmation emails. These can be a good example for your own order confirmation email template because they include different ways to make the most of these emails.
1. Order acknowledgment template
SportsDirect's purchase confirmation email includes a confirmation note, which acknowledges that the order has been received. They also confirm the delivery details and provide a list of the ordered goods.
As you can see, at the top of the email, the client can find the different steps: order in process, order processed, and order collected. This simple timeline allows the customer to understand better what happens next and when they can expect to receive a delivery notification.
These steps also suggest that the client may get an email once their parcel moves to another processing stage. This way, the company gets a chance to send more emails where they can upsell or cross-sell their products.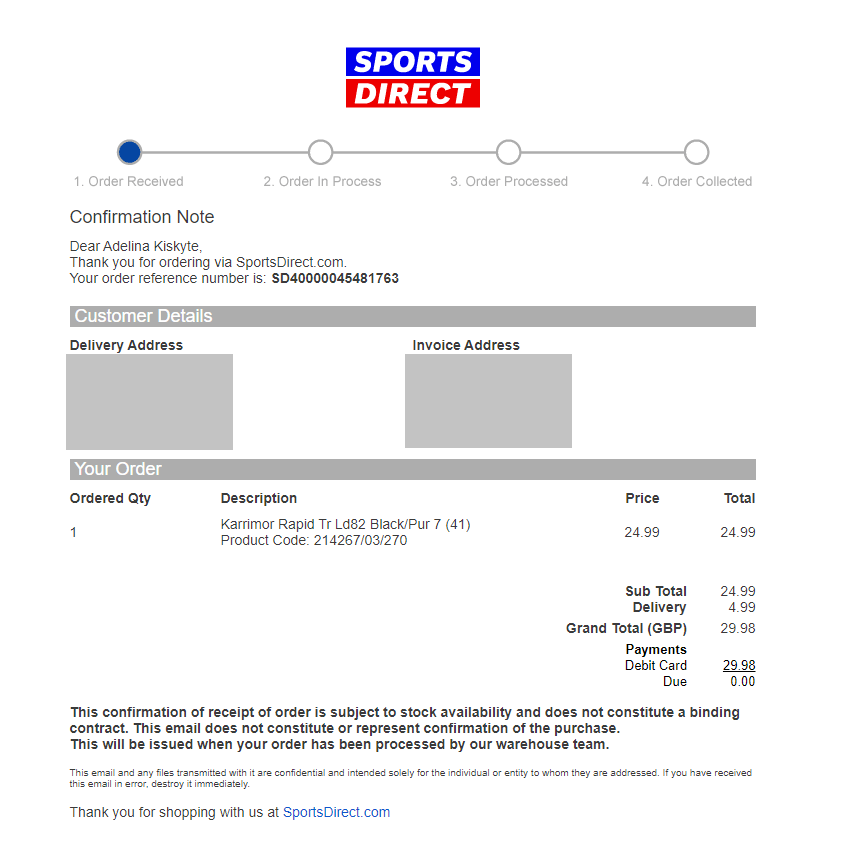 2. Upsell or cross-sell
Order confirmation emails are a good place to upsell and cross-sell your products. Some ecommerce stores suggest related products to the ones the client has just bought, while others personalize the offer by suggesting to purchase something that the client has bought previously.
Amazon does exactly that. In the email example, under the order confirmation, you can see what the seller offers to buy again, meaning that the client has previously placed those orders.
However, this only works on returning customers. For first-time buyers, shops upsell by offering to buy items similar to the ones in the placed order. Just keep in mind that these suggestions should also fall under a similar price range as the amount spent on your products. And there shouldn't be too many of them, try to offer no more than five items. Otherwise, they'll take up too much space and can even confuse or annoy the client.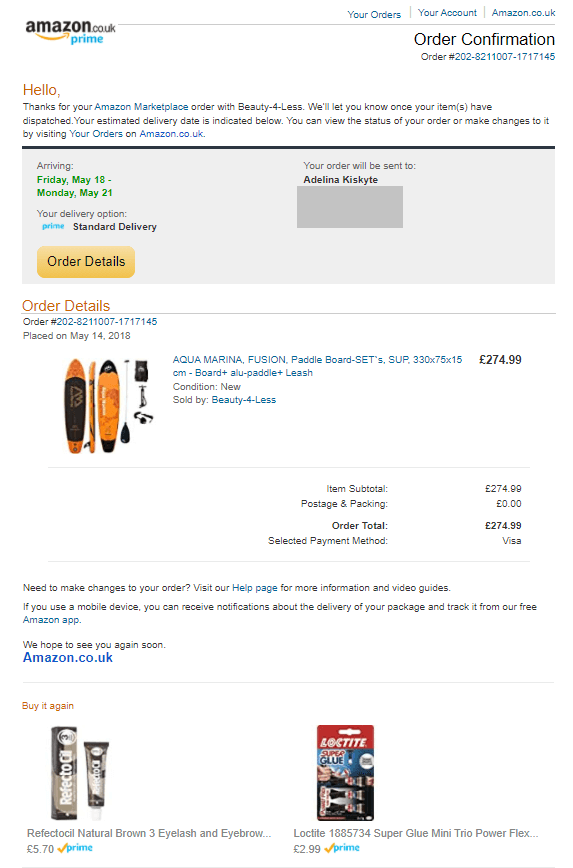 3. Introduce a reward program
Airbnb confirms bookings with a long email, which also includes an invitation to take part in their reward program and earn money.
Let's look at the ending of Airbnb's email. The confirmation email invites the customers to purchase travel insurance, check places around the location they're traveling to, and also earn money for the next trip. All these calls to action (CTAs) come one after another and are placed at the very bottom of the email, which perhaps is not the best tactic because people rarely scroll this far.
The three CTAs are not the end. The email finishes with an invitation to take part in a reward program: refer a friend as a host, and earn cash.
Offering a reward program is a common tactic to use at order confirmation emails. But in all honesty, with this many CTAs, the customer may get confused and not take any action. So to make the best of this order confirmation email example, try to limit the CTAs.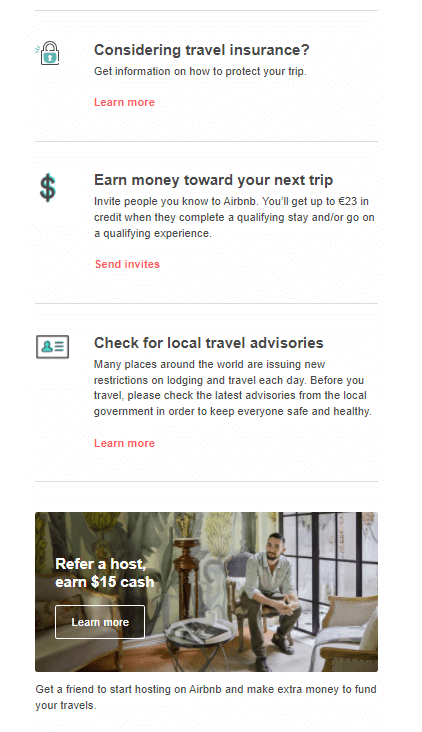 4. Thank the customer and make them feel good
Footwear company Toms confirms clients' orders with a thank you note and essential information. But they also go the extra mile by making the clients part of their movement - helping social services and providing shoes to people in need.
Just look at the first line of the email. Toms thanks the buyer not just for placing an order but for being part of the movement. This is a nice touch to every customer because it makes them feel included. It also makes the customer feel good because they know that by buying Toms' products, they not only purchase an item but also contribute to a bigger cause.
Instead of upselling their items, the company uses up the space at the bottom of the email to share information about their charity work and calls it "Notes from the field."
This company uses the confirmation email for advertising their values rather than products. If your business also has strong values that you'd like your clients to learn about, use a similar order confirmation email template for your shop.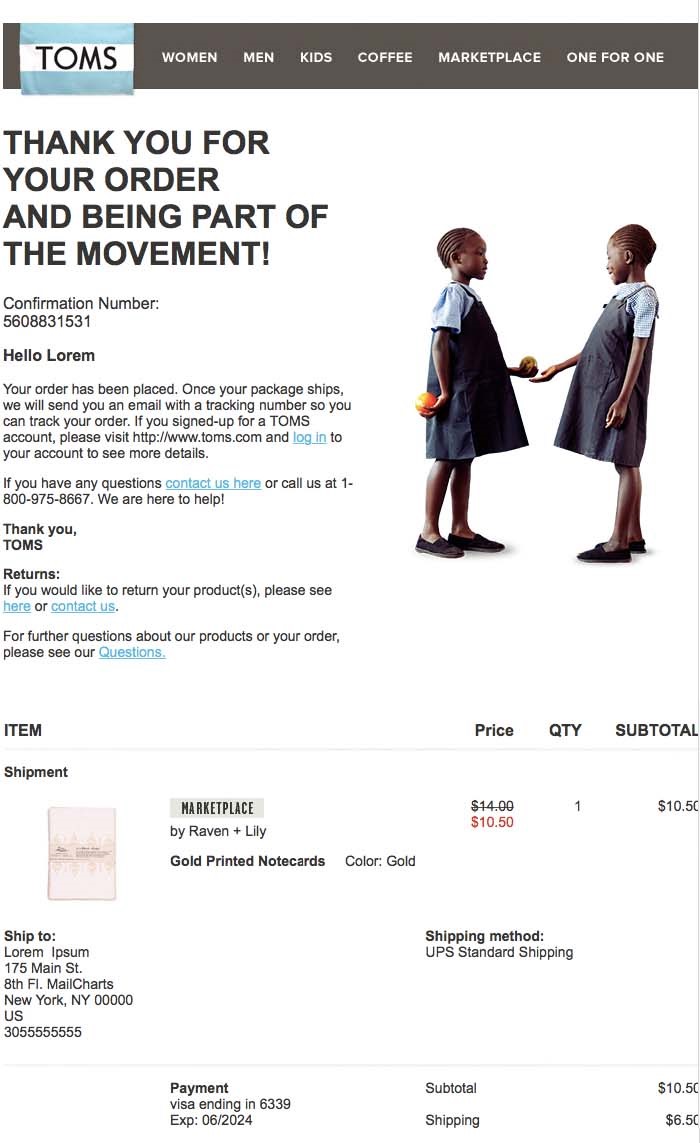 5. Make the order tracking easy
FreeStyle Libre provides a nice example that can be used as a shipping confirmation email template. The sender provides the tracking information, which is highlighted in the email, therefore easier to spot.
The image at the top of the email informs the customer that this email is about the shipping information, so they know what to expect. The headline is also large and clear. It provides the main information, so the client can easily find this email in their inbox if needed.
The sender also uses the space to advertise their mobile app and makes it easy for the user to download it right away. It's a smart way to use up the area. Other companies use this space for advertising their other products or services.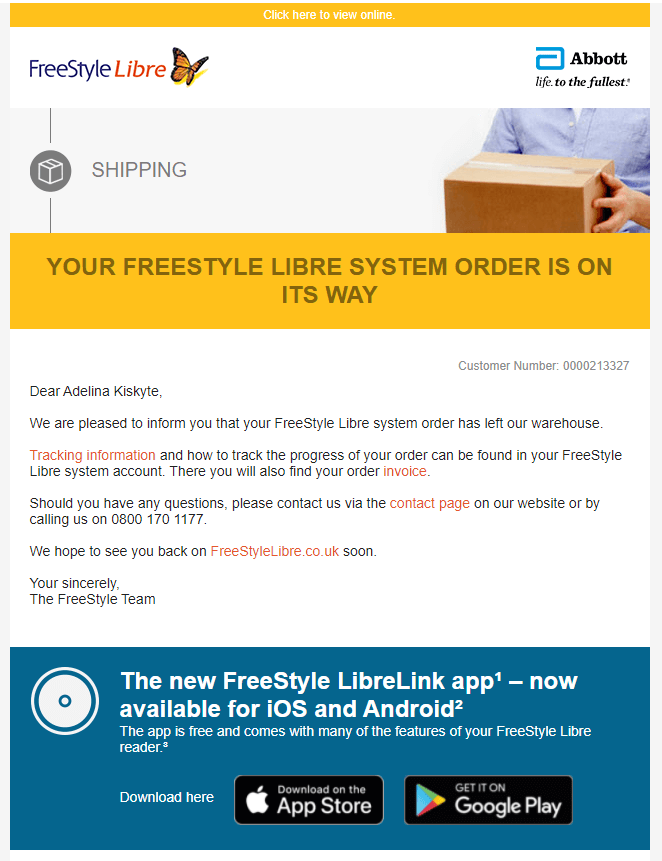 Examples of order confirmation email subject lines
Subject lines can be short and to the point, or longer and more personalized. They can also contain an order number or simply thank the client for purchasing. Most importantly, the client should know right away that the email they received confirms their purchase from your shop.
Here are 10 order confirmation email subject line examples:
We've received your payment
Your order is on its way!
Your order has been shipped
Thank you for your order
Order #XXX confirmed
Your order has been received
We're processing your order
Thanks for your order, we're on it!
We've sent your order
Thank you, your order is confirmed
If you include any of these as a subject line for your automated emails, the customer will know they received a confirmation email from you.
Components to include in order confirmation email
Depending on your email marketing strategy, you can include different components in your confirmation email content. However, some of the things must make it to your emails:
Your brand name
Make sure your client knows the email comes from the brand they ordered goods or services from. This can be reflected in the sender's email address, or you can add your logo at the top of the email. If you're ready to take an extra step, include your brand colors in the email. This way, the client will know where the email came from, and it may also help them recognize your brand better.
Date
Some clients place more than one order from the same shop, and the date helps them keep track of the orders. Also, if you promise to deliver the order in a certain number of days after placing the order, the customer will know from which date to start counting the days until their parcel may arrive.
Name and address of the client
This is a good place for the customer to make sure they entered their details correctly. Since confirmation emails usually come right after placing an order, there's still time to correct the shipping address or billing address if they notice a mistake. This information is also helpful to the clients who order to different addresses, for example, their workplace rather than their home address. If they're waiting for a parcel, they can always come back to the confirmation email and check which address they placed the order.
List of ordered goods
Add a summary of the goods that your client just purchased. This way, you'll help them get to their order summary faster. You should list all the items the client has ordered, and also include the price, images, and mention what shipping method they chose. It works as a digital receipt.
Tracking number
Don't make your customer browse your website for their tracking number. Include it in the confirmation email and make sure it's clear how to track their parcel. Clearly stating the tracking number makes your brand look trustworthy and transparent. The client should know where their ordered goods are, and you can easily help them.
Thank you message
Even a short thank you message will make your customer feel good. By thanking them, you acknowledge that their order is important to you. You can take an extra step and personalize the message by including the customer's name. This will add a nice touch to the automated confirmation email.
Why confirmation emails are so important?
Order confirmation emails, just as any transactional emails, are important to every Shopify store owner. Here's why:
1. Confirmation emails build trust
If someone's buying from your Shopify store for the first time, they want to be sure that your company is legit, and they won't get scammed after revealing their payment details. An email confirmation ensures the client that their order has been successful and tells them when they can expect to receive their parcel.
2. Purchase confirmation emails have a high open rate
Confirmation emails have a much higher open rate than any other promotional emails. To unlock the full potential of confirmation emails, you can add a line in the email suggesting your client check out your other goods. You can also offer them a discount for their next purchase. Confirmation emails give you a great opportunity to leave a good impression and turn the buyer into a returning customer.
3. They include important information
Once someone places an order, they expect to receive a confirmation email acknowledging that their order came through. The more useful information you include in the email, the happier the customer will be. Just like regular receipts, a confirmation email is proof that the customer has purchased items.
Bottom line
Every Shopify store that fulfills orders needs order confirmation emails. They build trust for your brand and give you a chance to turn one-time buyers into returning customers.
You can build the emails based on the order confirmation email templates or develop your own ideas. However, there's a list of components these emails should include, such as your brand name, client details, and delivery information.
The best confirmation emails are timely, informative and make the customer excited about purchasing from your store.
FAQ
Should I send order confirmation email after each purchase?
Yes, you should send the order confirmation email after each purchase. These emails contain important information that your customers expect to receive, such as parcel tracking code, delivery details, and a list of ordered goods. Clients may get in touch with you to confirm their order if they don't receive an automated email.
Why do companies send confirmation emails?
First of all, companies send confirmation emails because they build trust. The emails inform clients that their order has been successful, and they can trust the brand to do their best to fulfill the order. A high open rate also makes it a good place to excite the client and promote related goods.
What is the purpose of a confirmation email?
The purpose of a confirmation email is to confirm the action of placing an order. The email contains transactional information that is important to the client. To ecommerce companies, confirmation emails are a good place to reach out to clients since they have a higher open rate than any other promotional emails.