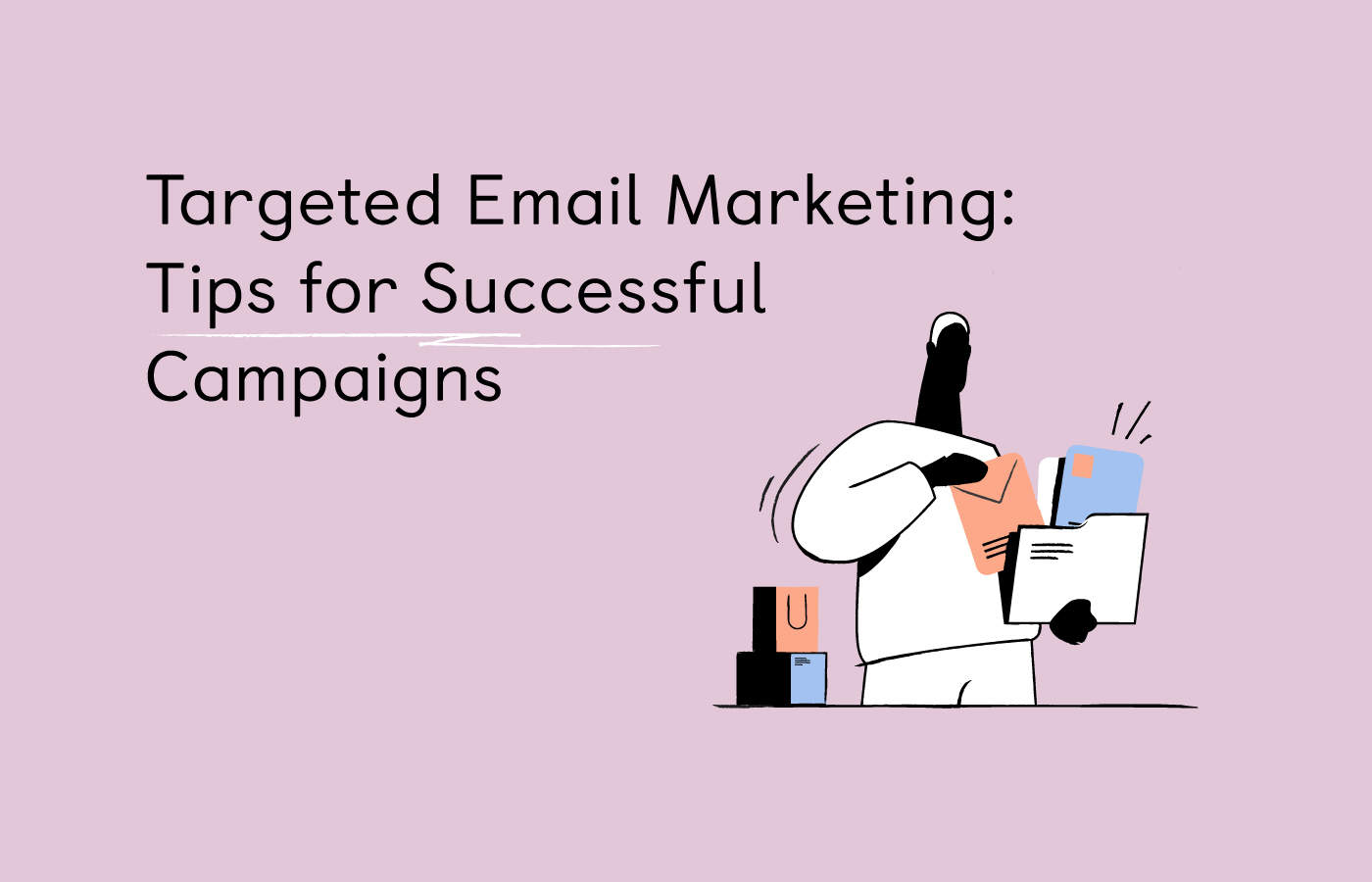 Targeted email marketing is one of the best tactics to reach clients or potential customers, engage with them, and turn them into returning customers. Targeted emails are the key to building a good relationship between your brand and email recipients. However, not every company manages to utilize the power of personalized emails successfully.
How to make sure your emails are making the best possible impact on your subscribers? How to build a successful targeted email campaign and maximize your sales? Read on, and you'll find the answers to these and many more questions about effective email targeting campaigns for your business.
What is targeted email marketing?
Targeted email marketing is a process of sending personalized emails to subscriber groups. These groups are identified by segmenting users based on their characteristics, such as age, gender, location, and preferences. Targeted email campaigns are an effective marketing initiative because personalized emails have a higher open rate and produce a better ROI compared to batch emails.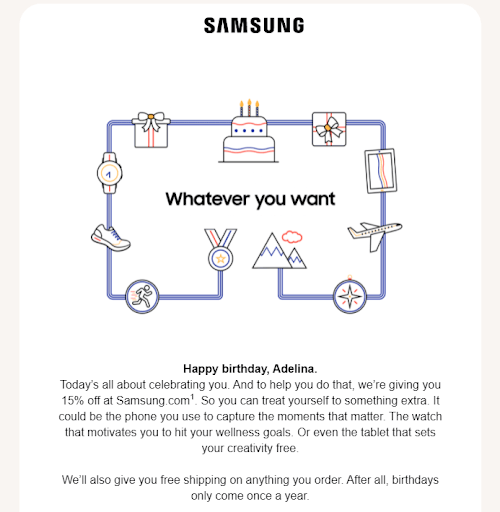 Customer segmentation is an important part of targeted email marketing. Segmenting subscribers based on their information helps identify email recipient groups and send them engaging and relevant emails.
Boost your sales with targeted email marketing.
Start now!
Benefits of targeted email marketing
1. Relevant content
Segmentation helps identify the groups of subscribers based on their interests and other factors. This tactic is beneficial for both companies and their service users. This way, customers receive offers that are relevant to them and have a higher chance of engaging, and making a purchase.
2. Higher ROI
Subscribers are more likely to open emails that are relevant to them. If they find the content interesting, they are also more likely to buy from the brand. Personalized emails generate a median ROI of 122%, according to LiveClicker.
3. Longer retention
Interested clients are less likely to unsubscribe from your mailing list. So even if your subscriber list is not yet converting, it's still worth keeping them on target email marketing lists. As long as you have the users on your list, you can find a way to turn them into buying clients.
4. Higher engagement
Studies show that personalized subject lines alone can increase email open rates by 50%. Can you imagine what targeted content inside the email can do? Not only is their open rate higher, people are also more likely to engage with brands that offer relevant products.
5. Stronger relation to the clients
Email targeting builds a stronger relationship with your subscribers. Even if they're not converting right away, they get a chance to get familiar with your brand. Consistent and thoughtful email campaigns are worth investing in because they work in the long run.
How do I run an email campaign?
To begin a successful targeted email campaign, you need to take the following steps:
1. Build a targeted email list
To run an email campaign, you need to collect email addresses. With the help of best email marketing software, you can easily install pop-ups on your business's homepage, where visitors can leave their email addresses. However, collecting emails is not enough for building a targeted email list. You need to collect more information that would later help you segment the list.
2. Segment the list
Email list segmentation is essential for a successful targeted email campaign. The more information you have about your subscribers, the better campaign you can launch. A good start would be knowing your subscriber's age, gender, location, and preferences. Once you have this information, you can split the subscribers into segments based on their characteristics.
3. Include relevant content
Once you have your segments, creating relevant email content will be easy. User segmentation helps recognize what your subscribers may be interested in. For example, if you're targeting a segment with males aged 25-30, who live in California, and are interested in surfing, you can offer them items that fit their characteristics.
4. Connect different channels
To collect information, send emails, and track the performance, you need to unify the data across different channels. The easiest way to do it is using an email marketing app for your ecommerce store. Various apps have different features, but ideally, the app would help you collect the data and send emails to your target email marketing lists.
5. Track the performance
Targeted email marketing is something that requires constant attention. People's interests change, so you need to update your segments all the time. Performance tracking will help you stay on top of your targeted email campaigns and react whenever you see changes in the performance. If that's not enough, you might want to consider using timeline software to have better overview on your campaigns.
How to segment your email list?
We have mentioned that segmentation is an essential step in building a targeted email marketing campaign. Now, let's see how to segment your email list.
1. Define data points
Think about what client information is the most important to you. The answer will depend on your business. Some of the most relevant information that may help raise the conversion rates is gender, age, location, and interests. This information will help you produce relevant messages.
2. Create customer personas
Build a client persona based on your collected data. Give them a name, gender, age, perhaps even a job, based on their interests and preferences. Identify their pain points and try to offer a solution. Once you create content for this persona, think about them as a person, and adjust your tone accordingly.
3. Choose segments
Now, choose segments for your buyer personas, and experiment. Try sending different content to your segments and see what strategies work the best. You can choose different segments depending on the buyer journey stage, or your client's actions. For example, you can have segments for welcoming a new client, promotional emails, or order confirmations.
4. Be ready to update the strategy
Don't be surprised if your email marketing strategy won't work right away. A/B testing is an essential part of email campaigns, and you shouldn't forget performance tracking. If you notice that something's not working for your clients, it's great because then you can adjust your strategy and find what works.
Best email marketing apps for Shopify
Shopify store owners have a lot of options when it comes to email marketing services. We have researched and selected the best ones for targeted email campaigns. Here are three choices and if you're looking for more, check out our comprehensive guide to the best Shopify apps for email marketing.
1. Firepush

Firepush offers everything you may need to build an effective targeted email campaign. The app provides email templates and one-click segmentation that will help you maximize your Shopify store sales.
With Firepush, you can automate all sorts of targeted email campaigns: promotional emails, order confirmations, payment refunds, and more. The app is user-friendly and offers a free trial, so you can test it before committing.
2. Omnisend

Omnisend helps create professional-looking personalized email campaigns. The app has a template library with customizable designs for your emails. You can also add dynamic content blocks to your emails, which means that you can easily suggest products to clients based on their interests.
The app also offers a segmentation feature for campaign targeting. You can create audience segments based on clients' profile data and shopping history. Once your campaigns are live, you can track your email performance with the advanced campaigns report feature.
3. Automizely Marketing

Automizely marketing automation app offers 30 marketing features, including email automation. The app allows sending personalized emails to different segments of your subscribers.
According to Automizely, sending personalized cart abandonment emails helps recover sales from 79% of clients. Sounds like it's worth giving it a try, right?
Conclusion
Emails are one of the best channels to reach your existing and potential clients. To make the best of email campaigns, personalize your messages and build email segments for specific buyer personas.
Targeted email campaigns have a number of benefits, including high ROI, prolonged client retention, and a chance to build a close relationship with your customers.
We hope this article has helped you to better understand what is a targeted email, how to run an email campaign, and how to segment your email list. And, of course, what apps to turn to if you want to maximize your sales with successful targeted email campaigns.
FAQ
What is a targeted email list?
A targeted email is a personalized message that companies send to segmented email lists. These emails contain information relevant to specific subscribers or clients. To prepare effective content for specific targeted email lists, companies collect data about the clients, for example, their gender, age, location, and interests.
How do I know if my audience is opening my emails?
To know if your audience is opening your emails, use an email marketing app. Email marketing apps have different features, but most of them offer email open tracking.
For example, the Firepush app allows tracking your Shopify store's email performance, including the open rates.
Is targeted email marketing effective?
Targeted email marketing is highly effective. Surveys show that companies that use targeted emails based on segments have increased their revenue by as much as 760%.
Moreover, targeted email campaigns have multiple benefits. They increase ROI, help build a better relationship with your clients, and extend customer retention.