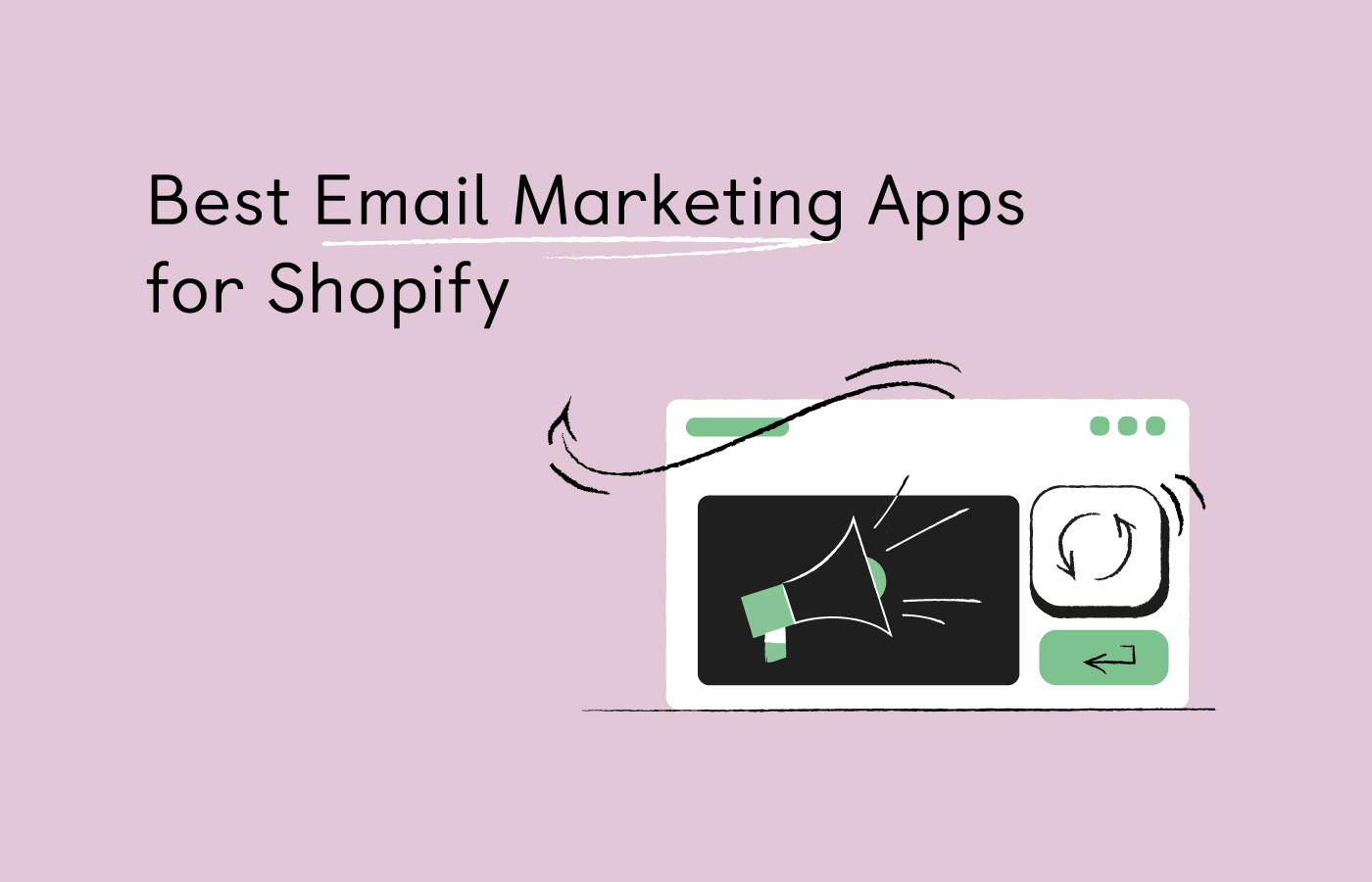 Email marketing with Shopify has many benefits. From drastically increased ROI to building a connection with your clients, companies of all sizes have something to gain from it. However, email marketing is challenging, and building successful email campaigns requires time, knowledge, and skills.
Luckily, email marketing apps are there to help. Applications can provide a selection of design templates to make your emails look professional; automate emails to reach your clients at the best time; and, of course, they help increase sales.
How to choose the best email marketing app? What to look for in the best tool? We've reviewed a number of services and selected the best Shopify email marketing apps for you to choose from. Read on to find the pricing, features, and Shopify rating scores of the best email marketing apps.
Top 5 best email marketing apps for Shopify:
What to look for in the best email marketing app?
Shopify email marketing may be challenging, but the right app can make it much easier and more effective. How to choose the right app?
Know your goal. Different Shopify email marketing apps may cover different aspects of your campaigns. You should know what you need from the app. Some of the tools help gather email addresses or simply provide email templates, while others automate your messages and track their performance. Think about what functionalities you need and then pick the best app in that field.
Read the reviews. If you only read the description, most of the Shopify apps seem to do magic. However, when you scroll down to the reviews, it may appear that it's not always the case. Read the reviews of the apps that interest you, and check out companies that already use the service.
Try out before committing. All the email marketing apps that we listed here offer a free trial. Some even offer 14-day free trials, which is enough time to find out if the tool is the right fit for you. Free trials often have less functions than paid versions, but they should be enough for testing. If you buy the app without trying it first, you may end up wasting your money.
Best email marketing apps for Shopify - our detailed list:
We tested nearly 100 Shopify email apps and picked 11 that we think are the best. Our research was based on the Shopify rating score, user reviews, how easy it is to use the app, and its functionality.
1. Firepush

The Firepush app covers every aspect of email marketing that a Shopify store owner may need. The app offers email templates and one-click segmentation for targeted email campaigns that help convert more clients and grow your revenue.
Shopify rating: 4.8 ★
Price: From $15 a month
Free trial: Yes
Shopify app: Get Firepush
Firepush employs different marketing channels (emails, SMS, and push notifications) to increase your conversion rates as well as order value. With one-click customer segmentation and a wide selection of email templates, you can quickly build different email marketing campaigns. The app is easy to use, it has a convenient dashboard, and offers friendly pricing to accommodate Shopify businesses of all sizes.
Pricing: You can start using Firepush app for free as they offer both a 14-day free trial and a free plan. However, the free plan doesn't include emails. You can get an email feature with their Basic plan for $15 a month.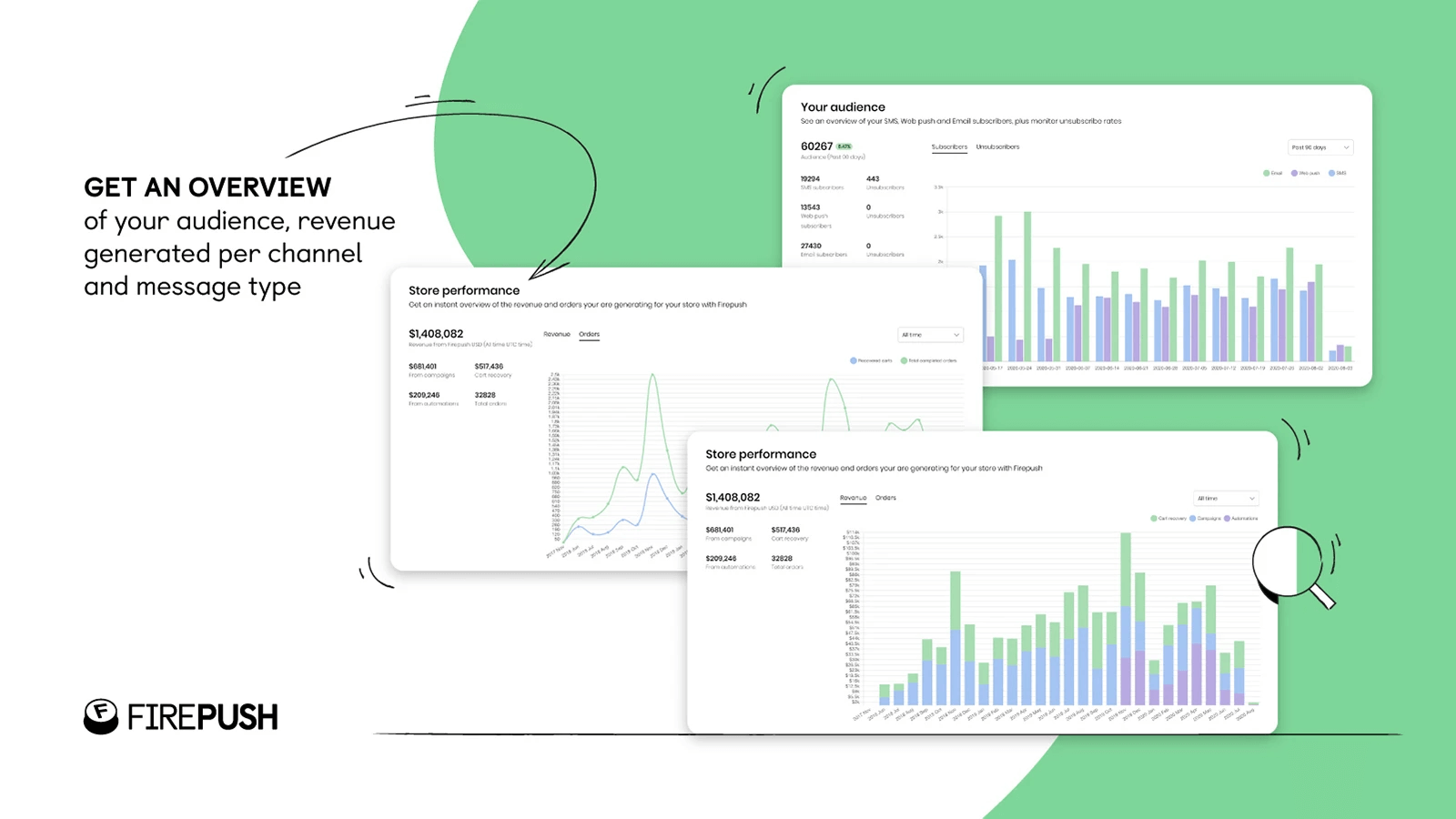 Main features:
Different email templates for separate marketing campaigns
One-click customer segmentation for targeted email campaigns
"Win-back" campaigns to re-engage clients with discounts and promotions
Automated abandoned cart recovery emails
Bulk email delivery
2. Seguno: Email Marketing

Seguno is built specifically for Shopify, so it doesn't require switching between apps. The tool's main goal is to save time for Shopify store owners. Seguno features an automation library, which helps quickly reach your clients in various stages of their customer's journey.
Shopify rating: 4.8 ★
Price: From $10 a month
Free trial: Yes
Shopify app: Get Seguno
Seguno has teamed up with different platforms, widely used by marketers, to make email marketing quick and easy. The app allows inserting images from your Instagram feed to your emails, designing with Canva inside the app, and synchronizing Facebook leads in real-time. This means that you don't have to switch between different platforms to build attractive emails. You can also easily track your email marketing performance because Seguno's newsletter and automation reports are integrated with all Shopify marketing reports.
Pricing: Seguno offers two pricing plans, one is free, another one is $10/month. The paid plan covers 251-1,000 subscribers. If you've got more than that, you'll be charged another $10/month for every 1,000 subscribers.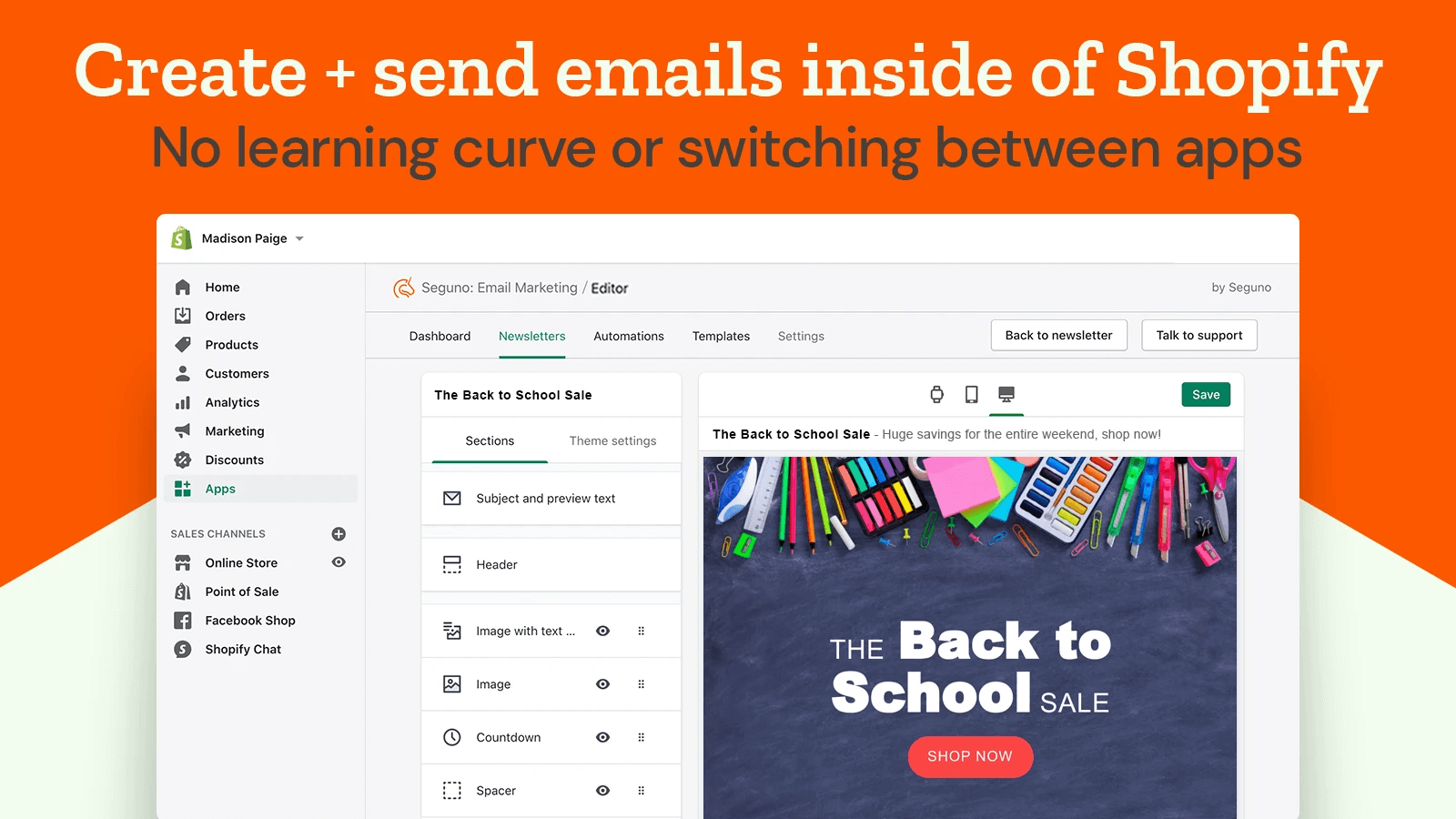 Main features:
Pre-built automation library that sends various messages in one-click
The automatic discount application that generates unique promotion codes and links
Email marketing reports to track campaign performance
Customizable email templates
3. SM: Email Marketing & Pop Ups

SmartrMail Email Marketing & Pop Ups app helps quickly build emails. The app is powered by machine learning technologies and can automatically match email templates with your Shopify store's style.
The SM: Email Marketing app makes building emails easy because it features templates for any email marketing campaign you may need, including welcome emails, abandoned carts, and Shopify email review requests. The app also has a drag & drop automation builder, which means that you can quickly customize your emails. If that's not enough, the smart segmentation feature allows setting customer segments and sending targeted emails based on customers' purchase activity on Shopify.
Pricing: You can choose between three plans: Free, Standard, and Unlimited. The free option covers up to 1,000 subscribers and up to 5,000 emails per month. The Standard plan costs $19/month and the Unlimited one is $99/month.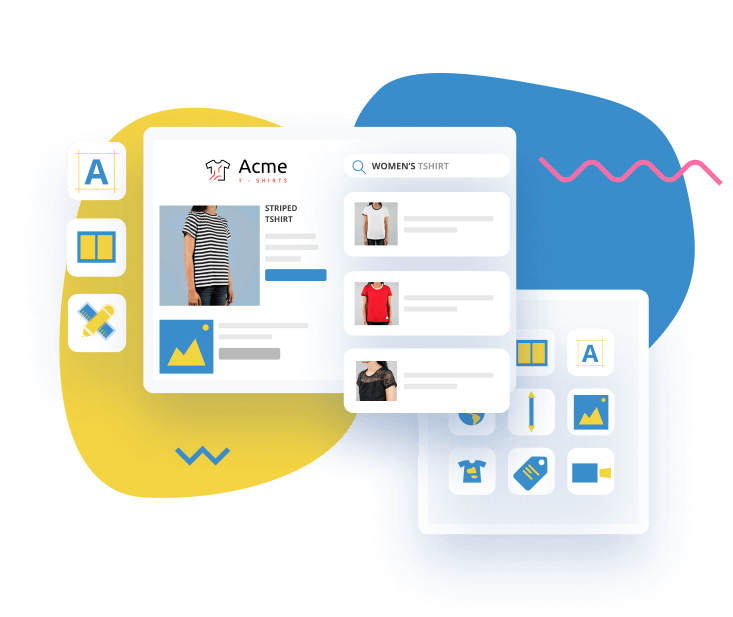 Main features:
Smart email template builder that matches your store's style
Integrated customer segmentation for targeted email marketing
Pre-made and customizable email templates
Migration support when moving across from other email marketing apps
4. Pop Ups, SMS & Email Marketing

Pop Ups, SMS & Email Marketing by One is a free email marketing app that features email automation, social proof, and gamification to bring in more sales. The app offers creative ways for capturing leads.
The One stands out from other apps not only because it's completely free. The app encompasses 18 different marketing and conversion tactics for building a marketing strategy that maximizes sales. The app focuses on creating personalization, building client loyalty, and offering rewards. It also has three different features for abandonment protection: browse, cart, and checkout recovery. You can choose from over 300 themes for your emails, and integrate pop ups to capture more leads for your email campaigns.
Pricing: The app is completely free and doesn't have any pricing plans.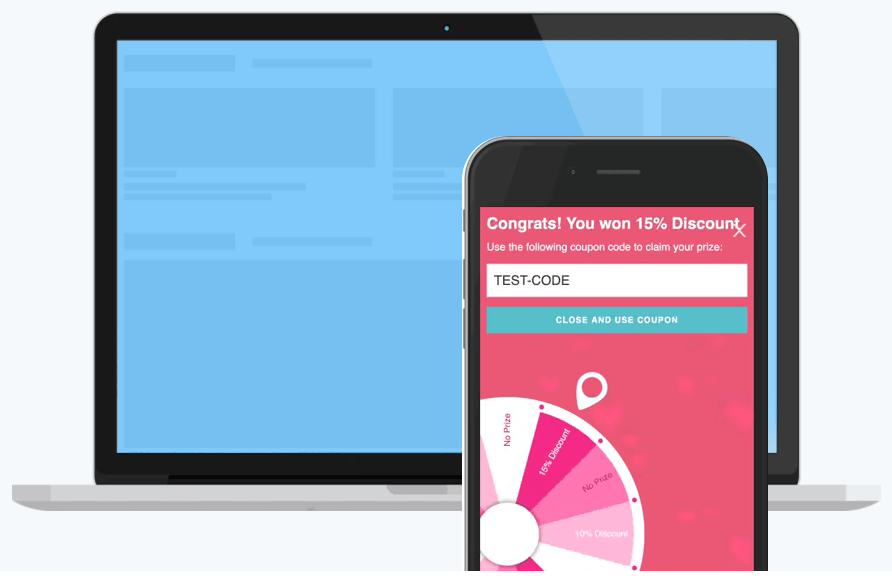 Main features:
Gamified email capturing
Over 300 email themes for different occasions
Three different abandonment protectors
Live chat and video calls for on-boarding
5. Email Collection Bar

Email Collection Bar by Hextom is the best Shopify app for collecting emails. The tool adds a customizable bar to your store that catches the visitor's eye and helps you build an extensive subscriber list for your email campaigns.
The first thing you need to have before you can launch your email campaigns is an email list. The list should contain the contact details of those who are interested in your product. The best way to generate this list is to gather emails from those who visit your Shopify store. The Email Collection Bar does exactly that. The app also offers unique discounts after collecting email addresses to increase sales.
Pricing: The Free plan will help you collect up to 50 emails per month. The Basic plan will collect up to 500 emails and charge you $9.99/month.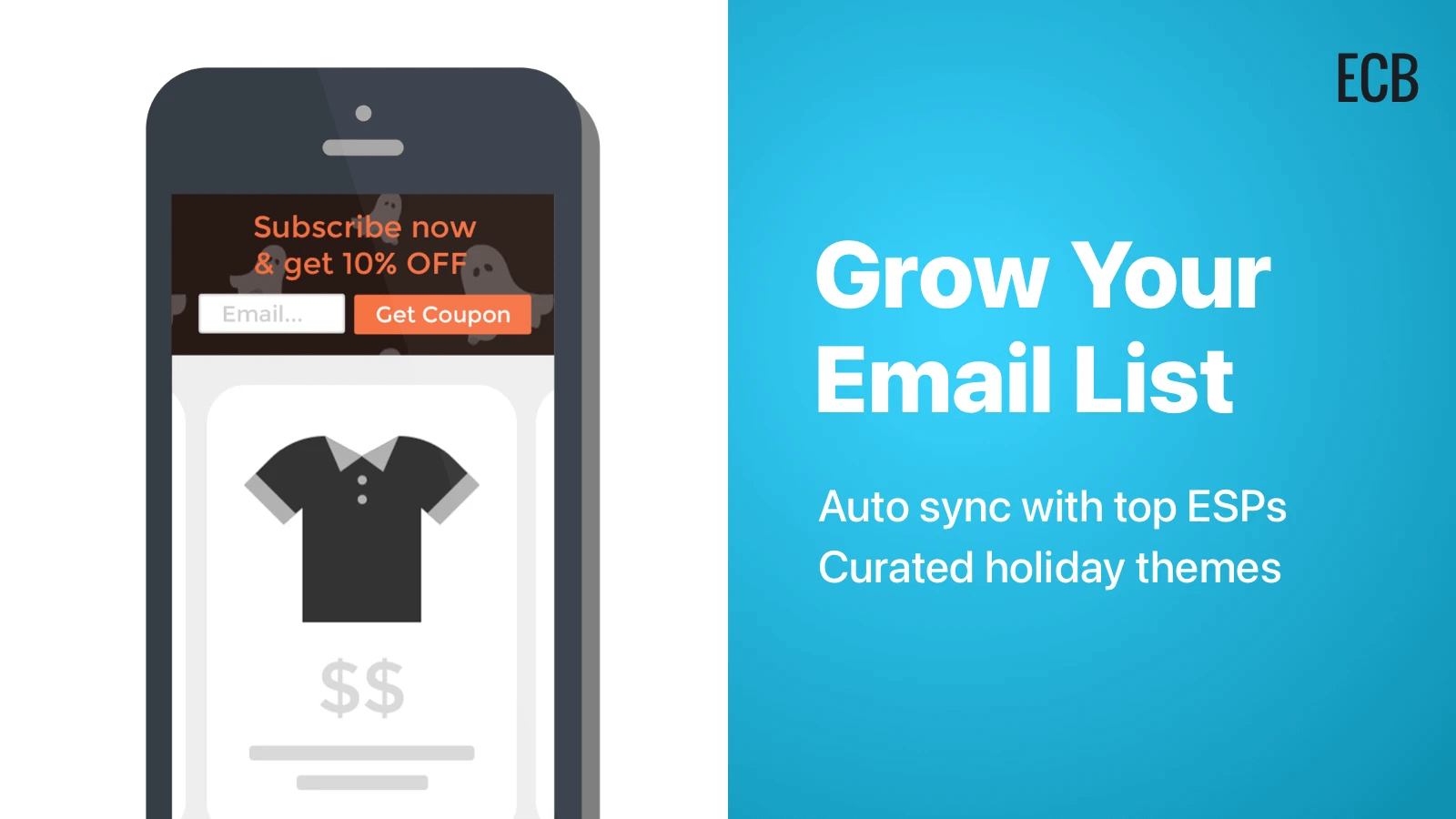 Main features:
Fully customizable email collection bar
Device-responsive design optimized for different screen sizes
Can display different bars to visitors from different locations
Generates unique discount codes in real-time
6. OrderlyEmails: Email Templates

If email design is your top priority, OrderlyEmails is the app for you. This email marketing application contains professional-looking email templates that can match your Shopify brand and style.
OrderlyEmails upgrades Shopify's default email templates and makes them look more professional. You can also make these emails more effective by adding automated product recommendations and discount codes. The tool works on over 30 default Shopify email templates, and you only need to pay once you update the template to match your needs. All the emails automatically appear on Shopify's marketing and conversions reports, so you can easily track their performance.
Pricing: The app is free to install. Once you choose and set up your theme, you'll be charged $49 as a one-off payment.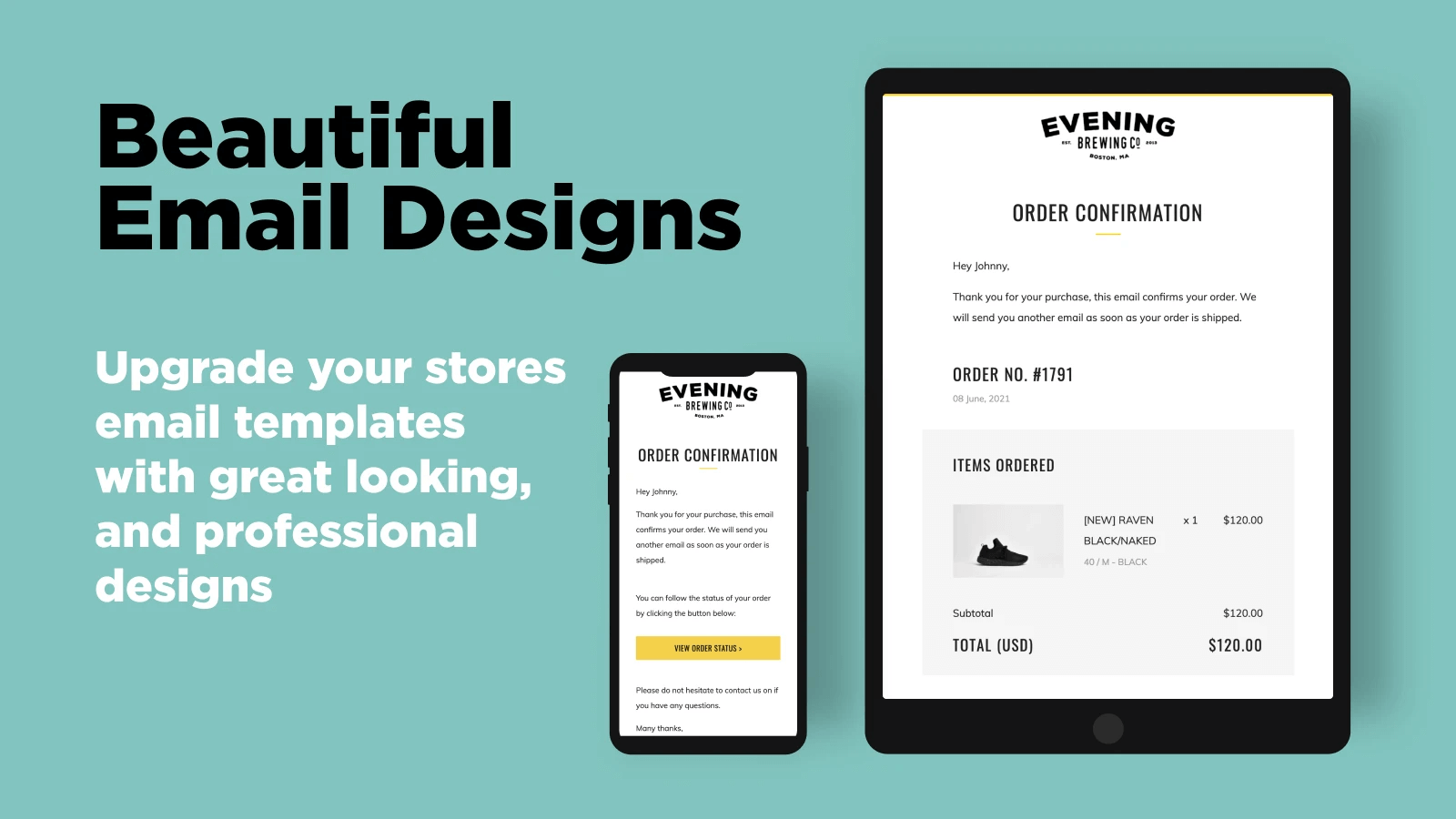 Main features:
Magic Designer imports your logo, colors, and fonts in one-click
Supports multiple currencies, languages, and sales tax settings
Free to install, only charges per theme
7. Automizely Emails & Pop Up

Automizely is a suite that contains over 30 sales apps in one place. Email automation is one of the many marketing features that this app offers. The tool seamlessly integrates with Shopify to boost your email campaigns.
The app automates email marketing by offering different email campaigns. You can segment your subscribers and trigger different emails based on their activity in your store. Automizely helps build and automate email newsletters, welcome emails, abandoned cart messages, and others. You can also grow your email contact list by collecting email addresses with various pop ups on your store. And, of course, Automizely allows tracking your performance in real-time via a dashboard.
Pricing: Automizely is free for up to 300 contacts. If you want to send unlimited emails for up to 600 contacts, it will cost you $11 a month. The Essential plan is $25/month and covers 6,000 contacts.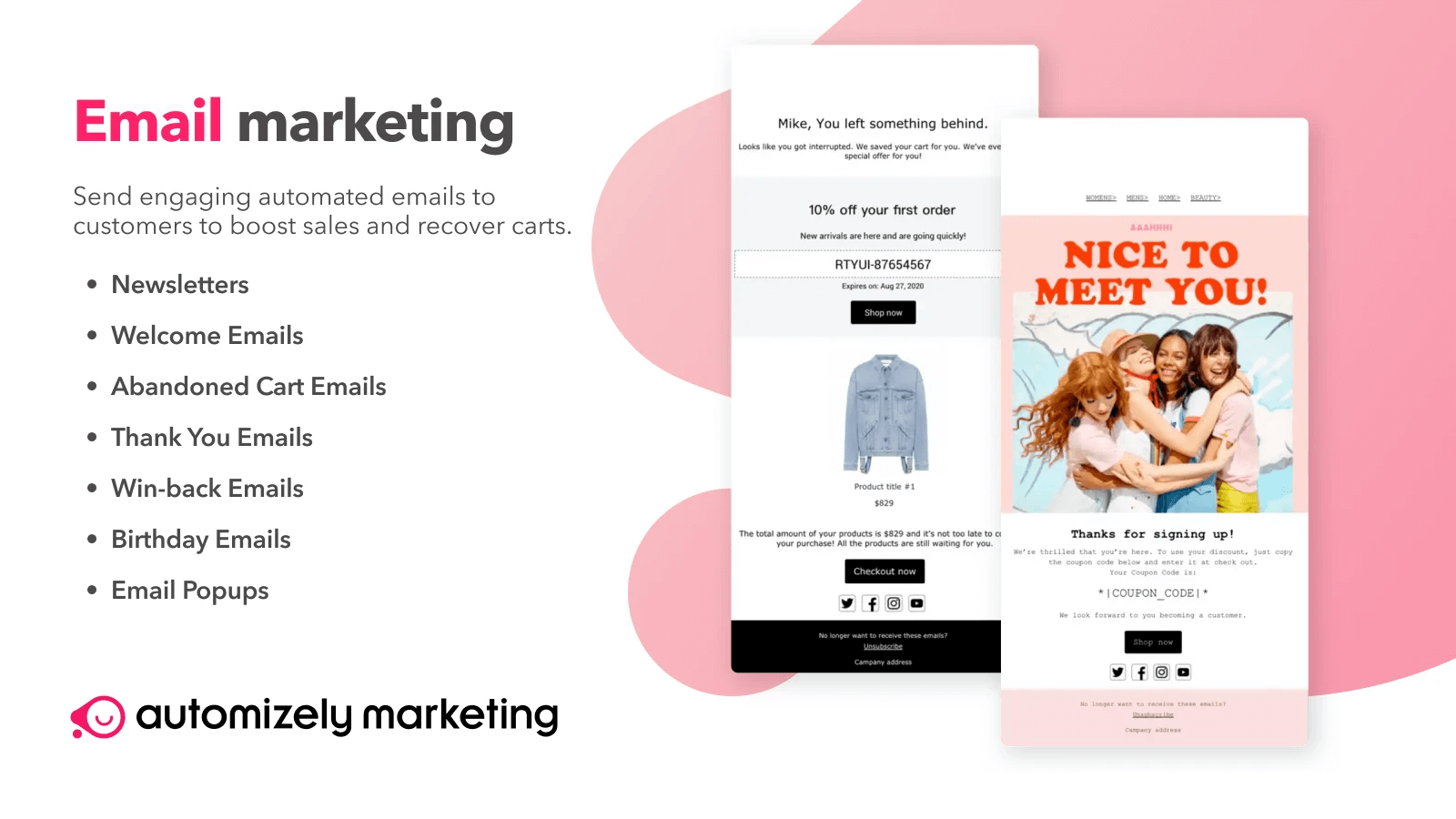 Main features:
Automated newsletters with special offers and seasonal promotions
Various pop ups and count down timers to boost your sales
Can integrate a Facebook chat widget
Real-time dashboard for performance tracking
8. Email Marketing Follow Up

Email Marketing Follow Up app offers built-in email templates that can be customized and reviewed in real-time. The app supports many variables for email personalization, such as abandoned checkout links, purchased items, shipping address, and more.
Email Marketing Follow Up helps build personalized email campaigns based on the actions your subscribers take. The app allows scheduling emails, it has built-in workflows and event triggers. Differently from most other email marketing apps, the Follow Up charges by the number of sent emails, not by how many customers you have, so you can end up saving money compared with different apps.
Pricing: The Free plan of the app will let you send 500 emails per month. If you're looking to send up to 1,000 emails, it will cost you $9. 3,000 emails will charge $19, and you'll pay $29 a month for 5,000 emails.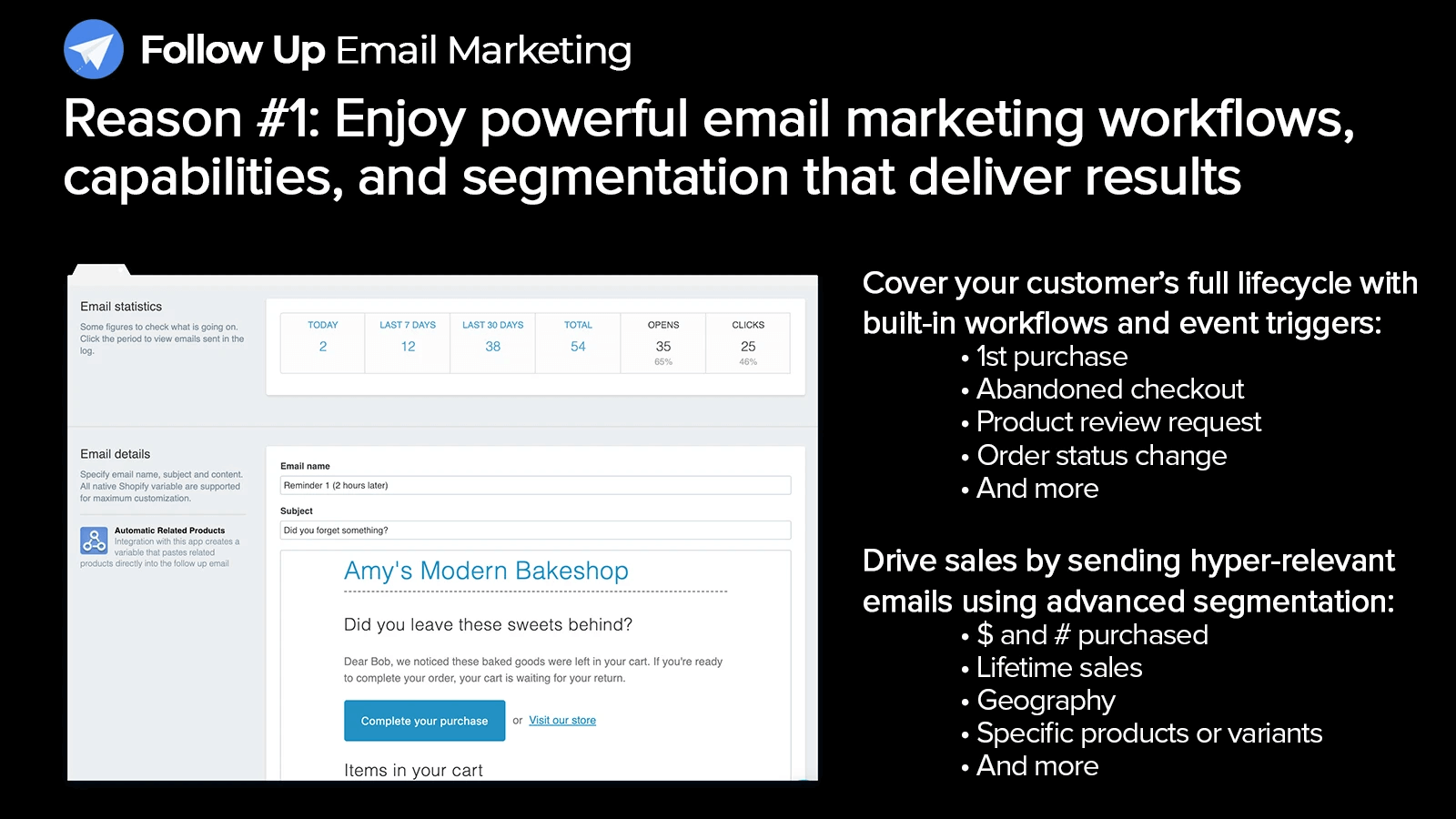 Main features:
Advanced segmentation based on the amount spent, items purchased, and location
Automated emails can be scheduled or triggered by different events
Email personalization by adding different variables to your emails
Supports unique discount codes
9. Popup, Exit‑intend Pop

Popup, Exit-indend Pop by ManySales is an omnichannel marketing app that contains SMS, email marketing, and pop ups. The app helps collect contact details and use them to generate more sales.
The app features advanced customer segmentation. You can create different client segments for shoppers interested in specific categories or products, for those customers who need to be re-engaged, or for high-value clients. Growing the contact list is also one of the strengths of this app. It allows creating dynamic and fully customizable sign up forms that will catch your client's attention.
Pricing: The app has a free option and an Advanced plan for $70/month. The free plan covers up to 20,000 page views a month, offers basic pop ups, and global A/B testing.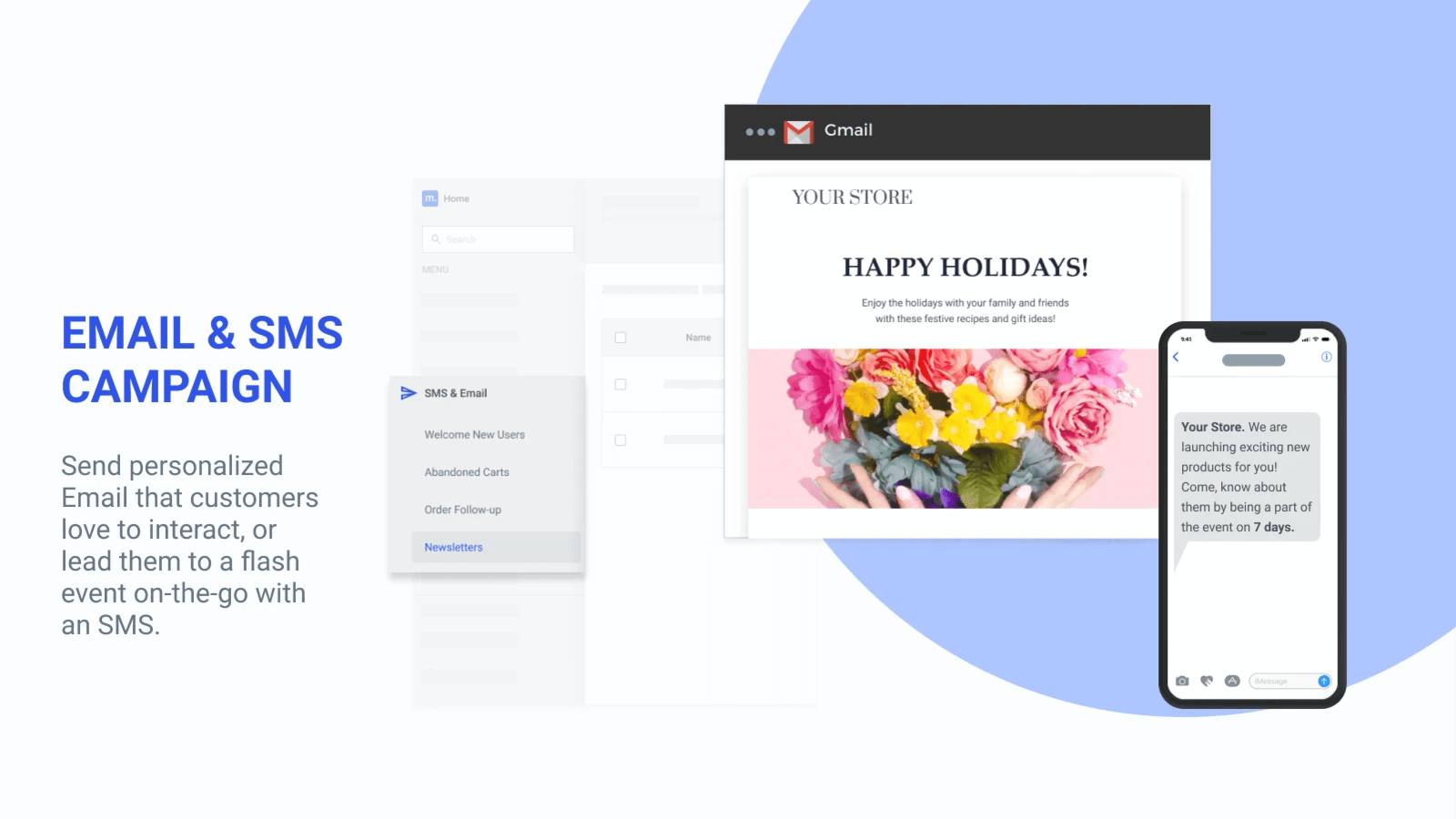 Main features:
Robust customer segmentation based on client shopping behavior
Exit-intent forms and dynamic pop ups for lead generation
Targeted banners to be displayed on your store
Omnichannel messages
10. Invoice Falcon

Invoice Falcon is a billing document management app that sends automated PDF invoices, receipts, and packing slips. The application takes care of all the important paperwork and produces professional invoices that are tax compliant.
Invoice Falcon helps your brand stay consistent even when sending invoices. Their document creator allows adding your logo, brand colors, and a thank you message to various documents. The app covers invoices, quotes, drafts, credit notes, and more. You can easily set payment dates, taxes, and due dates. All the documents can be managed via an order admin dashboard, so you can easily track what invoices have been paid.
Pricing: Invoice Falcon is free to install and offers a 7-day free trial. The free plan covers up to 50 invoices a month, or you can get unlimited invoices and advanced features for $15/month.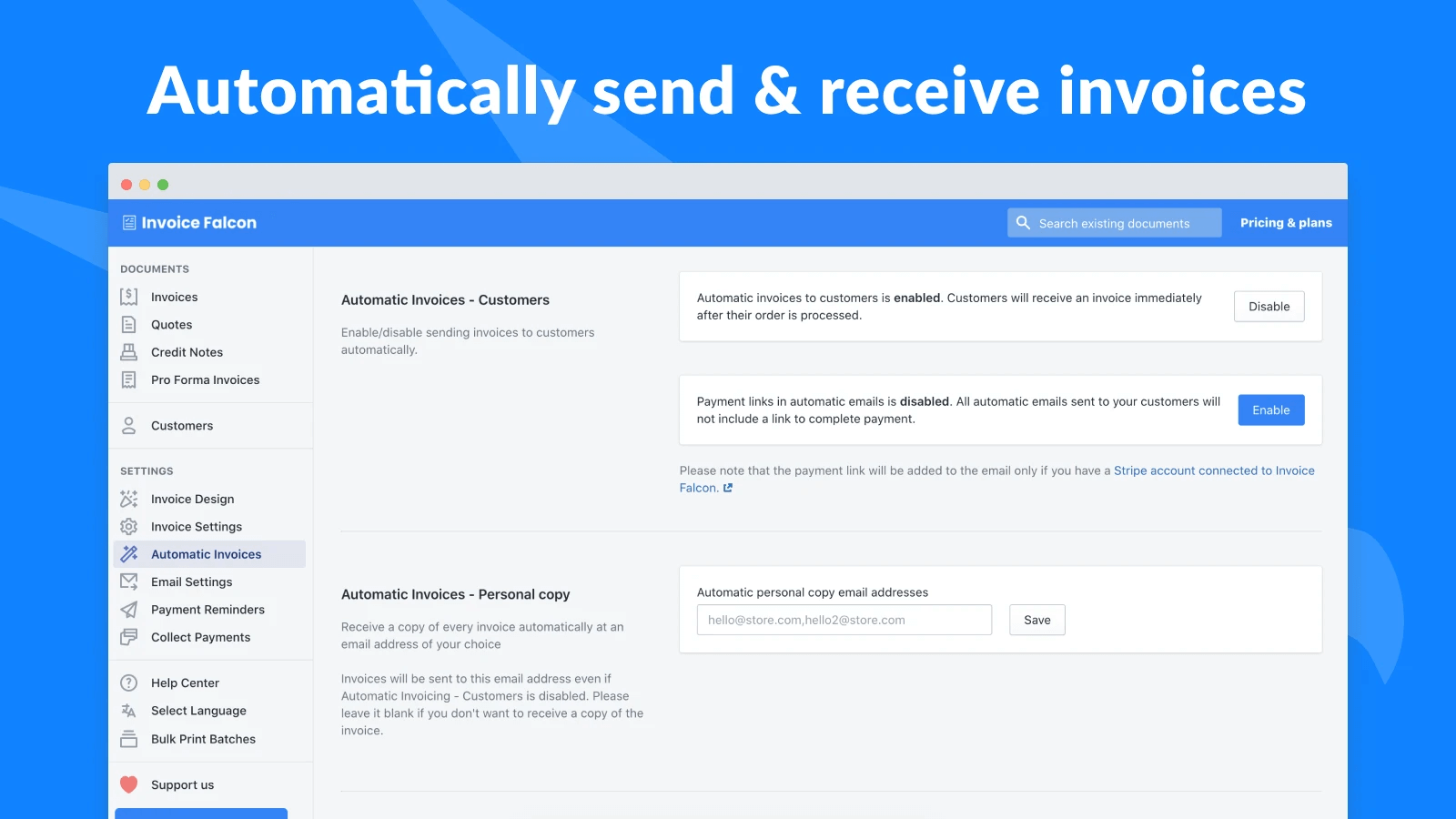 Main features:
Billing documents are compliant with accounting legislations in different countries
Customizable billing and invoice templates
Automatic payment reminders via email
Supports multiple languages and currencies
11. AVA SMS, Email Marketing, Pop Up

AVA SMS, Email Marketing, Pop Up app by Avada is easy to use and doesn't require any technical knowledge. The marketing automation app features a drag & drop editor that makes email building easy.
AVA marketing app works on different marketing channels, including emails, SMS, WhatsApp, and push notifications. The email marketing feature automatically sends messages for different events, such as cart recovery, welcome emails, transactional emails, special anniversaries, and others. You can choose from various email templates that already have content for different email campaigns. Set the KPIs and track your email performance via comprehensive reports.
Pricing: The app is free to install and covers up to 500 contacts. Paid plans start from $9/month and the price goes up based on how many contacts you need to reach.
Main features:
Email segmentation for targeted campaigns
Pop up forms and spin-to-win banners for lead generation
Drag & drop editor for creating emails
Unlimited stock images for different designs
How we tested these email marketing apps
During our research for this article, we tested around 100 email marketing apps. We chose the best ones based on this criteria:
Shopify star rating. You may have noticed that all of the listed apps have a rating score close to 5. We believe that the rating score and the number of users are important for finding the best app. Most of the apps that made it to our top list have a few hundred or even thousands of users.
Reviews. As we've already mentioned, the number of reviews is important when it comes to the rating score. But the content of those reviews is also important. We went through a number of customer reviews and checked if the app providers react to client comments and try to improve their products.
User experience. We checked how complicated it is to start using these apps and if they require any coding experience. The apps that made it to the list are user-friendly and do not require any specific technical knowledge.
Functionality. Email marketing encompasses many different aspects. Client segmentation, automation, and a selection of templates are important for email marketing. We listed the apps that have the best features and functions to make email marketing as effective as possible.
What works best in email marketing?
Strategic email marketing can bring a lot of benefits to your company. Here are a few things that you should consider and include in your Shopify email campaigns:
Personalized messages. One of the main tactics for successful email marketing is personalization. Subscribers are more likely to open personalized emails and place an order when offers are tailored to their needs. To personalize emails, you can include items similar to those that the person has already bought, or send them a personal discount for the next purchase.
Customer segmentation. Client segmentation is an important part of targeted email campaigns. Customers can be segmented based on their characteristics, such as location, age, gender, and interests. Adjusting emails and offers based on this information increases client engagement, brand loyalty, and boosts sales. We have published an extensive guide with tips for successful targeted email campaigns.
Mobile-friendly emails. Most people read emails on their mobile phones. If the email is not optimized for mobiles, the subscribers are likely to skip the message, or even unsubscribe. Nobody wants to read an email with the font so small you need to zoom in, or if it's missing half the text. It's important to make sure that your emails look just as good on any device.
Automation. Email automation means that your subscribers will get your messages whenever convenient for them. You can automate your emails to reach users anywhere in the world, at the time when they're most likely to open it. You can also send emails in bulk, and track their performance.
Summary
Email marketing is not easy but it can significantly increase your sales and client engagement. Every Shopify store owner should include it into their marketing strategy. Email marketing apps are a great tool that help make the best of emails. However, with so many apps out there, it's easy to get lost.
We researched nearly 100 apps and listed the 11 best Shopify email marketing services with their main features. We tested the apps and based our decision on their Shopify rating score, reviews, ease of use, and functionalities. Based on our research, the best app for email marketing is Firepush. This app encompasses great features that help create effective Shopify email marketing campaigns.
Hopefully, our reviews will help you choose the best email marketing app for your needs, and increase your Shopify store sales.
FAQ
What is the best email marketing app for Shopify?
The best email marketing app for Shopify is Firepush. This app automates emails, is easy to use, and has great reviews. Firepush is an omnichannel app, which means it can also help you engage with clients via SMS and web push notifications.
Is Mailchimp compatible with Shopify?
Yes, Mailchimp is compatible with Shopify. Mailchimp has an app on the Shopify app store. With the app, you can synchronize your Shopify and Mailchimp data, such as customer information, products, and purchase history. You can also track sales and marketing performance in one place.
Can you automate Shopify emails?
Yes, you can automate Shopify emails. Most Shopify email marketing apps offer email automation and have even more features that will help you make the most profit from your emails. Firepush is one such app. It automates emails, and offers other useful marketing features, such as SMS and web push notifications.