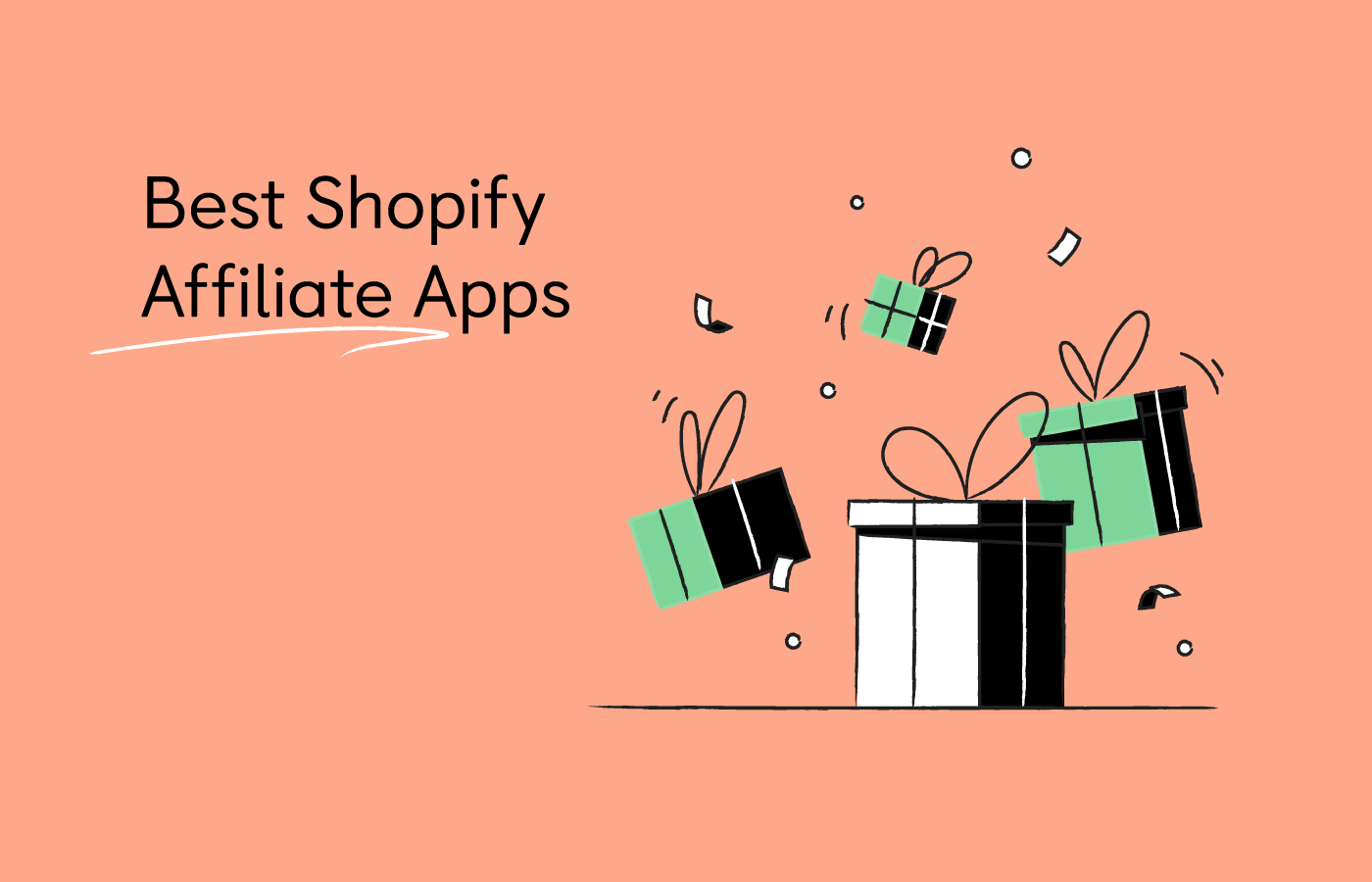 While there are multiple ways to advertise your Shopify store, getting into affiliate marketing is a necessary step. A smart, thought-out affiliate strategy can bring more traffic to your store, boost your sales and, eventually, earn you passive income.
However, navigating the world of affiliate programs can be time-consuming if you try to do it all on your own. You know where we're going with this – of course there are apps for managing your affiliates! But to choose the one that fits your needs is not easy.
This is where we come in. In this article, we're going to briefly cover 10 best Shopify affiliate apps, helping you pick the perfect one for your store.
Top 5 best Shopify affiliate apps
What does a Shopify affiliate app do?
If you're still unsure or confused about using Shopify apps for affiliate marketing, let us bring you up to speed on what exactly an affiliate app can do and how it'll benefit you.
Increases brand visibility. Others can advertise products for you.
Turns customers into partners. By offering your customers commissions for successful referrals, you can turn them into brand ambassadors and affiliates.
Creates a referral loop. By rewarding your affiliates for bringing in affiliates, you can build a successful partner network.
Tracks your performance. You can do recruiting, managing, tracking your affiliates', sales, referral links, and everything else – in one app.
Builds your business as big as it gets. With one central app, you can recruit an unlimited amount of affiliates under one roof.
Fits your company. With customizable templates, landing pages, emails, dashboards and more – you can make everything look flush with your branding.
Sets commission rates. With default or different commission rates for your affiliate partners and influencers, you have even more freedom.
Automates processes. Affiliate apps do various processes and functions for you in order to save time and energy.
Grows your revenue. Working with affiliates gives you a new business angle and helps you make passive income.
Best affiliate apps for Shopify – our detailed list
Time to get into more detail about each app on our list. We've handpicked 10 best Shopify affiliate apps looking at such criteria as their rating, price, main features, and whether they offer a free trial.
1. Refersion
Shopify rating: 4.8 ★
Price: $89/month
Free trial: Yes
Shopify app link: Get Refersion!
Refersion is an advanced affiliate and influencer marketing tracking and management tool. It allows you to recruit an unlimited number of influencers and affiliate partners.
7000+ brands swear by Refersion as their best affiliate marketing Shopify app. And not without reason – Refersion offers a complete Shopify integration by simplifying affiliate management and doing all the heavy lifting for you.
Easily recruit and onboard unlimited affiliates and influencers with a branded registration page, pop-ups, and Refersion affiliate marketplace. Create and track all affiliate offers by links, coupons, emails or products. Your affiliates can also track their own performance with personalized dashboards. And you can do all of that without any technical knowledge.
Speaking of pricing, Refersion offers two pricing plans: a Professional one for $89/mo, and a custom Enterprise pricing plan that can be tailored to your needs.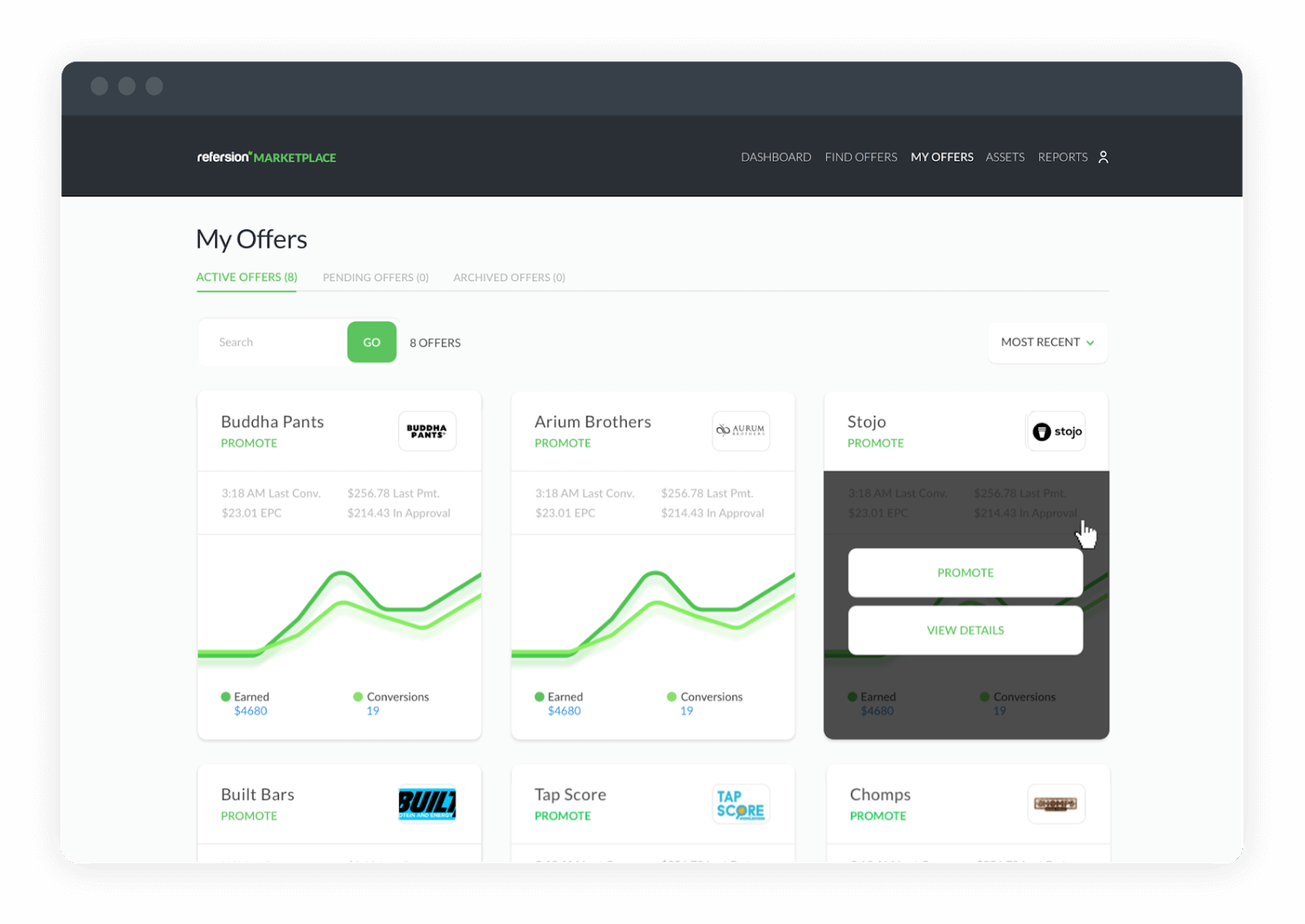 Main features:
Unlimited affiliates
Customizable affiliate registration page
Individual affiliate dashboards
Automated coupon code creation
Free Refersion marketplace
2. UpPromote: Affiliate Marketing

Shopify rating: 4.9 ★
Price: from $21.99/month (Free plan available)
Free trial: Yes
Shopify app link: Get UpPromote!
UpPromote is a feature-rich app that promises an all-in-one experience with their automated affiliate and influencer managing tool.
UpPromotes allows you to create unlimited affiliate programs, as well as automatically convert your customers into affiliates. Make your affiliates feel like partners by allowing them to access promotional resources, like affiliate links, coupons, brand's media assets, and more.
With UpPromote, you can effectively manage your affiliates and seamlessly track their performance with detailed reports.
Even the app's free plan allows you to integrate unlimited affiliates and access the Marketplace. It's a great way to experiment and see if UpPromote works for you. As for paid plans, you can choose between three options depending on your business size and personal needs.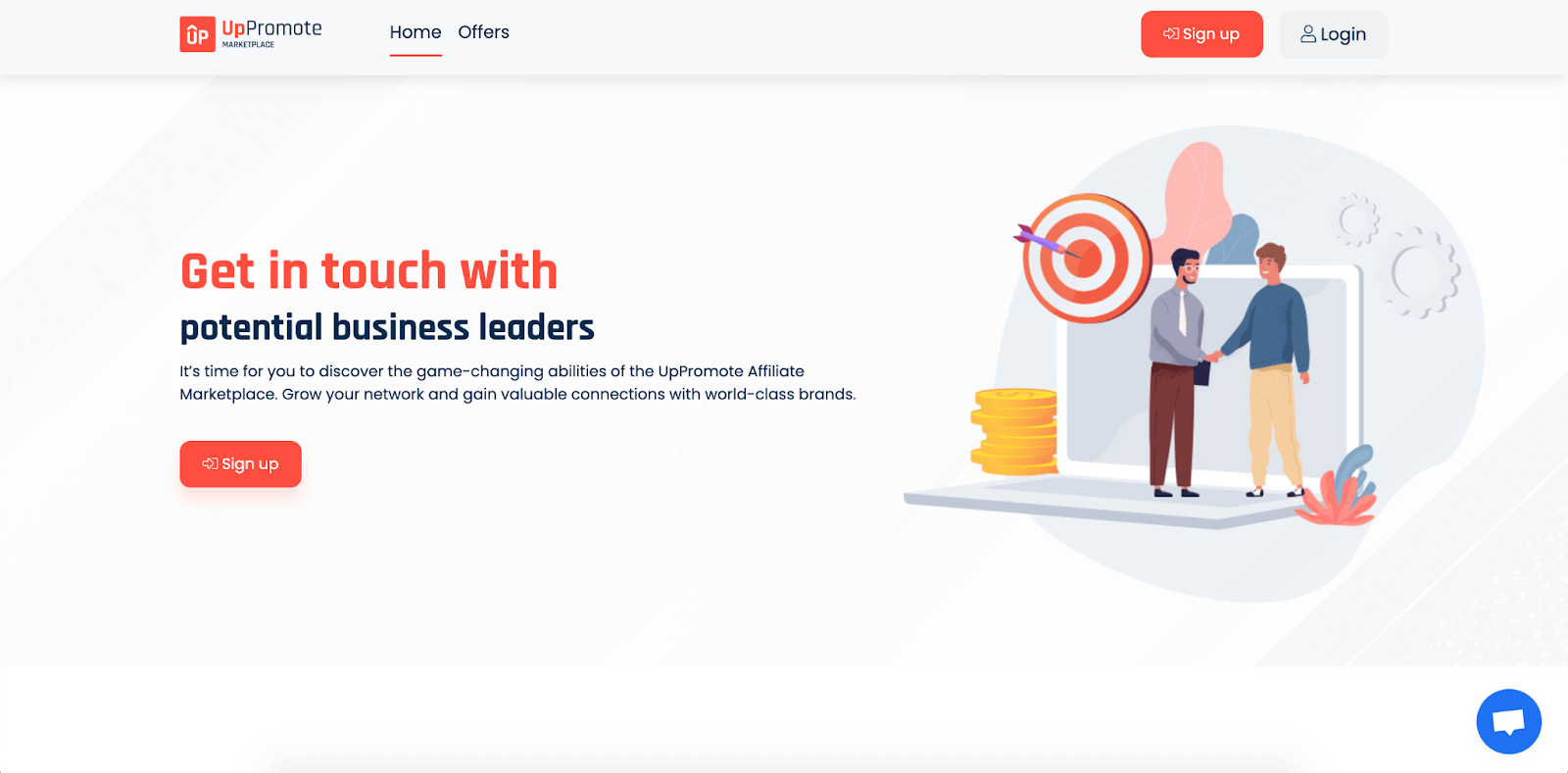 Main features:
Affiliates to partners system
Access to UpPromore marketplace
Full-on brand customization
Easy coupon code creation
24/7 live chat customer support
3. Affiliate Marketing & Referral (Affiliatery)

Grow your business with this affiliate and referral marketing tool for your Shopify store. Affiliatery is also by far the cheapest app in our top 3, so it's perfect for smaller businesses.
Affiliatery offers a simple signup process for your potential affiliate partners without any complex configuration. The app also provides an extensive analytics dashboard allowing you to track affiliate performances.
You can create different commission structures for different products and customize whether the structure applies to all or just some affiliates.
As for the pricing, Affiliatery is one of the most affordable options when it comes to the best Shopify affiliate apps. You can get it for free and integrate unlimited affiliates, or get more features with the Starter, Pro, or Premium versions. And even the Premium version is only $15/month.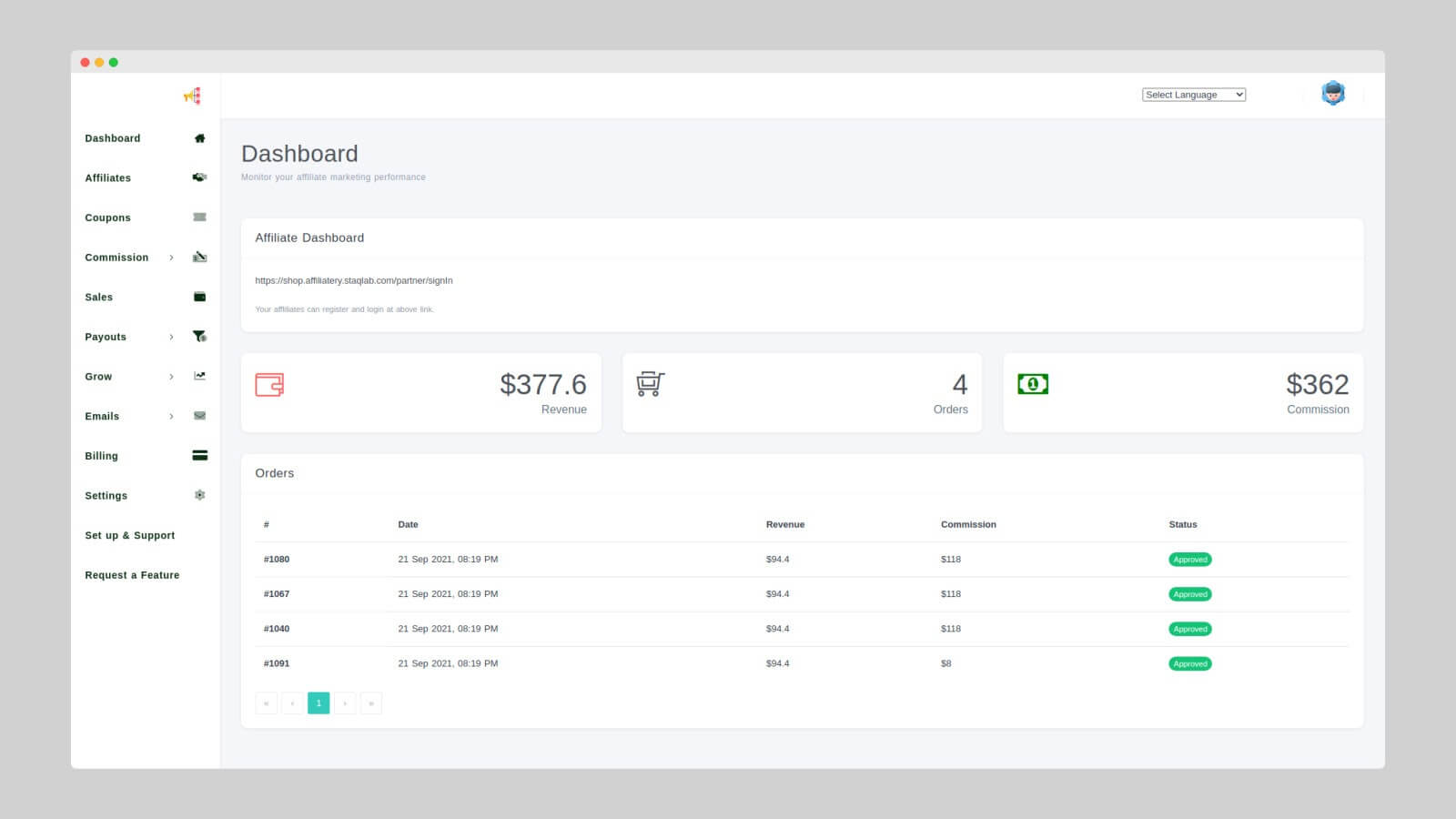 Main features:
Unlimited affiliates
Seamless affiliate onboarding
Extensive dashboards and tracking
Multi-tier commission rates
4. Goaffpro ‑ Affiliate Marketing

Shopify rating: 4.8 ★
Price: from $24/month (free plan available)
Free trial: No
Shopify app link: Get Goaffpro!
Goaffpro is a professional affiliate marketing app allowing you to set up a custom affiliate program for your Store in a few minutes.
Turn your customers into affiliate partners with ease using Goaffpro. By providing referral links, you make it easier for your now-affiliates to spread the word about you on social media and blogs. Goaffpro makes it easy for you to create a feedback loop and allow your affiliates to bring more affiliates.
Track performances with custom branded affiliate portal and set up commissions however you want – either make them default for all products/affiliates or individual. Tracking of affiliate orders can be done in various ways, including referral links, coupon codes, and more.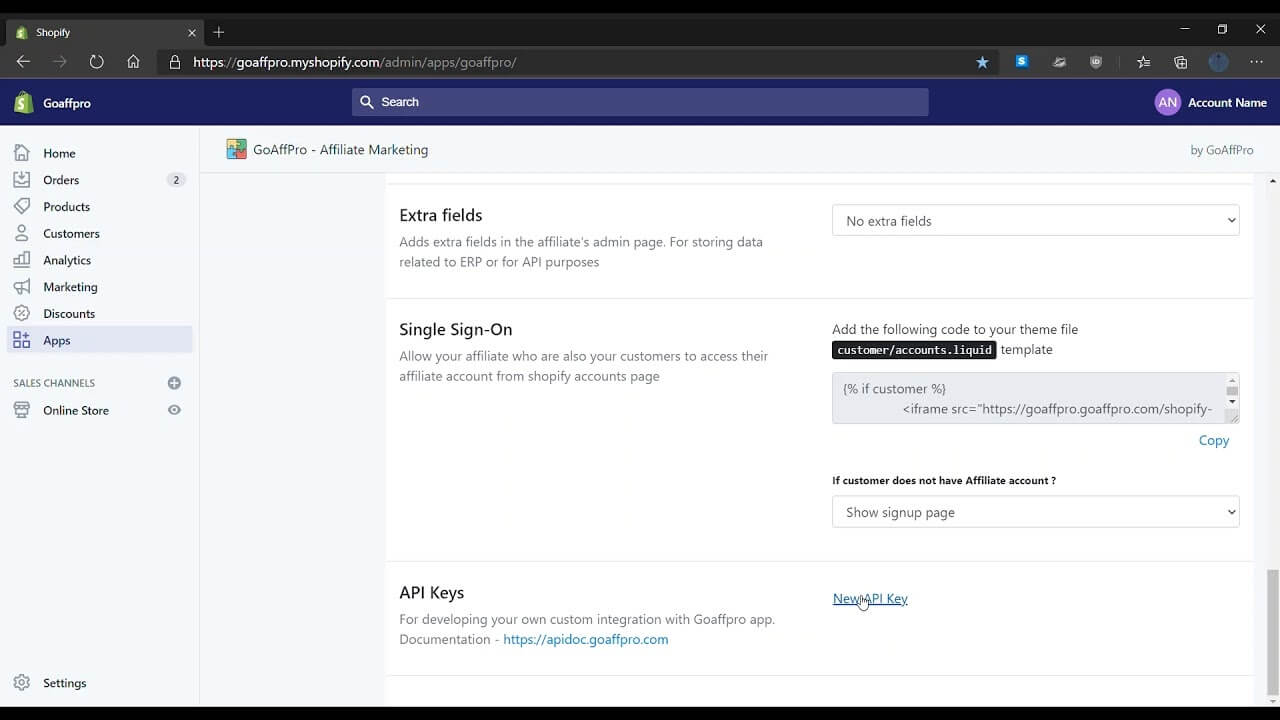 Main features:
Customers into affiliates system
Set up default or different commissions
Android & iOS app availability
Real-time tracking
Automatic coupon codes
5. Buzzbassador

Shopify rating: 4.9 ★
Price: from $39/month
Free trial: Yes
Shopify app link: Get Buzzbassador!
Buzzbassador offers all features necessary to complete an affiliate life cycle, from recruiting to payouts. Grow your Shopify affiliate program and boost sales with new affiliates, influencers and ambassadors.
Buzzbassador offers seamless, automated features for everything related to affiliate program management. Easily manage all processes, i.e., recruitment, onboarding, communication, tracking, and compensation.
With a modern and simple to use affiliate interface you can track affiliate sales and payouts in real time. Meanwhile, your ambassadors can use a "Click-to-share" widget that makes the process of affiliate link and coupon sharing easier.
As for pricing, Buzzbassador offers four pricing plans and a 14-day-free trial. Their cheapest plan is $39/month and includes all core features, including unlimited affiliates and unlimited links/coupons and payouts. Pricier plans offer more customization, but it does get expensive – the Enterprise plan is $499/month.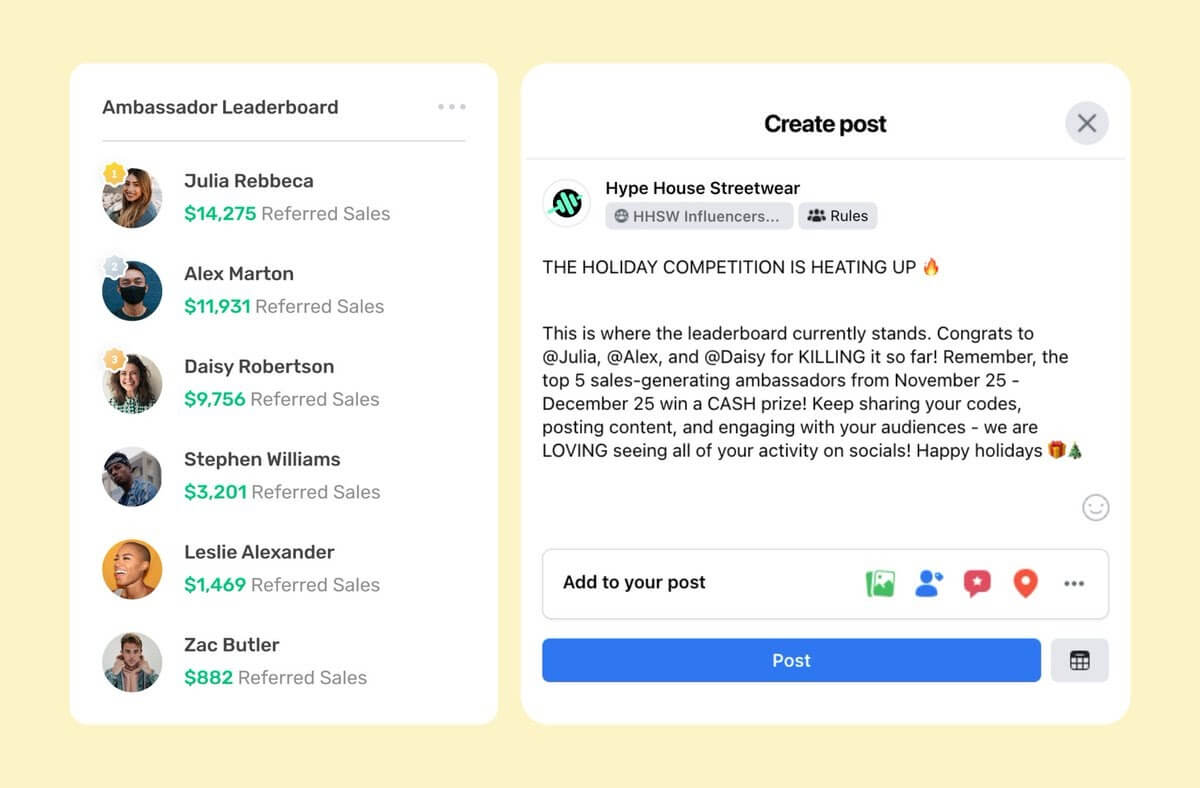 Main features:
Unlimited affiliate partners
Fast and uncomplicated setup
Quick hands-on customer support
6. Social Snowball ‑ Affiliate Marketing

Shopify rating: 4.9 ★
Price: from $39/month
Free trial: Yes
Shopify app link: Get Snowball!
With Social Snowball, your customers can join your affiliate program automatically. This Shopify affiliate app promises simplicity and modern interface, helping you bring revenue with newly acquired and well-managed affiliates.
Turning your customers into brand advocates is a win-win situation for both you and the customer. Snowball makes the process easy and smooth by automatically creating an affiliate account as soon as a customer finalizes a purchase from your store.
Ease-of-use doesn't end there, as paying your affiliates' commissions is simple too. It's just a two-step process that you can start and finish within your dashboard.
As for pricing, Snowball offers a free-to-install plan which includes unlimited affiliates, 3 affiliate acquisition methods, and some other necessary features to get you started. For more features, be prepared to pay no less than $39/month.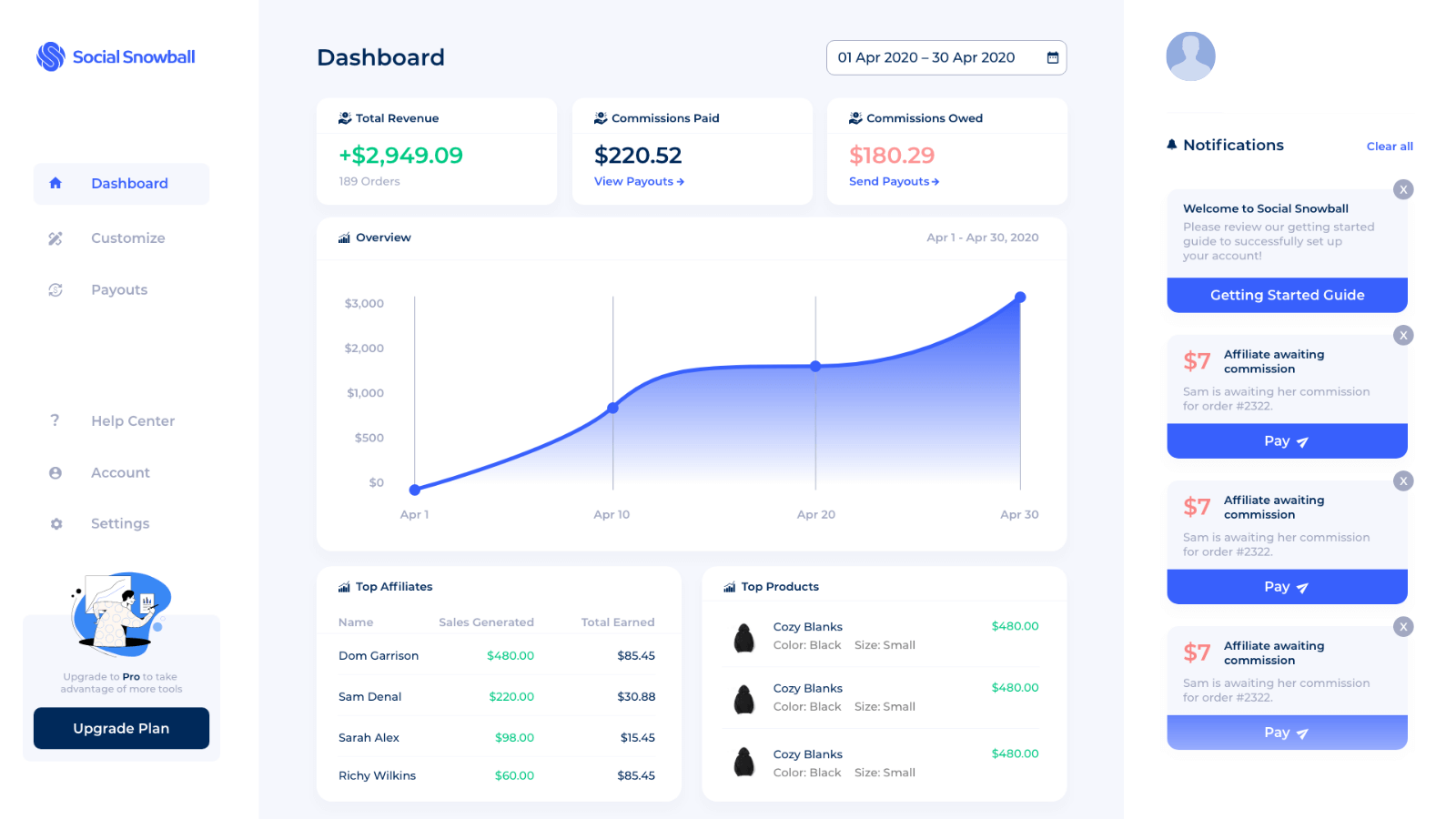 Main features:
Customers into affiliates
Simplified commission payouts
Fully customizable
Responsive customer support
7. Referral Candy

Shopify rating: 4.8 ★
Price: from $49/month
Free trial: Yes
Shopify app link: Get Referral Candy!
Referral Candy helps you bring new customers and sales to your Shopify store by word-of-mouth and build brand loyalty through a refer-a-friend program.
Referral Candy already helps around 3000 Shopify brands grow with their referral program. And to get you started, the app offers an easy and quick launch process that will get you up and running in no time.
You can automatically recruit your customers to your referral program with post-purchase pop-ups and emails. After successful referrals send them rewards – all of that is automated as well!
With Referral Candy, everything can be customizable to represent your brand to the fullest. And you don't even need any coding or technical experience.
As for pricing, there is a 30-day free trial, but paid plans start at $49/month. Keep in mind that you will also have to pay commissions on successful referral sales. There is also an Enterprise plan that charges you annually at $3,999/mo.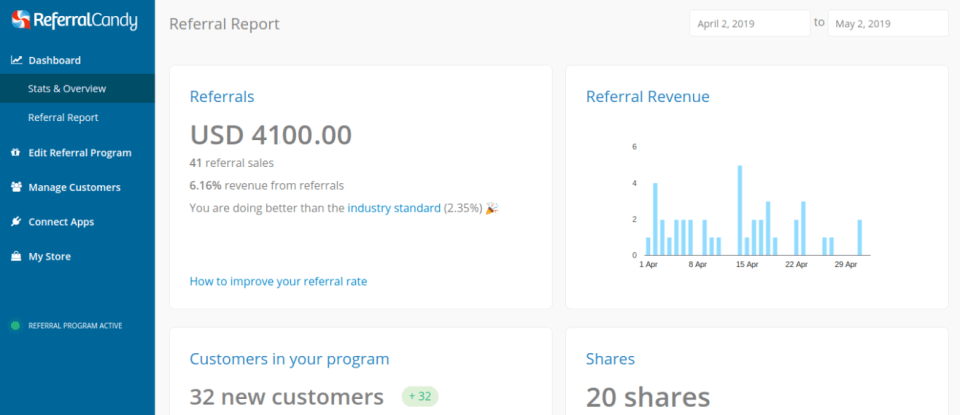 Main features:
Refer-a-friend program
Rewards for successful referrals
Easy referral and top sales tracking
Marketing app integration
8. GrowthHero

Shopify rating: 4.9 ★
Price: from $39/month (free plan available)
Free trial: Yes
Shopify app link: Get GrowthHero!
GrowthHero is a one-in-all solution for affiliate marketing, referral programs, influencers, and MLMs.
GrowthHero poses itself as a beginner-friendly app that doesn't require prior experience with affiliate marketing. You can launch your affiliate program in a few minutes, set up rewards for partners, use coupon codes or links for affiliates, set individual discounts, customize your affiliate portal, and more.
With this affiliate app, you can turn your customers into brand ambassadors by adding a refer-a-friend post-purchase modal. Speaking of referrals, allow your affiliates to bring in more affiliates and boost your sales.
GrowthHero has a free plan that allows you to make 2 partner orders per month and have access to all essential features. For more complex features, you can go for one out of three pricing plans – $39/mo, $89/mo, and $199/mo.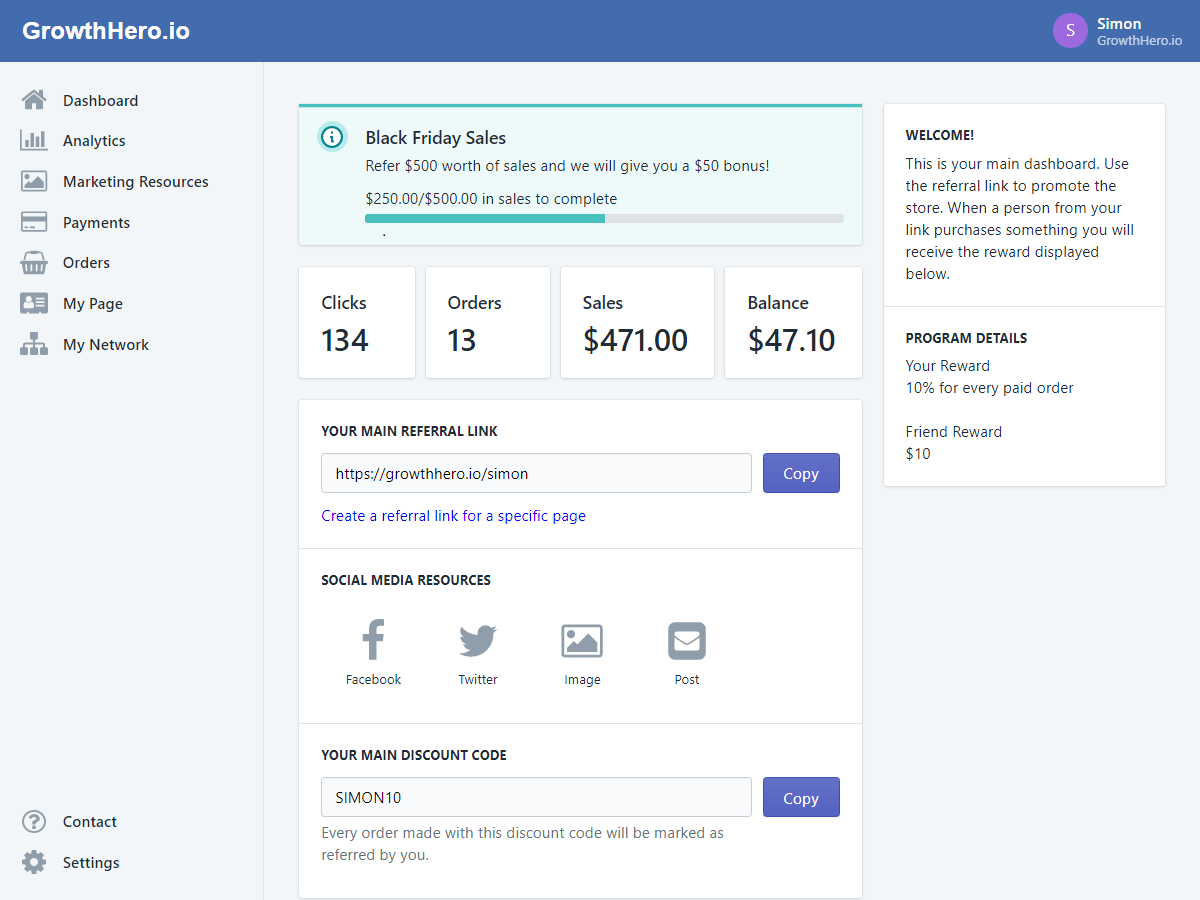 Main features:
Automated onboarding
Customers to affiliates
Refer-a-friend program
Simple to use
9. Automizely Referral & Rewards

Shopify rating: 4.9 ★
Price: Free
Free trial: No
Shopify app link: Get Automizely!
Quick and easy referral program setup – just one click and you're ready to go. Charge up your referral and affiliate marketing with Automizely.
Automizely offers a refer-a-friend program and referral rewards for successful referrals. By reaching new customers through current ones you can minimize your customer acquisition costs.
It's easy to get started with Automizely's loyalty and rewards program – from launching to designing, you will not need any technical expertise.
You can also easily track your referral campaign and progress with actionable insights and analytics provided by Automizely. Best of all? This Shopify app is completely free to use!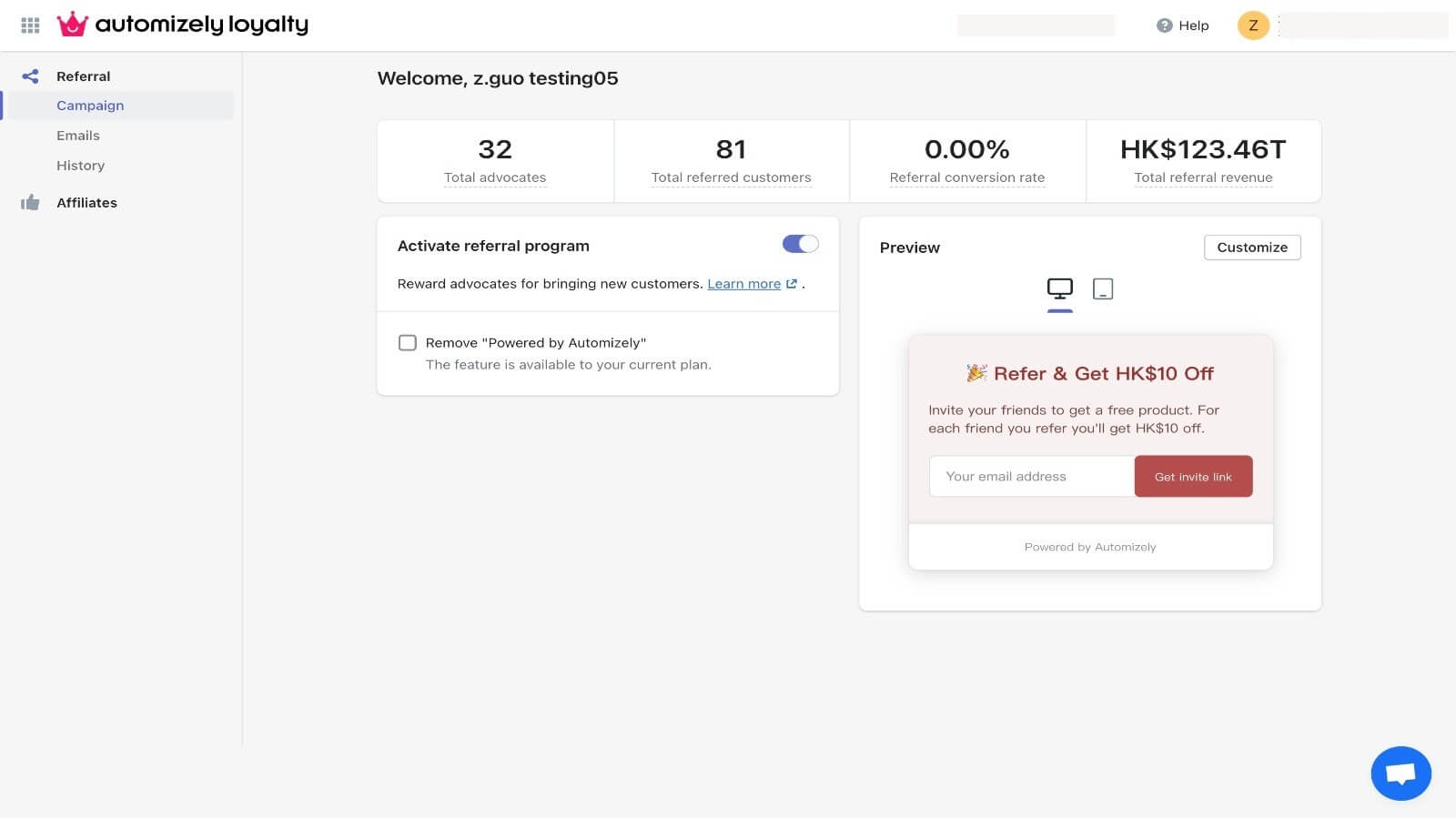 Main features:
Referral rewards
Loyalty program
Customers into ambassadors
24/7 customer support
10. Simple Affiliate

Simple Affiliate offers a seamless influencer and affiliate marketing all done in-house. Recruit and manage unlimited referrals and affiliates.
Simple Affiliate lives up to the name – it's simple for you and your affiliates alike. One sign-in is all they need to manage their links and stats.
You can put your affiliates into groups that determine their reward structure and coupon code rules. This feature allows you to easily edit your reward system in bulk by tinkering with group settings.
Just like many Shopify affiliate program apps, this one lets you turn your customers into affiliate partners. However, it seems like this process is not automated, so you'd have to send emails manually.
As for pricing, you can take advantage of the 14-day free trial to see if Simple Affiliate fits your needs. Then, the Basic plan is $14/month, while the Professional one – $29/month.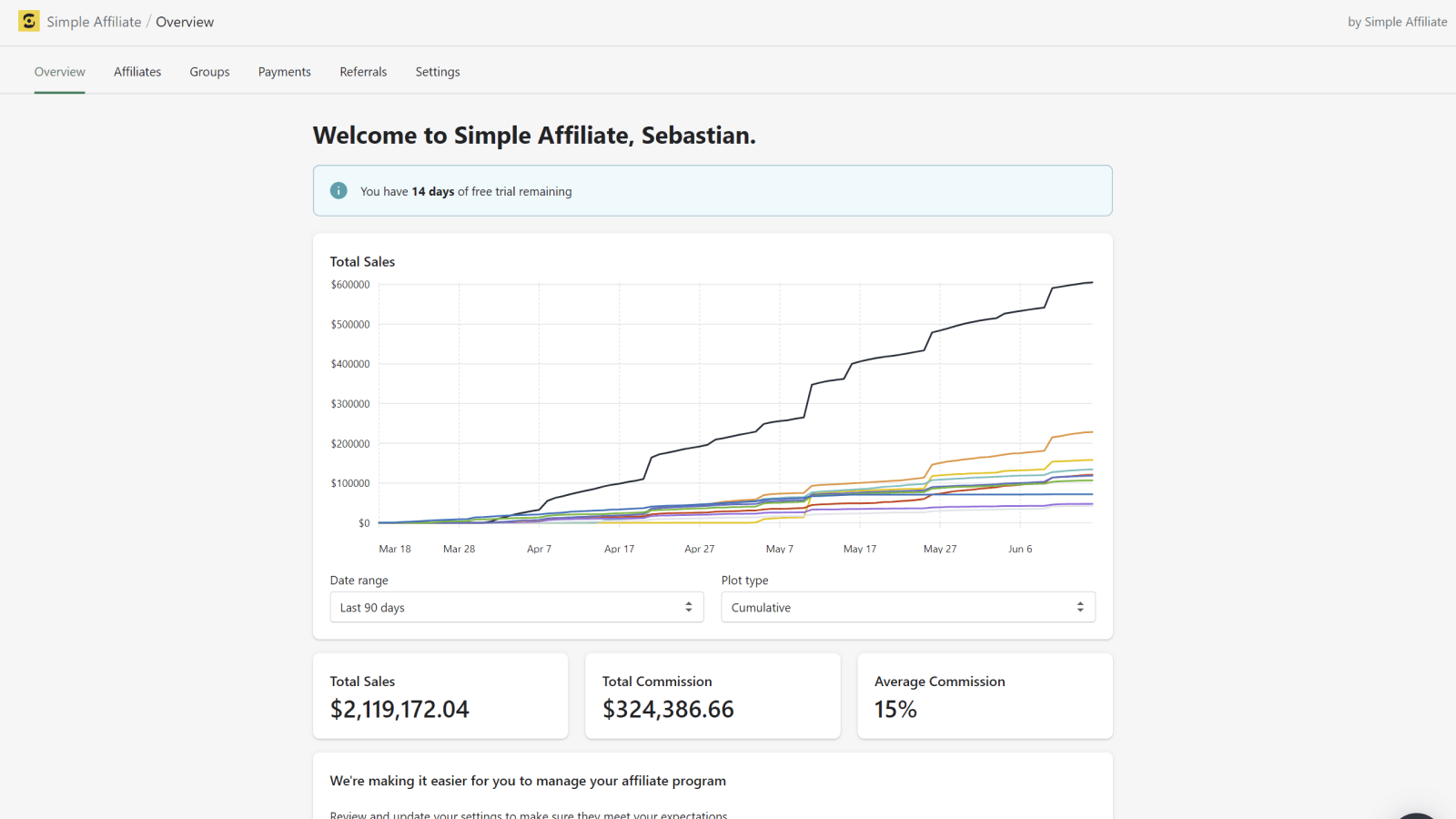 Main features:
Unlimited affiliates & referrals
Automatic discount codes
Organize affiliates into groups
Customers into affiliates
How we tested these Shopify affiliate apps
As there are hundreds if not thousands of affiliate marketing apps out there, you may raise a question about how we decided on our top 10. Below, you'll see our criteria.
Shopify rating. Taking into account real user experience is very important, that's why our top 10 doesn't include apps with a rating that's less than 4.8.
Feature to price ratio. If an app is expensive, it must be feature-rich, or else what would you be paying for?
Free trial. All but one app in our top 10 has a free trial (Automizely is completely free so the trial is not necessary). Free trials are important in order to test the waters and see whether you are willing to pay for that app.
User reviews. What do users praise? What do they complain about? How do brands respond? We went through recent user reviews to see what people talk about.
What is Shopify affiliate marketing?
Shopify affiliate marketing is a marketing strategy that helps you increase traffic to your Shopify store and boost sales by recruiting affiliate partners who advertise your products on their sites. For every successful sale or a lead, these affiliate partners earn commissions paid by you. What commissions you are willing to pay depends on you as a business owner.
As you can see, affiliate marketing is beneficial to all parties as long as it's done right. As of right now, a lot of businesses rely on affiliate marketing as their main source of revenue.
You can also monetize your audience by turning your customers into brand ambassadors.
In order to make affiliate recruitment, management, and tracking easier, we encourage using an affiliate program app. Depending on an app, features will vary, but the benefits are more or less the same. But about that in the next section.
Benefits of using Shopify affiliate app
A Shopify affiliate app can help you in many different ways – here is what they can help you do:
Bring more traffic to your website.
Increase sales with a positive ROIS.
Make passive income, i.e., earn money when you're not working.
Build brand loyalty by rewarding referrals.
Manage and track all affiliate data in one place.
Search for new affiliates in a Marketplace.
Launch and manage refer-a-friend program.
Create and track various coupon codes.
Personalize your affiliate programs to your liking.
Automate different tasks and functions.
Track affiliate sales and payouts in real time.
Analyze performances with detailed reports.
Turn customers into affiliate partners.
Integrate other marketing apps.
Summary
When it comes to choosing the best affiliate marketing app for your Shopify store, there are a lot of options and criteria to consider. We hope our top 10 made it a bit easier for you to decide which one is the best for your business.
Our overall winner is Refersion – while pricier than a lot of the apps in the list, the amount of features, usability, and positive user testimonies are hard to ignore. If you need an affiliate app that will be 100% reliable, Refersion should be your winner too. And as it offers a free trial, there's no reason to not give it a shot!
FAQ
Which is the best affiliate marketing app?
The best affiliate marketing app is Refersion. It's feature-rich, easy-to-use, and offers a 14-day free trial. Grow your affiliate program by recruiting and onboarding unlimited affiliates and influencers, make and track affiliate marketing offers by links, coupons, emails or product, and create personalized affiliate dashboards.
Is Shopify good for affiliate marketing?
Shopify is a great place for affiliate marketing as it offers plenty of apps to choose from in order to recruit, manage, track and pay your affiliates, brand ambassadors and influencers. A lot of Shopify affiliate marketing apps offer useful features that not only help you boost sales but also save time and money as it's risk-free and can earn you passive income.