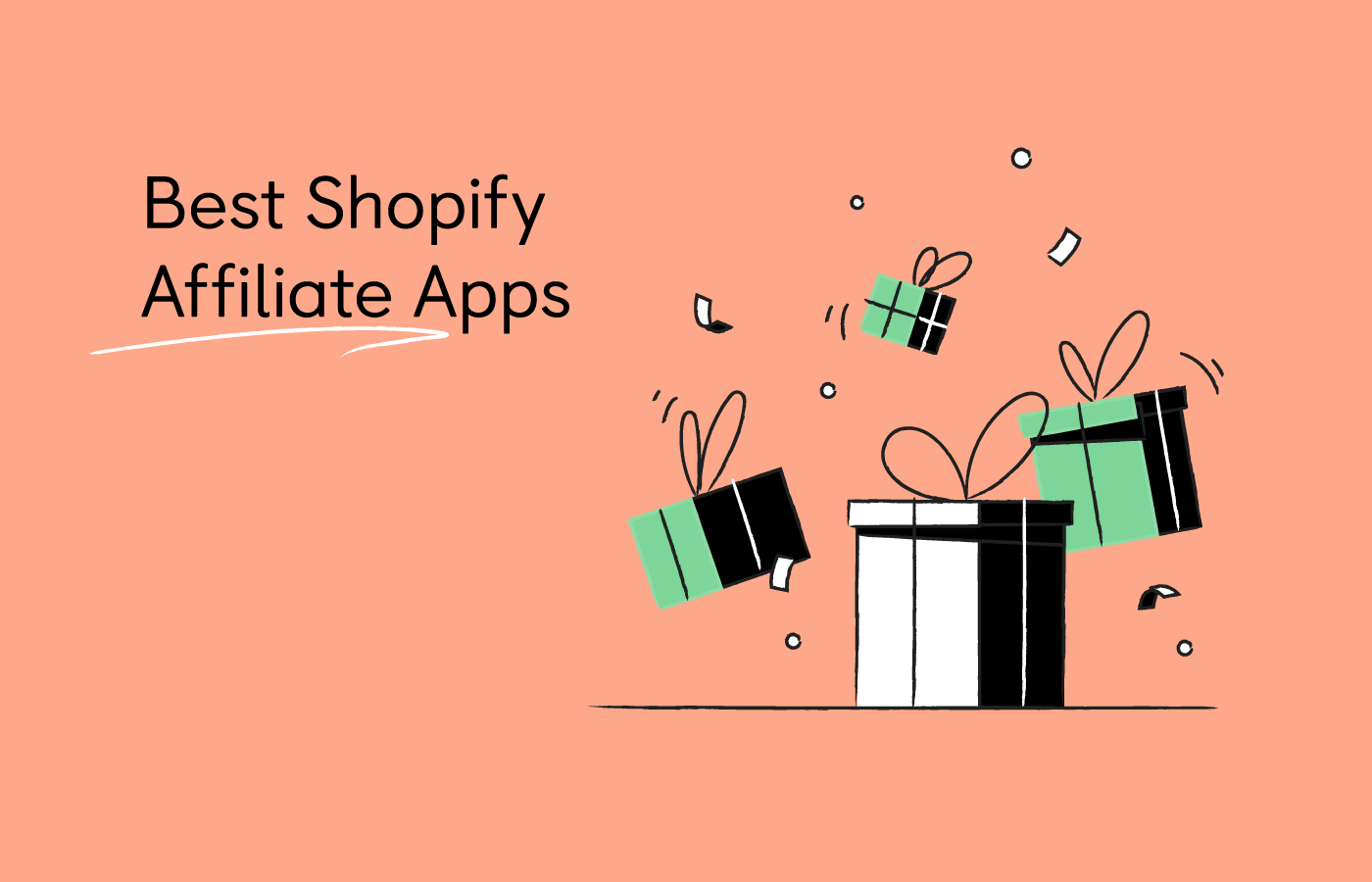 Looking for affiliate apps that work well with Shopify?
Choosing the best one can be tricky.
Some are pretty costly, have poor reviews, or generate a few sales. We've selected the apps with the highest Shopify store reviews—they are a good sign that you can make sales with them.
In this guide:
Looking for different apps? These articles could help:
Get a FREE consultation to find right marketing strategy for you
Book my demo
Shopify Affiliate Marketing Tips
Affiliate programs give between 15 and 40% of all sales for advertisers. To get your fair share of that revenue, you need to go over the essential strategy points.
That's why let's learn how to build an affiliate marketing strategy before getting to the best Shopify affiliate marketing app options.
Consider these tips when creating your strategy:
Set clear goals. Decide what sale increase you'd like to see, and think of incentives for your affiliates (e.g., discounts, freebies, coupons, etc.)
Design your communication plan. More often than not, Shopify store owners choose to communicate with their affiliates through emails. Alternatively, you can also opt for social media platforms.
Choose the right affiliates. Before choosing an affiliate, consider how much you are willing to pay, and what results you'd like to see.
Track the progress and make changes. Many Shopify affiliate marketing apps have easy tracking tools that will help tweak your strategy if required.
And there's only one thing missing on this list—you need the best Shopify affiliate marketing app to get started.
That's what we're reviewing next.
10 Best Shopify Affiliate Apps
Here's the review of the best Shopify affiliate app options based on their pricing, free trial options, and ease of use.
1. Refersion
Price: from $89/month
Free trial: Yes
Ease of use: ⭐⭐⭐⭐ 4/5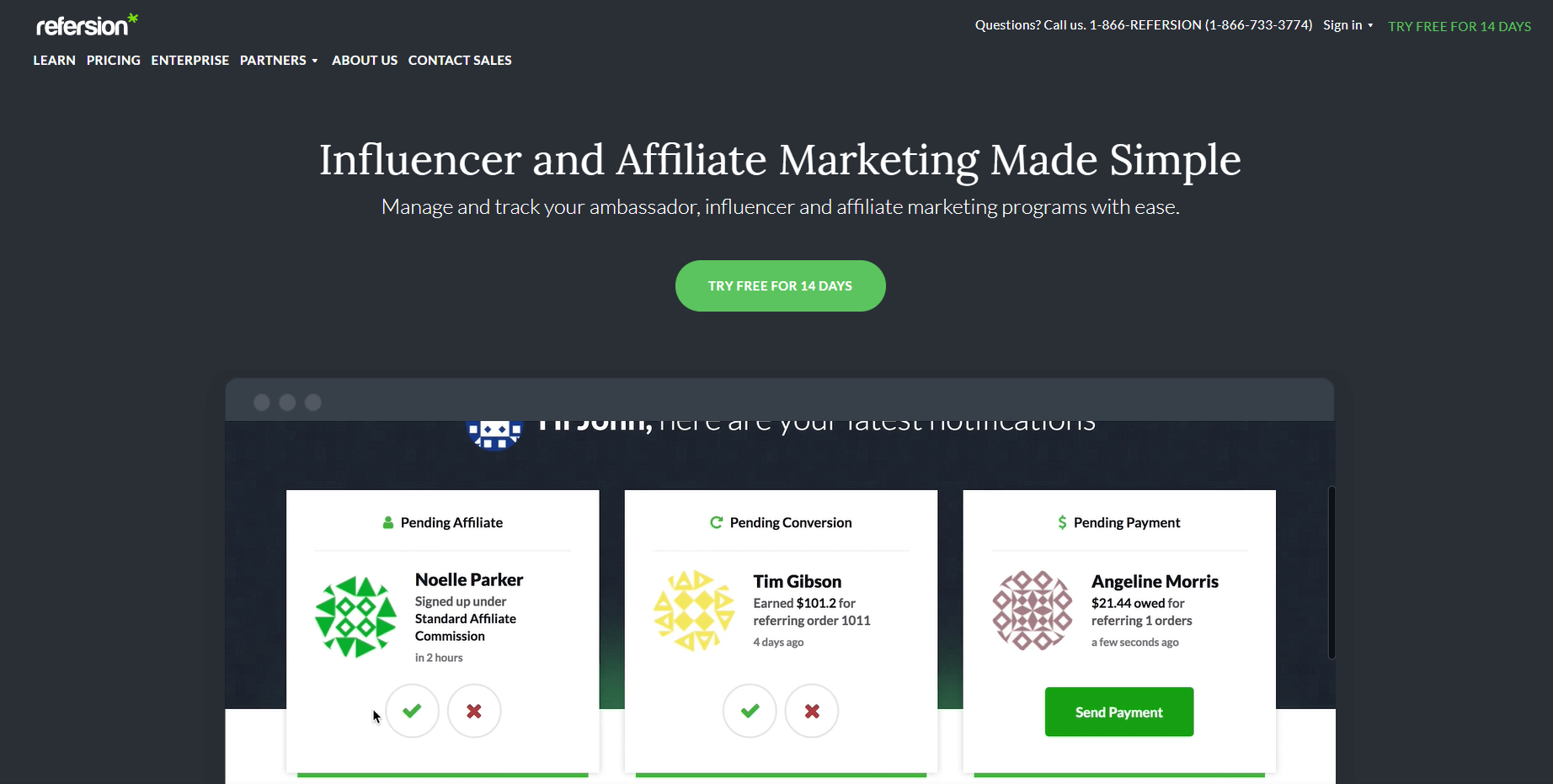 For many Shopify users, Refersion is a go-to affiliate marketing app with a 4.8 rating. Refersion offers top-notch features, ease of use, and a lot of space for customization options.
With this best Shopify affiliate marketing app, you'll be able to recruit, manage, and pay your affiliates through an easy-to-use dashboard. Also, you can automatically create unique coupon codes to track store sales.
Pros:
Perfect for medium-sized and high-ticket Shopify stores
Track referral orders with referral links, emails, and coupons from a personalized dashboard
Offer different commission rates for various products or affiliates
Customizable registration pages
Cons:
2. UpPromote: Affiliate Marketing
Price: from $19.99/month
Free trial: Yes
Ease of use: ⭐⭐⭐⭐⭐ 5/5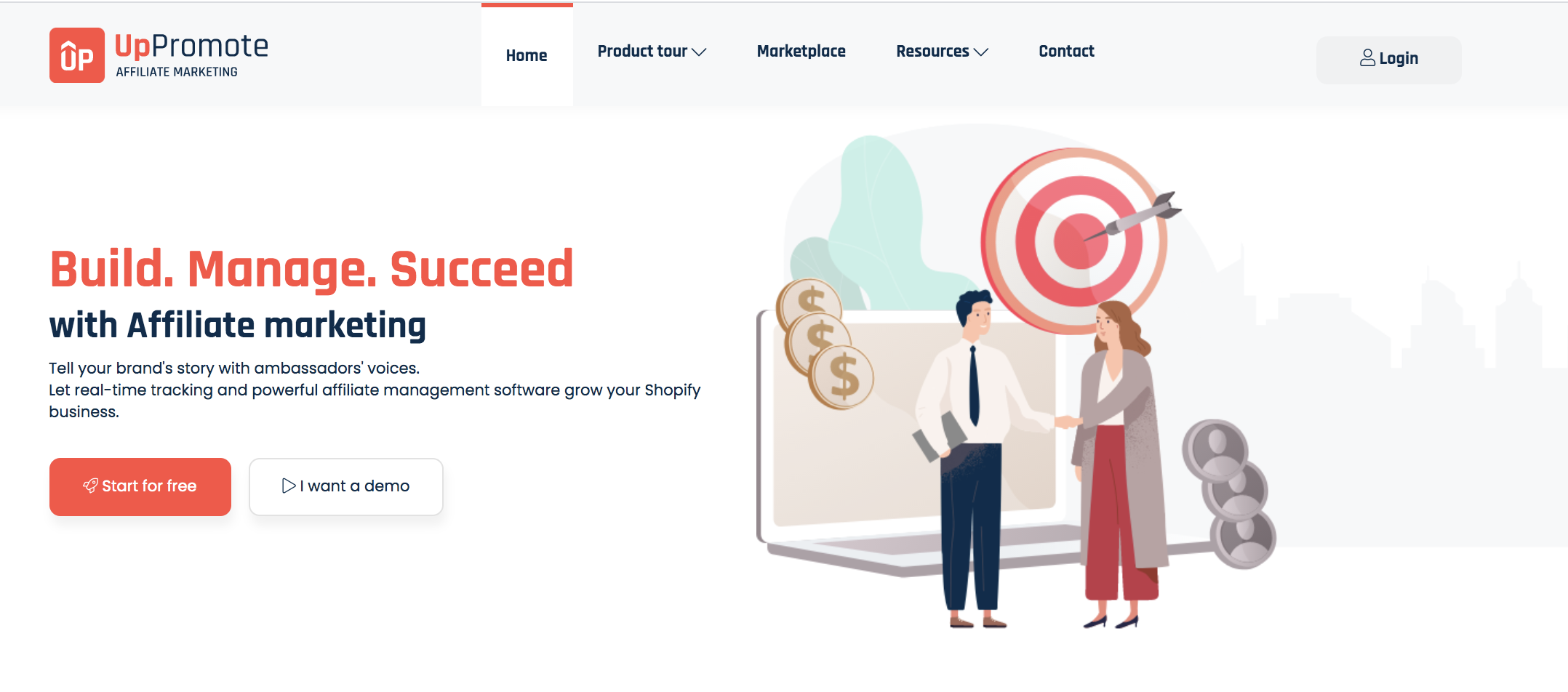 With over seven years of experience in eCommerce, UpPromote offers an excellent affiliate marketing model for all-size businesses that doesn't require an upfront cost. The affiliate marketing Shopify app is easy to set, intuitive to use, and offers excellent campaign performance tracking options. Besides, you get pre-made campaign templates, email texts for partners, and affiliate registration forms.
Pros:
Easy to setup
Expand widely your affiliate team by finding affiliate's profiles, or free listing your offers on UpPromote Marketplace; using Converting your customers into affiliates feature, Multi-level Marketing feature.
Offer different commission rates for various products or affiliates
Customizable registration pages
Cons:
3. Affiliatly
Price: from $16/month
Free trial: Yes
Ease of use: ⭐⭐⭐⭐ 4/5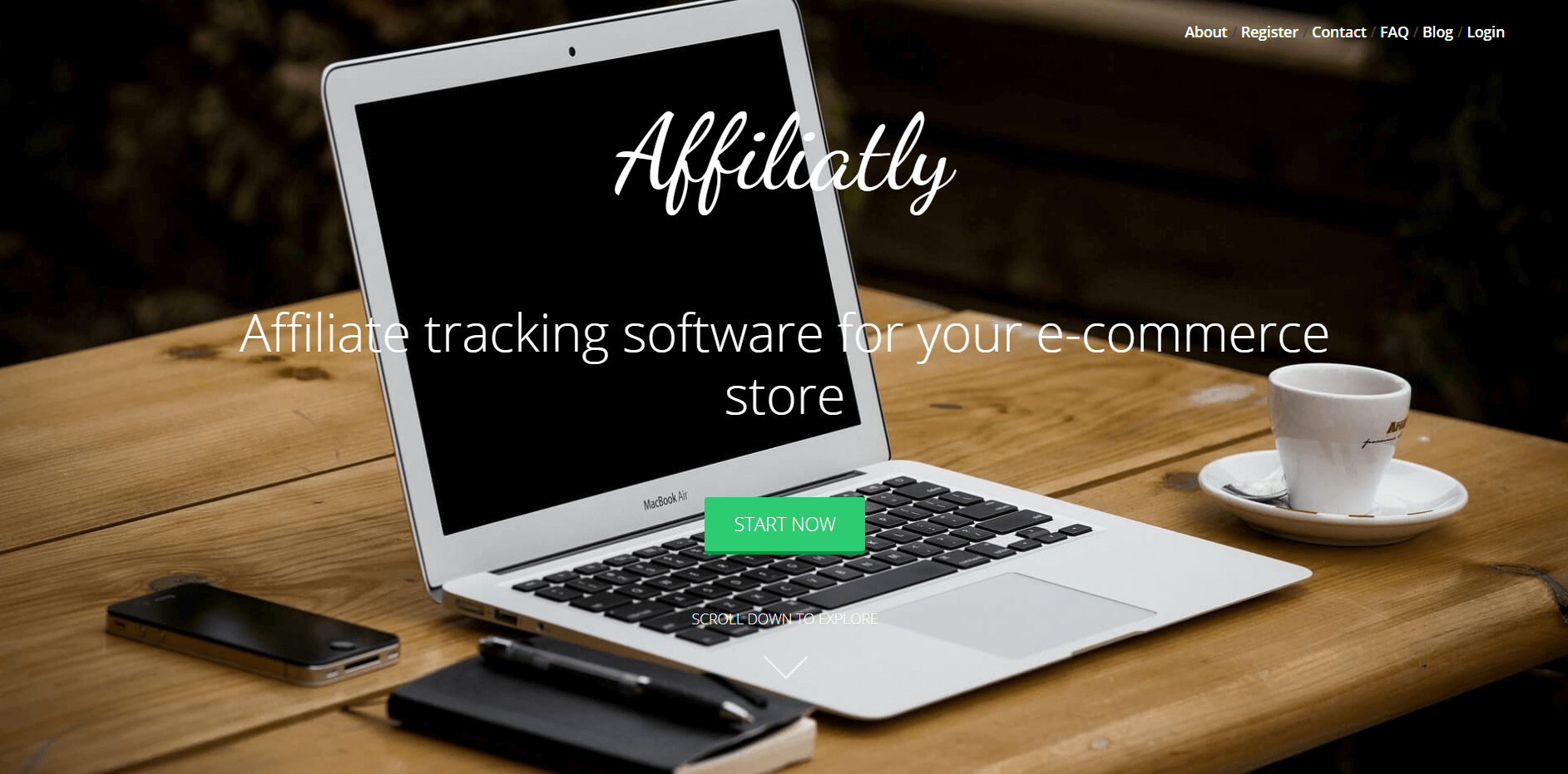 The key selling point of Affiliatly is that you can track affiliate information from an unlimited number of referred orders.
You can track your visitors based on different factors, such as URL, QR code, product SKU, customers' email addresses, and more. Also, you can monitor your store visitors on both desktop and mobile.
Pros:
Makes it easy to create an affiliate program
Managing both individual accounts and an entire affiliate network
Discount code tracking
Pay your affiliates with gift cards
Cons:
Limited training options for beginners
4. ShoutOut
Price: $59/month
Free trial: Yes
Ease of use: ⭐⭐⭐ 3/5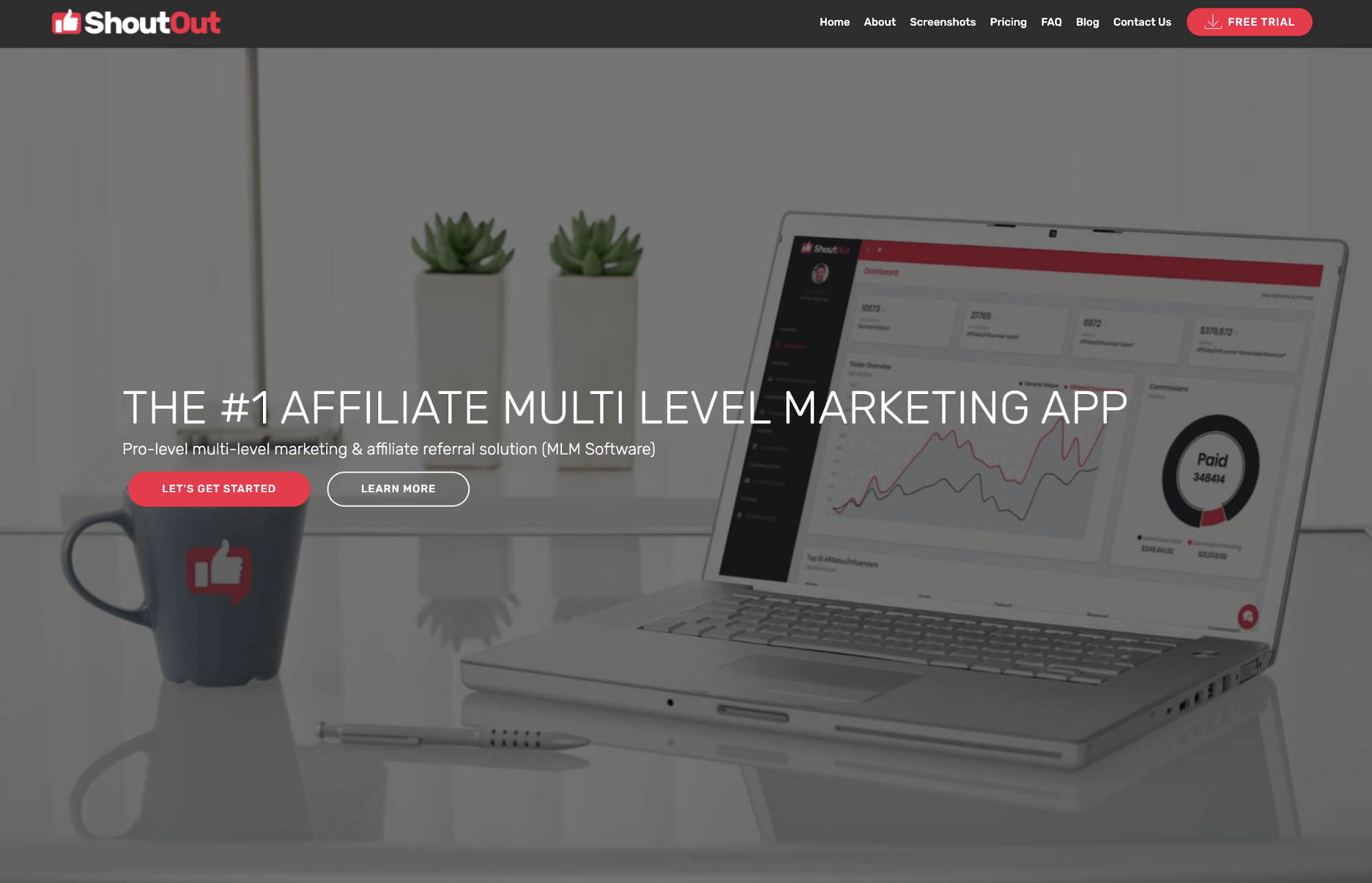 The high-quality features that the Shoutout app offers make it an excellent choice for any Shopify store owner. With this best Shopify affiliate app, you can increase both traffic and sales.
Your affiliates will be paid the commission based on how many sales they'll be able to generate for you. What's also great about this Shopify affiliate app is that it offers nearly 200 currencies. So, you'll be able to collaborate with affiliates from anywhere in the world.
Pros:
Unlimited number of affiliate sales
Payment management via PayPal
Personalized dashboards
Useful performance data about your affiliates
Cons:
5. Omnistar
Price: from $47/month
Free trial: Yes
Ease of use: ⭐⭐⭐⭐⭐ 5/5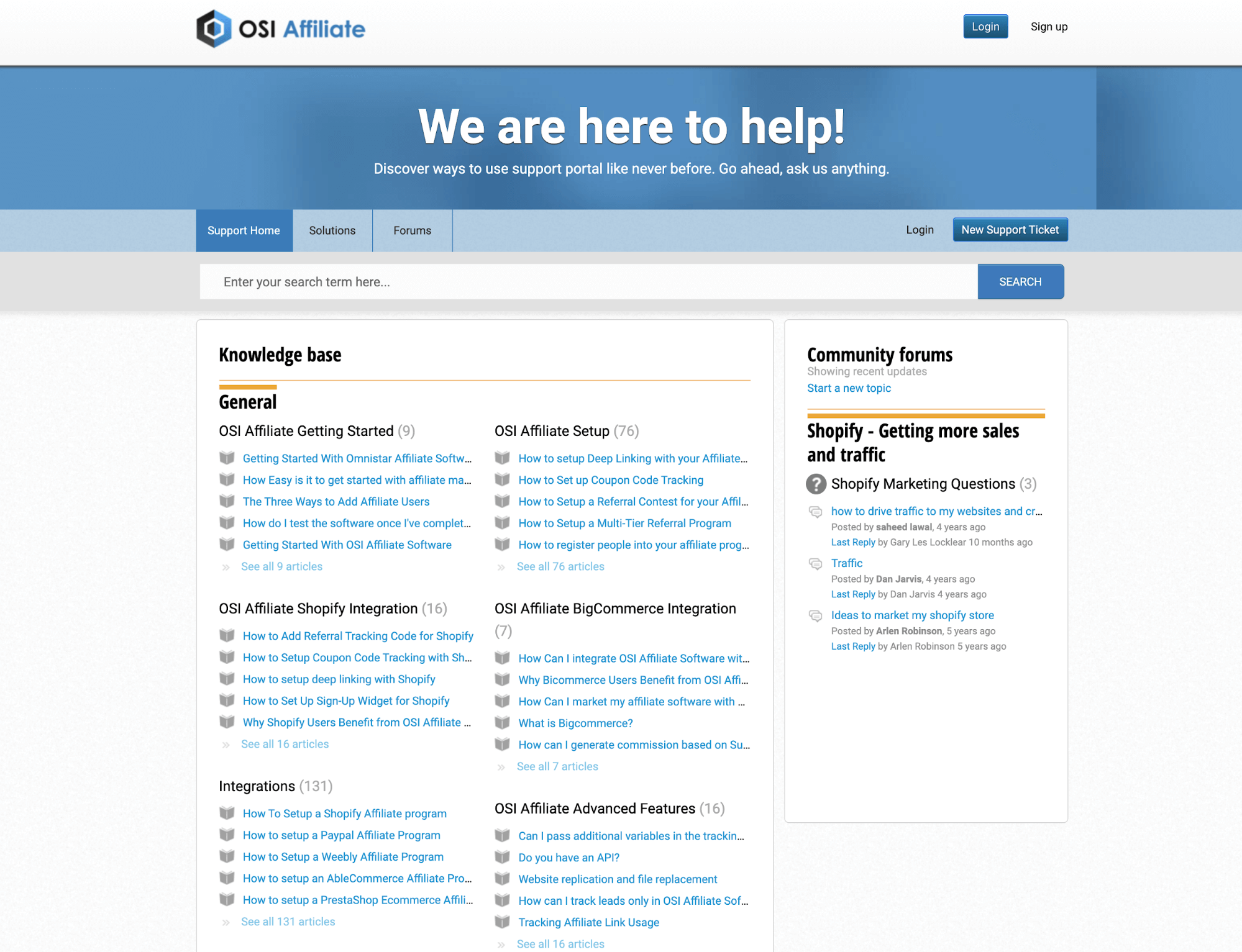 With Omnistar Affiliate Software, you'll be able to reach your current customers and encourage the new ones to join your referral system. A great thing about this affiliate program is that there are no extra fees.
Moreover, this best Shopify affiliate app makes it easy to create posts with graphics that your affiliates will share on social media platforms. This feature (social sharing) provides pre-made social media posts with text and images.
Pros:
Easy to set up and integration with an online store
User-friendly dashboard
Free marketing tools (banners, social media sharing widgets, etc.)
Discount codes and coupons
Great customer support
Cons:
You'll need an external email program to email affiliates
6. Tapfiliate
Price: from $69/month
Free trial: Yes
Ease of use: ⭐⭐⭐⭐⭐ 5/5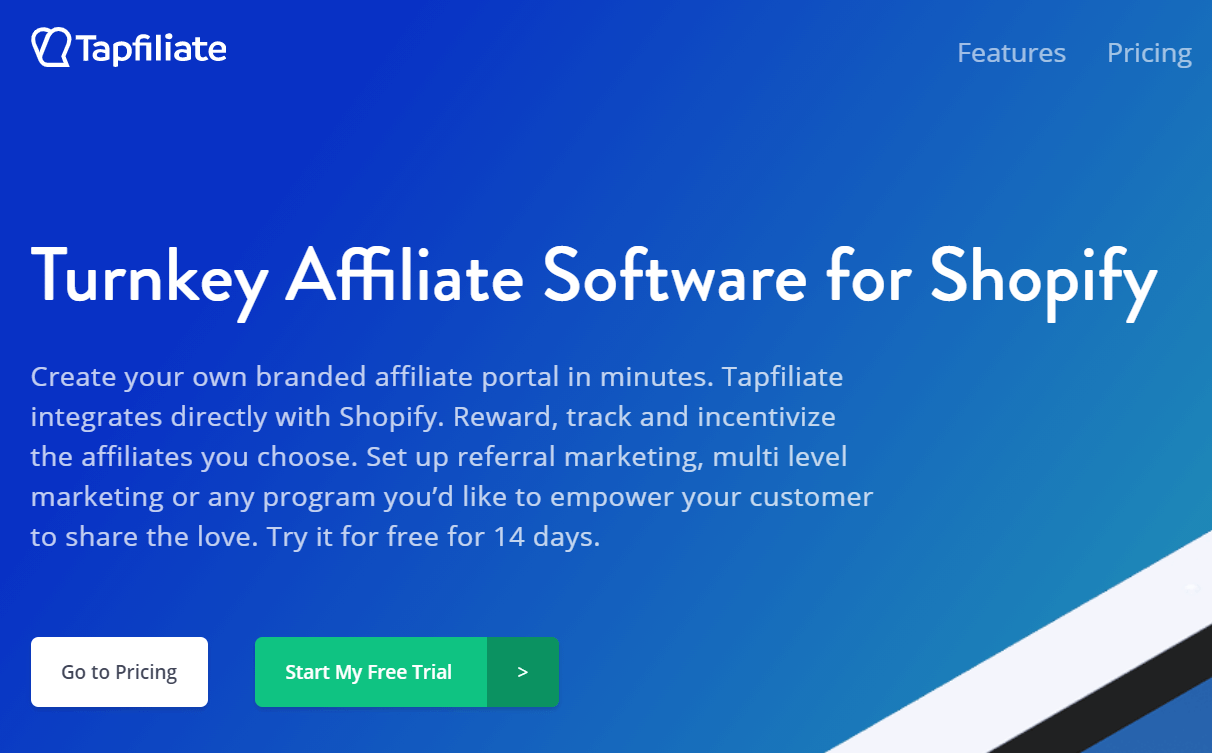 Tapfiliate is designed to create, track and grow your affiliate marketing programs in an easy and comfortable way. Also, this Shopify affiliate app integrates seamlessly with your store in no time, so it's great for beginners.
Pros:
Flexible integration
Choice between fixed and recurring commissions
Choose to credit affiliate partners by groups or by default
Setting up triggers based on affiliate actions and performance bonuses for affiliates to reach
Cons:
Works only on Shopify online stores (not other Shopify sales channels)
7. Referral Candy
Price: from $49/month
Free trial: Yes
Ease of use: ⭐⭐⭐⭐ 4/5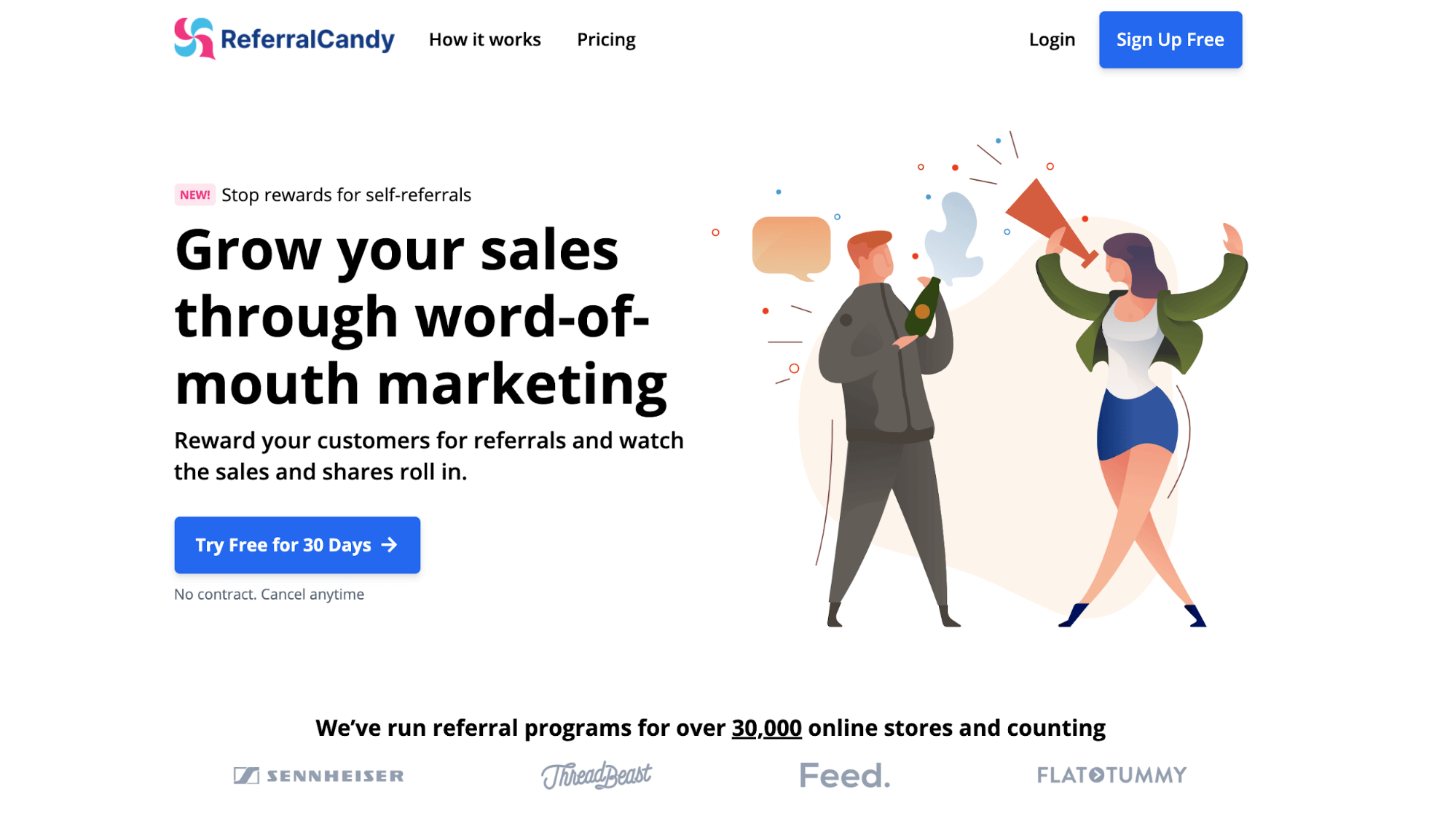 ReferralCandy is quite a popular Shopify affiliate marketing app that offers great features and a lot of customization options. It's very easy to use and manage complex affiliate programs.
One thing to remember, though, is that you'll have to pay a 5% commission for using it. But the fee decreases as you grow.
Pros:
Easy to manage
Great customization for emails
A variety of rewards for referrers, including cash, coupons, and special gifts
Cons:
Significant price increases for enterprise users
No stage-based referral incentives
8. GrowthHero
Price: from $39/month
Free trial: Yes
Ease of use: ⭐⭐⭐⭐ 4/5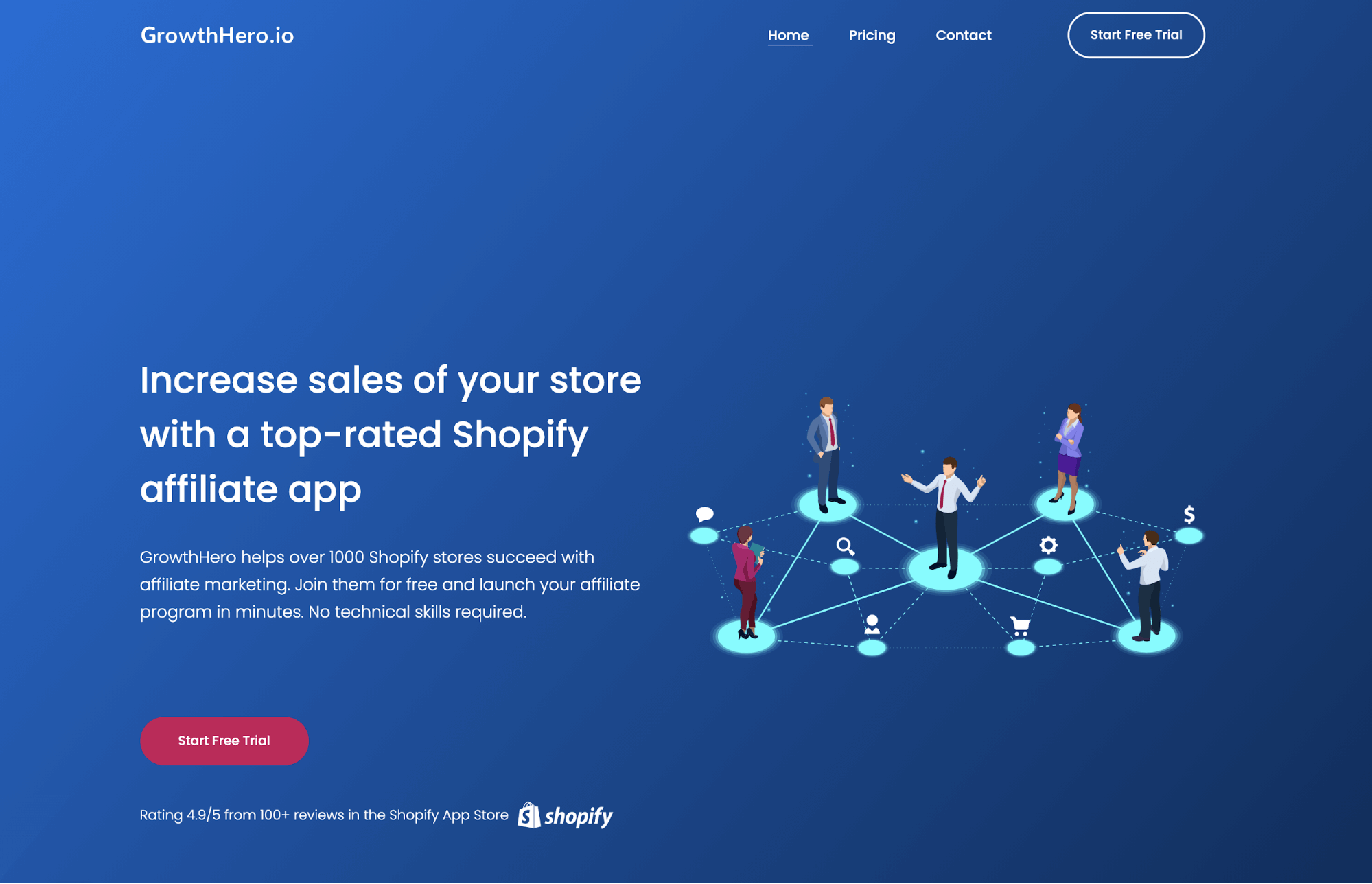 Shopify store owners rated GrowthHero a whopping 4.9 stars. The rating is high due to the app's suitability for both beginner and advanced users. With GrowthHero, you are able to generate unique links, reward your affiliates, and track the commissions.
In case you need any help, GrowthHero is known for its friendly yet professional customer support team. At least that's what many satisfied business owners mention in Shopify store reviews.
Pros:
Helpful step-by-step guide for beginners
Excellent customization and design options
Superb customer support
Cons:
9. Instant Traffic & Ads by Eggflow
Price: from $0/month
Free trial: Yes
Ease of use: ⭐⭐⭐⭐⭐ 5/5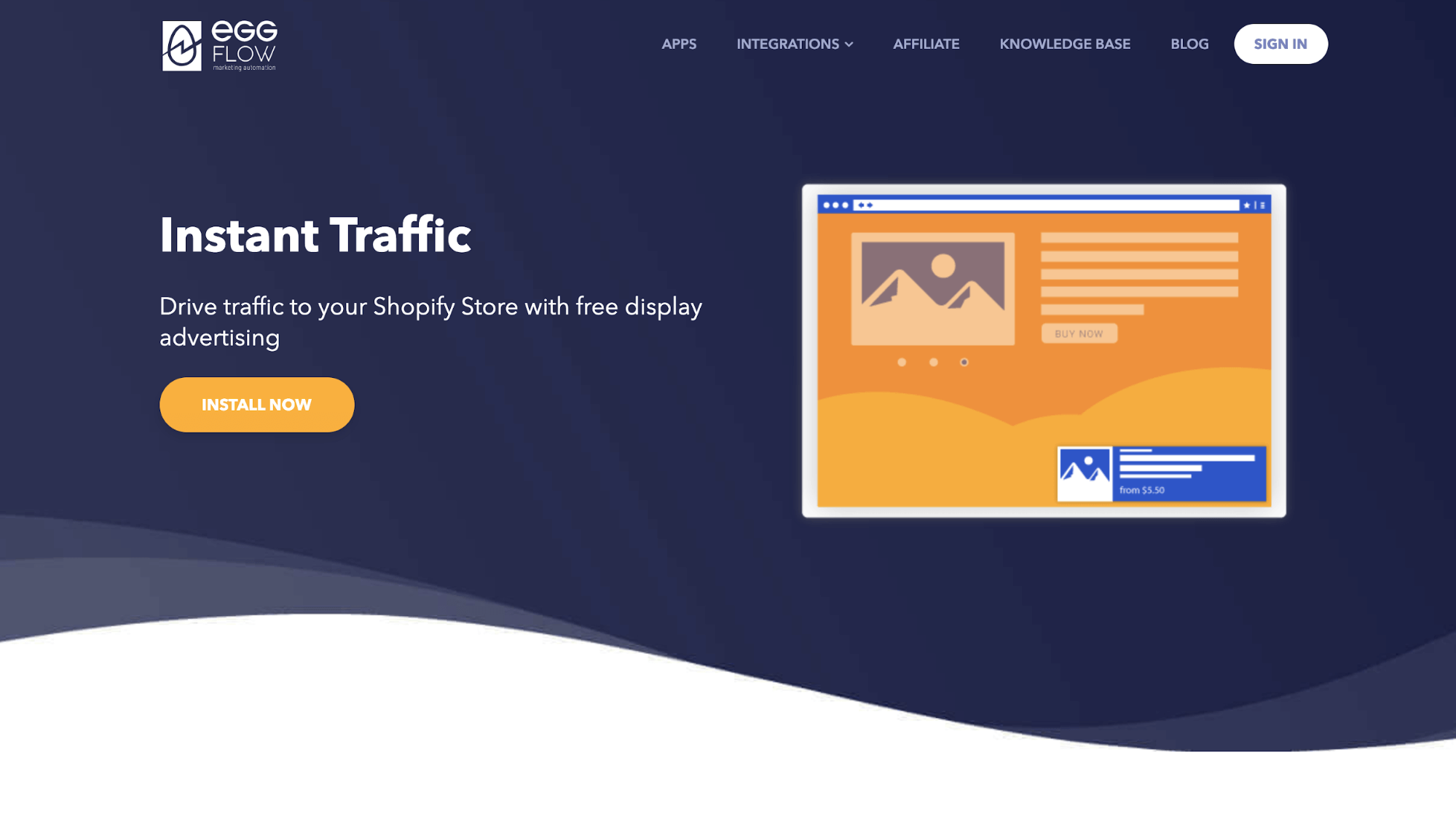 Instant Traffic enables you to advertise your products on other Shopify stores. What this affiliate marketing app does, is show your products as ads with a short description of what potential customers could expect.
With this Shopify affiliate app, you can design ads by optimizing their fonts, text color, background, and more.
What Instant Traffic users love the most is the app's feature that allows targeting specific audiences - based on country, age, etc.
Pros:
Excellent app at targeting your ideal customers
Drives free traffic to your store with Ad Exchange and Google Ads
No extra fees
Cons:
10. LeadDyno
Price: from $29/month
Free trial: Yes
Ease of use: ⭐⭐⭐⭐⭐ 5/5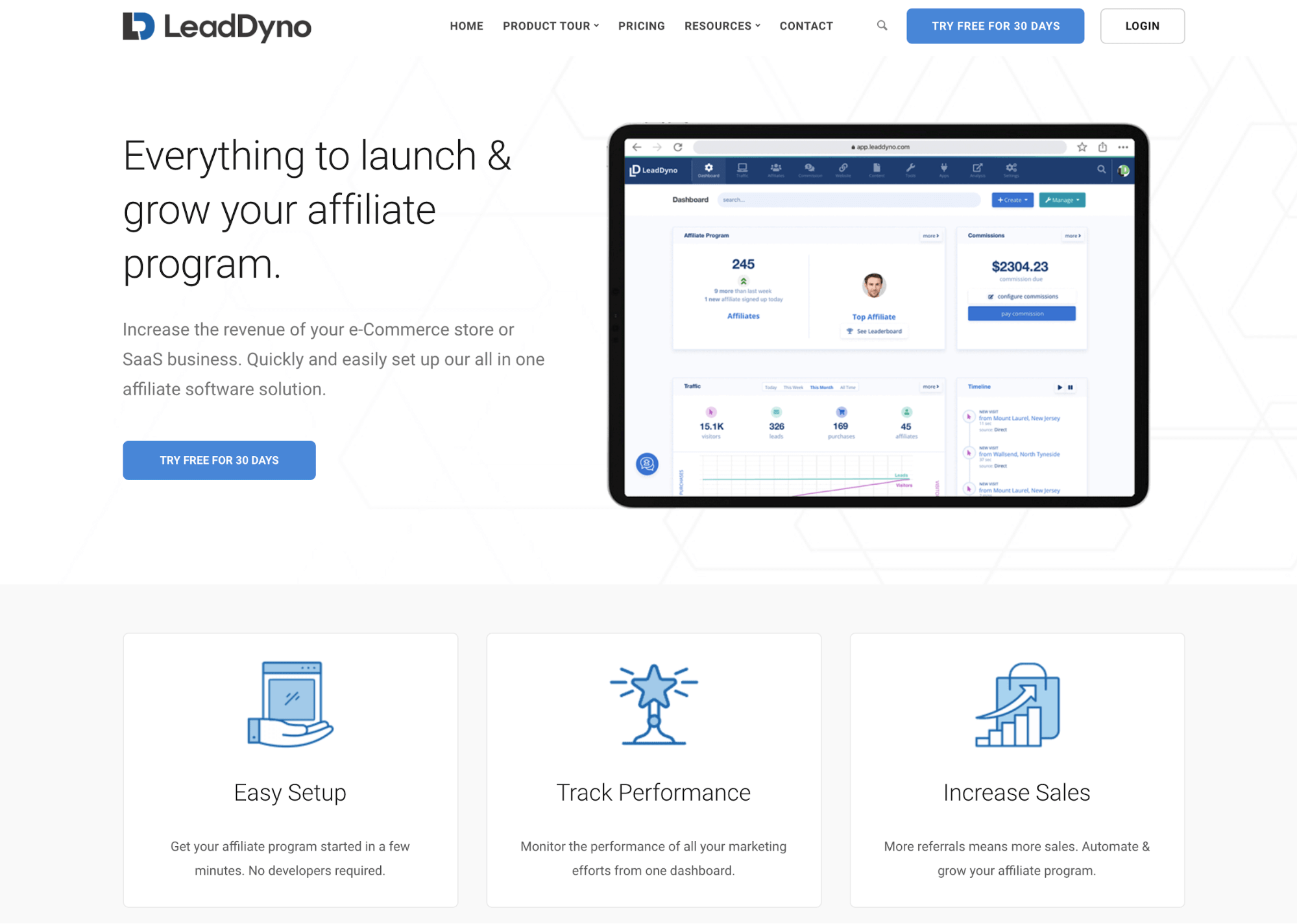 If you are looking for a fully-packed Shopify affiliate marketing app, LeadDyno is a good choice. It's an all-in-one platform where you can manage and track any kind of affiliate program.
Investing in this best Shopify affiliate marketing app will not empty your wallet. For all the features you get, the price of $29/mo is more than user-friendly.
Pros:
Automatic Shopify refund sync
Discount code tracking
Recurring commissions
An option to assign customers to affiliates
Two-tier affiliates levels
Cons:
May not be the easiest to use for beginners
Best Shopify Affiliate Apps: Summary
Shopify affiliate marketing is something every eCommerce owner should at least try. This strategy might help increase the traffic to your store, make your brand more recognizable, and, above all, increase sales.
Consider these reliable Shopify apps to do affiliate marketing campaigns:
Refersion
Affiliatly
ShoutOut
Omnistar
Tapfiliate
Referral Candy
GrowthHero
Instant Traffic & Ads by Eggflow
LeadDyno
Secomapp: Affiliate Marketing
With these Shopify affiliate apps, you'll be able to find the right affiliates, agree on incentives, track the progress, and grow your business quicker.