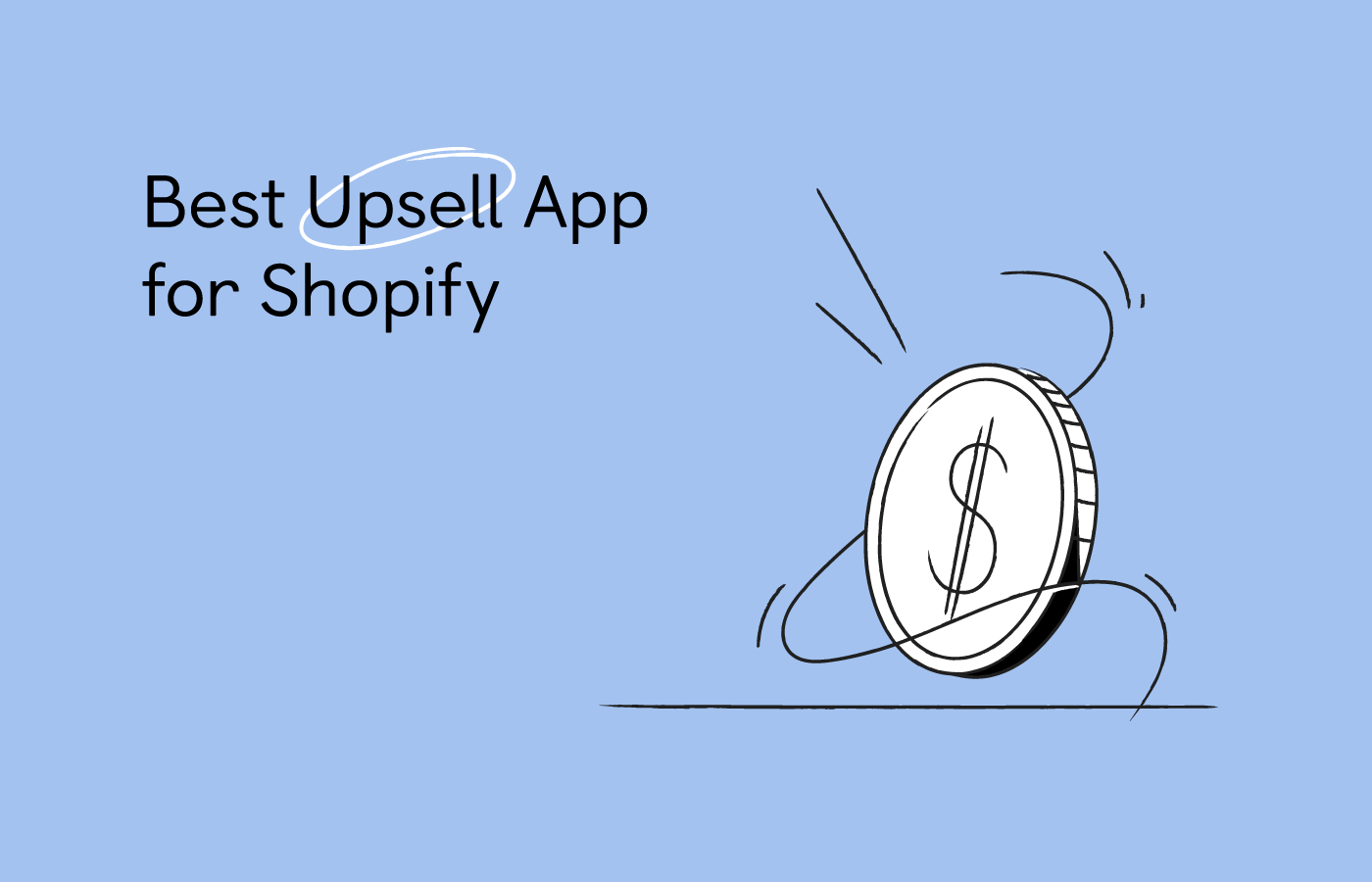 As a Shopify store owner, you surely want regular sales.
But good traffic alone may be insufficient to secure you the steady cash flow you wish for. Let alone higher revenue.
But with the right sales and marketing strategies, you can maximize the sell value of each visitor and thus earn more money.
How?
By offering premium products to your shoppers, so that they spend more than they initially have intended.
This technique, called upselling, is something you can implement straight away. And to help you get started, we've prepared a list of the best upsell apps for Shopify stores.
Click these to jump to a section:
Looking for different apps? These guides could help:
How to do Upsell on Shopify?
You can persuade your online consumers to buy more expensive or upgraded products in many ways. The most effective ones include offering the customers the following.
Relevant premium or "bigger" product versions
The more expensive product you want to offer cannot be random—it has to be strictly related to what the customer is looking at to buy.
For example, if the customer is about to order a box of lavender incense sticks, you can try to persuade them they're getting more value by opting for a larger box.
Or, you could suggest a similar product from a different but more expensive brand.
Product bundles
Persuading a customer to buy more in one go is a great technique that combines upselling and cross-selling.
For example, when a customer is interested in getting lavender incense sticks, you could offer them a two-box bundle that would include lavender and some other popular scent.
Or, you could entice them to buy the box of sticks they want along with a stick holder or storage case.
Discount coupons or codes
You can easily create Shopify discount codes to grow your sales. In the upsell context, discount coupons can help you persuade the customer to put in their basket more items of the same type or come back to your store for more.
For example, if the customer bought a box of certain incense sticks, you can reward them with a coupon they could redeem for their next order of the same or premium item.
Freebies
You can incentivize your customer to choose a more expensive item by offering them something extra for free.
For example, to gently push your customers toward buying a premium box of incense sticks, you can offer them free shipping, gift-wrapping, or a free complimentary item.
Again, the goal is to make them feel they get more value for their money.
Paid memberships
This technique allows you to not only increase the sale value for your buyers but also promote customer loyalty.
For example, customers who join your club will enjoy a range of privileges, including free shipping, express checkout, scheduling recurring orders, etc.
Product comparison
By showing your customer a comparison between two or more similar items, you encourage them to go beyond the cheapest options and buy a quality product with better (or more) features.
For example, you can recommend lavender incense sticks from other brands and highlight the benefits the customer will get when they opt for a particular product.
So whenever you want your customer to buy a 2LB bag of coffee instead of 1LB, a bundle of three incense stick boxes instead of one (or any product you're selling), you'll need a good Shopify upsell app that will help you make it happen.
Here are some of the best ones to choose from.
10 Best Upsell Apps for Shopify
So, what's the best upsell app for Shopify?
Well, dozens of Shopify upsell apps can make upselling simpler and more effective. But trying and testing out each of them would take unnecessary time and effort.
So we handpicked the best apps that will help you personalize recommendations for each customer and display them throughout your online store.
1. Firepush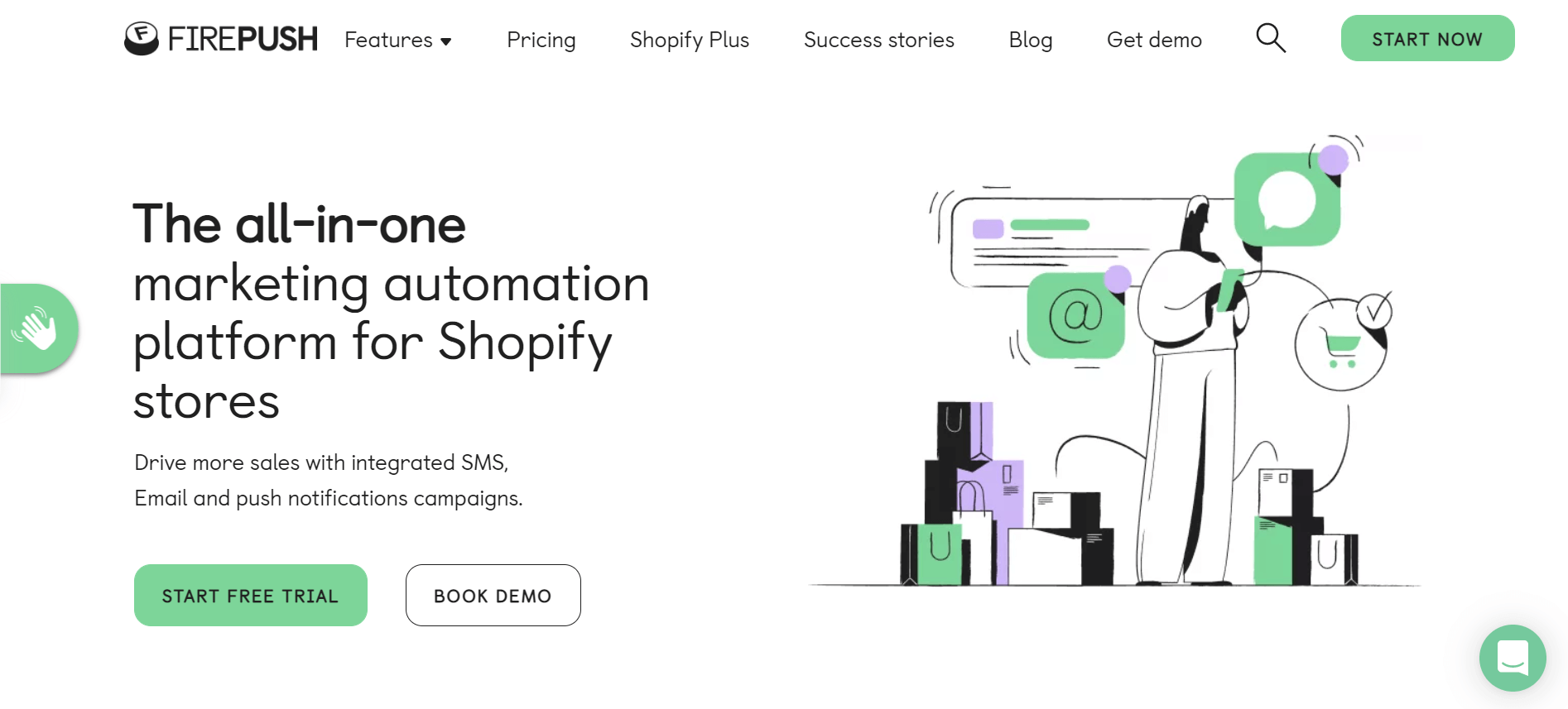 Firepush is an omnichannel marketing solution made with Shopify sellers in mind. With this app, you'll be able to send automatic SMS messages, emails, and push notifications to your customers, and include upsell offers.
Best upsell features:
Retargeting with web push notifications
Sequence of 3 automated messages
'Win-back customer' campaigns
Upsell promotional campaigns
Multichannel messaging
Price: Free plan available; free trial. Paid plans begin at $15 per month.
2. Recom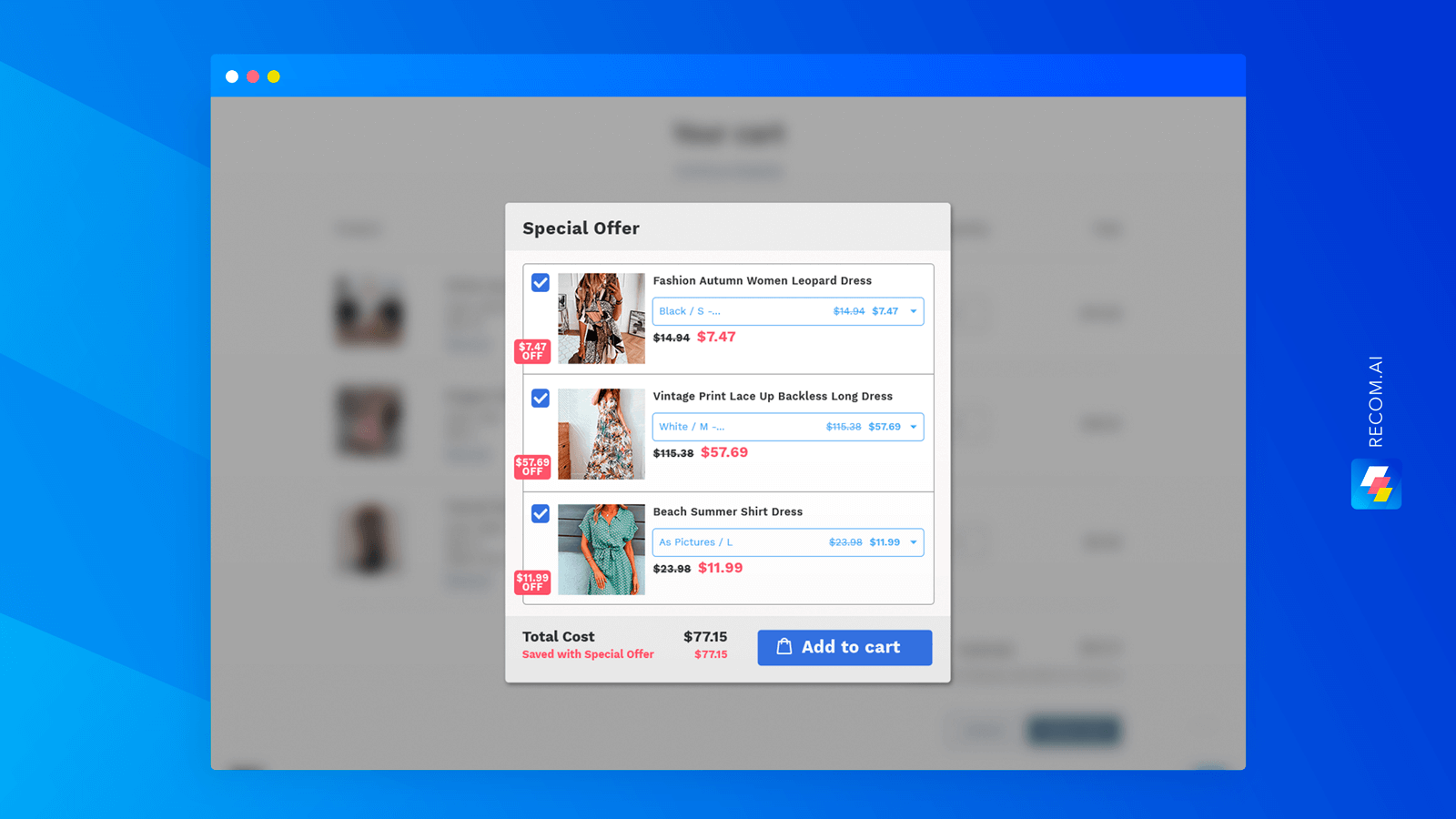 Recom.ai lets merchants effortlessly launch and manage multiple upselling and cross-selling campaigns. Flexible settings allow you to accurately adjust campaigns to your marketing strategy and display offers on any store page to follow customers along their journey.
Best upsell features:
AI-powered instant product recommendations

A rich list of predesigned widgets

Pre-purchase & post-purchase upsells

Upsells with discounts

Detailed analytics reports
Price: $19/month plus 2.9% of sales generated with the app; free trial.
3. ReConvert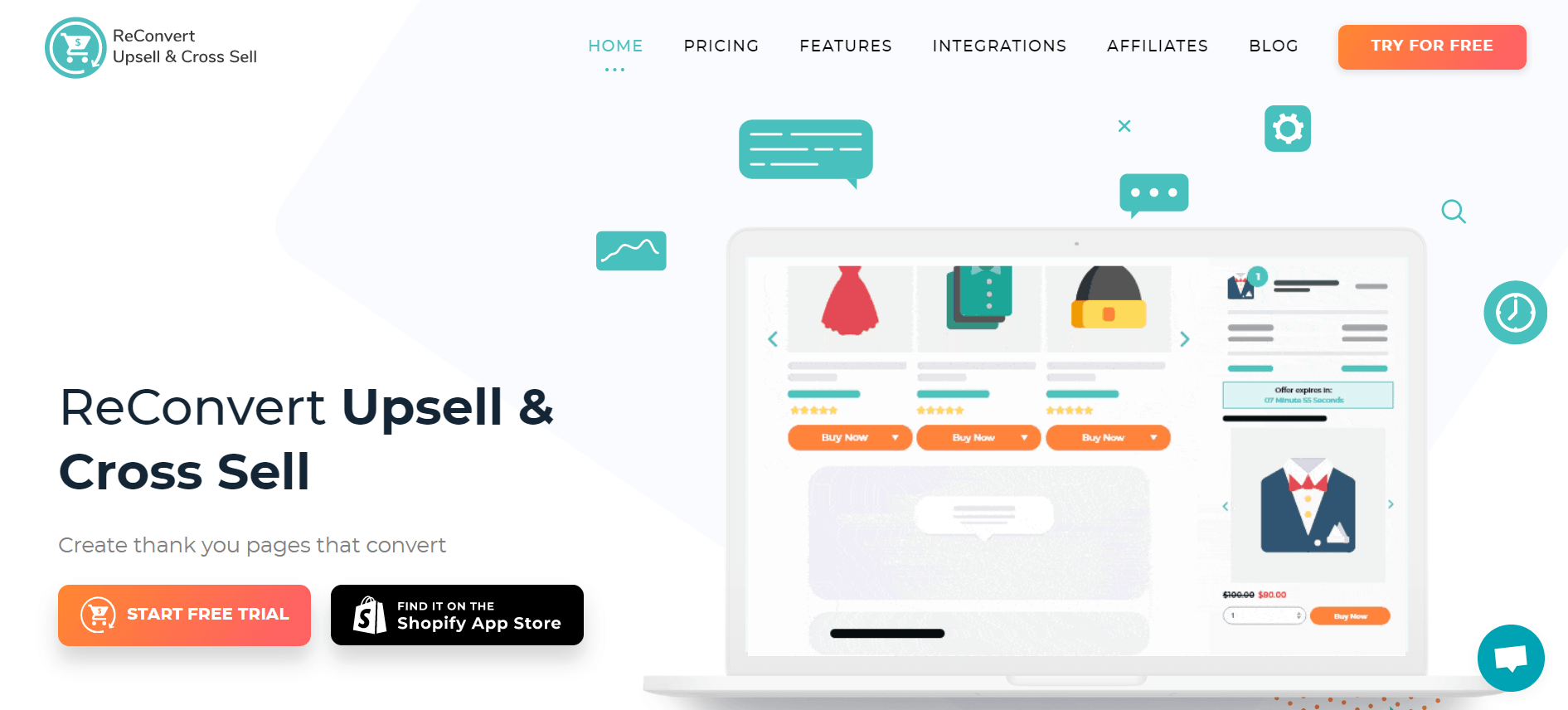 ReConvert is a free Shopify upsell app. This app will enable you to optimize and customize your thank you page with many different upsell widgets and triggers.
Best upsell features:
Personalized product recommendations
Discount popup with countdown timer
Full analytics for the thank-you pages
Birthday SMS and email marketing
Product upsell
Price: Free plan available; free trial. Paid plans begin at $7.99.
Are you a new Shopify store owner? Take a look at our choice of 20+ Best Shopify Apps that will help you optimize your store for higher traffic and conversions.
4. VITALS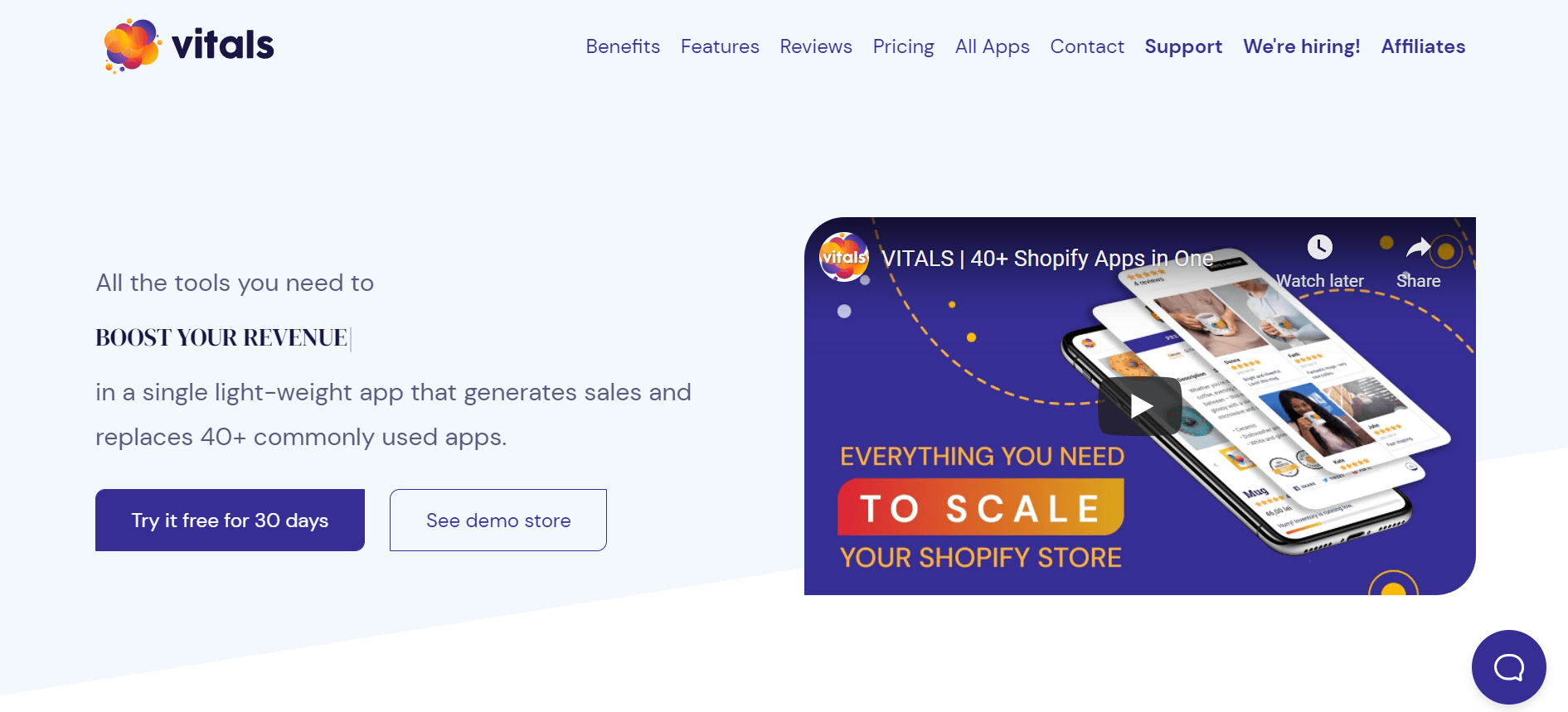 Vitals is not only a good choice for upselling but it's also one of the best review apps for Shopify. Vitals will help you earn customer trust, capture leads, and increase conversion rate.
Best upsell features:
Recently viewed products
Volume discounts
Related products
Product bundles
BOGO offers
Price: $29.99 per month; free trial.
5. Honeycomb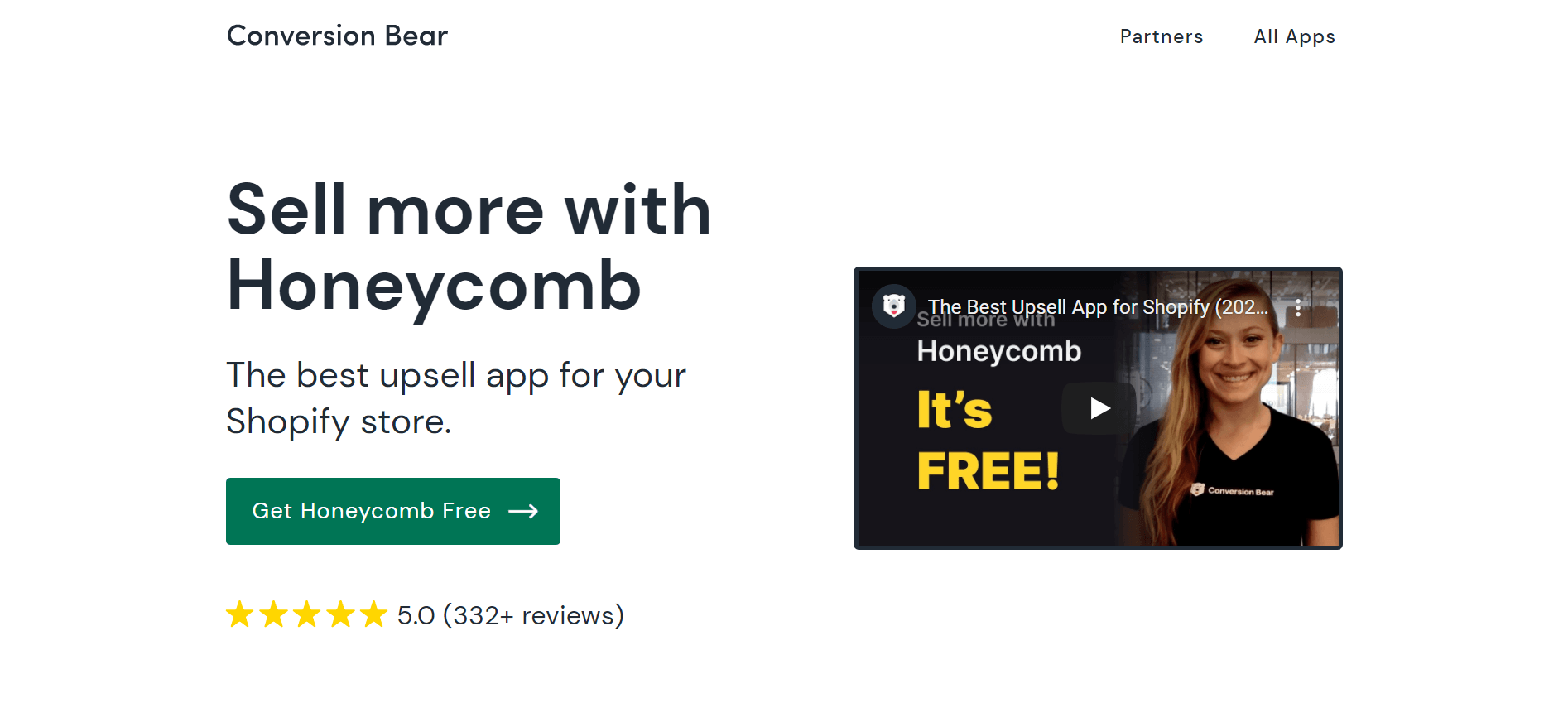 Honeycomb app lets you create and customize product funnels for upselling and cross-selling. The app alone works out of the box and all the pricing plans are commission-free.
Best upsell features:
Post-purchase upsell funnels
Product page upsell funnels
AI recommendation engine
Blog page upsell funnels
Cart page upsell funnels
Price: Free plan available. Paid plans begin at $49.99/month.
6. Zoorix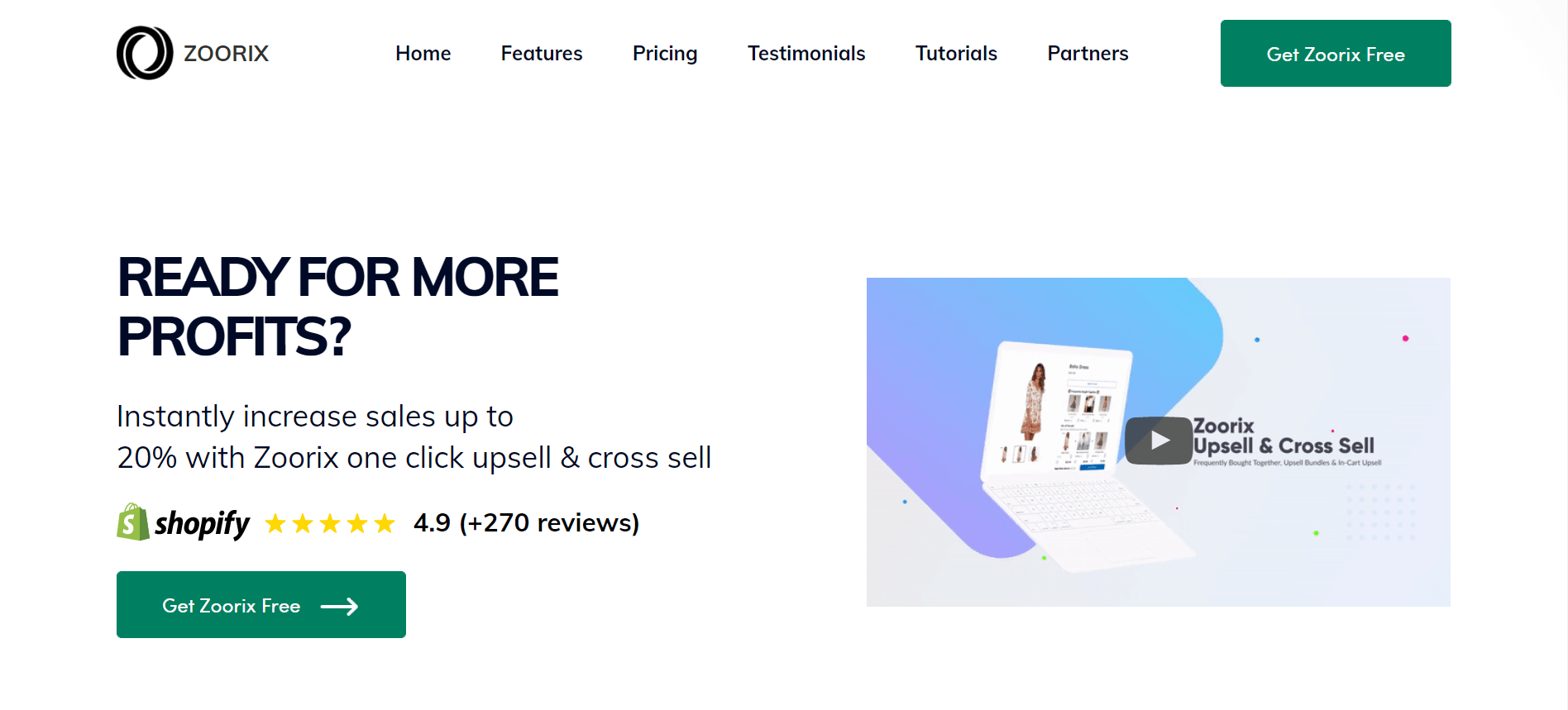 Zoorix is a great Shopify upsell app that offers all the necessary features for effective upselling and cross-selling. It's easy to set up and charges no commissions on your upsell revenue.
Best upsell features:
Frequently bought together slider
Upsell of specific product variants
AI-powered recommendations
Bulk recommendations
Warranty upsell
Price: Free plan available; free trial. Premium plans start at $7.99 per month.
7. UFE Cross Sell & Upsell Bundle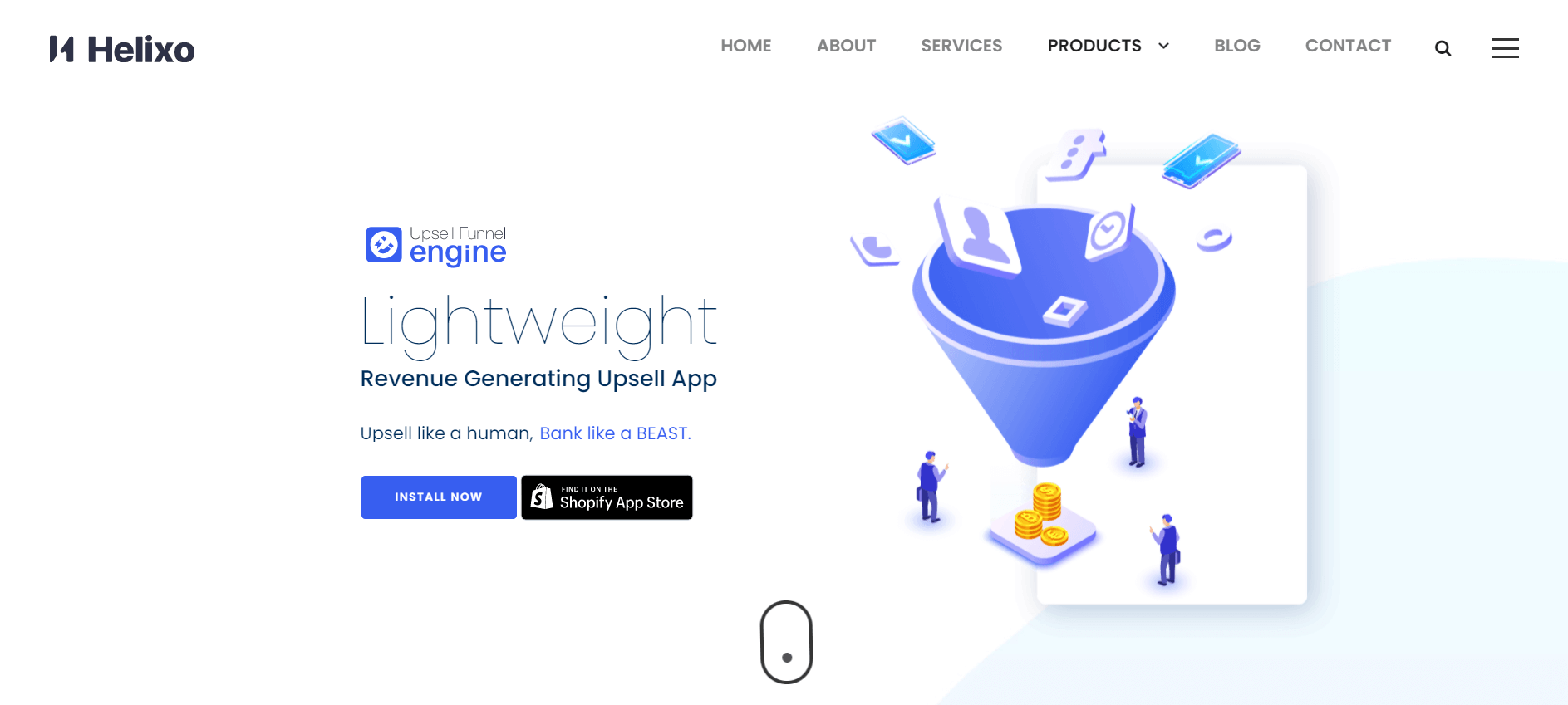 UFE (Upsell Funnel Engine) helps sellers to generate more revenue from product upselling by hooking the customers with offers they cannot resist. This free Shopify upsell app is lightweight and non-intrusive.
Best upsell features:
Split-testing of upsell offers
Scheduling of upsell offers
One-click upsell funnel
Post-purchase upsell
Product bundles
Price: Free to install + $0/month until 50 store orders/month.
8. One Click Upsell ‑ Zipify OCU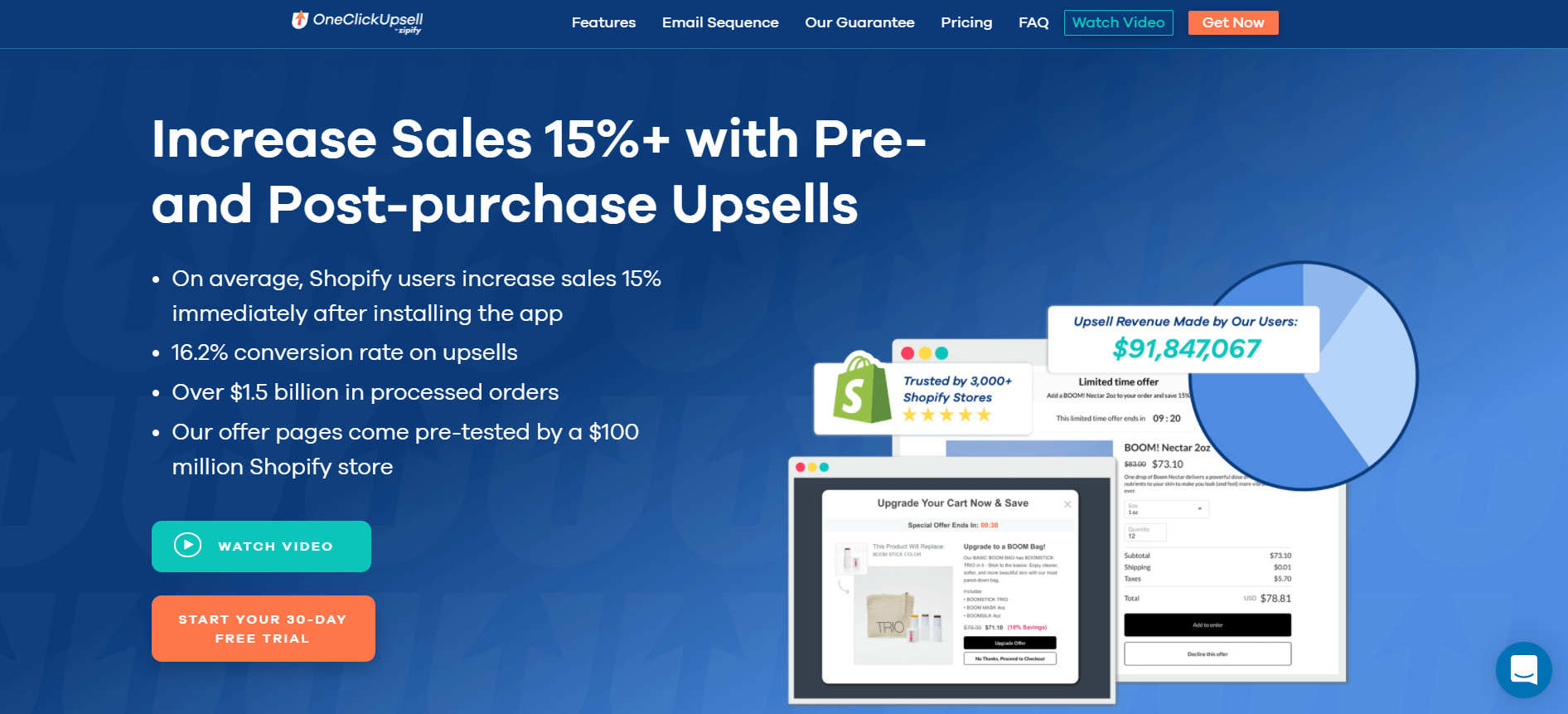 Zipify OCU (One-Click-Upsell) offers traditional pre-purchase and post-purchase upsells. It allows you to design the perfect sales funnel for each product and enables the customers to buy your upsells with just one click.
Best upsell features:
Post-purchase one-click upsells
Pre-purchase (in-cart) upsells
Upsell sales funnel builder
Upsells split-testing
Bundle upsells
Price: From $24.99/month; free trial.
9. Candy Cart — One Click Upsell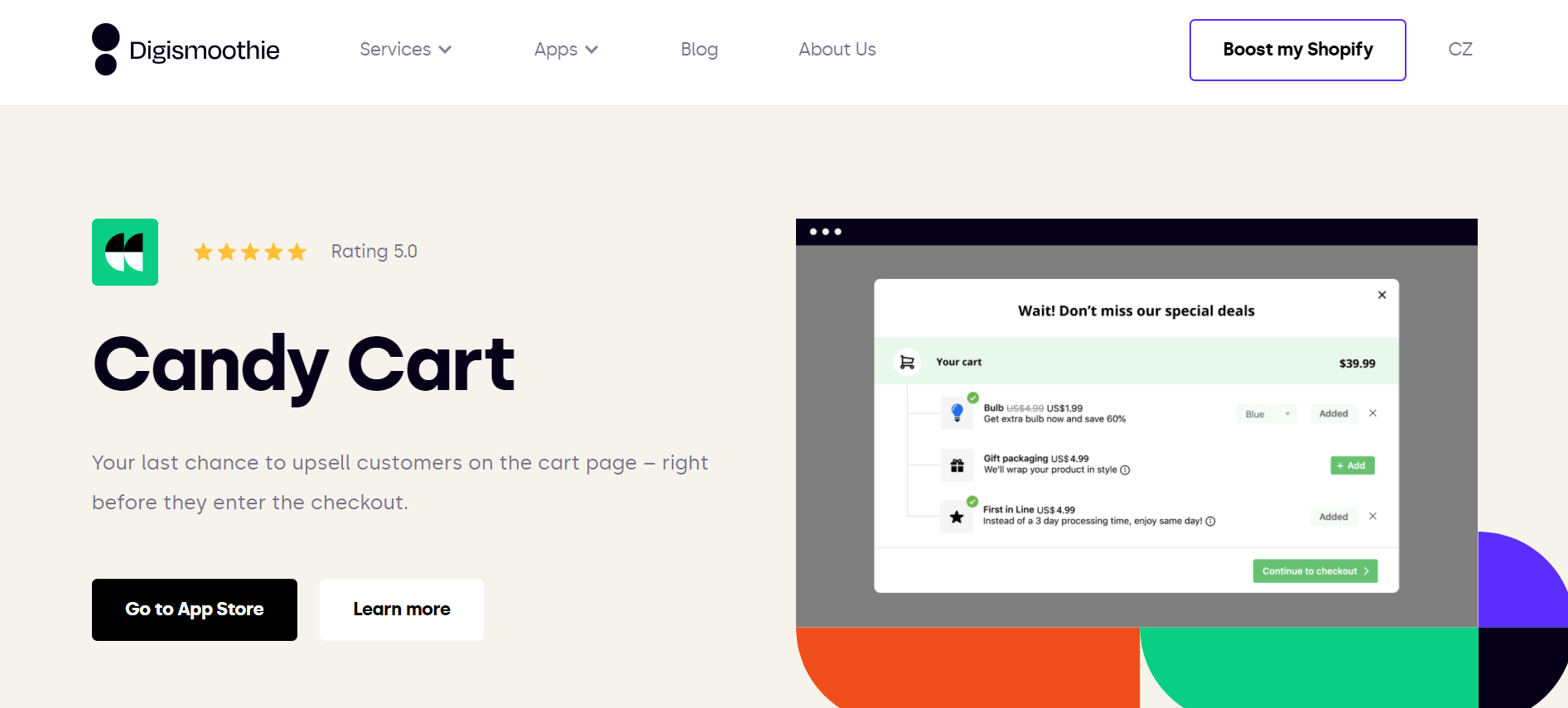 Candy Cart offers the least intrusive approach to upselling and cross-selling. Instead of flooding your visitors with dozens of upsell pop-ups, it displays just one on the cart page before the buyer proceeds to the checkout.
Best upsell features:
Pre-made upsell templates
AI-powered auto-upsell
Upsell of extra services
One-click upsell popup
Auto-pilot mode
Price: From $19.99/month; free trial.
10. In Cart Upsell & Cross Sell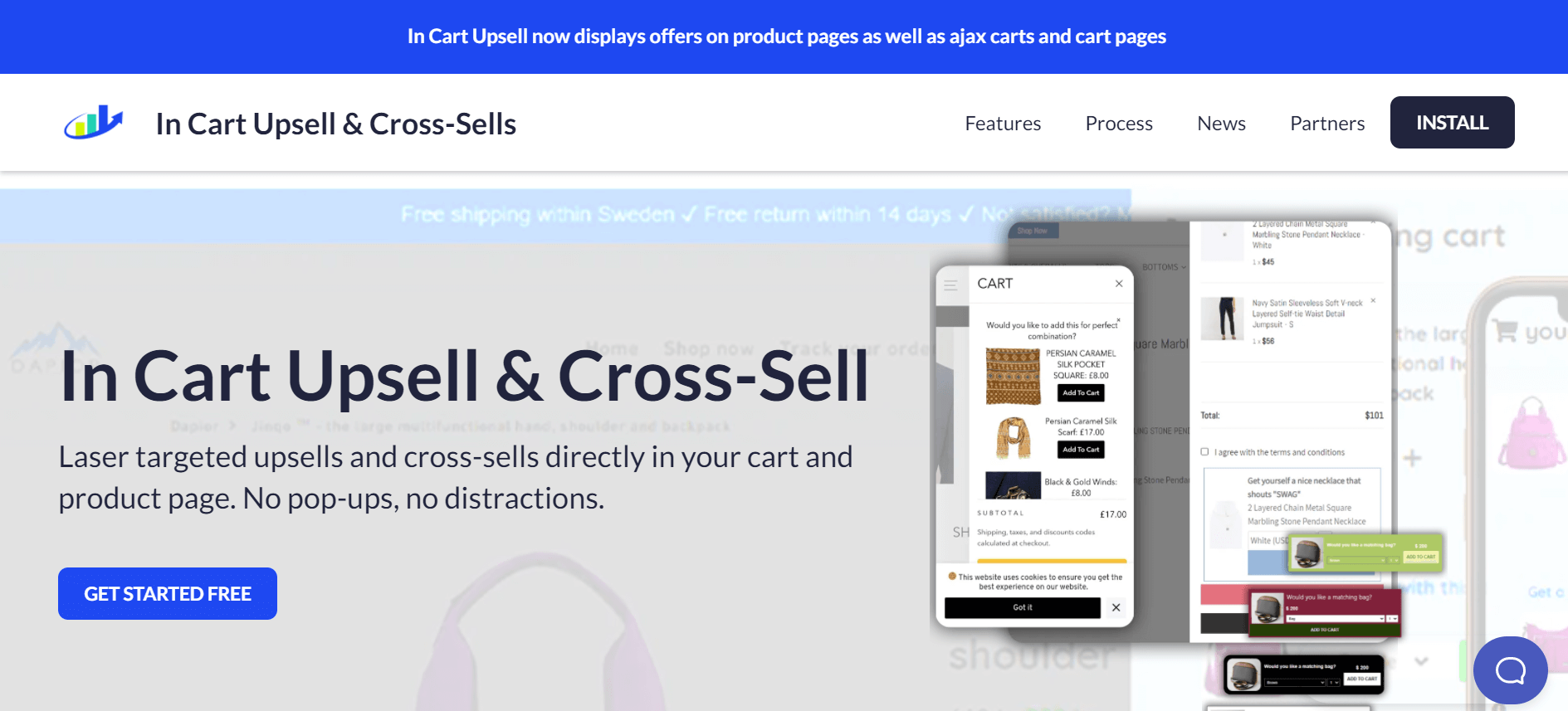 In Cart product upsell Shopify app allows you to display relevant products to your customers at the perfect time in their order process. The customer receives an upsell offer while they're already buying which cuts down the number of disruptive pop-ups.
Best upsell features:
AI-powered autosuggester
Multiple related products
Advanced targeting
BOGO offers
A/B tests
Price: Free plan available; free trial.
Best Shopify Upsell Apps: Summary
Upsells and cross-sells can generate you more income, while a good upsell Shopify app will automate the whole process for you and make product recommendations or bulk upsells easier than ever.
Best of all, all the apps we feature in this article have positive reviews from many happy users who are already enjoying successful upsells.
Since most of those apps are free (or offer a free trial), you don't need to worry about any upfront financial investment and choose the best Shopify upsell app that will fit your strategy.