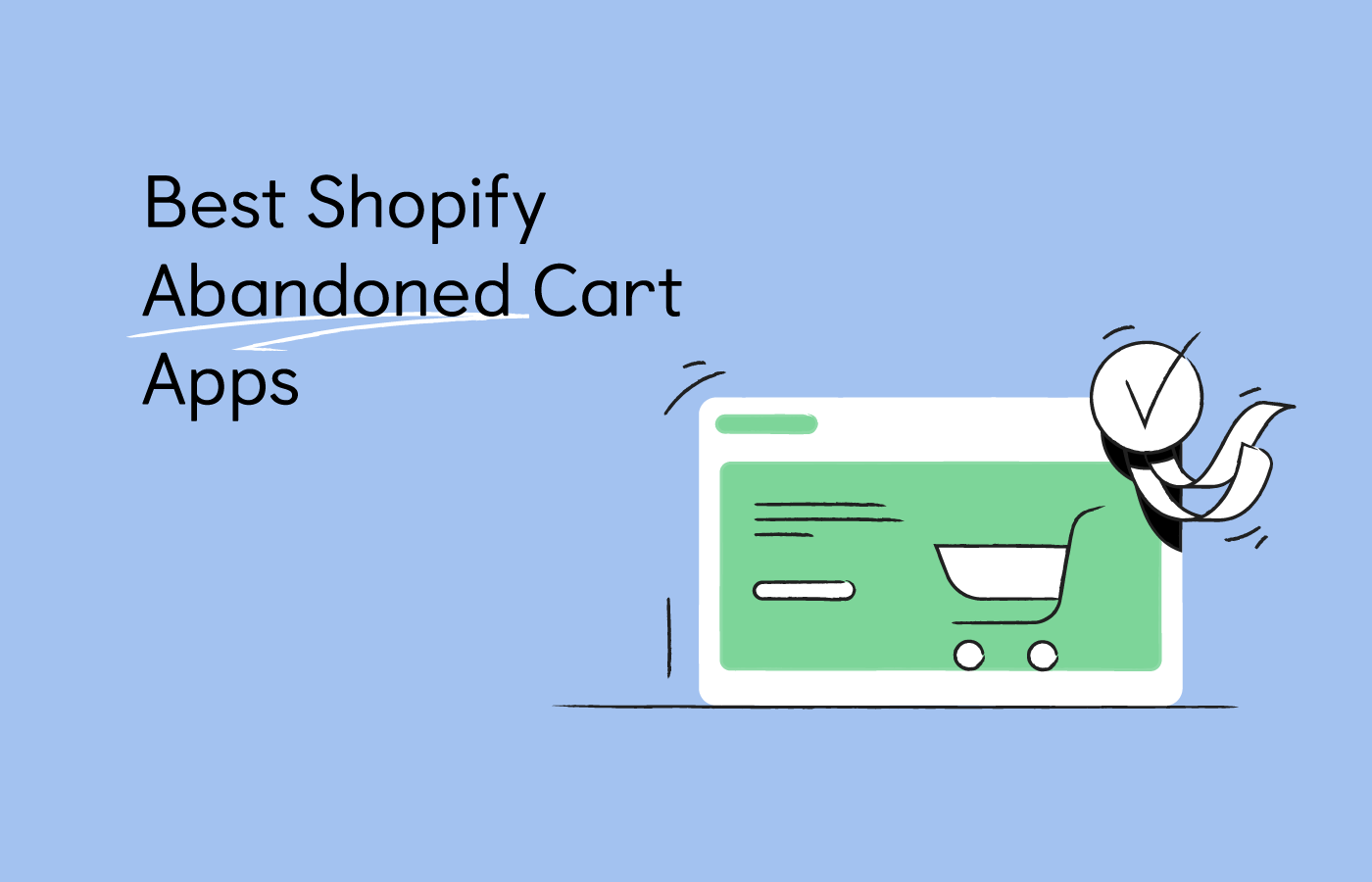 Abandoned shopping carts are a common issue for Shopify stores. Customers browse the products, add them to the carts but never finish the order.
Luckily, abandoned cart apps can help you recover lost sales by bringing the shoppers back to finalize their purchases. Some apps can even automate the entire re-engagement process. So once you set up the flow, you can sit back and watch the sales grow.
The market is full of different cart recovery apps for Shopify. We know how difficult it may be to choose the right one, so we reviewed a number of different apps and shortlisted the best services. Read our review and choose the best abandoned cart app that will help you recover the sales.
5 best abandoned cart apps for Shopify:
What to look for in a Shopify abandoned cart app?
Choosing just one app from so many options may be a real challenge. Here are a few tips for picking the best abandoned cart app:
Consider what channels you wish to use for cart recovery. Different apps offer various channels for approaching shoppers. Some services cover emails, SMS, or push notifications, while others make your shop's tab more visible or add various popup bars to your Shopify store. Pick the best option for your case.
Research the apps and read the reviews. You're in the right place because we already reviewed the best Shopify abandoned cart apps for you. However, if you're doing your own research, make sure to check out different review sites to get a wholesome view of the best apps.
Test different apps. All of the apps that we listed here have a free trial. If you want to check for yourself how different apps work, use the free trials to test them and see if they have all the features you're looking for.
The best abandoned cart apps for Shopify - our detailed list:
Our list contains the 8 best abandoned cart apps for Shopify. We tested a number of different services and selected the best apps, which have a high Shopify rating score, great user reviews, and offer the best value for their price.
1. Firepush

Firepush covers three major communication channels to reach your shoppers and recover abandoned carts effectively. The app automates email, SMS, and push notification campaigns.
Shopify rating: 4.8 ★
Price: From $15 a month
Free trial: Yes
Shopify app: Get Firepush
Firepush is the best app for abandoned cart recovery on Shopify. The service covers three communication channels, which means your messages have the best chances to reach potential clients. Firepush offers a proven strategy for recovering sales, which is sending a sequence of three automated messages. Try it out for yourself because the app has a free trial.
Pricing: The app is completely free for up to 250 contacts. Paid plans start from $15/month.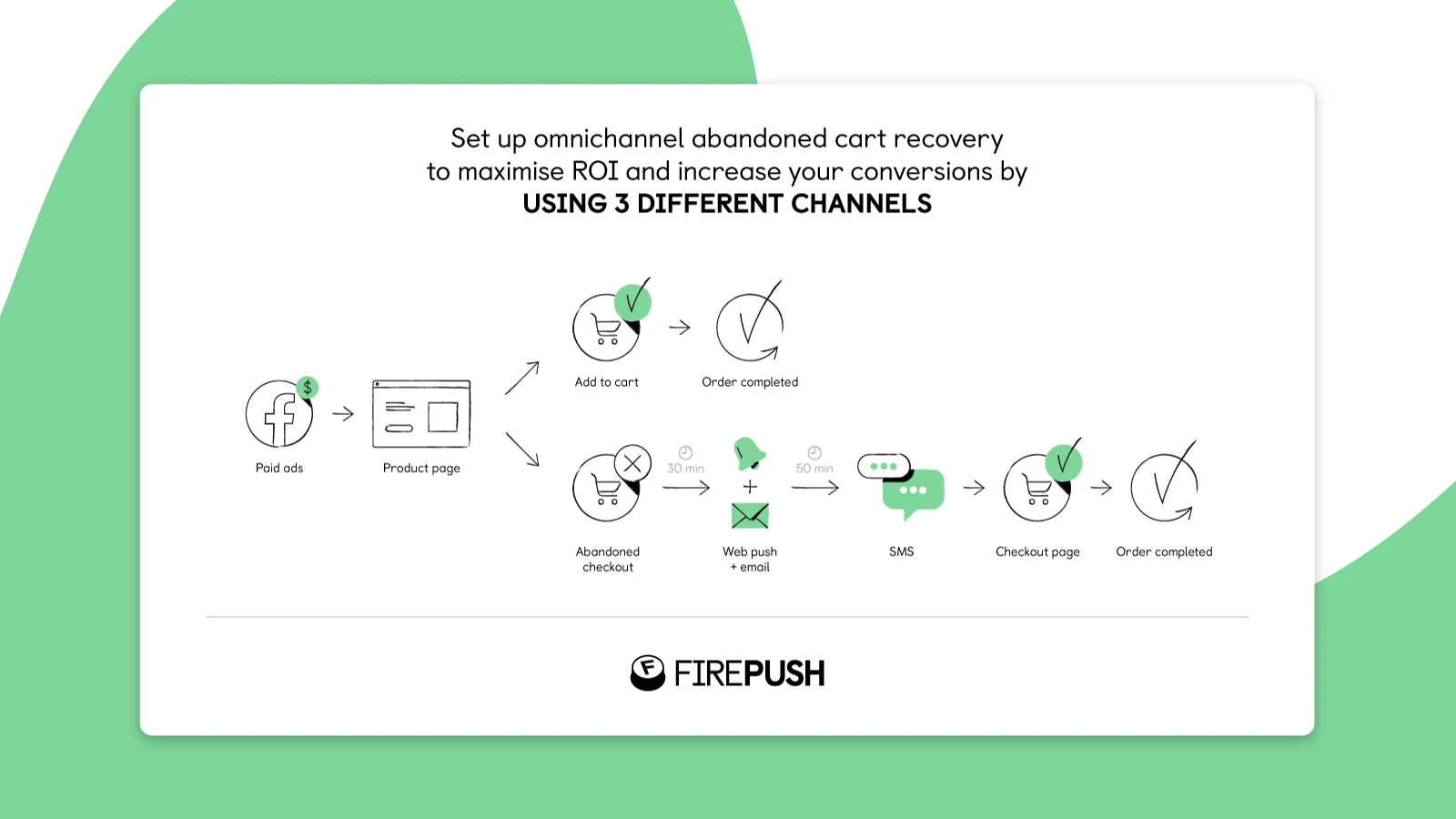 Main features:
Abandoned cart recovery via multiple channels (emails, SMS, and push notifications)
Automated sequences for client re-engagement
"Win-back customer" campaigns for maximum sales
Personalized strategic sessions and great customer support
2. Recart FB Messenger Marketing

Recart sends direct messages to Facebook Messenger, where they get a higher open rate than emails. Use the app to automate abandoned cart flows and communicate with your clients directly.
Shopify rating: 4.8 ★
Price: From $29 a month
Free trial: Yes
Shopify app: Get Recart
Recart FB Messenger Marketing app automates various marketing flows, including abandoned cart recovery. You can pick already-made flows and include condition splits to make them more personalized for your Shopify clients. Integrating the app doesn't require any coding knowledge and it's easy to use.
Pricing: You can test the app for free for 28 days and enjoy all the app features. The Pro plan costs $29/month and covers an unlimited number of subscribers.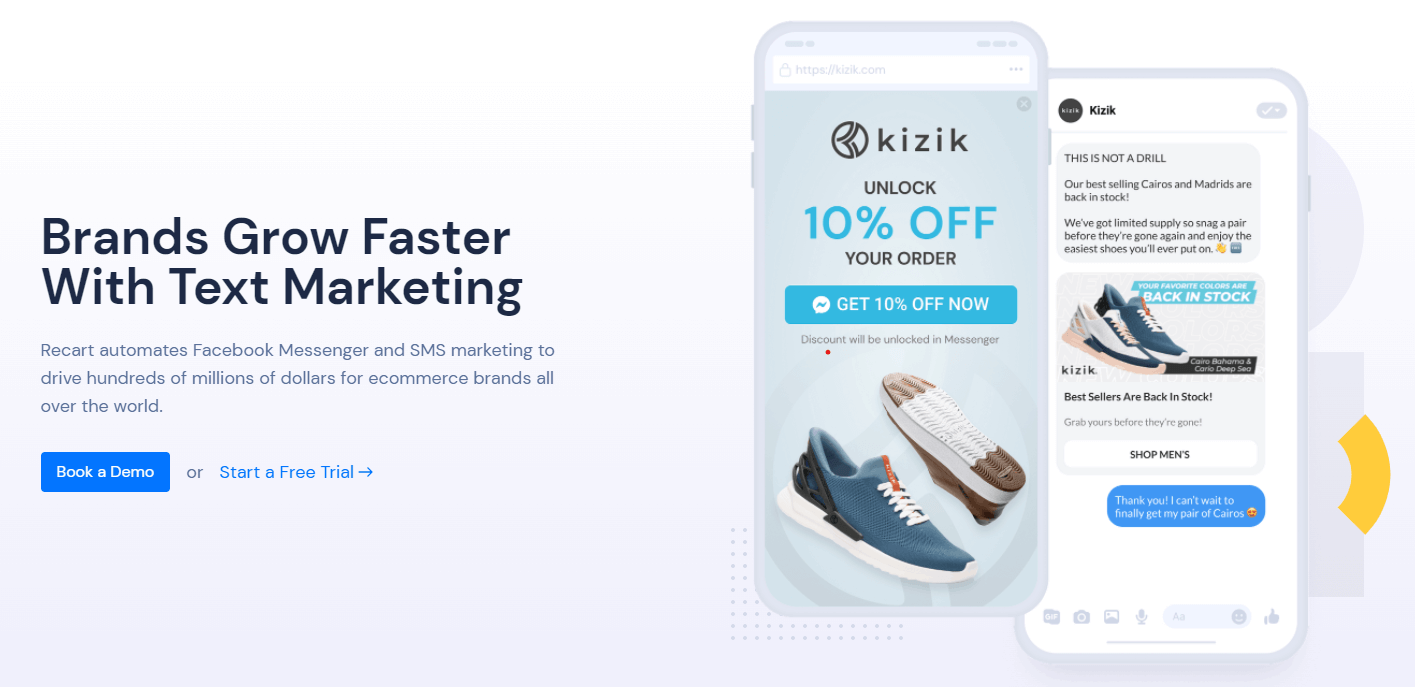 Main features:
Automated marketing flows for abandoned cart recovery
Send direct messages to Facebook Messenger
Real-time dashboard for performance tracking
Easy integration with no coding needed
3. Cart Abandonment Protector

Cart Abandonment Protector is a free tab animation app for catching your client's eye before they forget about their cart.
Cart Abandonment Protector animates the text and favicon in the title bar. If someone has many tabs open while shopping at your Shopify store, the animated favicon will attract their attention. This way, the shoppers won't forget items in their cart and, hopefully, complete their order at your store. Creating animations with the app is simple and doesn't require any specific skills.
Pricing: The app is free to use.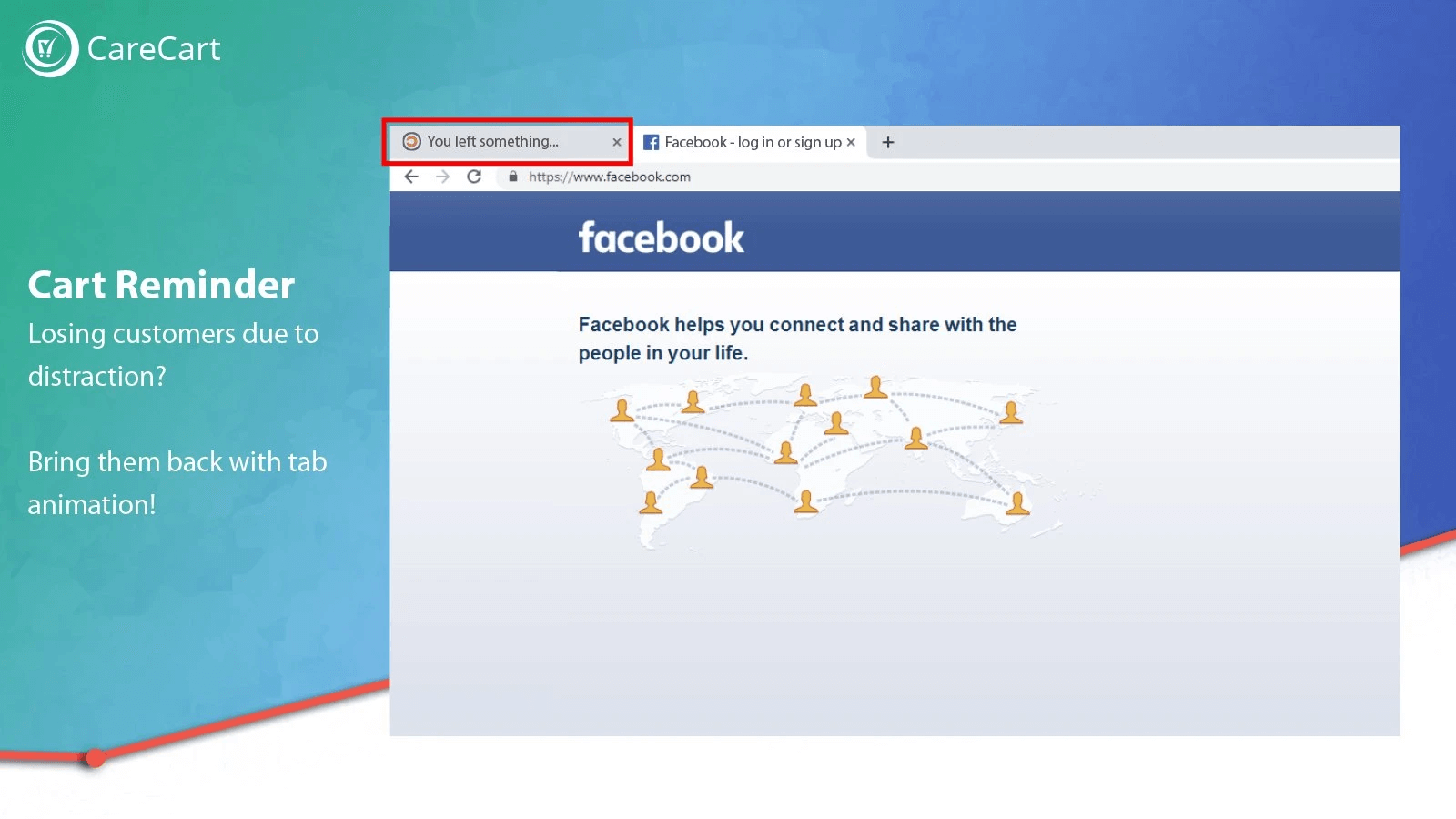 Main features:
Customize animated text and upload your favicon image
Pick your badge animation and color scheme
Schedule the start of the animation
The app is simple to install
4. Rivo Abandoned Cart Recovery (Recovery Hero)

Rivo Abandoned Cart Recovery works as a cart abandonment protector. It helps recover sales via email, texts, and push notifications.
The Rivo app is easy to install and works right away. The service helps recover abandoned shopping carts by engaging clients via three different channels: emails, text messages, and browser notifications. The app allows customizing cart recovery messages to suit your brand's voice and style.
Pricing: The app has a free plan that includes automated abandoned cart recovery. Paid plans cost from $15 to $49/month.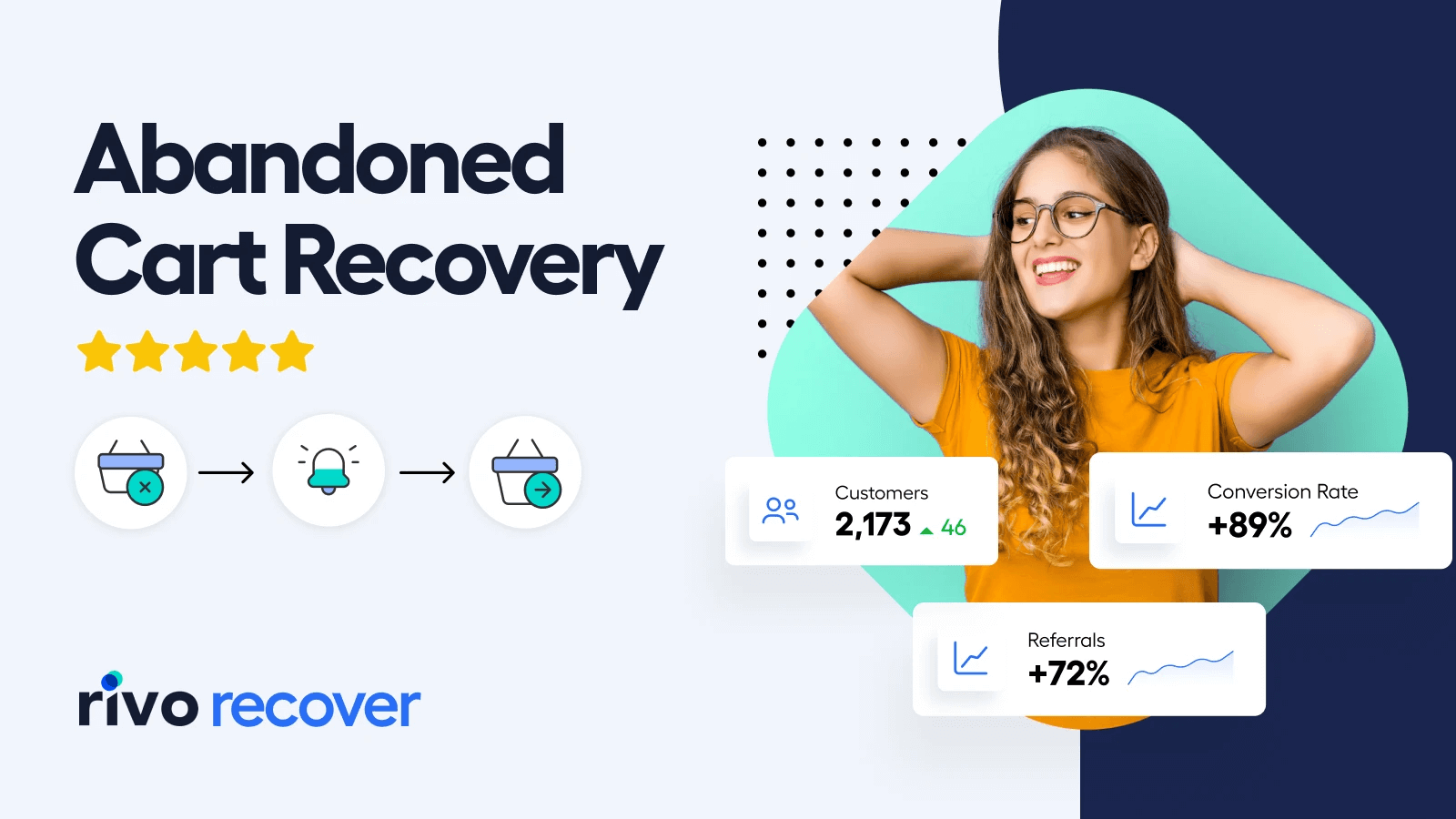 Main features:
Cart recovery via three marketing channels (email, push notifications, and SMS)
Customizable messages to match your brand style
One-click installation, no coding knowledge required
5. Abandoned Cart Reminder

Abandoned Cart Reminder brings back your Shopify store visitors with reminder tabs. The tabs can be fully customized to match your brand.
Abandoned Cart Reminder helps attract the attention of shoppers, who leave your store's tab open and wander away. With the app, your shop's tab will start blinking, and once the shoppers click on the tab, a message of your choice will pop up. You can change the color, text, and design of the reminder bars to match your brand.
Pricing: Try the app for free with a 90-day free trial. The Basic plan costs $8.95/month, or you can get the Priority Support plan for $17.95/month.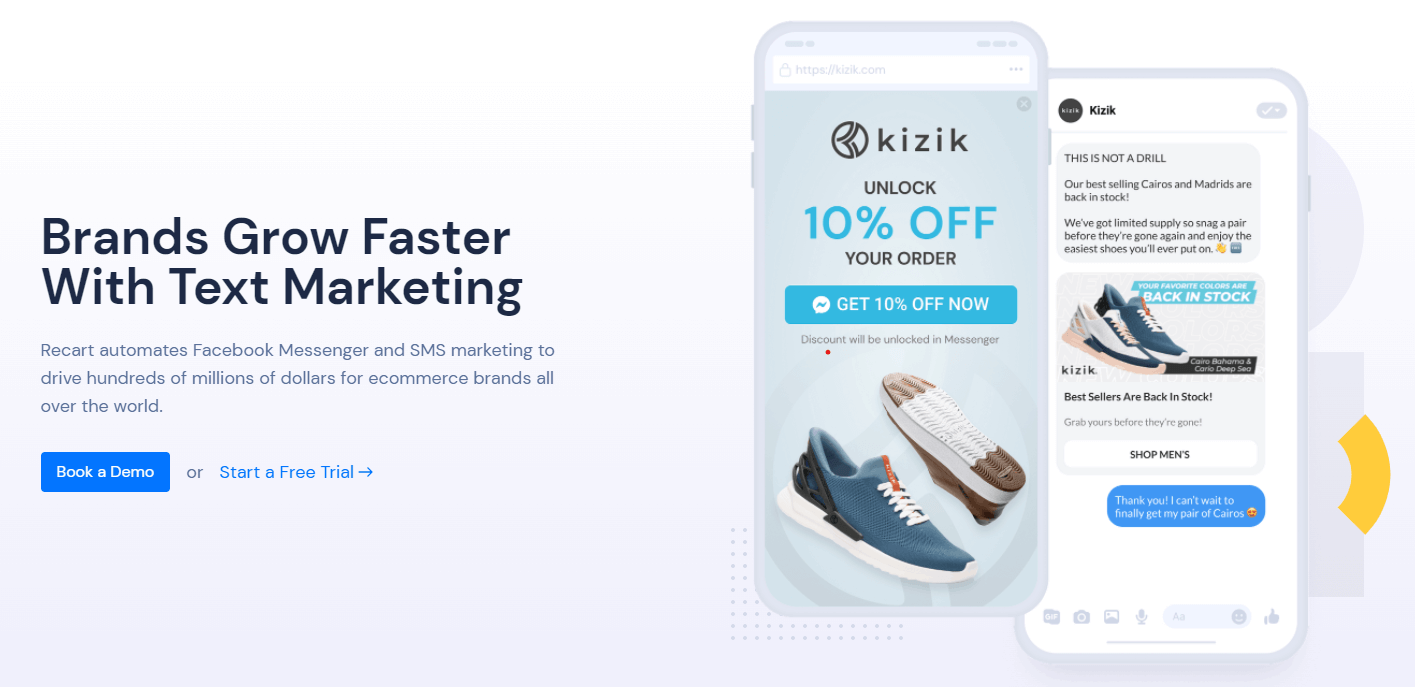 Main features:
Fully customizable reminder tab design
Compatible with any Shopify theme
One-click installation
6. Pop Ups & Bars by Wisepops

Pop Ups & Bars by Wisepops offers to engage your customers before they leave with eye-catching pop ups and bars. The app promises to deliver pop ups that don't compromise your SEO efforts.
Easily create non-intrusive pop ups to engage with your customers and remind them about their shopping carts. Pop Ups & Bars by Wisepops features over 30 targeting options, which means that the pop ups can show up at the most convenient time to maximize your sales. The pop ups can be fully customized to fit your brand, and you can create beautiful bars with the drag & drop builder.
Pricing: The app offers a 14-day free trial. The cheapest plan costs $49 and includes up to 100k page views per month.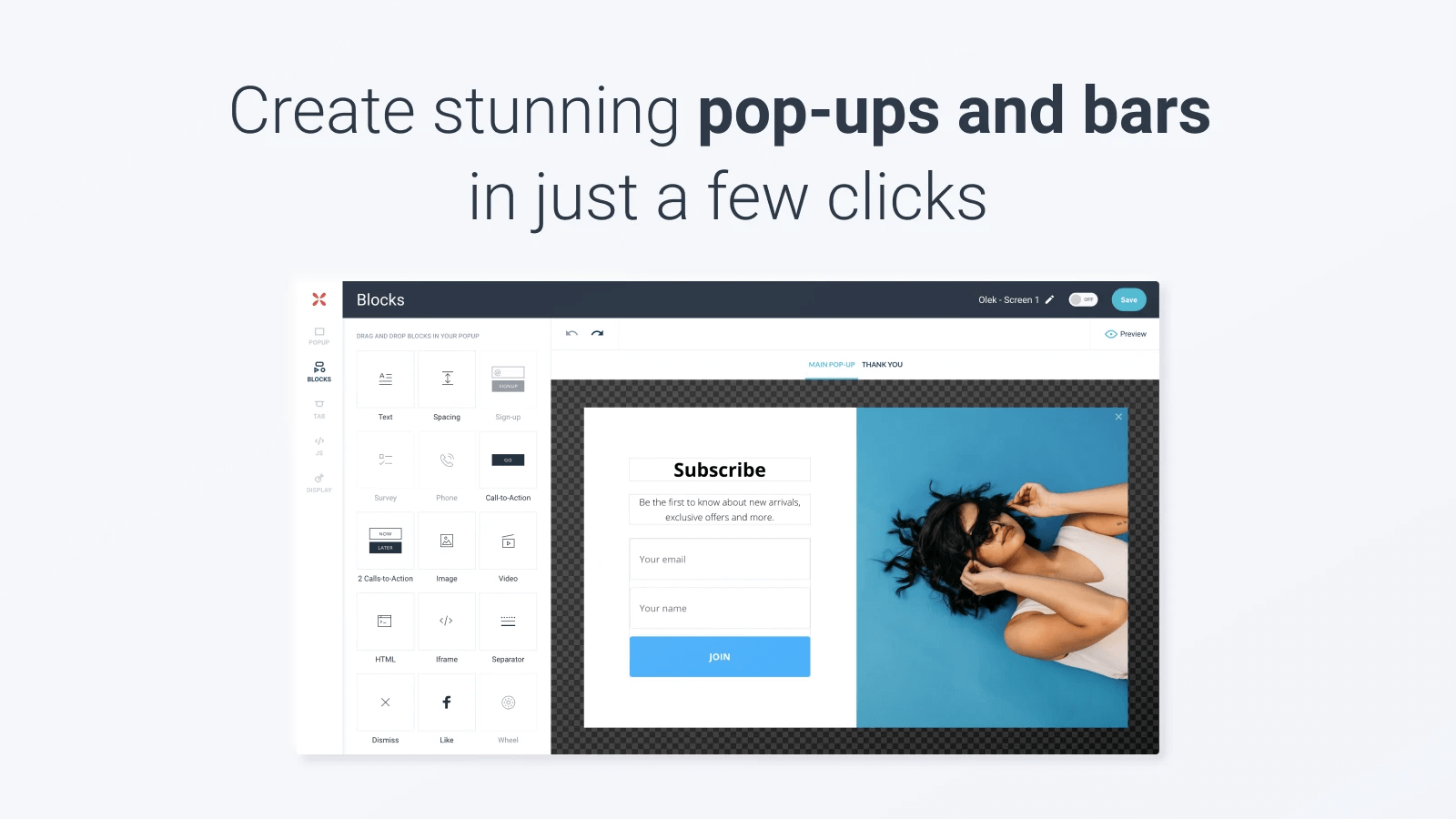 Main features:
Customizable pop up templates
Mobile-friendly designs
Hyper-targeted messages
A/B testing and detailed reports
7. Recapture Abandoned Carts

Recapture Abandoned Carts is a sales recovery app that covers multiple marketing channels: emails and SMS. The service is easy to use and quick to install.
All of the app's features focus on recovering sales. The service uses emails and SMS messages for reaching out to clients. Recapture Abandoned Carts uses the industry best practices for recovering abandoned carts, such as personalization, timing, and pre-built sequences. With the app, you can easily build automated emails, and Recapture Abandoned Carts will make sure you get the shopper's email address.
Pricing: Test the app for 15 days for free and recover up to $500 in sales. Paid plans start from $29/month.

Main features:
Customer segmentation for targeted email campaigns
Choose pre-written emails or use a drag & drop feature
Emails automatically stop after the purchase
8. Carti Abandoned Cart Recovery

Carti Abandoned Cart Recovery app focuses on cart recovery on different channels. The service covers cart recovery by emails, SMS, push notifications, and soon will add WhatsApp, Telegram, and WeChat to the list.
Carti offers building multichannel cart recovery strategies to reach shoppers via their favorite communication channels. With the app, you can create an automated abandoned checkout recovery flow that does all the job for you. So you can sit back and watch the sales grow.
Pricing: The app has a 30-day free trial. The cheapest plan is $4.99/month and helps generate up to $200. For $9.99 the app will help generate up to $500.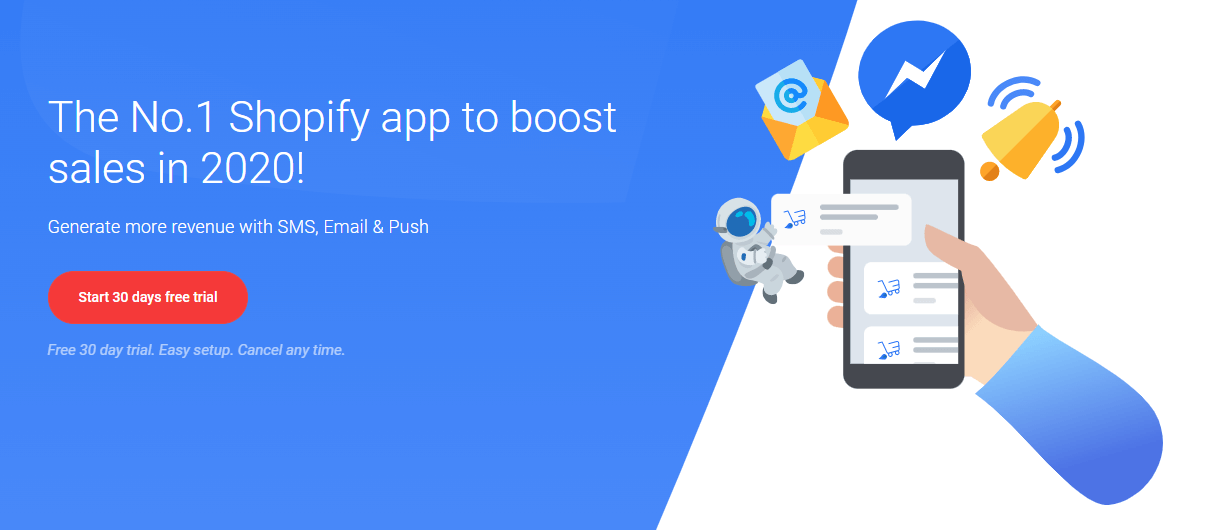 Main features:
Supports multichannel cart recovery strategies
Automated sale recovery campaigns
Advanced analytics for performance tracking
How we selected and tested these abandoned cart apps
We tested many Shopify abandoned cart recovery apps to find the best ones. We only listed the apps that we believe will effectively help your store increase cart recoveries and bring in more sales. These are the criteria we used to select the best services:
Shopify rating score. All of the apps that made it to our list have a Shopify rating score of 4.8 and above. This means that most users believe the app is worth the highest rating, and when it comes to the eight apps that we selected for the list, we totally agree.
User reviews. We carefully read the user reviews for each of the selected apps. If we noticed users mentioning the same recurring issues, that was a red flag for us. Services that ignore serious issues that their clients reported didn't make it to our list.
Pricing and functionality. A fair price is important for us, so we only picked the apps that offer the best value for their price. With so many apps out there to choose from, it's only fair that you should go for the apps that are worth the money. Also, all of the listed apps offer a free trial, so you can test them out for yourself before committing.
Why should you use abandoned cart apps on Shopify?
Abandoned cart apps help bring back shoppers who put items into their carts on your Shopify store but never finished the checkout. Bringing these customers back helps recover sales. So how effective are abandoned cart apps?
Research shows that abandoned cart reminder emails have a 40% open rate. The more people open the emails, the higher the chances they'll complete the checkout.
The same researchers found that 21% of the shoppers, who open the reminder emails, also click on the links inside those emails. This significantly increases your shop's traffic and brings in clients that already have a buying intent.
Finally, nearly half of those shoppers, who click on the links, complete the checkout. So if you send emails to 1000 shoppers, 400 of them will open the messages, 80 will click on the links, and nearly 40 will complete the checkout.
As you can see, abandoned cart reminder emails are highly effective in ecommerce cart recovery. You can combine different communication channels and make your cart recovery even more effective.
Why are people abandoning their carts?
A lot of shoppers abandon their carts, and it's highly discouraging for the hard-working sellers. Attracting new prospects requires high investments of time and money, and sellers need to continue working hard to have prospects add items to their cart.
And then, when you think you're going to make a sale, you see the customers leaving the store before they finalize their purchase.
Why does it happen? There are quite a few reasons customers abandon carts.
Knowing the most common reasons will help you reduce lost sales or even prevent cart abandonments from happening:
Unexpected costs. Hidden costs are one of the top reasons for visitors to leave an online store without buying anything. To avoid that, make sure that all the additional costs your customers will need to pay (e.g. shipping, taxes, required complimentary items) are explicitly listed.
Compulsory account registration. Your customers want an easy and fast customer journey. When you ask them to sign up to place their orders, you cause unnecessary effort that makes them leave the shop—along with their carts. You can avoid it by offering to shop as a guest.
Security issues. Customers are often concerned about payment security. The main causes for suspicion include bugs (e.g. dead links, missing images), outdated layout, and lack of an SSL certificate. Most marketing or SEO apps for Shopify will help you solve these issues.
Lack of timely support. Studies show that as many as 83% of online shoppers need help while they are on-site. Moreover, 51% of respondents state that they're more likely to buy if they had customer support such as live chat during their shopping session. You can easily fix this issue by implementing client support for your Shopify store.
Customers are not ready to buy yet. Customers often leave the items in the cart for organizational purposes so they can come back to them during a sale. You can recover these sales by sending shoppers a discount for the goods in their cart. The discount can be conditional (e.g. only applies when the cart value reaches a certain sum), which is also a great way to increase the average order value.
Summary
Abandoned shopping carts are a common issue across different ecommerce stores on Shopify. Studies show that as much as 70% of shoppers abandon their carts for various reasons. These can include a lack of client support, unexpected costs, or even site security issues. However, abandoned cart apps can help recover these sales.
You'll find a number of abandoned cart apps for Shopify stores, and it may be a challenge to pick the best one. That's why we tested a bunch of different apps and selected the best ones based on their Shopify rating score, reviews, and value.
Based on our research, Firepush is the best Shopify abandoned cart app. The app helps recover sales by re-engaging shoppers via different communication channels, including emails, SMS, and push notifications.
We hope our review will help you choose the best cart recovery app for your case, and you'll increase your Shopify sales in no time.
FAQ
Why do I have so many abandoned carts at Shopify?
Shoppers abandon their carts for various reasons. The main ones are: unexpected costs, compulsory account registration, store security issues, lack of client support, or they're waiting to get the items during sales. The best way to recover these sales is with a Shopify abandoned cart app, such as Firepush.
What is a good abandoned cart rate?
A good abandoned cart rate can circle around 70%. This is a common number for various ecommerce stores. However, you can significantly reduce the abandoned cart rate by recovering sales with a Shopify abandoned cart app. The best app for recovering lost sales on Shopify is Firepush.
Are abandoned cart emails worth it?
Yes, abandoned cart emails are worth it because they can significantly increase your cart recovery rate. Based on various studies, you can recover as much as 30% of abandoned carts with marketing campaigns, including emails.