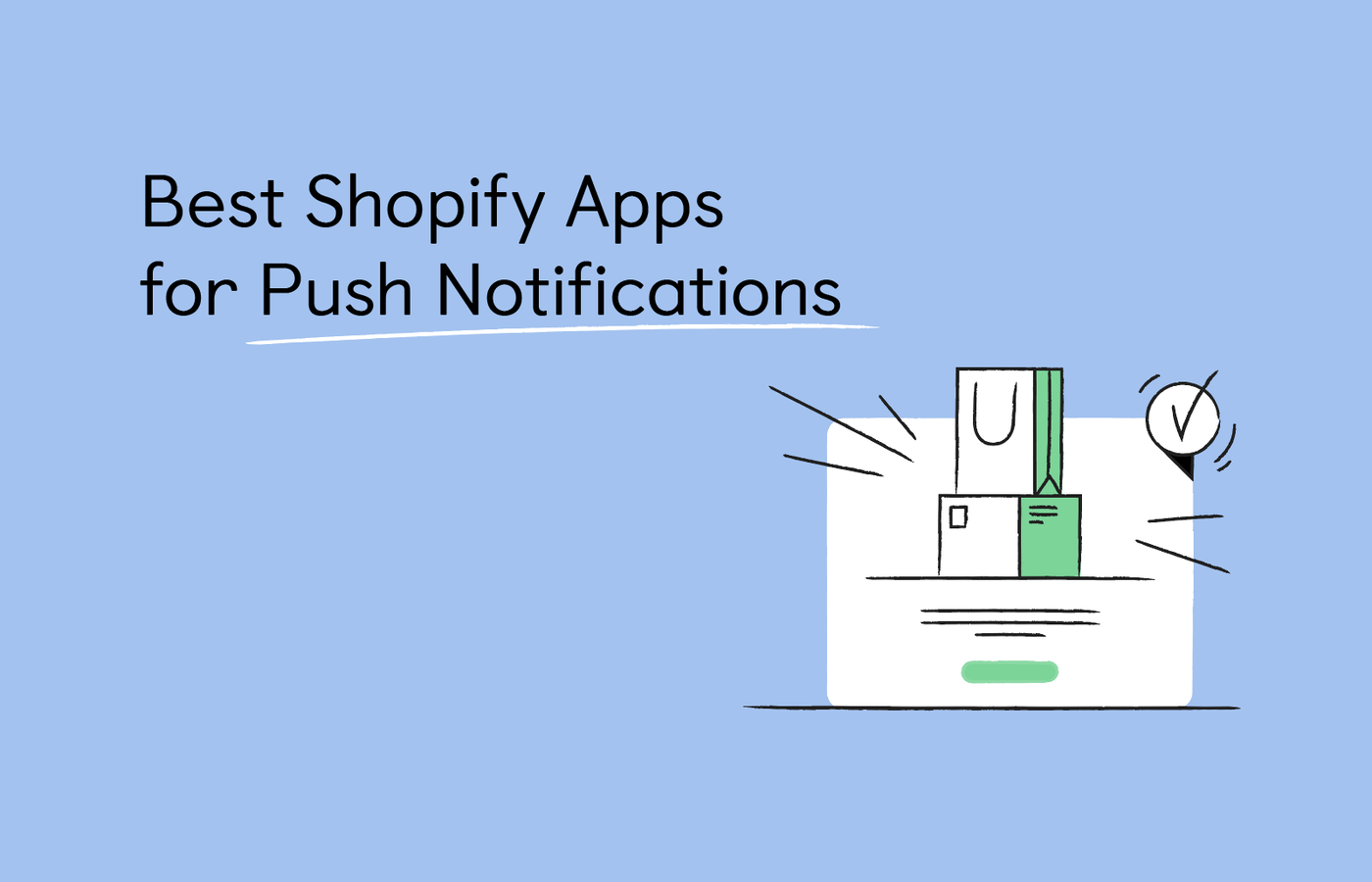 Choosing a push notification app for most of us is a real head-scratcher.
There are push notification services for software developers, online stores, bloggers, and marketers—the list goes on and on. Each push notification app comes with many features, so choosing the most useful ones could be a bit difficult.
That's why we created this guide to apps for web and mobile push notifications. Below, we'll explain how to choose the best app for specific goals. No matter what goals you might have for your push notification app, you'll find a great option here.
In this guide:
Looking for something else? These guides could help:
What Are Push Notifications?
Push notifications are small, clickable messages that appear in a user's desktop browser or mobile device. Marketers use push notifications to share promotional messages and engage customers while app developers rely on them as a communication channel with users.
There are two types of push notifications: web and mobile.
Web push notifications (browser push notifications) are displayed on desktop and laptop computers by browsers.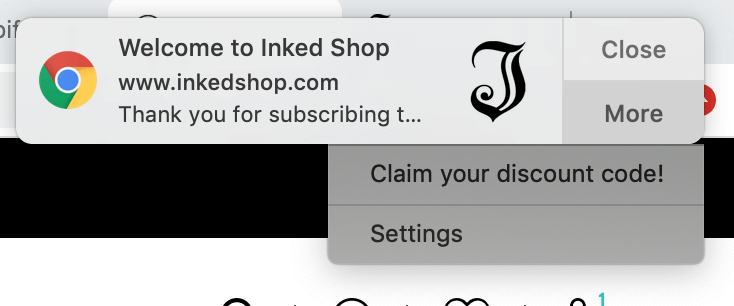 Mobile app push notifications (in-app notifications) are sent by an app on mobile devices like smartphones and tablets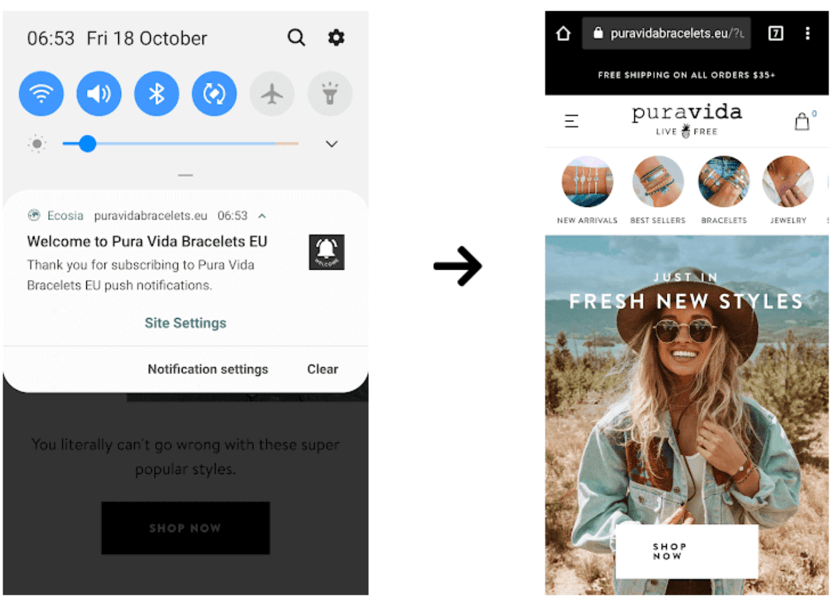 Want to see how push notifications will look like on Android, Mac, or Windows? Use our Push Notification Length Tester tool to get previews of your messages.
How to Choose a Push Notification App?
You probably came across terms like "web push notification app," "Android push notification service," or "iOS push notification app" whale searching for push notification tools. Indeed, there are a few names being thrown around, and it could be confusing.
The choice of a push notification app depends on two things: your goals and the app's features.
First—the goals.
If you are...
Software developer who needs to communicate with app users — go for a push notification tool for iOS and/or Android (in-app push notifications)
Owner of an online store who is trying to engage customers — choose a push notification app created for your eCommerce platform (Shopify notification app, WordPress notification app, etc.)
Blogger or a news service that needs to share news and promos — consider a website push notification service.
Next—the features.
We need to consider:
Types of push notifications — depends how you want to send push notifications (in browsers or in apps) and content (text, images, etc.)
Purpose of push notification campaigns — send updates, increase sales, share in-app updates notifications, recover abandoned carts, etc.
Platforms that receivers use — your receivers might use iOS, Android, or web browsers like Chrome, Mozilla, and Safari
Now, let's look at the best push notification apps along with descriptions to help you find the most suitable for your use
10+ Best Push Notification Apps
Whether you're an app developer or a business store owner, you'll find a push notification app for your goal and budget in this list.
Now, let's look at each one in more detail.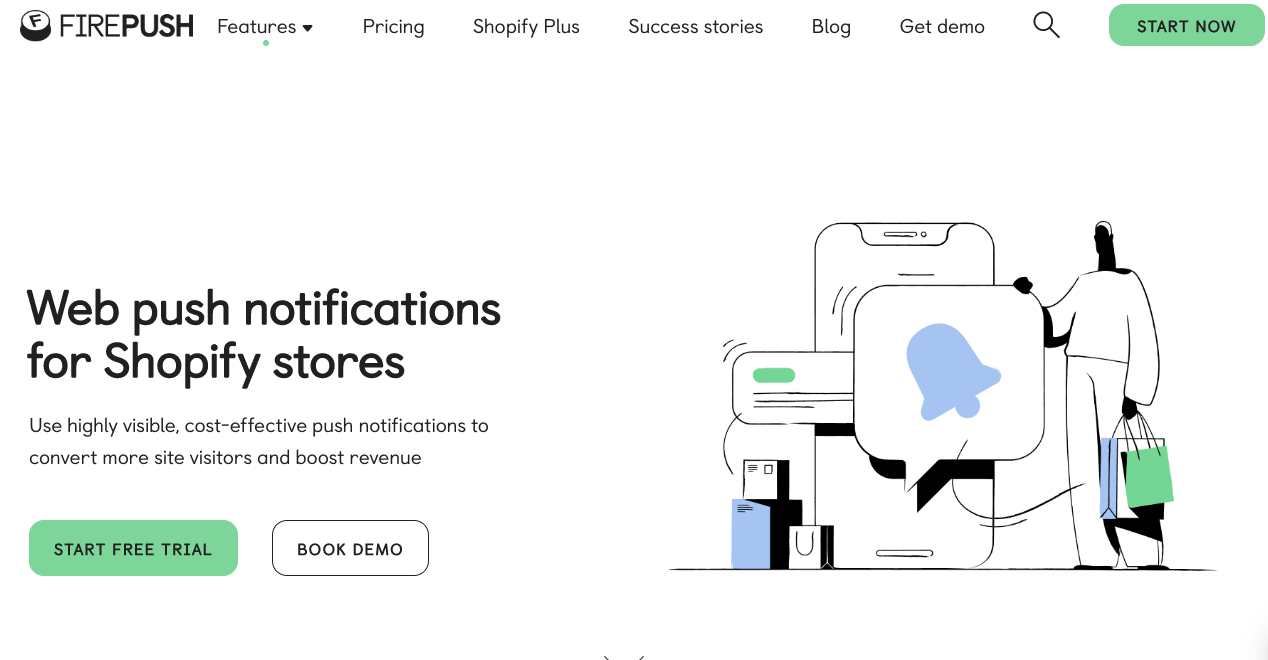 If you're a Shopify store owner who wants to engage website visitors and share awareness of promotional offers, Firepush is the best choice. This Shopify push notifications app has a 4.8 rating and allows engaging customers with mobile and web push notifications about sales, promotions, and abandoned cart messages.
Best Features:
Push message preview before sending
Push notification templates for faster campaign creation
Customer segmentation for more targeted campaigns and higher Shopify sales
A/B testing to find the best push notification campaigns on web and mobile
Promotional push notifications to share messages about sales, price drops, promo offers, and abandoned cart reminders
Transactional push notifications (order delivery updates, payment acceptance, order refund messages)
Price:
You can try a free plan for 100 web push notifications. Paid plans cost $15/mo for 7,000 pushes and $29/mo for 15,000 pushes.
Who is Firepush for?
Firepush is the best Shoppify push notification app for stores with thousands of monthly visitors. If you'd like to increase your sales, Firepush gives you everything to accomplish this goal and conduct mass marketing campaigns.
You will also like push notification templates from Firepush. There are templates for marketing and sharing communications like order delivery updates. Also, you can generate more reviews (positive reviews on product pages can increase conversions to up to 270%) with a dedicated template.
Premium plans also add SMS and email marketing features, so you can engage even more customers.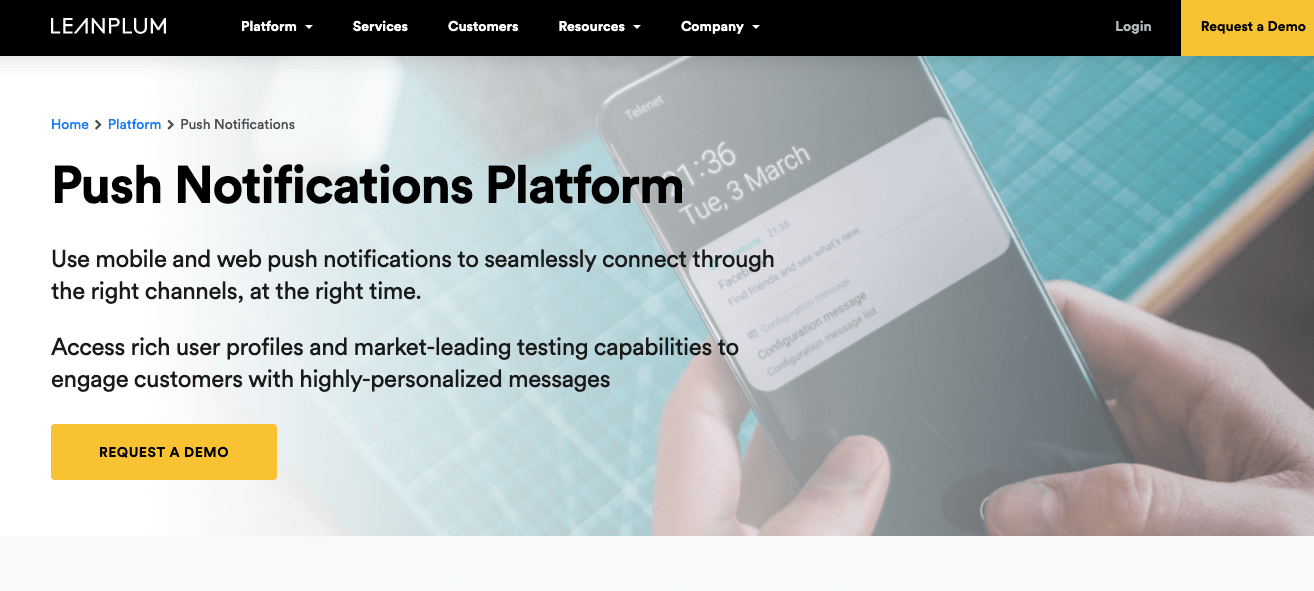 Leanplum is a marketing platform for large retailers and websites with advanced customer segmentation and marketing functions. This push notification app allows sending both mobile and web push notifications with promotions and personalizing them for every receiver.
Best Features:
Push notifications for marketing, sales, and transactional updates
In-app messaging for Android devices to engage customers on mobile
Real-time campaign analytics to improve marketing performance and engage more customers
A/B testing to define the best-performing push notification campaigns
Price:
Leanplum doesn't list pricing on the website and offers to contact sales for this information. Third-party review platforms suggest that this push notification provider has expensive plans for corporate clients.
Who is Leanplum for?
Large eCommerce websites that need a push notification app to conduct multi-channel marketing campaigns.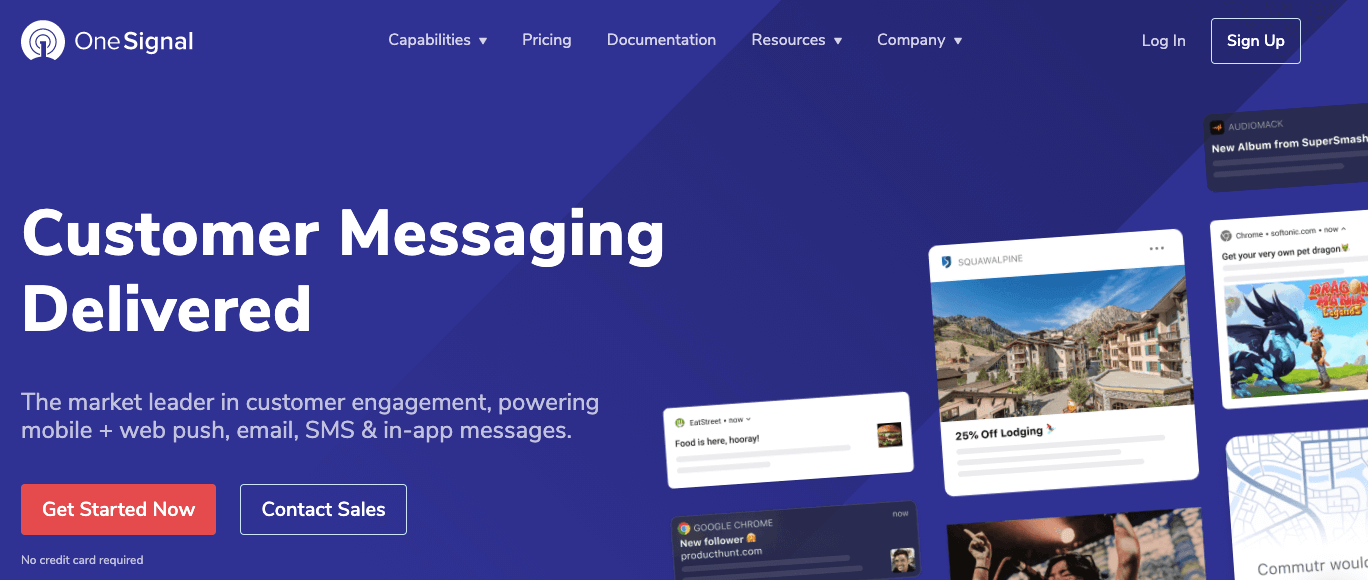 OneSignal is a push notification app that works for both web and mobile. This provider has features for eCommerce websites, social media influencers, bloggers, and B2B businesses, and boasts 40+ integrations with other apps.
Best Features:
Web and mobile push notifications for new blog post announcements, social media mentions, sales, and abandoned shopping cart reminders
Push notification campaign analytics to track engagement, user actions, sales, and marketing goals
Personalization features to include names, product titles, and other information in mobile and app push notifications
Price:
OneSignal has a free plan for unlimited web pushes and one in-app push notification per month. Paid plans begin at $9 for small businesses and $99 for large retailers.
Who is OneSignal for?
Consider OneSignal as a push notification app option for retail businesses that need to connect with thousands of potential customers via mobile devices and browsers. Also, impressive social media features make OneSignal an excellent option for influencers and bloggers.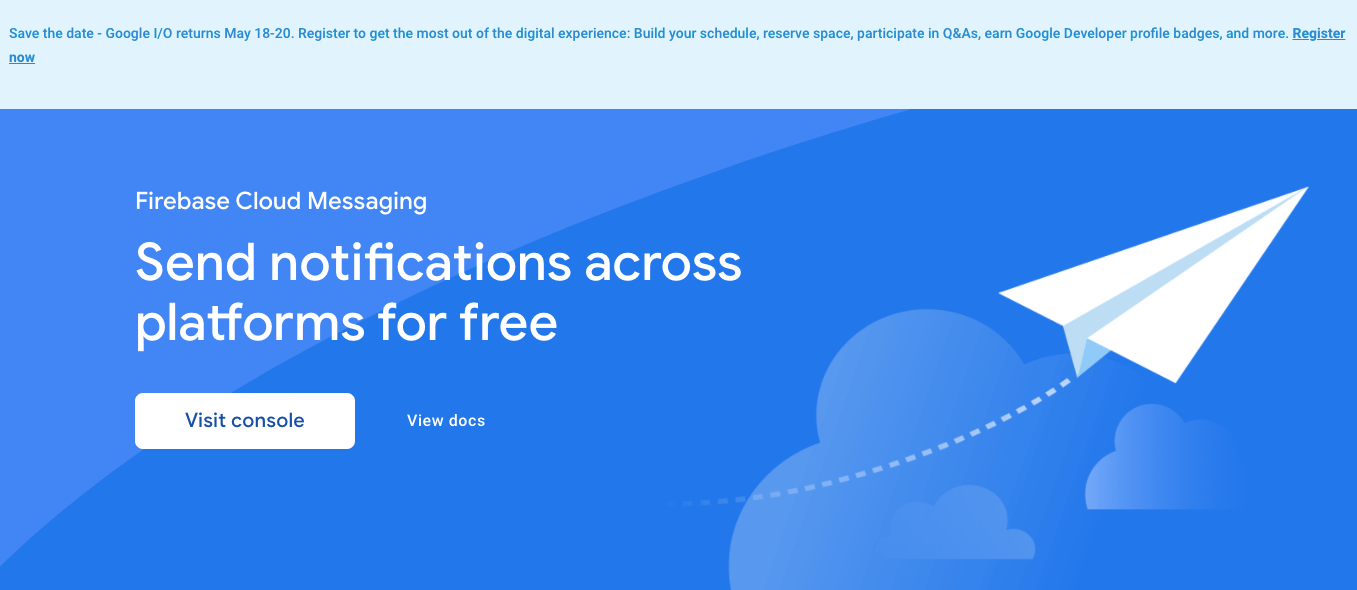 Firebase Cloud Messaging is a push notification service from Google. It's designed to help developers send push notifications to mobile devices and browsers from one place and share updates and news.
Best Features:
Free web, iOS, and Android push notification service for developers
No coding required to create and share push notifications with any type of users
Advanced targeting and segmentation to personalize notification messages to the behavior of specific users
Price:
Firebase Cloud Messaging is a free app notification service.
Who is Firebase Cloud Messaging for?
This app push notification service is made for developers to share in-app messages, acknowledgments, and chats. So, there's no marketing functionality, but powerful user analytics and segmentation features to learn about user behavior.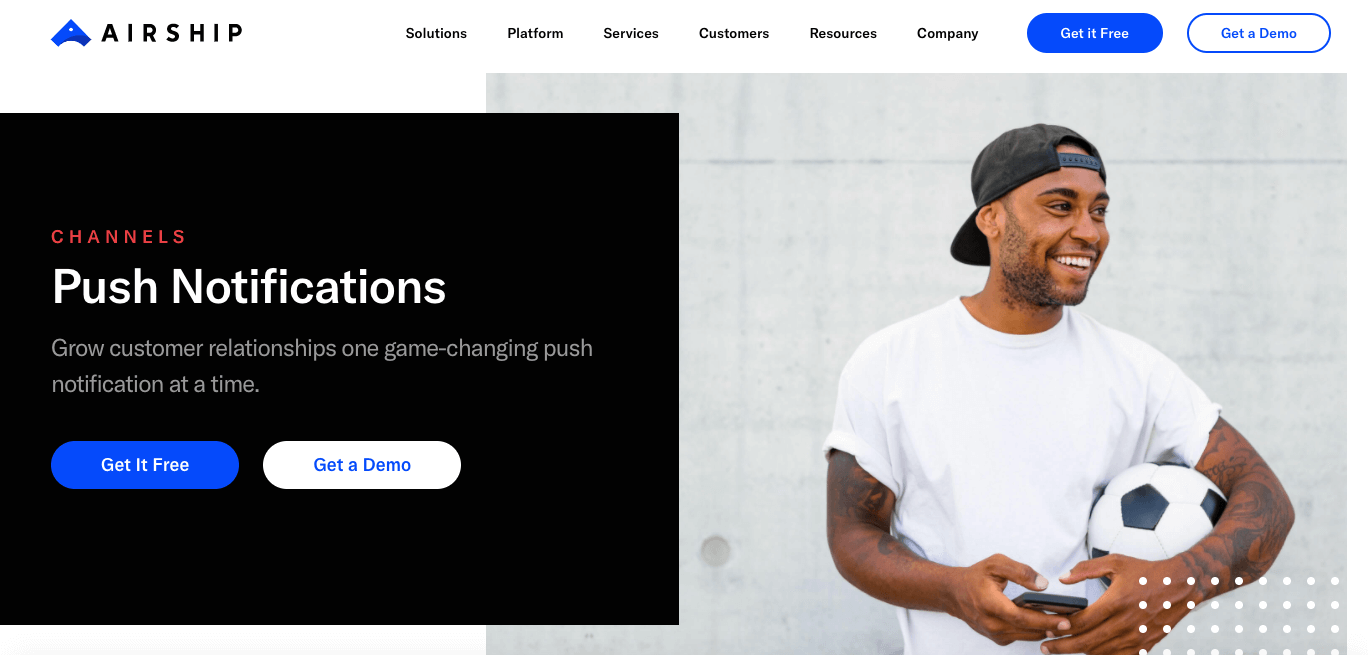 Airship is a marketing platform for large online stores and enterprise customers. It's created to help engage customers on various channels — including using web and mobile push notifications — for every customer lifecycle stage.
Best Features:
Automated push notification campaigns for marketing and customer education
Rich notifications including media such as images
Predictive AI features to help define the best delivery time for push notification campaigns for specific users
Price:
Airship doesn't list pricing for their push notification app. But there's an opportunity to install a demo app to try their services for free.
Who is Airship for?
Large business websites and news agencies. Used by such big names like Sky News, Airship boasts an impressive range of push notifications features, but small and mid-sized eCommerce businesses might find the pricing a bit too high.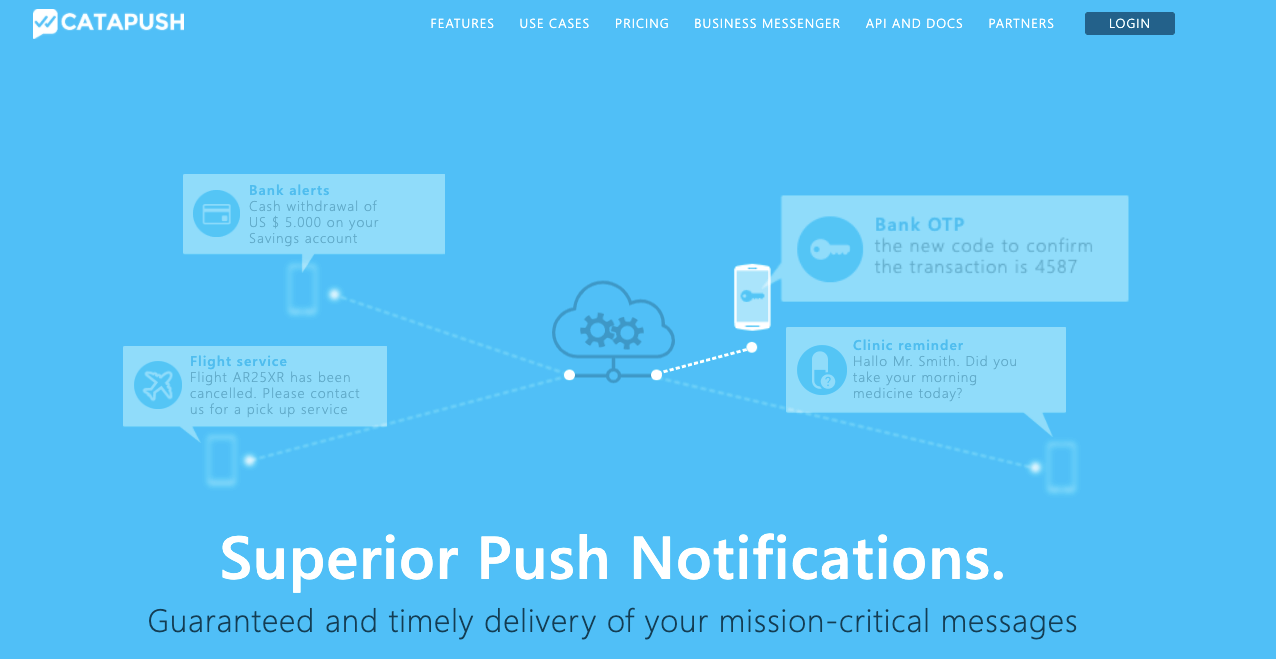 Catapush is a web and in-app push notification app for B2B businesses and service companies. Thanks to advanced messaging targeting, you can send customized transactional notifications for clients on Android, iOS, and desktop devices.
Best Features:
Web and mobile push notifications
Detailed delivery status and analytics for every campaign and push message
Personalization of push notification messages to include details such as client names, and times
Price:
Catapush charges €0,02 for one monthly active recipient of push notifications. There's also a free plan for 100 push subscribers.
Who is Catapush for?
B2B and service businesses that need to send transactional messages, updates, and news to clients regardless of the devices they use. That's why many of the Catapush clients are financial companies like banks and IT businesses.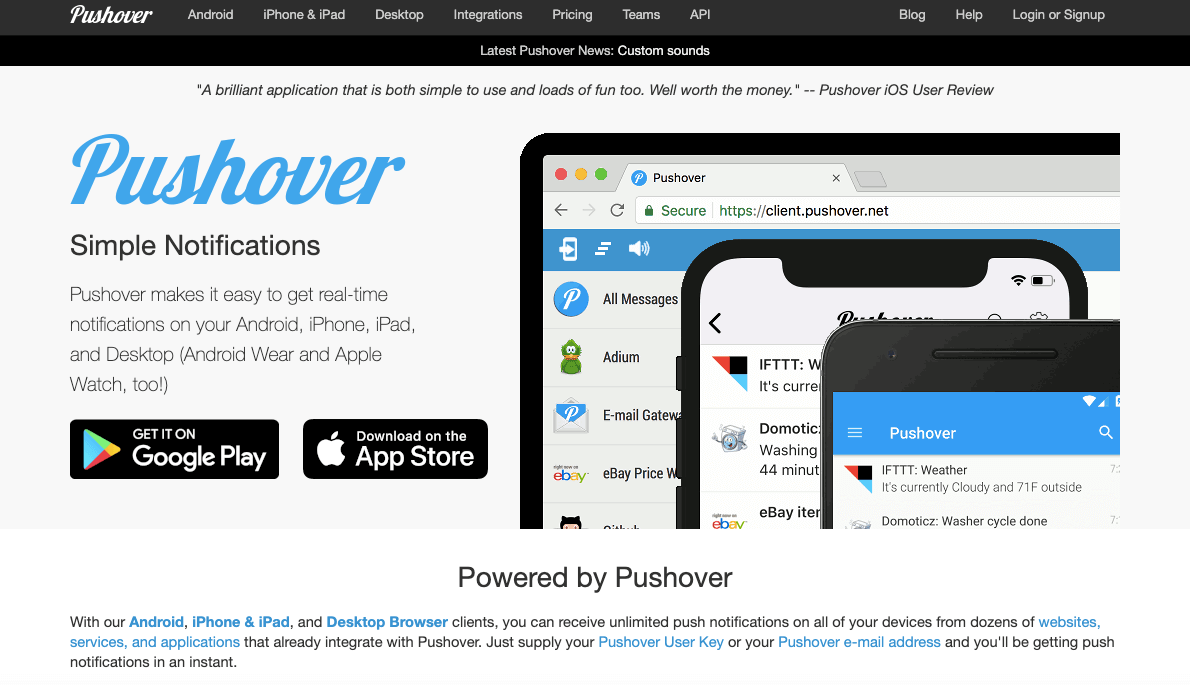 Pushbots is a push notification app for sending web pushes, in-app messaging, and user surveys. There are useful features for both developers and software businesses to engage app users and improve their experience.
Best Features:
Support of all mobile devices and major SDKs
Website & mobile push notifications, in-notification user polls, and in-app messaging
Individual user profiles to understand customers' needs and improve their app experience
Price:
No free plan. Premium plans cost $29/mo for 5,000 push subscribers and $49/mo for 60,000 subscribers. There are also subscriptions for corporate users with up to 300,000 app subscribers.
Who is Pushbots for?
Pushbots is an app push notification tool to improve website and app user experience. The range of features is tailored for developers and B2B businesses (but there are some eCommerce features, too), so it's a great choice for a mobile engagement platform.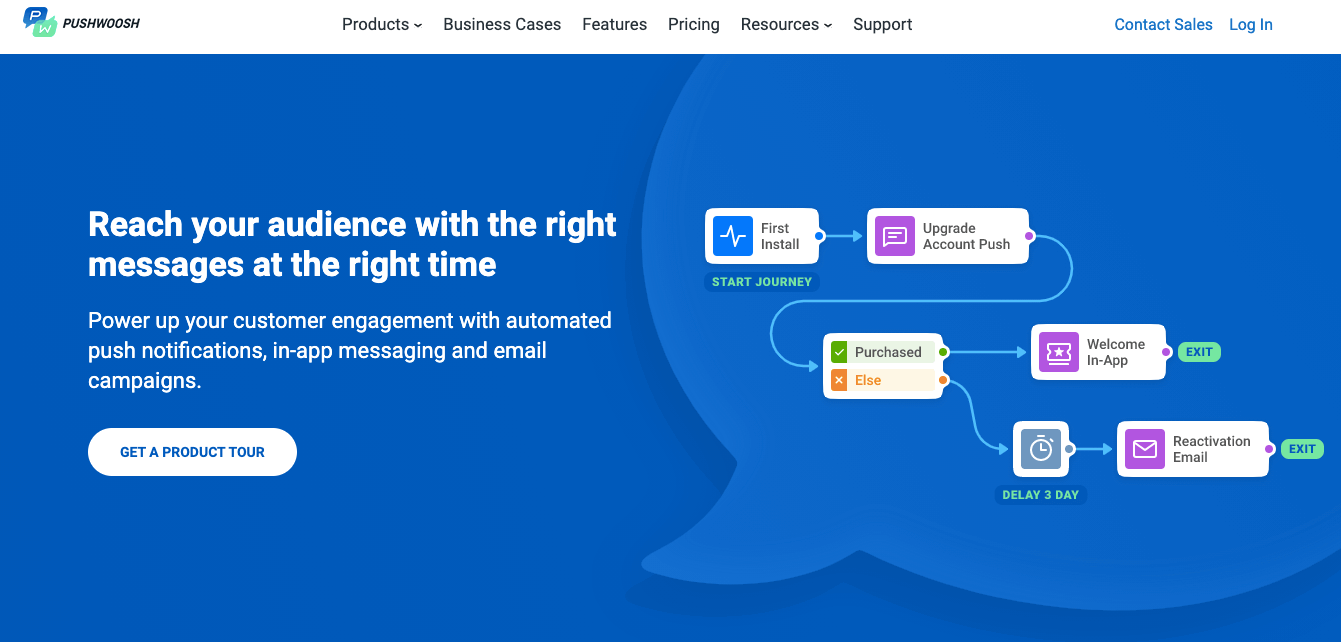 Pushwoosh is a push notification app for cross-channel marketing which you can use to send automated messages to desktop and mobile users. The features for B2B companies and IT startups are the best, which is proven by case studies on Pushwoosh's website.
Best Features:
"Alert-style" web and mobile push notifications
Targeted cross-channel marketing campaigns with analytics, dynamic content, and customer segmentation
Powerful automation features: app user behavior insights, geolocation, peak engagement times, and more
Price:
Pushwoosh doesn't list the pricing for the push notification app on its website. But there are pre-made feature packages for developers and marketers that you try with a free demo.
Who is Pushwoosh for?
Pushwoosh is a decent push notification platform for those that want to increase in-app purchases, share news announcements, and transactional messages. Over 20 platforms are supported (iOS, Huawei, Android, multiple Windows systems, Mac OS), so you can engage users regardless of the device they're using.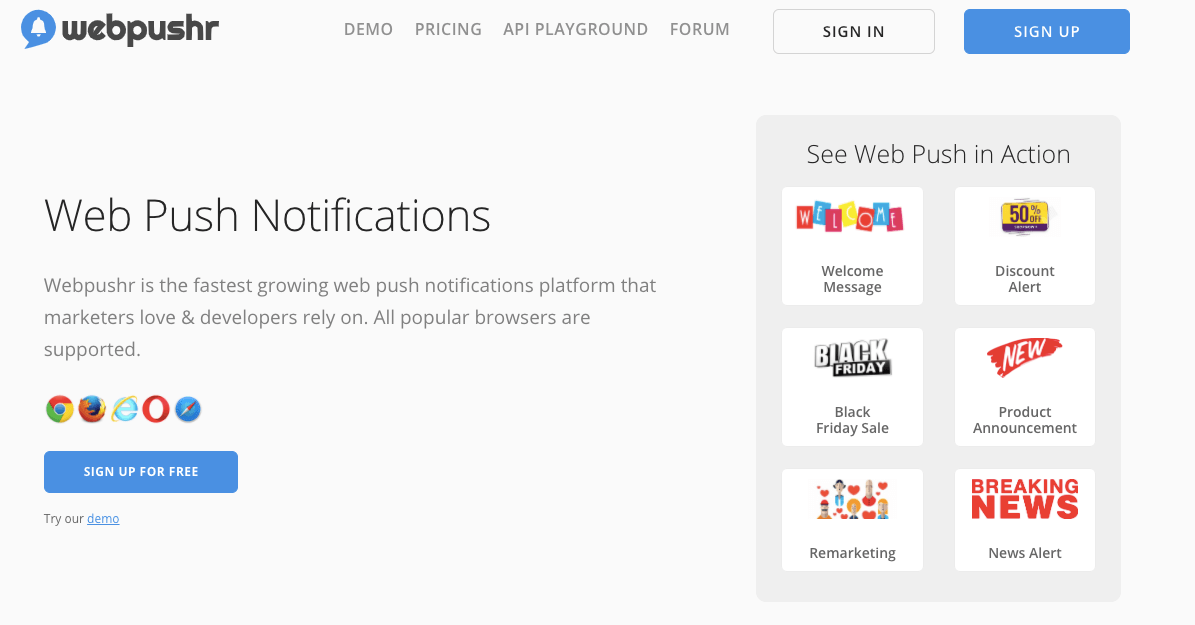 Webpushr covers a wide range of communications, from in-app messages from developers to promotional messages like sales announcements. You can send pretty much any notifications across all browsers and popular mobile devices.
Best Features:
Push notification templates and customization features (text, color)
User segmentation based on geolocations, interests, demographics, and custom information
1,000+ integrations with other applications to ensure automatic lead data sync and easier lead management
Price:
There's a free plan for the first 10,000 subscribers. There are plans for small ($49/mo) and growing eCommerce websites ($99/mo) as well as an enterprise-level subscription with custom pricing.
Who is Webpushr for?
Webpushr is a versatile push notification tool that has features for all kinds of businesses as well as software developers. There's also a Webpushr plugin for WordPress websites if you need to get a push notification app for this platform.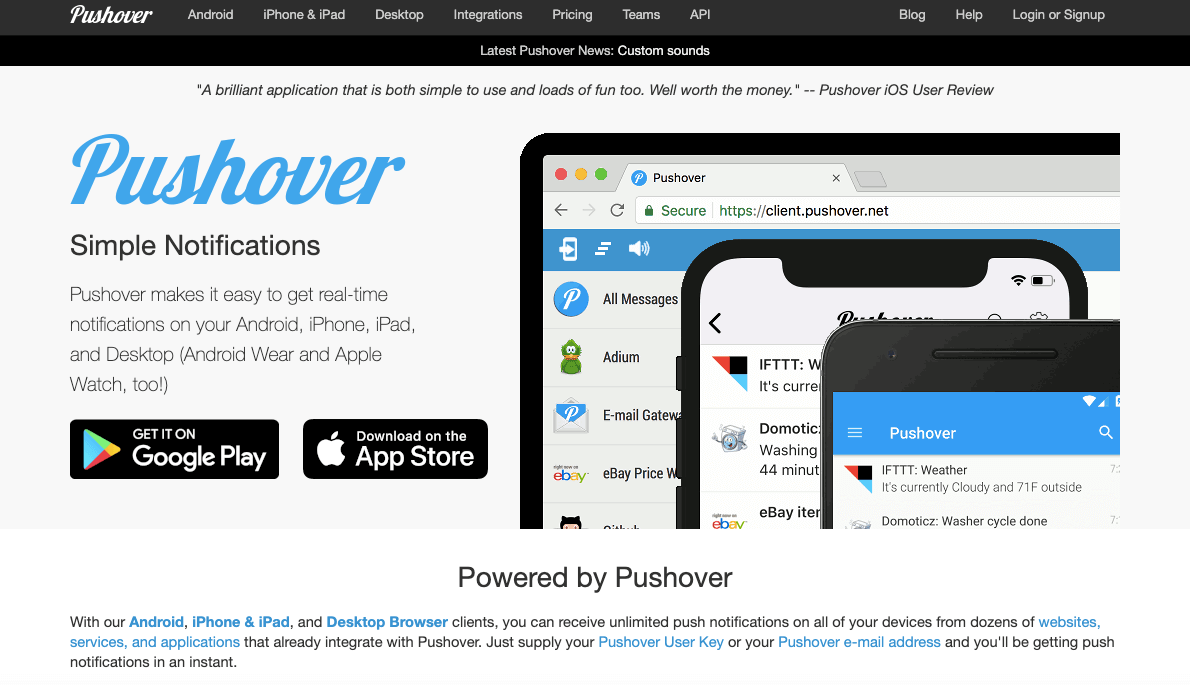 Pushover is a highly-rated push notification app for "alert-style" messages for web and mobile (Android and iOS) devices. It's designed for IT companies, B2B businesses, and individual app developers, and features integration codes available for free.
Best Features:
Simple web and mobile app push notifications for communication and user engagement
One installation is enough to share web push notifications from dozens of websites, apps, or services
Simple, versioned API to receive messages and share them to any devices
Price:
The installation is free but the premium subscription costs $4.99/year. But you can get a 30-day free trial to try this push notification app on your website.
Who is Pushover for?
Software companies and developers that need to communicate with their clients and learn about their needs and behavior. There's even a plan for developer teams for easier collaboration and knowledge sharing.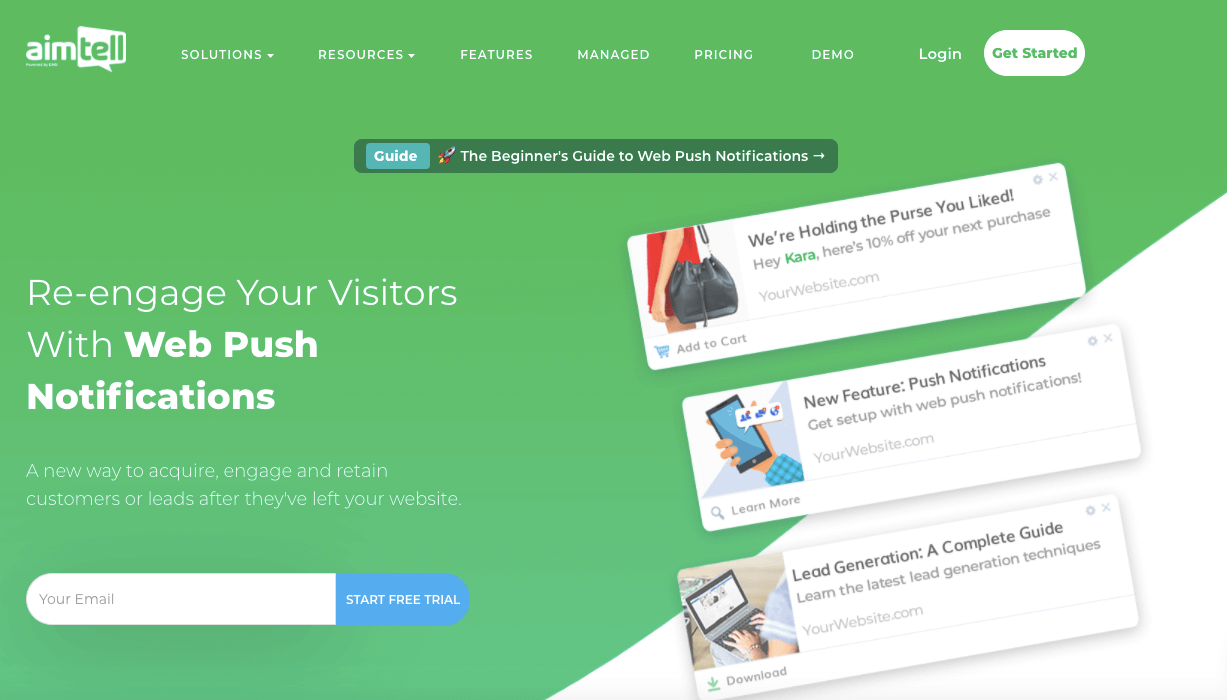 If you're looking for decent push notification providers for eCommerce, Aimtell will grab your interest with lead generation and remarketing features. Specifically, you can share web push notifications with sales, promos, discounts, and blog post announcements.
Best Features:
Web push notification personalization features (customer name, product title, time)
Automatic abandoned shopping cart recovery reminders
Customer segmentation to engage more potential customers with personalized offers
Price:
The basic plan for 10,000 subscribers costs $49/mo. More plans for growing businesses start at $99/mo.
Who is Aimtell for?
eCommerce websites that need to share push notifications with customers to engage them. But note that this push notification app supports all major browsers but lacks integration with iOS. So if you're looking for iOS push notification services, you might consider other tools.
Best Push Notification Apps and Tools: Summary
There you go, the 11 best push notification platform options for desktop and mobile devices. You can try them to engage online customers, app users, and other target audiences—there are options for every business.
Need recommendations?
Firepush is the best push notification app for Shopify stores to conduct customer engagement and remarketing campaigns.
Catapush and Leanplum are the best push notification providers for service businesses to communicate with clients and share marketing messages.
If you're a developer, take a look at Firebase Cloud Messaging, Pushbots, and Pushover for useful features.
But if blogging and news sharing are your priorities, then Airship and OneSignal are the noteworthy options to check out.