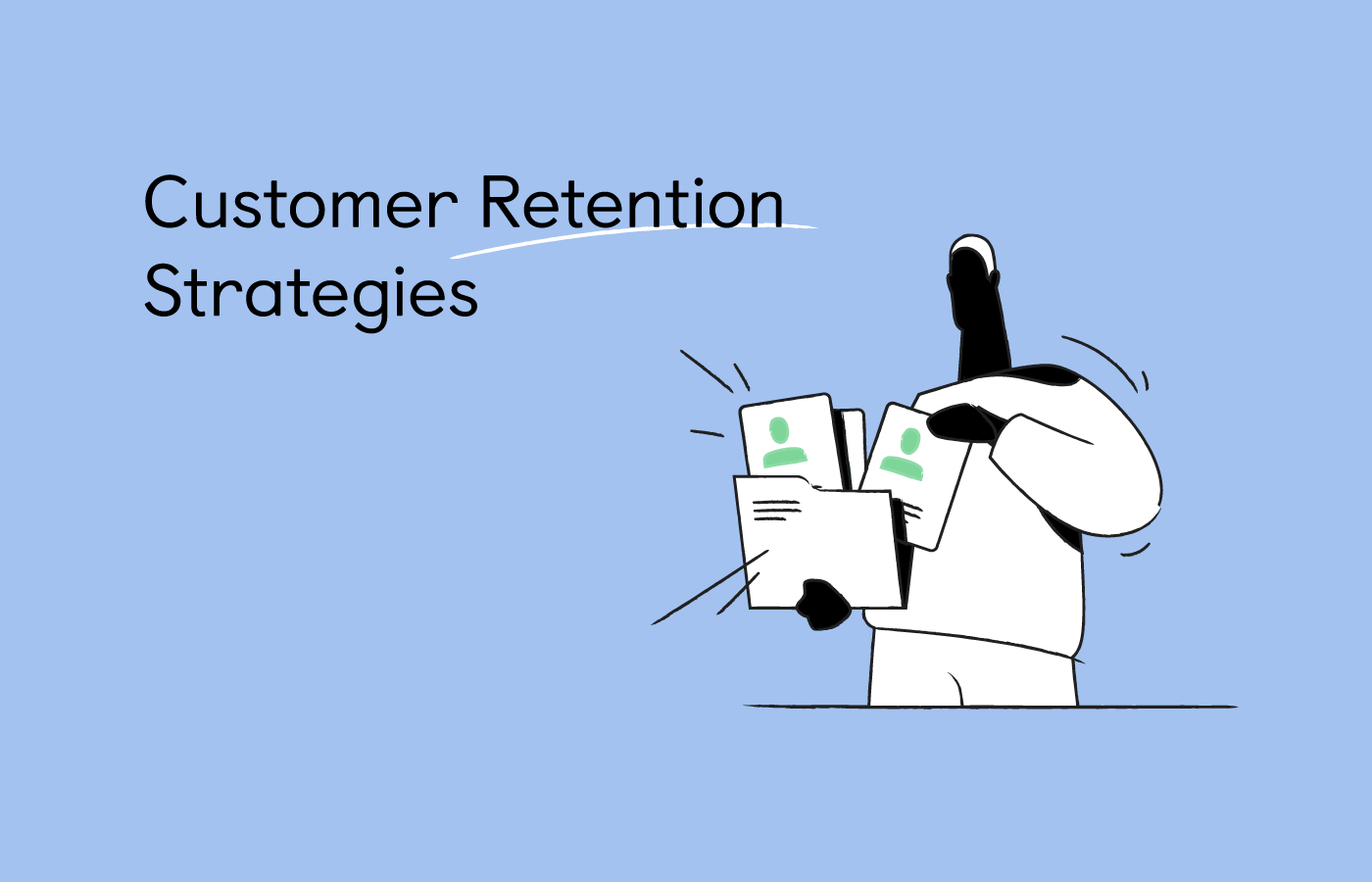 When it comes to buying online, customers can choose any business they want and switch to another whenever they wish.
Today's consumers have also become more demanding, especially when it comes to the speed and quality of service. Based on the Zendesk report, one bad experience could be enough to cause 80 percent of customers to leave the brand for a competitor. All of these factors make the task of keeping the customers one of the biggest challenges eCommerce businesses face these days.
If you also observe your hard-earned customers fleeting away to buy somewhere else, then you will need to implement at least a few smart customer retention strategies.
In this guide:
Looking for other ways to get more sales? Check out these guides:
What is Customer Retention?
The customer retention definition in marketing is the company's ability to turn its one-time buyers into repeat customers and prevent them from leaving for a competing brand. It is different from the customer acquisition or lead generation process because you have already converted the customer and they are also familiar with your business.
In other words, customer retention is essentially keeping the customer with your company for as long as possible, so that they bring you in income—again and again.
Why Is Customer Retention Important?
Any business that already has loyal and satisfied customers on its board will benefit from focusing on customer retention. And there are quite a few reasons for that, and we'll review them now.
1. Customer retention is an important part of a customer lifecycle marketing strategy.
Customer retention brings the buyers back to the bottom of the sales funnel (the purchase stage as shown below) without having them go through the whole buyer's journey again.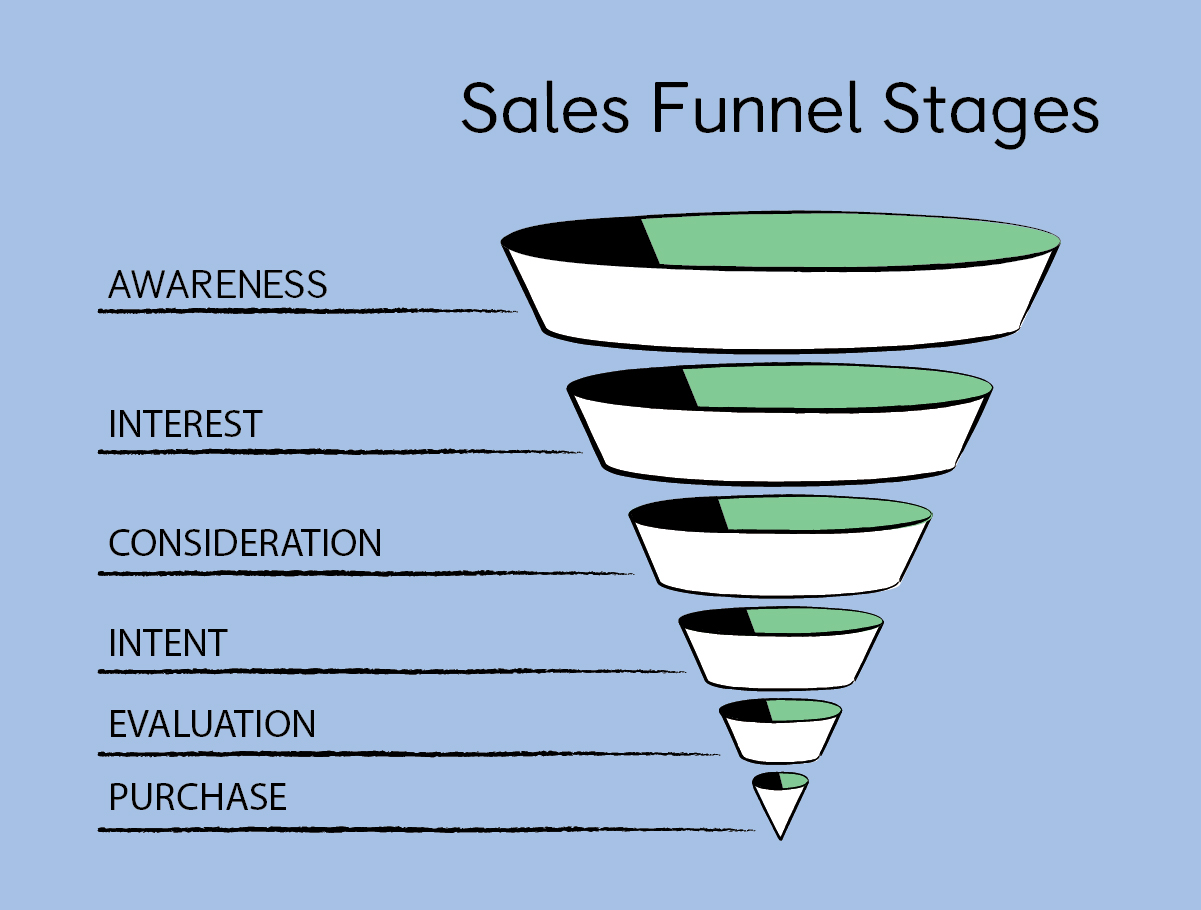 Sales funnel showing six stages of a buyer's journey. Starting from the top, these stages are Awareness, Interest, Consideration, Intent, Evaluation, Purchase.
2. Customer retention makes sales much easier.
The probability of selling to an existing customer is 60-70 percent. When it comes to a new prospect, your chances go down to only 5-20 percent.
3. Customer retention helps you generate more revenue.
Repeat customers are likely to spend 31 percent more compared to new customers. And just by the sheer increase in customer retention by 5 percent, you can boost your income by 25 percent!
4. Customer retention costs less than customer acquisition.
Studies have shown that acquiring new customers is five times more expensive than keeping existing ones.
5. Customer retention can help you get new prospects.
If you manage to forge long-lasting relationships with your loyal consumers, they might become your ambassadors who will spread good word-of-mouth about your company and bring in new prospects. With all these factors in mind, it is clear to realize that making existing customers stay with you is beneficial in the long run, especially to companies that have already established some pool of customers.
The question remains, though—how can you persuade your customers to stick around for longer?
Keep reading to find out.
7 Customer Retention Strategies
Let's start from the beginning. You have sold a product (or service) to a consumer. As of now, they are a one-time buyer.
Now what? How do you persuade them into buying from you again and tell others to buy from you, too? This is the moment when you start thinking about how to exceed your customers' expectations—the moment when the customer retention strategies kick in.
1. Provide Omnichannel Customer Support
What really drives customer retention and loyalty is the ease of solving a problem. One of the key elements that will help you and your customers succeed in this regard is good communication—ideally via multiple channels. Why not use just a single channel? Because customers have different preferences and might find it more convenient to solve their issue using, for example, email than a phone.
That is why offering omnichannel support is so important when it comes to smooth communication and delighting a customer at the same time. However, omnichannel support is something more than offering multiple means of contact. It also means consistent communication across different channels.
Since the customers' history and issue description follows them from one channel to another, support agents can provide better and more personalized support. Your customers, on the other hand, do not need to explain their issues over and over again to agents from different departments.
Online retailers often choose SMS messages to send urgent or important messages to their customers. If you also would like to start using this channel, you will need to become familiar with the SMS opt-in concept: SMS opt-in: All You Need to Know.
2. Offer On-Site Chat Assistance
In the world of online business, time plays an important factor.
This is especially true for immediate responses. It was found that 50 percent of adults will abandon a purchase if they do not receive a quick answer to their question. The expectation for receiving nearly an immediate response is true for new visitors and those who had already bought with you.
So you want to make sure that every visitor and customer can easily get in touch with you at every stage of their buyer's journey. To make it happen, you can add a live chat application to your store. This way, you can assist your customers whenever they are browsing your product pages, need help with checkout, or got general questions regarding shopping.
Some of the best Shopify apps for customer service are free and very easy to install, so you can start using them in minutes.
3. Start a Loyalty Program
You should not take your customers' loyalty for granted but reward them for doing business with you. By giving your customers discounts, exclusive access, or special offers, you encourage them to visit your store again to buy more.
Based on this recent report, loyalty programs have a strong positive impact on customer retention. Such programs motivate 72 percent of customers to recommend a brand, 78 percent to continue doing their business, and 64 percent to spend more to maximize their loyalty points.
Rewards not only entice customers into returning to your shop but also incentivize them to refer new prospects.
4. Ensure Pain-Free Product Returns
How else can you be one step ahead of your customers and make their shopping experience even better? By making the product return procedure hassle-free. When it comes to shopping online, product delivery and returns are consumers' two biggest concerns.
But you can use them to your advantage and outshine your competition if you manage to simplify the delivery and returns processes.
It will pay off—
As many as 58 percent of customers stated that they would buy again from brands that ensure free and "no-questions-asked" policies, whereas 92 percent admitted they will buy again if the product return process is easy.
Moreover, consumers often read return policy pages before they decide to spend their time and money in an online shop, so make sure that your rules are clear, fair, and transparent.
This will help your customers avoid bad experiences, increase their trust in your store, and encourage them to shop with you again.
5. Omnichannel Marketing
Personalized communication toward each customer is not limited to customer service. It is important on all levels of communication, including marketing. So you will also need to tailor your marketing messages to be more relevant to your customers' needs. Otherwise, instead of being helpful, your messages will feel purely promotional.
This is where omnichannel marketing comes into play.
What is omnichannel marketing? In essence, it is a marketing approach that spans different channels and aims to deliver customized and seamless shopping experiences to every customer. The experience is built on their behavior and the channel they use to interact with the brand. Marketing personalization boosts retention because customers expect the brands to know what they want.
Nearly 90 percent of shoppers are eager to share their behavioral data to receive a more seamless brand experience. Individual customers, on the other hand, stated they are 40 percent more willing to buy from a brand that tailors its content to suit their needs.
So whether you create a social media ad, newsletter, or landing page, make sure it reaches only the relevant segment of your customers.
Firepush is an omnichannel marketing automation platform that will help you reach your customers at the right time, on the right channel, and with the right message. Check out this comprehensive guide to the best omnichannel strategy for your Shopify store.
6. Create a Referral Program
Referral programs can help you with retaining customers AND getting new ones through the recommendations given by your existing customers (ambassadors).
Getting customers from referrals is especially important for brands that are less likely to see repeat purchases from the same buyer (e.g. stores selling big and expensive goods that are bought only once in a long while such as fridges, washing machines, electric bikes, etc.). With referral programs, you can reward ambassadors for recommending you and reward the new buyers for making their first purchase.
Using referral programs pays off. On the one hand, you are more likely to retain customers whom you have rewarded, on the other, you get new potential buyers—for free! Plus, referral programs leverage the power of social proof which increases customer retention and acquisition even more. The customer who came to you through personal recommendations will trust you because they trust the person who has given that recommendation.
As a result, it will be easier for you to retain your new buyers—as long as you continue having good relationships with them and the customers who referred them.
7. Collect Customer Feedback to Understand Reasons for Churn
It is very hard to improve your business (and retain customers!) if you do not know what your customers think and how they feel about your brand. To have any chances in preventing customers from leaving, you will need to find out where your store's strengths and weaknesses lie. This way, you will be able to capitalize on your strong areas and focus on the weak ones that need improvement.
There are several ways to collect customer feedback. The most common ones include surveys (e.g. Net Promoter Score®), interviews, user testing, and focus groups. However, if you are a small company that is not quite able to involve customers face-to-face, surveys alone can provide you a lot of valuable insights. You can build and run surveys using an online application (e.g. free Google Forms) or email (e.g. Firepush).
Another very useful and powerful way for collecting feedback is customer reviews. You can add the social proof feature to your store with the dedicated Shopify review apps.
Although many apps allow for review moderation, hiding negative reviews is not a good practice. Try to deal with negative customer feedback and reviews immediately. Be open and transparent about what you have already done to fix the issues.
Customer Retention: Summary
Building a successful eCommerce business is not only about acquiring new customers. It is also about retaining the existing customer pool. Customer retention and trust are the outcomes of exceptional customer experiences. Offer great products, deliver great service, and above all—make your customers' lives easier. In return, your customers will be much more likely to stick with you and advocate for your brand.
Here's what you should take away from this article:
What is customer retention? Customer retention is the process that companies adopt to turn one-time buyers into repeat customers and prevent them from leaving.
Why is customer retention important? Repeat buyers generate more revenue, are easier to sell to, can refer new customers, and retaining them costs less than acquiring new prospects.
What are some ways to increase customer retention rates? Some ways to increase customer retention rates are soliciting feedback, using omnichannel support and marketing, on-site chat assistance, leveraging the power of rewards, referrals, and personalization, and making the product return process as easy as possible.