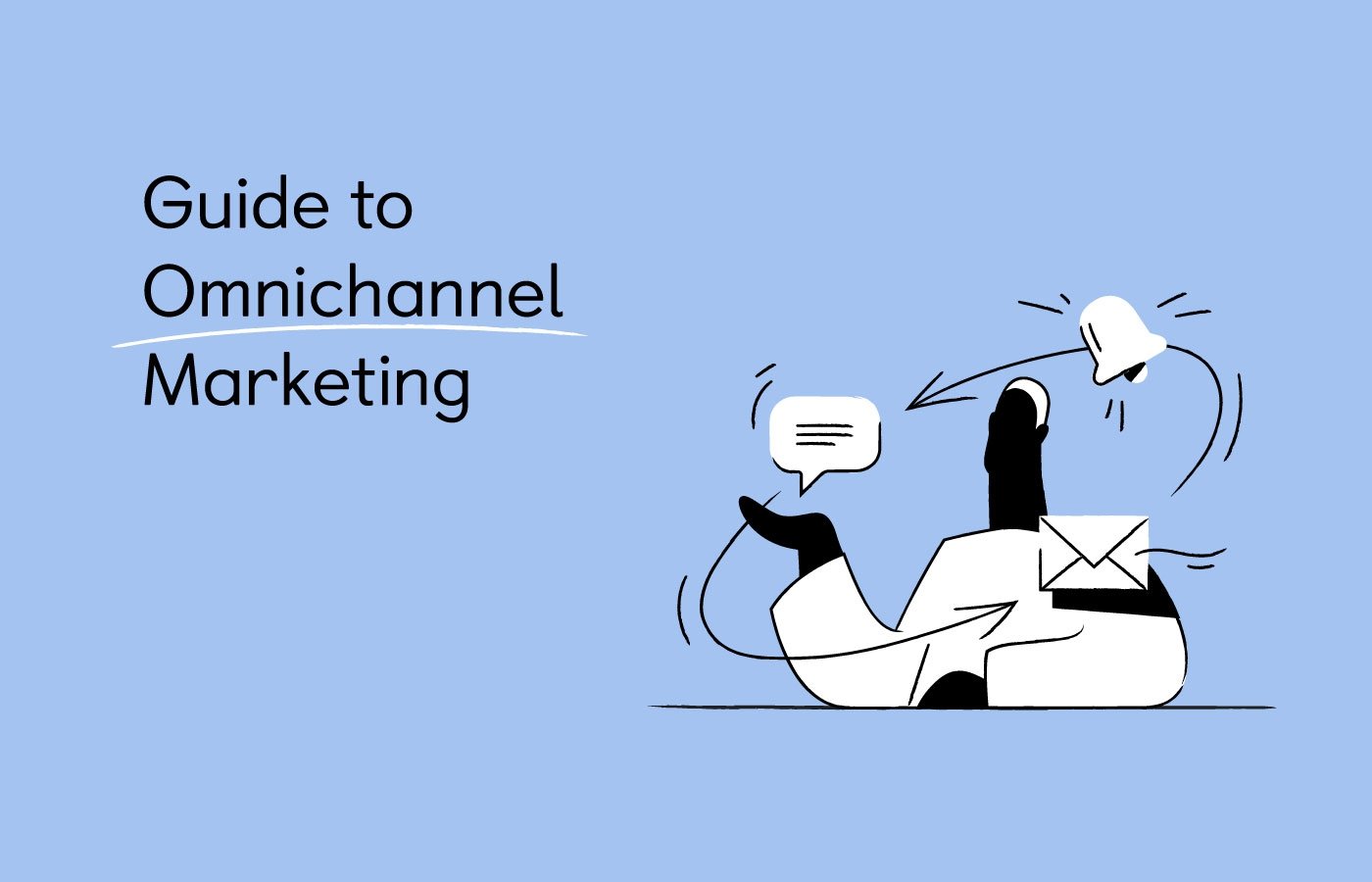 Imagine that your business is like Gryzzl in Parks and Rec.
It recommends super relevant products, when customers want them, anywhere. No one comes close to this your brand's ability to provide a super personalized experience for customers. And you get reviews like "I'm happy with these people!" with no problem.
How to make this happen as fast as possible?
Answer: omnichannel marketing.
In this guide:
What is Omnichannel Marketing?
Omnichannel marketing combines multiple marketing channels to create a consistent and holistic customer experience on desktop, mobile devices, or brick-and-mortar stores. The integration of all available marketing channels increases commitment, engagement, and convenience throughout the customer journey. An effective omnichannel marketing strategy makes a business available on the channels that customers prefer.
Some omnichannel marketing examples are:
Customer receiving a promotional push notification while in-store
Customer getting an email with product recommendations
Customer receiving a promotional SMS with a sale.
Omnichannel Marketing vs Multichannel Marketing
Omnichannel marketing - also spelled omni-channel - offers a seamless, consistent customer experience through different marketing channels. True omnichannel strategy is unique and makes shopping easier regardless of a marketing channel.
Multichannel marketing means communicating with customers through multiple direct and indirect channels (websites, emails, brick-and-mortar stores, ads, etc.). The idea is to reach clients via as many channels as possible.
Key differences between omnichannal and multichannel marketing:
Omnichannel marketing focuses on a personalized customer experience while the idea of multi channel marketing is to take advantage of every communication channel available
Omnichannel marketing delivers a unified message for all customers to create a certain brand image. The multi channel customer experience is different because not all clients get personalized messages
Multichannel marketing focuses on the quantity, while omnichannel marketing creates engaging campaigns based on customer interests.
Importance of Omnichannel Marketing
Omnichannel marketing helps businesses stay relevant and more competitive. Here are five benefits of the omnichannel experience for customers:
If you want more in-depth insights into the importance of omnichannel marketing, check out this video below. Kilian Wagner, a co-founder of VIU Ventures, talks about how to use this strategy to become more competitive using an example of his own company.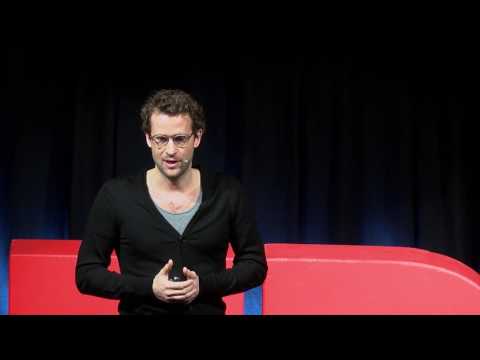 Now, let's use these insights to tie your marketing channels together into an ultimate omni-channel marketing strategy.
How to Create an Omnichannel Marketing Strategy
Now we understand how online consumers prefer to interact with businesses. So, why not put this knowledge to good use? Let's start building an effective omnichannel customer strategy by focusing on marketing channels.
1. Create an Omnichannel Customer Journey
The omnichannel customer journey is the map of communication touchpoints between customers and brands occurring on all marketing channels. The journey answers the question: What is the omnichannel experience like for the customer?
To create an omnichannel customer journey:
Map the stages leading the customers from brand discovery to purchase (awareness, interest, consideration, purchase, and after-sales)
Choose marketing methods to engage and serve customers at these stages (prioritize customer favorites)
Decide channels to share promotions after purchase (based on customer preferences–a system of checking stock availability, marketing messaging, etc.)
Channel personalization should be the theme throughout the omnichannel customer journey.
For example–
Your store promotes a 40% sale on women's clothing featuring jeans, t-shirts, and skirts. You can send a "50% off women's clothing" email but mention only jeans in a mobile app push message.
Never assume anything when creating customer journeys. Businesses assuming that customers want to resolve issues in one session overlook opportunities to strengthen relationships [McKinsey]
2. Choose Marketing Channels Your Customers Prefer
Check how your customers "move" across marketing channels throughout the journey with your brand. Which channels do they prefer? Which are left ignored? The task here is simple:
Find the most popular marketing channels, i.e. the channels the customers used to score most communication touchpoints.
These marketing channels are:
Content marketing & SEO (blog articles, landing pages)
Social media marketing (Facebook, Instagram, etc.)
Web push notifications (app and website pushes)
SMS marketing
Email marketing
Your website
Talk with your marketing folks and use the customer journey map to find the best channels to share sales promotions. When you discover the best-performing channels, focus on them to create a seamless omnichannel customer experience. Allow shoppers to choose their preferred marketing channel by giving them access to each one at the start of the customer journey. To give customers the freedom to choose, offer your omnichannel customers to receive marketing emails, web push notifications, or join the social media group to find promotions.
Use the chosen marketing channels to update your consumers about promotions.
Like here–
An online store offers marketing updates via SMS messages. Those who prefer this channel will be glad to subscribe.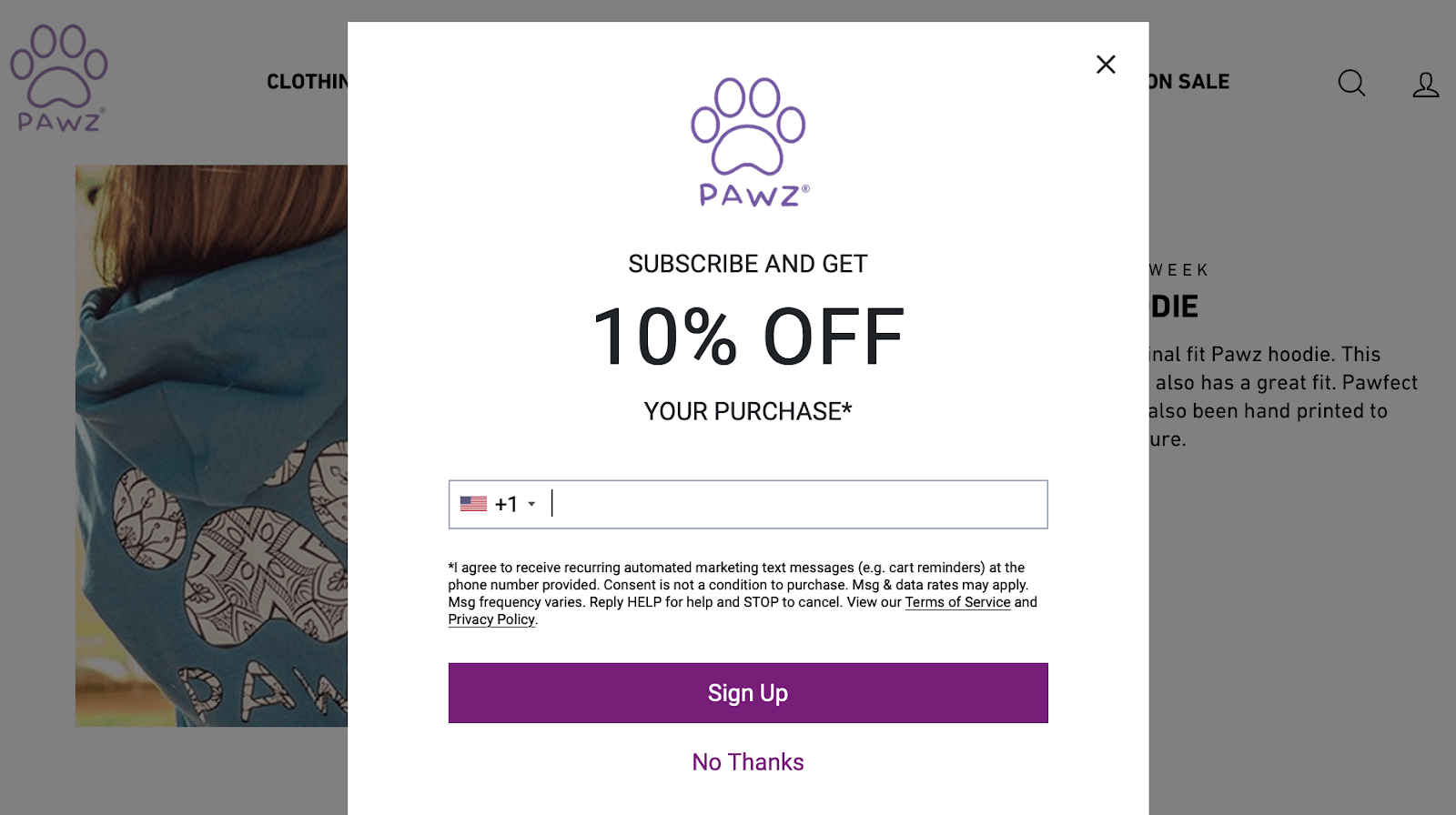 Customers open 98% of SMS messages they receive. That's why online stores use SMS marketing apps to share marketing messages.
3. Segment Your Customers
The traditional customer segmentation strategy involves:
Demographic (age, gender, occupation, etc.)
Psychographic (lifestyle choices)
Geographical (location)
Behavioral (website history, shopping habits, etc.)
In the omnichannel shopper segmentation, we need to go deeper. This study, for example, found three categories of omnichannel customers for online clothing stores.
Category I: Reluctant Omnishoppers (around 22%, mostly males aged 34 and under):
Prefer not to use multiple marketing channels during the customer journey
Spend minimum time researching products
Are rarely influenced by the recommendations from family and friends.
Category II: Omnichannel Enthusiasts (around 37%, mostly women between the ages of 35 and 44):
Frequently use different shopping channels and love them
Enjoy the simultaneous use of multiple channels
Are highly influenced by the recommendations from others.
Category III: Indifferent Omnishoppers (around 40%, mostly men between the ages of 25 and 34):
Rarely engage with brands via multiple marketing channels
Treat social influence as unimportant
Spend little time browsing online stores.
An omni retailer can segment consumers in this way, too. Taking advantage of similar insights can help choose relevant marketing channels and appropriate messaging frequency.
4. Provide Omnichannel Customer Service
Omnichannel customer service means supporting customers across multiple communication touchpoints. The main purpose of omnichannel support is to support all customer service channels simultaneously within a single interaction.
Omnichannel customer service channels:
Social media
Live chat
Website contact forms
Web push notifications
Phone
The most versatile types are SMS, email, and web push notifications. Businesses can use them everywhere, from sending order confirmations to appointment reminders.
Example:
This web push notification shows a reminder of a saved shopping cart.

Versatile customer support types are perfect for online stores.
So, consider using SMS, emails, and web push notifications for omnichannel communication with shoppers throughout their journey.
Need help with Shopify omnichannel strategy? Try Shopify web push notifications to share promotions, sales, order confirmations, and abandoned cart reminders automatically.
5. Use Omnichannel Marketing Software
Software can help run omnichannel retailing more efficiently. The advantages: more saved time, increased customer interactions, automatic engagement tracking, and useful omnichannel analytics.
Examples of omnichannel software:
Firepush. Provide customer support and share promotions via emails, web push notifications, and SMS messages
Zendesk. A customer support suite for omnichannel retailers that combines live chat, voice, self-service, and ticketing system
Shopify Balance. A suite for Shopify retailers with physical and virtual cards to accept payments and discount rewards and cashback add-ons.
Consider using omnichannel commerce software to cover as many diverse communication touchpoints as possible. As your omnichannel marketing strategy matures, focus on the best-performing channels. That's where most profits will come from.
Examples of Brands with Exceptional Omnichannel Experiences
Many brilliant eCommerce businesses are providing excellent omnichannel marketing experiences for their customers. Let's see some examples.
1. Pura Vida
Pura Vida is a mid-sized Shopify Plus fashion store that shares marketing messages via social media, web push notifications, and email. The business has a smart Shopify omnichannel strategy. The welcome email gives a site-wide discount while the next are based on the first order and browsing history. Only preferred channels are used to distribute promotions and customer support messages.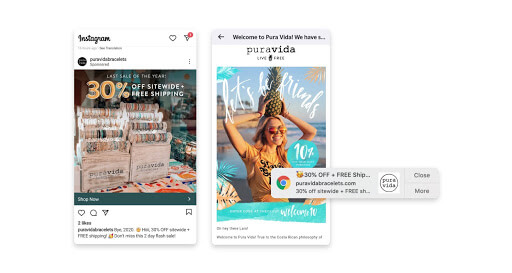 Pura Vida's Shopify omnichannel marketing strategy involved web push notifications with promotions. Result: $1.4 million in profits. Details: Pura Vida Case Study.
2. Uber
Uber has redefined the taxi experience with innovative omnichannel marketing strategies. Once you've booked a trip with Uber's amazing mobile app, customers can manage your experience in many ways.
You can choose a better car, share your location and trips with friends, reduce price with discount code, rate drivers, add tips, and even order food. Also, you can get a text from the driver when they have arrived. All ride-sharing businesses now copy the same model.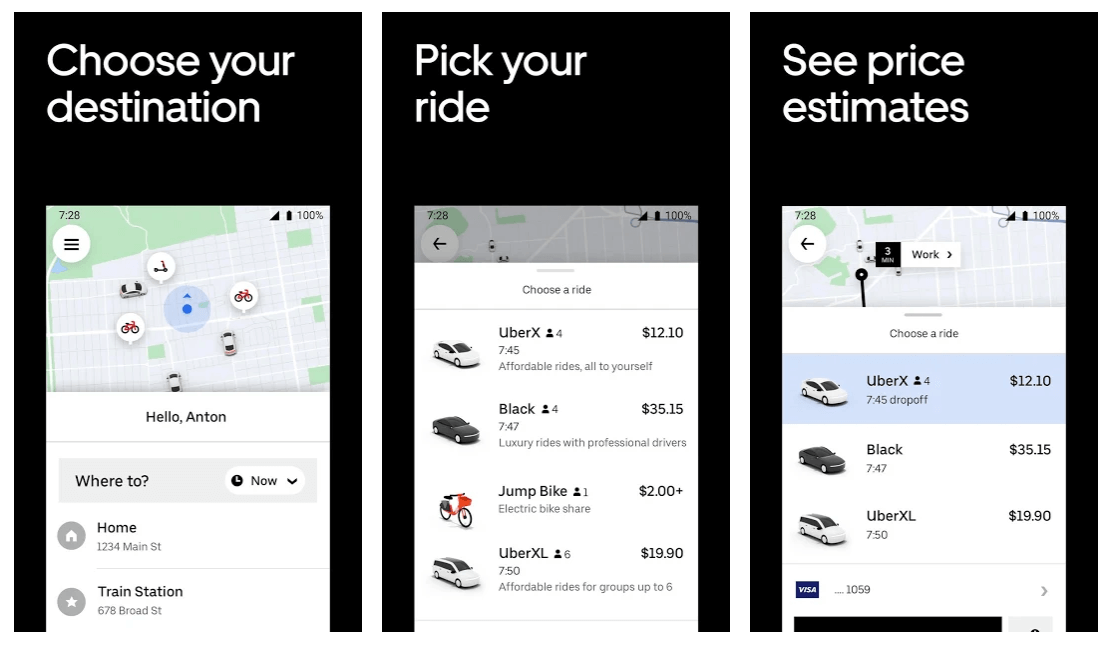 3. Inked Shop
Inked Shop, a fashion & apparel store, relied on traditional touchpoints like website and email before an omnichannel marketing strategy. The brand added SMS messages and web push notifications and generated higher engagement rates. It found that Inked Shop's omnichannel shoppers preferred quick notifications and SMS in their brand journey.
The most successful marketing channels were: welcome push notifications, abandoned cart notifications, promotional push notifications, product delivery and promotional SMS messages.

The brand tracked the performance of each notification.
Here's the data on the "power push campaigns," i.e. welcome push notifications with discounts. The brand's omnichannel customers loved their experience.

4. Intelligent Blends
Intelligent Blends is a subscription-type Shopify Plus store selling premium coffee. The brand's omnichannel marketing strategy goals are to maintain customer loyalty and boost product awareness. Intelligent Blends researched omnichannel customers and understood how to communicate with them. Three marketing channels were chosen to create an omnichannel experience: push notifications, emails, and SMS.
These channels were used to welcome new customers, recover abandoned shopping carts, and share personalized promotions and sales. It helped Intelligent Blends stay on top of "smartphone-only" customers' minds.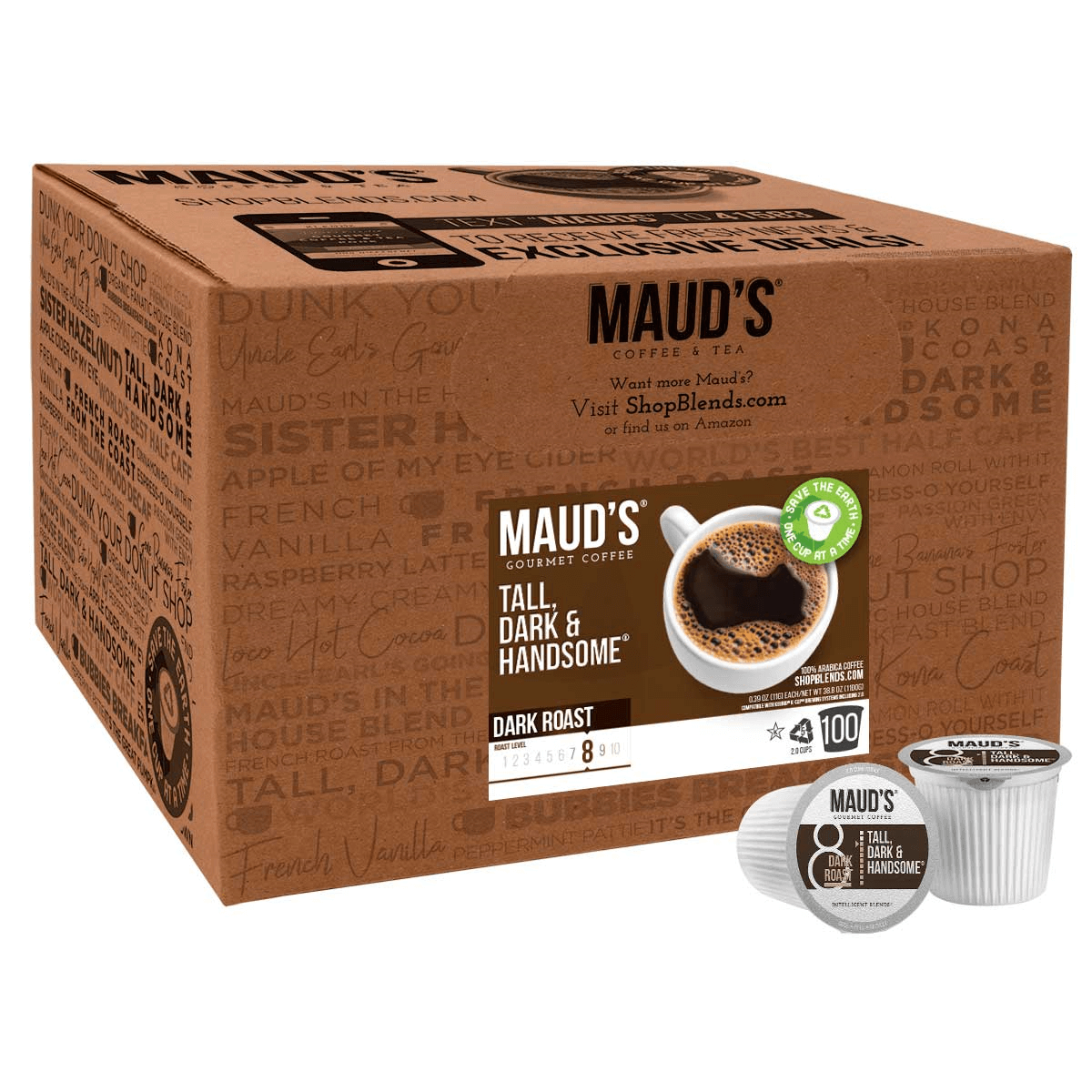 The omnichannel commerce strategy at Intelligent Blends helped generate an extra $12,500 in revenues in the first month. Read Intelligent Blends Case Study to know how your Shopify store can use a similar tactic.
5. IKEA
IKEA, the famous home furniture retailer, is a champion of omnichannel presence. The company integrates physical and eCommerce experiences to make one, familiar brand experience.
One example is a mobile app feature that enables IKEA's customers to save digital catalog items in the in-store shopping list. Also, the brand opened pick-up and order points to bring deliveries closer to customers' homes and improve brand experience.
IKEA is also known for an innovative omnichannel strategy performance measurement. The company has used Google Ad's Store Visits to evaluate their strategy offline.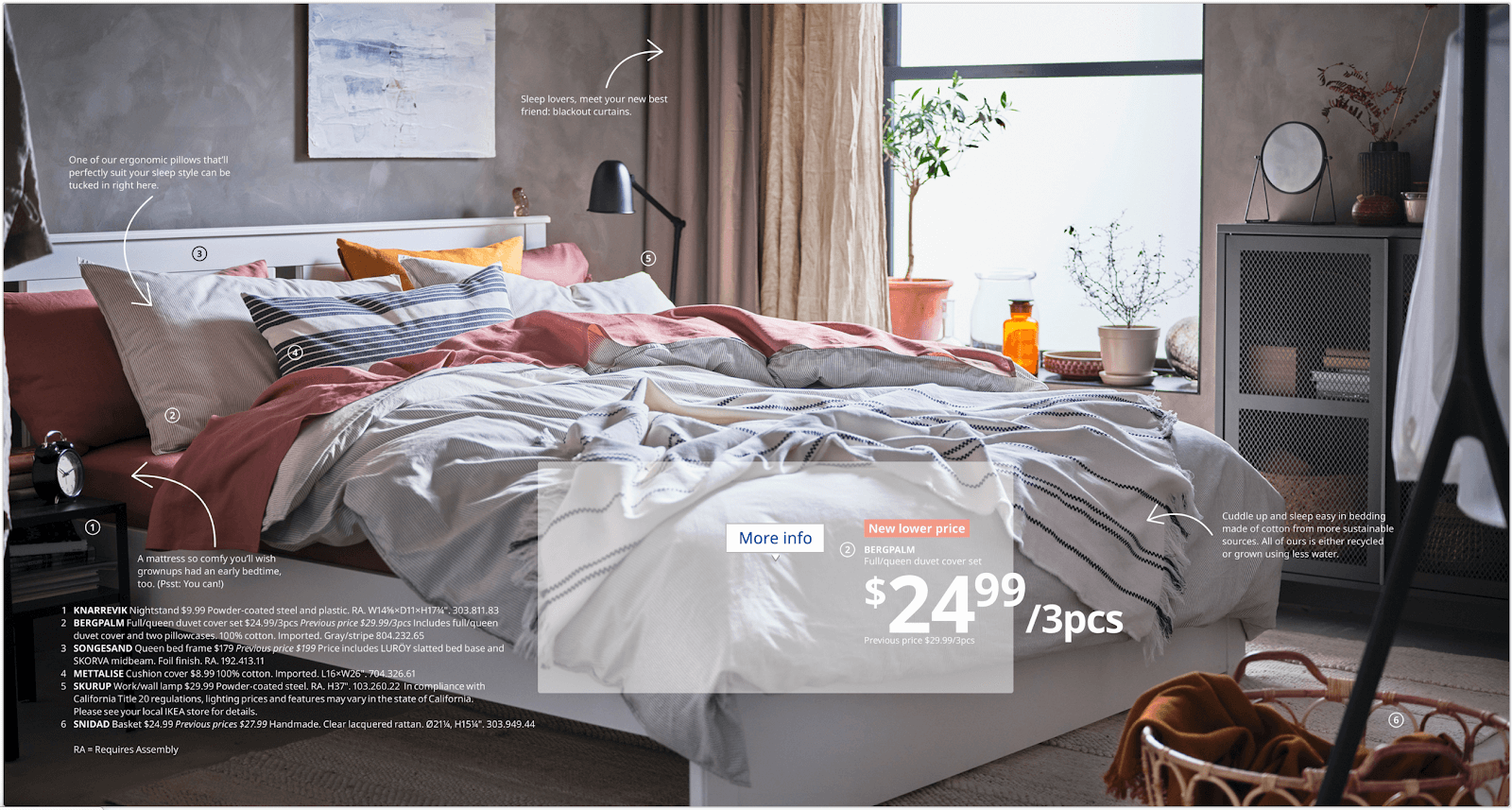 6. Nearly Natural
Nearly Natural, a small supplier of lab-grown plants, managed to create a solid omnichannel customer experience with a small team. The secret: automation of communication across marketing channels. The brand's omnichannel approach included automated onboarding of new customers with welcome push notifications and emails. Both were also used to build a positive customer relationship.
The welcome messages also featured discounts to encourage omnichannel customer engagement. The result: 1,829 orders and $12.63 in average revenue per customer.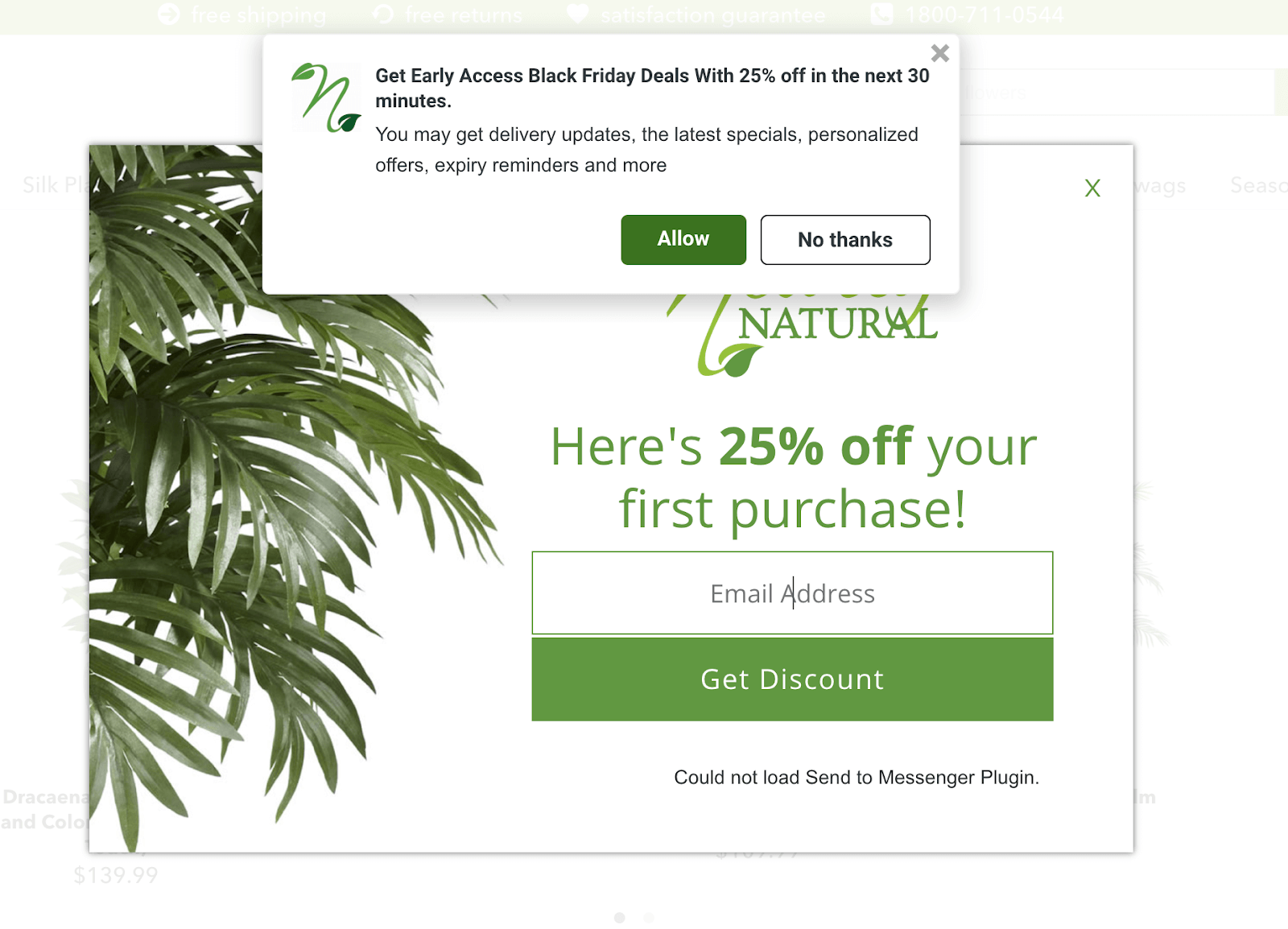 Are you running a niche business with unique products? Use Nearly Natural's insights for your omnichannel marketing strategy: Nearly Natural Case Study.
7. Starbucks
Starbucks's omnichannel eCommerce customer experience is legendary. The brand's rewards app is the reason behind it.
App users can:
Check out the menu
Get app push notifications with promotions, news, and updates
Check, reload, and pay with a customer card.
This omnichannel customer experience is consistent on desktop, smartphone, tablet, or web thanks to regular, real-time updates.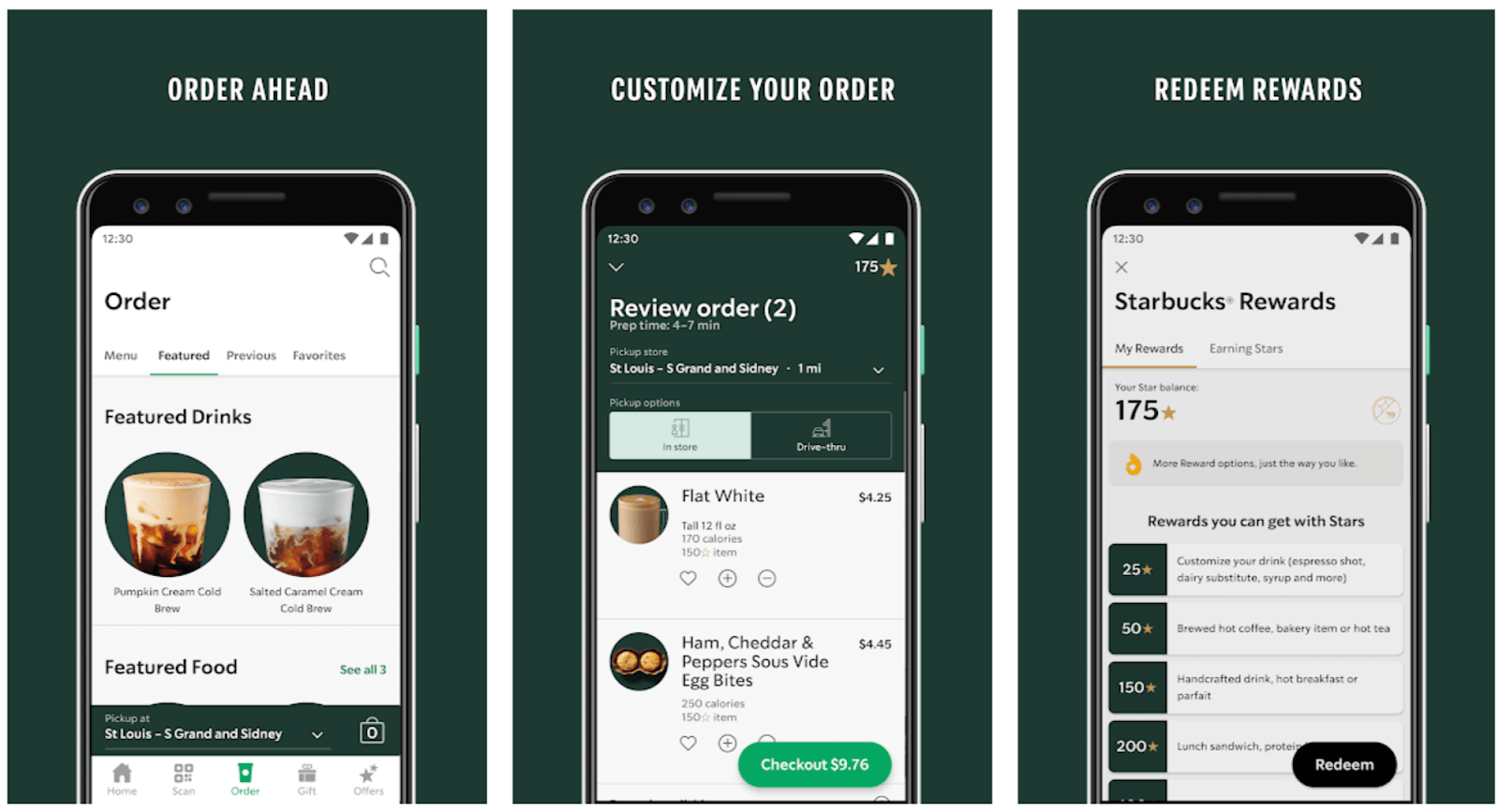 8. Helly Hansen
Helly Hansen, a Norwegian manufacturer of outdoor apparel, delivers the omnichannel customer experience with personalized product recommendations. The brand has been involved in several projects to create an omni experience.
In one project, Helly Hansen partnered with a CRM platform Safesforce and payment platform Adyen to adopt a POS system for iPads.
Another collaboration with an omnichannel analytics provider helped to improve product recommendations by analyzing numerous customer preferences. One result: a 28% increase in revenue per session in the men's section thanks to slotted recommendations.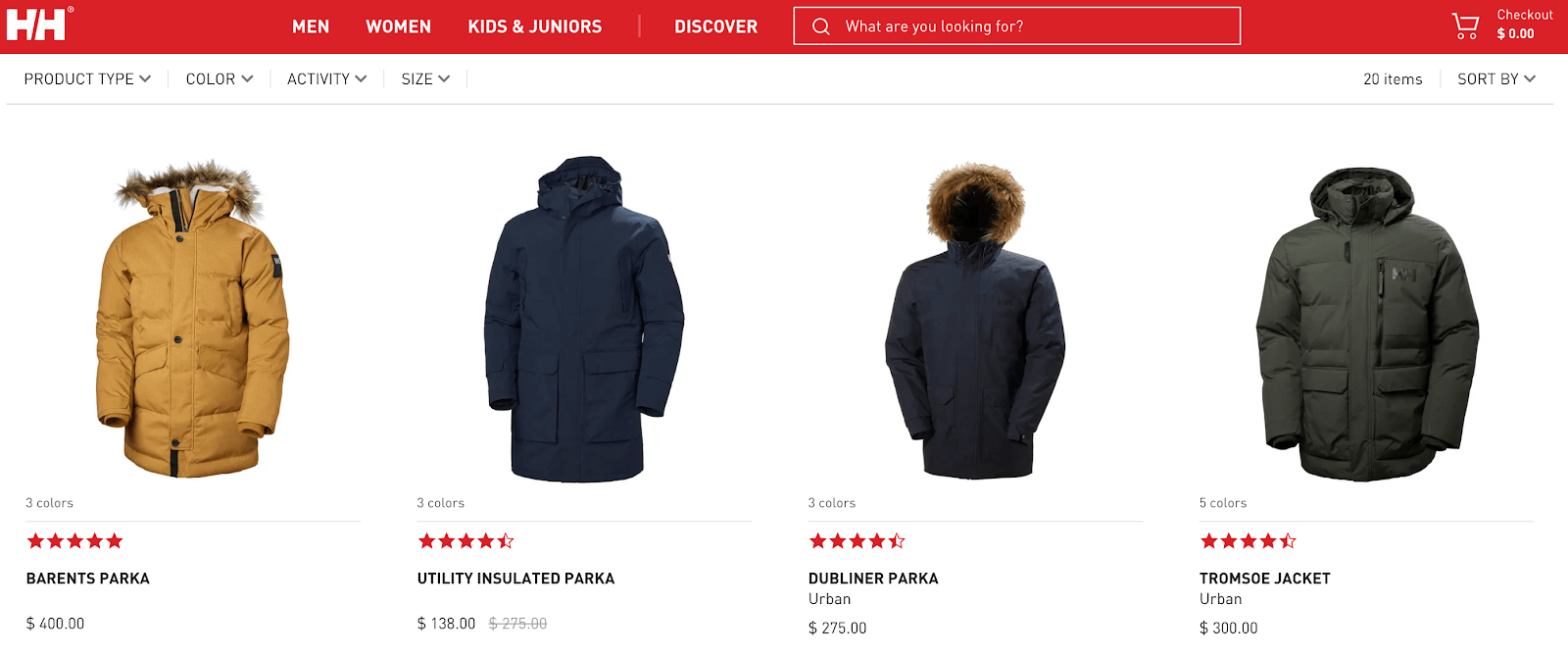 9. Proozy
Proozy is a Minneapolis-based omnichannel retailer that sells fashion products on Shopify. The company's product range includes brands like Michael Kors, Nike, and Under Armour.
Proozy personalizes omnichannel customer experience and connects customers with sellers in several ways. When the website publishes new products, the company's omnichannel marketing system sends SMS messages to customers based on their preferences.
A Proozy Family Deals private Facebook group is a place where social media-first customers get their deals. The leads can shop by visiting the store, get updates directly with SMS and browser push notifications, or visit the deals group.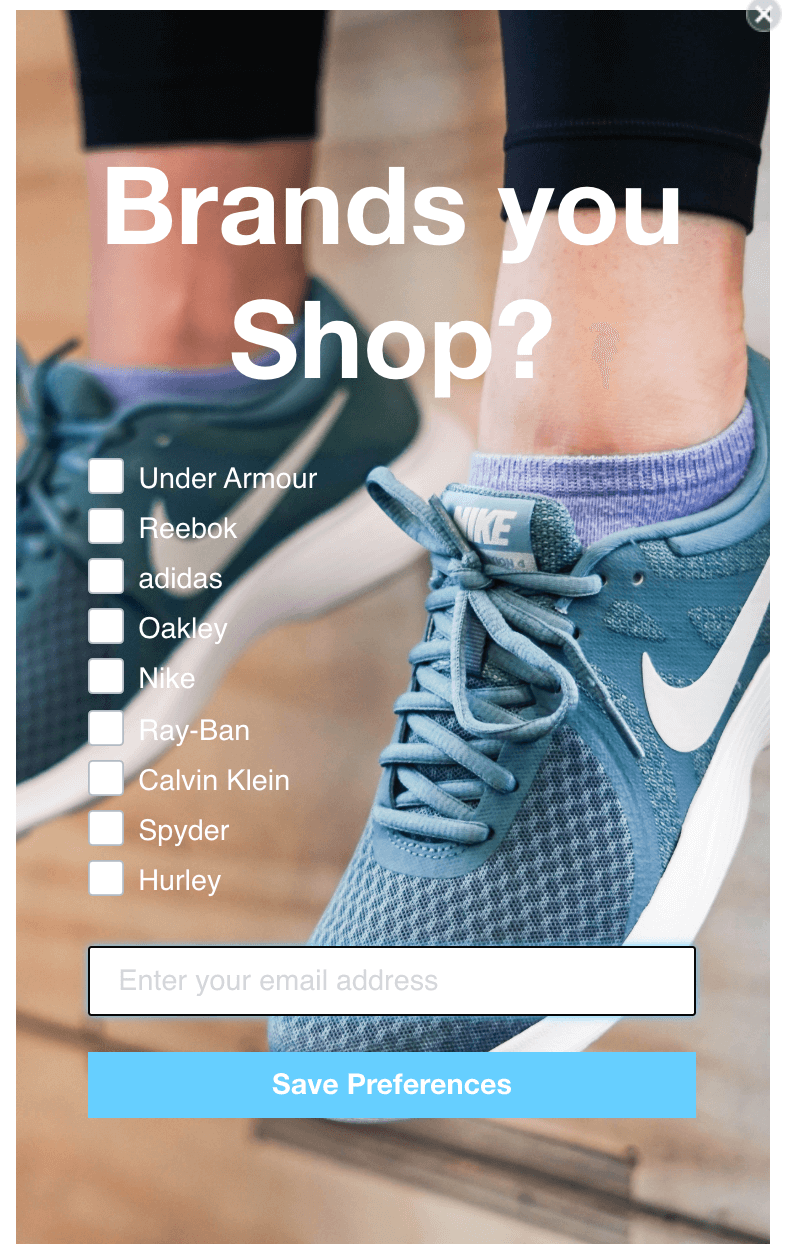 Adding SMS to omni campaigns increases sales. Proozy's Shopify SMS marketing results: a 13% conversion rate and a 30x ROI. How your Shopify store can replicate this omni strategy: Proozy Case Study
10. Burberry
Burberry, a luxury fashion brand is an excellent omnichannel retailing example of a social-first strategy. The company did omni research, finding that luxury fashion shoppers engage with brands many times on social media before purchasing.
Burberry then activated Instagram checkout to make social media shopping easier. Also, they analyzed omnichannel analytics and social media engagement to define factors driving both online and offline purchases.
One of the results was the "B-Series." A social-first campaign with products only available via social media platforms during a 24-hour time slot, one day a month.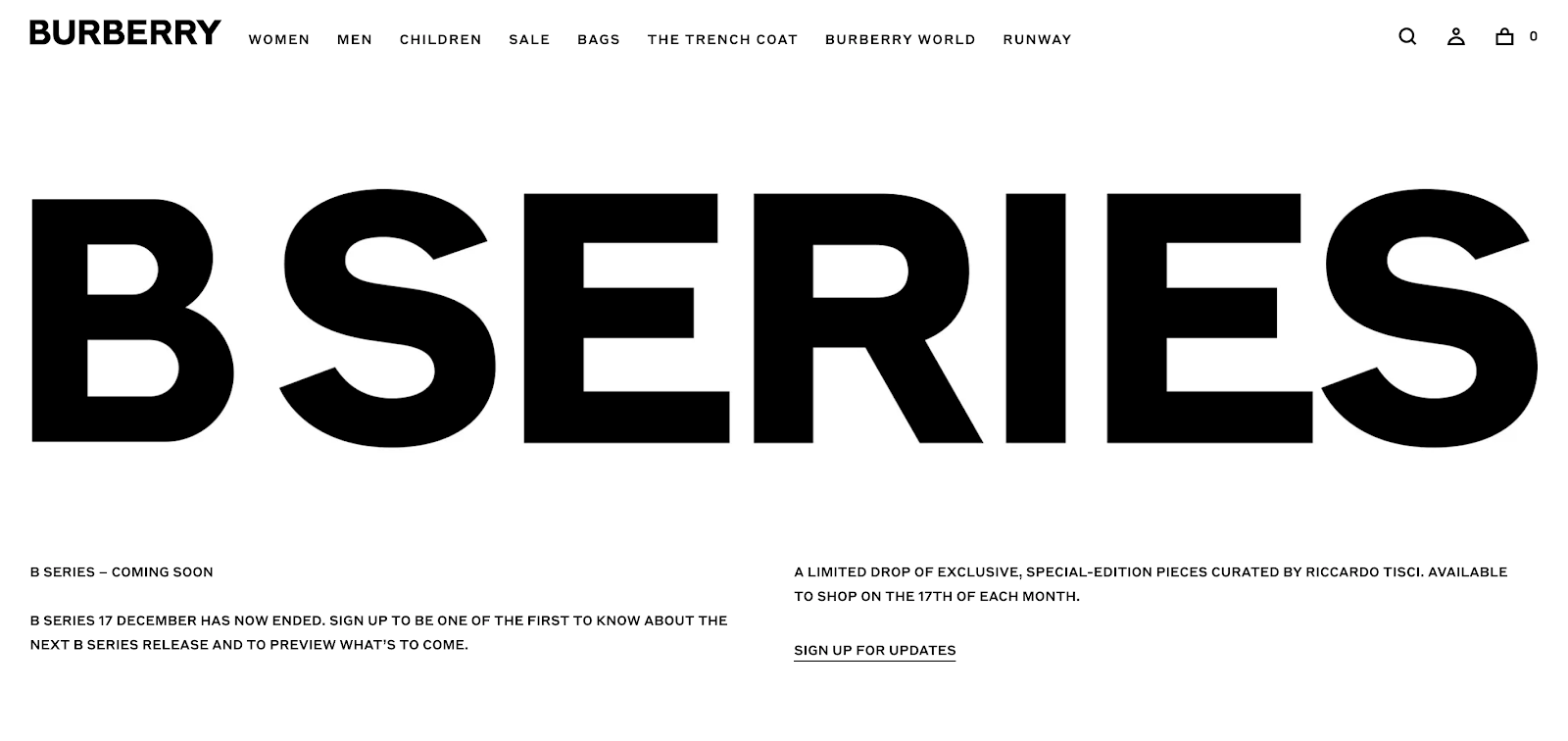 11. Grain & Vine
Grain & Vine, a liquor shop uses several marketing channels their customers love. They are web push notifications, emails, SMS, and social media (there's even a Grain & Vine TV channel!)
Grain & Vine's omni experience, based on customer preferences, includes store pickups, online shopping, same-day delivery, shipping insurance, and other order fulfillment options. They use each touchpoint to define and personalize omnichannel experience for customers.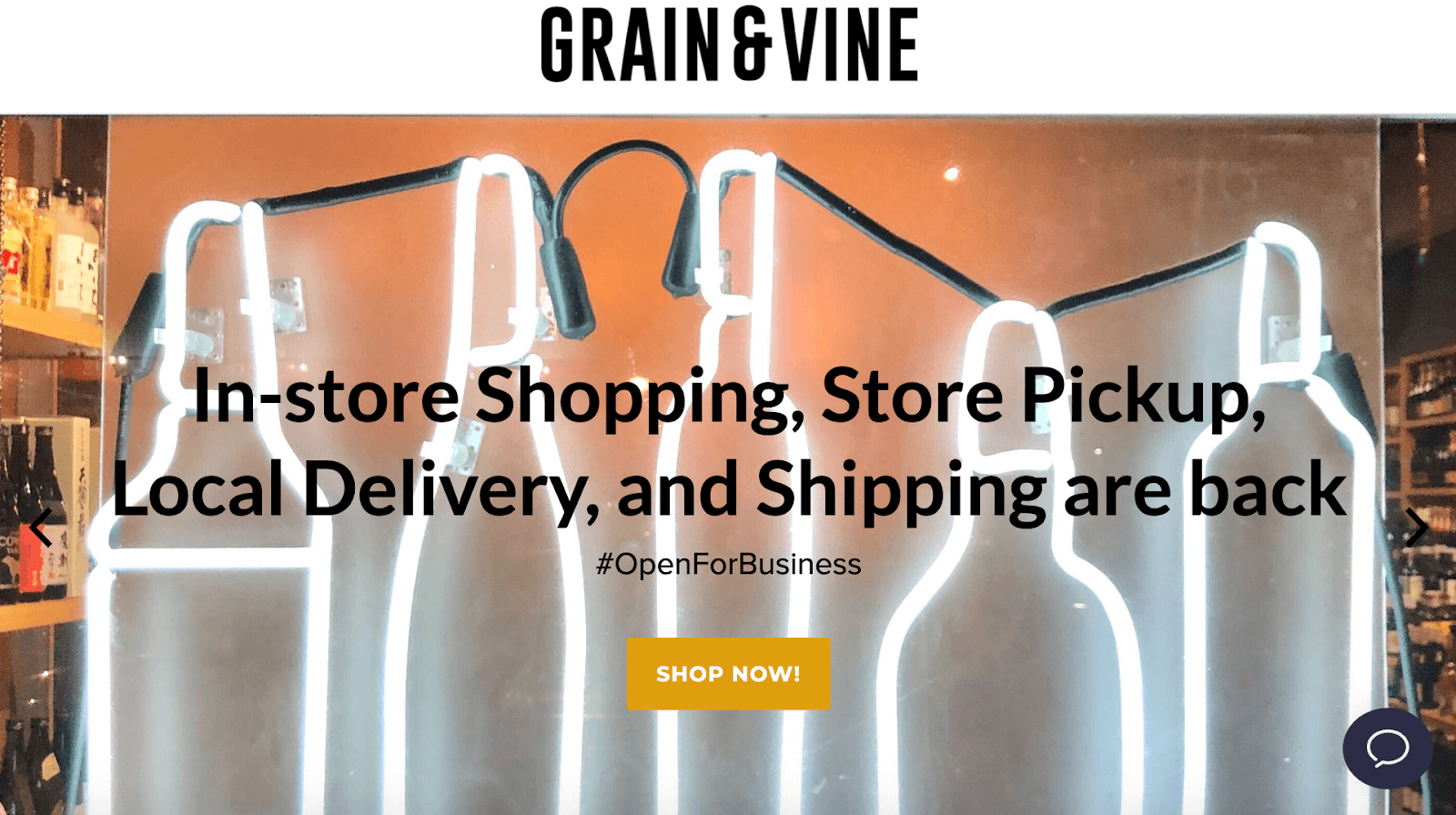 Omnichannel Marketing: Summary
Omnichannel marketing is the way to ensure that customers can start the path to purchase on any device, at any time, and in any location. A comfortable and personalized consumer experience across all marketing channels and devices is a giant step towards more sales.
To create an effective omnichannel retail strategy:
Create an omnichannel customer journey map
Choose the customer-preferred marketing channels
Do a deep segmentation of omnichannel shoppers to personalize their experience
Provide omnichannel customer service to cover all online shopping channels
Use omnichannel marketing software.
Make sure that every touchpoint with your customers has some value for them. It's the ultimate way to create a personalized omni experience for any customer segment.