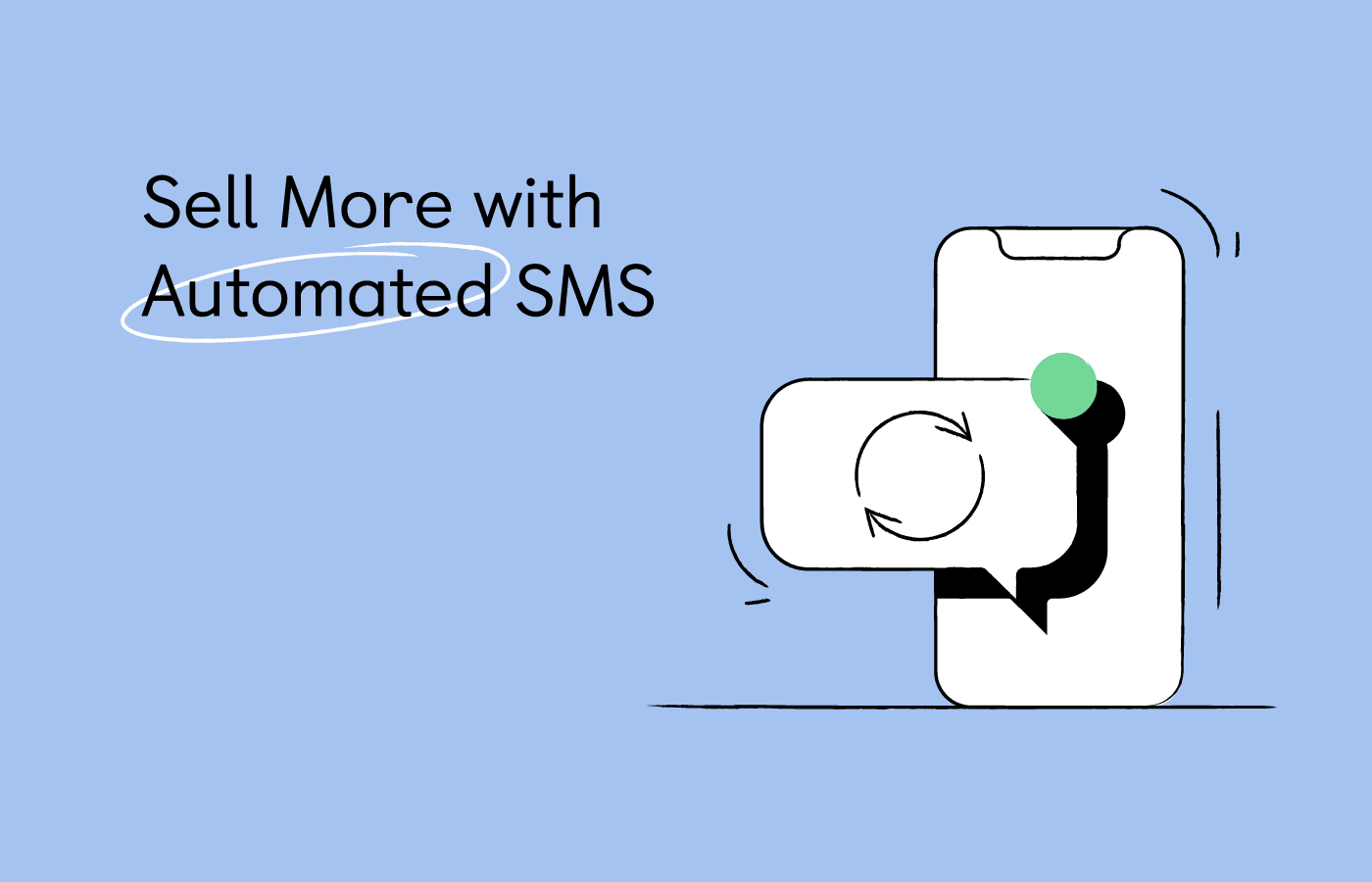 SMS marketing is one of the most effective tools in a marketer's arsenal. Text messages have a 98% open rate, which absolutely smashes every other marketing delivery channel.
Your business can explode sales by tapping into SMS marketing, and the best way to do it is to set up a system of automated text messages to be sent out as users perform certain actions on your eCommerce store. A great example of this is sending a friendly SMS reminder to someone who has abandoned their shopping cart. You can reconvert these leads without having to lift a finger.
Learn how to do that:
More great SMS marketing guides for you:
Why is SMS Marketing Effective?
SMS marketing is much more effective than other channels because of how responsive mobile users are. Everyone carries a phone and no one can resist opening a new text message. By contrast, targeted Facebook posts have a mere 2% open rate on average, and while email marketing is great, it still lags behind SMS with a crawling 15% to 25%.
Automated text messages are the cornerstone of this insanely effective strategy. But you can't just start sending leads any old message, or they'll block your number and likely lose faith in your brand for being too spammy. There are proven ways to engage audiences with automated text messages that will boost sales - we're going to show you six of them today.
So, grab yourself a hot drink, and let's get into it.
SMS Marketing Best Practices
Setting up an effective automated text messaging campaign for your eCommerce store is easy once you know the tricks of the trade, Here are the best practices for SMS marketing to start your campaigns the right way.
1. Set goals to measure SMS marketing progress
You need to know if your SMS marketing campaign is working. Set goals, for example, a number of website visits, signups, sales, or downloads, and track how many you receive after launching your SMS marketing campaign. You can use the built-in Shopify Analytics to do this, or you can use Google Analytics. The latter gives you more scope - we'd actually recommend you use both.
To set goals within Google Analytics, simply:
Open Google Analytics
Go to Admin
In the View column, press Goals
Click on + NEW GOAL
Either choose a template or custom create your own goal

Goals help you ensure your strategies are working. You're basically just throwing texts and your time and energy into the void without them. Once you've decided on some targets to hit, such as getting 5,000 people to your Shopify store, or selling 200 of your new product, you can begin optimizing your automated text message campaign.
PRO TIP: Make sure you enable Advanced Ecommerce when you set up Google Analytics to better measure your sales and conversions on Shopify.
2. Get Permission
Sending text messages to people who didn't sign up for anything is pure spam. It's a massive invasion of personal space and you'll never be forgiven for it. Make sure you get permission from your users before sending them promotional text messages.
This is known in the industry as permission marketing and there are laws backing it up in some countries. This isn't easy without an incentive. Fortunately, there are plenty of ways to convince shoppers to give up their digits. Chief among them is offering a discount or promo code in exchange for a mobile sign-up.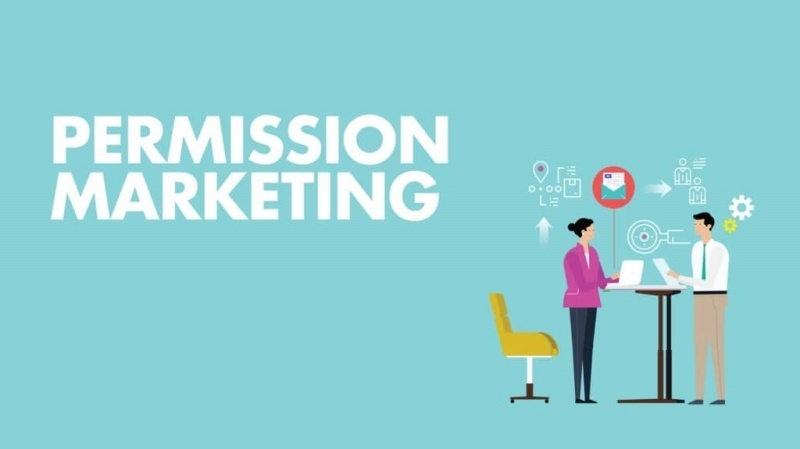 You could be breaking the law by not getting permission from people before sending them SMS promotions.
A cheeky 15% off is enough to convince people to give up the goods without putting too much of a dent in your company's wallet.
You can also offer some other rewards, including:
Pre-notifications about sales
Exclusive brand information
Entrance to competitions
Free giveaways
Access to otherwise restricted content
Once you've got your user's permission, make sure you're not just spamming them. Keep your texts few and far between and make sure you're always giving them value or a great offer.
3. Chase up cart abandonments
Cart abandonment is much more common than you realize. In March 2020, 88.05% of all online purchases were abandoned in the cart. People add to cart to see how expensive an item is, to save it for later consideration, or just out of wishful thinking. The bottom line is people don't follow though most of the time. SMS marketing is one of the most effective ways to recover abandoned carts. We'd have very messy neighborhoods if all those abandoned carts were left in the street.
You can use a text message marketing Shopify app like Firepush to automatically send SMS messages, emails, or push notifications to remind shoppers that they have unfinished business on your store.
Send out a 15% discount for stubborn shoppers who won't budge after the first SMS. They will come if you provide them with enough value.
Make sure you're watching your cart abandonment rate in analytics to measure any reduction from your SMS cart recovery campaigns.
These are hot leads, many of which can easily be converted with a little nudge. Take the initiative and get those lost sales back.
4. Keep it short, simple, and value-driven
Your SMS messages can't be essays letting shoppers know how much you admire them. That's where this SMS marketing best practice comes in: keep your messages short and to the point. Focus on value and make your offer obvious from a single glance.
Send something like "Hi Thomas! We noticed you've got items in your cart. Complete the checkout in the next 24 hours to get a 20% DISCOUNT. You rock, Thomas!"
It's quick and the value is noticeable from a single glance. Your leads aren't going to be happy if you text their personal numbers to tell them you've got a new product in stock. But they won't complain about new products with 50% off for a limited time only.
SMS marketing doesn't have to be bland. Have some fun with your automated SMS messages and people will be much more likely to engage with them.
For example, you could:
Send a fun question and get them to guess the answer
Ask them what percent discount you're about to offer them - see if they can guess
Send a full blown pop quiz
An automated conversion that isn't just a sales funnel (but also… is just a sales funnel)
Ask them if they want to hear a joke
There's more to value than just money, try brightening up your lead's day and watch them come wandering back to your store. That's the SMS marketing best practice that can differentiate your business.
5. Design a landing page for your SMS campaign
You should have a landing page for any SMS marketing campaign you launch, assuming you're promoting something other than cart abandonments. Imbed the link into the message so that shoppers have a page to go to that's specially tailored to convert them.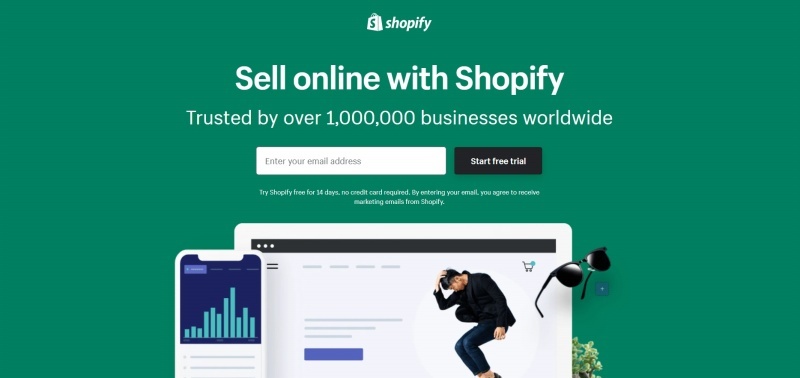 Note the simplicity and lack of text in Shopify's awesome landing page.
Businesses with more than 40 landing pages generate up to 12-times more leads than those with a mere one to five landing pages.
Having a landing page for every campaign shows people that you're serious. Simply linking to your brand's homepage isn't nearly enough. It's lazy. You need to show professionalism and create an effective sales funnel for your users. Your landing pages should remove all menu and footer navigation to stop people from wandering. Only have one CTA (call to action) per landing page and don't be too text-heavy.
Keeping things focussed on a single conversion will greatly enhance the effectiveness of your landing page.
Tip: Use PageFly Landing Page Builder to boost conversions. PageFly Landing Page Builder is one of the top apps on Shopify and will allow you to build some stellar landing pages to convert more leads. This is perfect for SMS marketing campaigns as it means users are focussed first on the text message you send, and then on the conversion-hunting landing page you've taken them to.
PRO TIP: Copywriters who specialize in landing page copy are hard to come by. Keep any good ones you come across close by and pay them well - they'll noticeably increase your conversion rate over the long run.
6. Get the timing right
Getting the timing right is important when sending automated messages. This sounds pretty obvious, but a lot of businesses will just choose '40 minutes after adding to cart'. That's not a bad thing, but what if I added to cart at midnight and then fell asleep? It pays to consider the timing.
Most poeple don't want to be woken up in the middle of the night by an SMS…
SMS marketing best practices to consider here:
Never send SMS messages at night
Cart reminders can be a set time after the cart is abandoned
Promotional messages are better sent later in the week - avoid Mondays
You want your SMS marketing messages to feel natural and non-spammy, so consider the time you're sending them, as well as how often. Once every two weeks is enough for most people. Of course, shipping information and cart abandonment messages can be sent more frequently.
Bear in mind that 11am for you might be the middle of the night for your lead. Set up your messages so they reflect different time zones, otherwise a great deal of your marketing efforts will be repurposed into alarm clocks - and no one wants that!
SMS Marketing Best Practices: Final thoughts
SMS marketing is a great way to drive up conversions and reduce cart abandonment.
It's important to follow the best practices outlined in this post to avoid upsetting your leads or getting your number thrown into the spam bin. Don't rush your text message copy, either. It's important to get someone creative and experienced in short, snappy copy to write your SMS marketing materials to get the best results. Finally, do some research on the competition and be original. Try to think of new ways to engage leads in your SMS marketing. Be fun, be creative and most of all be considerate. Good luck.