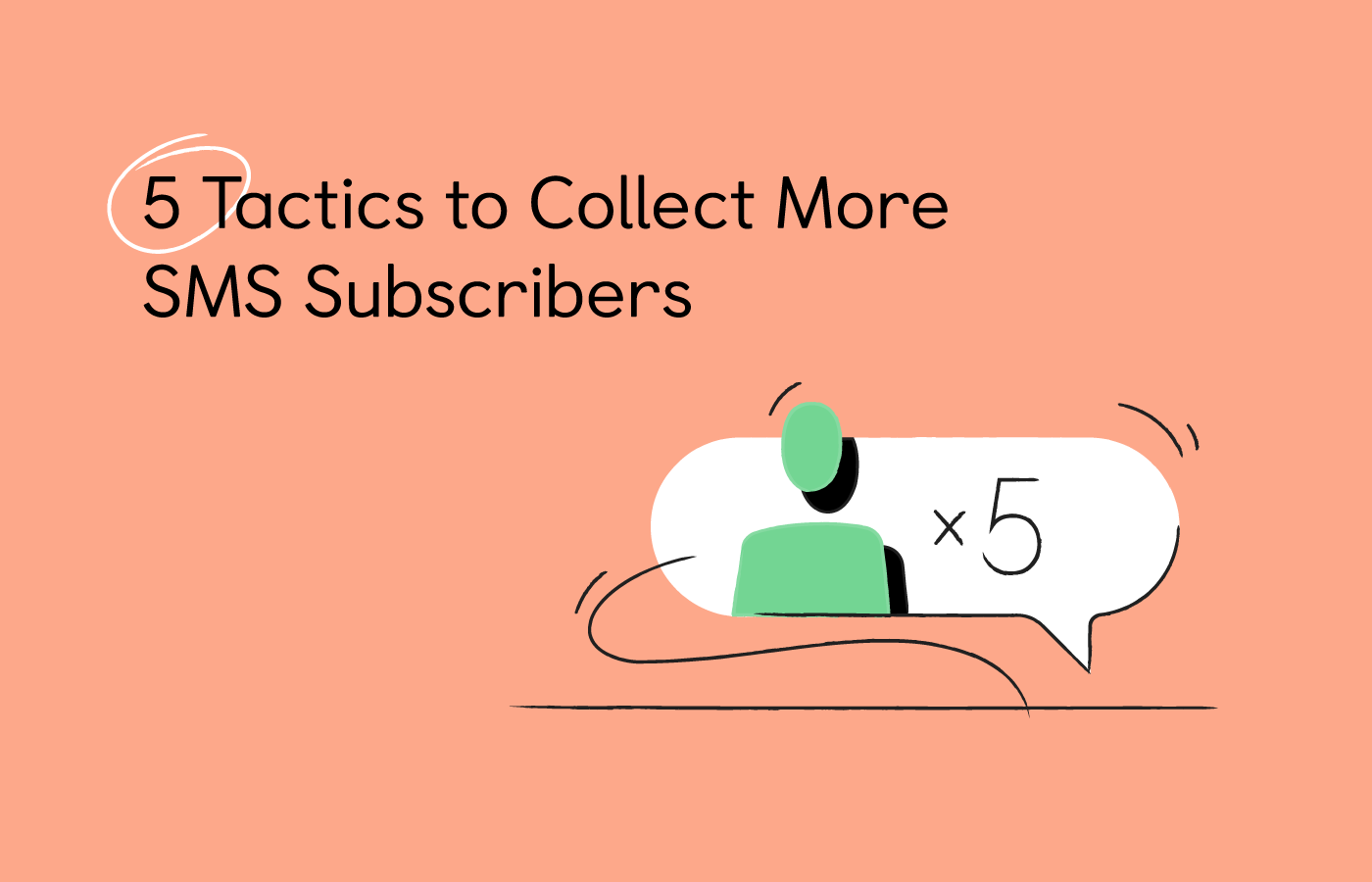 Did you know that people open 98% of the SMS they get?
SMS the most effective marketing channel for engaging customers—and it's catching on like wildfire. To get the most out of this marketing strategy, you need a large list of people to share your offers with.
In this guide:
Why popups are effective for collecting SMS subscribers
Five effective tactics to increase text message subscription
Here for something else? Maybe these guides could help:
Why Use SMS Popups to Capture Leads
When we say that "popups are great for growing SMS lists," we're not talking about invasive and distracting popups. We're talking about intelligent, personalized popups that enhance your customer's experience.
Example: Popup messages can be based on visitors' geolocation, traffic source, and even their browsing activity on your site.
So, no need to bombard every visitor with the same generic message. Now you can ensure that you deliver the right message to the right person. These types of popups can convert as many as 40% of visitors into subscribers.
The key is:
Set your popups to deliver a perfect message at precisely the right time. That way, you can direct their attention to your SMS opt-in without ruining their experience.
Let's now see how you can do it.
A quick check before we begin: to create website popups to collect SMS subscribers, you need two apps: OptiMonk and Firepush. Optimonk provides the popups while Firepush gives the SMS marketing functionality.
5 Tactics to Get More SMS Subscribers
Here are five effective ways to use well-targeted popups on your Shopify store to increase text message subscription rates.
1. Promote special offers to visitors trying to leave your website
This type of popup is known as an "exit-intent popup," and it can be one of the best ones in any Shopify store owner's marketing toolbox.
Here's why:
Exit-intent popups give an extra chance to convert visitors before they leave a website. According to a study by Digital Marketing Magazine, 75% of consumers prefer to receive special offers via SMS. That means you can convert many people who share the same view.
Here's an exit-intent popup example that offers visitors a 10% discount.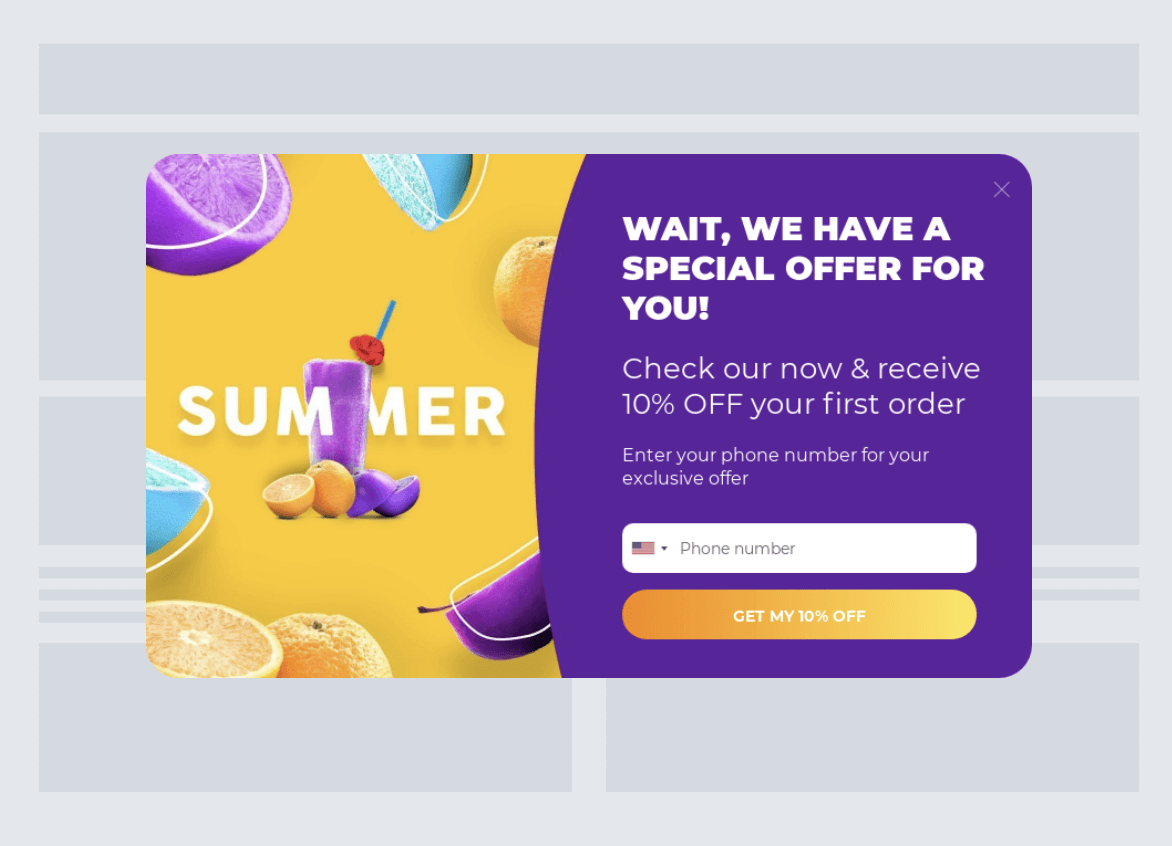 Want to have the same popup on your site? No problem.
Here are the steps to take:
Choose the special offer popup from this template collection
Make any changes using our drag-and-drop editor
Enable exit-intent by clicking "+Add more triggers" under "When would you like the popup to show up?" in the configurations menu
Select "On exit-intent"
The "On exit-intent" option is on the top of the list (see image below).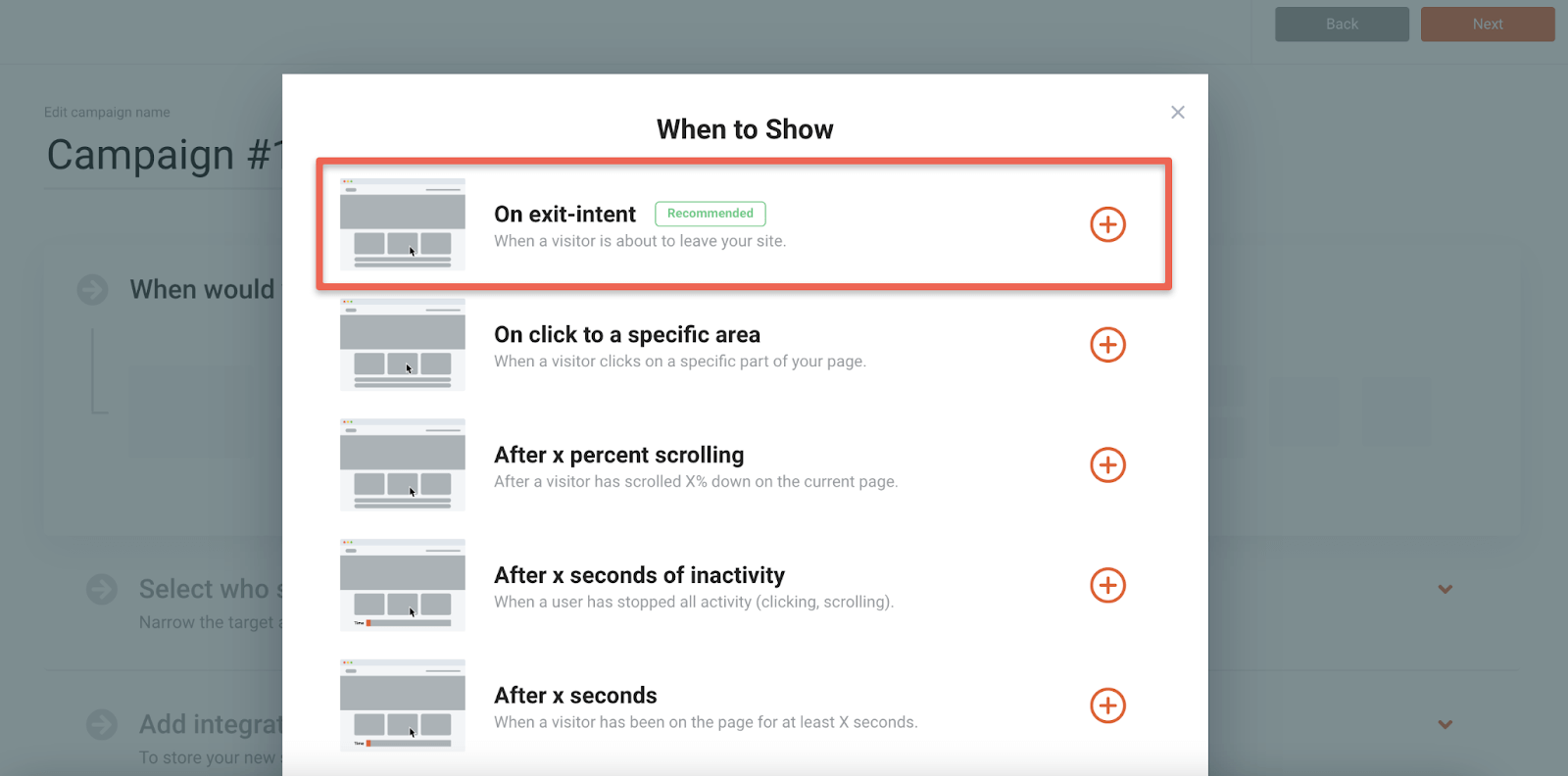 2. Build your SMS list by promoting ebooks
Customers love free content—especially content they're interested in. That's why ebooks are a good way to increase subscriptions.
Your audience will happily share their contact information if your eBook offers something of value to them.
Here's an example of a popup that promotes an eBook.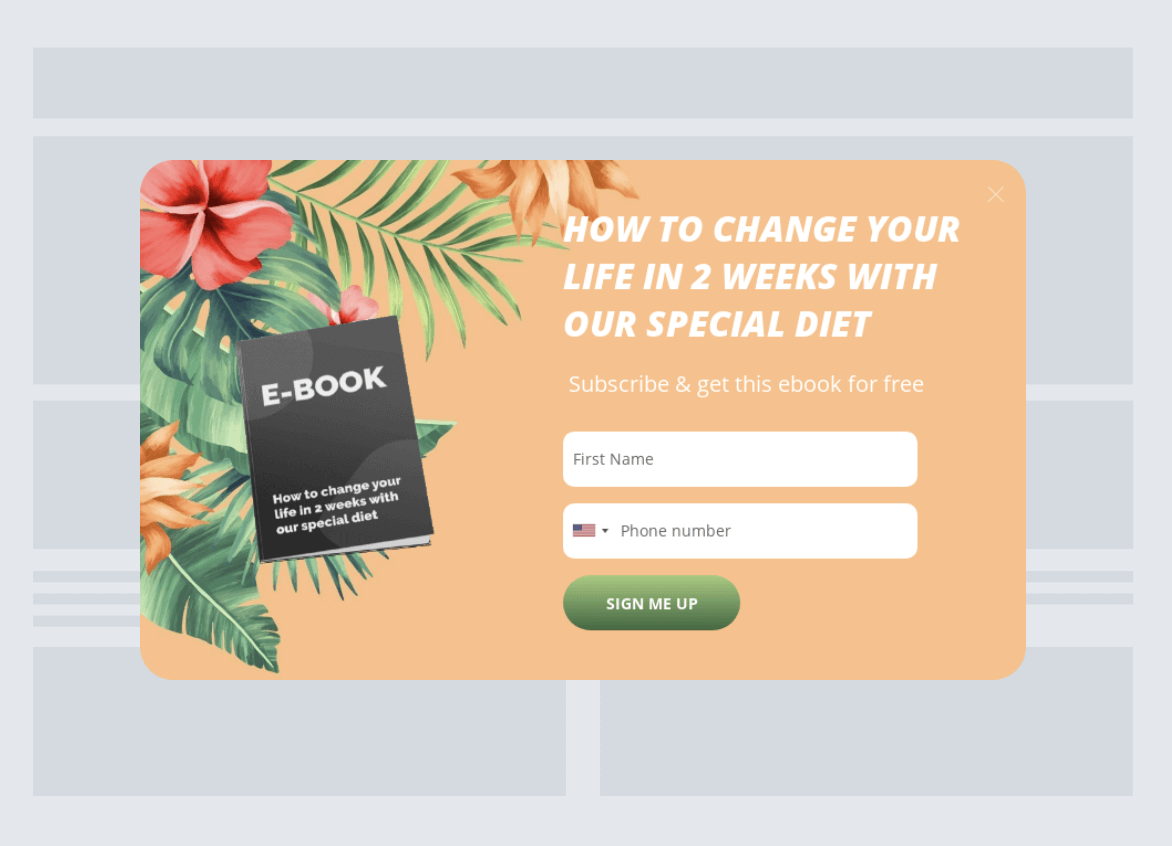 Tips to use popups and ebooks to drive conversions:
Create an eBook on a topic that interests your target audience
Promote the eBook on your website with an SMS Marketing eBook template
Consider displaying the eBook on your blog, landing pages, and other high-traffic places
To target blog readers with this popup with Optimonk:
Click "+Add new condition" under the "Select who should see the popup" section
Select "Current Page/URL"
Enter the URL of your website you want the popup to appear on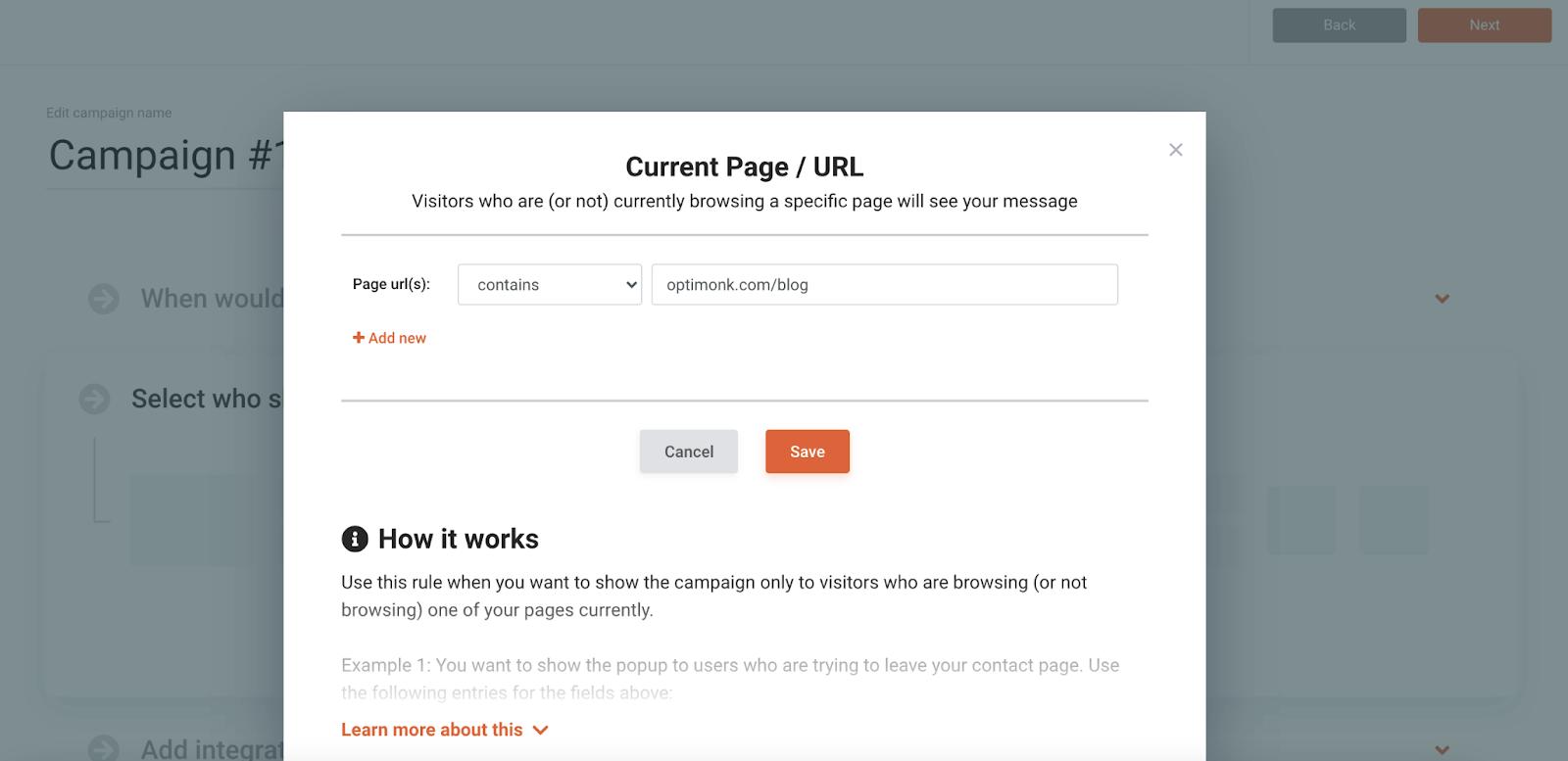 Once you're done, you can get phone numbers, and visitors can learn something valuable. It's a win-win.
Consider targeting visitors reading your blog or knowledge base because this popup could distract shoppers—and they could abandon their shopping carts.
3. Create gamified popups
Generate high-quality leads while improving your site's UX by using gamified popups.
You can convert nearly 13% of your visitors into subscribers by adding a fun lucky wheel or scratch-card popup.
Here's the scratch-card popup example.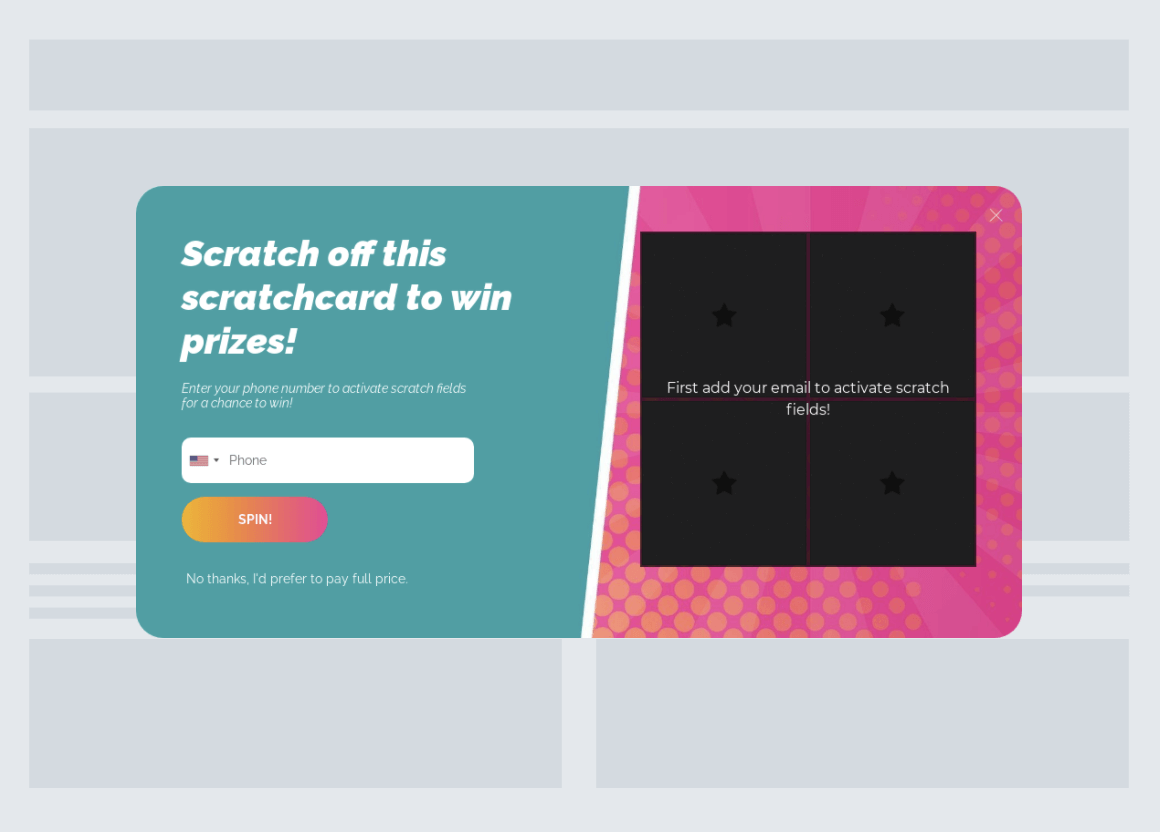 And here's a "spin-the-wheel" popup.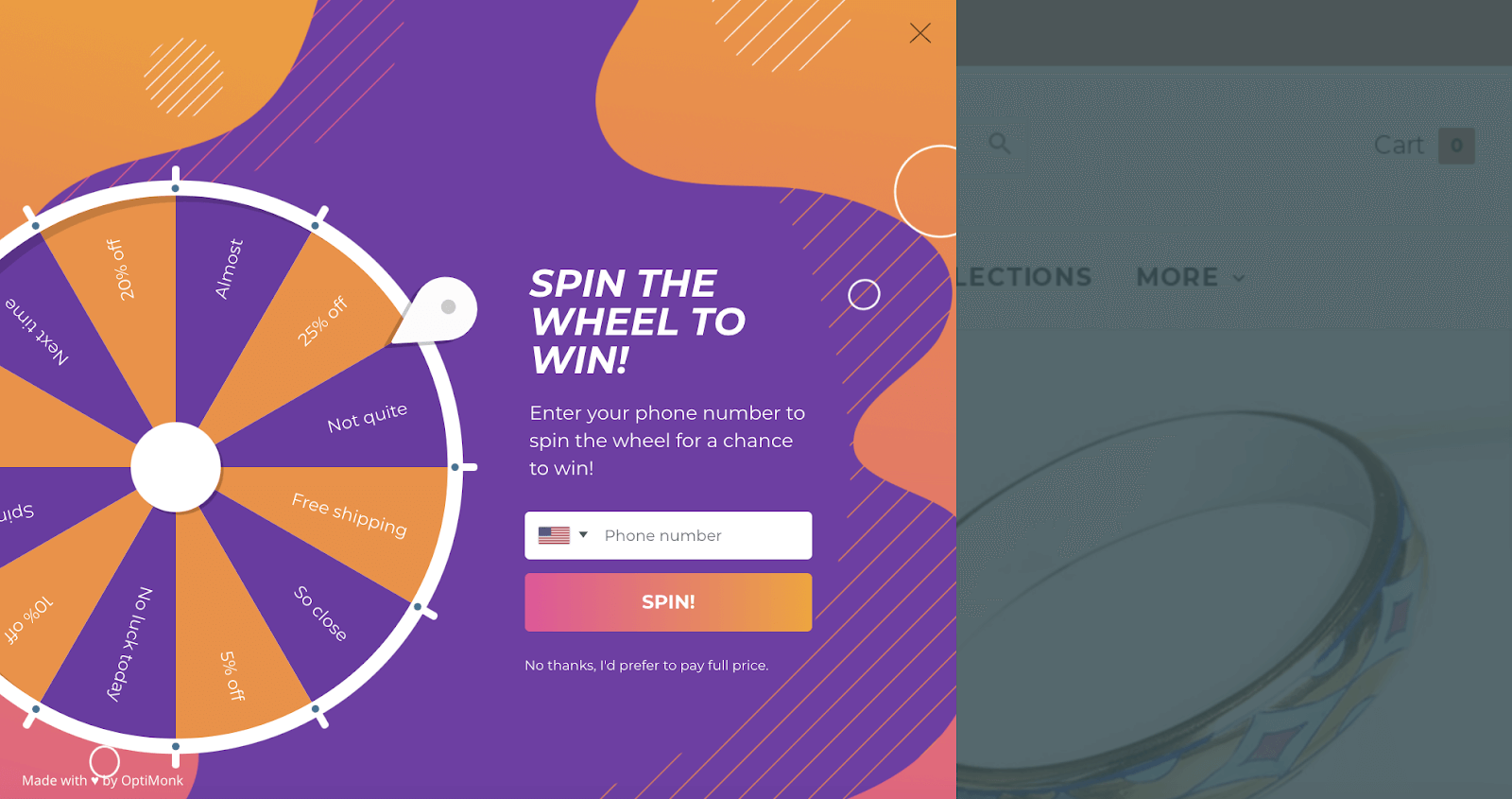 We noticed that for gamified popups, the conversion rates are 43% higher than traditional popups. That's partly because winning makes your visitors happy—and happy visitors are more likely to give you their mobile numbers.
How you can add these gamified popups to your website
Choose a gamified SMS opt-in from our Inspiration Library.
Set rewards like free shipping and discounts in our drag-and-drop editor.
Have visitors enter their mobile numbers to redeem their prizes
4. Use a sticky bar to target non-subscribers
What if you're looking for that little something extra that's just as powerful—but not a full-blown popup? Try capturing leads with a sticky bar (It's not candy, but we're hungry now, too.)
A sticky bar is a small floating bar located on the top or bottom of your website.
Think of it as the unintrusive cousin of a popup because it captures leads without interrupting the visitors' experience.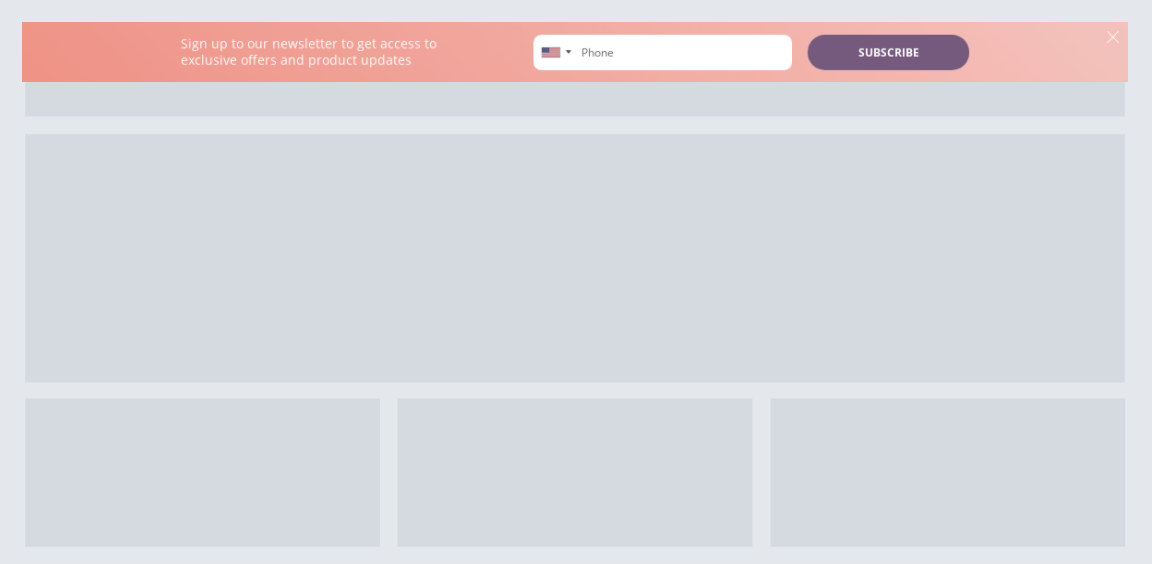 OptiMonk makes it easy for you to deploy a sticky bar for capturing SMS leads:
Select the sticky bar template from our Inspiration Library.
Use the drag-and-drop editor to define where you want the sticky bar to appear on the website.
Configure the bar to target only non-subscribers in the configurations menu (Don't skip this step— it's the most important)
Target non-subscribers by clicking "+Add new condition" under "Select who should see the popup."
There will be a setting that says "Engaged with OptiMonk Campaigns," and it should be configured like this: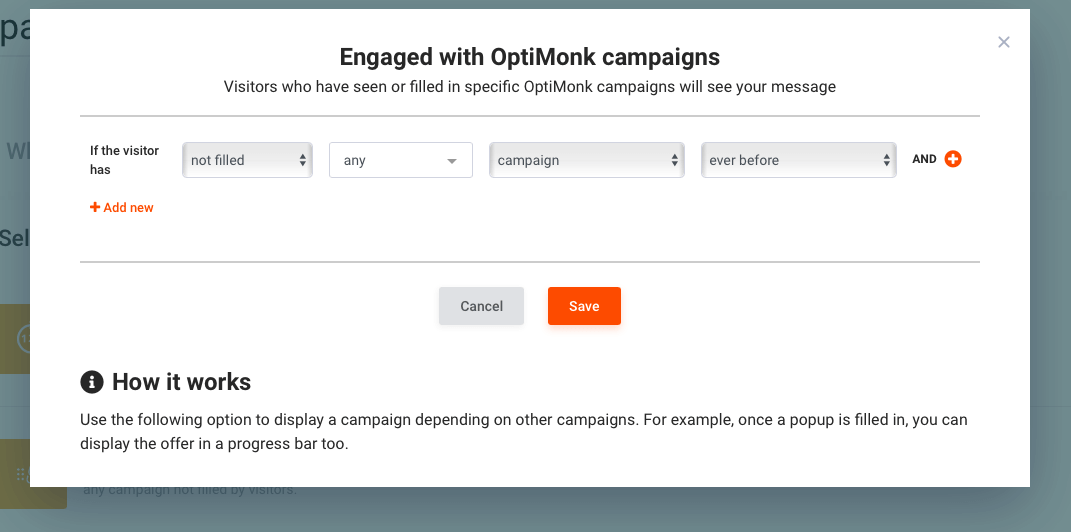 When this setting is enabled, your nanobar will only appear to visitors who have never subscribed to one of your campaigns before.
Quick Tip: We recommend keeping this setting enabled, so your message only targets relevant people.
5. Target mobile users with popups
People who visit your store from their mobile devices tend to be more open to SMS marketing campaigns. Taking advantage of this helps you turn those visitors into loyal subscribers.
Here's a popup you can use to collect text message subscribers.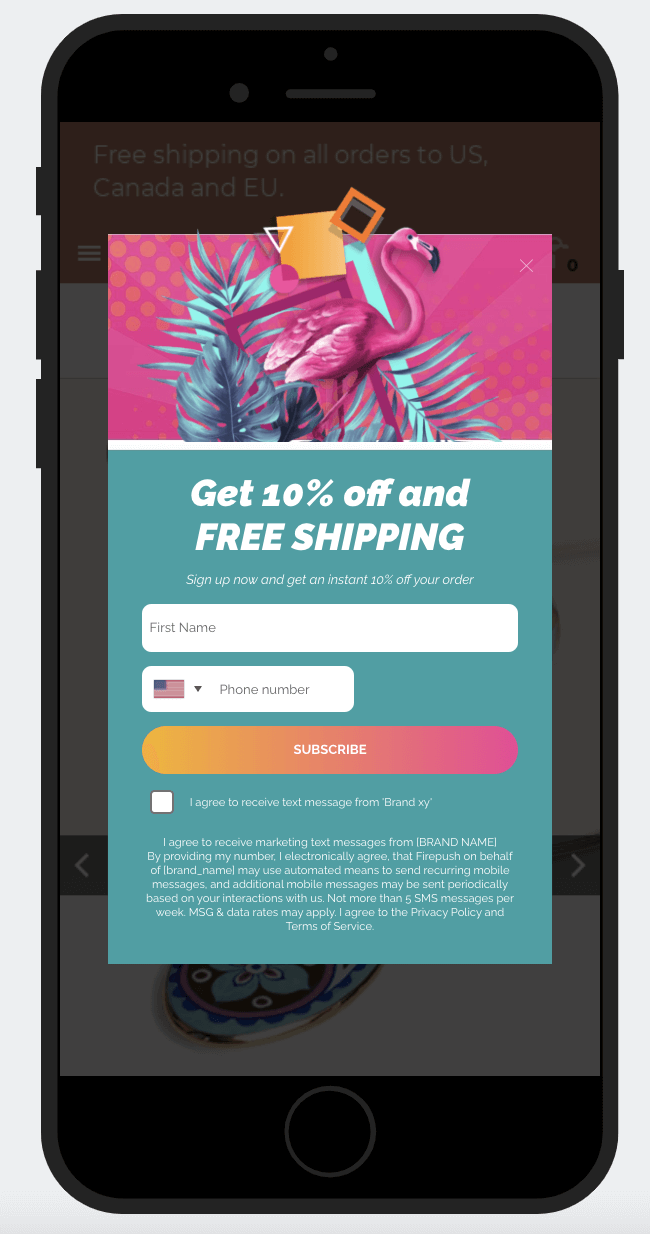 A mobile-friendly popup should be two things: responsive and easy to read. This means no long-winded ads that your mobile visitors have to scroll through.
This popup is easy to test for mobile display with OptiMonk. All you have to do is click the mobile icon on the preview screen or inside the template builder to see what your popup will look like to mobile visitors.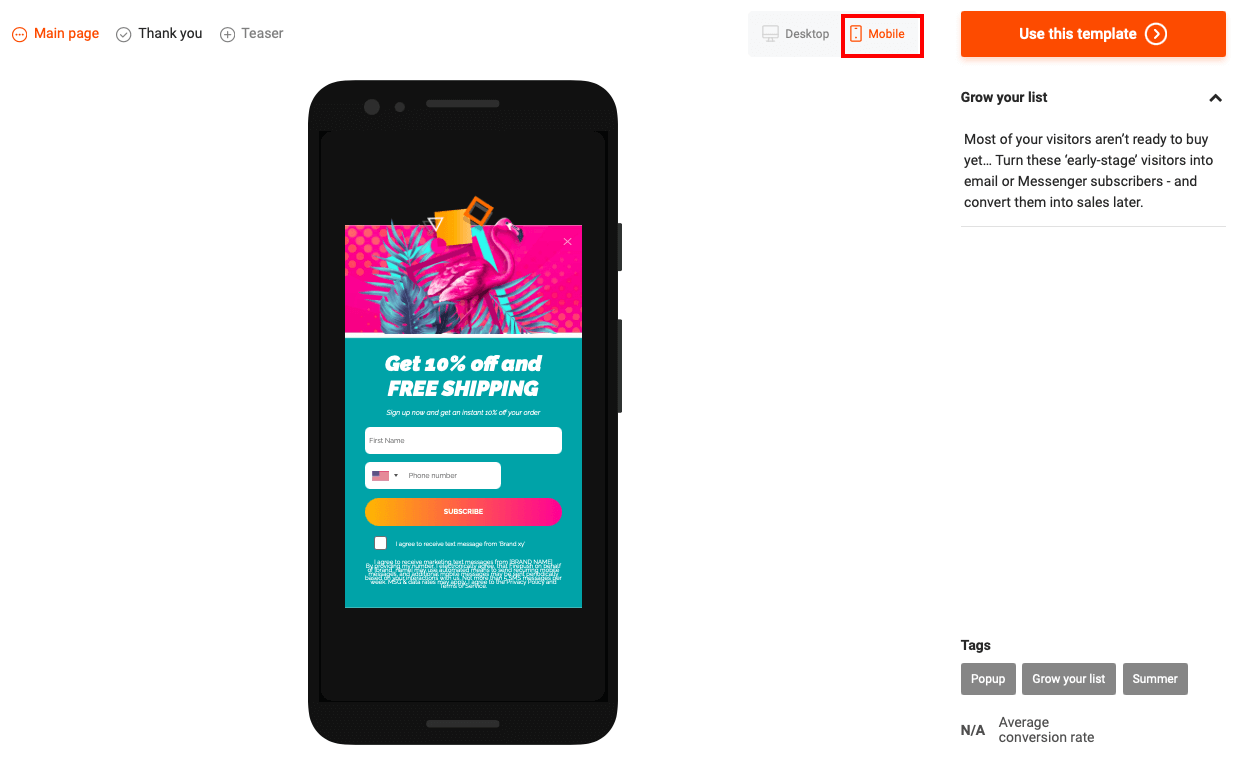 Follow the steps to create a mobile popup:
Choose from any of the SMS marketing popups from our special Firepush Collection
Make desired design changes using our drag-and-drop template builder
Set the popup to target mobile users in the configurations menu
Configure the popup to target mobile users by clicking "+Add more triggers" under "When would you like the popup to show up?"
Simply choose one or more conditions in this menu.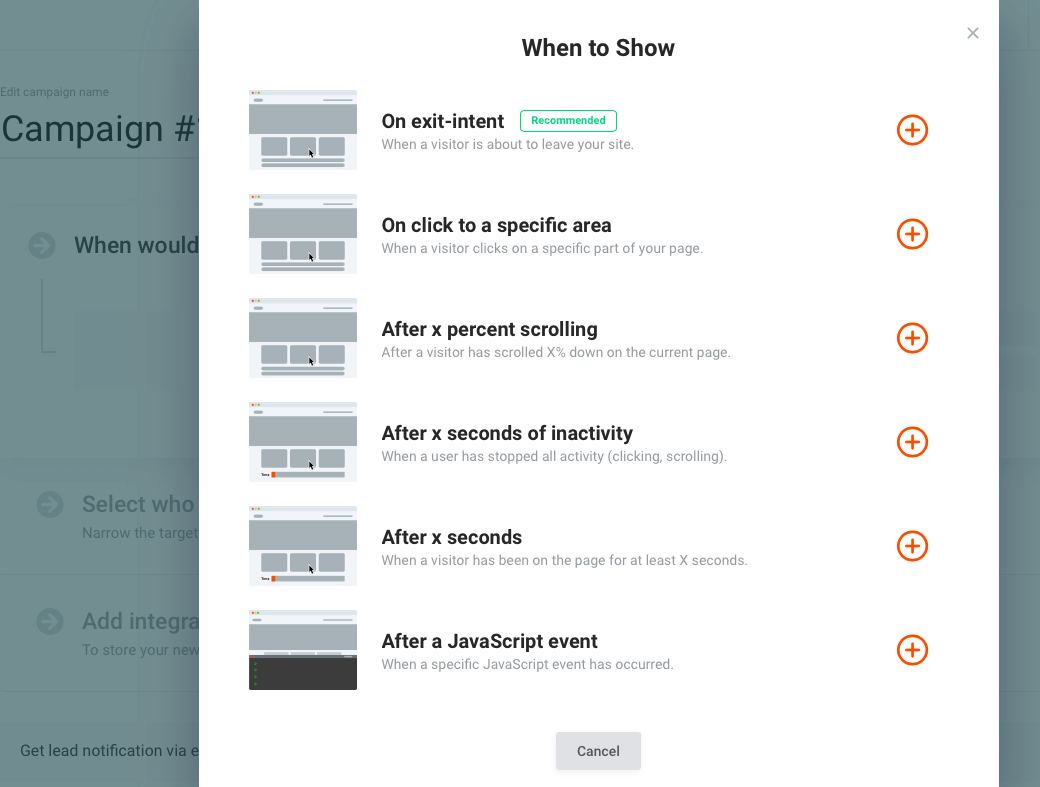 Then choose whether you want your popup to target desktop users, mobile users, or both.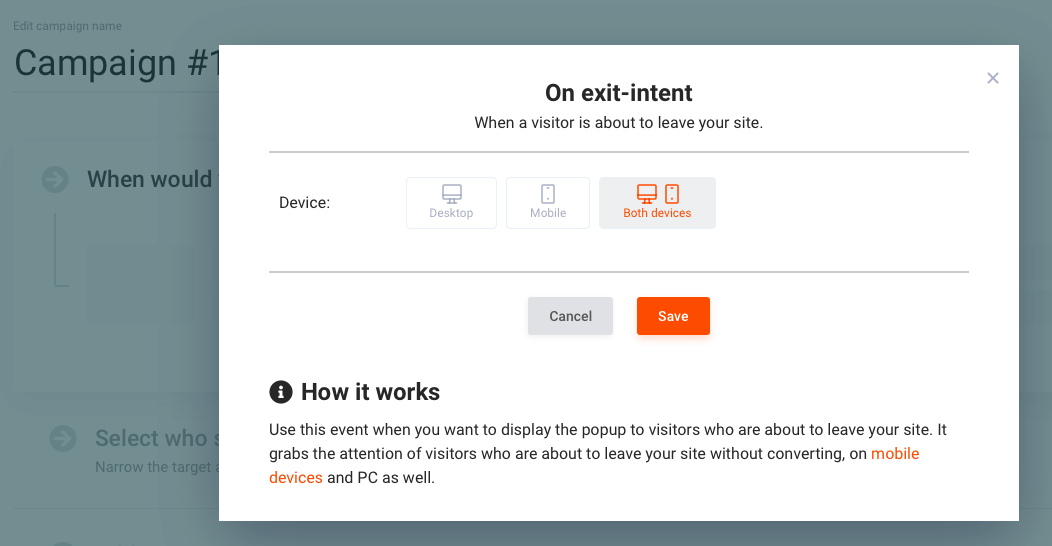 Collect SMS Subscribers: Summary
Growing your list of SMS subscribers isn't much different than capturing leads for email marketing. All you have to do is add intelligent popups to your website that target the right visitors at just the right moment.
OptiMonk's fully customizable SMS subscription templates let you add popups to your Shopify store in minutes. Use OptiMonk to capture leads, then connect with subscribers using Firepush's omnichannel marketing tools. Launching an excellent SMS marketing campaign has never been easier.
P.S. Want to get in on some little secrets and marketing tips for boosting sales and driving conversions?
Join OptiMonk's Ecommerce Revolution Community on Facebook to gain exclusive access to live webinars, Q&A sessions with ecommerce experts and a range of other valuable resources to help you with your ecommerce journey.