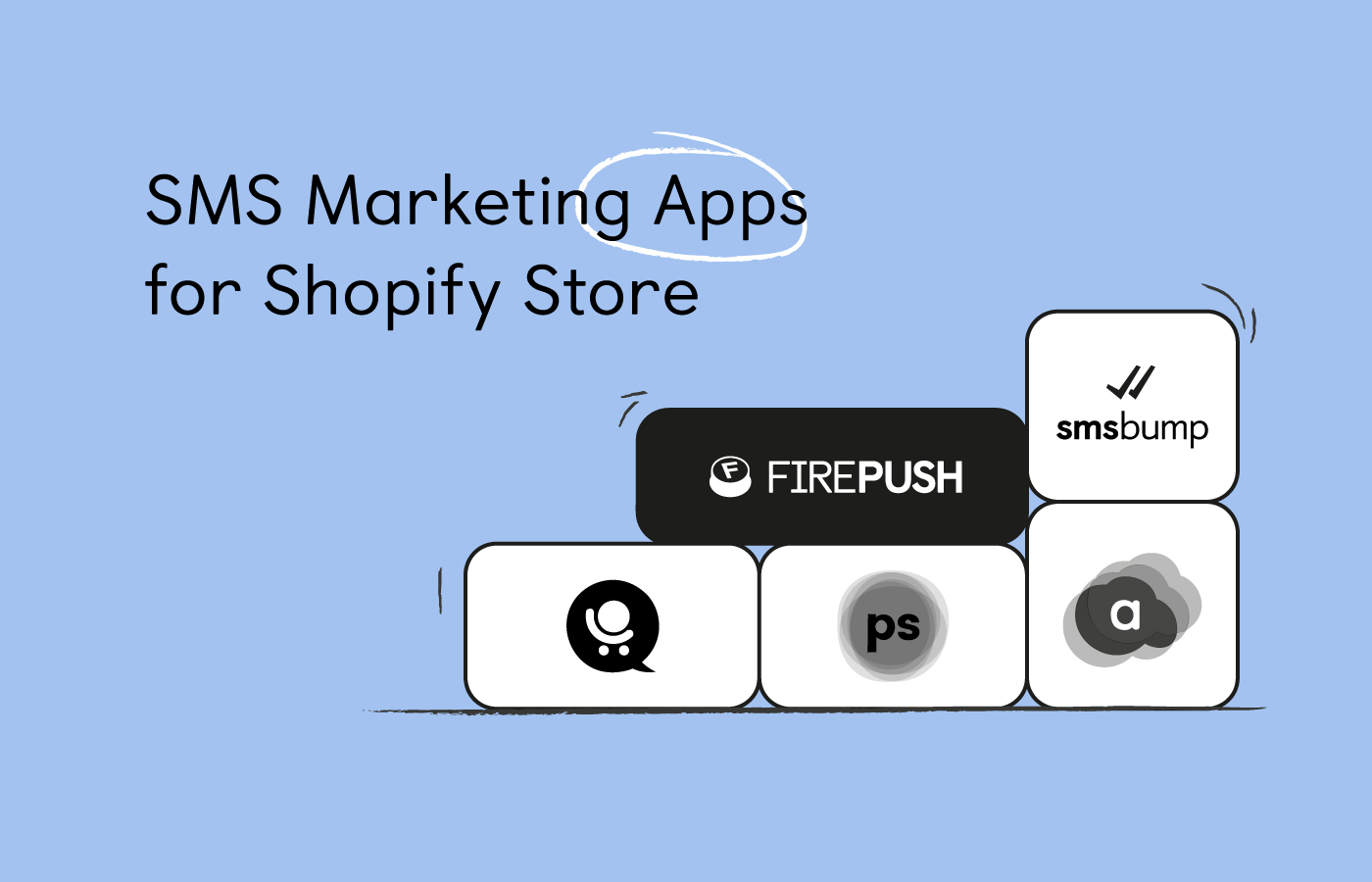 SMS conversion rates are on the rise, and more and more companies realize that SMS marketing is a great way for Shopify businesses to increase sales and connect with subscribers.
However, SMS campaigns include many steps, such as collecting contact details, setting up different strategies, and, of course, sending messages to subscribers. SMS marketing apps can automate all these tasks, and there are many services out there to choose from.
How to pick the best SMS marketing app for Shopify? How to be sure that the app will help you generate more revenue? If you want to find out, keep reading because we reviewed the best SMS apps for Shopify and listed their most useful features so you can easily pick what app is the best for your business.
What is SMS Message Marketing?
SMS message marketing is sending SMS messages to deliver promotional campaigns to customers for marketing purposes. Also called text message marketing), SMS marketing allows customers to opt in to receiving text messages like sales, promotions, and order updates.
Feeling more confident to try apps for text marketing? Let's review the top-rated SMS text marketing software for Shopify businesses.
Best Shopify SMS Marketing Apps
Numbers 6-11 of best SMS marketing apps for Shopify
1. Firepush
An easy-to-use Shopify SMS app with customer segmentation and automatic text message campaigns to share promotions and recover abandoned shopping carts.

What you will like:
Send your customers SMS with sales notifications, discounts, and coupons
11 SMS marketing campaign types for different strategies
SMS templates for easier campaign creation
Bulk text message campaigns to thousands of susbcribers
Manage three marketing channels (SMS, push notifications an email) in one single dashboard.
With Firepush, you can send SMS for any kind of customer interaction (welcome messages, order confirmations, delivery updates, price drop, loyalty discounts, etc.). This way, you'll create a more personal customer experience with your brand.
You can also check Firepush reports to know how well your Shopify SMS marketing campaigns are selling. Whether it's cart recovery, discount, or promo campaign, you'll see where your text message marketing is working. Here's an example of such a report (from a real Firepush user).

Of all options here, Firepush's ability to increase sales makes it the best SMS marketing app for Shopify stores:
Pricing: Free plan. Premium plans start at $15/month.
2. SMSBump
Create SMS and MMS campaigns and monitor analytics like order tracking, link clicks, and conversion rate.

What you will like:
Automated SMS and MMS campaigns
SMS segmentation for effective customer targeting
A/B testing of text message campaigns.
SMSBump is an all-in-one SMS app for Shopify stores. You can create TCPA-compliant text message campaigns, schedule them for later, and track performance with analytics. Multiple campaign types are available, including customer activation and Shopify cart recovery.
Analytics is simple in this Shopify text message marketing app. Users can track many SMS campaign stats like orders made, SMS by country, clicks, and amount spent. To collect subscribers, SMSBump uses pop-ups, floating buttons, and embedded forms.
Pricing: Free. Premium plans begin at $19/month.
3. SMS, WhatsApp, Abandoned Cart (by Sendmation)
Marketing application with features for SMS marketing, WhatsApp chat, and an abandonment protector.

What you will like:
Customizable SMS marketing automation
WhatsApp chat button for quick support
Automated campaigns for abandoned cart recovery
Multi-channel re-marketing platform Sendmation has released an app for SMS marketing automation. The app focuses on re-engaging users with automated push notifications, text messages, and emails. These can be triggered at your chosen time, so once you set your preferences, the app does the rest for you.
Built-in analytics allow tracking all the sales data in real-time. If you see that some of your campaigns are not performing as well as you expected, you can easily change the settings and launch new campaigns.
Pricing: Free or $14.95 a month.
4. Postscript SMS Marketing
A complete text message Shopify app for full SMS marketing automation.

What you will like:
Automated text message marketing campaigns
ROI tracking and analytics for SMS text marketing
Customer segmentation for personalized marketing.
With Postscript SMS Marketing, you can build a TCPA-compliant list of subscribers and send automated ecommerce SMS marketing campaigns. Various pop-ups, email opt-ins, and landing pages are available to help collect as many subscribers as possible.
Postscript SMS marketing allows sending welcome messages, order shipping notifications, abandoned cart reminders, and loyalty offers. Each campaign has segmentation and automation resources for a more efficient workflow.
Pricing: from $25/month. A 30-day free trial available.
5. AVA SMS, Email Marketing, Pop Up (by AVADA)
An ecommerce marketing app for SMS automation and SMS newsletters delivering texts to 150 countries.

What you will like:
Ready-to-use or customizable SMS templates
Exit popups for phone number collection
Comprehensive reports for performance tracking
Avada is one of the top-rated marketing automation platforms. It covers various aspects of marketing, including SMS campaigns. The installation of the app is very simple, and using the app does not require any technical knowledge.
The app features pre-built templates for SMS campaigns but also allows saving your personal SMS templates. You can track the performance of your campaigns by analyzing SMS automation and SMS newsletter reports.
Pricing: Free for up to 500 contacts, from $9/month for more features.
6. Automizely SMS Marketing
Free SMS marketing application that helps recover abandoned carts and never compromises your clients' privacy.

What you will like:
SMS templates for abandoned cart messages
Performance analytics report to track the send and open rates
An option to set up multiple organizations and manage multiple stores
Automizely focuses on recovering abandoned carts via text campaigns. The app allows setting up the triggers to automate your SMS messages. You can decide how soon after the client abandons their online shopping basket they should receive an automated cart recovery SMS.
The app can only reach clients in the US. However, if you have clients elsewhere and want your texts to reach them, you can email the service provider and ask them to add more countries to your list. Automizely complies with TCPA (Telephone Consumer Protection Act) in the US and GDPR (General Data Protection Regulation) in the EU.
Pricing: The app is free.
7. SMSGo: Abandoned Cart Recovery
SMS campaigns for abandoned cart recovery and order notifications, and one on one texts for conversational marketing.

What you will like:
Automatic discount integration for abandoned cart SMS campaigns
Automated SMS sequences for post-purchase upsell flows
Two-way SMS communication for building brand loyalty
SMSGo has a number of features for creating a successful SMS campaign. The app focuses on abandoned cart recovery but it also offers customer segmentation for targeted SMS campaigns, automatic discount codes, and SMS upsell flows.
With SMSGo, you can shorten URLs and brand them. The app also allows one on one SMS conversations with your clients. This way, your customers can get their questions answered quickly, and you can collect instant feedback.
Pricing: Free to install, pay only per SMS or $19 a month.
8. Octane AI
A Shopify SMS app to manage Facebook Messenger and text message campaigns in one place.
What you will like:
Shopping quizzes for customers to find which products they need
SMS and Facebook messaging to recover abandoned carts
Facebook ads are based on customer insights.
Octane AI is an all-in-one Shopify app for email, Facebook, and SMS marketing. You can capture leads with Facebook ads, Messenger opt-ins, and pop-up windows. The app also gives a small selection of TCPA-compliant lead capture options with an easy subscription.
Quizzes are a unique feature in this Shopify SMS app. You can create one for your Shopify store (no coding needed), record customer preferences and lead visitors to products based on their answers. But there are only three quizzes, even in the most expensive plan.
Pricing: from $29/month ($0.015 per msg, limited to 250 customers).
9. SMS Text Messaging & Marketing
Customized SMS and MMS texts with GIF, png, and jpeg elements for engaging SMS marketing campaigns.

What you will like:
Customer segmentation based on Shopify store's data (location, last bought, etc)
Automated text messages triggered by customer actions (new purchase, cart abandonment, etc)
Customer profile history shows how they reacted to your SMS campaigns
SMS Text Messaging & Marketing app by Lazer Technologies encompasses many useful SMS marketing features. The app is easy to set up, and can seriously boost your sales. It features client segmentation, which is a great way to increase client engagement by sending targeted text messages.
You can build the SMS subscriber base with custom keywords, pop-ups, and links. The app provides reports that will show how much revenue you produced with the SMS campaigns, the CTR of your texts, and conversion metrics. If you want more features, you can always get in touch with the service provider. They promise to do their best to add your wanted feature.
Pricing: Free to install, charges per SMS depending on the location.
10. Tobi: SMS & Messenger Marketing
A text message marketing app that combines SMS & Facebook Messenger to reach more customers.

What you will like:
Order updates and promotional SMS & Facebook messaging
Shopping cart recovery via Messenger and SMS
Custom Facebook Messenger menu.
With Tobi, you can do Shopify SMS marketing for restaurants and small online stores. Since many customers choose to contact businesses via social media, Tobi can help connect with them there. Text message marketing service in Tobi is designed to send bulk SMS discounts and order updates. There are also pre-written SMS templates to save you time.
Pricing: Plans start at $18.85 (price per text message for US customers: $0.0199).
11. Cartloop SMS Marketing
Conversational SMS marketing platform for maximum client engagement and more sales.

What you will like:
Live SMS Concierge to recommend items and guide clients through their shopping
Subscriber base growth via pop-ups, keywords, Instagram sign-up links, and QR codes
Personalized text messages with a human tone
Cartloop focuses on building a relationship with your clients via SMS messages. The app can guide your customers through an entire shopping journey without you having to lift a finger. All the messages are built to resemble a real human conversation and create a personalized shopping experience.
The app features segmentation for personalized SMS campaigns, it customizes short links for brand promotion, and provides discount codes to your clients. It also collects cart abandonment insights to suggest why your clients might be churning.
Pricing: 14-day free trial. After that, from $49 a month.
Shopify SMS Marketing Apps: Summary
Text message marketing allows businesses to send promotional and transactional SMS messages to customers and subscribers. Your Shopify store can sell more by letting their customers know about sales and order delivery updates via text message marketing apps.
Once again, here are the best Shopify SMS text marketing apps:
Firepush
SMSBump
Sendmation
Postscript SMS Marketing
AVADA
Make it easier for yourself to do Shopify marketing with text messages. You will automate getting text message subscribers and sending campaigns–two major time-eating tasks. If you need a recommendation—try Firepush. This app has a healthy 4.8 rating, you'll get a free credit, and a one-on-one consultation to create an SMS marketing strategy.
Firepush offers dedicated support and FREE consultations to find right strategy for you
Book my demo