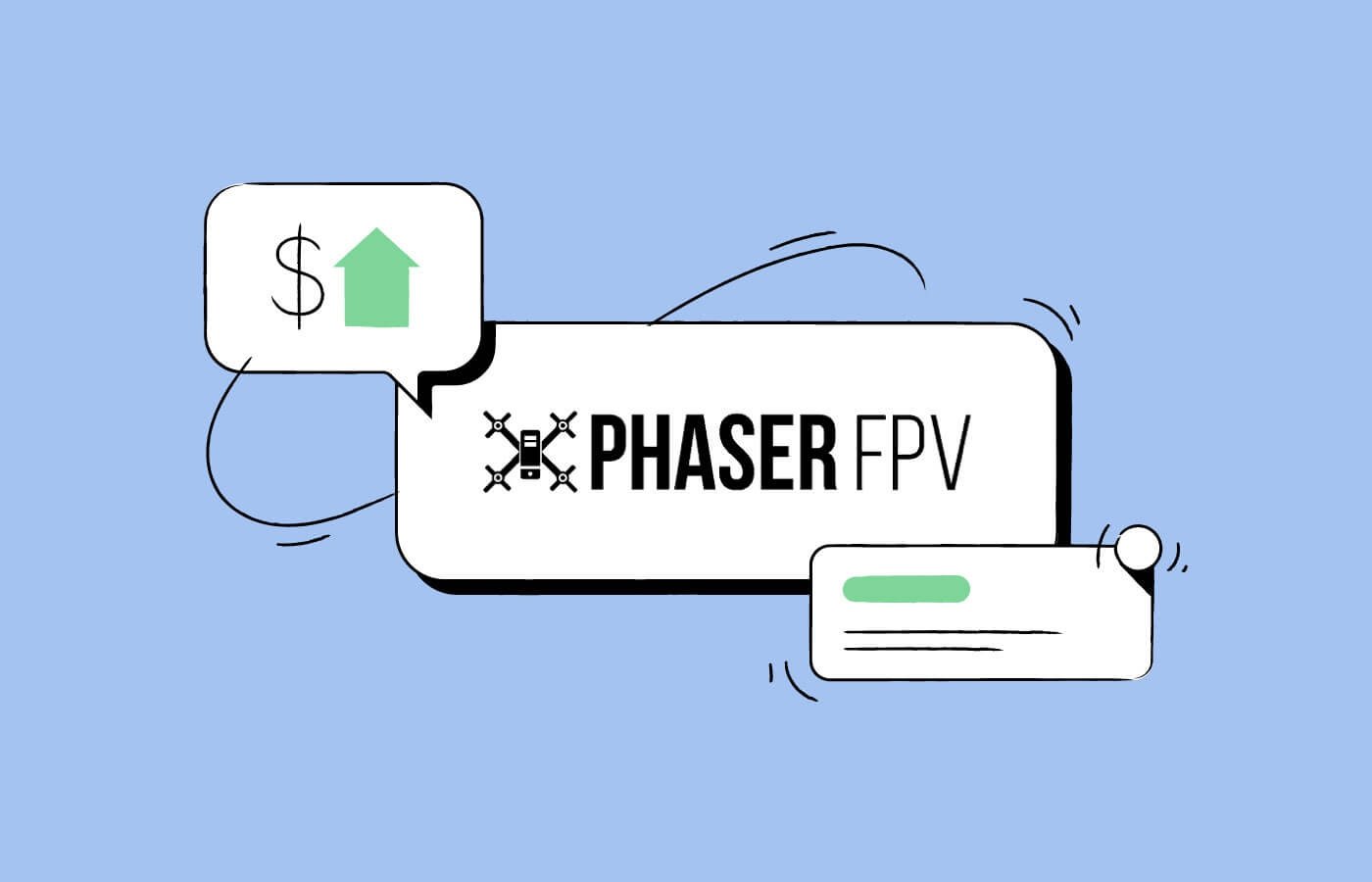 "We use push notifications when we really want to make sure no one misses out. If there's a big product just in that we know is popular, we want to tell everyone – so then I'll use a Power Push."

Rhys Evans, Founder of Phaser FPV
Total number of push subscribers: 4,205
Total number of pushes sent: 60,754
Total number of orders from push notifications and SMS: 1,202
Most used push notification type: Power Push
Most effective push notification type: Abandoned cart push notification
USD in revenue generated per abandoned cart push notification: 10.2 USD
Percentage increase in Black Friday revenue since using Firepush: 81%
This case study will take a deep dive into the omnichannel marketing strategy of a niche consumer electronics store - Phaser FPV.
This strategy, and the insights it is based on, can be applied more widely, and are especially relevant to Shopify stores with high rates of returning customers. So, before we take a look at Phaser FPV specifically, it's worth considering a couple of general points related to the customer relationships that typically develop with consumer electronics ecommerce stores.
Consumer electronics - a specific customer relationship
Customers build a real passion for, and affinity with, consumer electronics brands. One reason for this is that these devices are often connected to a hobby or activity the customers are hugely passionate about. From fitness trackers, to GoPro cameras to wireless headphones, consumer electronics are there to enhance an activity - like jogging, snowboarding, or DJing - that means a lot to the customer.
What does this mean for consumer electronics ecommerce?
Well, for starters, it means that customers are likely to build long-lasting relationships with both brands and ecommerce stores. For an extreme example, consider Apple.
According to estimates, there are 180 million customers who spend over $500 on Apple products. Every. Single. Year.
In other words, Apple has a large number of high-value returning customers. These people are devotees of Apple's products, tracking the brand's every move and eagerly awaiting the next launch.
While Apple are at one end of the spectrum in terms of size, at the other extreme there are niche ecommerce stores catering to enthusiasts of a particular hobby or activity. While the number of customers may be smaller (in this case study, we're looking at a customer base of around 1,000), the opportunities are still significant. That's because, just like with Apple, many of these customers will return again and again to make purchases. In the case of Phaser FPV, one customer has placed over 200 orders. Building racing drones (the parts for which Phaser FPV sell) is this person's passion, and once they have found the right ecommerce store to meet their needs, they will keep coming back.
The best approach for niche consumer electronics ecommerce stores
This case study gives a full picture of the strategy Rhys Evans, owner of Phaser FPV, has used. Here's a quick summary of the main features of this strategy:
Email: Use regular email newsletters (one or two per week) to keep the main contingent of your audience engaged and up to date.
Automated pushes: Set up automated push notifications to provide valuable information to customers on your stock and inventory. Rhys has automated Price Drop and Back in Stock Messages set up.
Power pushes: Use Power Pushes to inform your audience of major new product arrivals or discounts, or when popular products that sold out are now back in stock.
Bulk SMS campaigns: Once per year, for the Black Friday weekend, use bulk SMS campaigns as well - your audience is unlikely to tolerate SMS campaigns all year round, but will be responsive over Black Friday when you're sharing deals with them.
Abandoned cart messaging: Set up abandoned cart push notifications and abandoned checkout SMSs over the Black Friday weekend. Leaving these running all the time will frustrate returning customers, but they are worth using over Black Friday.
Omnichannel approach: Ensure your Black Friday communication is truly omnichannel - set up filters to ensure that if a customer places an order after one interaction (for example, clicking through an email), they no longer receive push notifications or SMS for the remainder of the Black Friday weekend.
That's the bare bones of Rhys' strategy. Now let's take a closer look at his store, how he came up with this approach, and the results it has brought him.
Add Push Notifications to your marketing mix with a FREE Firepush plan
Try today
How Phaser FPV was born
Phaser FPV is a Shopify ecommerce store in Australia that specialises in parts and accessories for FPV (first-person view) drones. Rhys first discovered FPV drones in 2015, when he was already a successful ecommerce entrepreneur. But this discovery would come to shape both his business and his leisure time.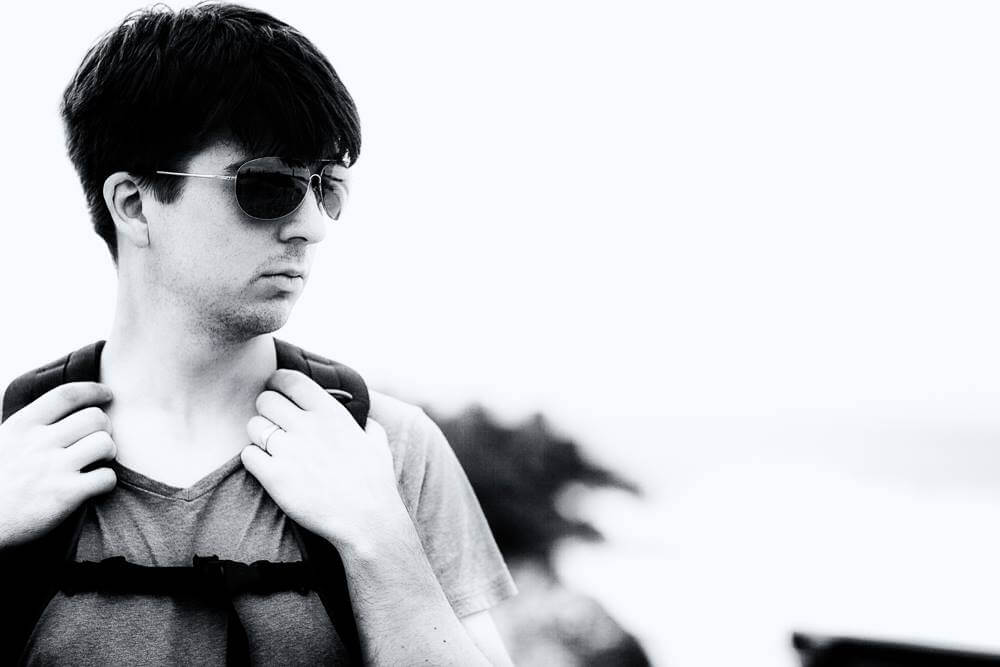 Rhys set up his first ecommerce business in 2012, a site selling computer parts and accessories. And it was through this business that Rhys first discovered FPV drones. "One day, a supplier I worked with sent me a link to a drone," explains Rhys. "he told me he was going to get one and asked if he was interested in having one too. I jumped at the chance, and pretty soon I was hooked."
A committed community of enthusiasts
As the name First-Person View Drone suggests, FPV drones create the experience of actually flying using a camera on the drone itself, and a headset worn by the pilot.
FPV drones can reach speeds of up to 200KM per hour in just a few seconds. And racers meet on weekends to pit their drones against one another on aerial race tracks. "There are about 5,000 people who do it in Australia, so it's still quite a small market," Rhys points out. "In the US it is like 15 times that. And I'd say in Australia there's about 500 to 1000 active pilots."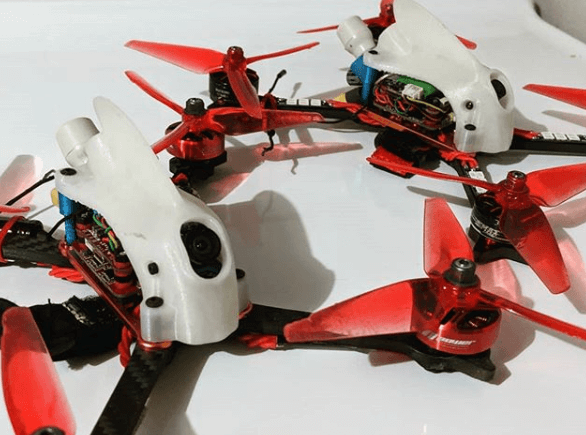 A key element of this pastime is developing your drone – adding accessories or modifying it to give you a racing advantage. Plus, these drones require maintenance. This means that there is a significant market for parts and accessories. Realising this, Rhys began adding one or two FPV drone products onto his computer ecommerce site. The demand was huge. Within a year, he was selling more drone products than computer ones.
Given his natural interest in the area, shifting his focus more towards drones was a natural move. So he set up phaserfpv.com.au, an ecommerce store that stocks some of the biggest drone technology brands, including TBS and Insta360 One R, and popular accessories like Fatshark Goggles.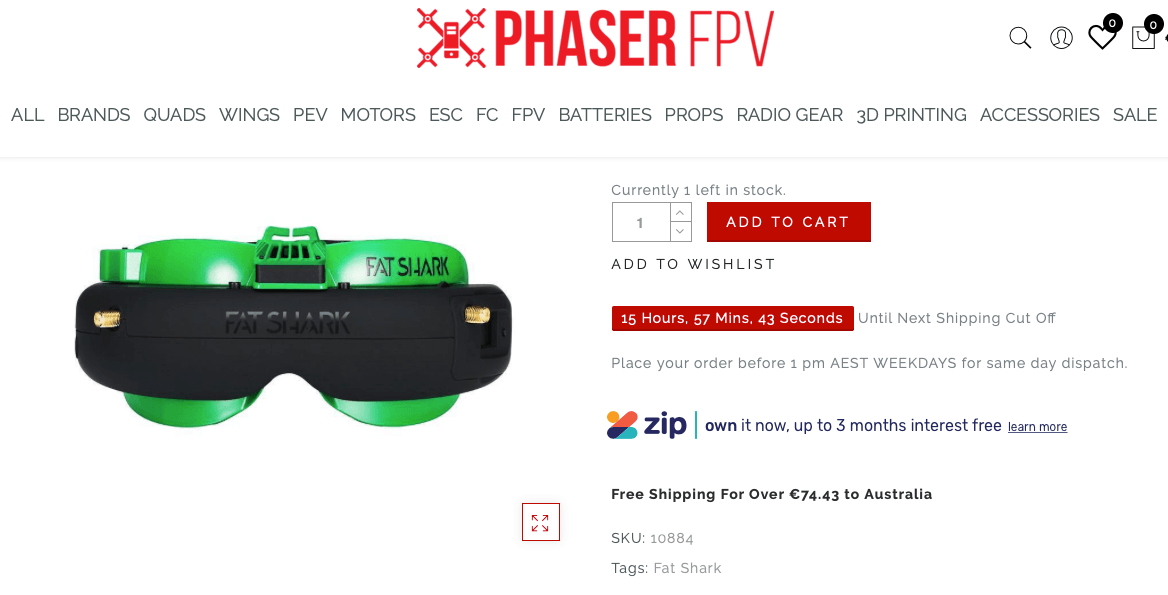 Fatshark googles create an immersive race experience for FPV drone pilots like Rhys
An ever-growing range of products
As his ecommerce business has evolved, Rhys had added more dimensions to his product offering. "Drone owners will often use 3D printers to print off parts they need," says Rhys. So a natural development was to then start selling parts and consumables for 3D printing. Rhys has added products such as E3D Hotends and esun filament to his product range. He also set up phaser3D.com.au - "People can go to that site and upload an STL file, and basically you'll get a quote for your design and we'll print it for you."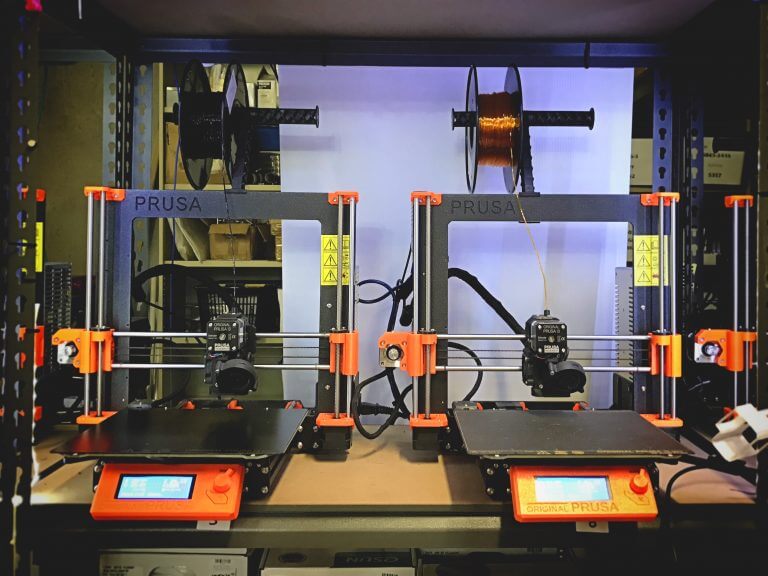 Currently Rhys' team has 18 3D printers that are printing constantly for 12 hours a day
(Source: Phaser3D)
Another product area Rhys has recently added to the Phaser store is e-vehicles. That's because many of the components used in FPV drones, such as brushless motors and LIPO batteries, are also used in e-vehicles.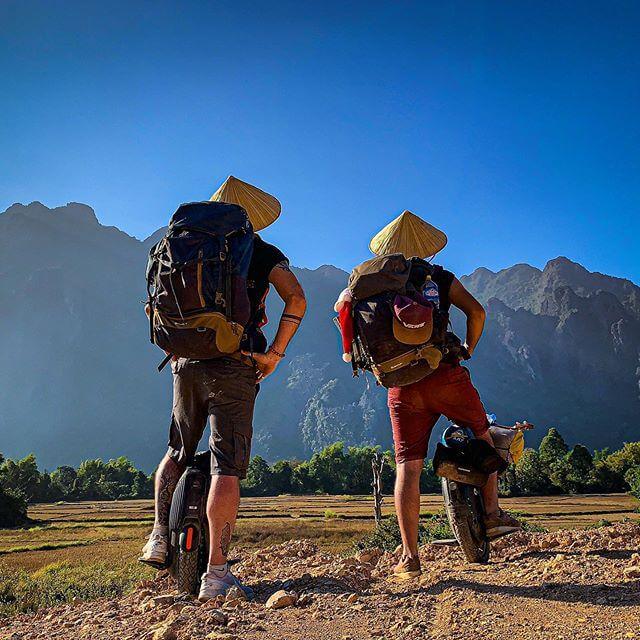 E-vehicles like the Kingsong electric unicycle use many of the same technologies that are found in drones
Products Phaser have added to their inventory include electric skateboards, electric unicycles by brands such as Kingsong, and unique e-vehicles like the Onewheel.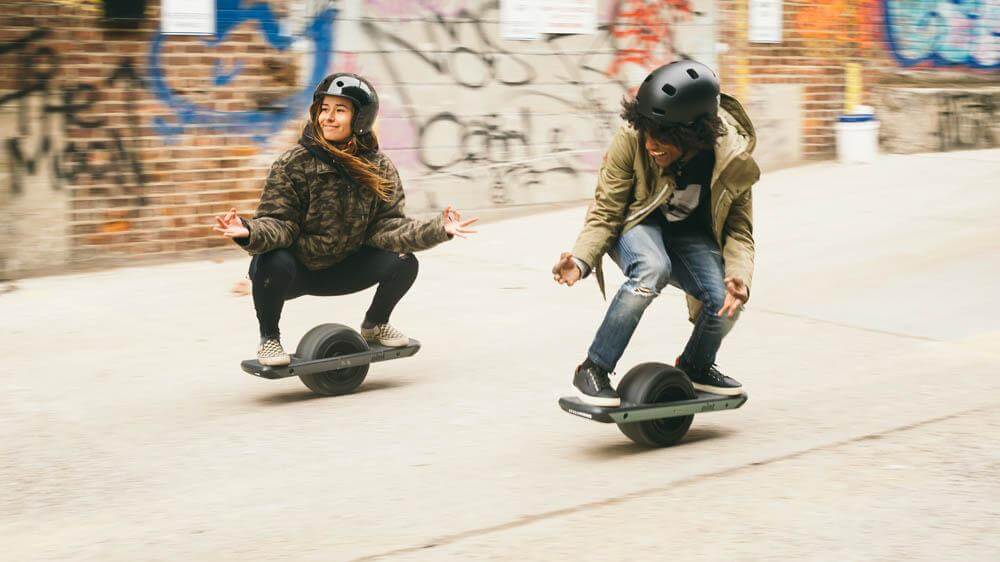 The OneWheel is one of the latest e-vehicles Rhys has added to the Phaser inventory.
High return customer rates make communication a challenge
The FPV drone, 3D printer and e-vehicle markets all consist of relatively small groups of enthusiasts who are ready to invest a lot into the gear they use. "It's a small community, so we have about an 80% returning customer rate," Rhys says. The upside of this is that Rhys does not need to invest a huge deal in awareness raising and brand building. "I use some Google ads, but the main source of traffic to the site is organic. There's a lot of word-of-mouth because it's a small community."
The challenge for Rhys is to develop a communication strategy that keeps his audience engaged, giving them the updates they want without feeling like they're being spamed. Annoying even one customer by messaging too frequently or through the wrong channels could have major consequences. "There's one customer that's placed 200 orders with us so far," explains Rhys. "Most people who find us and get into the sport are buying weekly. So it's really important to keep our customers happy and engaged, without feeling like they're being spammed."
Complementing email campaigns with SMS and Push notifications
Before discovering Firepush, Rhys was already sending a regular weekly email newsletter to his subscribers. However, he noticed that some customers would often miss his emails, and therefore miss out on deals or popular products.
"A really busy businessman is often not going to see your emails because their inbox is flooded. So they might not ever get to it." This was especially an issue on the Black Friday weekend, when Phaser ran various sales promotions.
So, when Rhys noticed a competitor using push notifications to communicate with customers, he saw an opportunity to improve his communication by using an omnichannel approach. He could keep his weekly email newsletters going, but use pushes and SMS to engage with his audience in a more visible way when needed.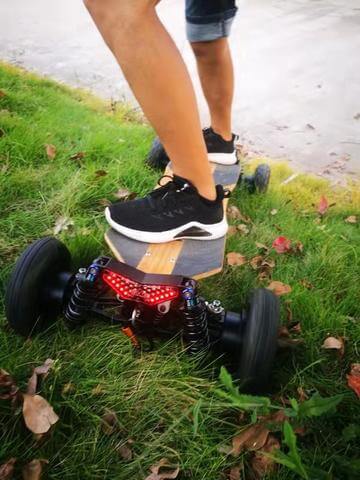 When in-demand new products are in stock, like this electric skateboard, Rhys uses Power Pushes to ensure all his customers know
In Spring 2017, he added Firepush to his Shopify store, and hasn't looked back.
High-Flying Black Friday sales
Since incorporating Firepush SMS and push notifications into his marketing, Rhys has seen his Black Friday revenue almost double. "In 2017, we did almost no marketing. In 2018 we started using Firepush more, and in 2019 we pushed it a lot."
Over that period, Phaser's Black Friday revenue grew almost two fold. On Black Friday 2018, he used a bulk SMS campaign that generated over 20% of his revenue for the weekend. And the following year he further developed his strategy.
"For Black Friday 2019, we set up abandoned checkout SMSs and also ran a bulk SMS campaign. This was based on suggestions from Tom (CEO of Firepush.) We don't have these on permanently because return buyers would get annoyed. If we were a one product store where customer lifetime value was low, abandoned checkout SMSs would work really well. For us, we have customers browsing the site every week, so there's no need to overdo it. They already receive emails, plus web browser push notifications, so having SMS on all the time isn't necessary."
"But for Black Friday we figured we would use it. We ran a bulk SMS campaign where we offered a 10% off store wide deal. That got 131 clicks and brought in 25 orders. Plus we set up the abandoned checkout SMSs to run over that weekend."
Phaser's Black Friday SMS campaign in numbers
Rhys achieved a 12% open rate on his SMS campaigns.
He generated around 2.25 USD for every SMS sent.
Open rates on abandoned checkout SMSs were 14%.
He generated nearly 5 USD for every abandoned checkout SMS sent.
"We also ran a Power Push over the Black Friday weekend for a deal of up to 50% until Cyber Monday. That one Power Push brought in over 10% of our Black Friday total."
Rhys also set up abandoned cart push notifications to run over the weekend. As with abandoned checkout SMS's, Rhys likes to restrict his use of these messages to the Black Friday weekend. But for these sales periods abandoned cart messages have been highly successful, bringing in over 700 orders in the past two years.
Phaser's Black Friday Push Notification campaign in numbers
Abandoned cart push notifications on the Phaser store achieved a 12% open rate.
In total, Phaser generated a massive 10 USD in revenue for every abandoned cart push notification sent.
Overall, Power Pushes achieved a 4% open rate for Phaser, and generated over 10% of total Black Friday revenue in 2019.
An omnichannel approach to Black Friday communication
Over Black Friday, Rhys was keen to make sure the messaging from his different channels was coordinated.
"Over Black Friday, first I send email newsletters – I start these on the Thursday. Then I follow up on the Friday and Cyber Monday with SMS and push notifications. I wanted to make sure that people who had made a purchase after receiving the newsletter didn't then receive the push notifications or SMS, as this would be irritating for them. So Tom added a filter that enabled me to remove people who had made a purchase in the last 2 days."
This ensured all of the communication channels Rhys was using for Black Friday were coordinated, which ensured the best user experience for his customers.
Automated push notifications to keep customers engaged
Along with using SMS and push notifications to maximise his results over the Black Friday weekend, Rhys has also set up some automated push notification messages. These enable him to provide valuable, up-to-date information to his customers without inundating them with messages. This type of relevant, value-driven communication is a great way to improve customer loyalty without being too invasive.
"We use Price Drop alerts and Back in Stock notifications. We also send one delivery notification when the goods are on the way."
Rhys uses Back in Stock push notifications to automatically inform customers when a product they are interested in is available again. With a 24% open rate, these messages are clearly relevant to the Phaser customer base.
"We also do Power Pushes when we have really popular products that are back in stock. We use them when we really want to make sure no one misses. If there's a big product just in that we know is popular, we want to tell everyone – so then I'll use a Power push. Emails are for the regular updates, but then pushes are more likely to grab the attention of people who maybe don't read every email."
Another message type with high engagement levels are the Price Drop Alert pushes Rhys uses. 19% of these messages - which notify customers when the price of a product they are interested goes down – are opened.
Finally, Rhys also has product delivery updates set up, which means his customers receive a push notification when their delivery has been dispatched. With a high level of return customers, providing this level of customer service is an excellent way to keep them happy and encourage customer loyalty.
Phaser's regular and automated push notifications in numbers
Back in Stock push notifications have a 24% open rate.
Of those who open Back in Stock notifications, 16% make an order.
Welcome messages to new subscribers also perform well, with a 13% open rate.
Rhys using price drop alerts sparingly, but to good effect, generating 15 orders from just 417 pushes sent.
Recover abandoned carts to boost revenue and improve ROI with Firepush
Install Now
Personal support and advice from Firepush
One feature of using Firepush that stands out for Rhys is the level of responsiveness from Tom, the CEO, and his team.
"I am the only one on my team who uses Firepush," comments Rhys. "It's straightforward to use, but in a couple of cases there have been some options that weren't available. I have regular chats with Tom – I have him on Skype. So I just asked him to add these options, and wherever possible he does."
"Firepush have been really good in terms of support. I even talked with Tom for an hour at one point about ecommerce marketing in general. His ecommerce site is pretty similar to mine numbers wise, so we had a chat about that, which was super helpful."
Book your free demo with Tom see Firepush in action for yourself
Book Demo