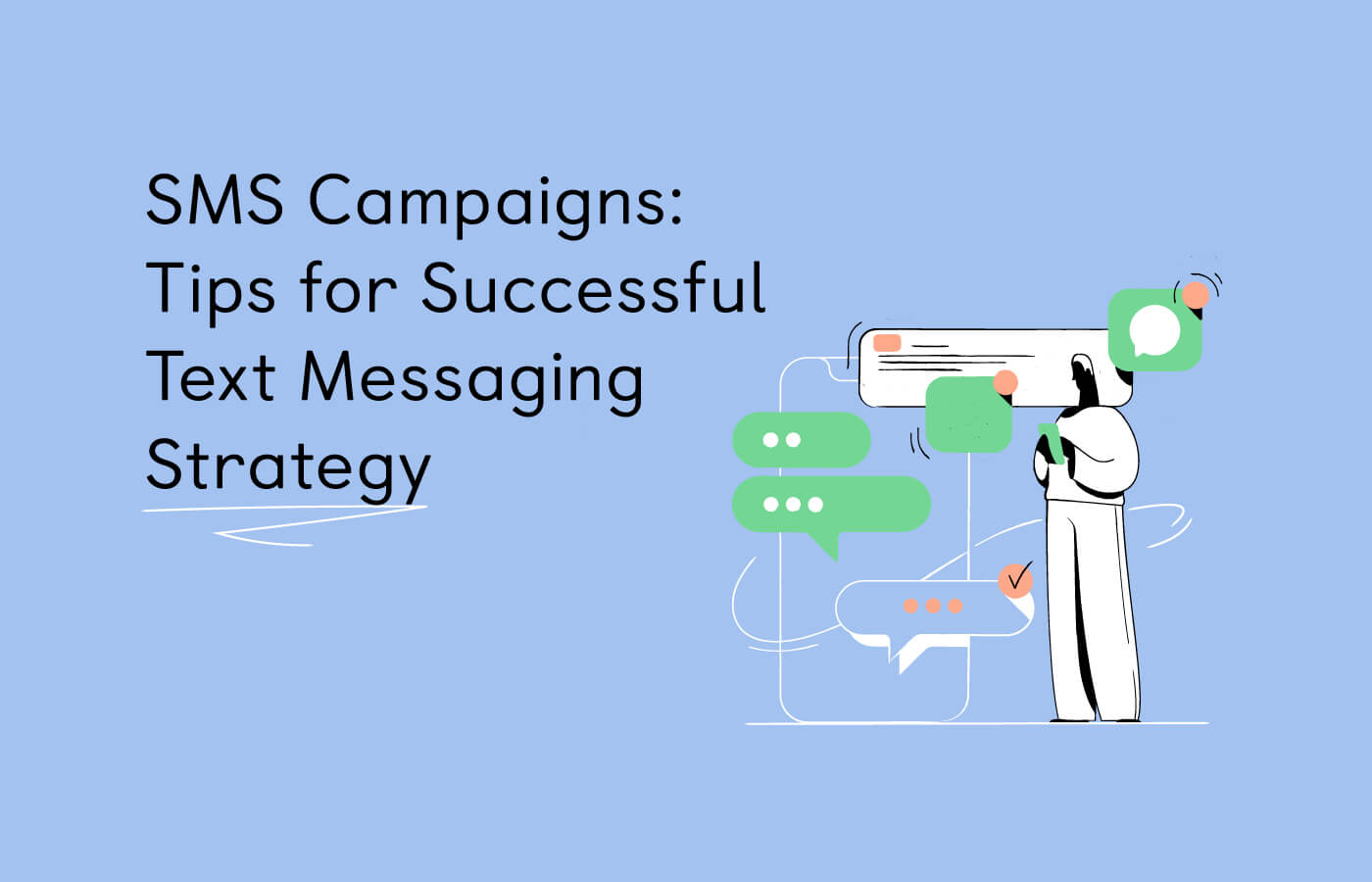 Overflowing inboxes and never-ending social media feeds are making marketers look for new ways to reach their clients. But completely new ways are not the only answer. SMS marketing, which can sometimes sound old-fashioned and irrelevant, is anything but that.
SMS marketing is the best channel to get people engaged because it has impressive open rates. Studies show that SMS messages have a 95% open rate, which is the highest open rate compared to any marketing channel.
In this article, you'll find out why text marketing campaigns are important for Shopify store owners and how to create successful texting strategies. We'll suggest apps that can automate SMS marketing campaigns and help you track the results of your efforts. But first, let's see what an SMS campaign is.
What is an SMS campaign?
SMS campaigns are text marketing campaigns, where companies use a Short Message Service (SMS) to approach their clients. Text messages enhance communication between companies and their target clients. SMS texts have a very high open rate, so companies can rely on these campaigns to bring more engagement from the customers than any other marketing channel.
Shopify store owners use SMS message campaigns to send information about their discounts, new products, and promotions directly to subscribers' mobile devices. Text messages are often incorporated into marketing campaigns, but they can also make up an independent text messaging strategy or work to support an overall company's marketing strategy.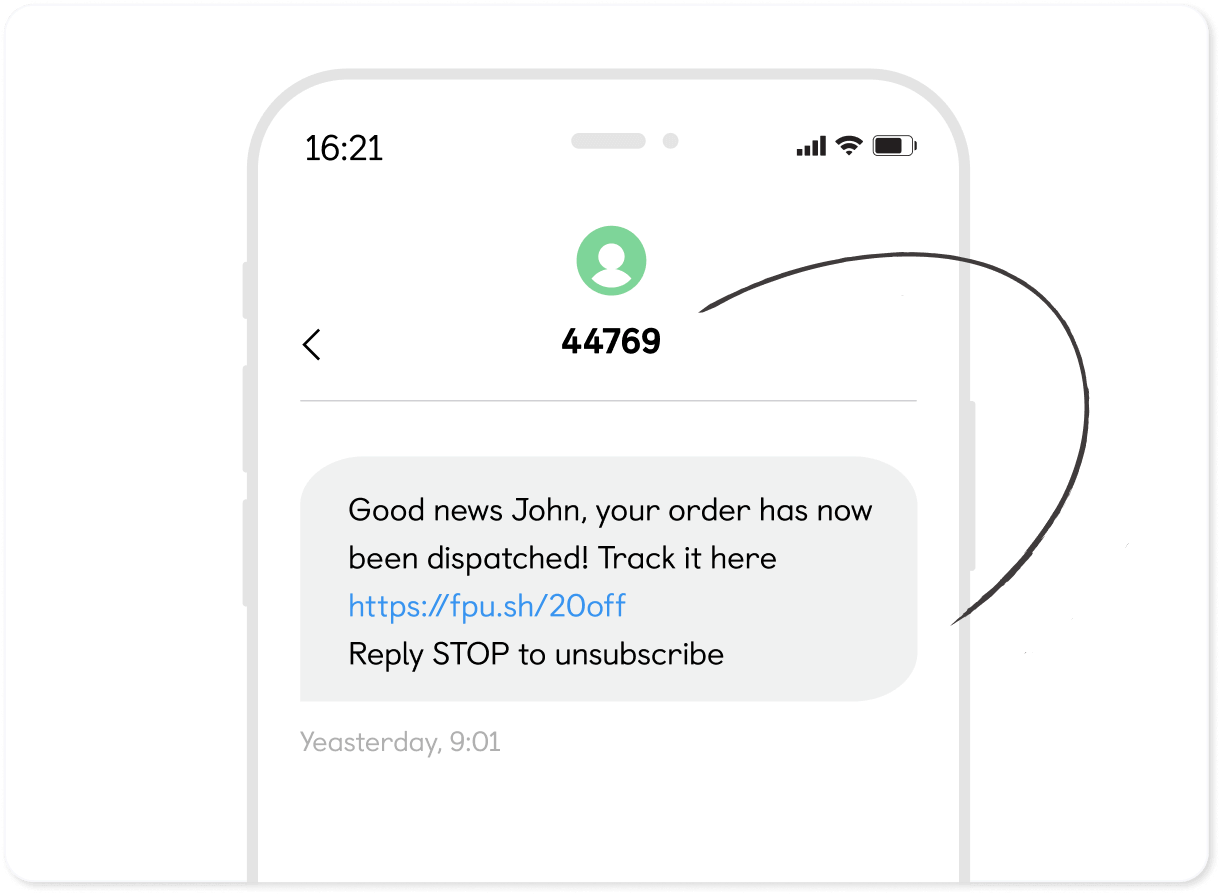 Why is SMS marketing important for businesses?
Text messages have the highest engagement rate compared to any other marketing channel. If you want to make sure that your messages reach the clients, send them via an SMS. Why?
You can use SMS marketing along with your other marketing channels such as emails or social media.
It's a great way to inform subscribers about new offers, provide incentives for loyal clients, send vouchers and special codes.
Tracking the performance of your SMS marketing campaigns is easy with third-party SMS marketing apps.
You can reach a broad audience because text messages reach even those who do not have access to the internet.
SMS messages have a high response rate, so you can use them to send surveys and collect feedback from your subscribers.
How to create an SMS campaign
There are many different ways to run an SMS campaign. These ways will depend on the app you choose to automate your work. But to create a successful SMS campaign, you should follow some general good practices:
1. Think about the audience
It's important to choose the right tone when you approach your clients. To do that, think about your brand and your target customers. What language do your clients speak, and what is your relationship like? Are your clients mostly students, who appreciate discounts, or environmental activists who are interested in how you create your goods? Adapt your tone to your audience to create the best relationship.
2. Add value
Each message you send to your clients should bring value. Why should the recipient read the text, and why should they do what you ask? Offer something to get your subscribers interested but remember to keep it short. A good example would be a text that informs the client about a new product and offers to get it at a discounted price for a limited time.
3. Have a clear goal
The best SMS marketing campaigns have a clear goal. Are you trying to get more customers to come to your website? Are you aiming to grow your returning client base? Do you wish to get more attention to your social media posts? Know the goal that each SMS ad should reach, and then follow its performance to see if it worked. If it doesn't work, you'll know to improve your strategy.
4. Don't abuse the texts
While an occasional message with a good offer is more than welcome, frequent texts at random times may get clients frustrated. You should start with a small number of messages, for example, 4 or 5 texts a month, and slowly grow the number. However, you should also give the subscribers an option to opt out at any time if they do not wish to continue receiving the messages.
Best SMS marketing apps
The best way to approach SMS marketing is by using an app that automates all the processes. These apps have loads of features that help you manage your SMS marketing campaigns from the beginning to the very end.
We have published a detailed list of the best Shopify apps for SMS marketing, and here are our top three messaging apps:
1. Firepush

Firepush has everything you may need for effective SMS marketing. The app allows sending texts for any kind of customer interaction, such as welcome messages, abandoned cart texts, price drops, and others. It offers 11 campaign types to suit different SMS marketing strategies.
The app provides extensive reports that help you analyze your marketing results and follow what campaigns are performing best. With Firepush, you can manage SMS, push notifications, and email campaigns via one convenient dashboard.
2. SMSbump

SMSbump allows automating SMS and MMS campaigns, creating SMS segmentation, and A/B testing message campaigns. The app also provides detailed analytics of your SMS marketing campaign performance. You can filter the statistics to see how many orders came after your texts, what country they came from, and how many clicks you received.
3. Privy
Privy offers two types of SMS. One can be sent to welcome someone new, and another one for the cart recovery. The app is targeted at small ecommerce brands that do not yet need extensive features but want to try out SMS marketing.
With the application, you can also add pop-ups and banners to your Shopify store to collect more SMS subscribers.
Tips for successful SMS campaign
Building a successful SMS campaign requires time but there are things you should think about before starting the process. Here are some tips that will help you jumpstart a successful text messaging strategy:
1. Less is more
Most text messages are limited to 160 characters, so it's important to carefully think about every word you include in the message. For example, it's a good practice to reveal the main selling point in one sentence and then invite the recipient to read more about the offer on your website.
Every message should be clear and contain a call to action. They should not look spammy and should not be sent too often. Begin by sending 4-5 texts a month, and then, if you see a good response rate, slowly increase the number of SMS messages.
2. Timing matters
Good marketers should know their clients' habits. If you don't, there are ways to find out. And once you do, you'll know when is the best time to send text messages to your clients.
For example, if you see that your clients are more active in the evenings and browse your shop after work, this is the best time to remind them about your shop via an SMS. Also, if they left something in their cart, you should remind them about it in the next 24 hours.
Knowing your clients' time zone is also important. If you send them texts at 3 AM, they probably won't be very happy.
3. Build a connection
If a client responds to your text message, be ready to react. Send a response in real-time to show the customer that you're available to help whenever they need your service. Even if it's an automated message with information or a text saying that you'll get back to them in a certain time, fast responses help build a connection.
4. Track the performance
The worst thing you can do with your SMS messaging campaigns is not following any performance. This way you'll never learn if your strategy works and how to improve it.
The trial and error method is a good way to test your SMS campaigns. For example, send out a number of messages with one text, and then another bulk SMS campaign with a slightly different content. Track the performance to see which type of the messages gets a better click-through rate, and then create similar messages in the future.
5. Align your texts with other marketing campaigns
Make SMS marketing part of your overall marketing strategy. Use texts to support newsletters, new product launches or send them to a VIP client list to offer exclusive deals.
This way, your SMS marketing will have a bigger impact and bring better results.
SMS campaign examples
Companies can have multiple text campaigns running for different audiences or for different actions that subscribers take. Personalized SMS campaigns create a closer client and brand relationship and can increase brand awareness. Let's look at text campaign examples that Shopify store owners run:
1. Provide a discount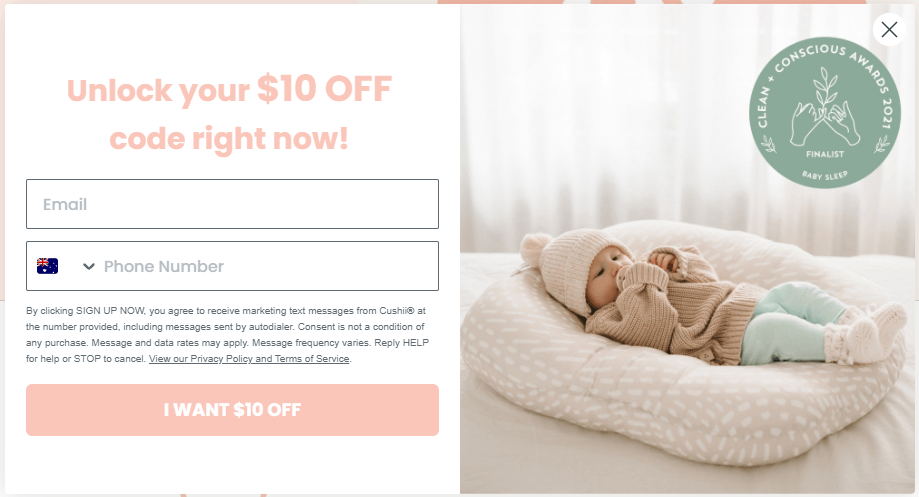 Cushii gives a good text campaign example. The company offers clients to get $10 off their order in exchange for their email address and a phone number. This is a good strategy to grow a subscriber base. Later, using an SMS campaign manager, the company can send bulk SMS messages to the subscribers.
2. Remind the clients about their items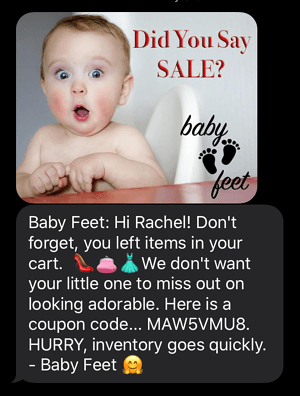 Baby Feet shows that text message campaigns can be both fun and successful. They use a cute image to make their messages more attractive and get more engagement. In this case, the message reminds the clients that they have left items in their cart. The sender also encourages the client to act quickly, creating a sense of urgency, which is a popular marketing trick to get the clients to place the order faster.
3. Offer incentives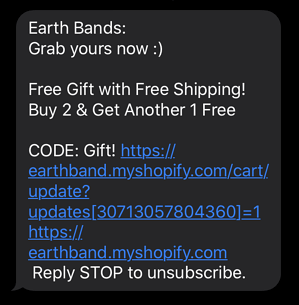 Incentives can be a good method to get your subscribers to buy more from your shop. Earth Bands use an SMS campaign to offer an incentive to their message recipients. They encourage clients to buy multiple items and receive a gift as well as free shipping.
This example also shows how brands allow subscribers to opt out of the text message campaigns easily.
Bottom line
Text messaging campaigns are an excellent opportunity for Shopify ecommerce stores to increase their sales and raise their brand awareness. These campaigns can be run as part of a marketing strategy or support campaigns on other channels, such as emails or social media.
In this article, we have covered what text marketing is, and what benefits it brings to Shopify store owners. We provided tips for successful SMS campaigns and reviewed examples of SMS ads.
Hopefully, this article has given you a good idea of how to make the most of SMS marketing and encouraged you to try it out yourself.
FAQ
How long should a marketing text message be?
A marketing text message should be up to 160 characters. SMS messages have a limit of 160 characters (included spaces), so you should write your messages to fit into this limit. Marketing texts should be short, clear, and to the point. Ideally, they should also call to take action.
Can text messages be timed?
Marketing text messages can be timed if you're using third-party software. You cannot schedule texts on iPhones, but various apps allow timing your messages.
Most Shopify apps for SMS campaigns also offer text scheduling features. You can set the messages to be sent when the client performs an action (i.e. orders from your store) or at certain times. For example, to send information about limited-time offers.
How can I track my text message marketing campaigns?
You can track text message marketing campaigns via an application for SMS marketing. One of the best apps to track your texting campaign performance for Shopify stores is Firepush.
This app allows tracking your marketing campaigns and automation performance by providing informative reports. You can access the data via a convenient dashboard.