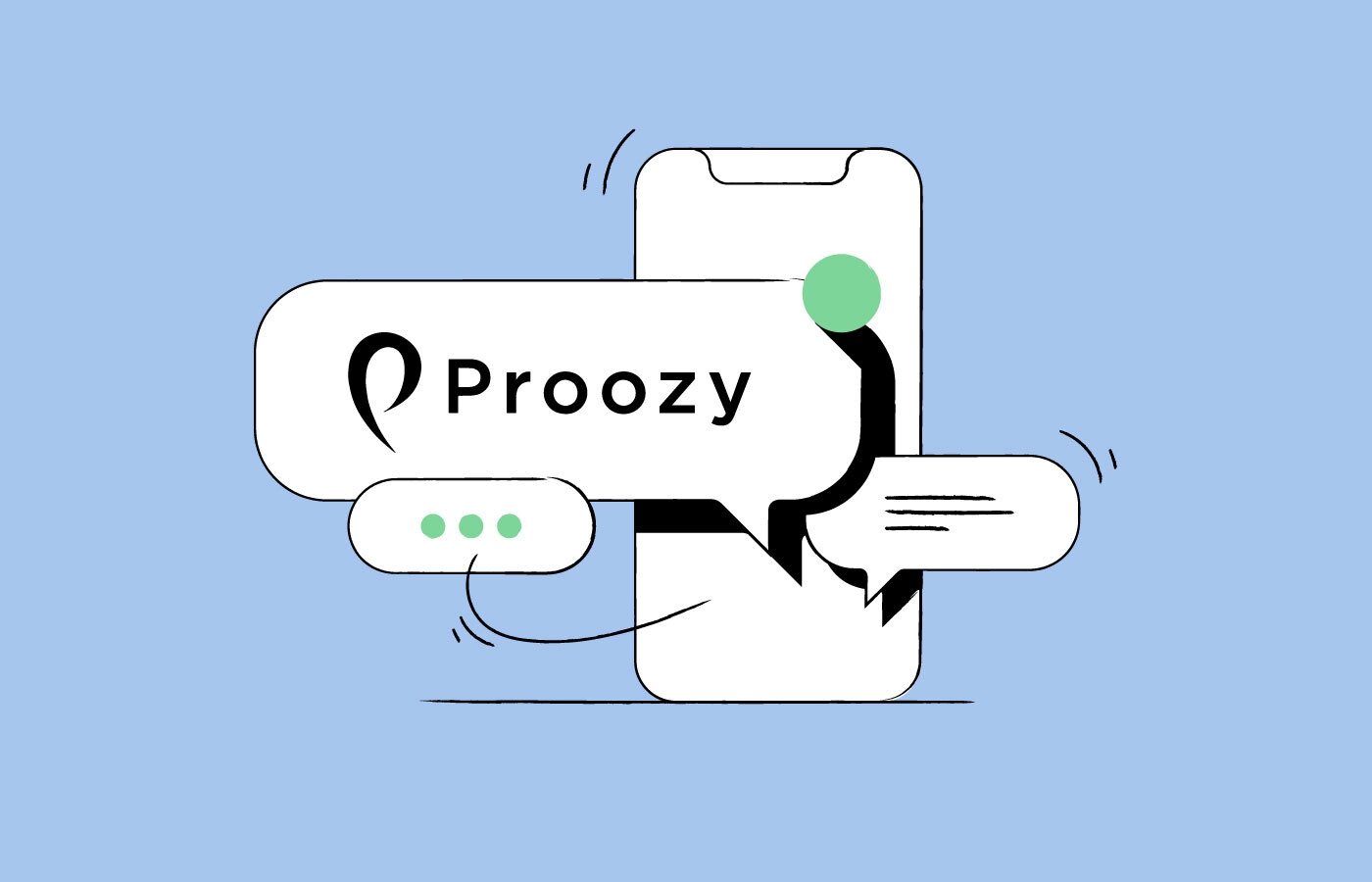 If you spent $1,000 on SMS marketing for your Shopify store, how much would you expect to get back in revenue generated? $2,000, double the amount? Or four times the amount? Maybe even $10,000, ten times what you spent?
It might surprise you to hear that using SMS marketing, your Shopify store could generate over 30X the amount you spend!
This is exactly what the Proozy outlet, an online activewear retailer, has achieved using SMS notifications and retargeting from Firepush. They generated $1,460,000 million from just $48,000 spent. In other words, they made more than $30 for every $1 spent.

Proozy outlet has generated more than $1.4 million in revenue using SMS retargeting.
Proozy's SMS marketing results at a glance
The Proozy outlet has generated huge results using SMS messages by Firepush:
In total, Proozy has generated over $1.4 million in revenue using Firepush SMS messages.
For every dollar invested in SMS marketing with Firepush, Proozy has generated over $30 of revenue.
Proozy's SMS messages have achieved an impressive click through rate of 11%.
Proozy's SMS messages have achieved a robust conversion rate of more than 13%.
Proozy's SMS marketing campaign is a Shopify success story that provides an example for ecommerce owners looking to add new channels to their marketing mix. According to SMS Marketing Statistics, two thirds of the world's population using SMS daily, so now is the time to consider SMS marketing. And the best way to get started with SMS marketing is to learn from Shopify stores that have used it successfully.
So, in this short case study we'll take a look at Proozy's SMS retargeting strategy, analyse some SMS message examples, and dive deep into the store's results from SMS.
Who is Proozy?
Proozy is a fast-growing American e-commerce company selling activewear from well-known brands. The company, which is based out of St Paul, Minnesota, partners with brands and suppliers to provide the highest quality of products to their customers at the lowest price.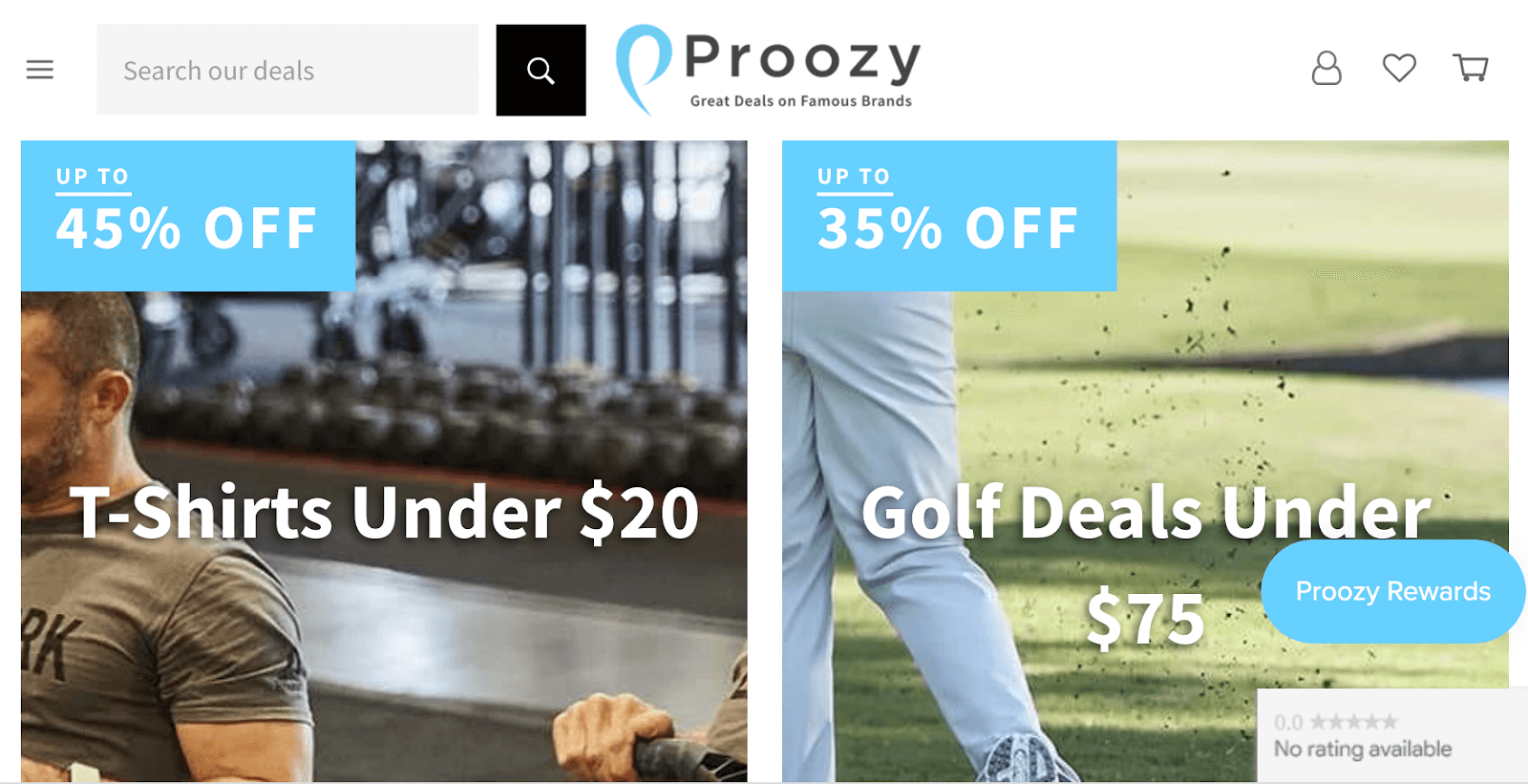 Proozy has grown fast by offering great prices and super fast delivery for its growing customer base
Proozy offers discounts on brand apparel from Nike, Adidas, Under Armour and many others. Unlike its big box competitors, Proozy is strictly e-commerce, emphasizing daily flash deals and relying on analytics to determine its inventory. The company hit $40 million in revenue for 2019 and is expected to double that in 2020.
How has Proozy used SMS marketing?
Proozy has used Firepush to send short and engaging promotional SMS messages straight to the phones of potential customers.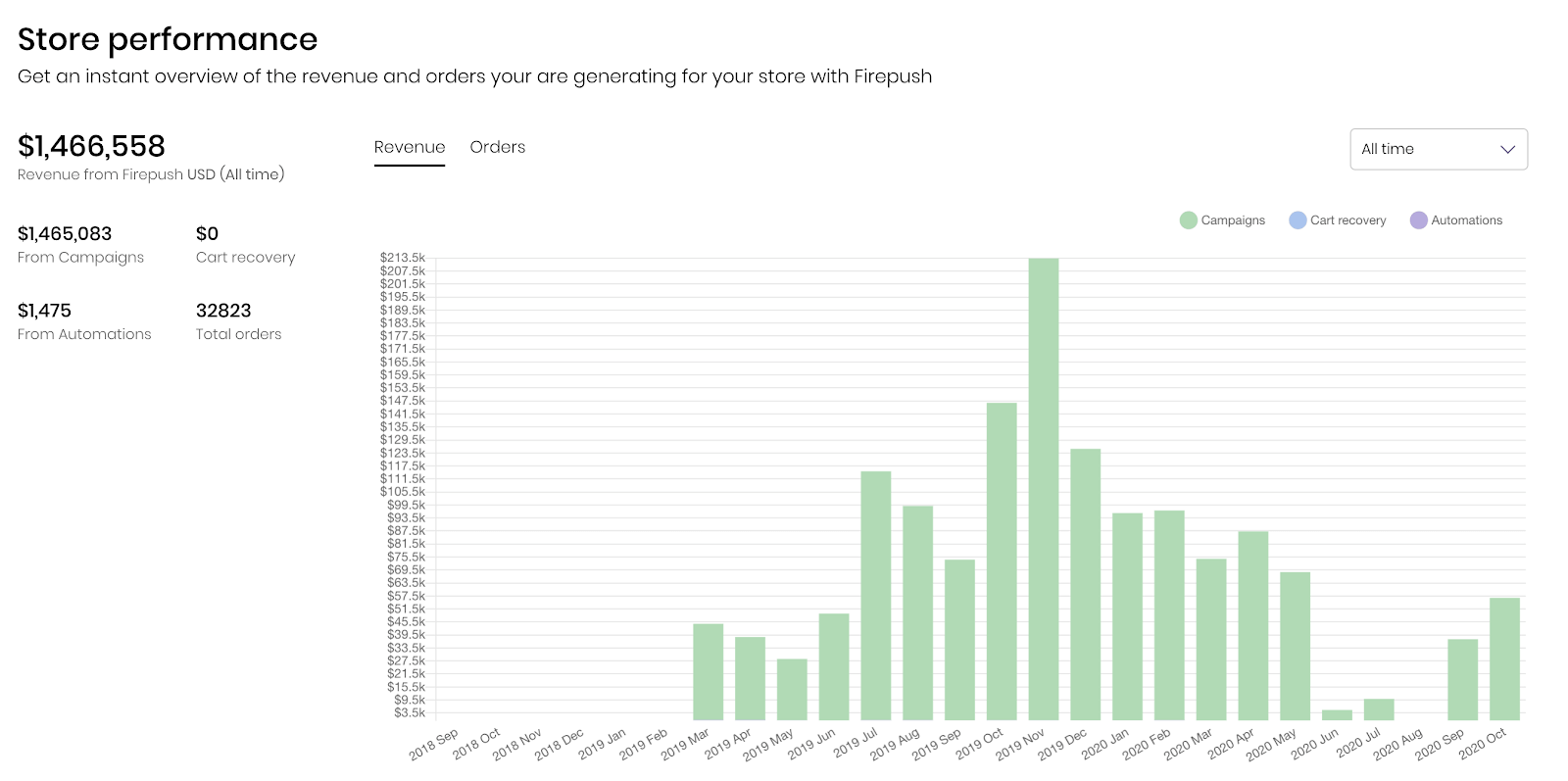 The most important aspect of Proozy's SMS marketing strategy is timing. No audience wants to be bombarded with text messages all the time, so an effective strategy is to send most of them seasonally.
The above graph shows that Proozy sent most of its messages in October and November, the months when most shoppers are thinking about the upcoming Black Friday sales and start hunting for Christmas presents. This shows that SMS marketing can be a key component of your Black Friday marketing and retargeting strategy.
Sending promotional SMS throughout the year might make customers less responsive. Saving your main SMS campaigns till the end of the year, like Proozy does, will likely give better results.
Promotional SMS message examples and best practice
Proozy has done a great job of crafting their promotional messages. An effective SMS promotional message should have these essential characteristics:
It should be brief but clear;
It should offer exclusivity and value to the customer;
It should be relevant and to-the-point.
To see why Proozy's messages were so impactful, let's have a look at some examples.

First, the message is short and clear. Concise language allows subscribers to instantly see the value Proozy is offering. In the above example of only 110 characters, a single sentence gets the promotional message across clearly and efficiently.

Proozy's SMS messages emphasize exclusive sales and deals that provide high-value for the customer. Furthermore, most of Proozy's SMS marketing campaigns offer high discounts, like the 90% saving in the example above. Offering exclusive deals and additional discount codes for SMS subscribers helps to decrease unsubscribe rates and incentivize other customers to join the subscriber's list.

Proozy's messages are always to-the-point. Proozy's subscribers are told what they would get right away and are immediately directed to the online store via a short link accompanying the messages. Proozy understands that its audience want deals and fast delivery, so its straightforward messaging approach connects with what its audience are looking for.
Building messages like these takes seconds. Firepush even offers easy-to-use SMS templates that already feature all of the elements of an impactful promotional message. You can choose from flash sales or special offers templates, or tailor your own campaign. Then just tweak the template to fit your deal and hit send. Easy.
Other Firepush SMS marketing features
While promotional SMS messages yield great returns, SMS marketing features that are great for boosting conversion rates and customer lifetime value:
Abandoned cart SMS messages encourage potential customers to complete their purchases with a 2.26% conversion rate on average.
Welcome SMS messages to new subscribers are great for engagement, and when a unique discount code is included they are perfect for incentivizing that first purchase. These messages deliver up to x39 ROI.
Win back customer SMS messages offer a discount code or other incentive to tempt back existing customers who haven't visited your store in a while.
Review request SMS messages help you to generate valuable social proof for your store.
Explore Firepush's wide range of SMS messages for boosting sales and engagement
Learn more
The results of Proozy's SMS marketing campaigns
Proozy's campaign delivered $1,464,425 in revenue for $48,073 spent. This translates to a return on investment of x30.5, which is almost a fifth higher than the average ROI for a similar campaign.

Moreover, the impressive click through rate (CTR) of 11% is almost four times higher than the average CTR of an email campaign (2.8%).
Let's look at some messages that generated particularly impressive results.

A tempting offer of a 90% discount delivered a soaring 23.4% conversion rate and, in turn, a phenomenal return of almost $83 dollars per dollar invested, more than three times the average ROI of an SMS campaign.

An SMS with a subscriber-exclusive promotion code yielded a click through rate of 14.7%. It also generated $14,000 from just over $1,000 spent.
The bottom line on Proozy's SMS marketing success story
Firepush has helped Proozy generate massive revenue using SMS promotional messages. Proozy's success shows that SMS is a powerful tool in your marketing mix when you have the right strategy and message content. Here are the key takeaways that you can use in your own SMS marketing:
Be seasonal. Try not to overuse SMS in non-peak periods (like spring), so you this channel has maximum impact in that all important BFCM and holiday sales period.
Offer eye-catching deals. Proozy's SMS messages have high engagement because the deals are so impressive. So avoid small discounts on lots of items, and instead focus on big deals on a few targeted products.
Be exclusive. Make your subscribers feel special with discount codes that only they receive. This will limit unsubscribe rates and also give more punch to your discounts.
The bottom line is that more than half of total eCommerce sales will be made on mobile by 2021, so now is the time to look into SMS marketing. And, with Proozy's example to follow, you already have a great recipe for success.
To see what SMS can do for your marketing book a FREE expert consultation
Book today