Total number of push subscribers: 47,581
Total number of orders through push notifications: 15,662
Total revenue from orders through push notifications: $606,911
Most used push notification type: Power Push
Most effective push notification type: Abandoned cart push sequence
Click through rate on abandoned cart pushes: 7%
Conversion rate from those who clicked on abandoned cart pushes: 28%
Changing industries and switching to the ecommerce fast lane
Shopblends.com is a successful San Diego based Shopify Plus store. And Intelligent Blends, the company that runs it, specializes in providing premium gourmet coffee pods to an increasing B2C and B2B customer base in the US.
But the company didn't start life as a coffee business. The facility that they now use for producing coffee pods was originally a factory for making CDs. When the CD market began to contract and decline, the company's CEO had the idea to move into packing and packaging coffee. It was here that Intelligent Blends was born.

Intelligent Blends' bespoke coffee roasting and packaging facility used to be a CD factory
With coffee becoming an increasingly lucrative and niche industry, the company began to pack and label for other companies and started up a hospitality division to supply coffee and tea to the hotel sector. But as time went on, the company's ecommerce store shopblend.com began to take off, selling its own blends directly to customers. It soon became the main revenue driver for the company.

Shopblends.com cuts out the middlemen to bring high quality coffees and teas to its online customers
Intelligent Blends' omnichannel marketing success story
With the majority of their business moving to direct B2C sales via their ecommerce site, the company was tasked with building an omnichannel strategy that would keep their customers engaged and loyal. To do this, they began to put together a marketing mix that would help to deliver stellar conversion rates, one of the company's key KPIs. As Jarrid Raney, one of Intelligent Blends' crack digital marketing experts explains: "We pretty much use every source of traffic that you can think of at this point: email, SMS, Google. Anything that's going to be in the customer journey's path, we're trying to take advantage of."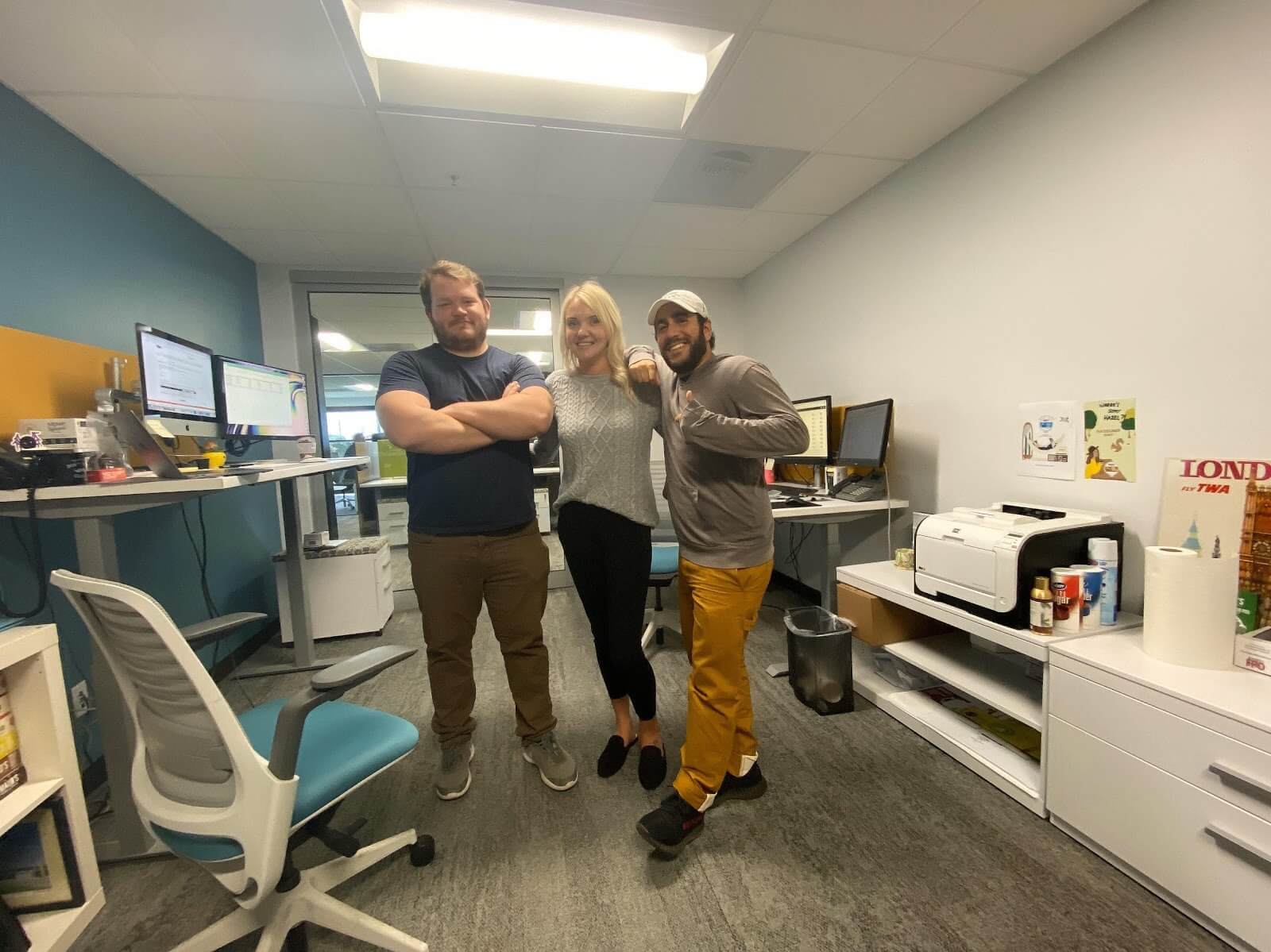 Intelligent Blends' marketing team - including Jarrid and Alex who spoke to us - are always on the lookout for new ways to remain top of mind with their customers
And the results of this integrated strategy have been tremendous.
Over this past year we have been high conversion rate overall, which is amazing. So, that's a big focus for the company. Our company is starting to become less conservative as we succeed more and more on our different channels. But, you know, margin is a big deal and conversion rate helps with that.

Jarrid Raney, Marketing Manager at Intelligent Blends
The company is constantly testing out new combinations of different channels to fine tune what is the best mix. And it is this constant process of experimentation and adjustment that is helping them achieve such stellar results.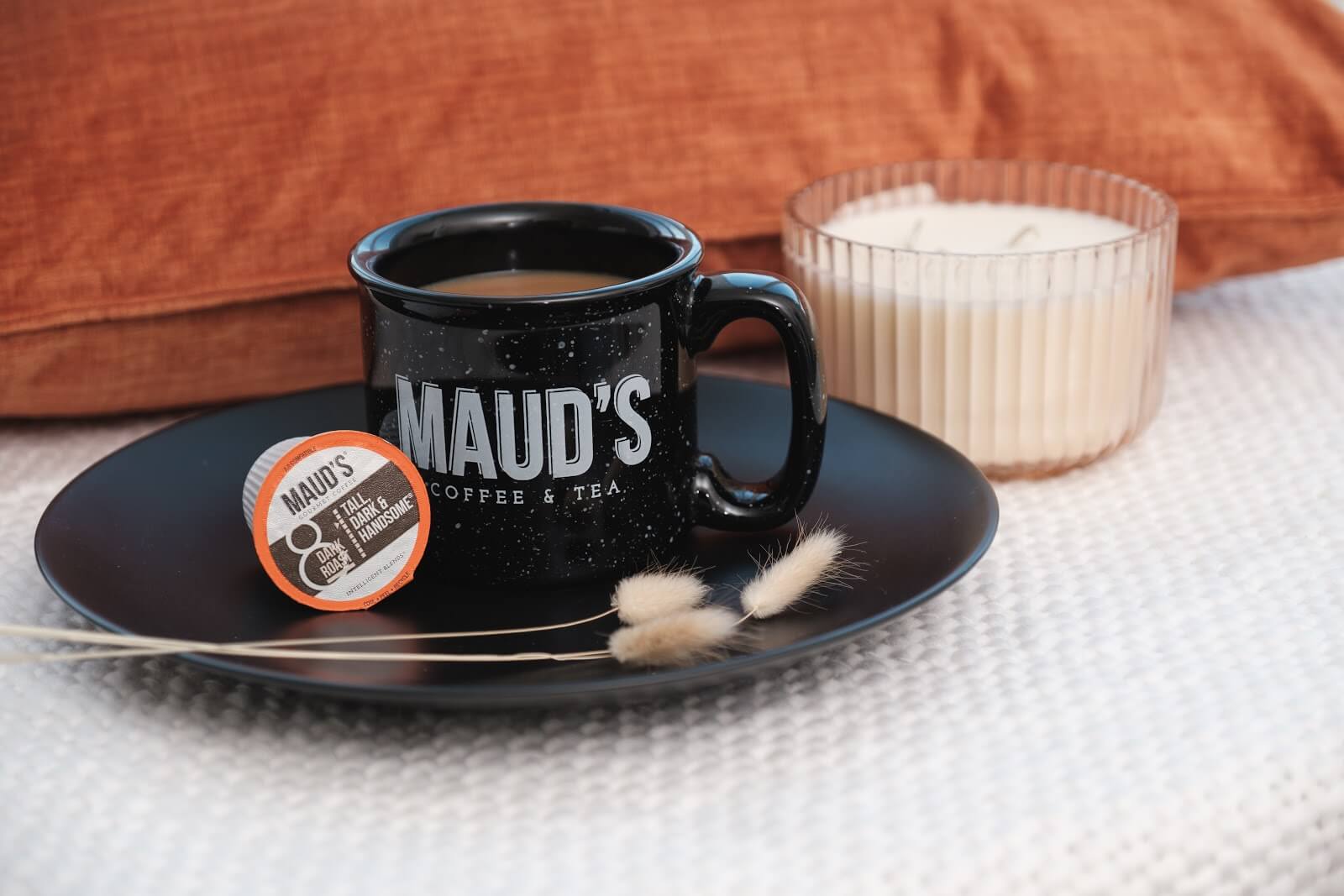 Just like their coffee, shopblends.com are creating their own unique blend when it comes to omnichannel marketing
How Intelligent Blends' omnichannel strategy works
Shopblends.com's overall strategy for omnichannel marketing is very directed. It is focused on maintaining customer loyalty and boosting product awareness, as Jarrid explains:
"The link that we direct a customer to with a push or an email or a text is either the home page or, of course, a big sale. This gives our customers the ability to navigate where they want to, with a pre attached code they can use at checkout to get that percentage off or that dollar amount off that's in the deal offered in the push, promo email or text message. Or we direct them to a page or collection that's just specific to what our message is. We're trying to help the customer understand the range we offer, and then take a chance and make a purchase."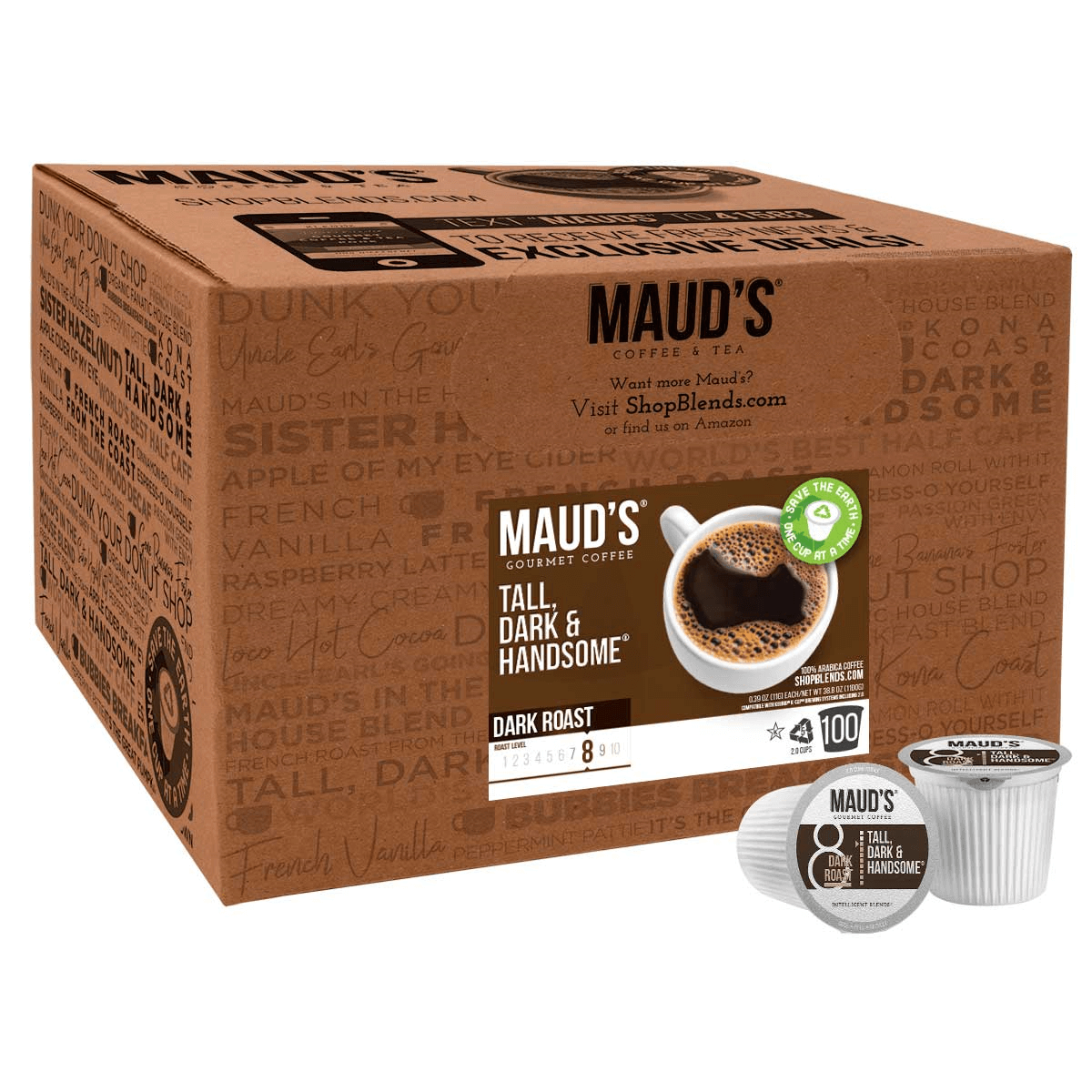 Intelligent Blends' remarketing campaigns often land customers on the page for an individual product or collection, such as their Maud's Tall, Dark and Handsome blend
Interestingly, it is often the product awareness messages that don't include an offer that perform better. Intelligent Blends' customers are ready to explore their range, and the omnichannel remarketing is helping them to do so. The deals or offers are there to push sales or move stock of a particular product.
The power of pushes in building the perfect omnichannel strategy
Intelligent Blends uses web push notifications by Firepush as part of its omnichannel strategy. And push notifications play an important role in delivering the company's overall high conversion rates as Alex Shiri, another shopblends.com digital whizz, explains:
Pushes are similar to SMS. They're a way to get directly into someone's awareness path. It's a way to really get to the forefront and be top of mind with that customer and when we do provide a decent deal, we do see traction.

Alex Shiri, Technical Writer at Intelligent Blends
One unusual approach is Intelligent Blends' tactic of using push notifications in tandem with emails to optimize results:
We use them to enhance our email sends and make sure people are seeing them. Push notifications are also a simple and flexible channel for driving sales. I love how they are really simple and really straightforward. I love having the ability to set them up weeks ahead of time. I have six power pushes that are going to go out through Black Friday Week starting on Tuesday. That really gives you a leg up, allowing you to get things done efficiently, and then literally al you have to do is wait and see how performance occurs.

Alex Shiri, Technical Writer at Intelligent Blends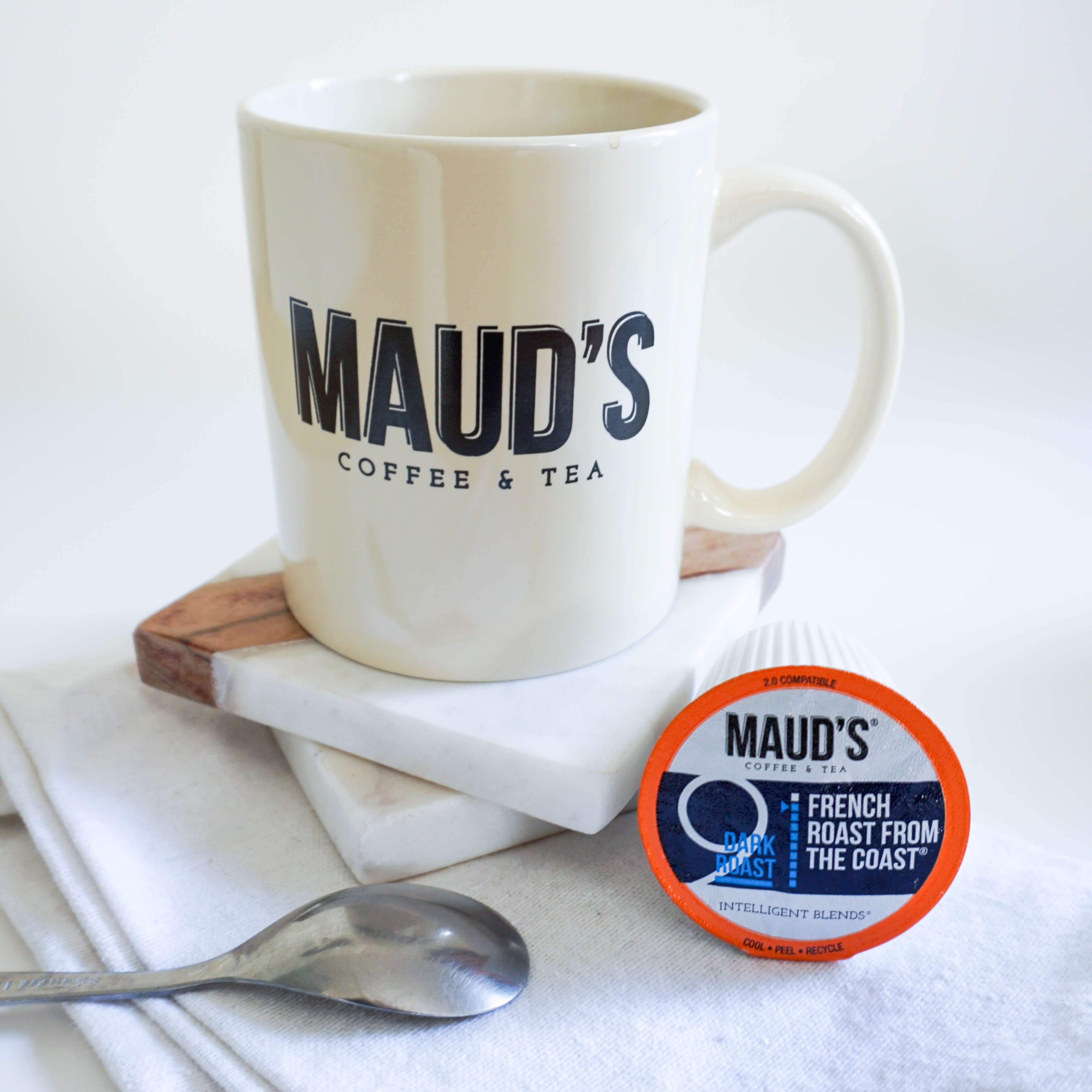 Shopblends.com will be promoting their coffees, teas and accessories over Black Friday using a range of channels including push notifications
$12,500 revenue in the first month using Firepush push notifications
Intelligent Blends integrated Firepush into their marketing mix in November 2016, and saw instant results. Promotional pushes and abandoned cart pushes generated $12,500 in additional revenue for the store in the first month.
Overall, Intelligent Blends have generated $606,911 in revenue through push notifications. This significant figure has been generated from a modest subscriber base of 47,581. This means the store has generated $12.7 on average per push notification subscriber. This revenue has come from 15,662 orders achieved using push notifications.
Intelligent Blends has utilised a combination of 4 different types of push notification to achieve these impressive results: abandoned cart push notifications, Power Push notifications, promo push notifications and welcome push notifications. Let's take a look at the individual results for each of these push notification types.
Abandoned cart push notification results - the conversion king
Abandoned cart push notifications have been the best converting push type used by Intelligent Blends. In total, they have sent over 110,00 notifications and received almost 9,000 clicks. Most impressively, those clicks have generated almost 2,500 orders - which means that more than 1 in 4 customers who click have gone on to make an order.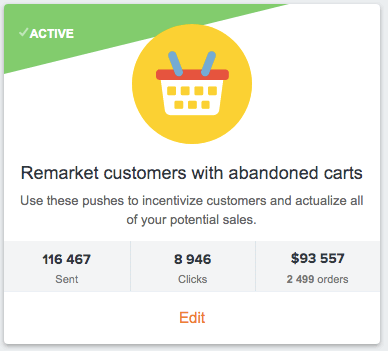 Firepush abandoned cart pushes are automated - if a push subscriber leaves an item in their cart and doesn't complete the purchase, they are automatically sent a flow of messages encouraging them to complete the order.
Power push results - the revenue generator
Power Pushes are push notifications capable of incorporating larger files, typically high quality product images. Intelligent Blends have used this push notification type heavily as a way to communicate either new product arrivals or to promote deals and discounts. In fact, with almost 3 million pushes sent, this has been shopblends.com's most used push type.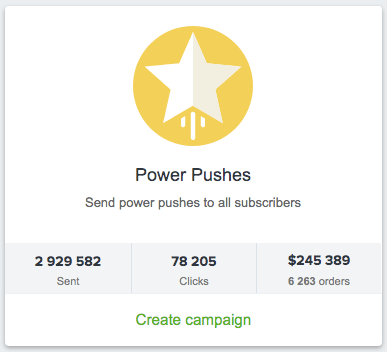 Power pushes have generated 6,263 orders, worth over one quarter of a million dollars for Intelligent Blends.
Promo push notification results - the go to push notification
Promo pushes are pushes designed specifically for promoting deals and offers. Unlike Power Pushes, they don't include a high-quality image, but they are very well suited to high volume campaigns that need to be set up quickly - for example, for moving excess inventory.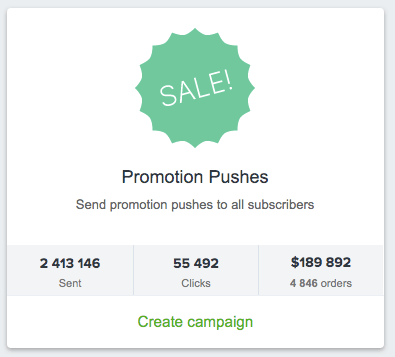 Intelligent Blends have sent almost 2.5 million promotion pushes, generating close to 5,000 orders and almost $190,000 in revenue.
Welcome push notification results - a great first impression
Welcome push notifications are automated messages sent to new subscribers to introduce your brand and store, and in many cases offer an introductory deal to get your subscribers engaged.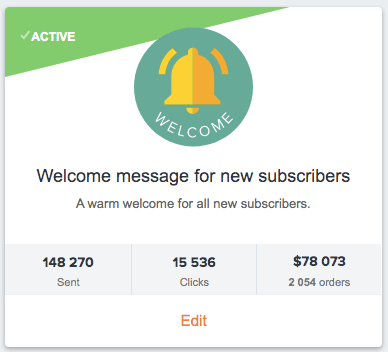 Although Intelligent Blends have only used welcome pushes sporadically, they have achieved strong results from this message type. The click through rate for these messages is over 10%, showing customers are keen to engage when they have recently subscribed. These clicks generated over 2,000 orders, which is impressive considering customers will often just be exploring a store at this stage of their customer journey. From just under 150,000 pushes sent, shopblends.com have generated $78,000.
Ready to discover how push notifications can add an extra level to your marketing mix?
Install Firepush
An important component of a successful omnichannel strategy
Intelligent Blends' strategy is all about meeting customers where they are. And in the constant challenge to stay top of mind, push notifications are proving to be an important channel. What's more, by using pushes in conjunction with emails, shopblends.com are ensuring each channel is performing to its maximum potential. To manage multiple channels simultaneously, these tools need to be quick and easy to use - and Firepush definitely meets this criteria. As Alex from Intelligent Blends puts it, Firepush is "really simple and really straightforward," which means setting up campaigns well ahead of time is easy. And for busy marketers managing multiple channels, this ease of use can be just as valuable as the hundreds of thousands in revenue push notifications can bring.