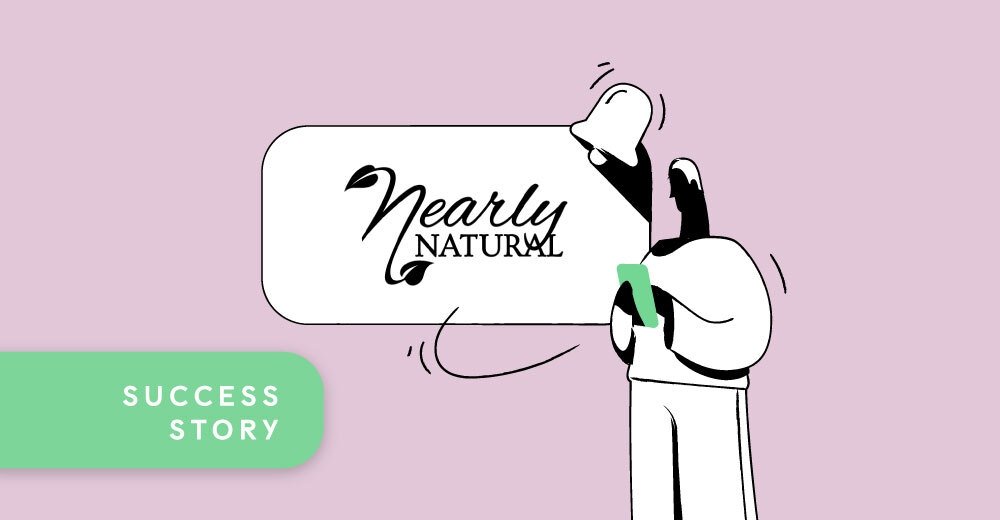 Small marketing teams need solutions that will run themselves, but also make an impact. And Shopify plus store Nearly Natural have created a push notification strategy based on automations that does exactly this.
In this Shopify success story, we'll see how this leading artificial plant producer and retailer has managed to over $275,000 in revenue from push notifications, averaging over $12 in revenue generated for every single push subscriber. Before we look into their strategy, here's a quick overview of their push notification results:
Total revenue generated: $281,431
Total push notifications sent: 262,155
Total number of push subscribers: 22,278
Total orders generated: 1829
Most effective push notification type: Welcome New Customer pushes
Average revenue generated per subscriber: $12.63
For any Shopify stores operating with a lean marketing team and looking to do more at the conversion and retention stage of their funnel, this is a great case study to follow. Plus, we'll be hearing some great insights and suggestions from Gus Milla, a marketer with almost 2 decades' experience in ecommerce.
Let's get into it.
The story of the Nearly Natural ecommerce Shopify store
Nearly Natural is a different kind of artificial plant supplier. This family business has its roots in horticulture and botany. The current owners take inspiration from their grandfather Henry Freidmen, a horticulturalist who even has plants named after him. Their mother heads up the product development team, personally overseeing the development of the over 6,000 incredibly life-like artificial plants they sell.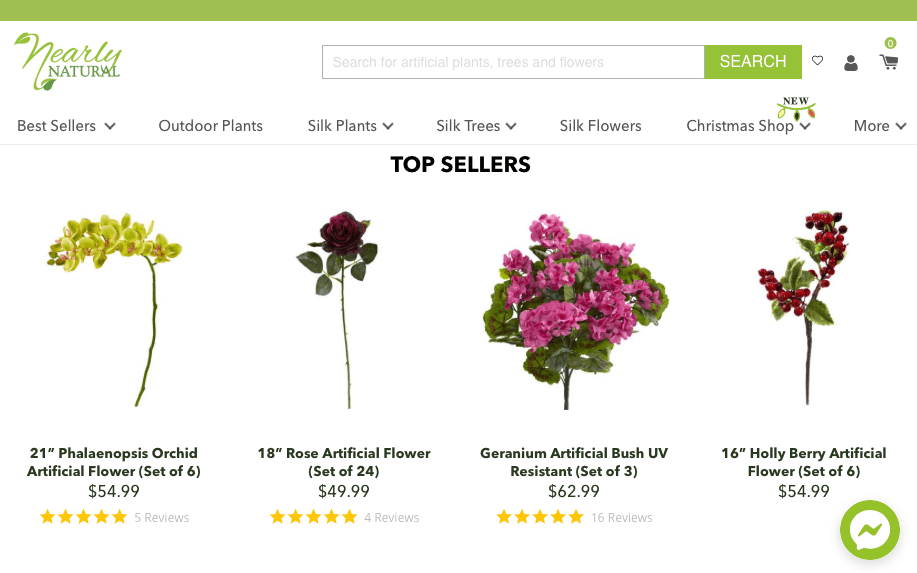 With botany a long tradition in this family business, Nearly Natural offer beautiful and incredibly realistic artificial plants
Nearly Natural is continuously transforming a product category that used to be defined by poor quality materials and unrealistic designs. For Nearly Natural, the standard is clear - with any new product the family members just ask themselves "would Grandpa approve?"
With almost 20 years in ecommerce, Gus Milla joined the Nearly Natural team as Vice President Marketing and eCommerce at Nearly Natural in 2017. Gus was tasked with building the company's direct to consumer channel, growing its Shopify Plus operation into the ecommerce success story it is today.
Building a business to consumer marketing funnel
When Gus started at Nearly Natural, his team amounted to only him. "The direct to consumer channel was very small and had grown organically," Gus explains. "When I came into the company there was nobody leading or directing this development."
Gus understood that there was the potential to do a lot more, so he started to add apps to their Shopify store that would develop and optimize Nearly Natural's ecommerce funnel.
When it came to conversion and retention, Gus knew they needed to try out browser push notifications: "Browser push notifications were in their early stages. I have always said anything that happens in the browser will work for ecommerce, so I wanted to add this channel."
Firepush app the right fit for a lean marketing team
As Gus started exploring the Shopify App Store for potential browser push notification apps, he discovered Firepush.
"Firepush was leading in functionality and had more features, and it felt more intuitive to use than the others" Gus comments.
As a small team, Nearly Natural needed to know the apps they added would provide the right level of support, and would also be ready to listen to their suggestions. This is exactly what they found with Firepush. "We installed the app and the first call was with Tom, the CEO. We had a few calls, all very down to earth conversations about how the product worked. Tom also listened to my suggestions on what I would like to see."
"Tom was extremely helpful and super responsive. We're a small team, and it's important to have someone in the app team providing the right support."

Gus Milla, Vice President Marketing and eCommerce at Nearly Natural
Gus admits that in those early days web push notifications were an experiment. Even through his network of marketers he didn't know anyone who had used them.
But the results went way beyond anything he expected.
Nearly Natural's push notification strategy using Firepush
Here's a quick overview of the message types Nearly Natural uses in its push notification strategy:
Welcome pushes: Nearly Natural uses automated messages to welcome new push subscribers and drive first sales with a discount.
Abandoned cart pushes: These sequences of 3 automated pushes are triggered when a Nearly Natural customer adds items to their cart but does not complete the purchase.
Order dispatch pushes: These automations are sent to keep customers informed on their delivery and help to build customer loyalty.
Monthly promotional push campaigns: Nearly Natural uses Power Pushes with high quality images for their monthly push notification campaigns promoting their latest deals and discounts.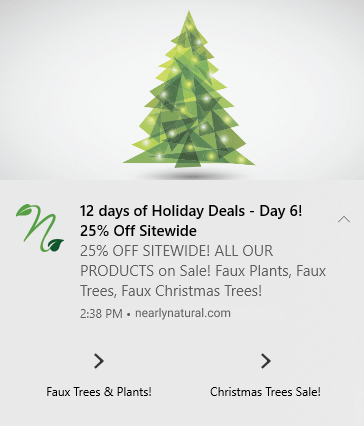 If you're new to push notifications and want to learn more about these push notification types and many others, check out this comprehensive guide to using push notifications in 2020.
What's interesting about Nearly Natural's approach is that it mainly uses automations. This is in contrast to other Shopify Plus stores - particularly those in fashion and accessories - who tend to use campaigns as their main revenue generator. A great example of this approach is ethical clothing Shopify store Ivory Ella. This case study on Ivory Ella's push notification strategy shows how they have generated over $700,000 in revenue just from promo pushes.
The Nearly Natural team uses a different strategy. They focus on automations and basically let the channel grow itself. With a small team and multiple channels to take care of, this is a really smart and effective approach. Here's Gus to explain:
"Because we have a small team, we didn't have a lot of time to think about a complex strategy for our push notifications. There wasn't really a plan - instead the channel just grew by itself using automations."
Gus Milla, Vice President Marketing and eCommerce at Nearly Natural


For advice on a push notification strategy for your store book a demo call today

Book my consultation
Nearly Natural's push notification automations
Let's take a closer look at the push notification automations Nearly Natural has set up. Interestingly, the first automation they set up - Welcome New Customer messages - is also their most effective.
Nearly Natural's Welcome New Customer pushes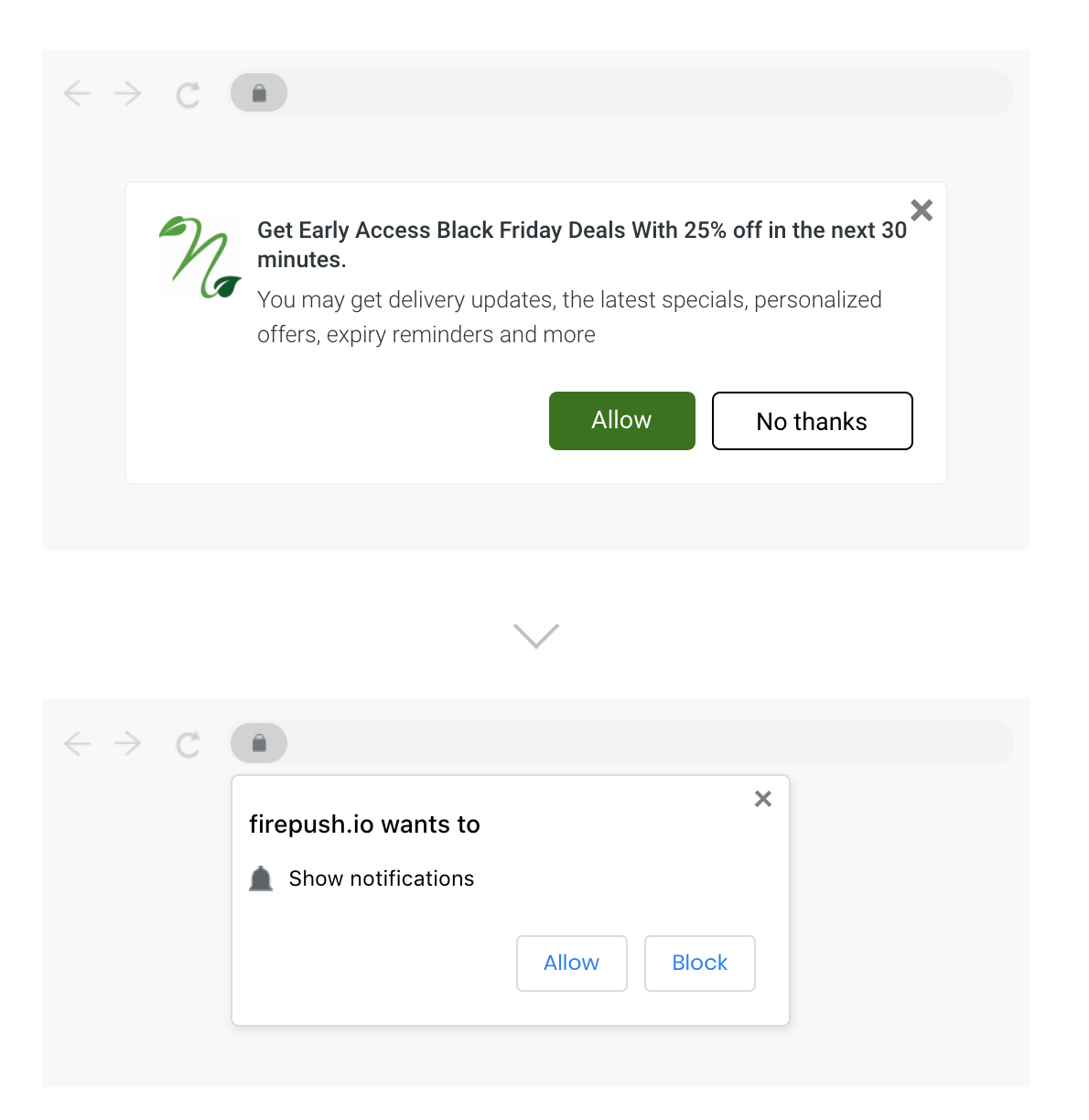 Subscribers receive Nearly Natural's welcome messages after opting-in to push notifications. The opt-in message encourages subscription and first purchases with 25% discount.
As Gus explains, these messages have been a winner since day one. "The Welcome flow just took off organically. As we gained more traffic, subscriber numbers grew and so did revenue." Given that Gus was new to using push notifications and wasn't sure what to expect, the success of the Welcome flow came as a very pleasant surprise.
"It was extraordinary to see how fast it grew - the revenue and the consistency. It was on auto-pilot and it outpaced every other app."

Gus Milla, Vice President Marketing and eCommerce at Nearly Natural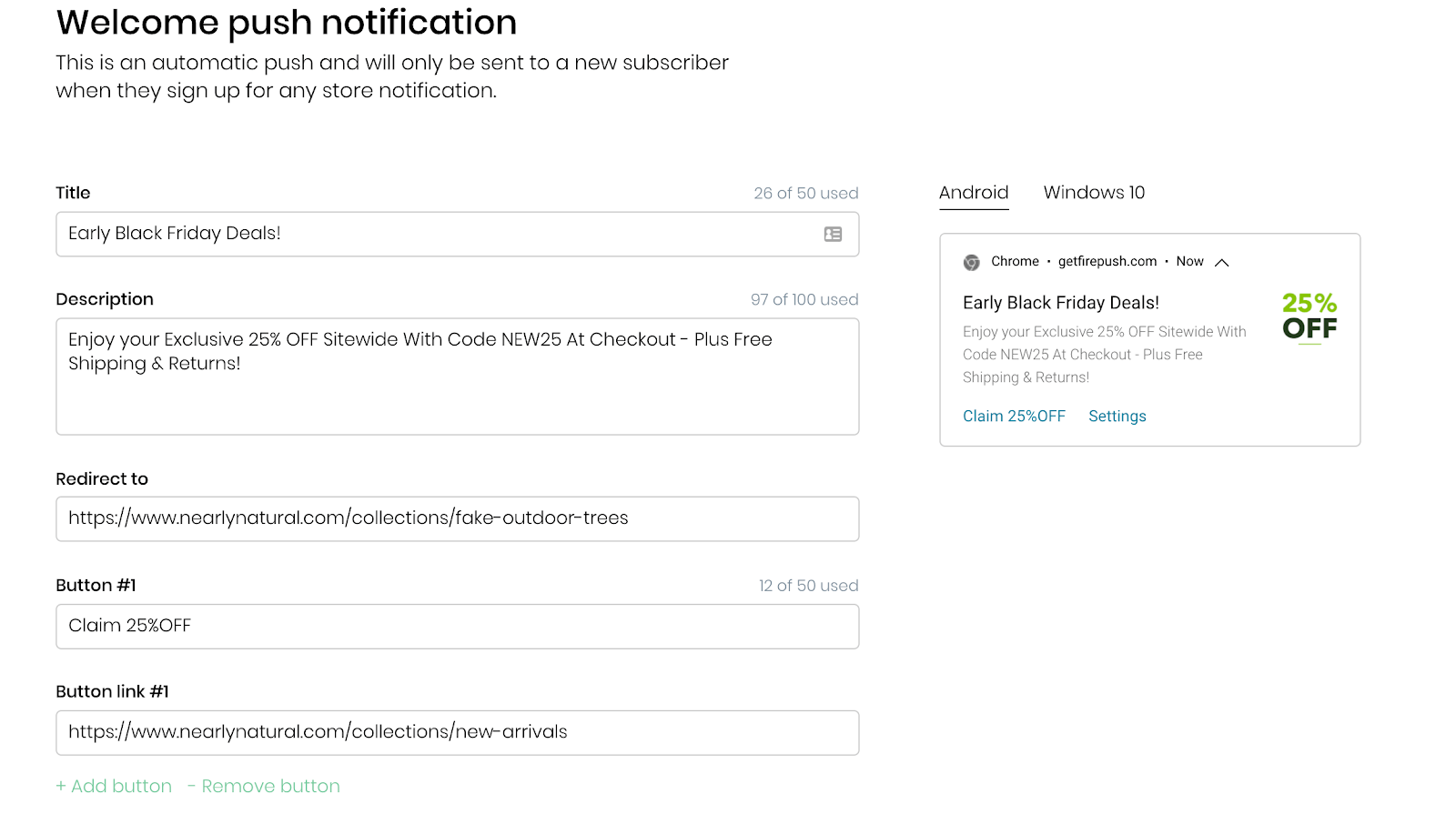 Nearly Natural's super effective Welcome pushes have helped the channel to grow organically
Nearly Natural have always offered a generous discount with their welcome pushes to encourage first purchases. In 2020, they added a countdown timer to the deal to increase the sense of urgency. "We noticed that with other channels, adding a countdown timer increased urgency, which led to more sales. So it's great the Firepush offers this with pushes," points out Gus.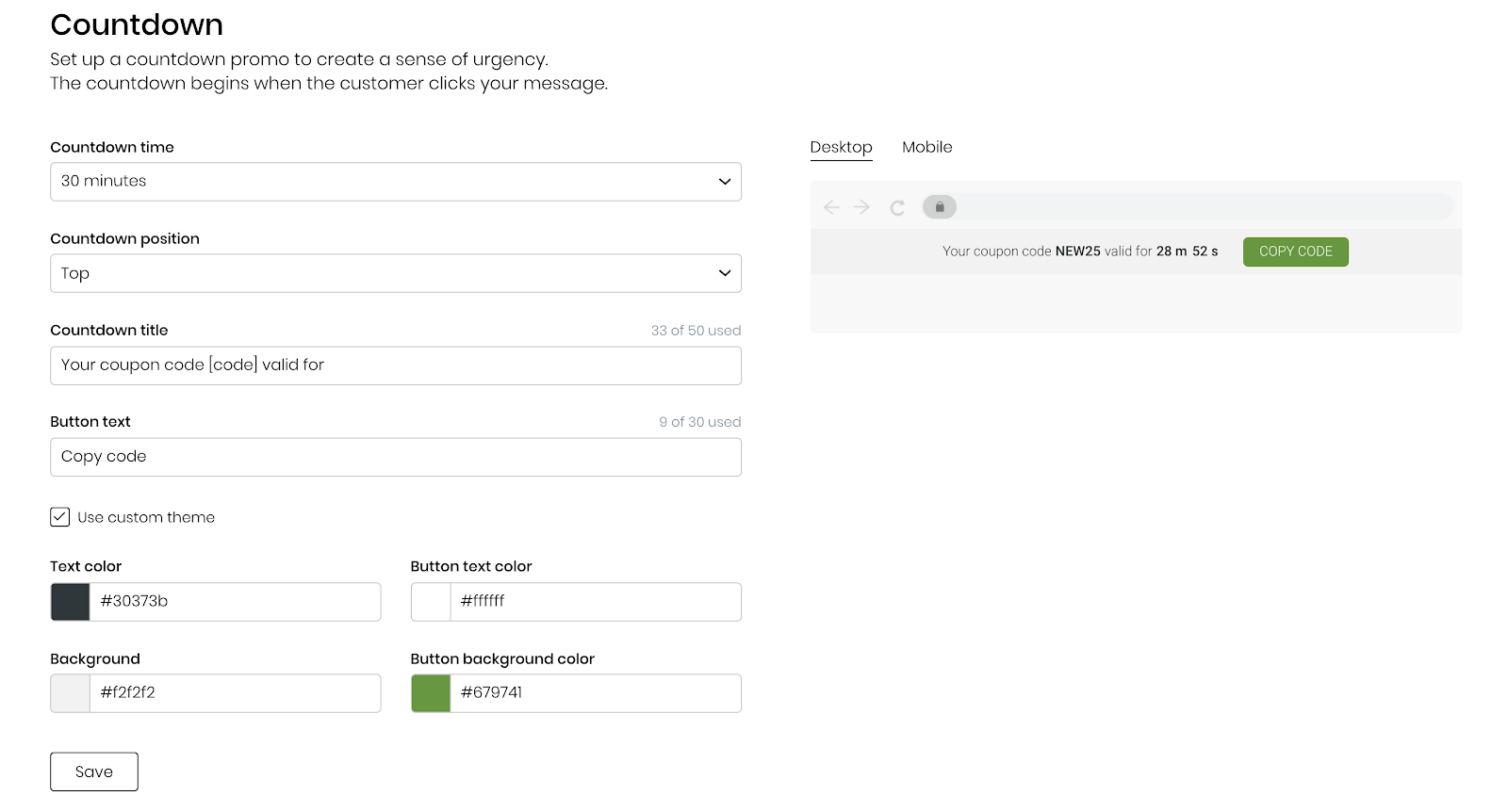 The 25% discount shared in their Welcome pushes is only valid for 30 minutes, and the countdown timer helps to create the urgency that drives sales.
Nearly Natural's Abandoned Cart pushes
Abandoned cart push notifications are the other key component of Nearly Natural's automation mix.
Like any experienced marketer, Gus understands fully the value and importance of using retargeting to close sales. "Cart abandonment messages are always an effective method for converting traffic into sales. We try to use abandoned cart messages on every channel we have, including push notifications," Gus explains.
Nearly Natural uses a flow of 3 automated push notifications to recover abandoned cart messages. The first message is sent after 30 minutes, the second after 50 minutes and the third after 24 hours.
Nearly Natural offers a discount to users who abandon items in their cart. But the level of this discount varies depending on the time of year. For the final quarter of every year they ramp up the discount level to 25% to catch as many sales of those all important seasonal shoppers as possible.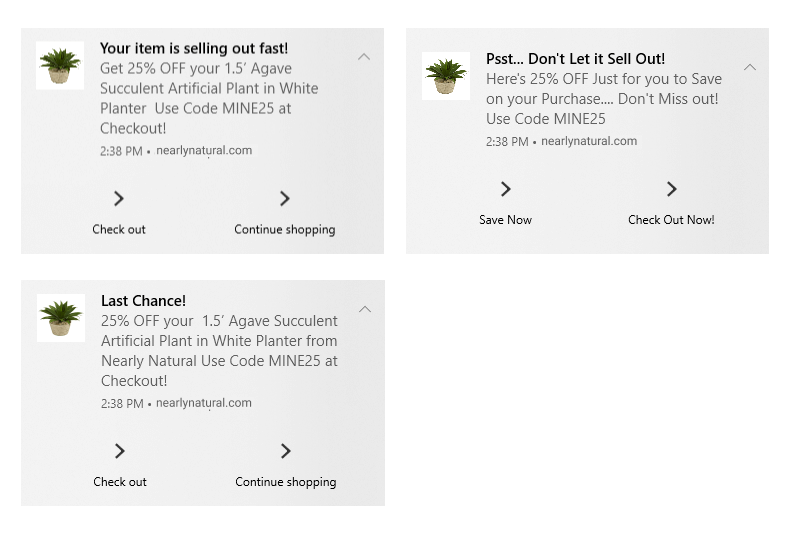 The 25% discount offered with abandoned cart messages in the seasonal sales period helps to drive revenue for Nearly Natural
Increasing the discount level over the Black Friday period is a smart way to create a sense of scarcity. If consumers feel that a deal is always going to be available now, it reduces their motivation to make the purchase right now.
Nearly Natural's Product Delivery Update pushes
The final automated push notification Nearly Natural uses is Product Delivery Update messages. These pushes keep customers informed on their order.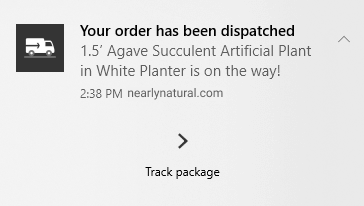 Nearly Natural uses Firepush to send automated delivery updates to customers via push notification
While these pushes will not directly drive sales like the other 2 automations Nearly Natural uses, they are still well worth including. Why? There are 2 main reasons:
Adding subscribers Customers find these messages useful - in the case of Nearly Natural, Product Dispatched messages have the second highest open rate of any push message type. This means customers are likely to subscribe in order to receive them, helping you to grow your subscriber base.
Improving customer loyalty Order updates are part of the overall customer service package you offer to your customers. By investing into creating a great experience for your customers, you're more likely to foster customer loyalty and improve the all important metric - customer lifetime value.
Nearly Natural's push notification results using Firepush
We've taken a detailed look at Nearly Natural's push notification mix, and some of the smart strategies they use to generate additional revenue.
So, let's now take a look at the results they have achieved with their push notifications. Here are the headline figures:
Total push notifications sent: 262,155
Total number of push subscribers: 22,278
Total orders generated: 1829
Total revenue generated: $281,431
These are really impressive figures. They amount to over $1 in revenue generated for every message sent. And to break this down per subscribed, Nearly Natural earns $12.63 on average for every person who subscribes to their pushes.
Now let's take a look at the split between the different push notification types in terms of revenue generated.
Welcome New Customer push notifications 74% of total revenue ($208,010)
Abandoned Cart push notifications 25% of total revenue ($71,815)
Power Push promotional push notifications 1% of total revenue ($3,265)
Clearly, automations are doing the business for Nearly Natural, which means most of their revenue from pushes is coming in on auto-pilot.
One interesting point to notice is how much their revenue from these automations is directly related to traffic volume. Traffic to their ecommerce store exploded during the first COVID-19 induced lockdown in April and May 2020. At the same time there was a big spike in revenue from their push notification automations.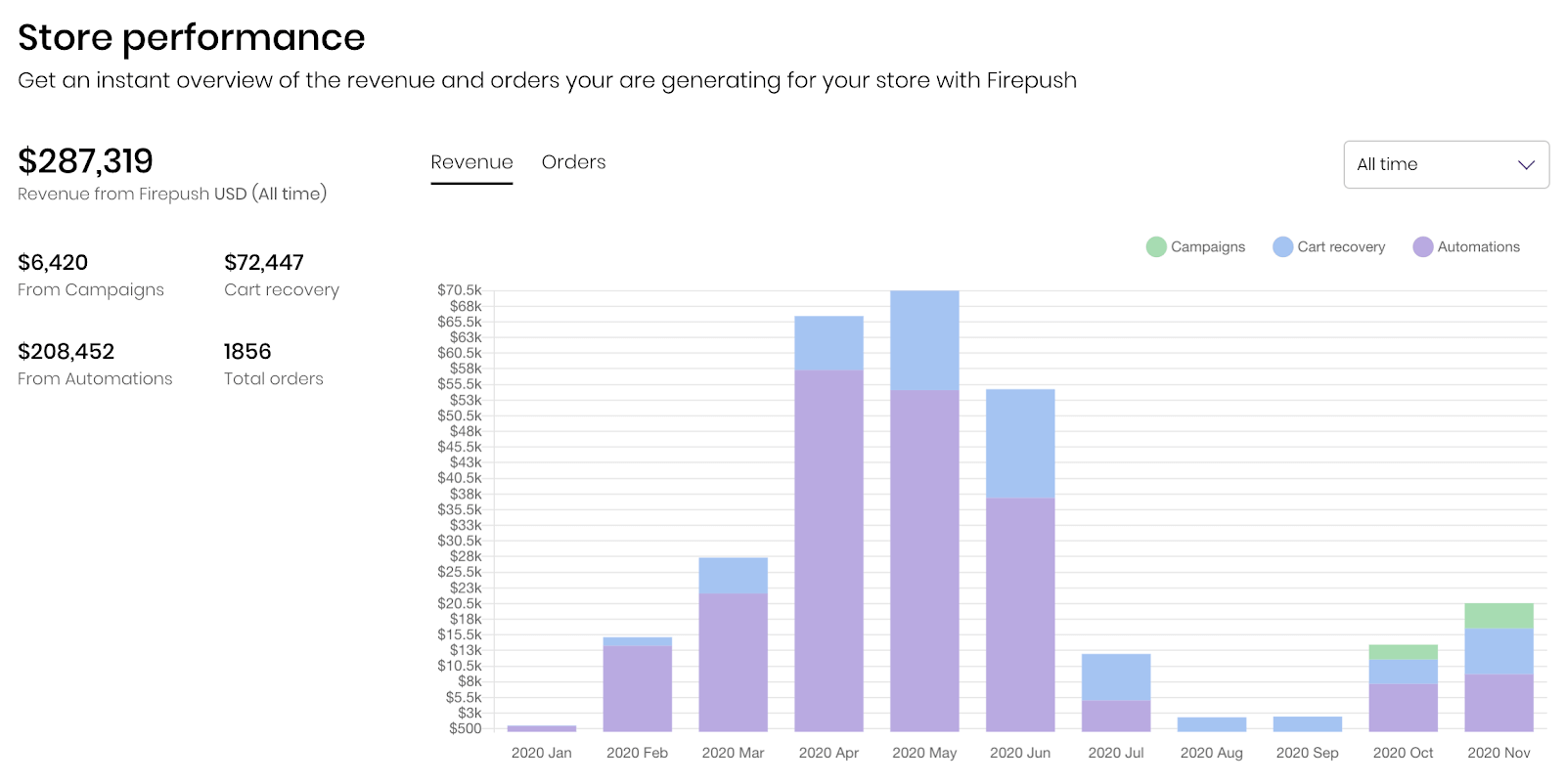 Revenue from automations (including abandoned cart messages show in blue) increased rapidly as traffic grew in the Spring of 2020
Let's now take a detailed look at the results achieved from the two main push notification types used - Welcome pushes and abandoned cart pushes.
Welcome push results: over $10 in revenue per message sent
Welcome push notifications are the star performer for Nearly natural. Accounting for 74% of the revenue they generate from this channel, this message type has high engagement and conversion rates.

The open rate is almost 20%, which shows these messages are really effective at engaging new customers.
Even more impressive is the fact that 35% of those who click go on to place an order.
As a result, on average every Welcome push Nearly Natural sends generates over $10 in revenue.
Abandoned Cart results: 25% conversion rate on pushes
Overall, the flow of 3 abandoned cart messages brings an impressive return on investment for Nearly Natural, accounting for 24% of total revenue from push notifications.

Average open rate across all 3 messages sent in the abandoned cart flow is 6%.
This rises to 10% when only looking at message 1, which is sent after 30 minutes.
Of those who open a message, 25% go on to make a purchase when averaged across all 3 messages.
Again, the figure is more impressive for message 1, which has a 33.2% conversion rate.
These automations play a really important role in Nearly Natural's funnel. That's because the $71,815 in revenue brought in by abandoned cart push notifications is money they might otherwise have lost.
How Firepush push notifications fit into the Nearly Natural marketing mix
For Gus, push notifications play a key role at the conversion and retention stages of the sales funnel. In other words, he uses pushes to turn traffic into sales, and to encourage existing customers to make further purchases.
He also uses email for this purpose, and is launching a loyalty program to further support efforts at this stage.
What about getting traffic to the store in the first place? Gus suggests using a range of channels: "We use paid ads on social platforms - Facebook, Instagram, Pinterest. Plus we have Google and Bing PPC."
Organic traffic also plays a big part in Nearly Natural's funnel. "Google sees us an authority on artificial plants," explains Gus. "Sometimes we rank above Amazon for the keyword "artificial plant.""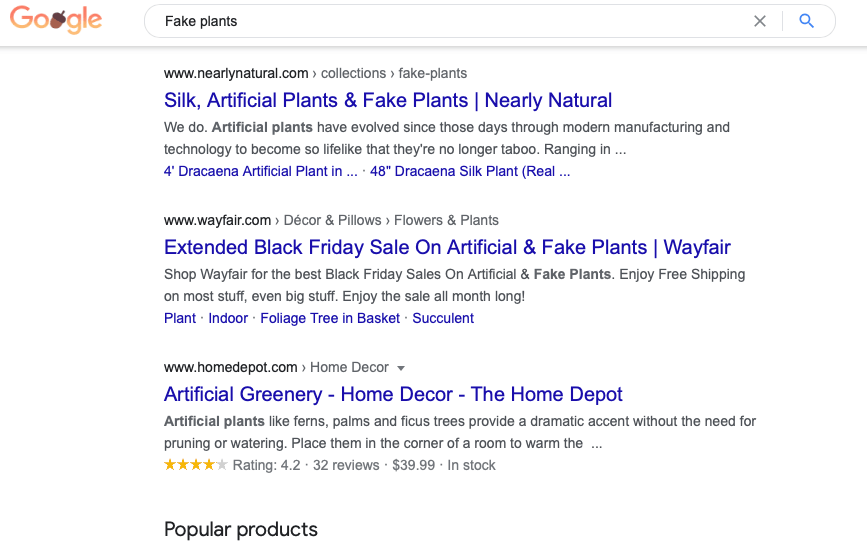 Nearly Natural rank higher than huge retailers like Wayfair and Homedepot for high-volume keywords like "fake plants"
And as we have seen, when the traffic is there, the push notification automations will convert it.
Nearly Natural's push notification strategy: the takeaways
Nearly Natural's use of push notifications is generating income on auto-pilot for this Shopify store. Let's quickly recap how they have achieved this:
Their Welcome New Customer pushes offer a generous 25% store-wide discount, but this offer is only available for 30 minutes. The urgency is increased further by the countdown timer on these messages.
As a result, these Welcome messages generate an incredible $10 per push sent. What's more, they help to build up Nearly Natural's push notification subscriber base.
A flow of 3 abandoned cart automated pushes are also set up. These messages have an average 25% conversion rate, recovering sales that may otherwise have been lost.
Nearly Natural also sends Order Dispatched pushes to keep its customers informed and help to grow customer loyalty.
Finally, Nearly Natural has started running monthly promotional campaigns using push notifications.
Nearly Natural's set up is ideal for small teams who want to keep their operation lean. It requires almost no input, but consistently brings returns. As its marketing team grows, a logical next step for Nearly Natural would be to focus more on promotional push campaigns. These can reach a wider audience than automations, and have the potential in the long-term to generate more revenue.
For now, though, Nearly Natural have hit upon a winning formula, one which has been delivering value since day one, as Gus explains:
As we grew our traffic, the subscribers to push notifications consistently grew, and so did the revenue from the Firepush campaigns and the automated flows. It was an extraordinary surprise for us to see how fast it grew and how much revenue it brought it."