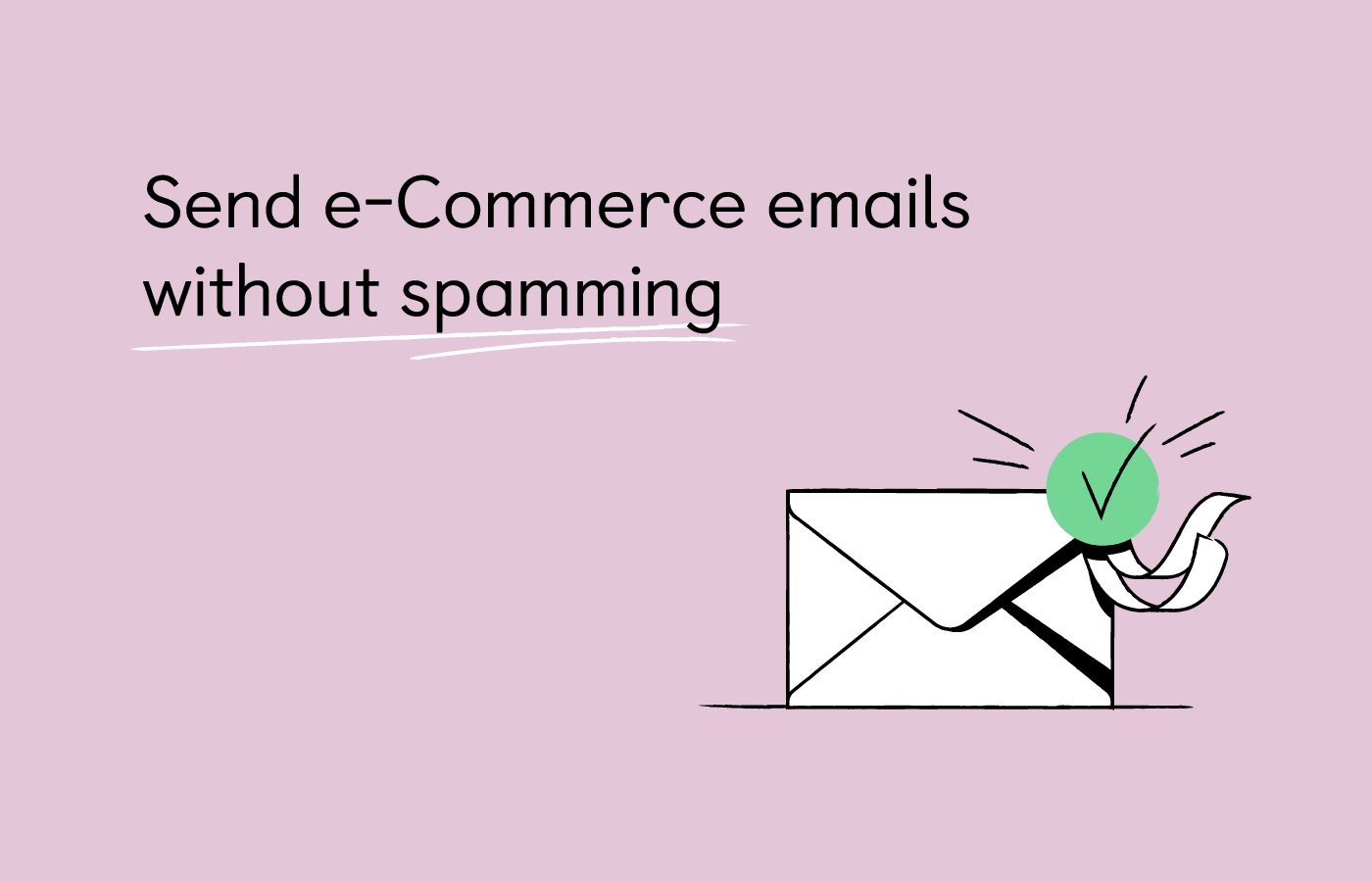 Email deliverability is an often overlooked metric for email marketing campaigns. Ecommerce marketers rightly look to open rates, click-through rates, and the number of orders generated from their email campaigns, to gauge their effectiveness. But when deliverability is ignored it adversely impacts potential sales and overall performance.
While open rates and CTRs are important, these figures will be skewed if your e-commerce emails are activating spam filters. When emails trigger spam filters, they're relegated to the spam or junk folder instead of an inbox. Customers lose sight of your communication and your campaign performance drops along with sales.
If you're having trouble with your emails reaching customers, or just want to improve your next e-commerce campaign, read on - we've shared all our valuable insights for better email results below.
In this post:
Not here for email tips? Jump to these guides:
What Is Spam?
Simply put, spam is electronic junk mail. Promotional emails sent to unsuspecting recipients who've never elected to receive marketing messages and promotions are considered spam. It doesn't matter how great your promotion is unless you have express permission to contact a customer with your promotional material, your email is considered spam.
Spam has been on the rise and now comprises over 47% of the global email traffic!
Spam Laws
Here are the most importnat spam laws affecting email campaigns sent to customers in the US, the EU, and Canada.
The United States Spam Laws - otherwise known as the CAN-SPAM Act 2003 - came into effect on January 1st, 2004. The act specifies a fine of up to $11,000 for each email address spammed. It's wise to make yourself familiar with the rules before moving ahead with your email marketing. The main points to be aware of include:
Never use false or misleading header information, subject lines, or reply-to addresses
Tell recipients where you are located - a physical postal address (PO Box is acceptable) should be included with all emails.
Make opting-out of emails easy by including an unsubscribe link that is easy to find, and honor opt-out requests promptly.
Canada's anti-spam legislation comes with even tougher fines than the US. A whopping $1 million per violation for individuals, or $10mil per violation for corporations can be enforced. Spam guidance is similar to that of the US - obtain consent before emailing promotional messages to customers and ensure unsubscribe links and a physical address is apparent in all marketing communications. Canadian spam laws cover other electronic communications too - for example, push notifications and SMS.
General Data Protection Regulations came into force for the EU in May of 2018. GDPR covers email campaigns along with data collection, storage, cookies, and other matters related to the collection and processing of personal information. Fines can reach as much as €10mil for transgressing the legislation. Similar to America's and Canada's rules, GDPR requires email recipient's consent before promotional emails can be sent, two forms of unsubscribe options - one for the marketing emails received and another for all marketing communications.
What Does a Spam Filter Do?
Spam filters have become more advanced with time to combat the increase in email spam. The evolving spam algorithms identify spam through recipients' behavior and a number of other indicators such as words used in the subject line, the email address e-commerce emails are sent from, and the number of emails being issued from the sender.
The Gmail spam filter can't be turned off, but it can be customized by the email address owner to ensure promotional emails reach their primary email folder.
The Outlook spam filter has a default setting of 'No Automatic Filtering' which essentially allows all emails into inboxes. Email address owners can increase the strength of the spam filter and customize their settings to add some senders to a 'safe list'. This ensures all emails from defined domains end up in their inbox.
Other email service providers have varying degrees of spam filter protection. In addition to relying on email service providers' spam filters, users can also install and use antivirus software to provide an extra layer of protection against spam and other email-based threats. E-commerce emailers can ensure most, if not all, of their emails land in inboxes with the following guidelines for email best practice.
Send Bulk Email Without Spamming: 10 Steps to Avoid Spam Filters
1. Welcome new email subscribers right after sign-up
Automated welcome emails sent straight after a new subscriber joins your email list are one of the best, and most common, e-commerce email tactics. There are a couple of reasons why:
Welcome emails provide confirmation of the sign-up and the opportunity for customers to add you to their trusted-sender list. Because of this, they have excellent open rates - around 50% on average - and that's great for your email sending reputation.
New subscribers have a strong interest in your brand and are keen to buy. Adding a promo code to welcome emails is a great way to convert subscribers into customers to start the relationship off on the best foot.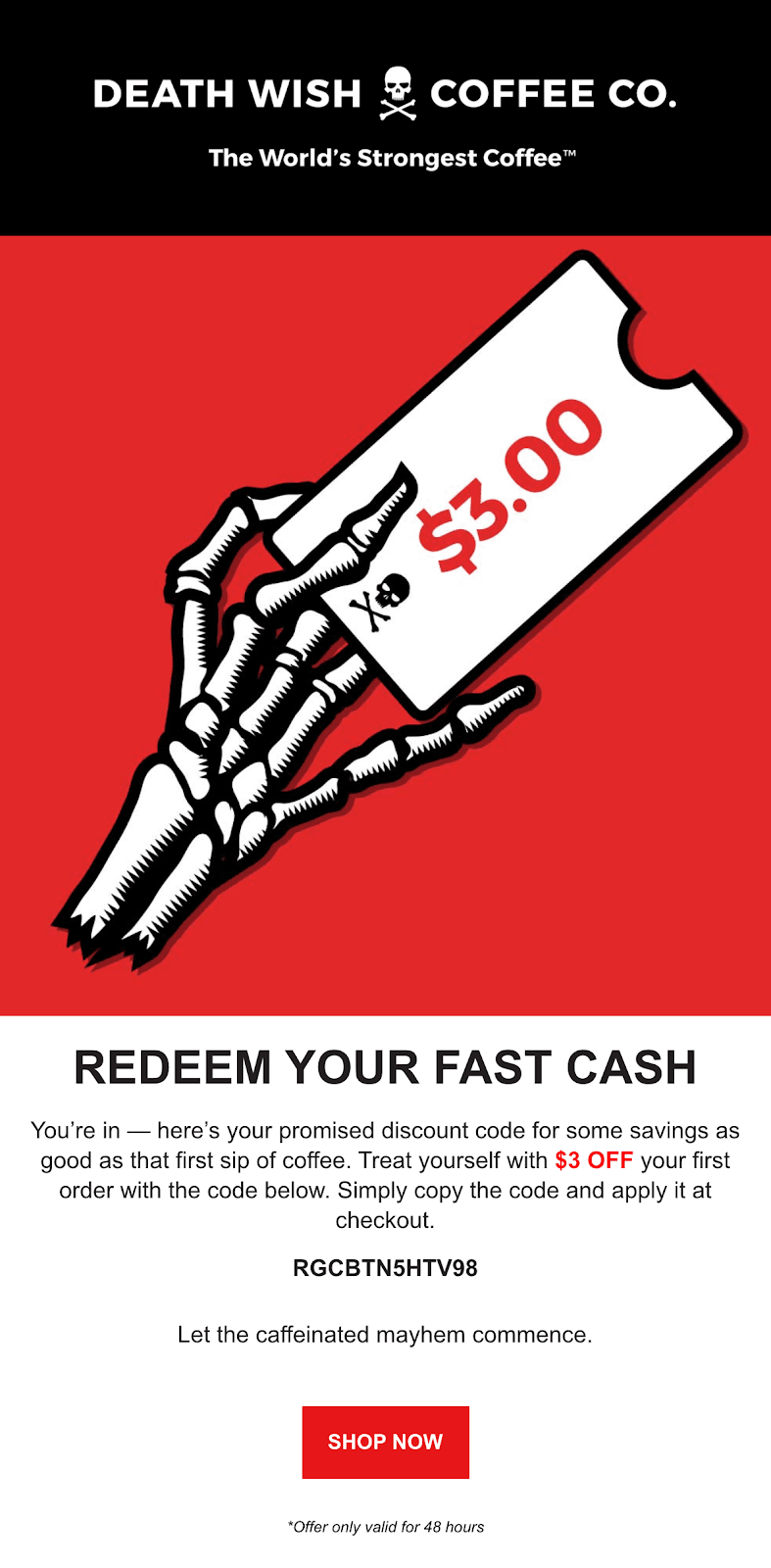 Sending a discount code with welcome emails can convert email subscribers into customers.
2. Build your email marketing reputation with IP warming
This tactic involves increasing the volume of e-commerce emails that you send gradually. Internet service providers (ISPs) - Gmail, Outlook, and others - use unexpected sender behavior, likes sudden spikes in sending volumes, as flags to spam filters.
If you are starting out with email marketing, or switching your ESP, don't send emails to your entire contacts list in one go. Start off by segmenting your audience for activity levels - start off with no more than 5,000 emails to your most active subscribers.
Gradually increase the number of recipients by 10-20% each time to avoid triggering spam filters. This method also builds a strong email sender reputation.
3. Use the best email address for ESP account set-up
When preparing email marketing for your e-commerce business, the account set-up plays a vital role in how campaigns will be delivered. In essence, the 'from' address you use, will influence how ISPs like Gmail, AOL, and Outlook view your content.
The key is to send your marketing emails from an email address with a business domain. ISP email accounts - @gmail.com, @aol.co.uk, etc. - regularly trigger spam filters so your email is sent straight to spam. Using an email such as ' [email protected]' protects your email campaign and is far less likely to trigger spam filters.
4. Manage email subscriber expectations
Letting subscribers know at the outset what you'll be emailing about and how often, is an excellent way to reduce the number of unsubscribes and your spam report rate.
It can also be helpful to ask your subscribers what kind of content they are most interested in. This can be done at the sign-up stage, or the welcome stage of the subscriber's journey. Not only does this help manage the subscriber's expectation, but it will also help with list segmentation and delivering personalized content to improve engagement and the effectiveness of your campaigns.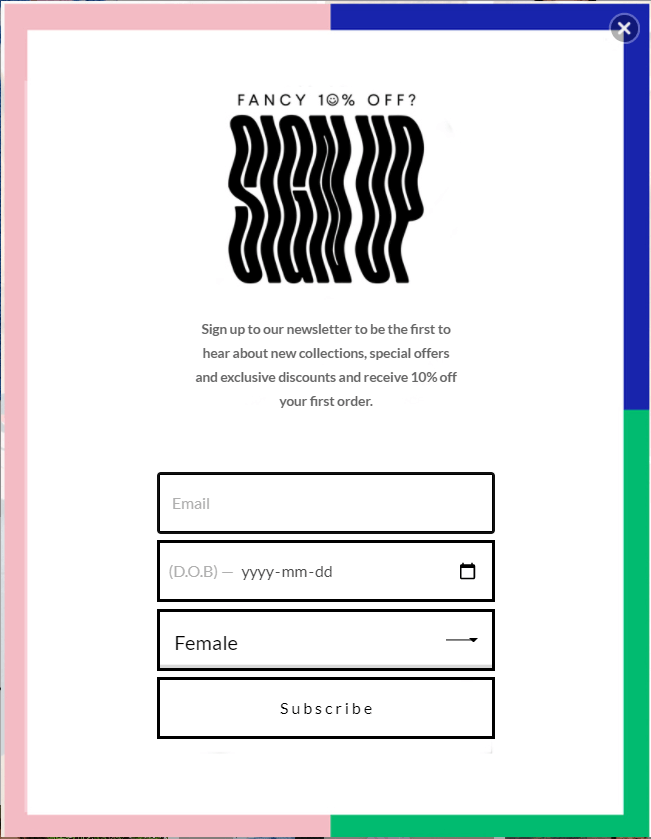 Managing expectations improves subscriber retention and the effectiveness of email campaigns.
5. Keep your email list free from inactive subscribers
Email list hygiene is imperative for ensuring you escape the spam trap of sending emails to abandoned addresses. Emails that bounce from abandoned addresses such as redundant work emails, harm your email reputation.
Regularly check your subscriber list and segment those who are not opening or clicking your emails - unsubscribe them to ensure you are not penalized for emailing defunct addresses.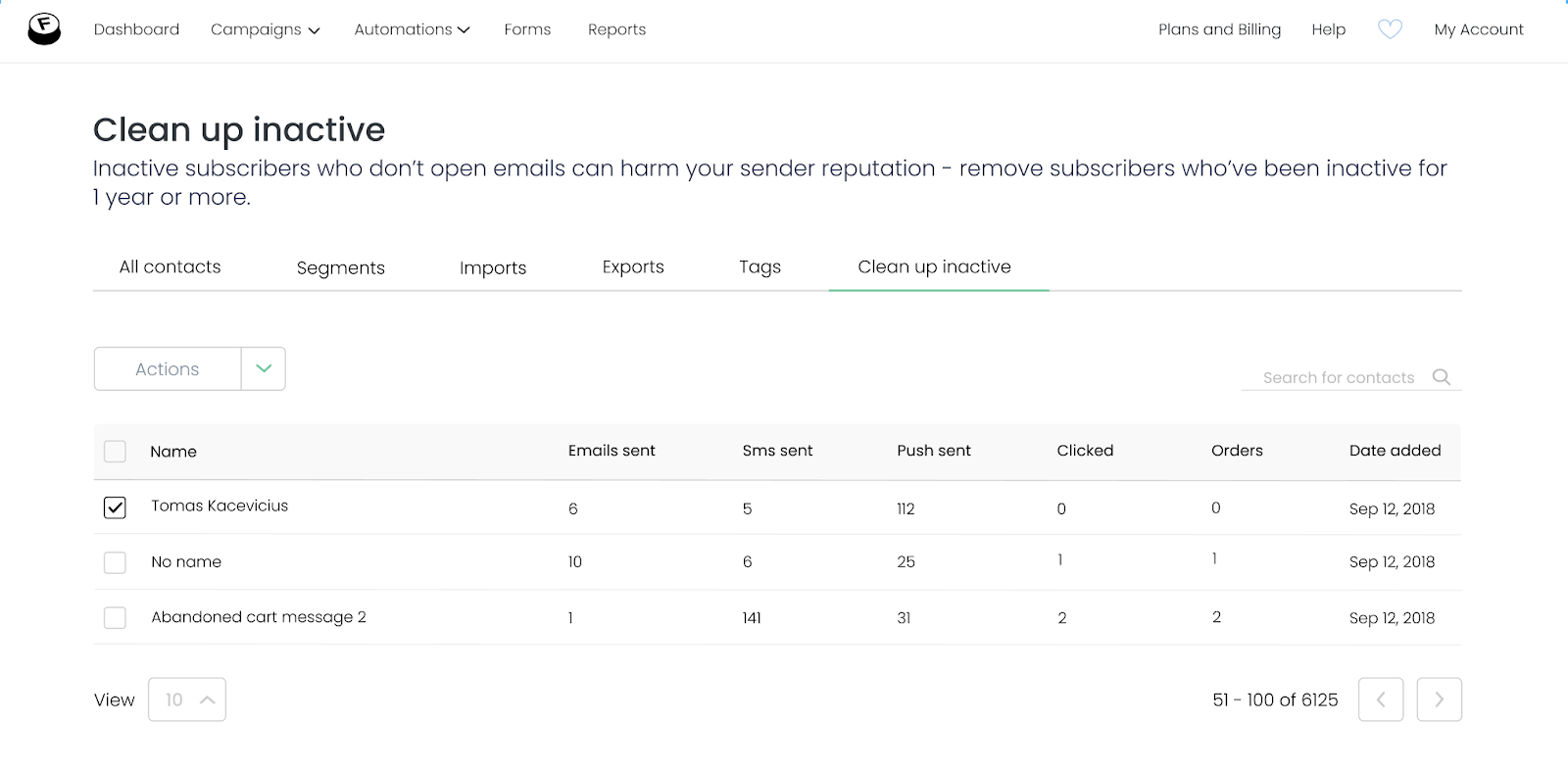 Unsubscribing inactive email recipients enhances the effectiveness of email marketing campaigns.
Checking in with disengaged subscribers after a few months of inactivity with a re-activation email campaign that includes an incentive like free shipping, is a great way to convert inactive subscribers into active customers. It will also make sure that you only cut the truly inactive subscribers from your email list.
6. Explicit email permission
Not only is explicit permission to email a requirement for compliance with spam laws, but it's also good email marketing practice. Why? Because someone who willingly opts in for your e-commerce emails wants to hear about your great offers!
Collecting email permissions both online and offline - such as at a trade show or other event - can be done in a couple of ways.
One is a single opt-in for marketing emails. These should include a tick-box that briefly details exactly what the email recipient is signing up for. Double opt-ins include a verification email that requires the subscriber to click a link to confirm their subscription. This provides you with additional evidence of their willingness to receive your e-commerce promotions and messages.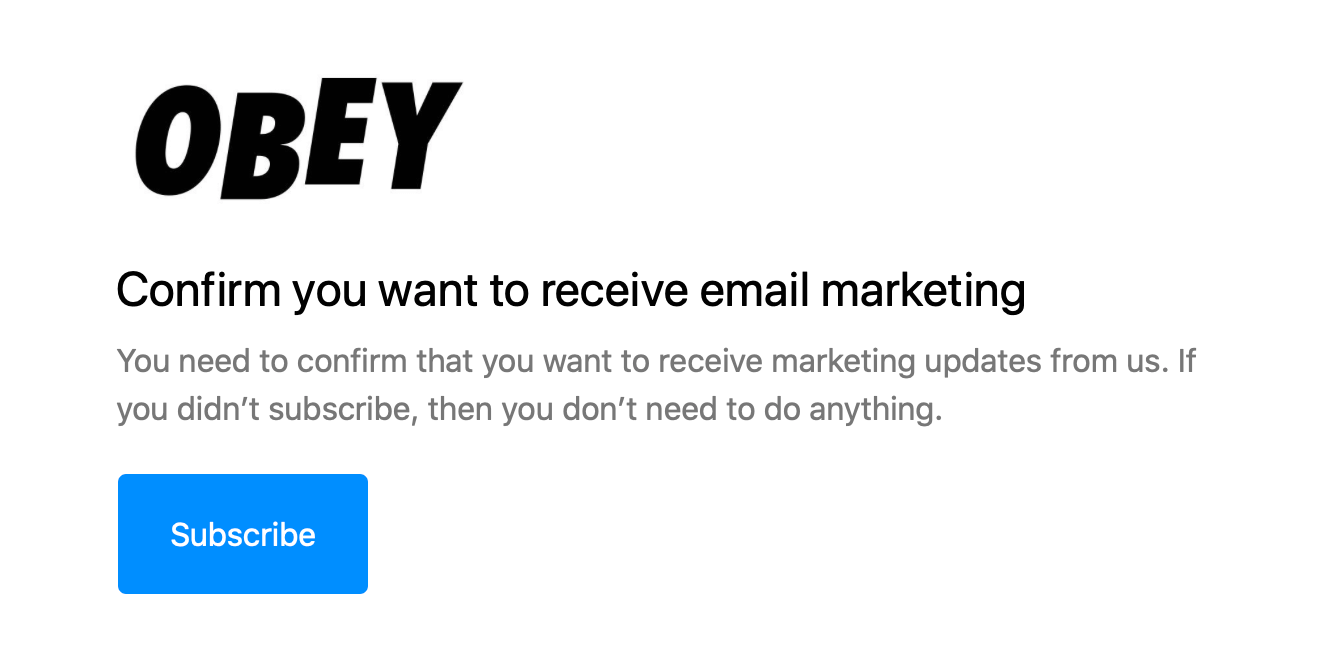 Double opt-ins provide additional evidence of subscriber permission to send e-commerce emails.
7. Organically grow your email subscriber list
Thoughtful placement of sign-up forms, pop-up messages that invite web browsers to subscribe before they leave, landing pages, and other incentivized invitations to join your email list are great ways to grow your email subscriber base. TryTada has some fun and rewarding ideas how to incentivize new subscribers.
This kind of engagement will 'organically' grow your email list and improve the open and click rates of your email campaigns. Both of which boost your emailer reputation. Following up with welcome emails for those who do join your email list is an excellent way to convert subscribers into happy customers.
8. Spamming words in email subject lines
Remember the spam laws outlined above? Avoid misleading or completely false subject lines for your marketing emails.
Some email marketing professionals regard words such as 'money', 'click here', and even dollar signs to be spam filter triggers - particularly if your recipient hasn't added you to a white list or included you as a contact for their account. However, it's unlikely that words alone will get you marked as a spammer.
That said, as a common courtesy to your email recipients, avoid excessive exclamation marks and total caps in subject lines as it comes across as shouting. Instead, aim for actionable and honest subject lines that are consistent with your brand voice.
9. Do not buy email subscriber lists
This tactic goes against the spam laws for the US, Canada, and the EU. It's an underhanded marketing tactic that could land you in hot water.
In most cases, purchasable email lists don't comply with spam laws anywhere - the people on the list do not know you, they have not explicitly signed up for your marketing emails, and therefore, they have not willingly opted-in for your emails. This means that emailing people on these lists makes you a spammer. Furthermore, if they delete your emails without opening them, it will harm your emailer reputation and may trigger spam filters.
Purchasable lists often have a questionable quality of the email address included - inactive accounts, and abandoned addresses are potential spam traps for people who purchase and use these lists.
Finally, it's likely that your ESP views the purchase of email lists as a trespass of their terms and conditions. You could end up with a spammer fine along with loss of your ESP account and authentic subscriber list.
10. Respect email subscribers and unsubscribers
Spam laws state that all promotional emails must include an easily accessed unsubscribe option. Whether this is a link within your promotional email or the short process of sending an email with 'UNSUBSCRIBE' in the subject line, is completely up to you. However, it is imperative that all unsubscribe requests are actioned promptly.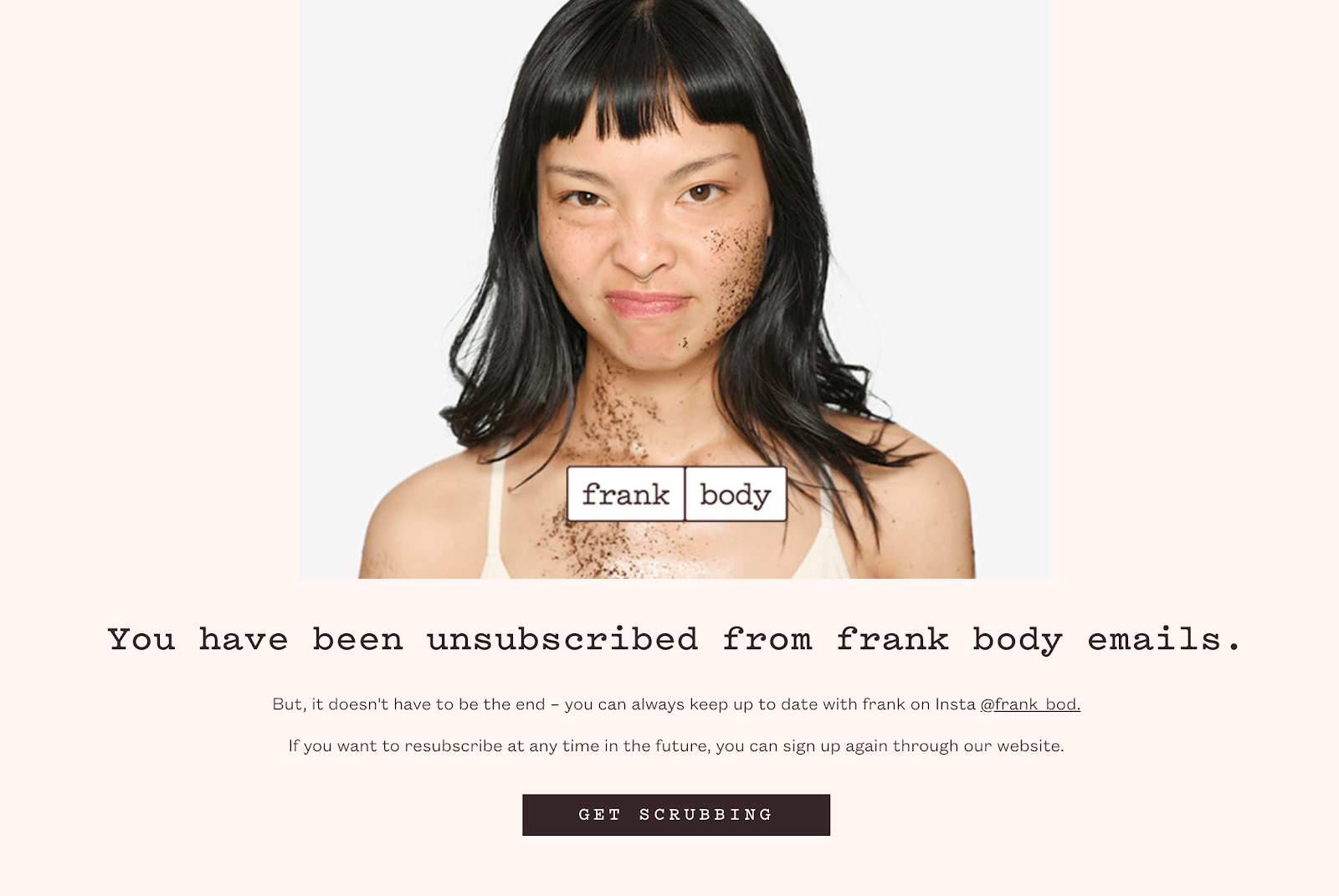 It is good practice to promptly unsubscribe email recipients who request to be removed from your subscriber list.
Failing to act on unsubscribe requests is both annoying to the recipient and contravenes spam laws. It will also lead to your email reputation tanking - recipients who have unsubscribed will delete any future emails from you without ever opening them.
Sending Mass Email Campaigns Without Spamming: The Bottom Line
Getting your e-commerce emails to the right people and the right folder is a worthy goal for any digital marketer. The deliverability of emails has a large impact on your email campaign's success and sales. At Firepush we have lots of email marketing experience, so we can help you learn more about building high-quality email campaigns contact us here or reach out to us today.