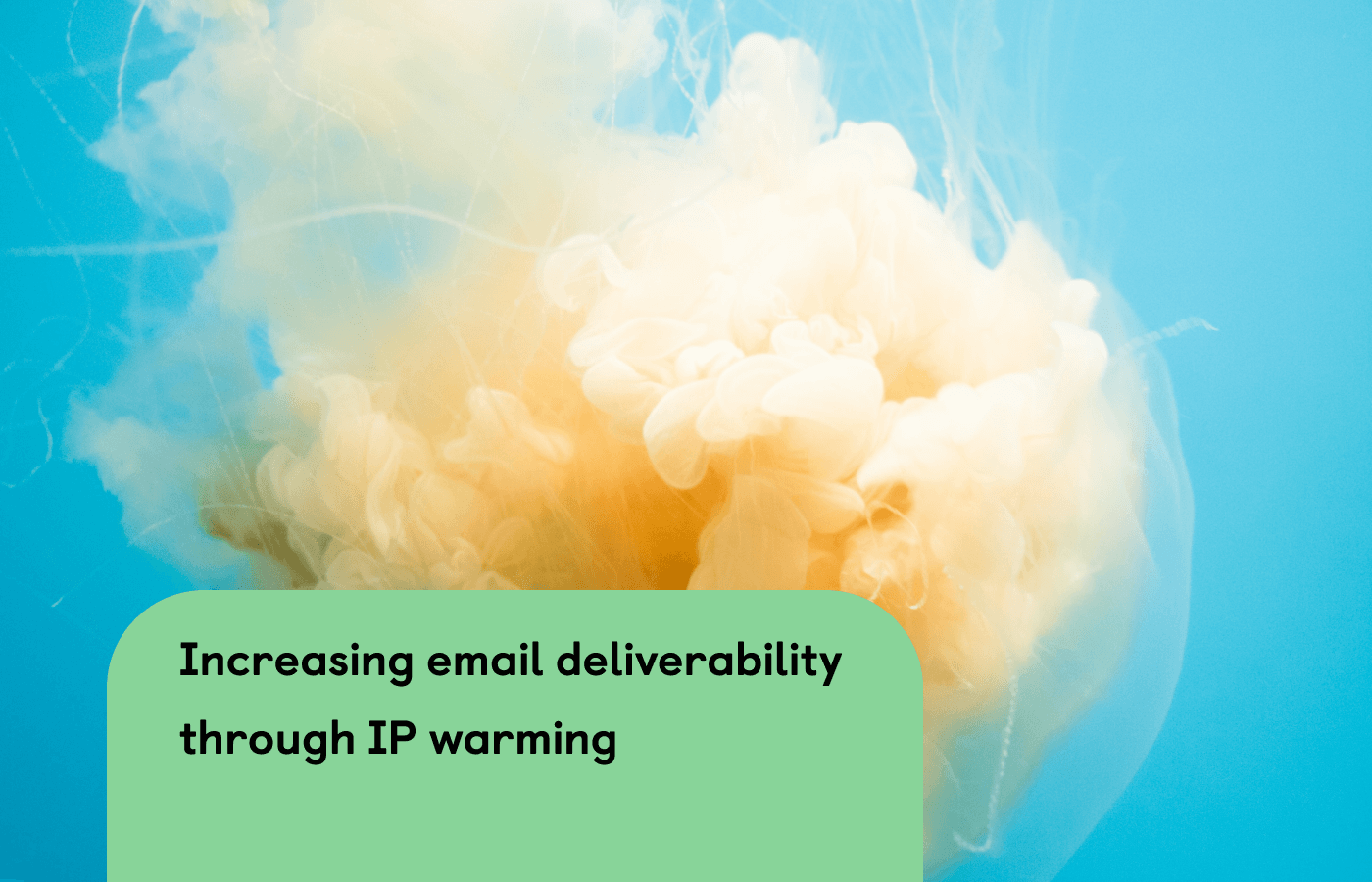 Making sure your emails get delivered to your subscribers is one of the most important aspects of your email marketing strategy. If some of your emails aren't being delivered, you won't be able to get an accurate measure of how well your email campaigns are performing.
Even worse, having your emails go undelivered raises a red flag alert to inbox providers who may assume that your future emails are destined for the spam folder.
One way to help your emails avoid inbox spam filters is through the process of IP warming. In this post, you'll learn exactly what IP warming is, and why and how you should implement this process to boost the deliverability of your email campaigns.
What is IP warming?
Internet service providers (ISPs), like gmail and aol, are always on the lookout for what they deem to be spam emails, so they can divert them away from the main inbox, into the spam or junk mail folder, where they typically stay forever hidden until deleted.
IP warming helps you to build your reputation as a trusted and recognized email sender. You do this by sending emails out to your list in small batches, gradually increasing the number of emails each time. IP warming involves initially sending emails to active subscribers only, who are likely to open your emails.
When should you use IP warming?
IP warming is a process you should carry out if you're new to email marketing, as this will mean that you currently have a non-existent reputation as an email sender. You should also carry out IP warming if you have a huge list of subscribers (more than 50,000 contacts) and if you're about to move to a new email marketing provider.
Moving to a new email marketing provider will result in you having a new IP sending address. Effectively, it's like starting from scratch when it comes to building your email sending reputation.
Thankfully, IP warming isn't a long process. Providing that you carry out IP warming properly for between 10-14 campaigns, this should be enough time to establish a trusted reputation with ISPs.
How to carry out IP warming - plus best email practices
Let's say you have an email marketing list of 50,000 contacts. The first step is to carry out some audience segmentation to see which of your contacts are the most active; that's those who have frequently opened your campaigns in the past.
Start by sending out a few thousand emails for your first campaign (no more than 5000). For consecutive campaigns, increase the number of emails by between 10-20% each time. See our screenshot below for an example.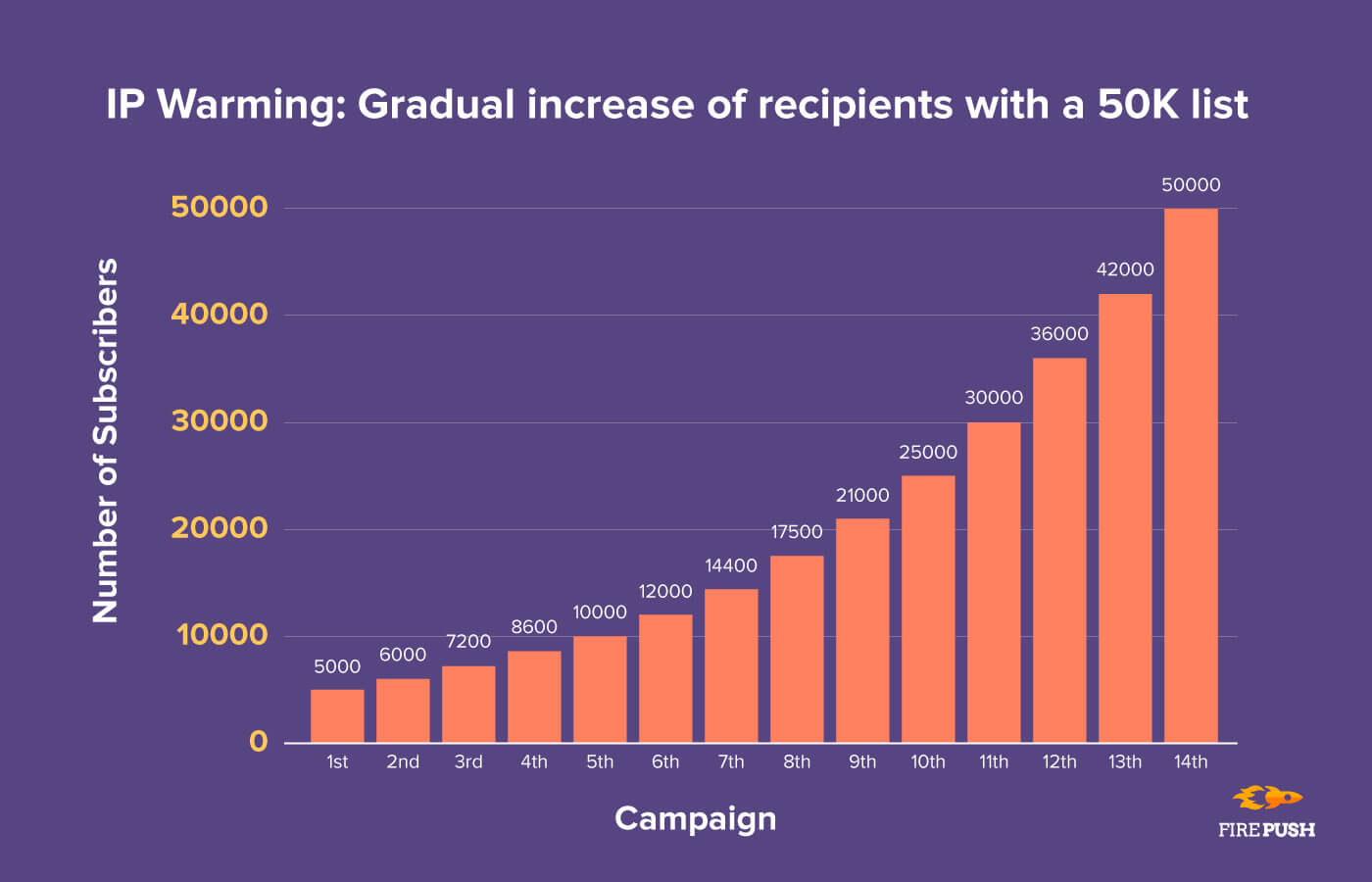 So that your emails have a good chance of deliverability in the future, it's best to follow these email practices below. Always ensure that:
Email opt-in is clear
Your subscribers shouldn't have to wonder why they've received an email from you. Only send emails to those who have opted in and have explicitly requested to receive your emails. Follow GDPR practices for subscribers based in the EU.
You clean your email list regularly
If you send more than 4-5 campaigns every month, you should clean your list once per month. That means checking for simple typos (such as the @ symbol being in the wrong place in an email address) and getting rid of email addresses that have bounced.
Note that a "soft" bounce usually only indicates a temporary deliverability problem, such as the recipient's server being down, or their inbox being full. A "hard" bounce is due to an invalid email address - any hard bounces should be removed immediately.
You remove inactive subscribers
Inactive subscribers are no good for your list. They only highlight to ISPs that your emails are going unread, and therefore may not be wanted. So if a subscriber hasn't interacted with your emails at all in 12 months, delete them from your list. Active subscribers are the sign of a quality list.
If you're exporting your subscribers from an old platform to a new one, make sure that you don't transfer across email contacts that are inactive, or invalid.
Poor email practices that you should avoid at all costs
Outlined below are the things you should avoid doing if you don't want your emails to be seen as spam, and therefore go undelivered.
Don't send emails to people who haven't opt-in
Even if you've scraped together a list of email addresses which appear publicly online, it's not good practice to send emails to these people out of the blue. (It's also illegal to send emails without permission in most countries).
This type of activity will only get your emails seen as spam, and result in you possibly facing a hefty fine from government authorities. To ensure you carry out email marketing which complies with the law, it's worth familiarizing yourself with the CAN-SPAM Act, the CASL, the GDPR and the PECR.
Don't use purchased email lists
Purchased email lists are a bad idea for several reasons. Firstly, the contacts contained within a purchased list are unlikely to have opted in, which violates the data privacy laws mentioned above. Secondly, a reputable email provider won't allow you to use purchased lists.
Finally, purchased lists typically contain bad contacts, with inactive or very old email addresses that are likely to bounce anyway. A much better approach would be to grow your email list organically; this way you'll be emailing valuable contacts who are genuinely interested in what you have to offer.
Don't have a high complaint or spam rate
Any of your subscribers have the ability to report your email as spam, or make a complaint if they think you're emailing them outside of the law. You'll want to avoid complaints as much as possible and keep your spam rate low. An acceptable spam rate is 0.1%.
Don't send emails too frequently
Emailing your subscribers too often can lead to email fatigue (where your subscribers start to ignore your emails). This can result in these subscribers becoming inactive, or worse, marking your emails as spam. For optimum results, send out your email campaigns no more than 2-3 times per week.
Top takeaway
IP warming can help you build up a trusted reputation as an email sender, which in turn can contribute to email deliverability success. IP warming should be done if you're just starting out in email marketing, you're switching email providers, or you have a large list of more than 50,000 contacts.
By carefully scheduling your email marketing campaigns and concentrating on your most active users, IP warming can help your open rates improve and lead to more conversions/sales for your Shopify store.
For help or advice on how to implement IP warming using Firepush, please get in touch.