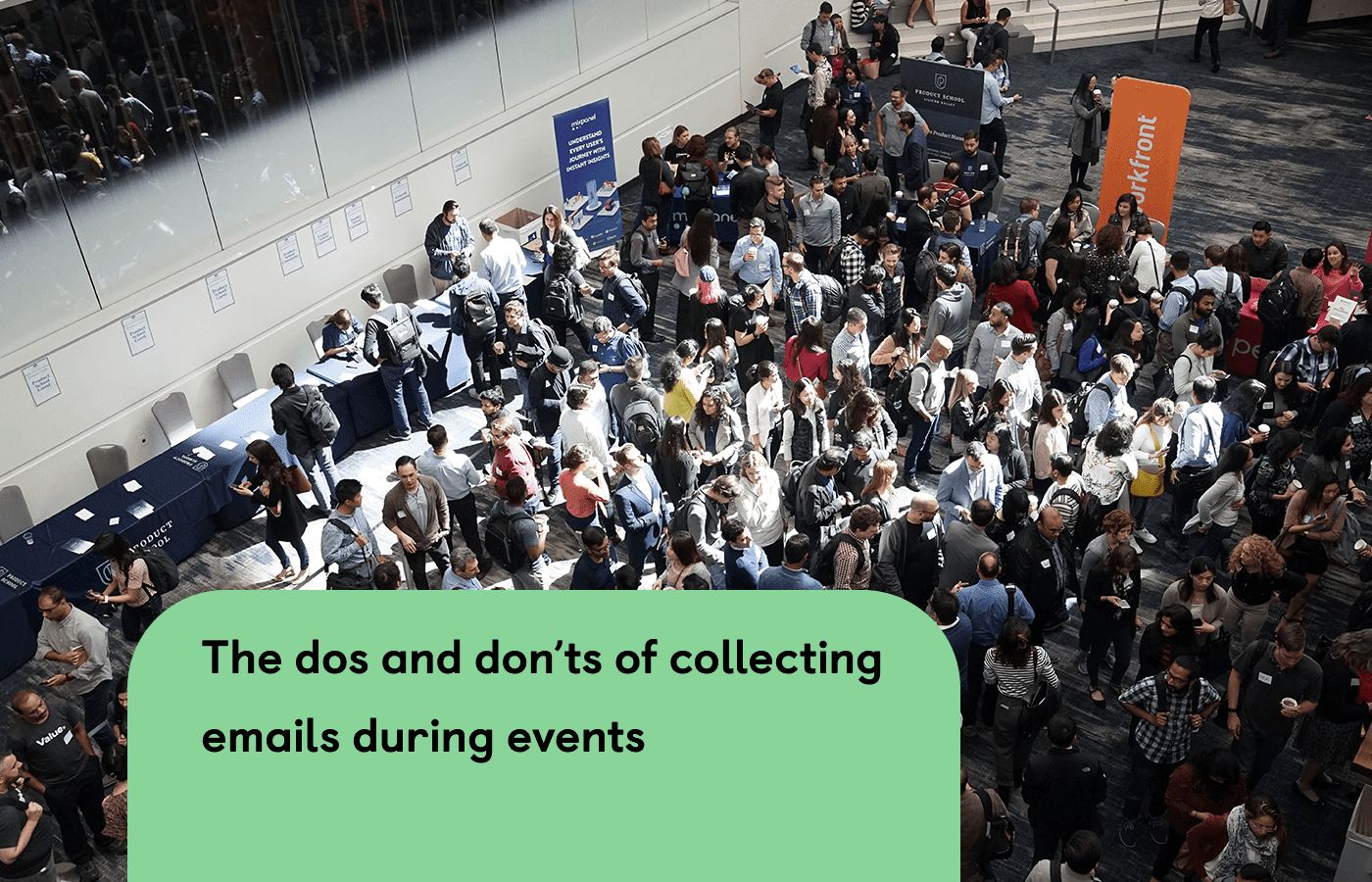 So that you don't run into compliance issues when sending email campaigns, permission-based opt-ins are a must, even if you're collecting contact details face-to-face at an event or trade show.
In this article, you'll learn how explicit consent can be obtained for marketing purposes during an event and in what situations you need it.
Firepush offers dedicated support and FREE consultations to find right strategy for you
Book my demo
How should you obtain consent for marketing emails during an event or trade show?
A good way to do this is to use a reputable app on your mobile device or tablet to capture consent. As you're talking to visitors, ask them if they'd like to receive marketing emails from you and explain the benefits they'll get from doing so.
Hand the device to the visitor and get them to complete the online subscription form. The app should automatically add them to your marketing list. Email your new subscriber straight away, or the next day, to follow up on your conversation and boost the chances of them transitioning from a lead into a customer.
You can use a paper form to capture consent, but this isn't recommended because of data security. How will you keep paper contact forms safe? An online app is more reliable, as the data is usually stored in the cloud and therefore won't get lost or mislaid. Just make sure that the lead capture app you use is reputable and complies with data privacy policies such as the GDPR.
In which offline situations must you capture explicit consent?
Below you'll find different offline situations in which you must obtain consent for email marketing. You'll also learn when it's ok to import offline email subscribers into your email client, and when you can't.
#1 Situation:
You want to add contacts into your email marketing list who you meet at a trade show. They have given you verbal permission. Is that ok?
Answer: No. Verbal permission is hard to prove. Your contact may forget they gave you permission in the first place. Always obtain written permission to confirm you can send a new contact marketing emails.
#2 Situation:
A contact gives you a business card during an event. Should you add them to your email marketing list?
Answer: Yes. The contact hasn't expressly agreed to receive marketing emails from you. The best approach is to send them an email from your own email client, explaining how you met at a recent event and requesting permission to send marketing emails. Include a signup form in your email.
#3 Situation:
You had an email opt-in section on your stand at a trade show. Can you add these contacts to your email marketing list?
Answer: Yes. Those contacts have given you explicit permission to be contacted and you have the opt-in forms to prove this.
#4 Situation:
You're given a list of trade show attendees and their contact details by the event organiser. Should you email these attendees?
Answer: No. Although event attendees may realise that they've passed their information onto the trade show organiser, they haven't explicitly signed up to receive emails from you.
#5 Situation:
You obtained written permission to email trade show visitors at an event a few years ago, but you've only just gotten around to using the list. Can you still email these contacts?
Answer: Yes. Bear in mind that if your list is old, those contacts may have forgotten that they gave consent. They may not even remember your brand! So, rather than targeting these people with marketing emails straight away, send a reconfirmation email first to make sure they still want to receive your emails.
#6 Situation:
Can you send marketing emails to your social media contacts?
Answer: No. Although you have a connection with your social media followers, they haven't agreed to receive marketing emails. Send a message to them via the relevant social platform to ask them to opt into your marketing emails instead.
#7 Situation:
You've purchased a list of contacts who are likely to be interested in your products. Can you email them?
Answer: No. The contacts in your list may not be aware that their data has been sold. If you email them, you're effectively sending unsolicited emails. This leads to high bounce rates, your emails being reported as spam and falls foul of compliance regulations.
#8 Situation:
You want to start emailing your store customers with regular marketing newsletters. Can you do this?
Answer: Yes… but. Existing customers already have a relationship with you, so you may be able to email them on the grounds of legitimate interest (without consent). However, they haven't explicitly signed up to receive your emails, so this isn't good practice. Include a signup link in every order confirmation and email receipt to capture consent instead.
#9 Situation:
You've asked people who visit your store to drop their contact details into a box if they want to subscribe to your newsletter. Is that ok?
Answer: Yes… but. You've told these people that you'll be emailing them and they gave consent by willingly leaving their contact details. However, it would be difficult to prove this with just a box of contact details and no context as to what these people are agreeing to. Make sure you obtain solid proof that store visitors are happy to receive marketing emails. An explanatory form with a checkbox would work.
Why is explicit opt-in consent for marketing emails important?
Someone who willingly opts into your marketing list wants to hear from you. That makes them an asset and way more valuable than someone who hasn't opted in and may not have an interest in your brand or products.
Only sending emails to contacts who've opted in will help you develop your reputation as an email sender. Your emails are less likely to be marked as spam. More importantly though, by getting explicit opt-ins, you can comply with anti-spam and data privacy laws such as the GDPR.
If you don't obtain consent for marketing emails, you'll damage your company's reputation as an email sender and may end up breaking the law. If you're found in breach of data privacy rules, you could find yourself landed with a hefty financial penalty.
Use this consent checklist to help you with compliance
When asking for consent, it's useful to consider the following questions to make sure you've covered your legal obligations, especially in relation to the GDPR:
Is 'consent' the most appropriate lawful basis for processing offline personal data?
Is your request for consent prominent, explained clearly and separate from your company terms and conditions?
Are you asking people to opt-in positively and avoiding a default opt-in checkbox or subscribing being a precondition of a sale or service?
Are you giving subscribers context - explaining why you want their data and what you intend to do with it?
Are you asking subscribers to read your privacy policy as part of signing up?
Are you explaining how subscribers can withdraw consent and access their data?
We hope you find this information useful. If you have any queries about when you can and can't import or email offline contacts, please reach out to our support team.