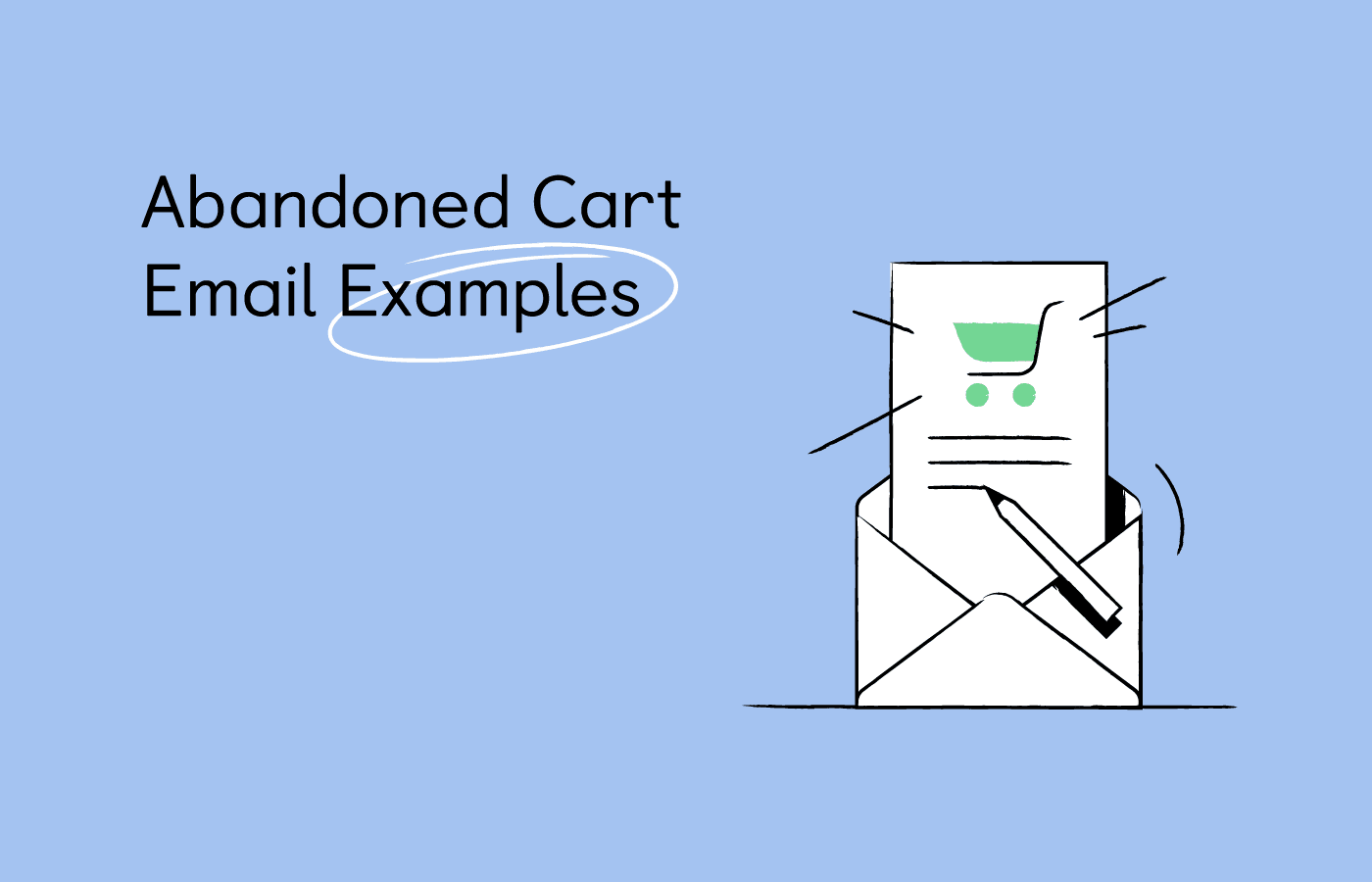 They say that abandoned carts are inevitable in eCommerce.
True. But let's rather focus on this:
Some of that lost revenue is recoverable. You can get customers to return and buy with great abandoned cart emails.
In this guide:
Abandoned Cart Email Examples
Let's now check out 15 abandoned cart email examples from successful eCommerce stores. We'll focus on the best features and takeaways from each email sample.
Subject line: Forget Your Shades? Save 15% Now!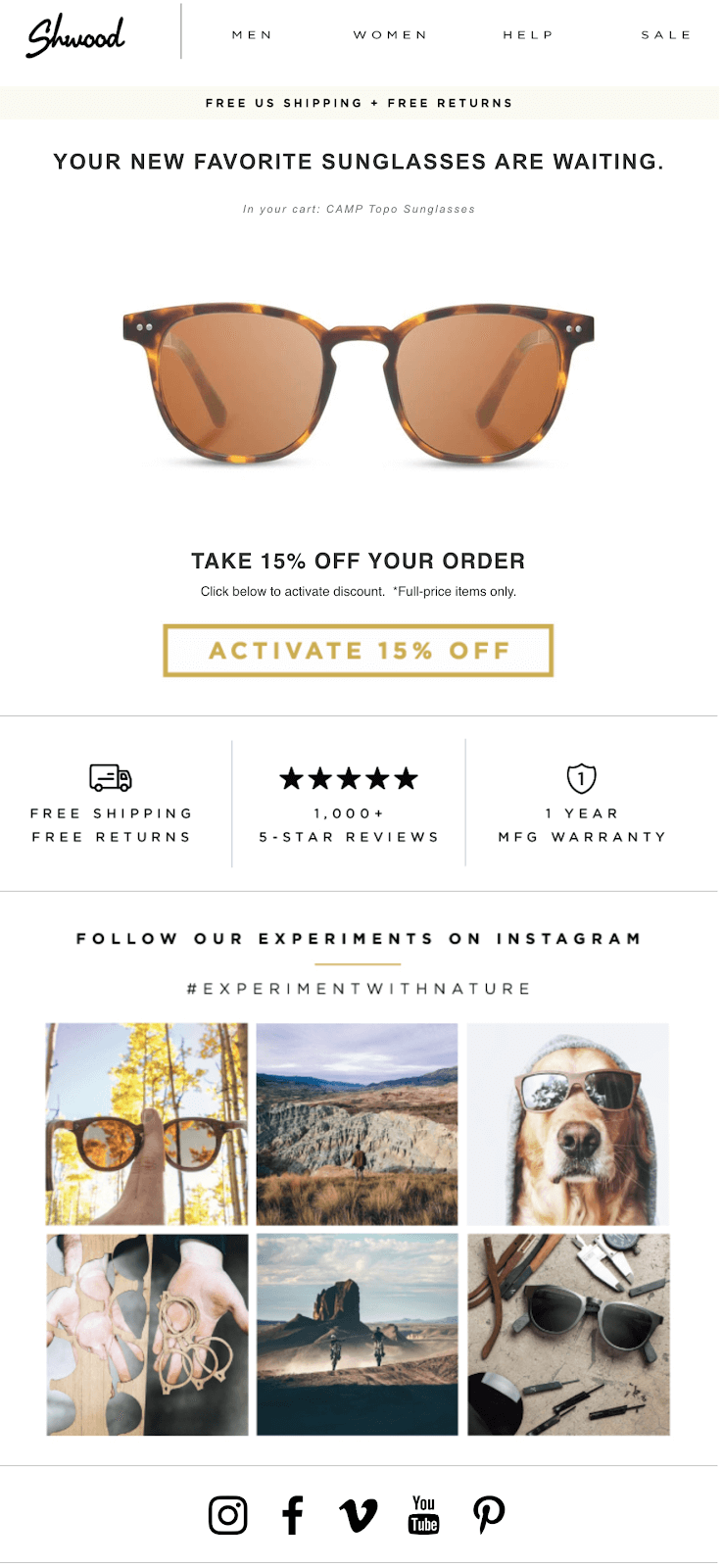 This cart abandonment email opens up with a confident headline that makes the purpose super clear. The design focuses the attention on the product image and the CTA. It's a really good technique to lead the shopper back to the checkout page.
Another excellent thing about this reminder abandoned cart email example is the social proof section. About 94% of customers trust a business more after reading online reviews, so adding this section makes this abandoned cart email both colorful and trustworthy.
Why it works:
Abandoned cart email design that focuses on the product image
eCommerce trust signals: free shipping and returns, 1-year warranty, and 1,000+ 5-star reviews
Instagram feed section with customer-generated content featuring Shwood Eyewear's products.
An abandoned cart recovery app isn't the only way to recover sales. Try a Shopify Plus app that texts your customers and reminds about purchases without your brand coming across as spammy.
Subject line: 10% off the items in your cart!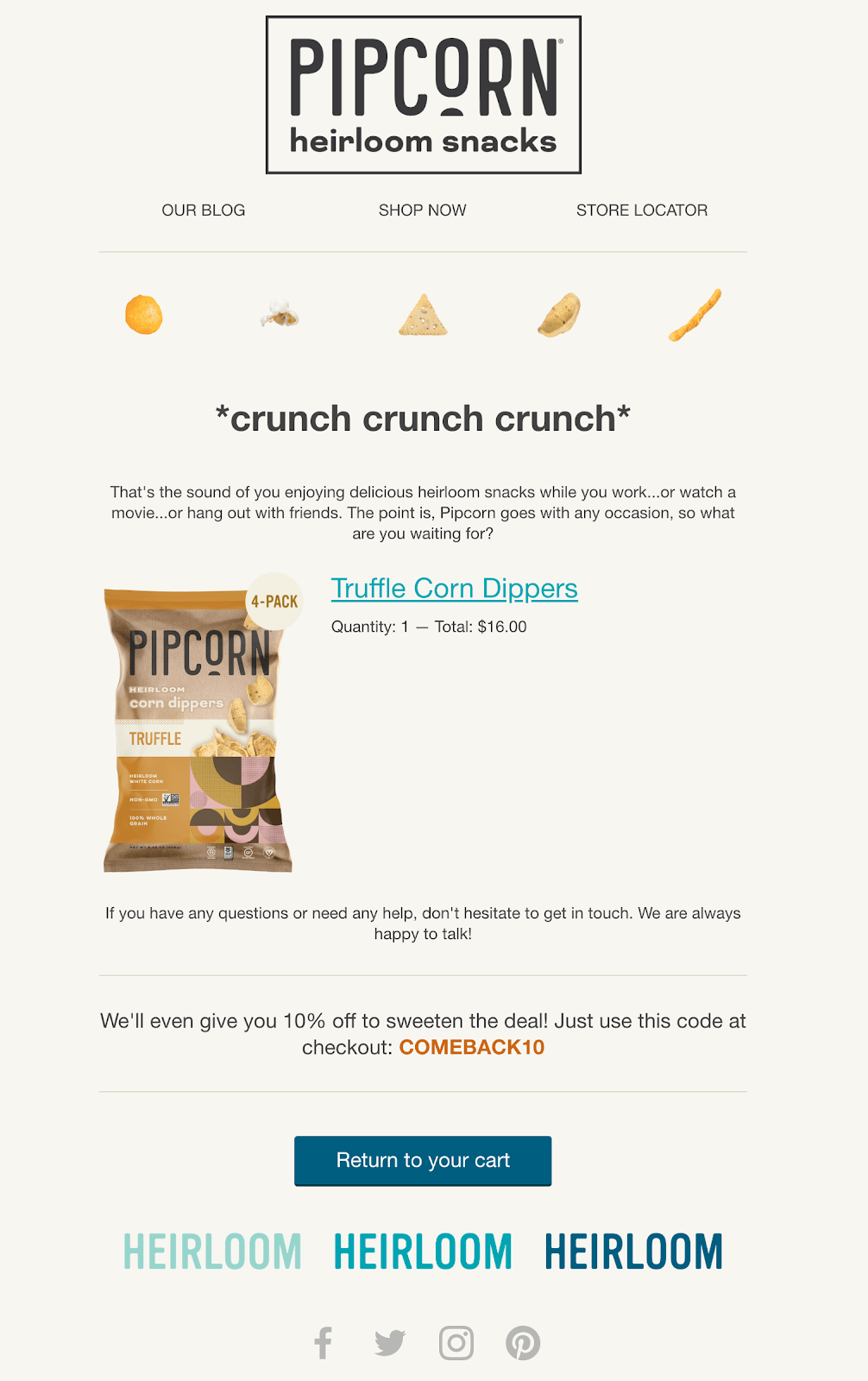 Pipcorn makes this list of abandoned cart email examples because:
One—an exceptional abandoned cart email copywriting. Instead of the traditional "finish the purchase," the email tells a little story of how they can enjoy the snack... Oh boy, if someone reads that while hungry...
Two—the email offers help with completing the order. The brand realizes that there are multiple reasons for abandoning the product (a lack of time, website error, etc.)
Three—a generous discount. There's a 10% off discount although the product itself costs $16.00! Sounds like Pipcorn is confident that the customer will like the product and buy again, which is a good sign.
Why it works:
Amazing abandoned cart email copywriting that sounds like a mini-story
The discount code might help to convince to complete the purchase
Pipcorn promises assistance to eCommerce consumers who left the site because they faced some issues with placing the order.
Subject line: Forgetting Something?

Here's what special about this abandoned cart email example.
An image of someone carrying a bag of clothes is the first thing that a customer sees — that's a clear signal to action. A promise of free shipping delivers even more encouragement. If the customer still hesitates, this cart recovery email reminds them of the "buy now, pay later" option.
Together, these techniques make buying super easy. And they get Herschel into our list of the best cart abandonment emails from Shopify stores.
Why it works:
A creative header image
Two product photos as a reminder of the abandoned items
Three easily visible CTA buttons for more opportunities to cart recovery.
Looking for an affordable Shopify abandoned cart app? Try Firepush, and use one-click customer segmentation, and beautiful email templates
Try abandoned cart emails for free
Subject line: How about 20% off your bag?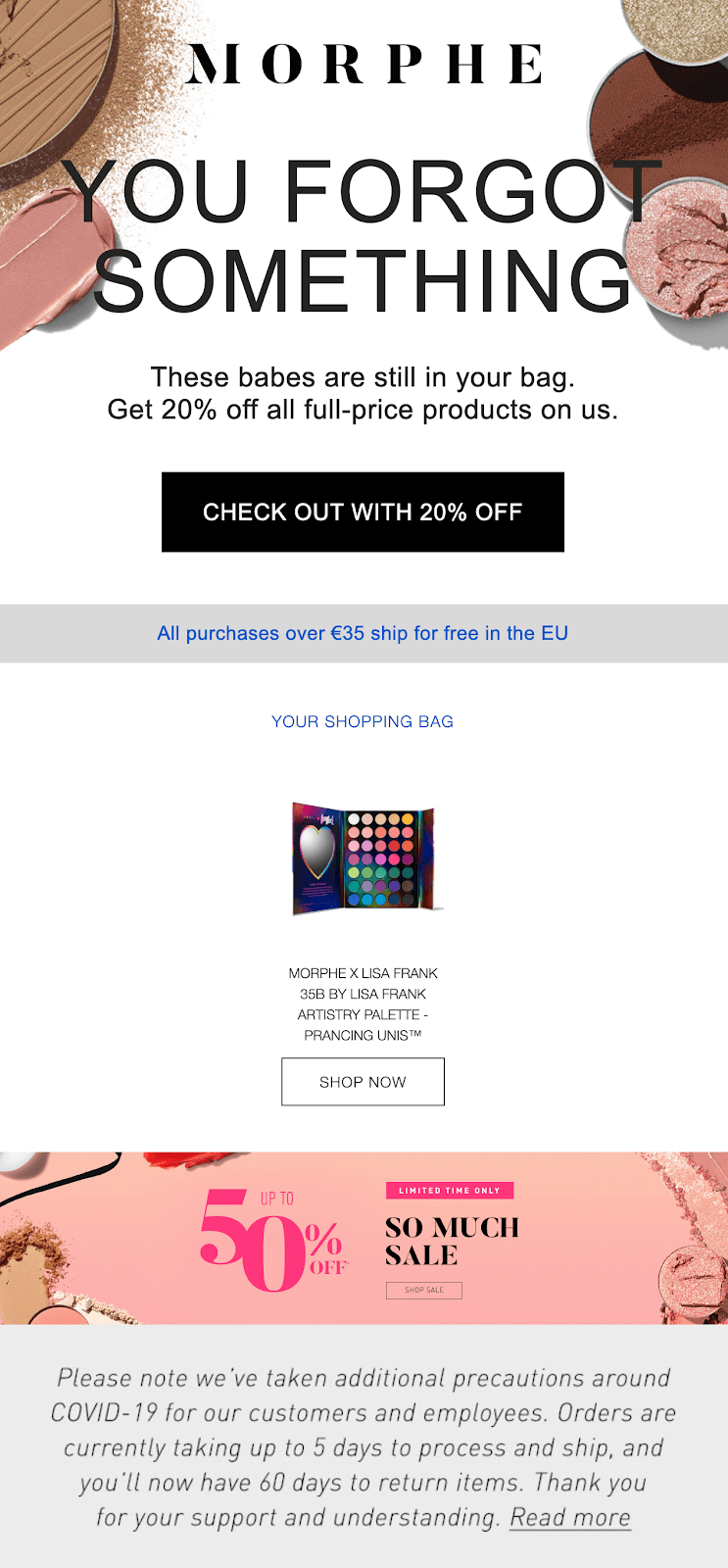 In this abandoned cart email, Morphe is trying to retain price-sensitive customers. The brand proposes 20% off—a more generous discount compared to the average cart recovery discount of 10%-11% (and the discounts in other abandoned cart email examples here).
The CTA button copy mentions the discount to motivate shoppers to return to Morphe's website. Thanks to lots of white space in this abandoned cart email design, the button stands out, so the customer will definitely notice it.
Why it works:
White space to differentiate the CTA and shopping cart contents
An attractive subject line that asks a question and mentions a discount
A large heading to explain the purpose of the email.
Subject line: Forget anything?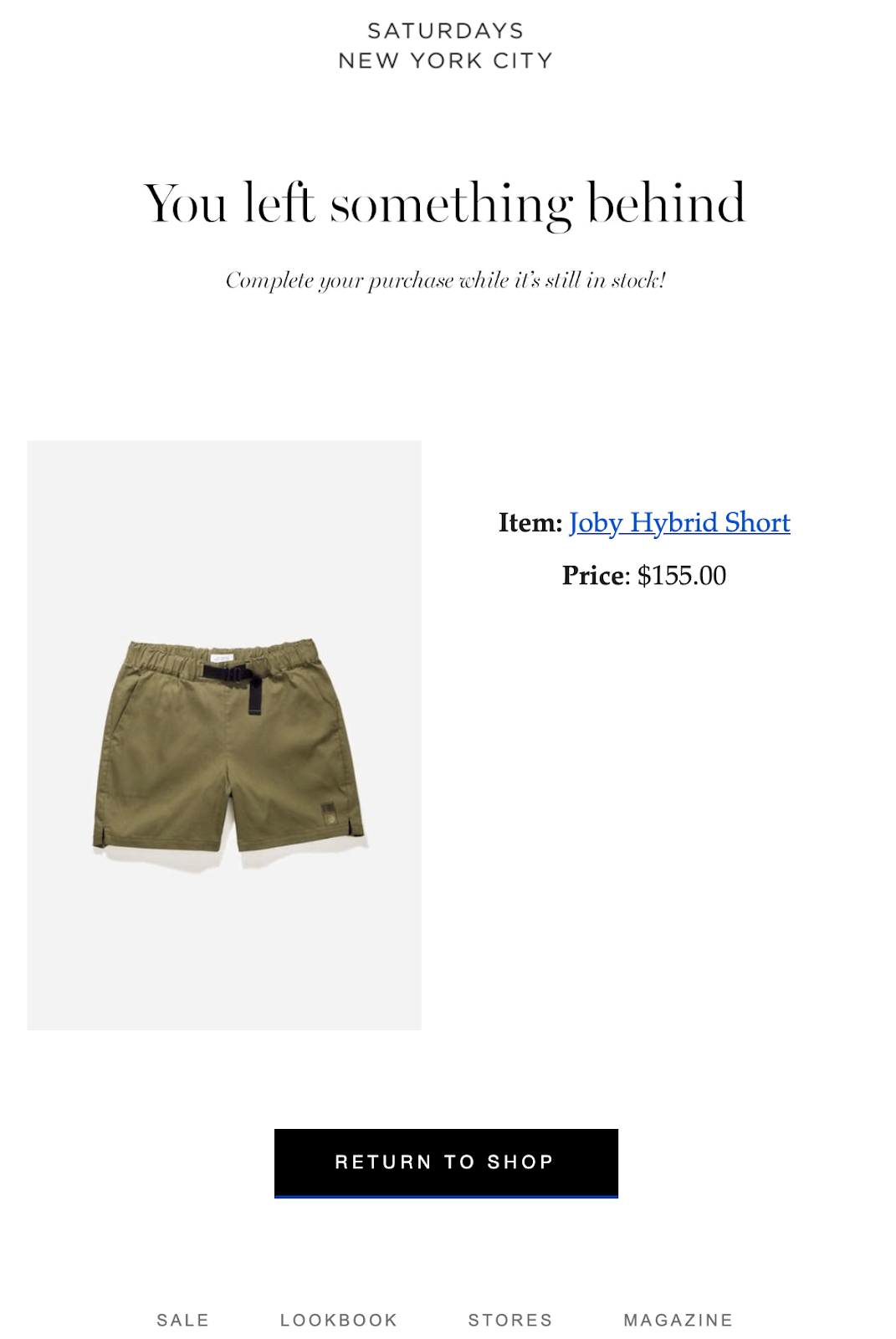 If you're looking for abandoned cart email examples with a simple design, you'll like this one. This Shopify store gets straight to business, as this abandonment cart email lacks promotions, multiple marketing content sections, or extra store links.
This marketing strategy is useful for eCommerce stores selling clothes for men. As scholarly research showed, male consumers prefer to avoid browsing numerous product pages, so simplifying their experience is a better idea to improve their shopping experience.
Why it works:
Very focused and straightforward cart recovery email with a clean design
Lots of white space to make the product and the CTA stand out
The "Complete the purchase while it's still in stock!" message adds some sense of urgency.
Subject line: We've kept your basket and with 15% off!

This abandonment cart email example begins with a beautiful image. It's there for a reason: just look at that finely decorated bookshelf! This eCommerce store draws shoppers in with good-looking interior decoration examples, which shows that the brand did customer research.
The rest of this abandoned shopping cart email kinda looks like a bookshelf itself thanks to four content sections. Many customers interested in homeware and interior decorations would be glad to "Explore more," as this abandonment cart email invites them.
That's why Emma Bridgewater made our list of abandoned cart email examples.
Why it works:
"Back to Basket" is a low-commitment CTA button copy that doesn't push the customer to buy
A generous 15% discount encourages the customer to return to the Shopify cart and re-consider getting the items
Multiple useful links for those not ready to purchase—a referral program, a factory tour, and brick-and-mortar shop locations.
Subject line: Complete Your Purchase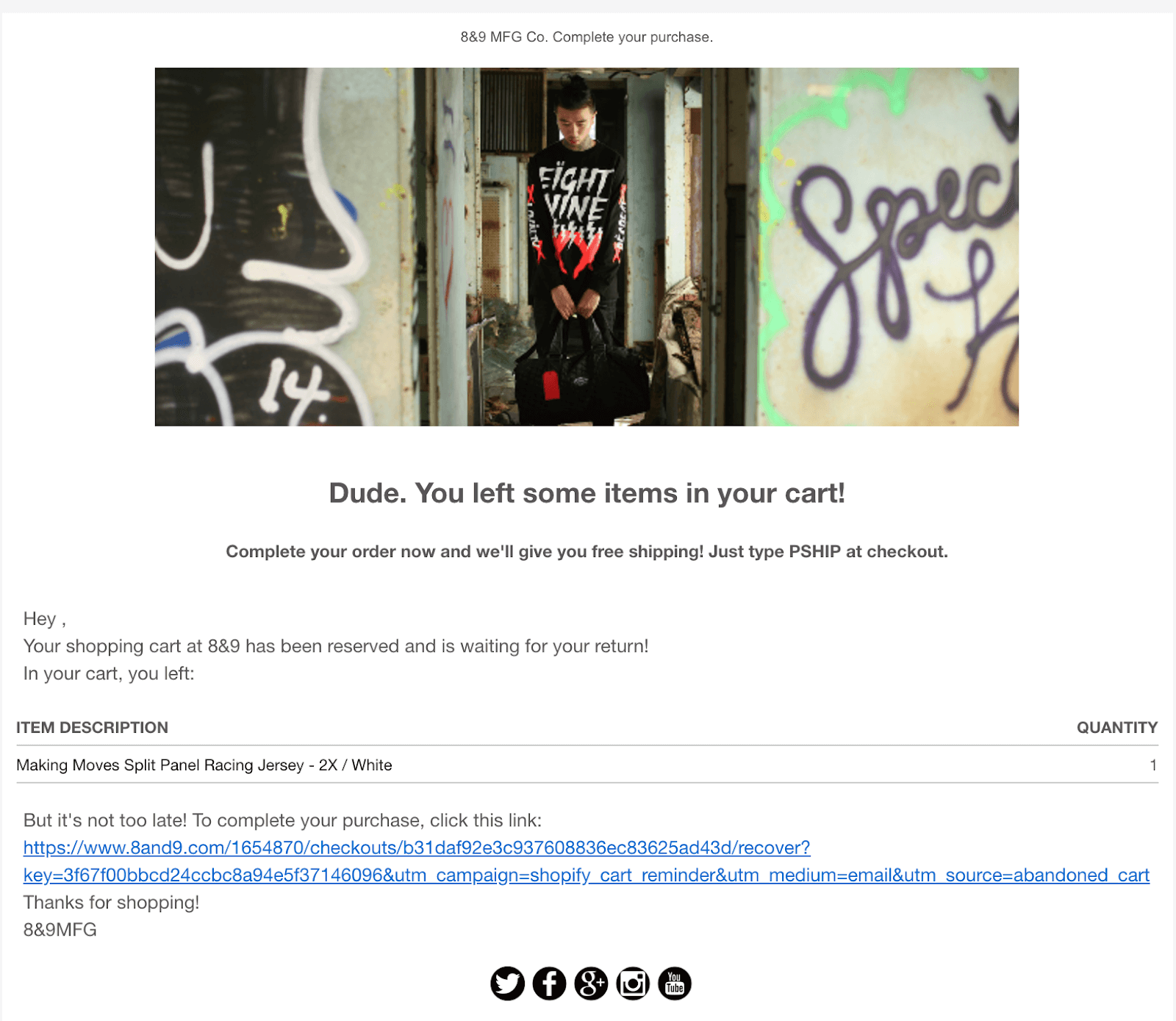 Looking for some unique and awesome abandoned cart emails? That's definitely one because this eCommerce shop takes an unconventional approach.
This cart recovery email template replaces the CTA button with a link, which is still visible. Unconventional, indeed.
Next, there's a picture of a sad person instead of the product image. Why? Social research found that sadness in advertising causes empathy and emotional immersion in consumers.
Still, there's something traditional here. As the second headline says, it's an abandoned cart email with free shipping as a bonus — a common tactic to recover sales.
Why it works:
Unique abandoned cart email approach without CTAs and product images
Youthful and conversational email tone of the text that appeals to the brand's target audience
Free shipping as an abandoned cart incentive.
Subject line: You've forgotten something... ☁️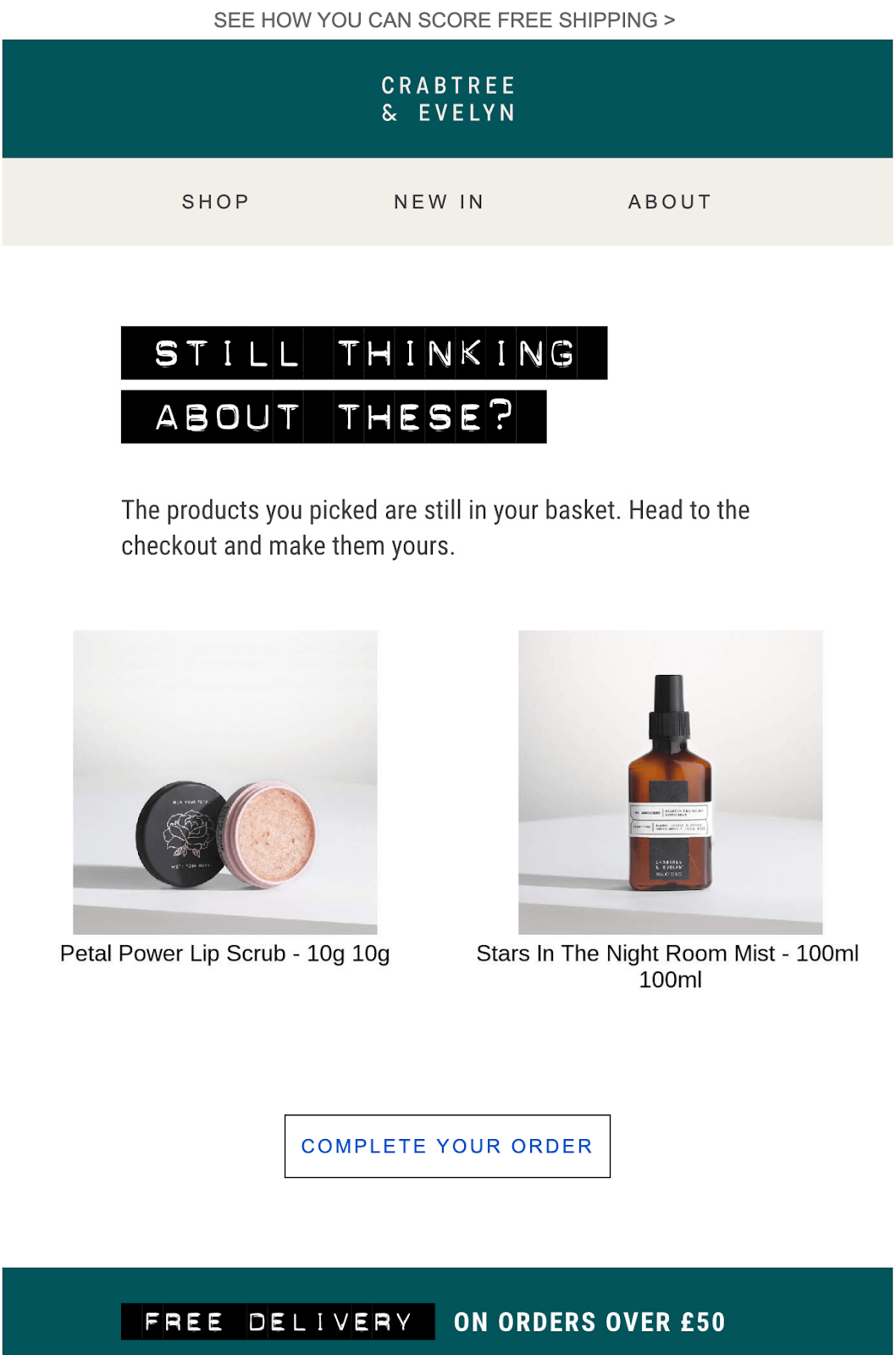 A question in the headline is something we see often in the best abandoned cart emails. It's a good tactic to recover more sales because questions naturally make us think about answers. Consider using questions in your shopping cart abandonment email strategy, too, to achieve a similar effect.
What makes this email even better is the message after the question. The brand makes a friendly reminder to return to the basket and get the goods.
Why it works:
This cart recovery email example is a friendly reminder to get back to the Shopify shopping cart
Product images show the customer what items they forgot to buy
A free delivery notification in the footer of this cart abandonment email template adds extra motivation to finish the purchase.
Subject line: Your cart is expiring soon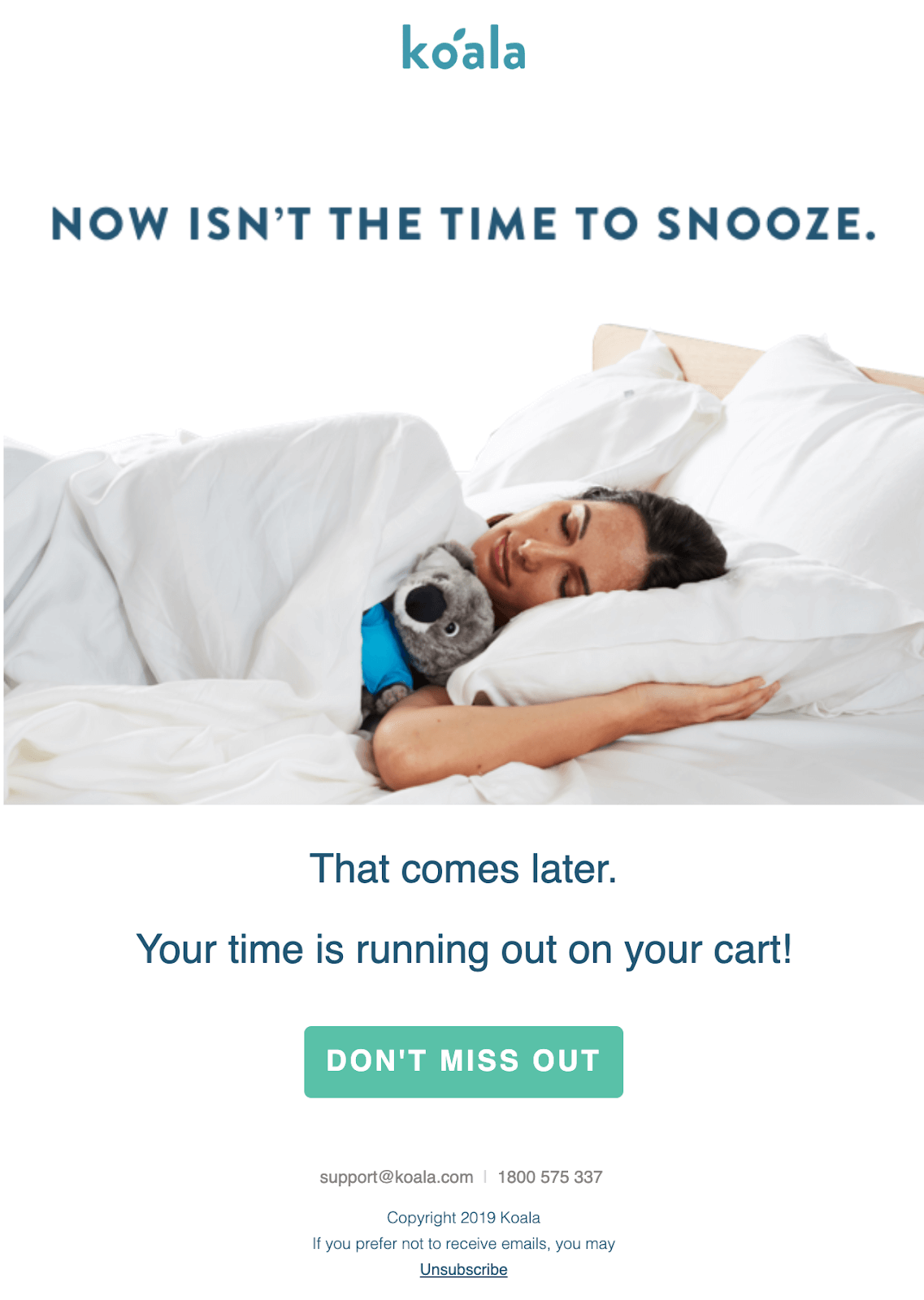 Koala, a Shopify seller of mattresses, uses a straightforward abandoned cart email template with two notable features.
The first one is the minimalist email design. It's clean and simple, which helps focus the attention of customers on the CTA button. Next, there's the light and creative copy that makes this abandoned checkout email memorable by highlighting the brand's friendly style.
Why it works:
Clean, simple email design that draws the attention to the CTA
Creative and memorable abandoned cart email copywriting that reinforces the brand's voice and communication style
CTA button copy appeals to FOMO ("the fear of missing out.")
Subject line: What's that in your cart? 👀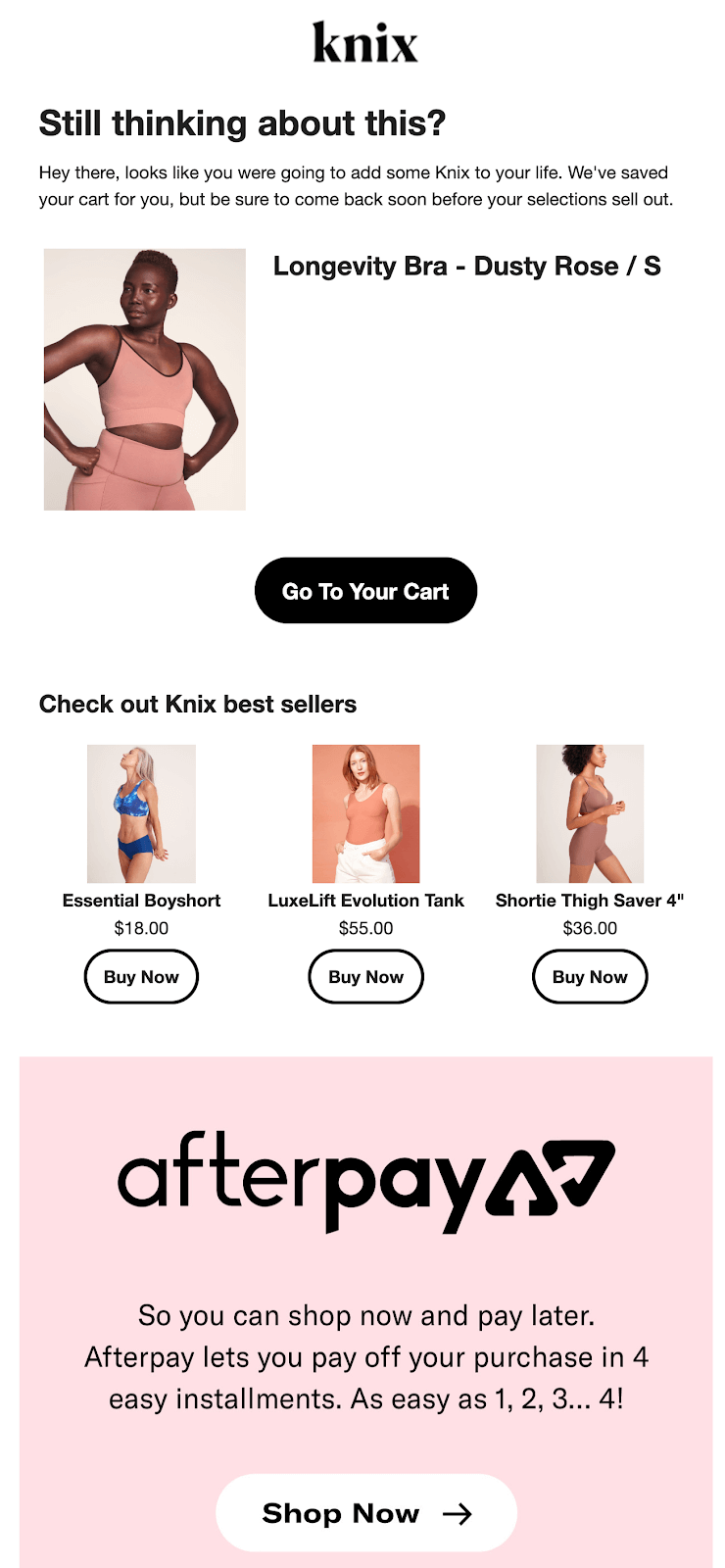 Knix tries to increase the abandoned cart email conversion rate by including multiple links with popular items. This tactic is effective to promote product exploration and get sales in case a customer left because they were researching options.
That's why Knix's example is on the list of best abandoned cart emails. A frequent shopper who adds products to shopping carts for research is likely to become interested in this message. So, consider adding the bestsellers to make great abandoned cart emails.
Why it works:
Prominent CTA button
Several more product options to encourage more shopping
Notification of the opportunity to pay in installments with Afterpay.
Subject line: SOLD OUT (almost)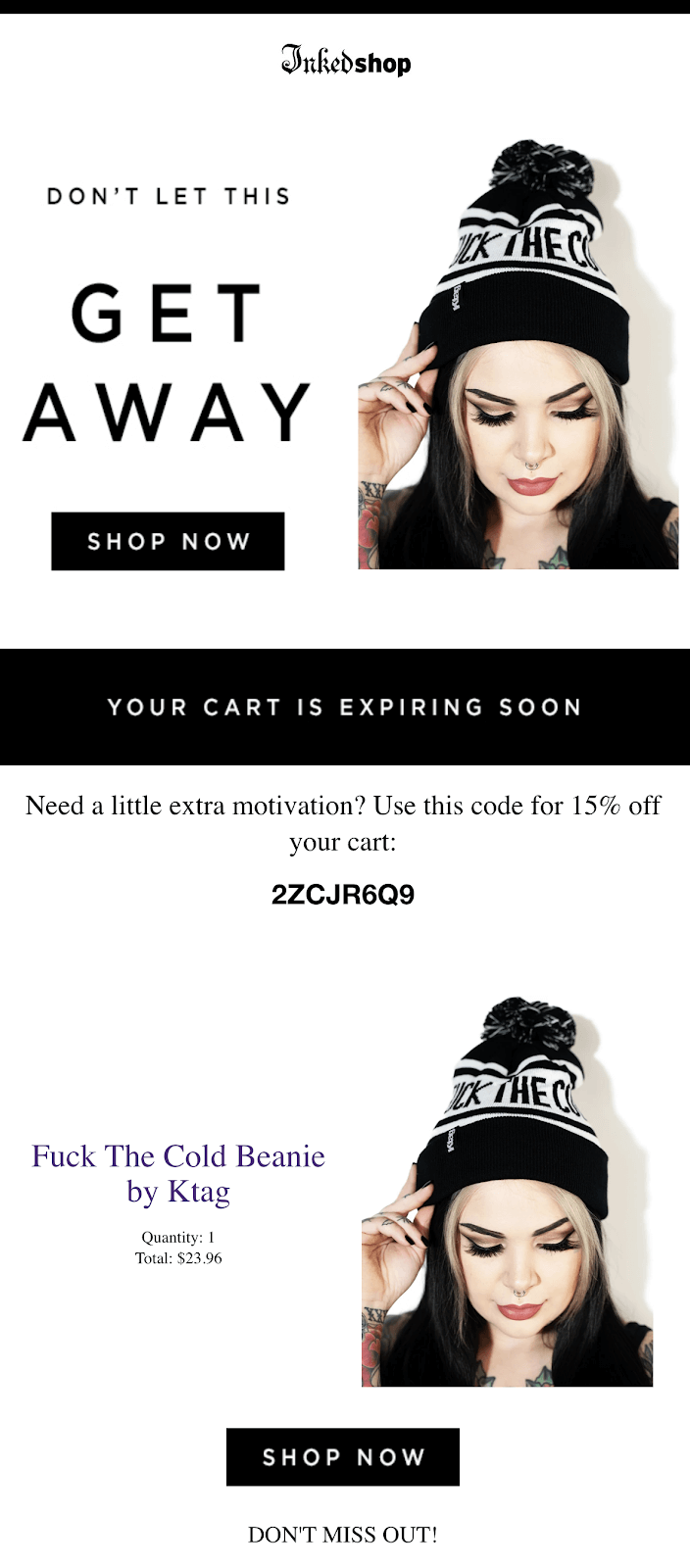 Inked Shop adds some sense of urgency to the marketing mix. Besides the subject line, there's a large button in the email notifying the customer about the approaching Shopify cart expiration.
By doing so, this marketing strategy appeals to the "fear of missing out on a good deal." Indeed, the deal is pretty good, as this abandoned shopping cart email example promises 15% off the entire cart.
Why it works:
Both the subject line and the email communicate a sense of urgency
Abandoned cart discount code to encourage action
White space-rich abandoned cart email design for easy reading.
Besides emails, Inked Shop used a Shopify abandoned cart app with SMS marketing. The result: $164,192 in extra revenues from recovered Shopify carts. Details: Inked Shop Case Study
Subject line: We saved your cart for you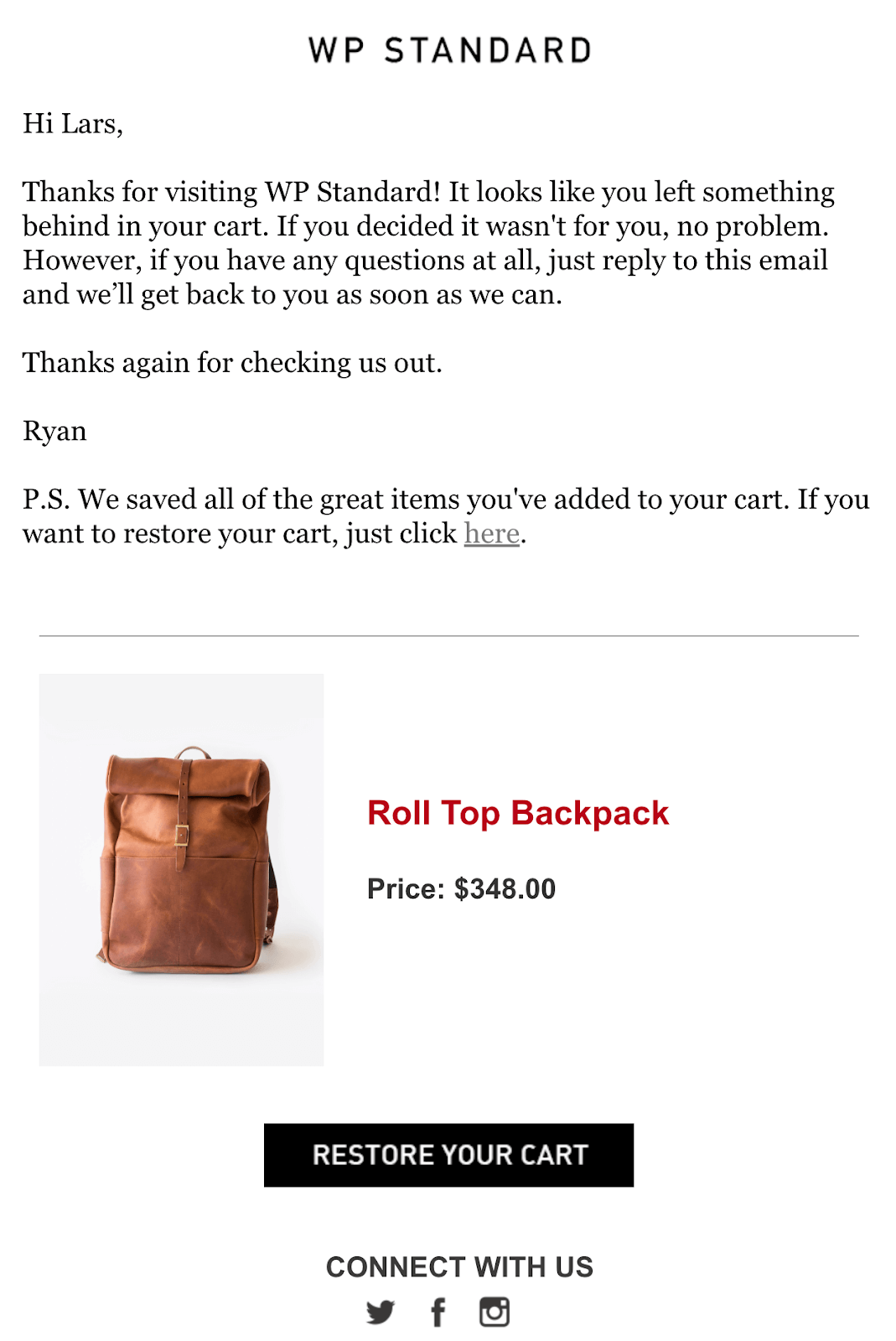 About 13% of customers abandon shopping carts because of website issues. So, they might need assistance with completing their order. No surprise that we can find many abandoned cart email examples that offer help.
That's what WP Standard is offering in this Shopify abandoned cart email. The brand politely asks the customer to notify if there was an issue that prevented the purchase. This sample abandoned cart email stands out — it feels like somebody took the time to write it and offer assistance.
Why it works:
Friendly email copy feels like a personal letter (this abandonment cart email mentions the customer's name, too)
A quality product photo as a reminder of shopping cart contents
A bright and bold CTA button to catch the customer's attention.
Subject line: These will look great on you.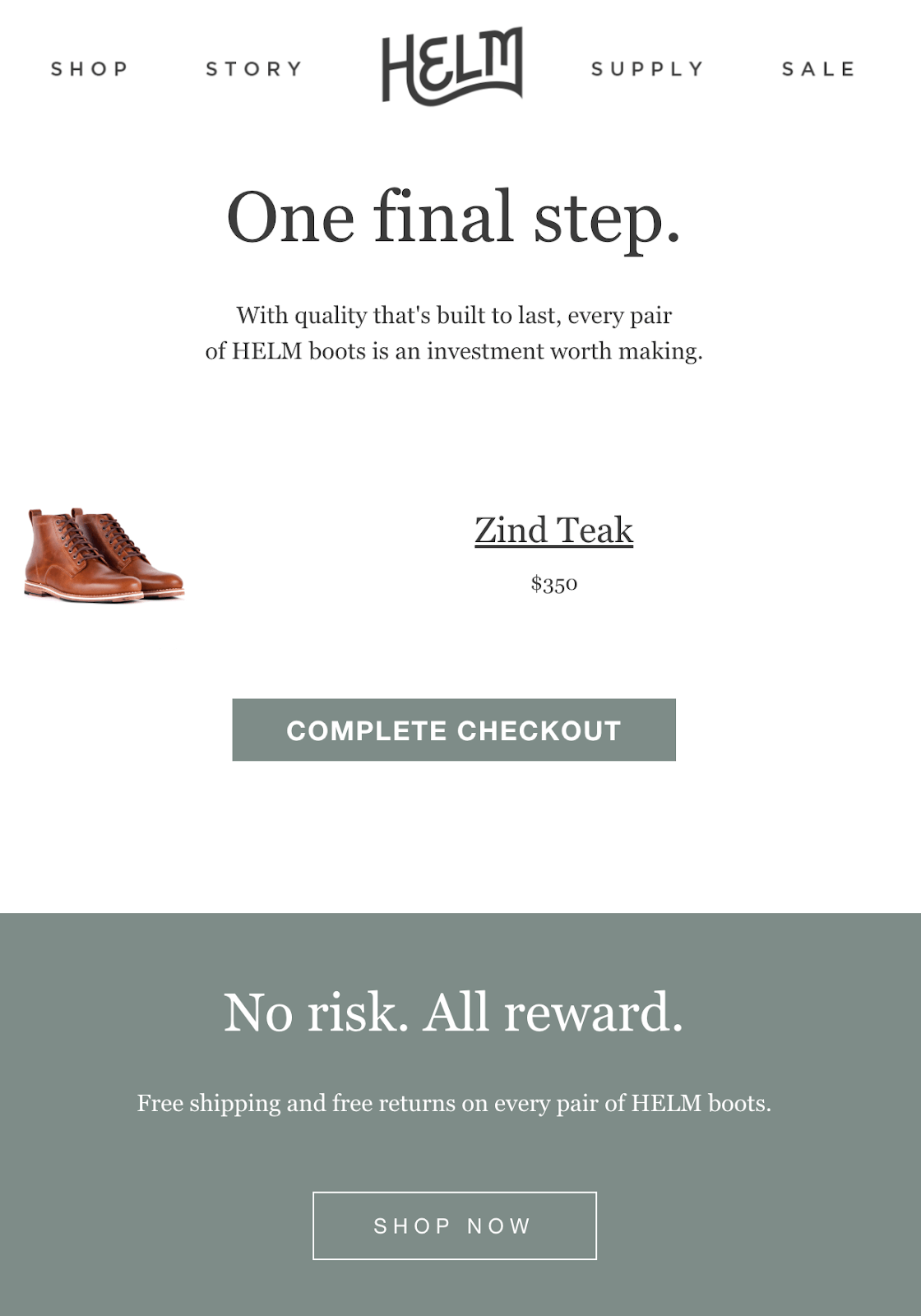 Some customers need a bit of motivation to complete purchases. That's why many abandoned cart email examples try different ways to encourage them to return.
This abandoned cart message, for example, says that the brand's products are "built to last," so it's "an investment worth making." This way, the text refers to the brand's reputation as a maker of top-quality boots.
Why it works:
An encouraging heading saying that there's only one step left to get the item
A contrasting email CTA button, so the shopper won't miss it
Extra encouragement in the form of free shipping and returns
Subject line: Complete your NOTIQ purchase

This is one of those abandoned cart emails examples that checks all the boxes: the sense of urgency, discount, more product options, and a clean design.
The abandoned cart email subject line also pushes the customer to finish the order. The very first sentence in the email supports it by telling the customer that the order is reserved for only several minutes.
NOTIQ also gives a few extra product options in case the customer wants something else. If they're still hesitating, there's a 10% discount for the next purchase.
Why it works:
Sense of urgency, "Your shopping cart has been reserved for a few more minutes"
A contrasting black CTA — the customer won't miss it
The contents of the shopping cart as a reminder
Multiple extra product options in case the customer wants to browse something else
A 10% discount for the next order to encourage completing the current one.
Subject line: Fancy 15% off? 🎁 🎁 🎁

Hedonic motivation, the human tendency to move towards pleasure, is a proven marketing method that improves cognitive and emotional customer experience. That's why Skinnydip London offers the customer to "treat themselves" in this abandonment cart email.
There's also a nice 15% discount that grabs attention and makes it harder to walk away. If these cart abandonment tactics don't work, the email includes a few extra items to explore.
Why it works:
Creative CTA button text ("Treatyoself")
Abandoned checkout email that uses hedonic motivation to convince the consumer to buy
Multiple links to encourage browsing (the blog, store, social media, and several best-selling products).
Do Abandoned Cart Emails Work?
Abandoned cart emails work to help eCommerce stores increase sales by reminding customers about products left in carts. Here are several research-backed points suggesting that abandoned shopping cart emails help recover sales.
1. Over 32% of customers who add products to shopping carts on mobile don't intent to buy them immediately. They use the carts for product research (Journal of Business Research).
What it means for your abandoned cart email strategy:
Abandoned cart email examples with discounts can prompt buying behavior
Mobile-based promotional tools like push notifications can speed up the checkout process, which many customers perceive as uncomfortable due to small mobile screens.
2. More than 47% of eCommerce shoppers abandoned shopping carts because they thought they'd save more money buying the same product at another store (Procedia Computer Science Journal).
What it means for your abandoned cart email strategy:
Once a customer abandons a purchase, send them a simple email reminder. But consider adding a discount or free shipping for the second email
Mention that your brand has the best deal for the product to reduce hesitation (if applicable).
3. Customers are more likely to complete a purchase if they perceive the online merchant trustworthy. The sense of protection relieves them from concerns over unexpected problems (International Journal of Information Management).
What it means for your abandoned cart email strategy:
Trust indicators in abandoned cart emails can make consumers feel more secure and confident in buying
Add trust indicators such as secure checkout badges in abandon cart emails.
When to Send Abandoned Cart Emails?
Want advice for an abandoned cart strategy from Jim Carrey?
In Yes Man, he says: "There's a time crunch, and time is of the essence."
In our seriousness, though, that's a legit abandoned cart email timing tip. Here's why: the fresher the memory of wanting a product is in the customer's mind, the better. That's why Shopify abandoned cart email timing is essential to recover more sales.
Consider these best times to send abandoned cart emails:
First abandoned cart email: Within one hour after the customer leaves
Second abandoned cart email: the next day
Third abandoned cart email: in three days.
Abandoned Cart Email Examples: Summary
Each abandoned cart doesn't always mean a lost sale. Use every opportunity to follow up with abandoned cart emails and recover sales. You don't have to spend time on it — there's always a Shopify abandoned cart app to send emails automatically.
Try these best practices based on the 15 abandoned cart email examples:
Timing — Send the first abandoned cart email within an hour after the customer abandons the purchase
Quantity — Use only two emails in your abandoned cart series to avoid annoying shoppers
Abandoned cart incentives — consider free shipping, discounts, loyalty perks, and other bonuses for completing the purchase
Extra product options — add several additional products to provide more shopping options
Contrasting CTAs — draw attention to the element that leads to conversions.