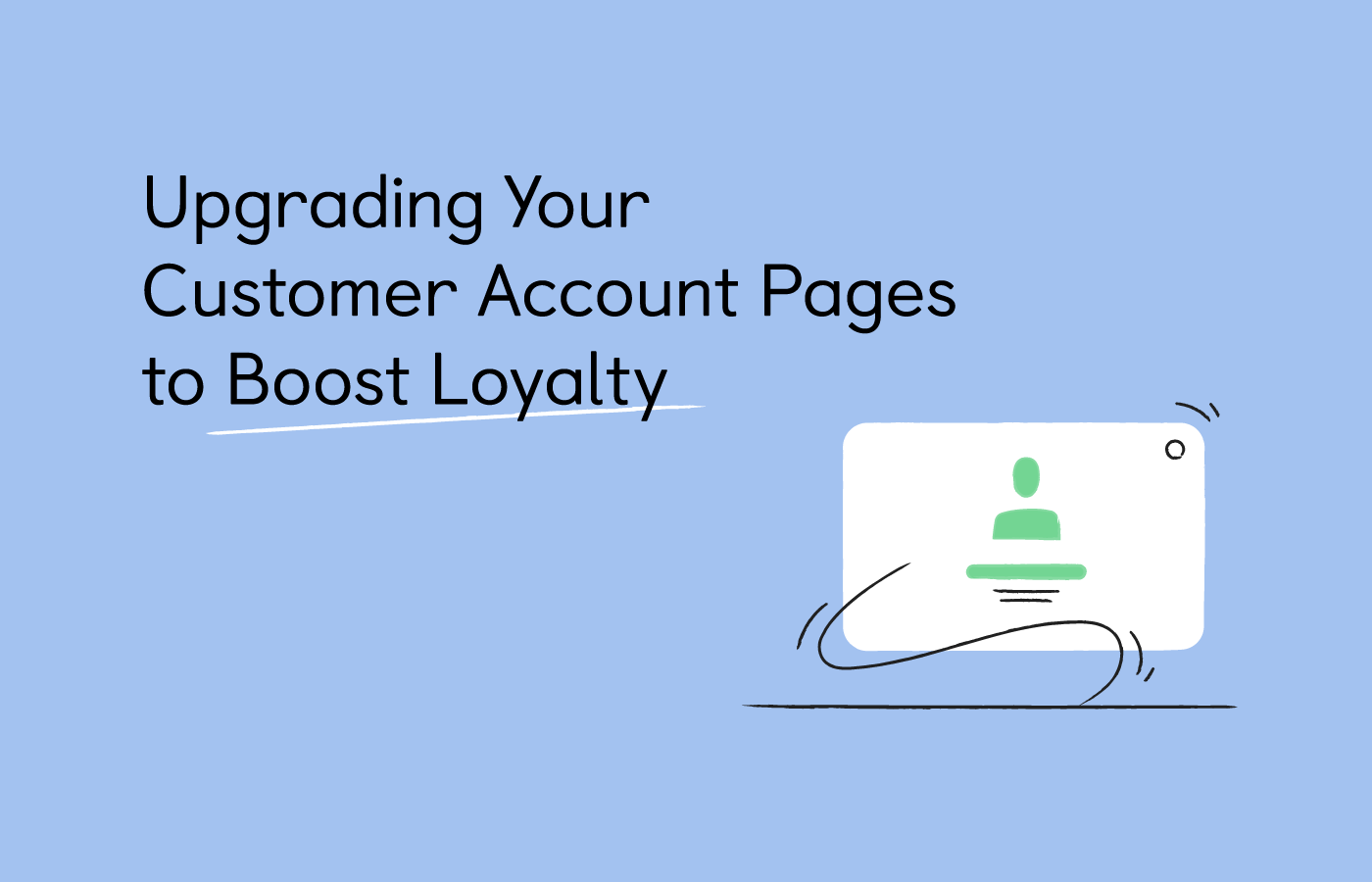 When setting up your Shopify store, you are provided with a customer account page that includes basic features like address and order management. But, Shopify's generic customer account page isn't enough to ensure you can capture repeat purchases.
Shoppers need to be able to turn their customer account page to refer back to any information, simplifying their experience on your store. Your customer account should be the shopper's personal playground, where they can earn rewards, view their saved items, and reorder without any hassle.
Here are 8 reasons why such a branded customer account page matters.
Get FREE marketing consultations and dedicated support
book my demo
8 Reasons You Need a Branded Customer Account Page
1. Set up a customer account page that reflects your brand
The generic Shopify customer account page has no personality and often looks inconsistent to the rest of the Shopify store design. With a customer account app like Flits, you can transform how your customer account page looks and set it up to reflect your brand, complete with your Shopify store's design.
By being able to tweak your customer account page and its design, you can ensure that shoppers have a seamless shopping experience when browsing your brand.
Here's a glimpse at the Indie and Harper customer account page:
2. Provide a personalized experience
By setting up personalized experiences, marketers have been able to see an average 20% increase in sales. Personalization can help you place relevant recommendations and suggestions, allowing you to sell more to your customers and bringing them back to shop more frequently.
An enhanced and branded customer account page can do this for you. You can add your style to the page and make it reflective of your brand, even enabling personalized features to set up a customer account experience that shoppers would want to come back to and spend time tinkering with.
3. Set up a rewards program for repeat purchases
Rewards programs are a great way to make customers come back to your store to make another purchase and build loyalty among them. Integrating a loyalty program with your eCommerce platform can increase average order quantity by 319%.
Set up a rewards program on your customer account page, letting shoppers earn store credits for activities like placing an order, reviewing a product, and even referring new customers. Shoppers can then redeem these credits on their next order. You can also set up and craft personalized communication so that your shopper receives an email or web push every time they earn and use their credits.
With this unique and gamified experience, shoppers would want to shop from you, helping you increase repeat purchases easily.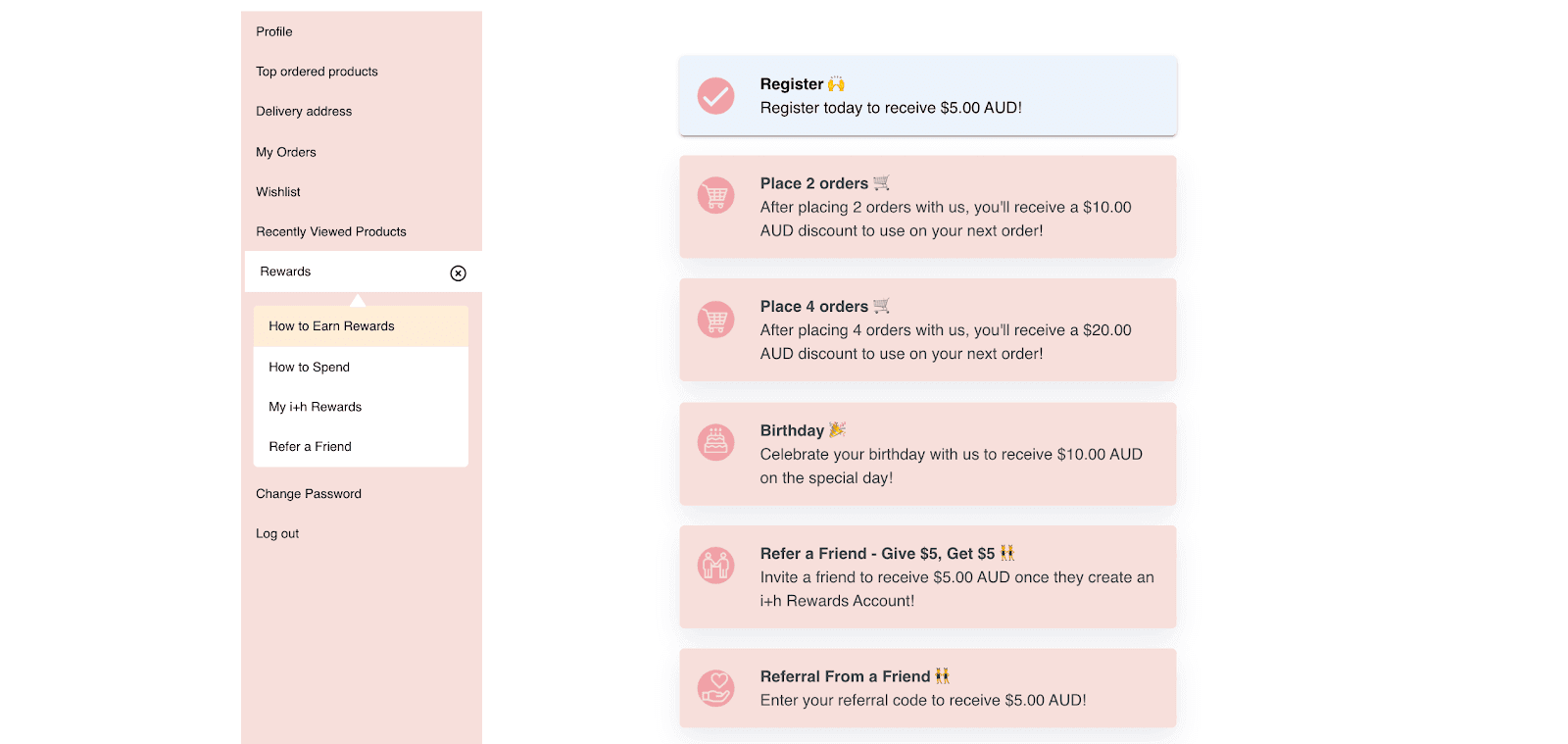 4. Allow shoppers to reorder with ease
Many stores sell products that require a second purchase like skincare and haircare products or health supplements. Make it easier for shoppers to reorder products they previously purchased with a one-click reorder button on the customer account page.
Instead of navigating to that product page and then clicking on the 'Add to cart' button there, shoppers can just click on the 'Reorder' button right from their customer account page, cutting down on time spent on any extra steps they typically would have to take.
5. One-click login with social login
One of the main reasons that new visitors don't sign up is due to the lengthy registration process that they have to struggle through. But, this can easily be solved by setting up a one-click login process with social login.
Social login allows shoppers to sign up or login using an existing social media profile. This one-click login method is sure to make the shopper experience more effortless. Customers will never have to enter any details when getting to their customer account.
6. Give shoppers more reasons to register
Many customers are willing to share personal information especially if the brand is providing a more relevant and personalized experience.
With features like wishlisting and rewards on your customer account, shoppers would have more reasons to register as a customer. Customers may register because they want to save items or to redeem specific rewards.
7. Allow wishlisting
Visitors on your Shopify store are sure to have a few selected items that caught their eye but without any way to 'save' these items, they would end up with multiple open tabs. This is where wishlisting helps.
Wishlisting lets shoppers save items directly from the product catalog and then see these wishlisted products when they open their customer account page. This is especially helpful if you have a large catalog.
With this, shoppers tcano shortlist their favorites and later compare these options to finalize the item that they really want to purchase.

8. Let shoppers view their browsing history
Amazon's 'Browsing History' feature lets their shoppers view all the products they were looking at previously. Such a section makes it easier for shoppers to refer back to an item that caught their eye but which they didn't save.
Add a 'Browsing History' section within your branded customer account page to provide this frictionless experience for your shoppers too. The Flits customer account page app allows you to add a 'Recently Viewed Items' page where shoppers can browse items they last looked at and even quickly add these items to their cart with the direct add to cart button.

Install the Flits app to set up personalized customer account pages.
Set up a personalized customer account page with Flits!
We hope this helps you understand the sales opportunities you can create and how you can build loyalty with a stellar customer account page. With robust features like rewards and personalized history, you are sure to be able to increase repeat purchases and get past customers to shop again.
If you're looking for a Shopify app to customize your customer account page, look no further than Flits. Flits lets you transform your customer account page, customize it, and add personalization features to make your customers eager to visit your Shopify store again.
These are the features available to you using the Flits app:
Order History: Shoppers can view their past orders easily through this page.
Saved Addresses: Let shoppers save addresses and manage them via this page.
Reorder: Allow shoppers to reorder specific items through the Order History page with just the click of a button.
Wishlists: Let your shoppers save items they were interested in to simplify their experience on your Shopify store and let them buy these wishlisted items with a direct add to cart.
Rewards: Set up a rewards program within your customer account page where shoppers can view activities that will earn them rewards and even redeem them.
Referrals: Allow shoppers to refer your store to other potential customers and earn rewards when a referred customer registers or shops.
Social Login: Allow shoppers to login with just one click using their social media accounts.
Browsing History: Set up a 'Recently Viewed Products' section on your customer account page so that shoppers can view their browsing history and not have to struggle to find items that caught their eye.
You can also monitor how customers use their customer account page and use this insight to set up better and more personalized marketing messages and on-site tactics to increase conversions.
Author bio:
Gunjan is the co-founder of Flits, the only Shopify app that lets you transform your customer account page, customize it, and add personalization features to help you increase repeat purchases and loyalty on your Shopify store.