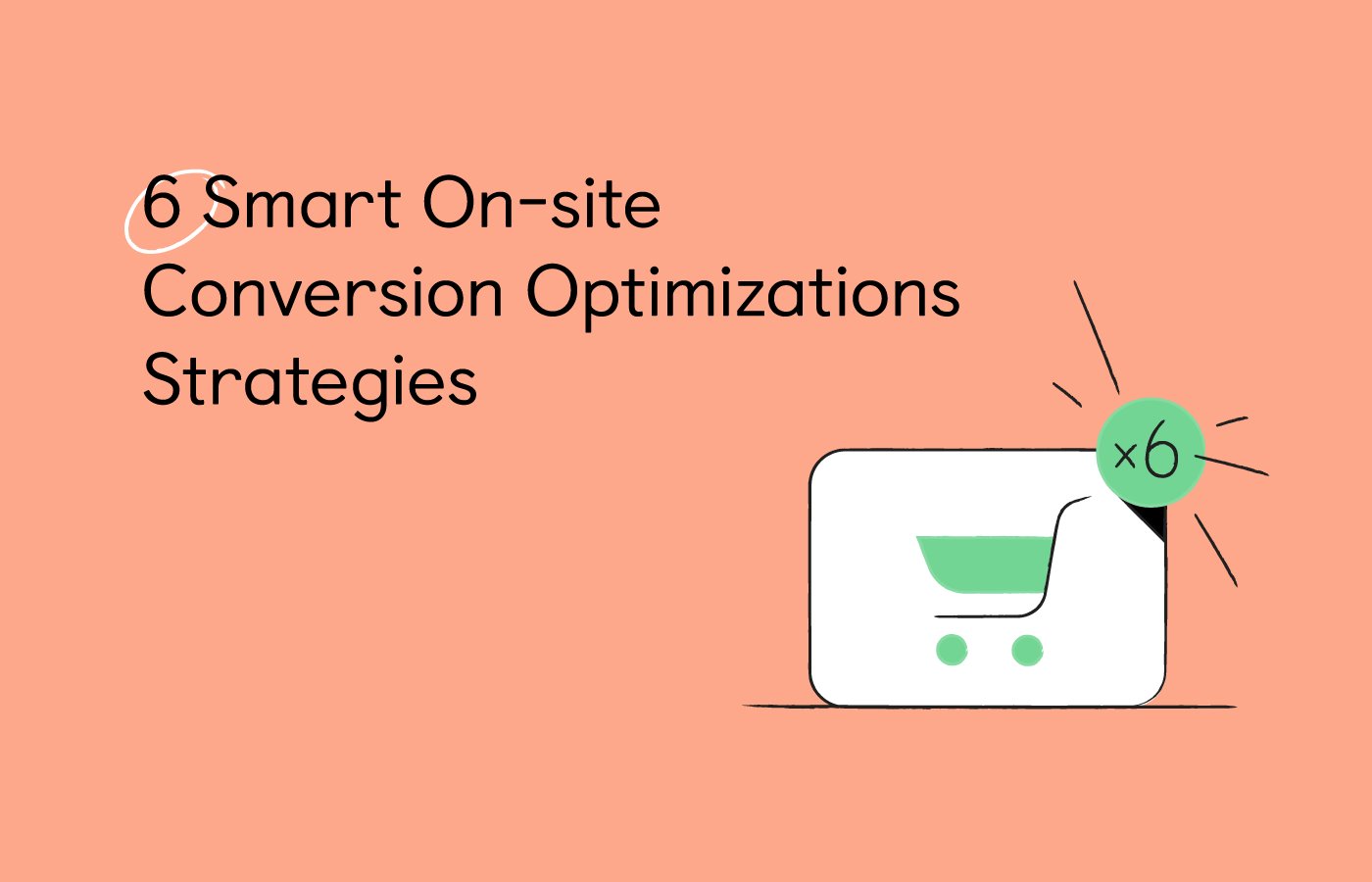 Without any on-site cues to guide shoppers, you are less likely to convert your visitors into customers. By optimizing your on-site experience, you can increase engagement on your Shopify store and optimize conversions.
Finding stellar on-site conversion optimization strategies isn't hard if you know where to look. We've put together 6 high-converting on-site strategies to help you turn your visitors into shoppers easily and increase Shopify sales.
6 On-Site Conversion Optimization Strategies to Increase Purchases
1. Personalized and relevant product recommendations
Recommendations on your Shopify store can help you increase time spent on store by 344%. Product recommendations can be placed on different parts of your Shopify store, allowing you to recommend products that the shopper would enjoy without being pushy.
You can set up Wiser, an AI-powered product recommendations app for Shopify to display personalized suggestions to your shoppers. These product recommendations will keep your shoppers engaged and lead them to products they will end up buying. In fact, Amazon generates 35% of its revenue through its recommendation engine.
When setting up recommendations, keep these best practices in mind:
Display 2 to 3 types of recommendation widgets on your storefront like Amazon. Test different types to understand which works for you.
Add more credibility to your recommendations by showing how highly your products are rated.
Place recommendation widgets like 'Frequently Bought Together' and 'Related Items' at the end of your product page to lower drop-offs.
Place recommendations like 'Inspired By Your Browsing History' in your cart page to increase AOV.
2. Authentic reviews on product pages
Bringing in a sales uplift of 18%, product reviews are a great way to boost credibility and give shoppers a better understanding of your product, how it looks and if it fits their requirements.
You can easily collect reviews on your Shopify store using the Photo Reviews & Testimonials app. Use the Shopify app to collect reviews (including photo reviews), and display them on your product pages. You can easily customize the review widget to fit the rest of your Shopify store design and even add verified buyer tags to show which reviewers bought the item.
By collecting and displaying reviews, you can build trust on your Shopify store and allow visitors to confidently shop your products.
3. Upsell and cross-sell offers
Upselling has proven to increase revenue by 10 to 30% on average. This sales tactic lets you display offers to shoppers, convincing them to buy a higher-priced item. With upsell offers, many merchants have been able to successfully increase the AOV on their Shopify store.
Upsellio is a Shopify upsell app that lets you set up upsell and cross-sell offers on different parts of your Shopify store. You can display upsell offers within your product pages or as a popup, customize your upsell strategy and monitor its performance.
This way, new visitors who landed on a specific product page can be easily nudged to a higher priced item, navigating them to purchase a higher-priced item.
Simplify the task of increasing sales on your Shopify store with upselling!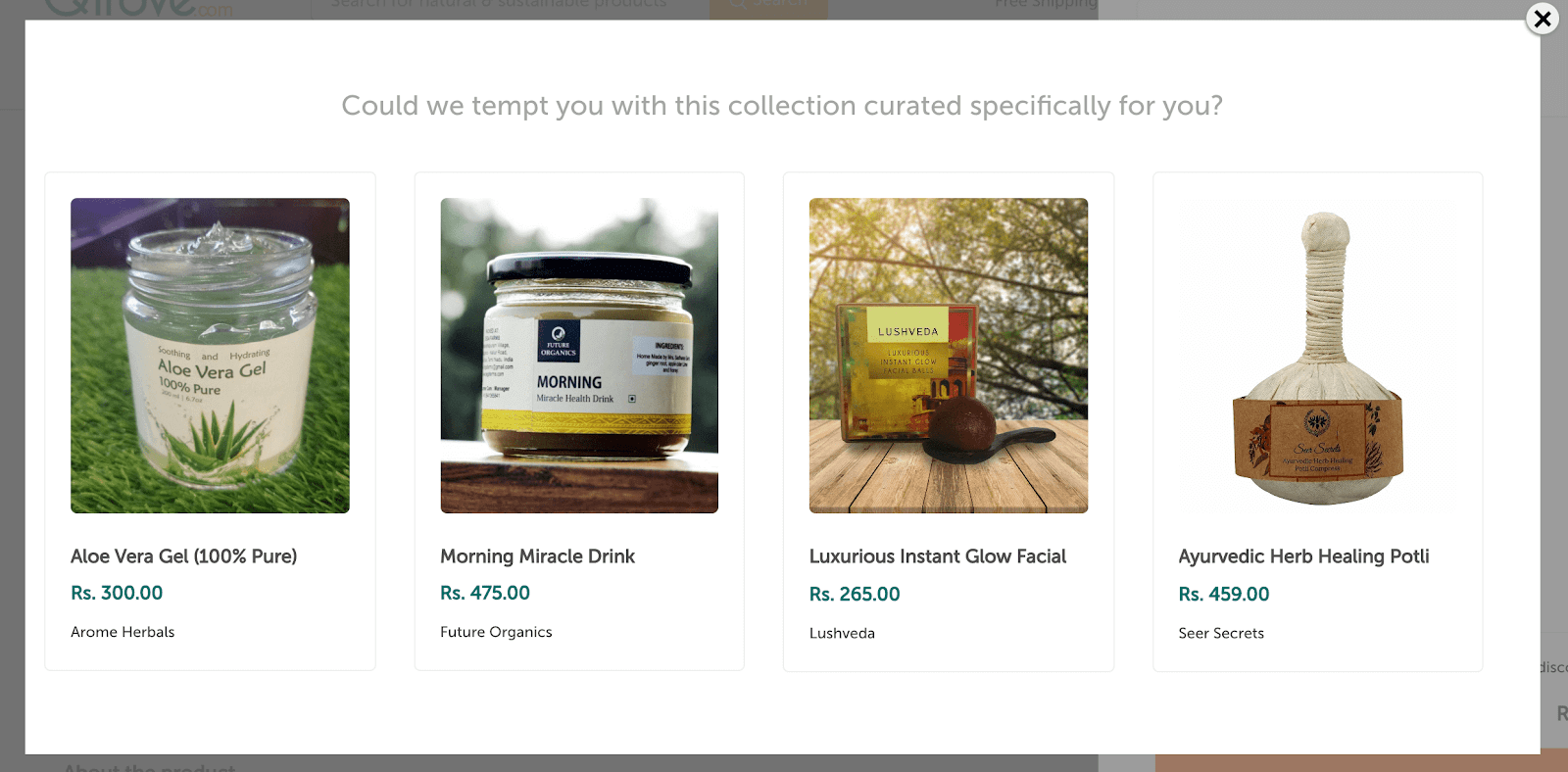 4. On-site sales notifications
One proven tactic in increasing sales is urgency. When shoppers see that your products are selling out, it creates a sense of urgency, making them worry that they'll miss out on your products.
You can build this urgency on-site by using Sales Pop Up. The Shopify app lets you show on-site notifications in real-time to show how fast your products are selling. These live notifications build social proof.
New visitors who see these notifications will be impressed by how well your store is performing and will be less skeptical about shopping from you. These notifications are fully responsive, ensuring that even mobile shoppers can view these live notifications when browsing your Shopify store.
5. Embedded Instagram feed on storefront
Your social media profile is a great indicator of who your brand is, letting shoppers understand you better and even build a relationship with you. Many brands embed their Instagram feed on their storefront just for this reason. When scrolling your storefront, store visitors would feel more warmly to your brand when they see your Instagram feed and get a glimpse into your brand's social presence.
You can embed your Instagram feed on your Shopify storefront using InstaPics. The Shopify app lets you embed your Instagram feed to your Shopify store and customize the look and feel of the embedded feed to match your preferences or even your Shopify store design.
But, just embedding your Instagram feed isn't enough. You can make it more interactive for shoppers by allowing them to shop from your Instagram feed directly. Use Cameo to transform your Instagram feed and allow shoppers to view the products featured in the image. Your shoppers can then add the item to their cart directly or even click on the product to learn more about it.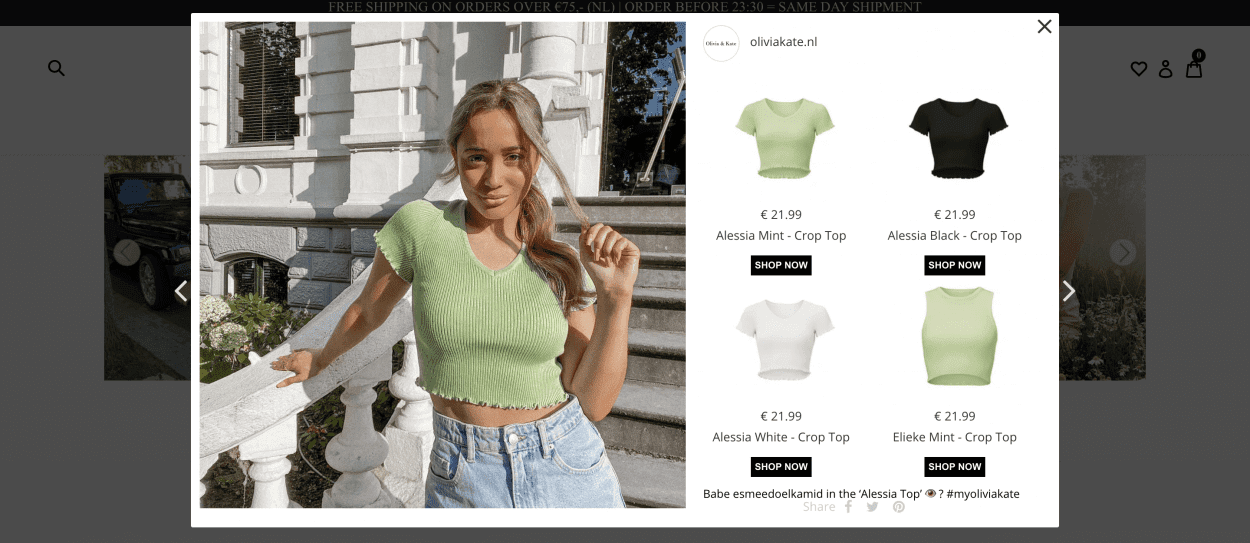 6. Provide a unique shopping experience with a shoppable Lookbook
When shoppers are browsing your products, they need to feel eager to own them. Visual information like product images are a great way to excite your shoppers. Over 85% of shoppers put more importance on visual information than text information.
Another way to deliver a visual shopping experience is with visual tools like lookbooks. A Lookbook is a product gallery that lets shoppers browse through product images when shopping from your Shopify store. These galleries allow shoppers to shop visually, getting more context to the products and making their purchasing decisions based on these lookbooks.
You can create and set up lookbooks on your Shopify store with the Lookbook app. Many brands set up lookbooks to feature their newest products or bestsellers, amplifying the popularity of these products and boosting sales. Learn more about lookbooks and how you can add them to your Shopify store.
Increase your on-site conversions on your Shopify store!
By optimizing your on-site experience, you can improve conversions and keep shoppers on your Shopify store for longer.
We hope these 6 optimization tactics help you set up a better shopping experience and increase customer experience. When setting them up, don't forget to test them out and try different placements and strategies to see what works for you.
About the author
Vanhishikha Bhargava is the Head of Content and Partnerships at Expert Village Media. She is often found looking for hacks to improve Shopify store conversion rates and sales. You can connect with her here.