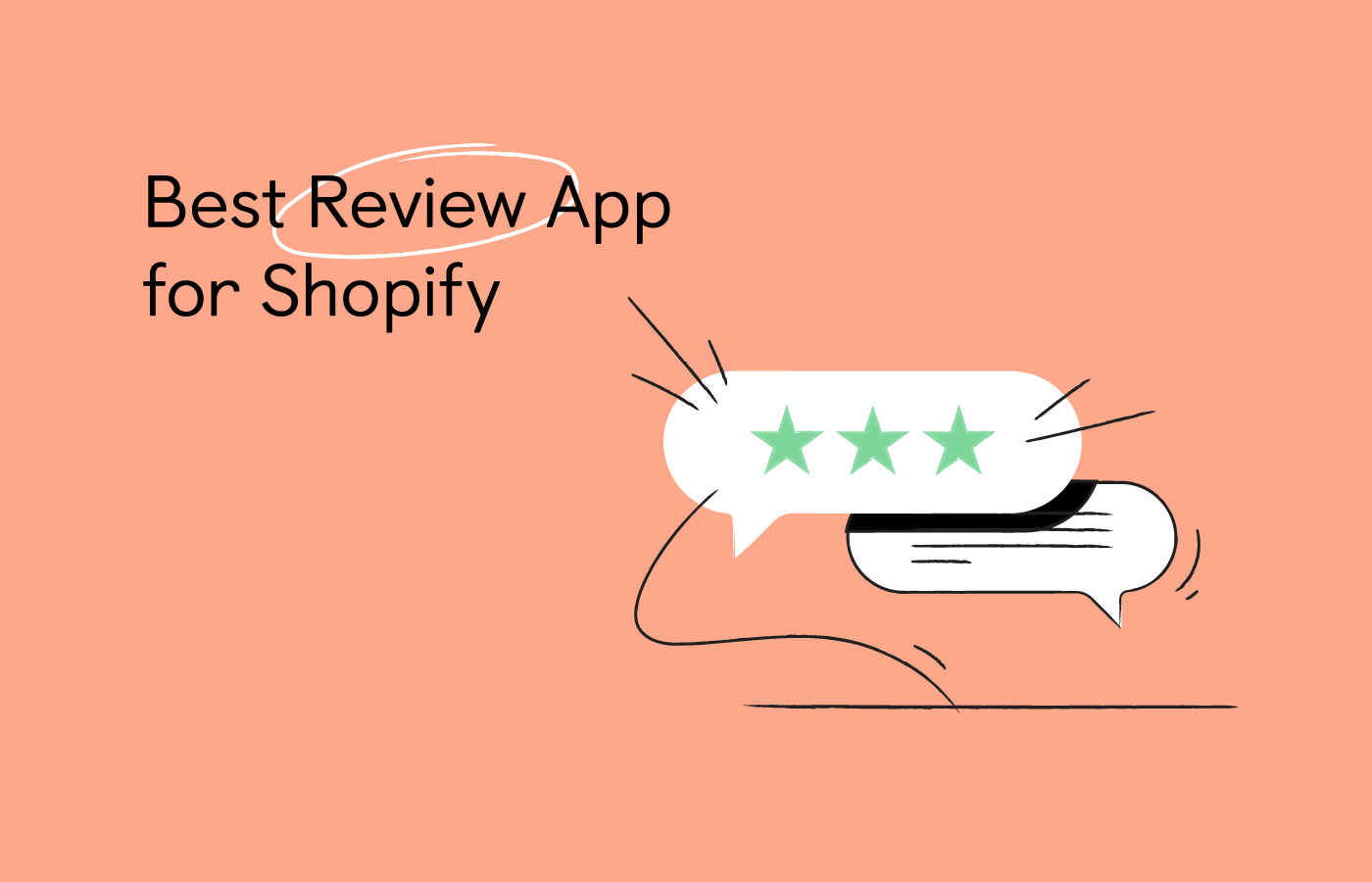 To find the best product review apps for Shopify might be challenging. However, it's worth trying as apps of such sort can offer you an opportunity to improve customers' trust, help to re-engage passive users, and boost sales.
Yet, there are many things one needs to consider while choosing the right app for your business. That's why we have prepared a list of best review apps for Shopify which can offer you a chance to fulfil your business needs upon the right choice. We will do so by focusing on each apps' features, price, and users' reviews.
Top 5 best review apps for Shopify:
Ali Reviews - the best product review app for Shopify
Judge.me - generates reviews via web, email, push, and SMS
Loox - allows customized display of product reviews
Stamped.io - exclusively strong on carrying out successful UGC campaigns
Yotpo - permits to handle large numbers of product reviews automatically
How important are reviews on Shopify?
Product reviews can make a positive impact on the overall e-commerce performance. For instance, out of 91% of people who read reviews, 31% spend more time than normal if a retailer has exceptional reviews.
The importance of product reviews lies in its ability to deliver evidence that aids customers in their purchase journey since it omits doubts and enhances trust. So to say, if reviews are used strategically, they can become powerful pieces of positive social proof, and help in making more sales thereon.
Now, let's dive further!
Best Review Apps for Shopify - our detailed list:
We took a number of Shopify product review apps to test and choose the best ones. The winner apps have been chosen regarding their Shopify rating, user feedback, integration simplicity, and price-to-functionality ratio.
1. Ali reviews

Ali Reviews enables merchants to employ the power of photo reviews; thus, allowing them to generate compelling user-generated content (UGC). With this app, you will be able to showcase your customer reviews on any page of your website by preference.
Shopify rating: 4.9 ★
Price: From $9.90 a month
Free trial: Yes
Shopify app link: Get Ali Reviews
Ali Reviews helps to improve the efficiency of the reviews by collecting and delivering review requests via email and SMS. With this app, you can reach customers and ask to write reviews by rewarding them with discounts. On top of that, you can choose what style of review widget you would like to have; thus, leaving you with a vast space for creativity and experimentation. One of many advantages of this app is its ability to display personalized reviews based on customer info.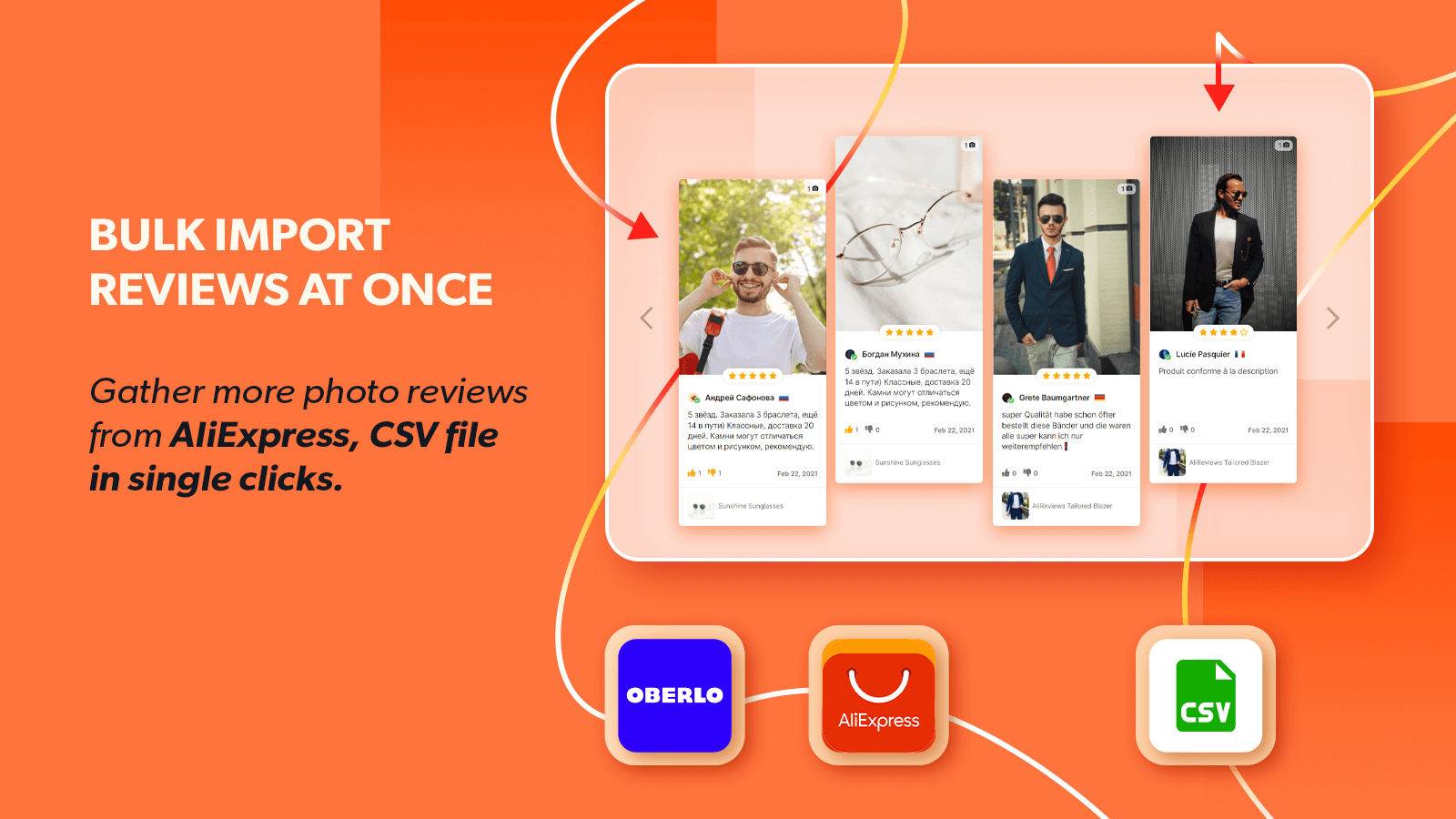 Main features:
Personalised review request
Various customizable widgets
Ability to customise reviews based on visitor's info
Ability to run an A/B widget testing
World-class customer support 24/7
2. Judge.me

Judge.me Shopify review app is one of the top apps available in the store. This 5-star Shopify review app is designed to grow your eCommerce store with the help of product reviews.
Shopify rating: 5 ★
Price: From $15 a month
Free trial: Yes
Shopify app link: Get Judge.me
Judge.me has some unique features. The app can send out review requests via emails to the buyers asking them to write their product reviews. If there's no response to the request, the app can send out a reminder with an incentive to persuade them to leave their review. Judge.me is one of the most affordable solutions in the Shopify store that comes with all the essential features.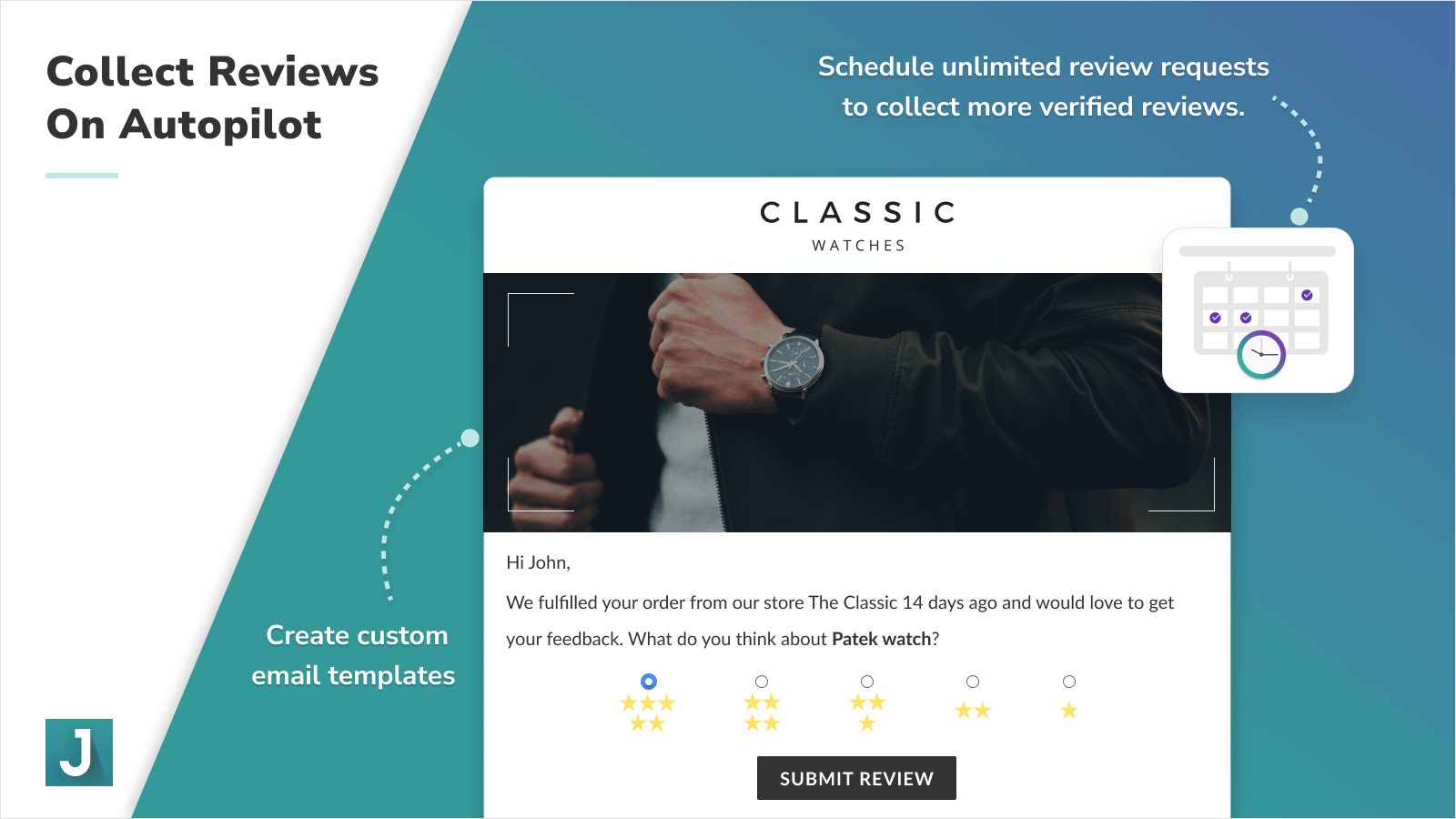 Main features:
Generate reviews via web, email, push, and SMS
Unlimited review requests, orders, and imports
Text, photo, and video product reviews
24/7 email and chat customer support
Q&A and custom forms
3. Loox

Loox is a Shopify-exclusive review app that allows buyers to leave product reviews with photos that you can turn into an eye-catching social media-style gallery of happy customers.
Shopify rating: 4.9 ★
Price: From $9.99 a month
Free trial: Yes
Shopify app link: Get Loox
Loox is a great choice if you are looking for a Shopify product review app that leverages the power of visual content. Besides, the app can send automatic email review requests to your customers. If they submit a review (especially with a photo), they can receive a discount on their future purchases. Thanks to an inline SEO, you can display product reviews and ratings on search results with Google Rich Snippets that will help you to improve your store's organic traffic.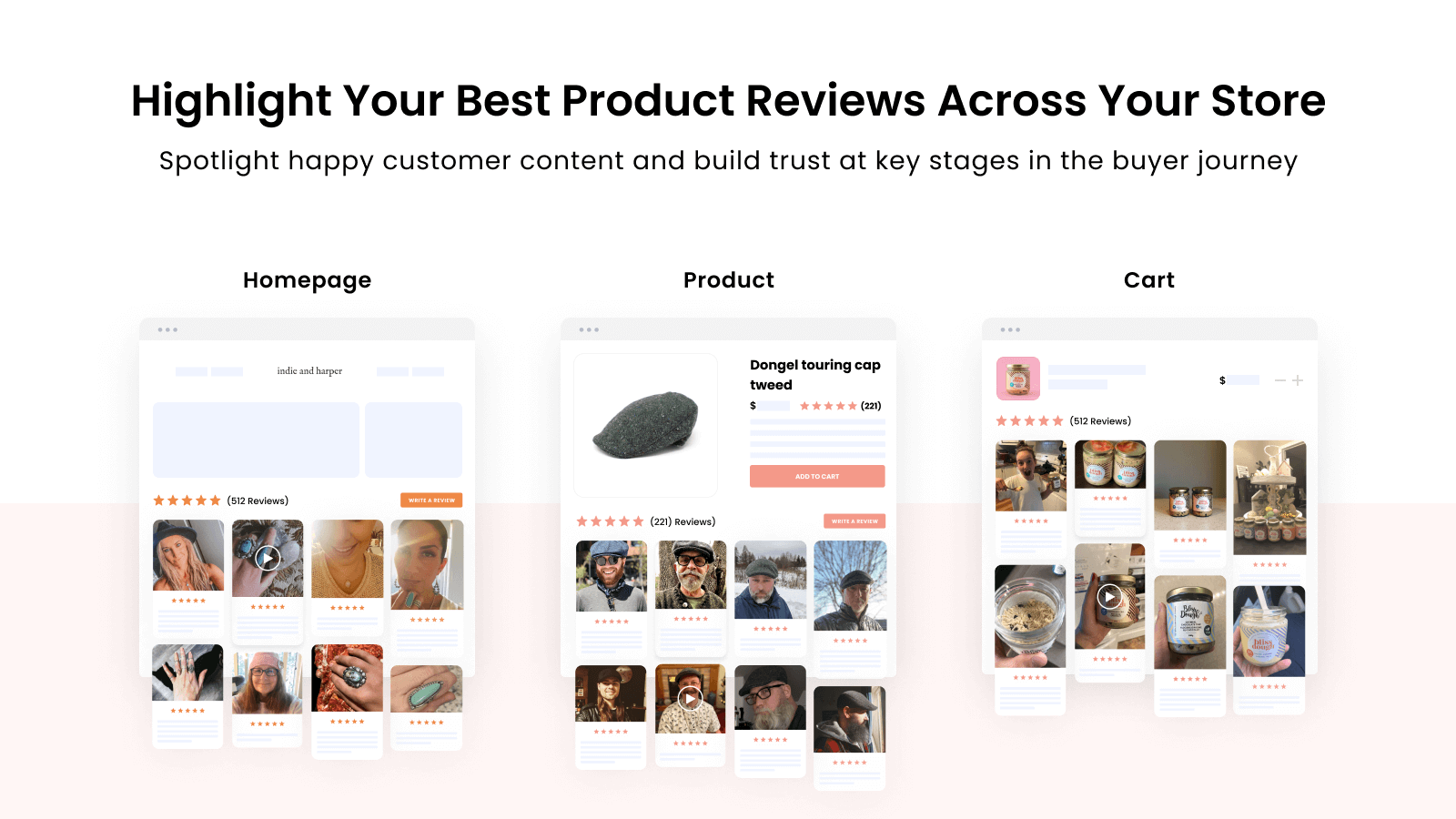 Main features:
One-click import of text reviews and photos
Customizable display of product reviews
Product rating widgets and pop-ups
World-class customer support 24/7
Automatic email reminders
4. Stamped.io

Stamped.io is another great review app for Shopify to collect customer reviews on auto-pilot. This app can help you to increase conversion rates and encourage sales with a variety of widgets, including visual customer review snippets. These rich snippets can also boost your Shopify store's SEO.
Shopify rating: 4.9 ★
Price: From $23 a month
Free trial: Yes
Shopify app link: Get Stamped.io
Stamped.io review app offers many different types of UGC (user-generated content) to collect and showcase; from product reviews, Instagram shoppable gallery, NPS (Net Promoter Score), to the checkout reviews. It also offers more than ten review widgets to choose from to help your customer reviews to boost conversions and build trust. Stamped.io is not the cheapest review app but with all the features, it's worth the squeeze.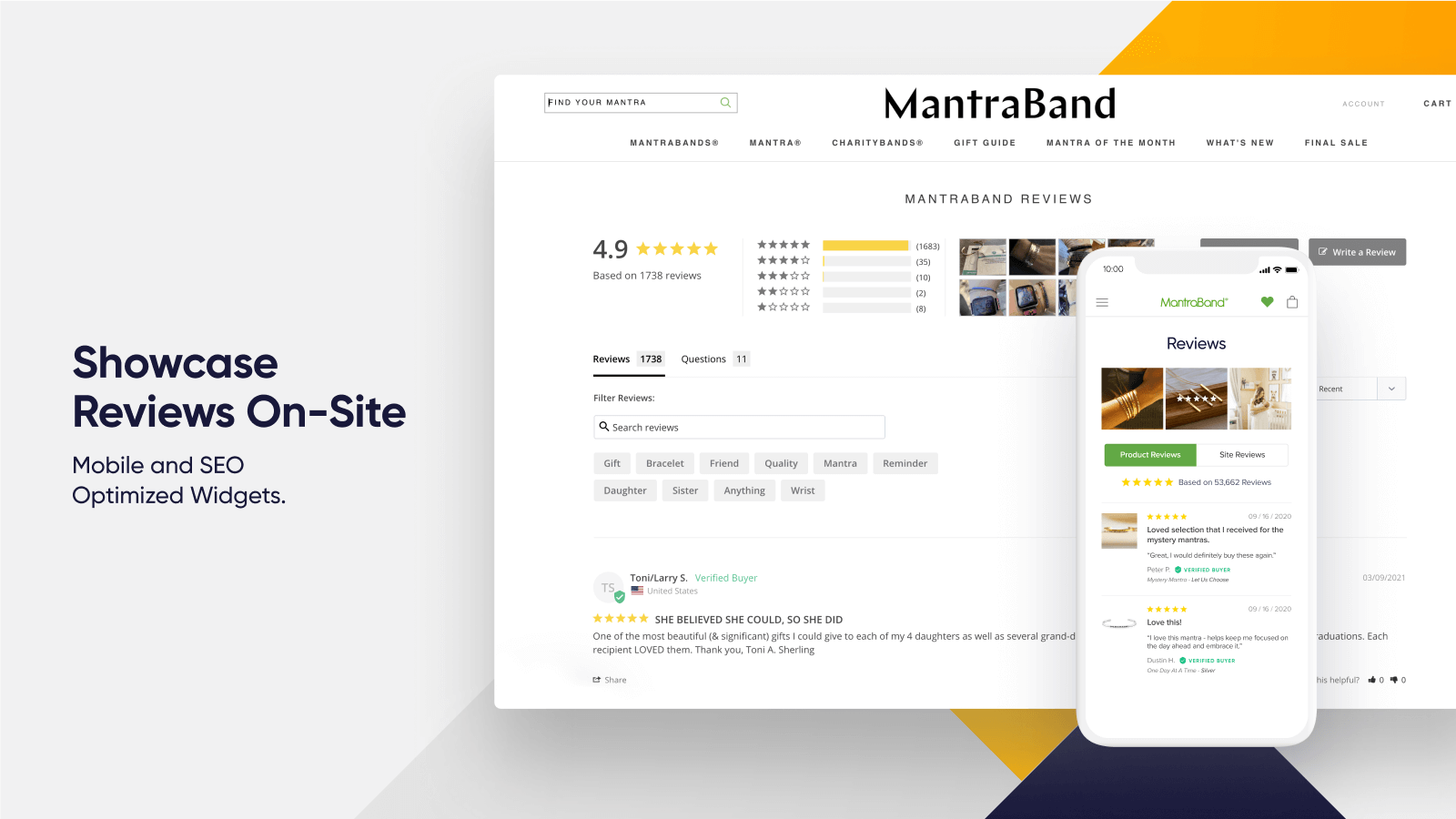 Main features:
7 different types of UGC and 10 different widgets
Revenue-generating features (e.g. upselling, cross-selling)
Customers may browse all existing reviews
In-email review request form
100% customizable
5. Yotpo

Yotpo app is a Shopify eCommerce tool that has quite a unique feature that allows you to collect reviews for multiple products with just one click.
Shopify rating: 4.9 ★
Price: From $15 a month
Free trial: Yes
Shopify app link: Get Yotpo
The app allows Shopify sellers to get product reviews by sending automatic emails or via the Yotpo's Reviews Widget that allows buyers to leave their reviews directly on-site. This app is available with a wide range of pricing options and comes with a built-in data analytics feature.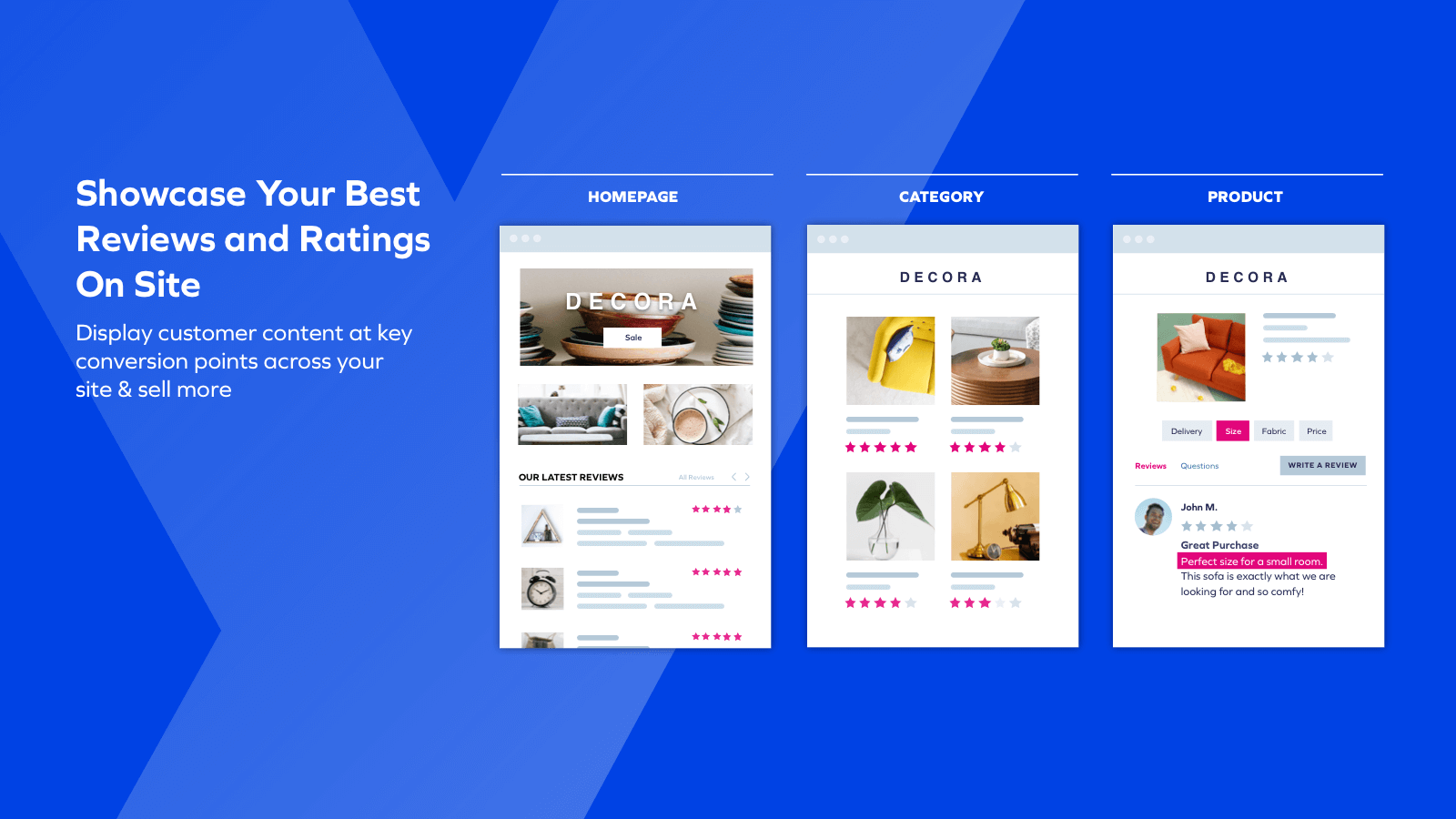 Main features:
Reviews, ratings, Q&A, and photos
Rich Snippets to increase SEO
Automatic request emails
Review import
Social tools to share reviews on social media
6. Growave

Growave is an excellent Shopify-unique review app due to its rich features and product review email reminders. Growave allows you to easily import and display product reviews, so your customers will know they can trust your store and products.
Shopify rating: 4.9 ★
Price: From $19 a month
Free trial: Yes
Shopify app link: Get Growave
Growave is a versatile marketing platform that aims to help you to grow your traffic, engage customers, and sell more. Photo and text product reviews, wish lists, Instagram feed, referrals, loyalty programs, and easy data import—all of these features are included. This review app is great for small and medium-sized Shopify stores looking to integrate product reviews in their e-shops.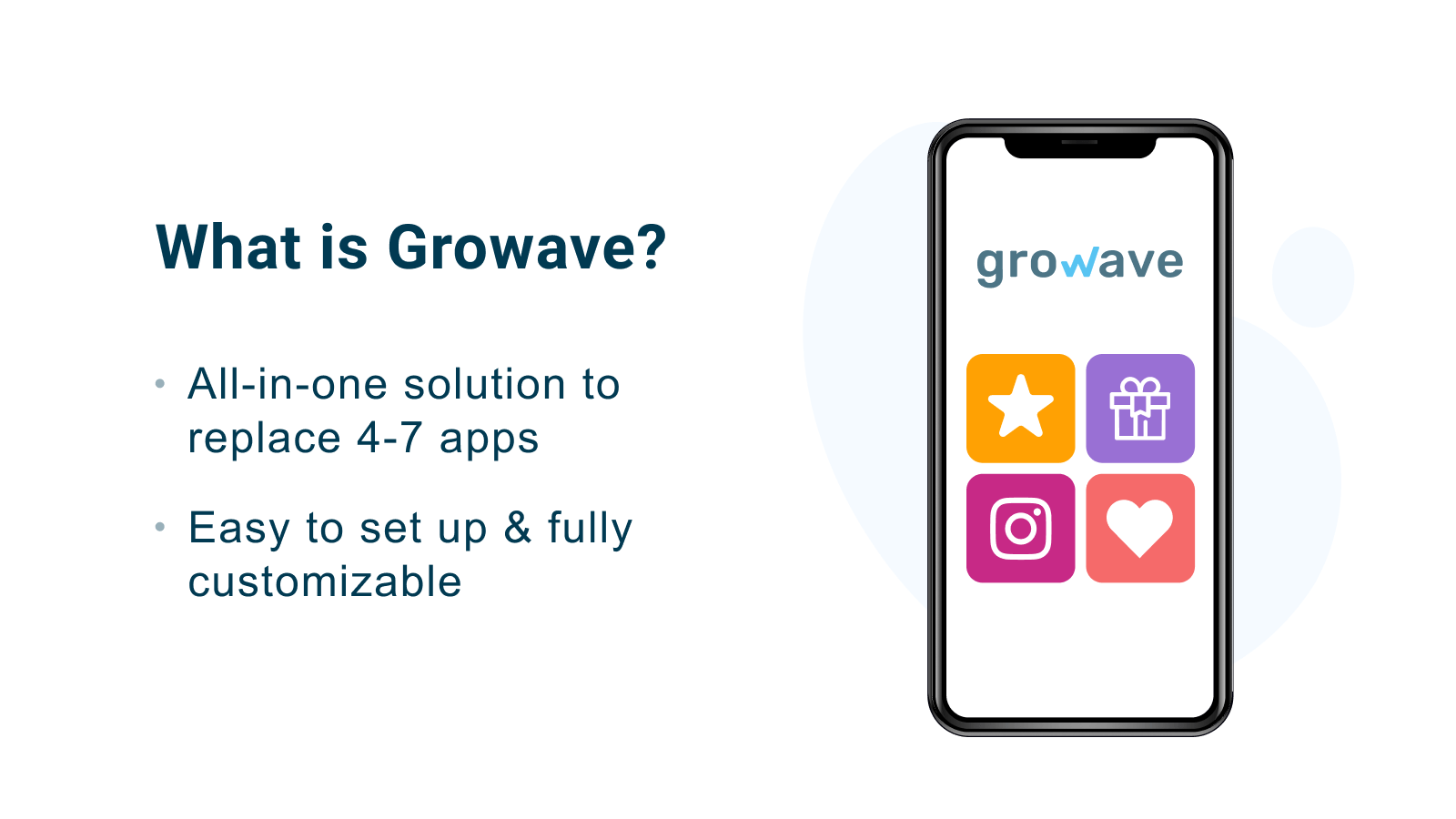 Main features:
Instagram feed and UGC as shoppable social galleries
Multiple reviews in a single review request email
Wishlist (customers can save products for later)
Loyalty program gift cards
Text and photo reviews
7. Firepush

Firepush is an omnichannel marketing app that combines email and SMS marketing, as well as web push options; thus, making this app the most effective when it comes to collecting product reviews from your customers.
Shopify rating: 4.8 ★
Price: From $15 a month
Free trial: Yes
Shopify app link: Get Firepush
This app can send fully customizable push notifications and messages to any segment of your customers, including the buyers whom you want to leave their reviews. You can easily integrate it with dedicated Shopify review apps like Loox and Growave to get even more from your past sales.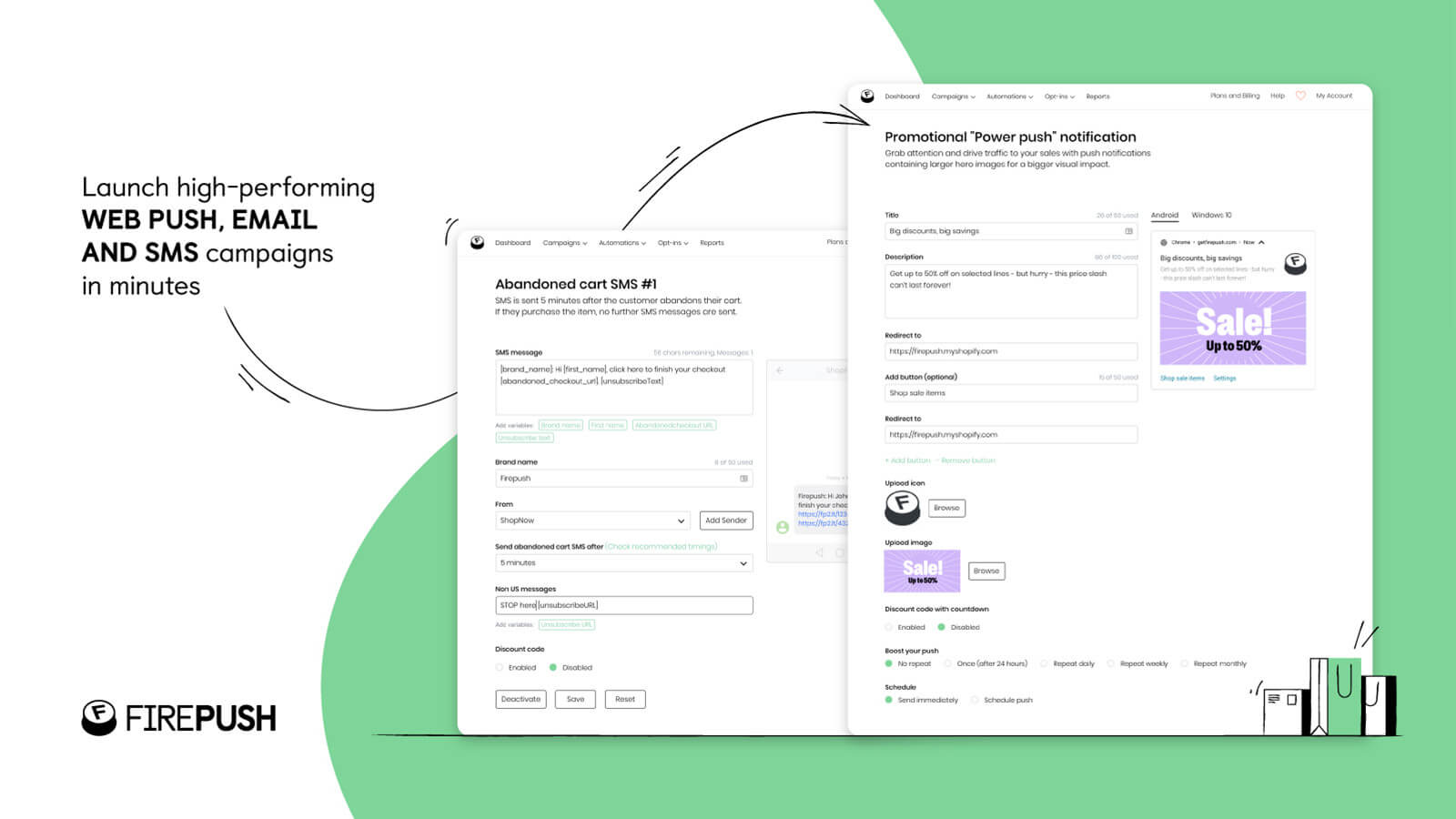 Main features:
Automatic email, SMS, and push notifications with review requests
'Win-back customer' campaigns
Cross-selling and upselling
Abandoned cart recovery
8. Fera

Fera Product Reviews App is one of the best product review apps for Shopify you can get. With Fera, you can automatically collect video, photo, and text reviews and offer incentives such as loyalty points, cashback, and discounts.
The Fera product review app enables you to easily display customer reviews in many different ways directly on your product pages or on a pop-up. Thanks to the built-in A/B test feature, you can analyse your reviews to optimise them for better results. Should you need any help, you can reach out for support via email, phone, or live chat.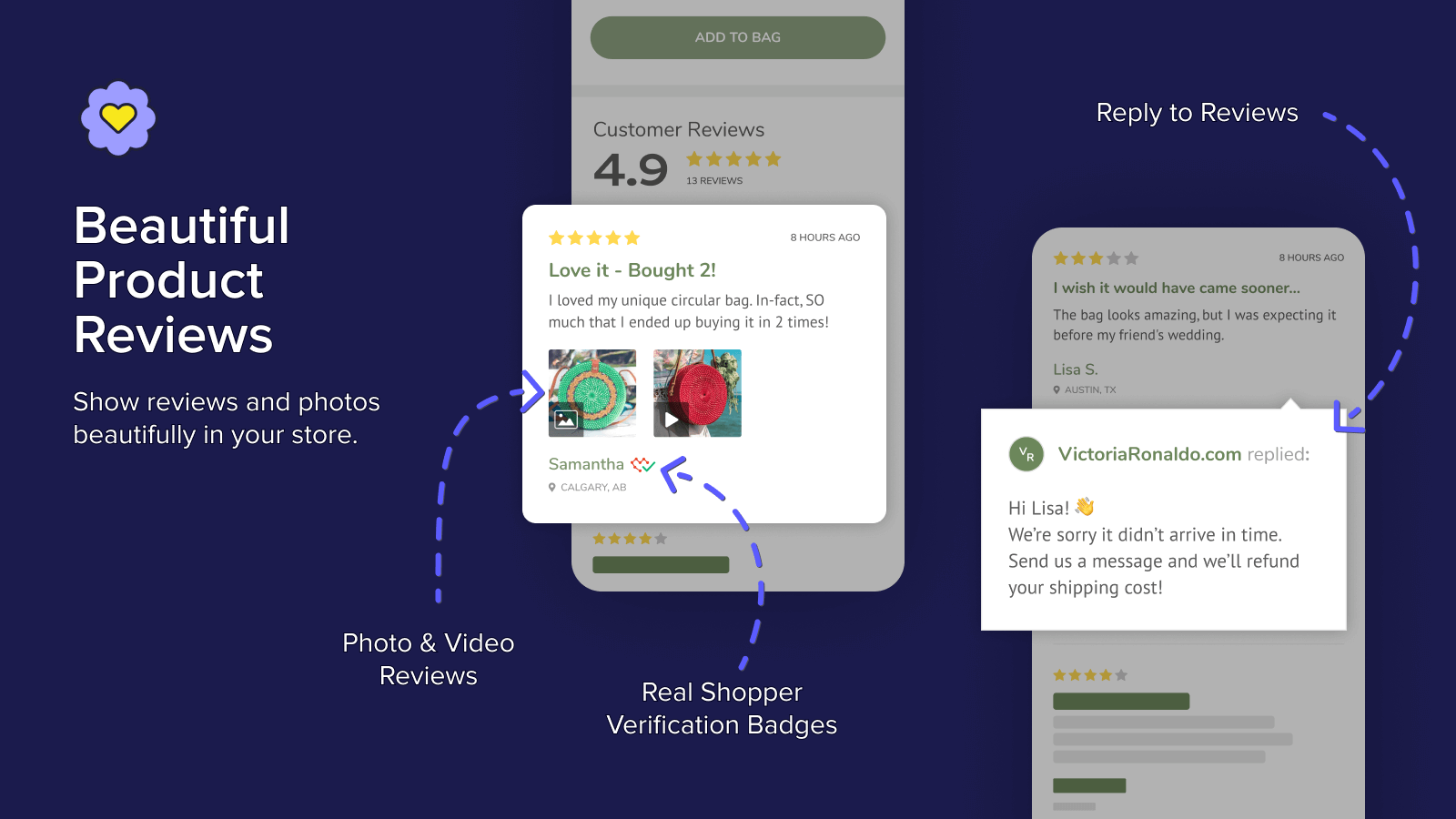 Main features:
Highly customizable video review widgets
Customer review, photos, and video management
Beautiful rating, review, and photo widgets
Product reviews as Google Rich Snippets
Automatic and one-time review requests
9. Vitals

The Vitals app is a very robust all-in-one sales and marketing platform for Shopify. This one app offers over 40 functions that you would typically need a separate app for.
Shopify rating: 5 ★
Price: From $29.99 a month
Free trial: Yes
Shopify app link: Get Vitals
Vitals App is a unique 5-star app that makes everything easy and accessible. When it comes to building trust, the app gives you core features, such as trust badges, recent sales, payment methods logos, product reviews, and Instagram feed. To start with, you can pick a 30-day no risk-free trial that permits you to test all the apps included in the Vitals platform.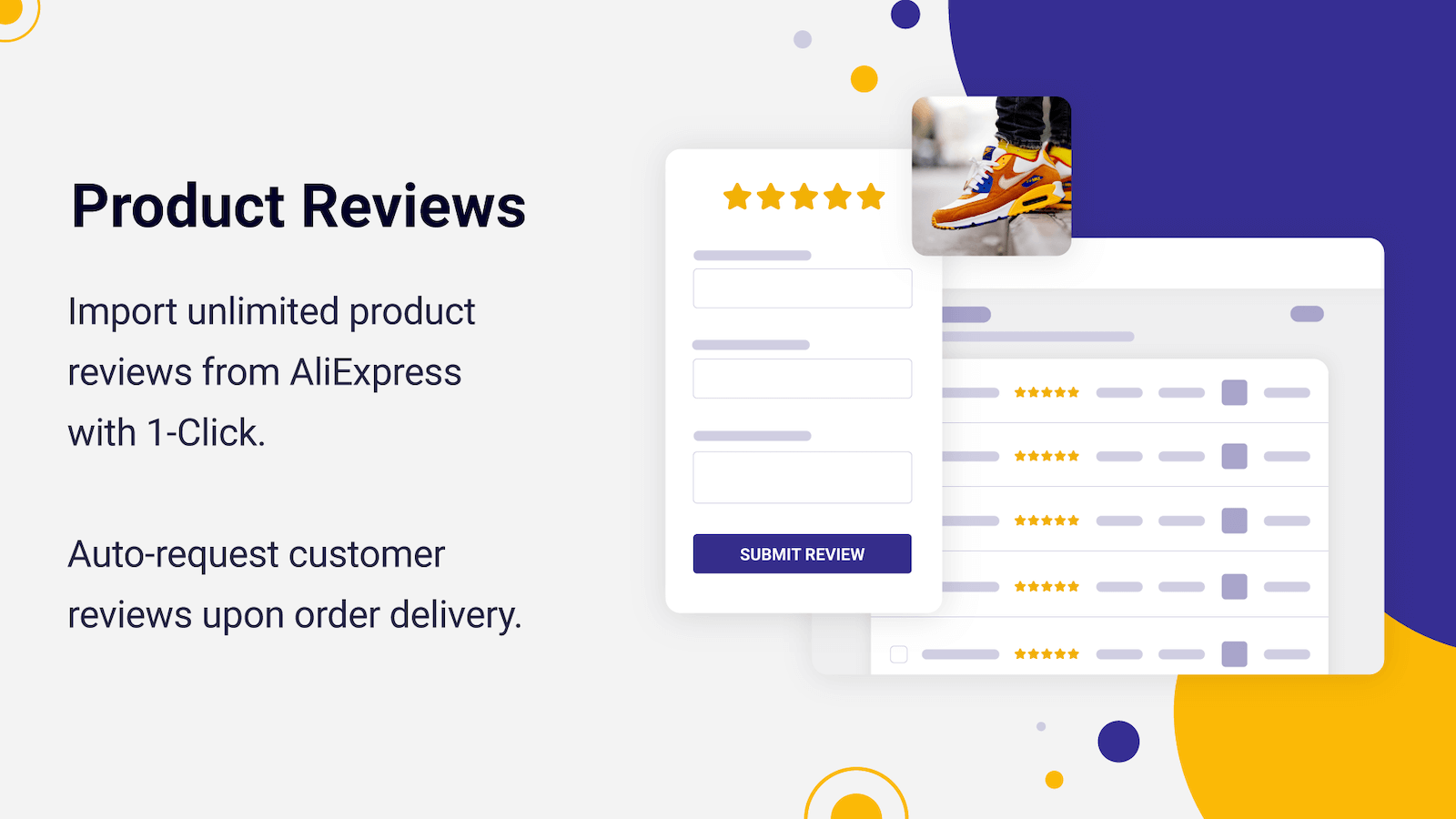 Main features:
Review widget on home, product, and collection pages
Automatic review request emails
Text and photo product reviews
Cross-selling and upselling
Review import
10. Ryviu

Ryviu houses all the fundamental features you would expect from a dedicated review app. This app will let you import all your product reviews from Aliexpress or Amazon to your store in just a few steps. You can then customize those reviews and showcase them in your store.
Shopify rating: 4.9 ★
Price: From $6.99 a month
Free trial: Yes
Shopify app link: Get Ryviu
The Ryviu app works great for small eCommerce and dropshipping sites that do not need all the bells and whistles. For a very affordable price, you get a variety of review widgets, data import feature, automatic emails to send review requests, and Google Rich Snippets to improve your SEO.
Main features:
Q&As that customers can rate
Automatic review request emails
Product review widgets
Product review import
Google Rich Snippets
11. Opinew

Another app popular among online sellers is Opinew. This app will help you to import reviews from AliExpress, eBay, and Amazon and automate the process of creating product review collections.
Shopify rating: 4.9 ★
Price: From $9 a month
Free trial: Yes
Shopify app link: Get Opinew
The Opinew review app is lightweight so you don't need to worry about any feature having a negative impact on your store's performance. What is also important is that all app users, no matter the plan they choose, get access to the same features just on different scales. And in case you need help with the app, you can reach out to customer support seven days a week.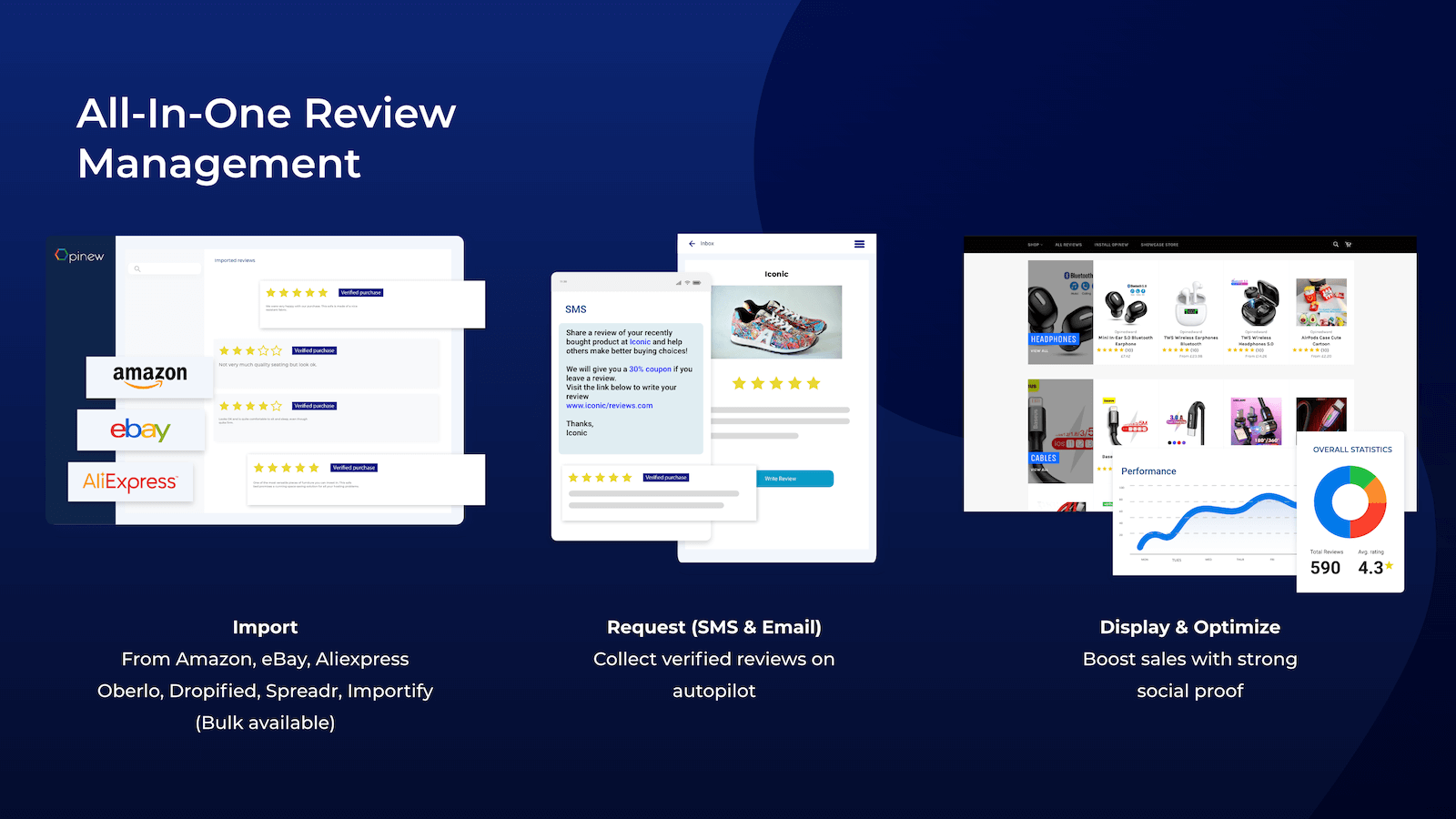 Main features:
Customizable review widgets and request emails
Review requests via email, SMS, and QR code
Google Rich Snippets and Google Shopping
Text and photo product review import
Product review incentive (coupons)
12. Credens

The Credens app offers a lot of powerful review features that can help your store to shine. It lets you collect your customers' product reviews, photo reviews, and testimonials.
Shopify rating: 4.9 ★
Price: From $7.99 a month
Free trial: Yes
Shopify app link: Get Credens
The Credens app is well-known for its flexibility, ease of usage, and excellent performance. The app is also praised for its excellent customer service. In fact, it has everything you need to display product reviews and testimonials on your store in order to increase your conversions. You can easily moderate the reviews and track your success with the data analytics on the app's dashboard.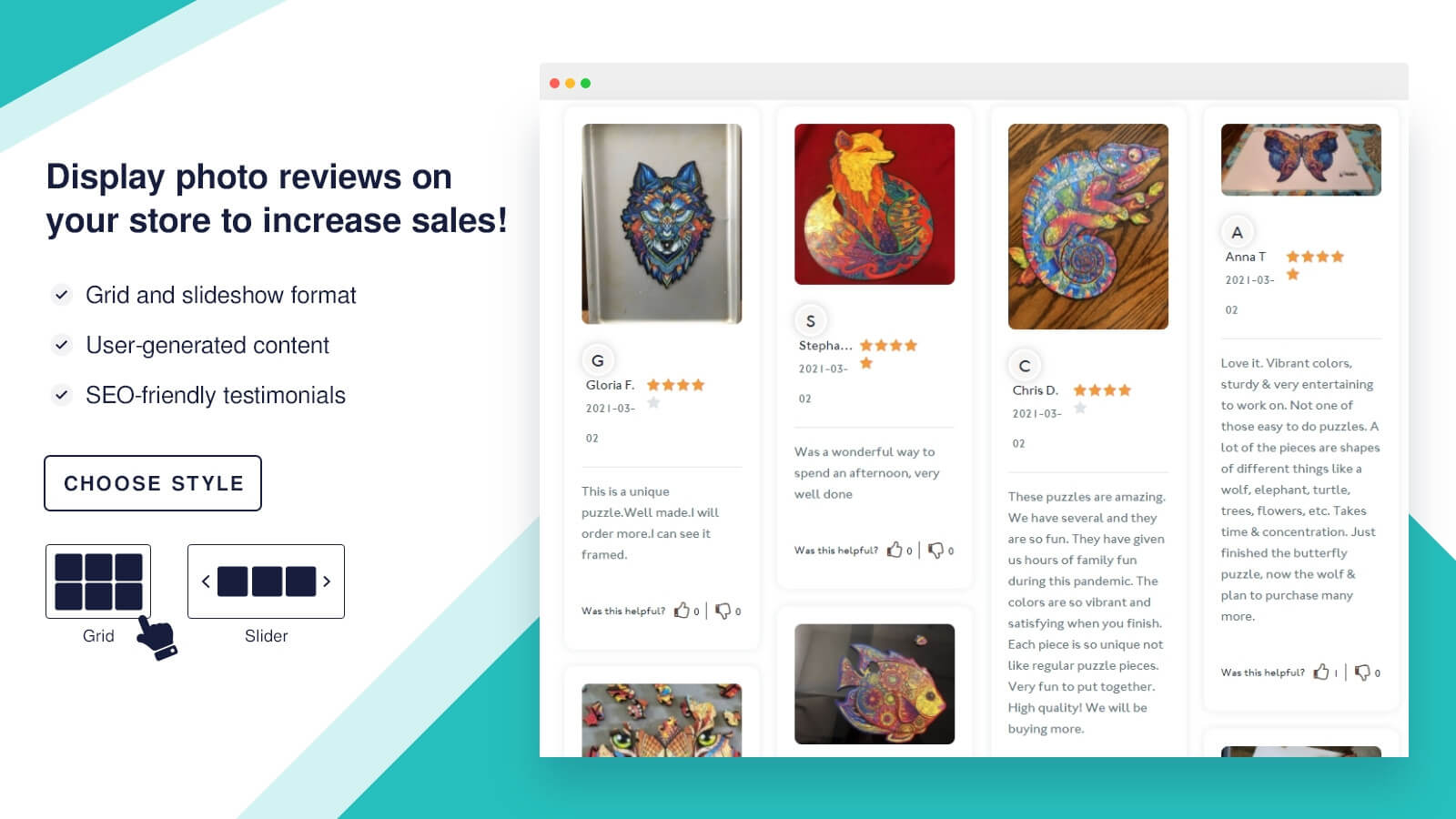 Main features:
Review request emails you can track
Reviews in-depth analytics
Product review import
Photo review widget
Verified Buyer tags
How did we test these Shopify review apps
We tested a number of product review apps for Shopify that meet our criteria based on these factors:
Shopify rating score. We picked apps with a Shopify star rating of 4.8 and above. A good rating score means that users found the app helpful and performing well.
Customer reviews. Among many review service apps, some operate better to meet their users' expectations. Customer reviews are vital when it comes to having a look at how an app works in practice.
Easy integration. Integrating a Shopify product review app should not be rocket science. We chose the apps that you can start using right away without needing any coding experience.
Optimal price for quality. We believe that Shopify apps should be worth the money you pay for them. So, we picked the apps that have the best functionalities for their price.
Why do I need a review app on Shopify?
There are many ways in which product review apps can help to improve your business. Let's take a look at the areas that would be the most significantly affected by their integration.
Trust. When it comes to e-commerce businesses, building trust is challenging because convincing customers in a digital environment takes time. However, by gathering positive reviews, you can provide a guarantee to your potential customers that you have a good standing, and can, therefore, be trusted.
Guiding purchasing behavior. By employing review apps and offering in-app rewards such as loyalty points, discounts, or another service, you can generate reviews exponentially. In that sense, you can motivate your shoppers in taking specific actions which will generate a positive turnover for your e-store both socially and commercially.
Conversions. Some apps only cover one type of notification, whereas others are multi-channel apps. Most review apps work well for capturing leads, so you may want to consider employing SMS, web pushes, and email marketing to run your review app campaign. Yet, before you do so, determine what result you want to generate from the product reviews for short-term and long-term.
SEO. Reviews have an impact on Google's local search. The search algorithm is driven by review signals, which are usually being evaluated by the engine regarding the review quantity, rate, and diversity. The combination of these signals can help to catapult your local business towards the top of Google local search results; thus, helping others to find you easily and quickly.
User generated content (UGC). Product reviews can help to improve your content and make it more diverse. It can be done by using generated customer reviews and placing them in strategic areas of your e-store. This will increase visitors' engagement and hook their attention on your products better.
Transparency and growth. Allowing customers to openly review you, shows that you have nothing to hide and value the opinion of your customers. Also, negative reviews can help you to detect the flaws in your e-store's customer journey. Consequently, providing you with a hint of the following steps you need to take to improve your business.
Conclusion
Shopify product review apps are a great tool to any company on the platform. They can help to build trust, enrich content, and re-engage users. Not to mention that reviews can help to increase your sales by emphasizing to clients the quality of your products and by giving them some incentives.
We reviewed over 12 Shopify apps and selected the best based on their Shopify rating score, user reviews, integration, and reasonable price. We also picked one app that we find to be the best app for managing product reviews - Ali Review. This app ticks all the boxes for us.
We hope that you will find the perfect match for your store!
FAQ
What is the best Shopify review app?
Currently, Ali Review is the best Shopify review app. It collects and delivers review requests via email and SMS; rewarding customers with discounts. On top of that, you can choose a design of your review widget and display personalized reviews based on customer info.
Can you fake reviews on Shopify?
No. Fake reviews violate Google's guidelines. In case you're caught, you can potentially have your pages removed from the search results, be banned from Google, and lose all of your Rich Results.