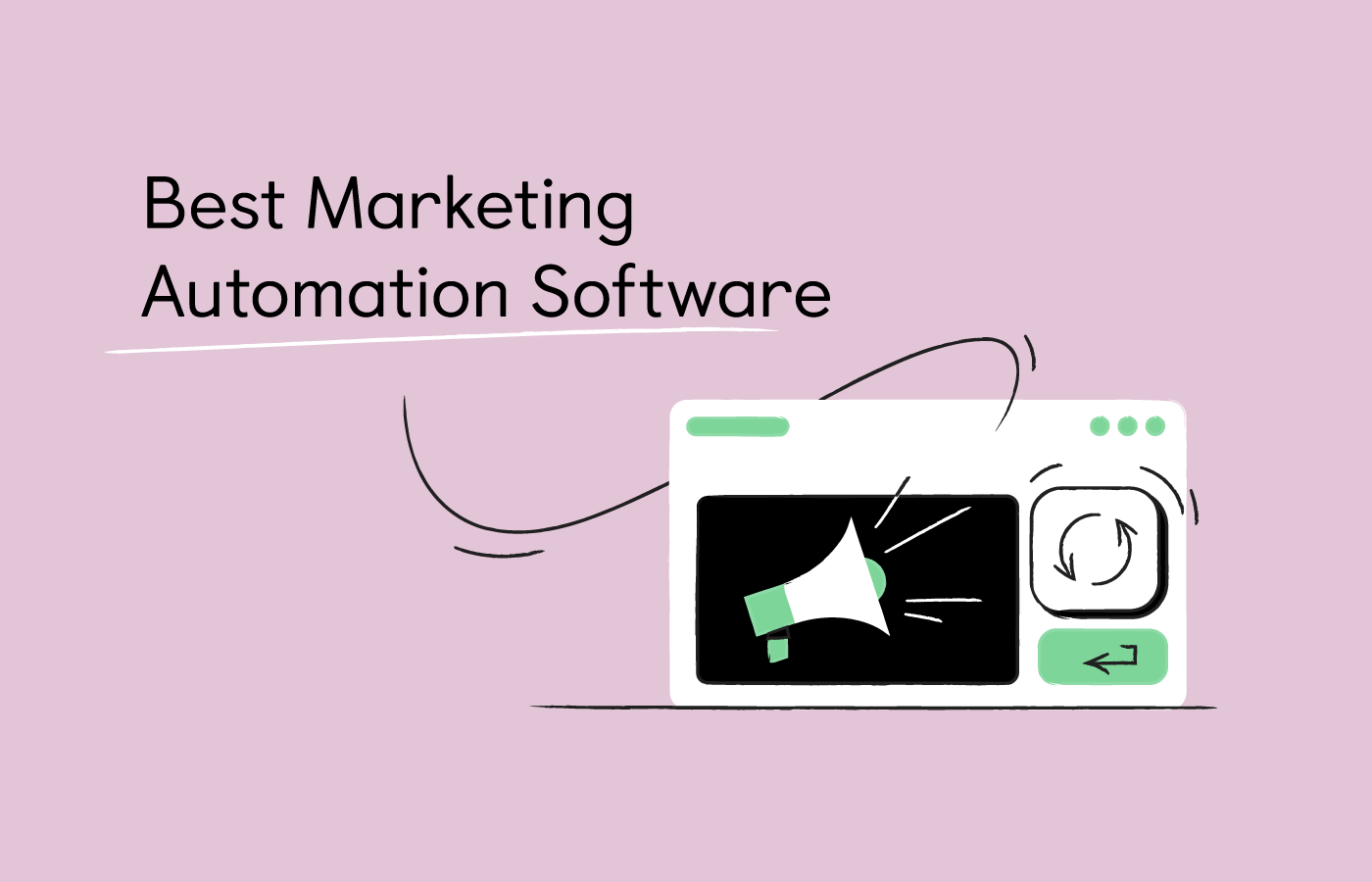 You might be here because of three reasons.
You want to be more organized. Or the person running your marketing needs help. Or you have found a marketing channel that brings in decent revenue.
If any of these sound right, keep reading. In this guide, we're going to give you options for the best marketing automation software.
Jump to content sections:
Here for other apps or info? Consider these:
What is Marketing Automation Software?
Marketing automation software is designed to help business owners and marketers generate leads, build customer relationships, and move customers through the conversion funnel. It's also a strategic initiative that changes marketing processes and the culture of how marketing is managed.
The biggest goals of marketing automation software are to allow users to cut down on time, increase efficiency, and run processes that would otherwise require more effort. For example, an email marketing automation tool can automatically send campaigns and track performance.
What Can You Automate with Marketing Software?
The first step to choose the best automation software is to choose the processes you need to automate.
You can automate these marketing processes:
Email marketing—email campaign scheduling, automation, and reporting
Advertising campaigns—managing ad campaigns, measuring performance, reporting
Social media marketing—post scheduling, reputation tracking, marketing analytics
Loyalty and referral programs—promo code generation, automatic rewards, expiration of unused rewards
Customer journey personalization—sending customers automated messages based on their customer journey stage
Best Marketing Automation Software
Marketing automation tools vary depending on the processes. To help you make a choice, we're listing 10 top marketing automation platforms along with descriptions of processes they're designed to improve.
Processes: automation of email, SMS, and push notification marketing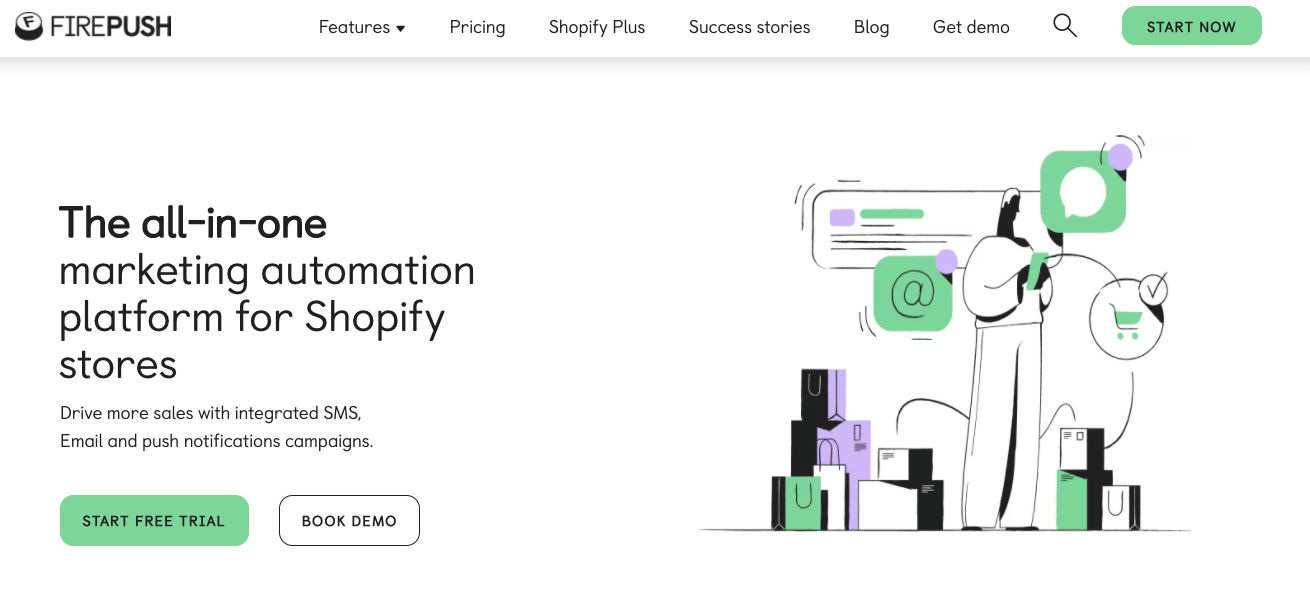 Firepush is an affordable marketing automation tool for Shopify stores to increase sales. You can run automatic email, SMS, and/or push notification campaigns to let customers know about your marketing offers, sales, and news.
Designed primarily for Shopify store owners and marketers, Firepush is a great option for those looking for a simple marketing automation platform. Everything is manageable in one simplistic dashboard, so no need for any previous experience.
Automation features:
Email marketing: automatic marketing emails, cart recovery emails, transactional emails, campaign reporting
SMS marketing: automatic marketing and transactional text messages, campaign reporting
Push notifications: automatic promotional campaigns, performance reporting, and revenue calculation
Routine marketing task automation: customer segmentation, order confirmations, retargeting campaigns, cross-selling, upselling, and loyalty bonuses
Plenty of integrations with other tools (Zapier, Optimonk, Loox, etc.) to speed up marketing processes
A/B testing of marketing campaigns to improve workflows and drive more eCommerce revenue
Pricing:
Firepush has a free basic plan for 300 pushes. The most affordable paid plan costs only $15/mo but offers all features needed to automate emails, SMS, and pushes. Growing Shopify stores can try a Pro plan ($29/mo) with advanced features.
Proozy, an activewear retailer, used automated SMS marketing campaigns to share awareness of sales. The brand generated $30 for every $1. Here's how they did it: Proozy SMS Marketing Success Story.
2. Marketo
Processes: automation of marketing campaigns, email marketing, social media marketing, lead management, and account-based marketing

Marketo is a powerful marketing automation platform designed for both B2C and B2B businesses. It's designed for experienced marketers working in large businesses who need to engage customers on multiple channels with all possible strategies.
Automation features:
Lead management in an easy-to-use CRM
Build and scale marketing campaigns (email, social media, advertising,
Find the most qualified leads and customers with segmentation and transaction history
Automatic analysis, discovery, and optimization for the best keywords
Paid advertising management in one dashboard (Google, Facebook, LinkedIn)
Pricing:
Marketo's pricing is custom and depends on the number of users. The most basic plan includes 25 users and is designed for growth marketers. Third parties suggest that the basic plan costs $800+ while advanced plans' cost can reach up to $3,000/mo.
Consistent customer experience on all marketing channels is essential to brand recognition. You can achieve that with an omnichannel marketing strategy. If you want to know more, check out this Guide to Omnichannel Marketing.
3. ActiveCampaign
Processes: email marketing, marketing campaigns, CRM, and sales automation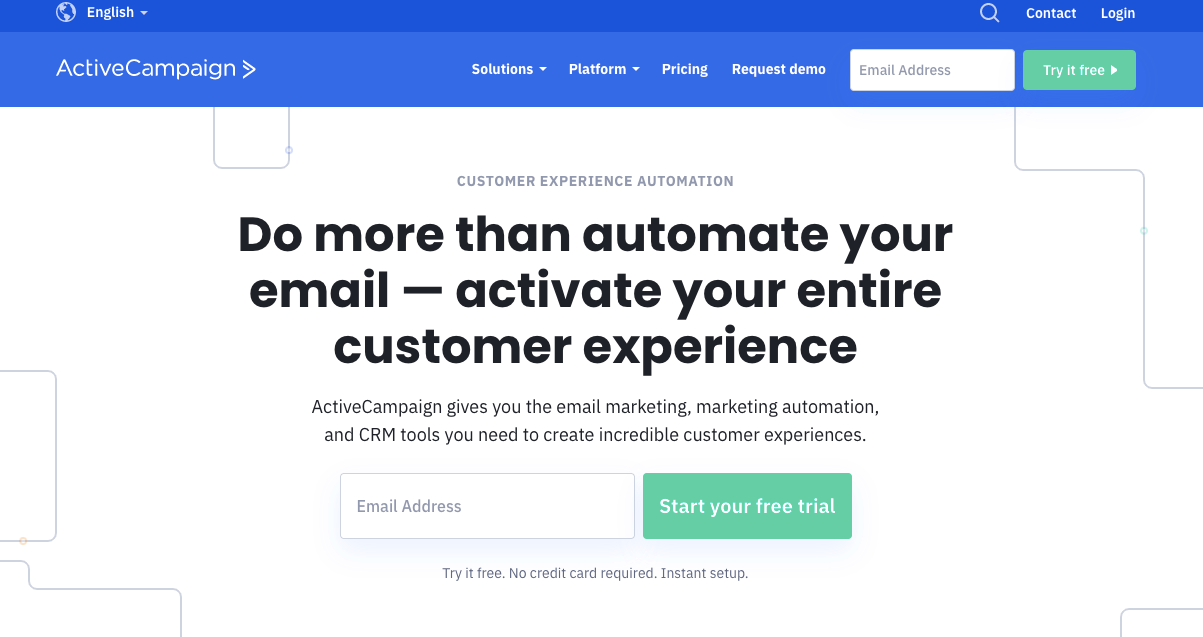 ActiveCampaign is one of the best marketing automation tools for eCommerce. Many business owners use this marketing automation software along with Zapier for easy lead management and automation.
Automation features:
Email marketing automation (lead capture forms, email editor, reporting, abandoned shopping cart recovery)
CRM with sales automation features to manage leads and create personalized marketing offers
Advanced reporting: sale win probability, conversions, segmentation, customer outreach, consumer health scoring, customer newsletter
Pricing:
For 1,000 contacts: Lite plan: $25/mo; Plus plan: $49/mo, Pro plan: $129/mo; and Enterprise plan: $229/mo. Pricing increases along with the number of subscribers.
4. Hubspot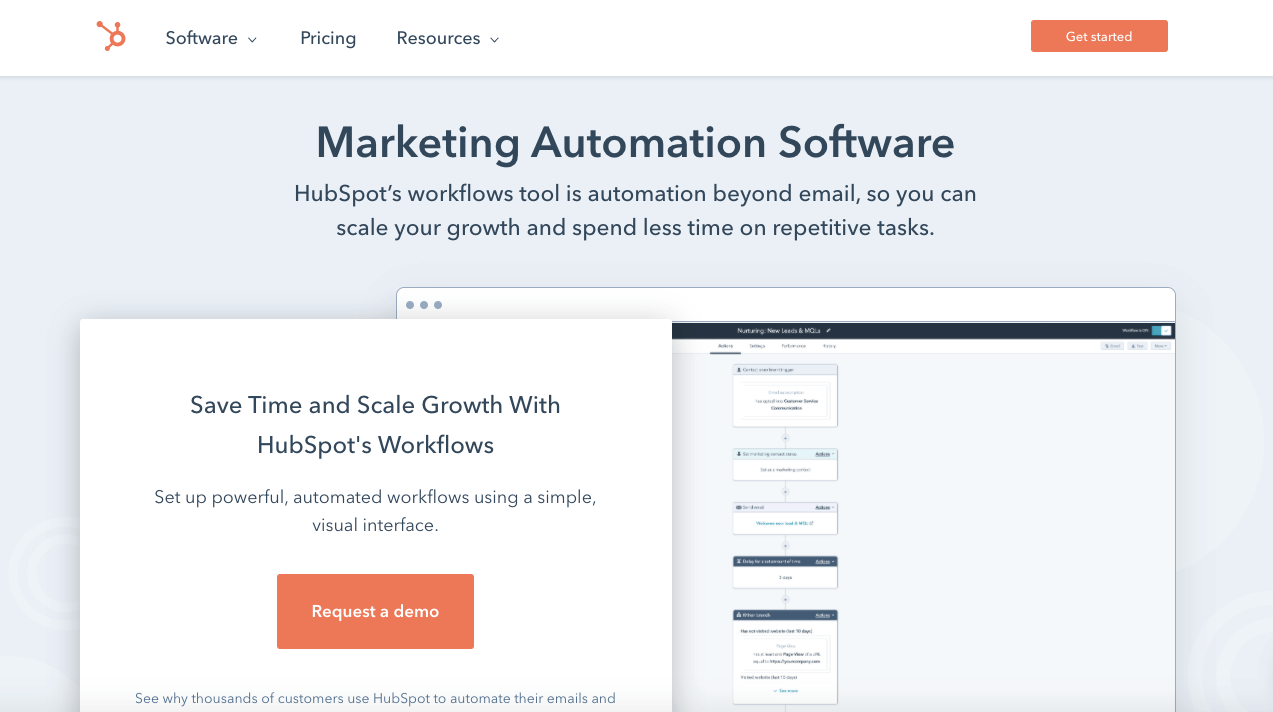 Hubspot is a known marketing automation software for online businesses of all sizes. If you want a simple but feature-rich tool to manage your lead base, Hubspot could be a great idea for an automation marketing system. The app enjoys 4.4-star ratings on most review platforms, too.
Automation features:
Email marketing campaign automation workflows
Targeted marketing workflows to take care of marketing for every lead and scenario
Customer segmentation to choose who enters workflows
Landing page creator software with a drag-and-drop editor
Social media marketing and monitoring tools
Pricing:
Hubspot has a free subscription with basic features (email marketing, lead forms, ad management). The starter plan for 1,000 contacts costs $50/mo. Most marketing automation features are included in the Professional plan that goes for $890/mo.
5. Omnisend
Processes: email, push notification, and SMS marketing automation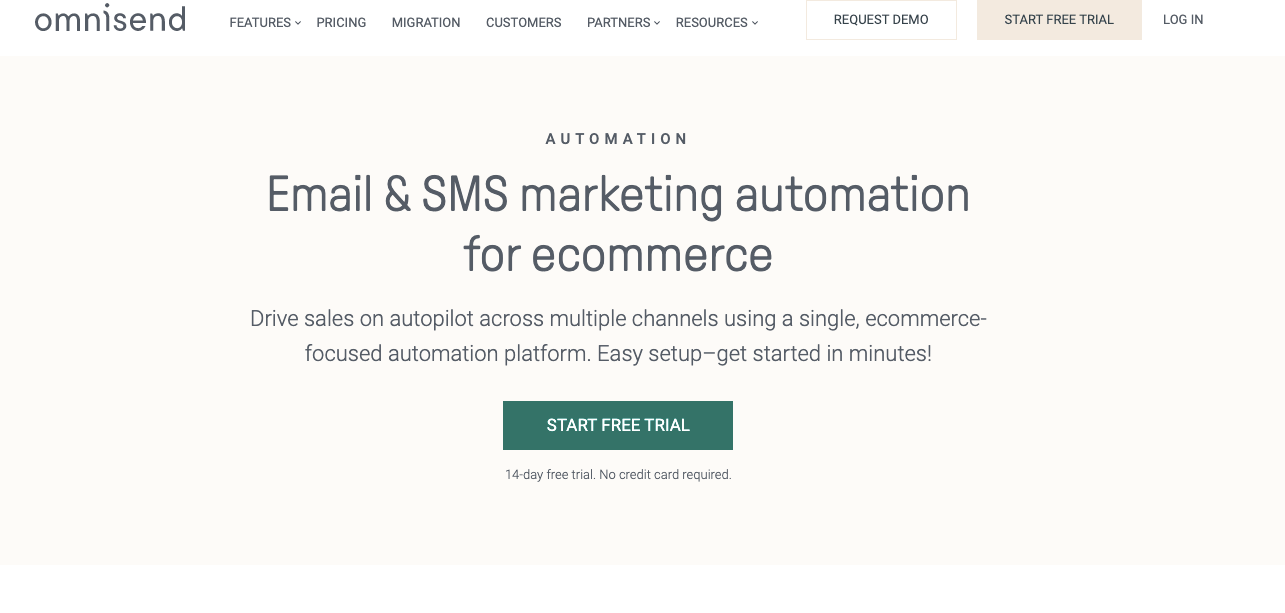 If you're looking for a straightforward marketing automation tool with native integration for your eCommerce platform (Magento, WooCommerce, etc.), consider Omnisend. The app will help automate processes for email and SMS marketing campaigns for pretty much any common scenario.
Automation features:
Workflows for automation of marketing and transactional email campaigns
SMS marketing automation for welcoming customers, sharing offers, and recovering abandoned carts
Pre-built workflows for email, SMS, and push notification marketing campaigns
Pricing:
Marketing automation is available in the Standard plan ($16/mo). Advanced automation options are included in the Pro plan for $99/mo.
If you're new to SMS marketing, this content should be helpful to learn this marketing strategy:
6. Drip
Processes: email and SMS marketing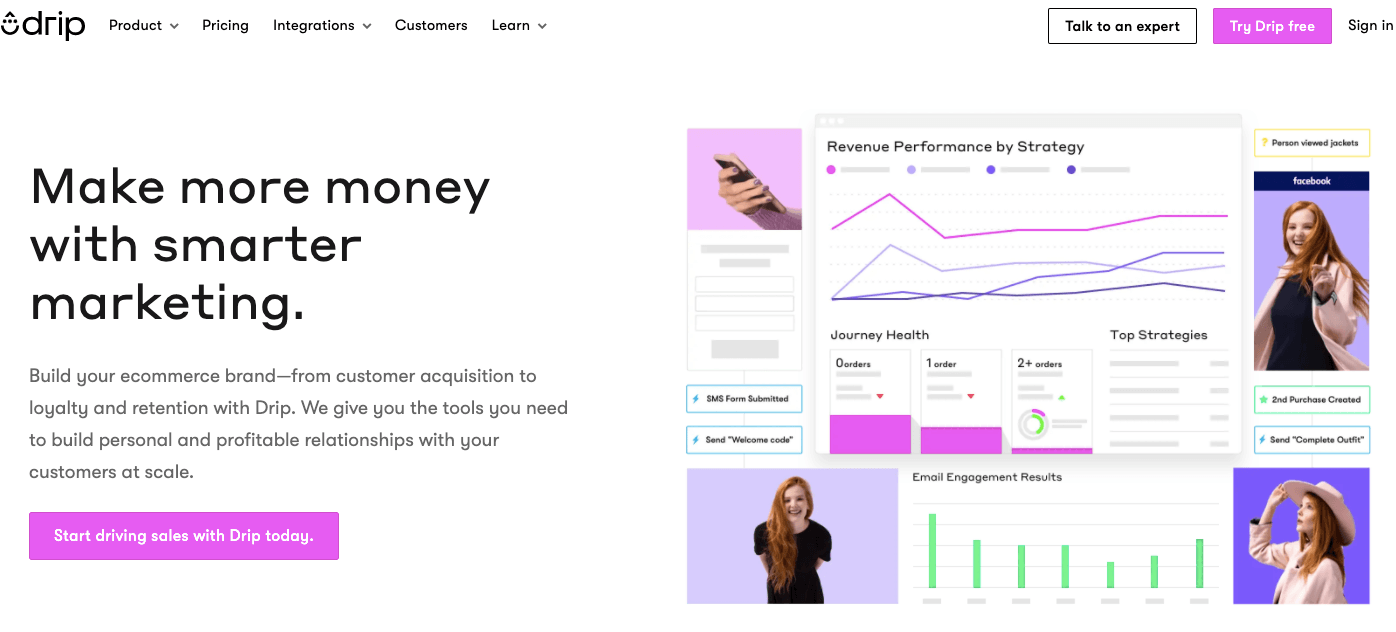 Drip automation features are designed for small and mid-sized eCommerce stores. This marketing automation system makes email and SMS campaigns easy to send, track, and improve. You can build custom workflows, add targeting rules, and improve customer relationships.
Automation features:
Automated email and SMS marketing campaign workflows
Workflow templates for automation beginners
A/B testing to make data-informed campaign improvements
Pricing:
Omnisend's marketing automation costs $19/mo for 1,500 contacts. The cost increases along with the contact base (3,000 contact-plan costs $49 per month). If you'd like to add SMS to the mix, 1,000 messages cost an extra $15.00.
7. MailChimp
Processes: email marketing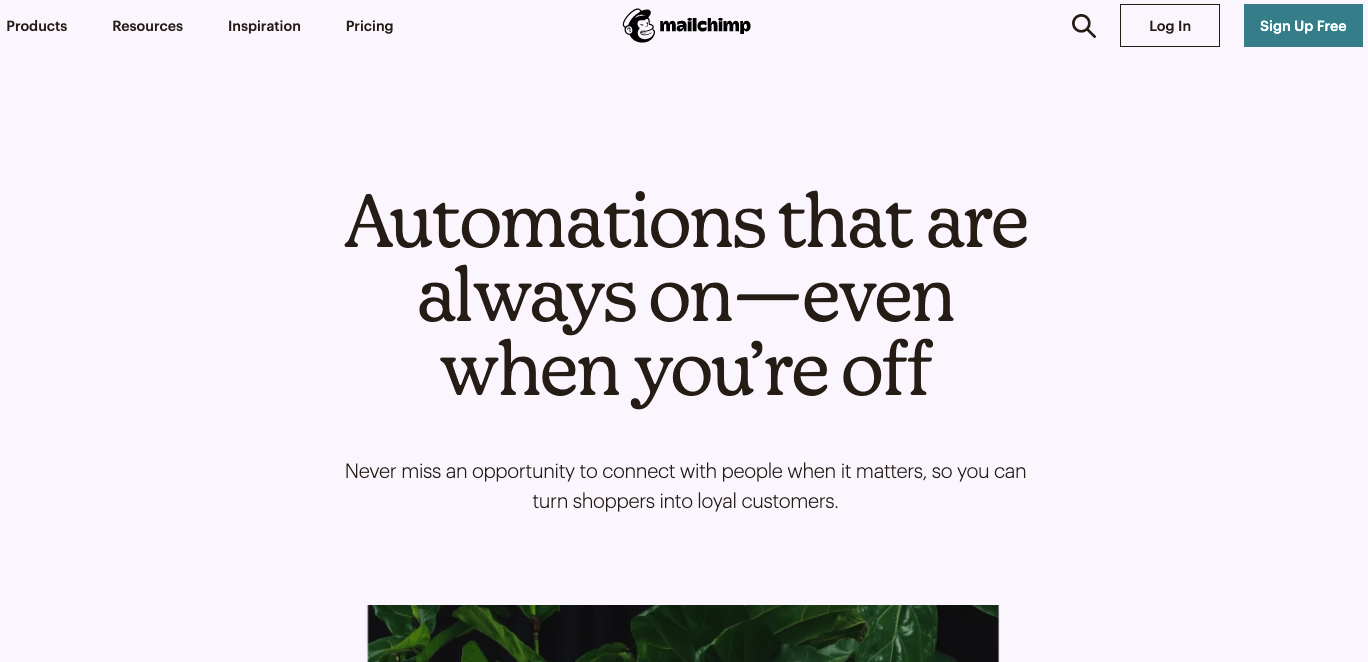 With MailChimp, you can create just about any email marketing automation workflow. Whether it's a one-email campaign or a series of ten emails, you can drag-and-drop anything. There are a bunch of predetermined triggers to engage more customers automatically.
Automation features:
Email marketing campaign automation workflows
Drag-and-drop email marketing campaign workflow editor
Marketing CRM to manage leads and customers
Custom lead capture forms and landing pages
A/B testing for email marketing
Pricing:
This marketing automation software uses the "pay-as-you-go" pricing mode. There's a free plan for one audience and 2,000 contacts. But advanced automation is available in the Standard plan for $14/mo for 500 contacts.
8. Autopilot
Processes: email marketing automation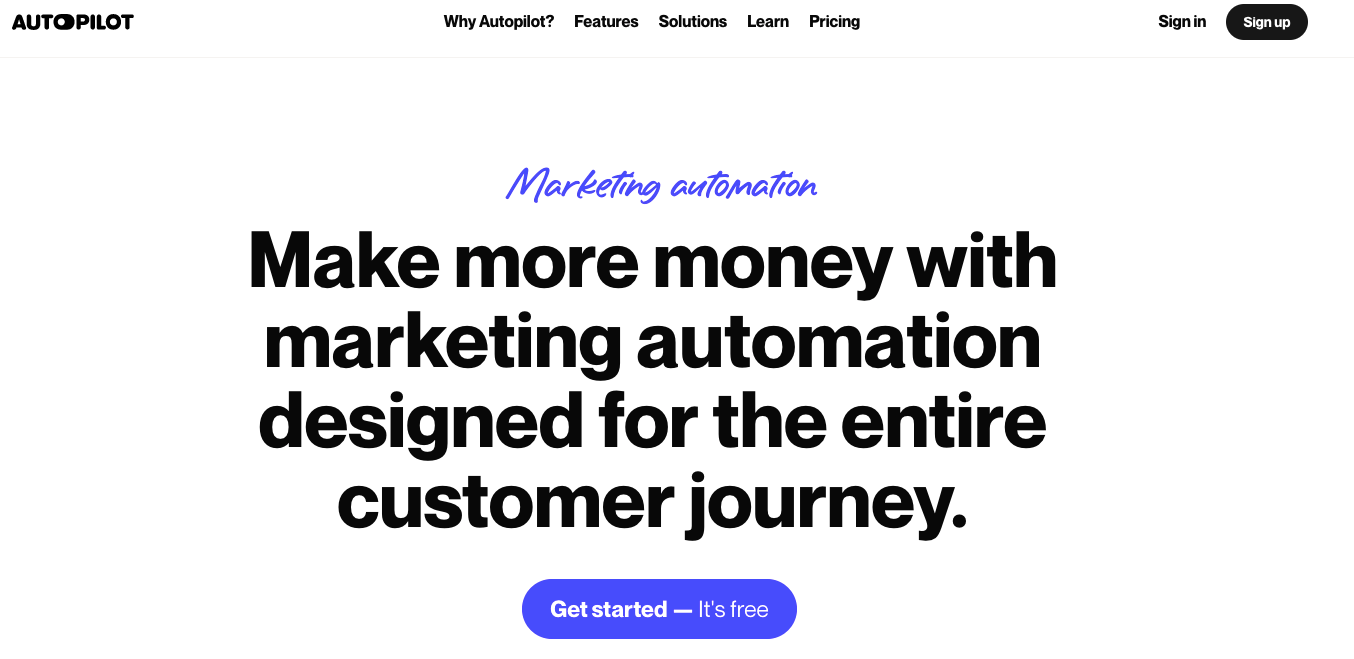 Autopilot is here for owners of small eCommerce stores. If you need affordable email marketing automation software, this one goes for $29/mo with pre-built workflows and powerful analytics.
Automation features:
Email marketing campaign automations
Customer segmentation and engagement scores
Custom audiences for automatic targeting with email campaigns
Targeting rules based on customer engagement history, orders, and customer journey position
Pricing:
Autopilot has a free plan for 2,000 contacts. Advanced automation features are included in the Pro plan for $99/mo.
9. Klaviyo
Processes: email and SMS marketing automation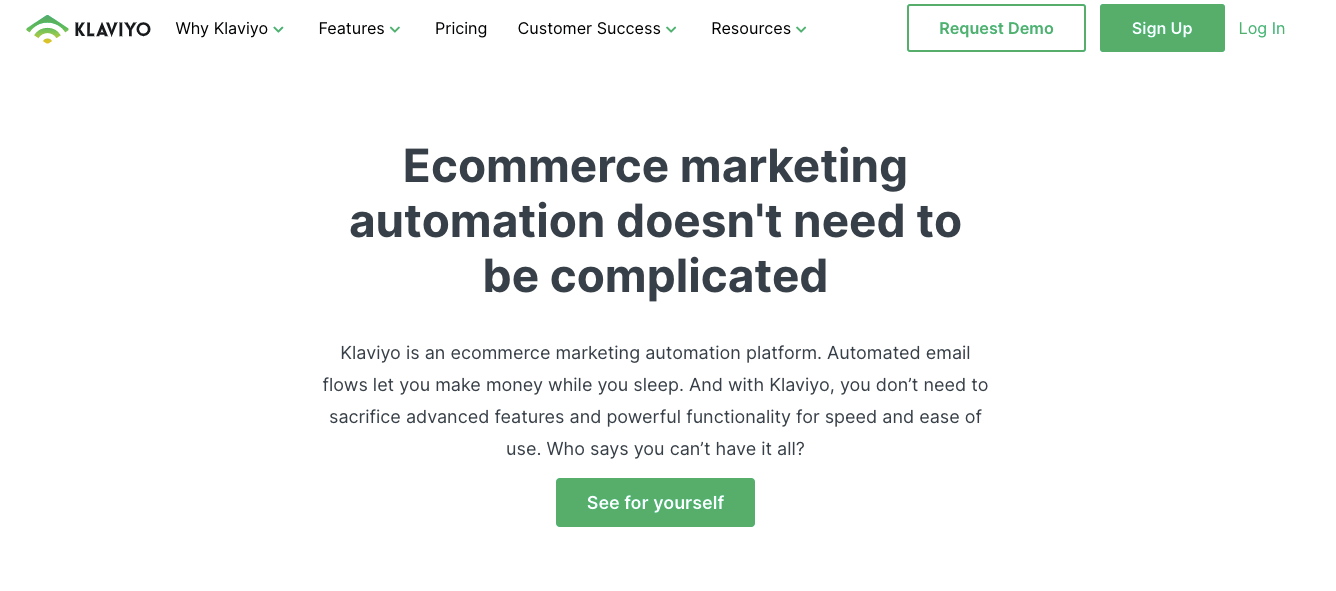 Klaviyo is one of the top marketing automation platforms for email. Simple to use and integrate with other marketing apps in any business's tech stack. Reviews from users also suggest superior customer support and easy-to-target segments.
Automation features:
Automated email campaigns: welcome series, promotions, abandoned carts, and win-back
A/B testing to improve email performance of marketing campaigns based on customer engagement data
Targeting rules to deliver custom messages for customers on specific stages of the customer journey
Pricing:
Klaviyo prices are based on the number of subscribers. A 500-contact plan costs $20/mo but a larger, 3000-contact one goes for $70/mo.
10. Ontraport
Processes: social media, email, and calls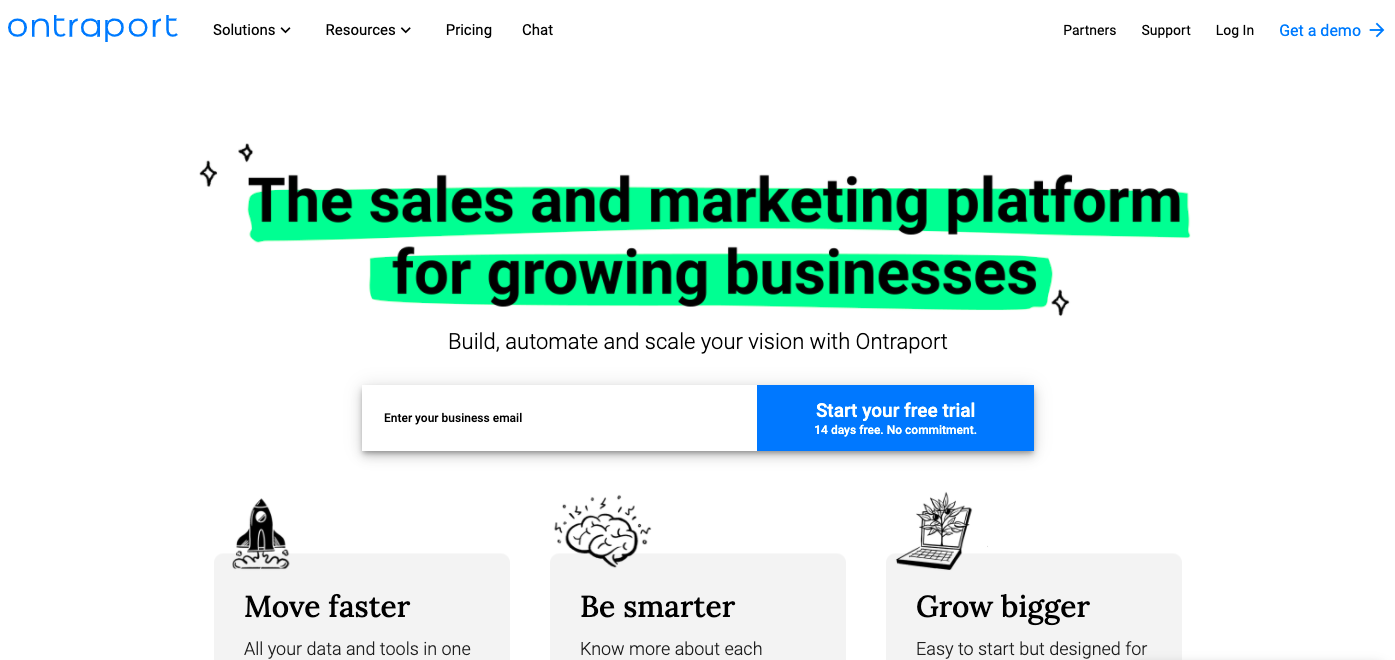 Ontraport is a powerful marketing automation system for small businesses. You can integrate data from popular marketing channels (email, SMS, and calls) and apps into one CRM. There's a bunch of automation options to use to make marketing more efficient.
Automation features:
Email, SMS, and calls
Drag-and-drop campaign builder for all channels
Workflow templates for faster campaign creation
Customer data and segmentation for personalized marketing
Pricing:
The basic plan for 1,000 contacts costs $79/mo. eCommerce businesses can choose the Pro plan ($297/mo) with advanced features to accelerate growth.
Marketing Automation Software: Summary
Using marketing automation software is a great strategy to speed up marketing processes and increase their effectiveness.
If you're wondering which marketing automation tool is the best for your business, I can make some recommendations:
Owners and marketers working in mid-sized or large B2B businesses should consider Marketo or Hubspot because of the abundance of lead nurturing and sales features.
If you're running a Shopify store, check out Firepush—it's affordable and automates enough processes to sell big.
In case email marketing automation is your priority, take a look at MailChimp, Firepush, Klaviyo, and Omnisend.
If you need a CRM with marketing automation features, consider getting Ontraport and ActiveCampaign.
But in any case, consider talking with a sales rep first. Every automated marketing software on this list offers one-on-one consultations for business owners and marketers, so it's a good opportunity to get more info before opening your wallet.