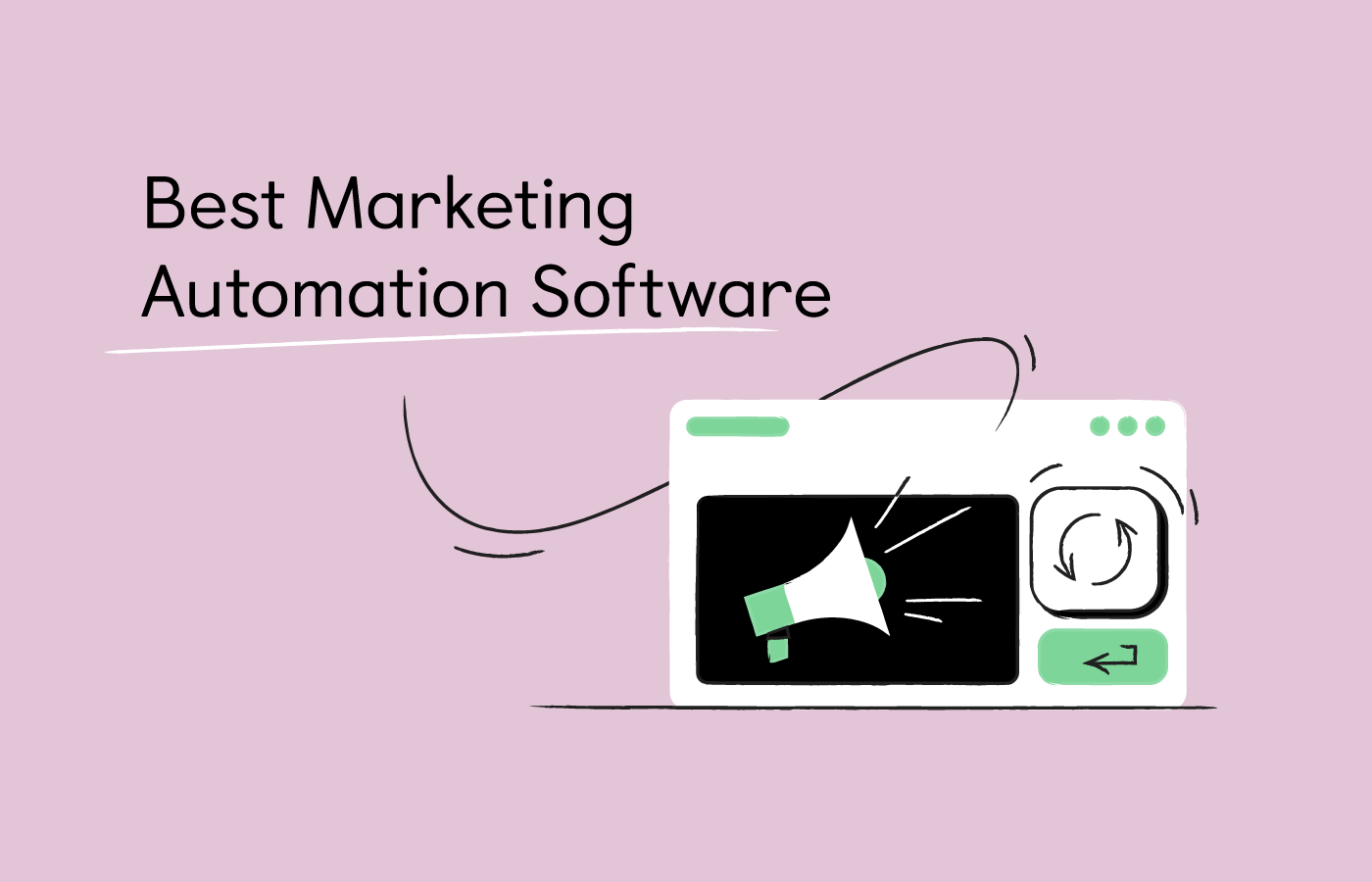 Shopify is a popular eCommerce platform that lets you manage your own online store. For many business owners, Shopify's appeal lies in its apps that can help you skyrocket your sales with little effort. By using the right applications, you can out-do your competitors who use none, or even reach new audiences through channels you didn't know existed.
However, picking the best marketing apps for Shopify can be quite a nuisance. For this very reason, we did a thorough research and selected the 10 best marketing plugins intended for Shopify users. Each of them performs a different function, letting you gather a collection of features that will boost your shop's performance.
Top 5 best Shopify marketing apps:
What to look for in a Shopify marketing app?
Most people find it difficult to choose the Shopify marketing apps they'll actually benefit from. After all, there are thousands of Shopify applications on the market! So, this is what you have to look at to scale down your choices:
App's purpose. Even though the number of Shopify apps is enormous, each of them performs a different function. So, first and foremost, you should think about the reason why you need a marketing application in the first place: push notifications, restock alerts, SEO management, etc.
Free trial. Even the very best Shopify marketing app might not fit your needs if it's simply not compatible with your business idea. That's why we'd recommend trying out the free version first before investing in the full thing.
Shopify rating. Word of mouth is a powerful marketing tool - and the same goes for Shopify applications. A good app will have an excellent rating, as well as lots of customer reviews that will give you more insight into its usefulness.
Best marketing apps for Shopify - our detailed list:
Below, you can see our top ten marketing apps for Shopify that will help you generate leads, keep the existing customers happy, and expand your business with as little effort as possible.
1. Firepush

If you're looking for the best marketing app for shopify, then Firepush might be exactly what you need. It will help you drive sales by giving you lots of freedom on managing your marketing campaigns through push notifications, SMS messages, and emails.
Shopify rating: 4.8 ★
Price: From $15/month
Free trial: Yes
Shopify app link: Get Firepush
The best thing about Firepush is the fact that it's extremely easy to use - even if you don't have any experience with marketing your small business. For example, to send a push notification, you'll only need to fill in a simple push template - no need to think about the layout yourself. The app also lets you target specific users and gives access to your audience analytics, allowing you to build a bigger audience than ever before.
Pricing: You can get a 14-day free trial with all the features, or simply use the free version with limited functionality. Meanwhile, the full version costs from $15/month.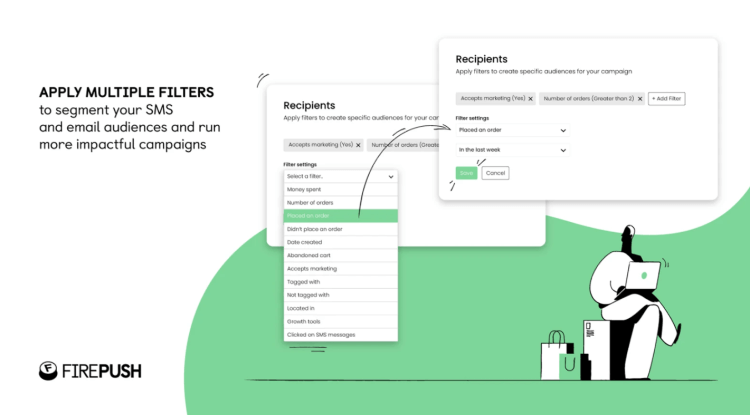 Main features:
SMS marketing feature with ready to use templates
Email marketing feature with templates and automated emails
Easy to use push notification builder with in-built templates
Campaign performance reports and analytics

If you have a hard time choosing a marketing application for Shopify, then Vitals might be the very tool you need. That's because it's actually 40 marketing apps in 1 - and you are in full control which of them run in the background at any given moment.
Some of the most useful apps offered by Vitals let you import unlimited product reviews, watch visitor recordings, and implement lots of methods to create urgency so that the user would be inclined to buy the product quickly. There's also a currency converter, a content protection feature, and geolocation redirects. In other words - what else could you possibly need?
Pricing: Get a 30-day free trial of Vitals and use all of its features without spending a single penny. After that, you can buy the tool for $29.99 a month.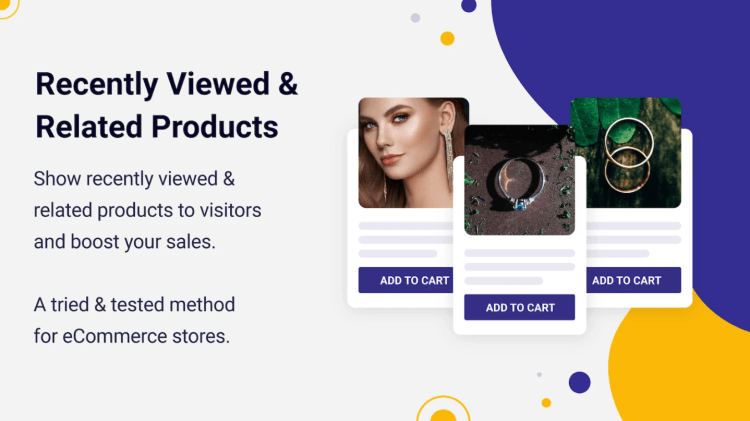 Main features:
40+ applications with different functions
Upsell and cross-sell campaigns
Visitor session replays
Integrated social media features

Good customer support is the key to attracting new visitors and keeping the existing ones happy. That's why you may consider getting Tidio - a marketing app for Shopify that will help you manage all the customer queries easier than ever before.
Whether you prefer responding to your customers directly or just simply using a chatbot for your business, Tidio has you covered. For example, it lets you see all your customers' messages in a single panel, no matter where these queries came from - Facebook Messenger, email, or the live chat itself. You can also set up automated responses to the most commonly asked questions, which would give you more free time on your hands.
Pricing: You can use the free plan if you don't mind limited features. However, you can also get the $15/month subscription with the essentials, or the $39/month plan with extra features.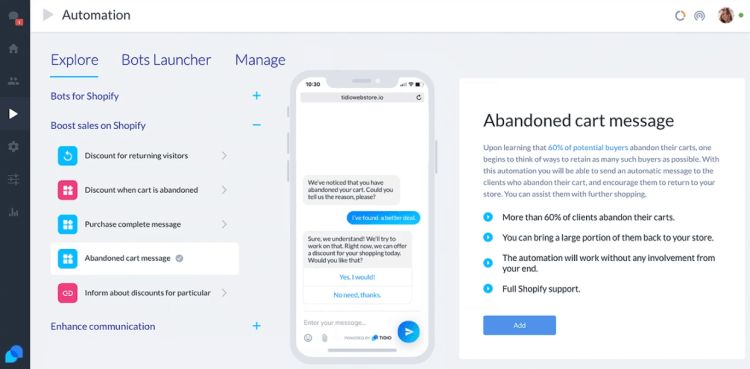 Main features:
Panel that combines all the messages you get from different platforms
Possibility to set up automated answers
Automation triggers for actions like returning to site or visiting for the first time
Customizable live chat (display options, color, button positions, etc.)
4. Back In Stock: Customer Alerts

Back In Stock: Customer Alerts is one of the most useful marketing applications for Shopify. It will automatically send messages to your visitors as soon as a desired product is restocked, instantly increasing your sales and growing your store as a result.
So, how does it work, exactly? It's quite simple - once your customer doesn't find the desired product, they can sign up to receive a message as soon as the item is restocked. The notification can either be sent as an email or an SMS message. And the best thing - Back In Stock: Customer Alerts is extremely easy to use. You can set up the app in under a minute, and the message customization doesn't require any technical knowledge.
Pricing: Try out the free plan or the 14-day free trial to get a taste of the app. Then, choose between the startup plan ($19/month), the small business plan ($39/month), and the medium store plan ($59/month).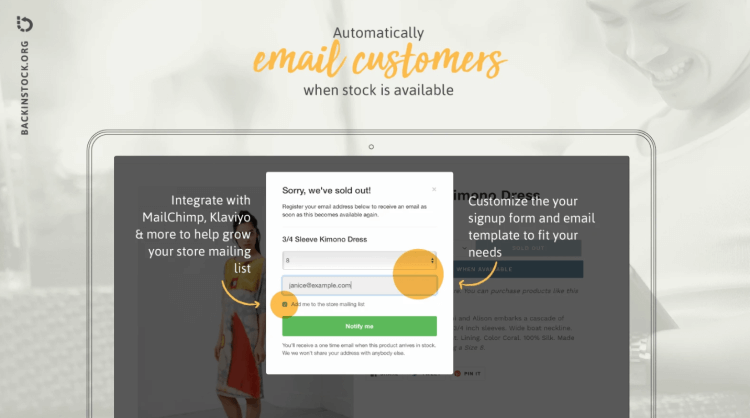 Main features:
Restock messages either as an email or SMS
Instant automated alerts as soon as the product is restocked
Freedom to edit the email template according to your needs
Analytics and reports
5. UpPromote: Affiliate Marketing

It's no secret that affiliate marketing is one of the best ways to successfully grow your business. And UpPromote: Affiliate Marketing is the app to help you with that. That's because it will keep track of your affiliate sales for you.
UpPromote: Affiliate Marketing saves you a lot of precious time when it comes to affiliate management. For example, it includes a registration form that will allow your affiliate or ambassador to sign up for your program in minutes. After that, the person will get a promotional coupon code or an affiliate link to promote your products. Finally, the application will track the sales, giving your affiliates their well-deserved commissions.
Pricing: Get the free subscription or use the 14-day trial period. Then, choose one: Grow Affiliate plan ($21.99/month), Professional plan ($69.99/month), or Enterprise plan ($139.99/month).
Main features:
Tracking clicks and orders that come from affiliates
Creating different affiliate programs with custom commissions
Converting your customers to brand ambassadors
6. Judge.me Product Reviews

Judge.me Product Reviews will help you increase your conversion rates by making it super easy for users to leave reviews about your Shopify products. After all, it's no secret that the more positive reviews you have, the more people are interested in your small business.
So, Judge.me Product Reviews works by letting your customers leave a review directly from email. The users can also upload photos and videos, raising your credibility. Not only that - the application will also allow people to see your rating on Google (as a rich snippet), on Facebook, and other platforms.
Pricing: You can either get the free plan (quite full of useful features) or the paid subscription for $15/month that contains even more great stuff.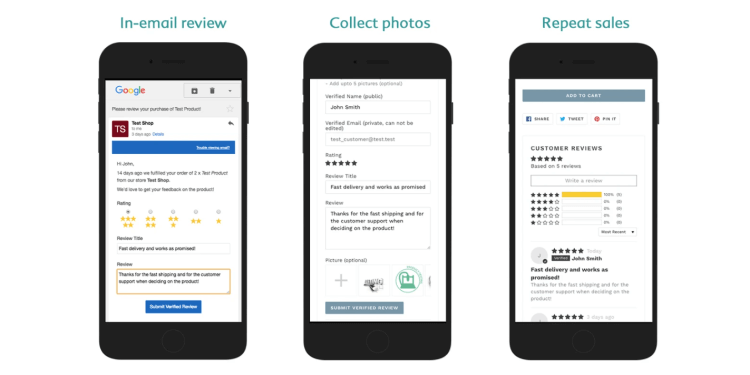 Main features:
Easy review collection directly from email
Photo and video reviews
Importing existing reviews
24/7 customer support team
7. SEO Booster ‑ SEO Marketing

If handling your Shopify store's SEO processes by yourself sounds like a nightmare, then SEO Booster ‑ SEO Marketing is the app you desperately need. It will help you effortlessly boost your Google visibility, gather more potential customers, and understand your shop's performance better by providing you with detailed SEO statistics.
Shopify rating: 4.8 ★
Price: From $39/month
Free trial: Yes
Shopify app link: Get SEO Booster
When it comes to features, SEO Booster ‑ SEO Marketing is really generous. I especially like how it scans your website and detects various SEO issues, advising you how to fix them. The application also lets you integrate Google Analytics, get a glimpse into your website's SEO health, and have a chat with an experienced SEO specialist. This is truly one of the best marketing apps for Shopify in 2022!
Pricing: Take the free plan to get a taste of the application. Alternatively, you can invest in the Pro plan ($39/month) or the Unlimited plan ($79/month).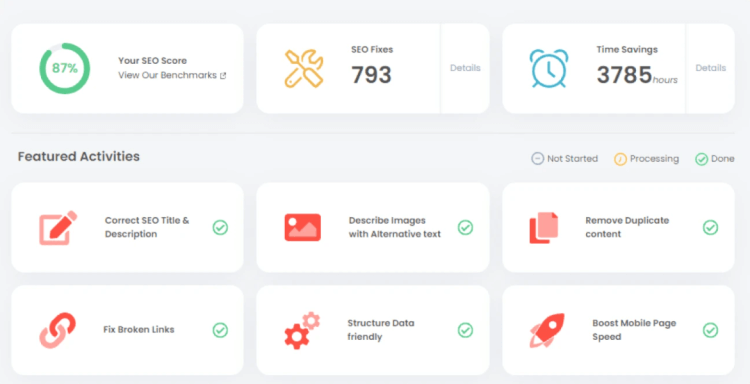 Main features:
Detailed SEO health reports
Website SEO element optimization
24/7 live chat support
8. Omega ‑ Multi Facebook Pixels

Omega ‑ Multi Facebook Pixels will make it much easier to implement Facebook pixels into your e-shop. In other words, the app will let you know how well your advertisements perform and how many conversions they generate.
With a single click of a button, the application will install Facebook pixels onto your site - as many as you want. This feature will be especially useful to you if you use Facebook ads, as it will track their performance for you. And the best part - there is no coding knowledge required!
Pricing: Try the 7-day trial with full features. Then, subscribe to the Growth plan for $8.99/month (each additional Conversions API costs $3).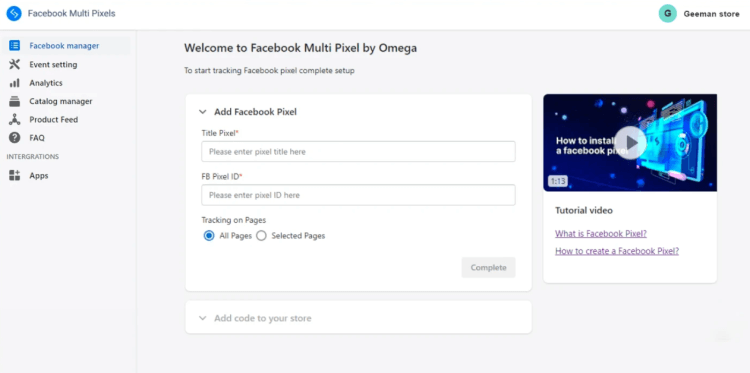 Main features:
The possibility to use multiple Facebook pixels
Tracking specific behaviours
Overcoming ad blockers and browser privacy settings
User-friendly and easy to use UI
9. Better Reports

Do you want to know everything there is to know about your store? Then, Better Reports is the marketing app for Shopify you need. It will provide you with 60+ different reports on your business metrics including your sales, affiliates, and inventory.
Shopify rating: 5.0 ★
Price: From $19.90/month
Free trial: Yes
Shopify app link: Get Better Reports
Better Reports allows you to build custom reports (so that you can select the information that is actually useful to you) and share these reports via various channels. As for the actual data, it can include your best-selling products, help you track orders as well as inventory levels, and identify the profitability of your items.
Pricing: Start with a 14-day free trial. Afterwards, choose a plan according to your current Shopify plan ($19.90, $39.90, $149.90, or $299.90 a month).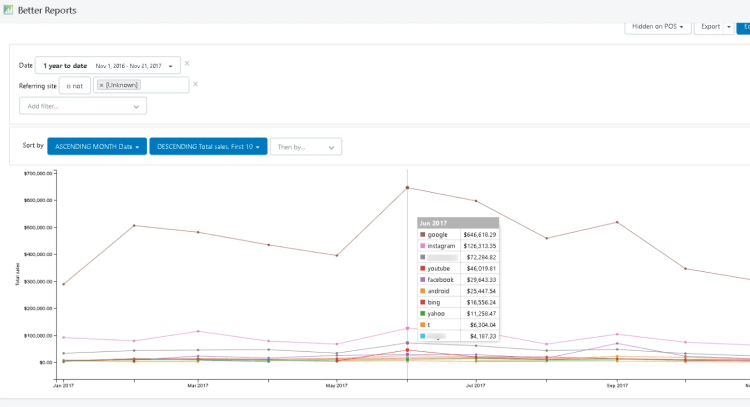 Main features:
60+ built-in reports
Tracking all business metrics
Customizable reports
Automatic report sharing
10. Flits: Customer Account Page

Do you want to help your customer keep track of their order history, recently viewed items, wishlists, and other details that would make the whole shopping experience more personalized? In that case, you should consider getting Flits: Customer Account Page.
With the help of this Shopify marketing application, each of your users will have their own account page with all the necessary information. This includes general profile info (like phone number), the delivery address, item returns and exchanges, and bought items. Flits: Customer Account Page even lets you create custom loyalty programs in order to generate more purchases.
Pricing: Start with a 30-day free trial for the plan of your choice. Then, continue with your selected subscription - Basic ($4.99/month), Business ($19.99/month), or Enterprise ($29.99/month).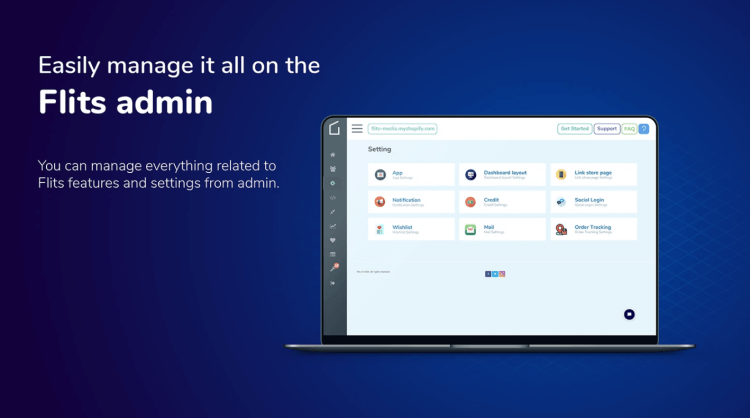 Main features:
Customizable user account pages
Customer reward programs
Personal details are saved automatically
How we tested these Shopify marketing apps
Selecting the very best Shopify applications for marketers was no easy feat. So, this is the criteria we used in order to get an app on this list:
Smooth experience. Believe it or not, there are lots of Shopify apps that are extremely buggy or simply don't work as intended. For this reason, we selected only those applications that are not only easy to use, but also deliver what has been promised.
Useful features. A good Shopify marketing app should help you manage your store and attract more customers. Thus, we selected the applications that we deemed actually useful, offering versatile features for your business.
Customer reviews. If an application is worth a download, it will appeal not only to us, but also to everyone else who's used it. For this reason, we read as many user (and professional) reviews as possible to determine the true fan-favorites.
Why do I need a marketing app for Shopify?
Getting the right Shopify apps will help you grow your eCommerce shop to the next level. You see, good marketing applications will not only give you more free time on your hands - they will also increase sales, give you useful insights, and provide you with features that you didn't even know you needed.
Some Shopify apps, like Firepush, will boost user engagement thanks to automated push notifications. Others will help you manage your marketing campaigns, personalize user experience, handle all the needed SEO to elevate your store rankings, or increase your brand awareness thanks to attractive affiliate programs.
In any case, getting the right Shopify marketing apps is a must for any e-shop owner.
Summary
Choosing the most useful Shopify apps can be difficult - luckily, you don't have to do it alone. Reading the short reviews included on our list should give you an overview of what to expect from different applications, creating a clear vision of what your business needs.
Consider trying out some of the winners like Firepush, Vitals, or Tidio in order to see how a simple app (or even its free version!) can significantly increase your visibility.
FAQ
What are the best marketing apps for Shopify?
Some of the best marketing apps for Shopify are Firepush (which sends push notifications via SMS and email), Vitals (that offers 40+ marketing apps in one place), and Tidio (which helps you manage your live chat).
How do I do marketing on Shopify?
One of the best ways to do marketing on Shopify is to invest in some of the best marketing apps that would do the majority of the work for you. However, you can also advertise your eCommerce business via social media platforms or gather affiliates.