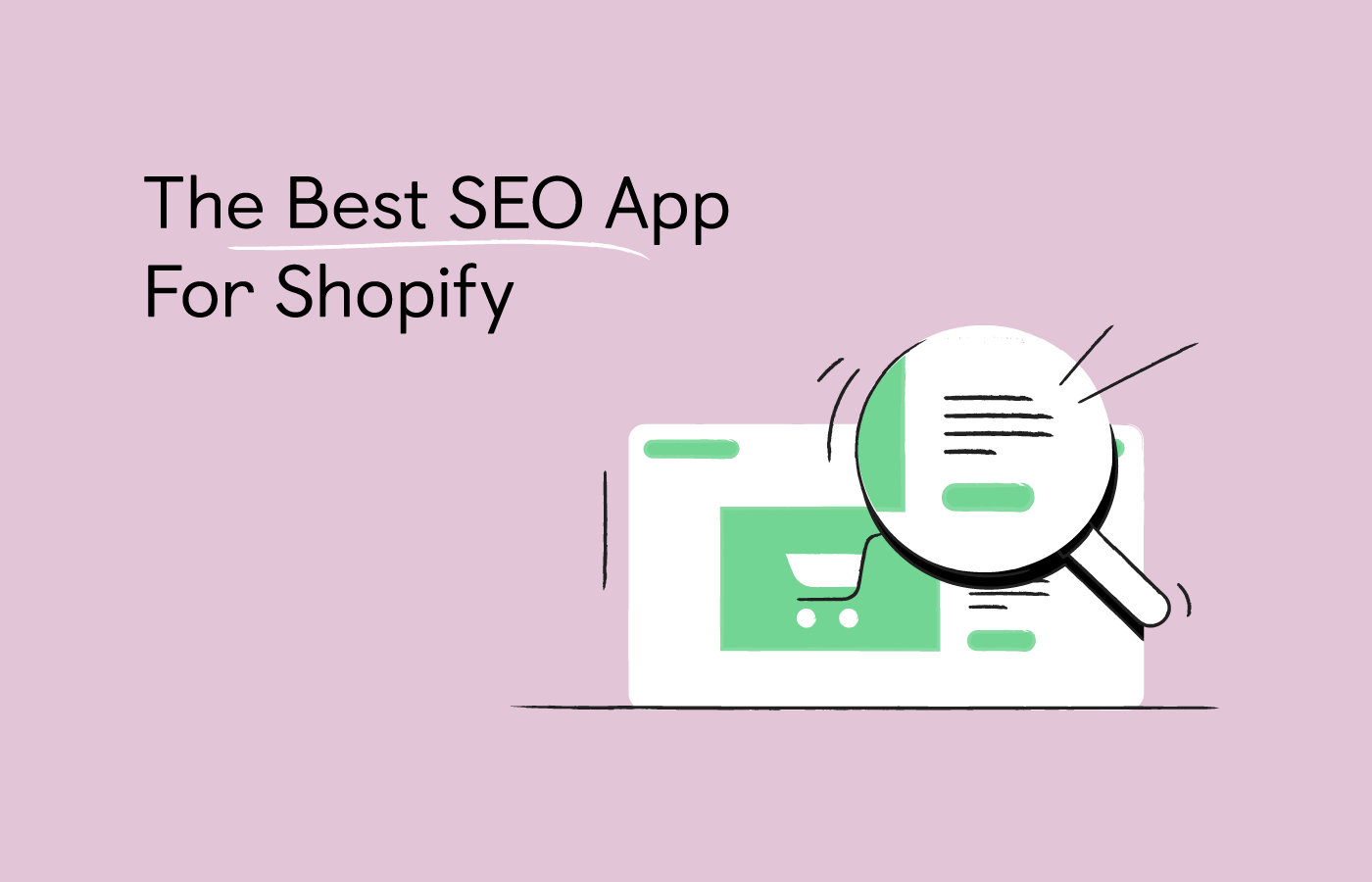 Organic traffic is crucial for growing an eCommerce business – if customers can't find you through Google, you're basically invisible. But in order to effectively boost rankings, traffic, and sales, you need a way to comfortably manage, monitor, and track SEO. The best way to do it is by using a Shopify SEO app – even advanced SEO specialists rely on these tools to make their work easier.
Shopify offers tons of SEO apps and plugins, so how do you choose? In this article, we've compiled a list of the best Shopify SEO tools that'll help you improve visibility in SERPs.
Top 5 SEO apps for Shopify – a quick list:
What to know about SEO apps for Shopify
An SEO app helps you automatically optimize image sizes for better loading speed and reduced bounce rate.
With a dedicated SEO app you can get your entire website's audit report and fix all occurring issues.
By optimizing image ALT tags, meta tags, and JSON-LD structured data, your website will get better visibility in SERPs.
You should get an SEO app because better SEO essentially means better user experience for your customers.
Before you go exploring the apps we've curated for you, just keep in mind that even though the list might seem long, you don't need to get every SEO app. Pay attention to the features – you'll notice that most apps offer similar functionality. Then see what works for you price-wise. A lot of apps offer free versions or free trials, which is great for starting out!
Let's get into it, shall we?
The best SEO apps for Shopify – our detailed list:
Below you'll find a list of the 10 best Shopify SEO apps that we've tested. We've weighed all apps' features, Shopify ratings, and price. Dig in!
1. TinyIMG: optimize images and speed on your website

If your Shopify store images are not optimized, it can negatively impact loading speed. Potential customers aren't going to wait for the page to load – they'll bounce somewhere else. And a high bounce rate is known to be bad for SEO. That's why you have to make sure your page loads as fast as possible. And this is where TinyIMG comes in.
Shopify rating: 4.9
Price: from $1.99/month + free plan
Free trial: No
Shopify app: Get TinyIMG!
TinyIMG allows you to optimize images in your shop without reducing their quality. Visually, you will not be able to tell the difference, but it makes a huge difference in SERPs! You can also optimize all the images automatically, this way saving time. The service also gives you site speed reports and suggestions on how to fix the issues.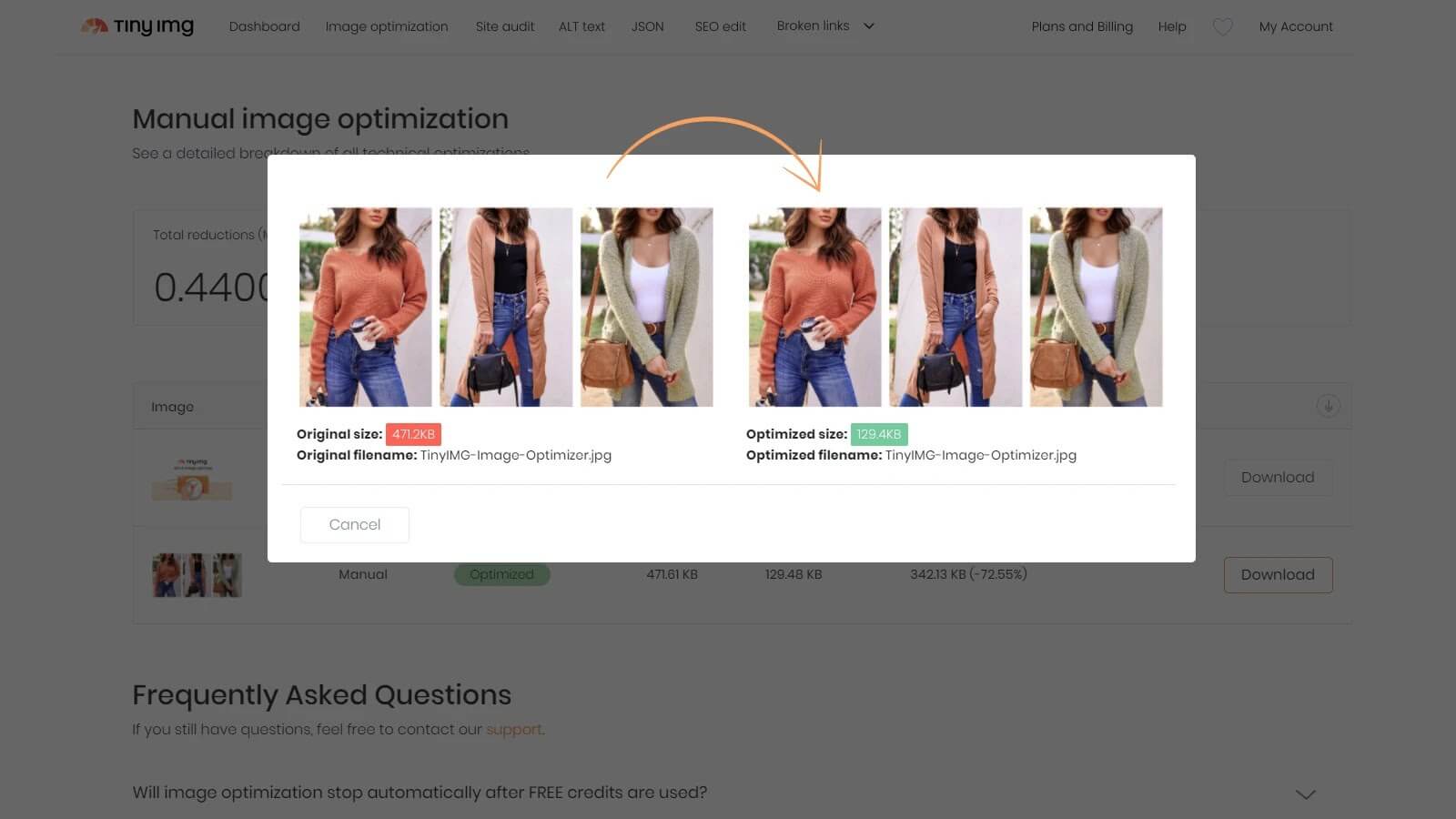 Main features:
Image optimization
Auto-optimization
Site speed issue report
JSON-LD functionality
Metadata optimization
2. SEO Booster – SEO Marketing: all-in-one SEO tool

SEO Booster calls themselves a one-size-fits-all SEO app, helping you not to get lost in the race for the top Google rankings. But how good is it really? Let's get into the details.
Shopify rating: 4.8
Price: from $39/month + free plan
Free trial: Yes – 7-day free trial
Shopify app: Get SEO Booster!
SEO Booster offers an easy-to-understand interface fit for newbies without much technical knowledge. Inside the app, you'll find all fundamental SEO metrics that will help your Shopify store get better search engine rankings.
You'll also be able to do a full site scan: you'll get a report on every issue and instructions on how to fix them. SEO auto features will help with improving organic traffic, website ranking, and speed.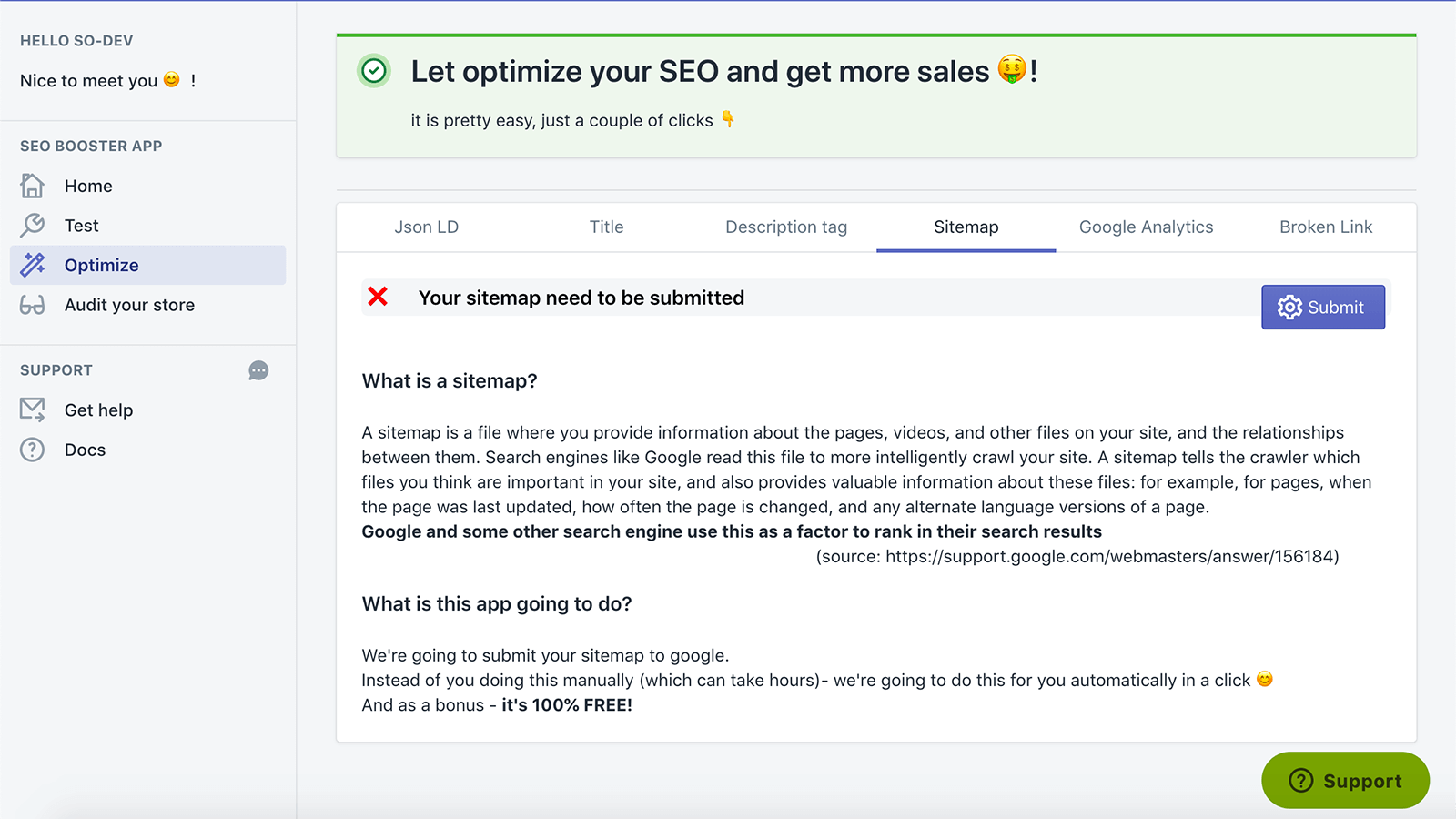 Main features:
Automated SEO features
Full site scan
Google Analytics and Google Search Console integration
JSON-LD functionality
3. AVADA SEO: Image Optimizer: boost SEO with auto-optimization

Automatically optimize your shop's image sizes and ALT tag, meta data, JSON-LD, and sitemaps with AVADA SEO. This feature-rich tool promises to help get better search engine rankings for your Shopify store.
Shopify rating: 4.9
Price: $29/month + free plan
Free trial: No
Shopify app: Get AVADA SEO!
Alongside SEO audit report of your website, AVADA offers image ALT tag optimization and image compression for better loading speeds, as well as Google structured data, automatic meta title and description optimization, 404 redirects, HTML sitemap, and more.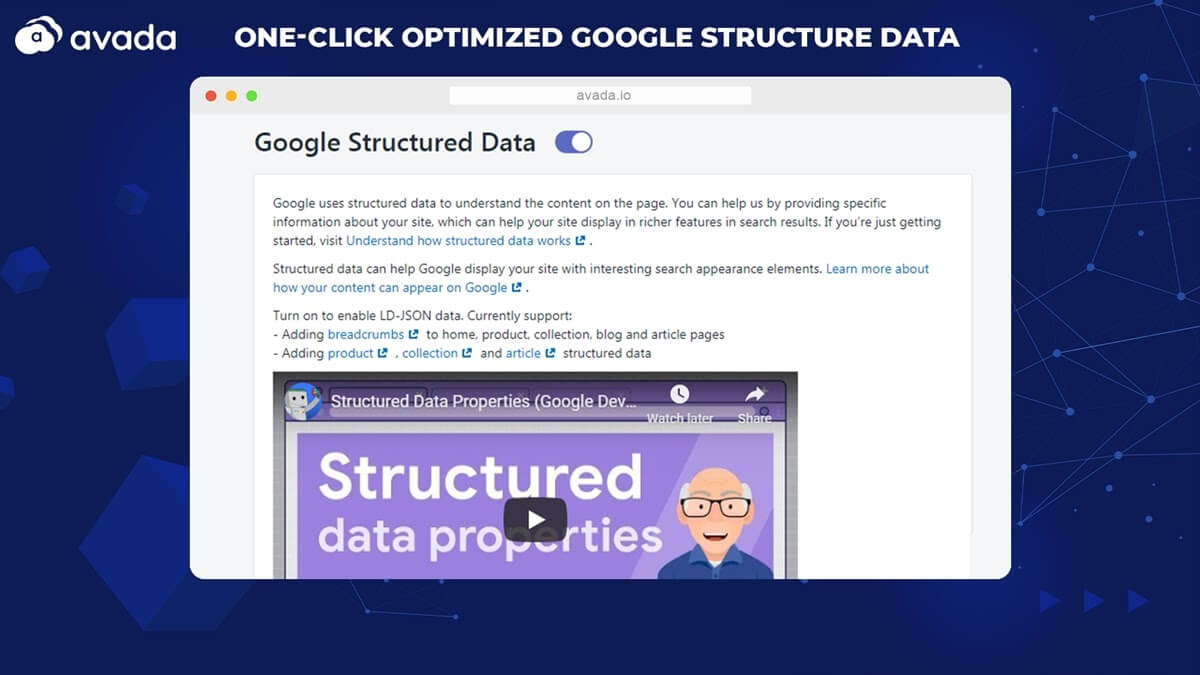 Main features:
Google structured data
Google Search Console integration
One-click automation
Image ALT tag optimization
4. Crush.pics ‑ Image Optimizer: automatically optimize images

Crush.pics not only compresses your images for faster loading speed, but it also renames them in order for search engines to discover them better. It also offers automatic image compression and renaming – all you have to do is tinker with settings once.
Shopify rating: 4.8
Price: $4.99/month + free plan
Free trial: No
Shopify app: Get Crush.pics!
Crush.pics offers an easy way to optimize images in your Shopify store in order to not get slow loading speeds due to large images. The app removes unnecessary data from the image but keeps its quality almost identical to the original one, thus the customers cannot tell the difference.
The app also renames your images and optimizes their ALT tags so your products can be discovered more easily through search engine image search. And the best part? You can easily automate the whole process and let it run in the background while you do some other work.
Main features:
Advanced image compression
Image ALT tag optimization
Full automation
5. Smart SEO: the best SEO app for multi-language support

Drive more traffic to your store by improving all SEO metrics with Smart SEO. The app generates meta tags, ALT tags, fixes broken links, manages your sitemap, and provides structured data to Google (JSON-LD).
Shopify rating: 4.9
Price: $9.99/month + free plan
Free trial: Yes – 7-day free trial
Shopify app: Get Smart SEO!
Smart SEO offers a lot of automated functionality, e.g. creating meta tags. That's especially useful if your store has a lot of product pages since doing it manually takes a lot of time. Need the same done in other languages? Not a problem, since this tool offers multi-language support.
Improve search engine visibility with image ALT tags and JSON-LD structured data. Smart SEO promises a complete structured data: website, store, organization, breadcrumb, ItemList, product, and more.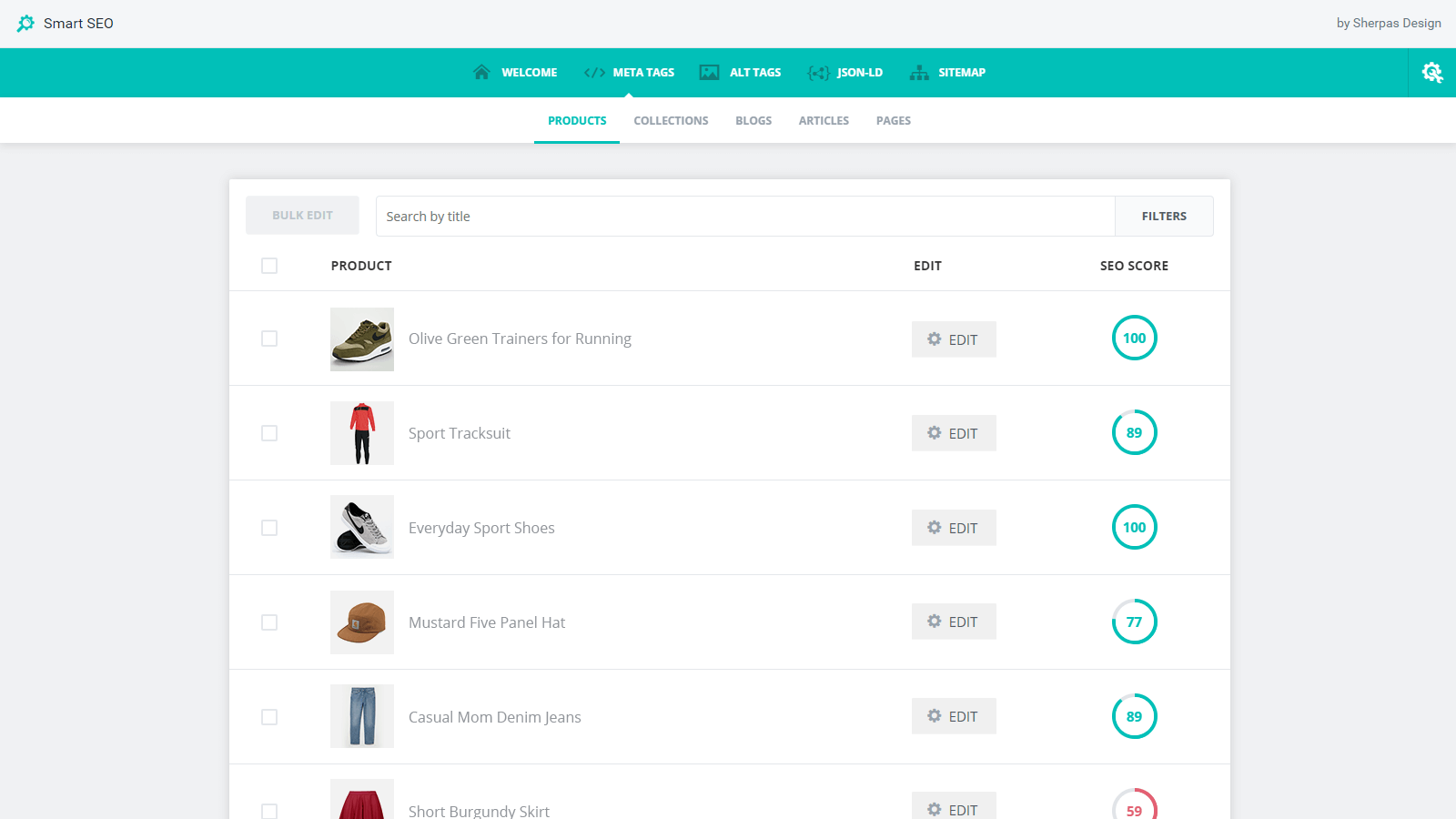 Main features:
Meta tags optimization
Multi-language support
JSON-LD structured data
Sitemap support
6. Ultra SEO: easy meta title and description optimization

With one-click install, Ultra SEO offers a complete control over your shop's metadata, including keywords and author tags.
Shopify rating: 4.9
Price: $10/month
Free trial: Yes – 7-day free trial
Shopify app: Get Ultra SEO!
Since meta title and description are the first thing your potential customers see when they google a product, it's important to keep them organized and optimized. That's what Ultra SEO does – the app takes care of making it easy for you to optimize your entire website's metadata.
You can edit meta tags from your Shopify store's admin panel. The app gives you freedom to take care of titles and descriptions for improved visibility in SERPs.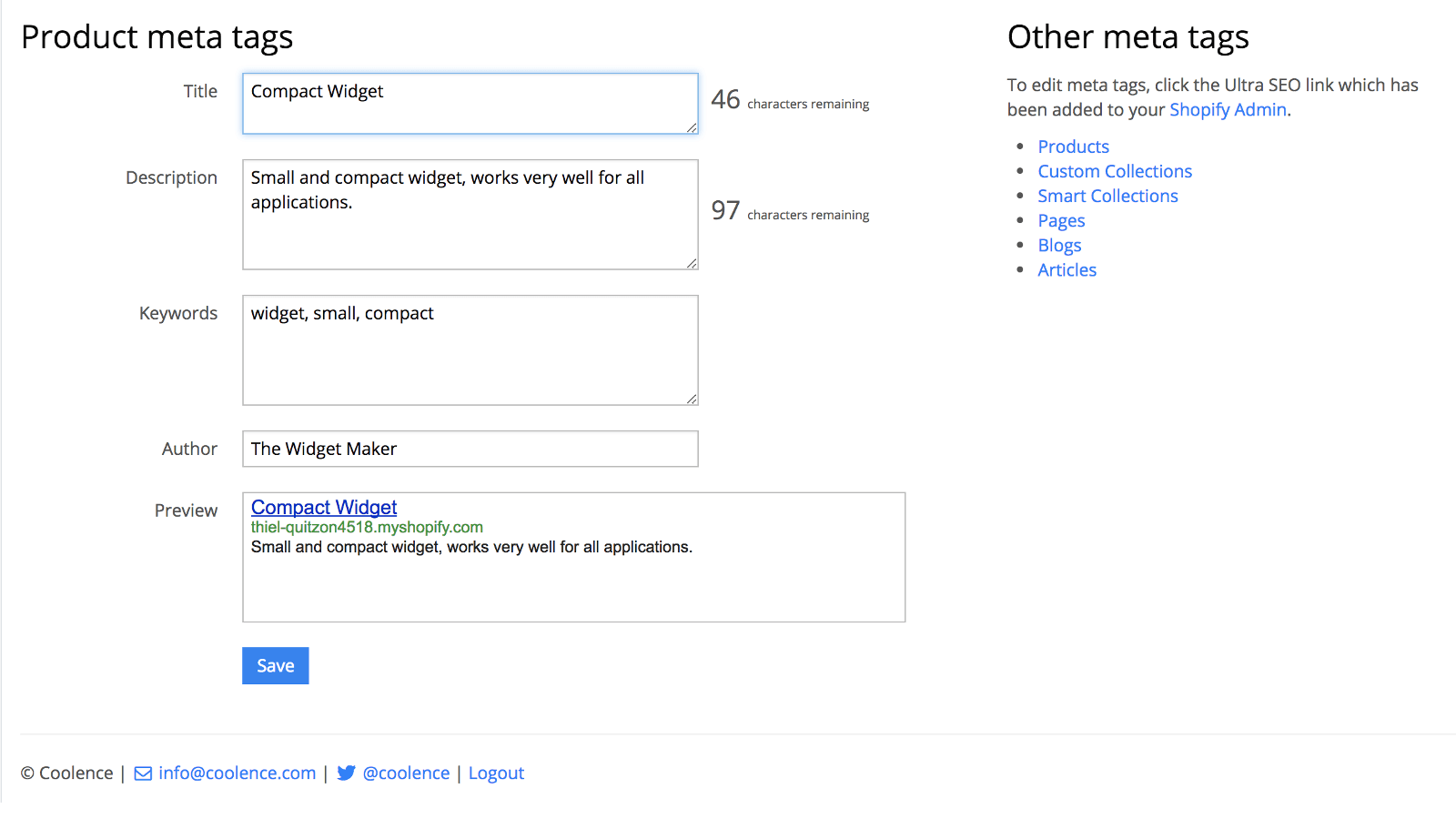 Main features:
Meta tag optimization
No coding needed
Simple interface
7. AMP by Shop Sheriff: an extensive AMP solution for Shopify

AMP allows you to improve your mobile page loading speed and core web vitals, making your Shopify store more visible in SERPs.
Mobile search and online shopping on mobile is not slowing down, that's why you need to optimize your mobile store. AMP by Shop Sheriff allows you to create Accelerated Mobile Pages (AMP) which helps to get more organic traffic, improve site speeds, and bring more revenue.
The app works directly with Google, offers a lot of integrations, and optimizes URL to be SEO-friendly. Leave all the hard work to this tool and get your pages AMPed and indexed in high positions.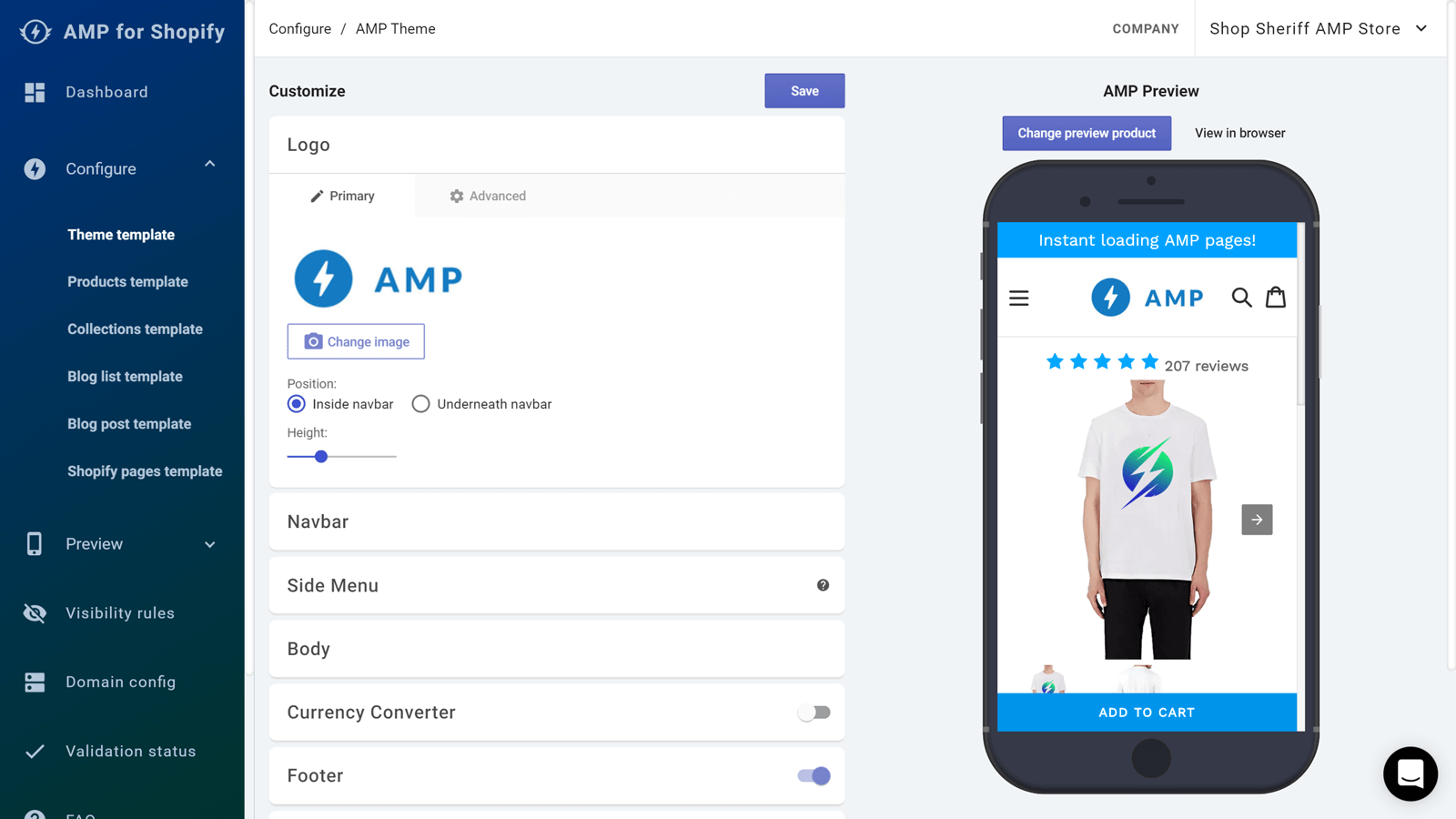 Main features:
Mobile shop optimization
Improved mobile AMP page speed
Intuitive page-builder
SEO-friendly URLs
8. JSON-LD for SEO: get Rich Results for your Shopify store

One of the most effective ways to stand out in Google search results is to optimize Rich Snippets. That's what the app promises to help out with.
JSON-LD for SEO offers to help you stand out in SERPs with Google's Knowledge Graph and earn more high quality traffic which subsequently helps boost conversion rates. Their claim is ambitious – 97% stores see Rich Results within 34 days.
The configuration is easy as well as you'll be up and running the app in a couple of minutes.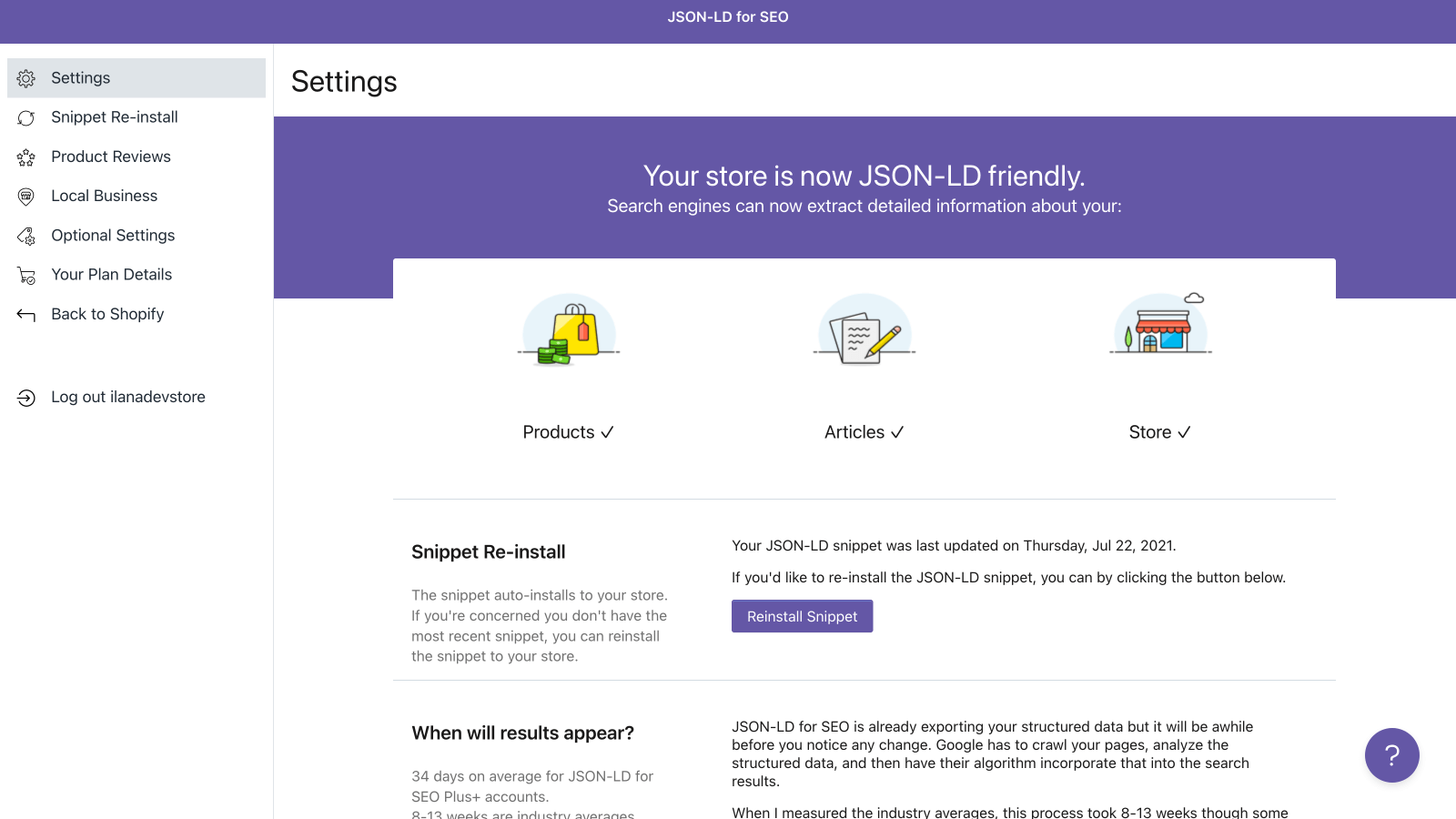 Main features:
Rich Snippet optimization
Improved search click-through rate
A structured data audit
9. Hyperspeed: Extreme Page Speed: ultimate speed optimization for Shopify

Hyperspeed is your key to fast loading speed for your Shopify store. Boost the loading speed by compressing product and theme asset images, as well as reducing other apps' impact on your pages.
Shopify rating: 4.9
Price: $39/month
Free trial: Yes – 7-day free trial
Shopify app: Get Hyperspeed!
This Shopify SEO app focuses on lowering bounce rates and improving conversions through optimizing page speed (mobile and desktop) and Core Web Vitals. The tool takes care of compressing images, JS & CSS minification, link preloading, app script caching and Javascript deferral.
You can tinker with the app all you want because in case something goes wrong, Hyperspeed has you covered, as you can undo the settings with one click.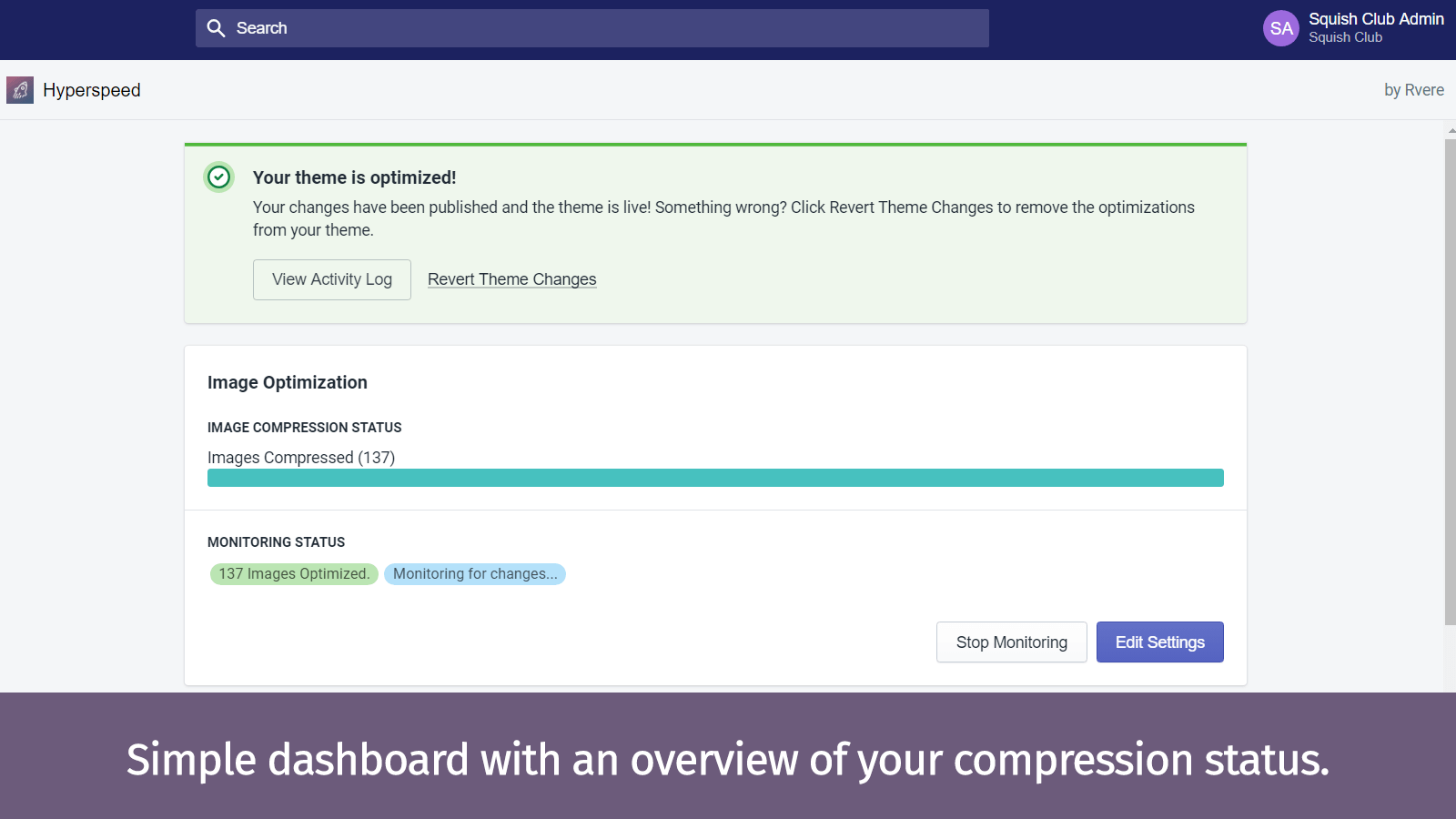 Main features:
Unlimited image compression
Third party app monitoring
JS & CSS minification
10. SEO Get Clicked! SEO Tools: feature-rich SEO tool for your Shopify store

Get your website's SEO audit report and fix the issues using the tools the app provides. Optimize images for better site speed and SERP visibility, as well as boost the traffic with SEO rich snippets.
Shopify rating: 4.8
Price: $19.99/month
Free trial: Yes – 7-day free trial
Shopify app: Get SEO Get Clicked!
SEO Get Clicked offers tools to improve the rankings of your Shopify store, which helps boost traffic and conversions. With the app, you can easily create structured data for your entire website. Make your products stand out by optimizing for Google's Rich Snippets.
If you run into problems with SEO, the app itself, or just have questions, check their educational in-app videos.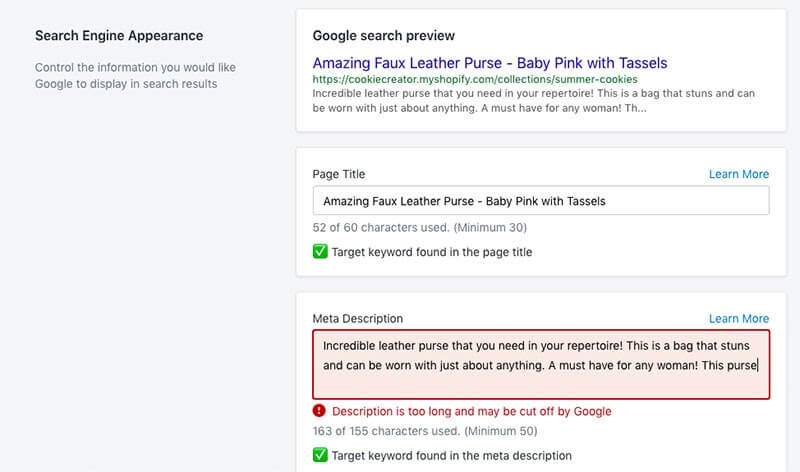 Main features:
Keyword research
Rich Snippet optimization
JSON-LD structured data
Image optimization
How we tested these Shopify SEO apps
In order to find the best SEO apps for Shopify, we looked at a range of criteria. Here are the main qualities all of the products on this list share:
Extensive SEO features. SEO can mean so many things at once, and there's no app that just "does SEO". However, all the apps on this list have one or more killer features, which, when used correctly, can give you a massive advantage when ranking on search engines.
Ease of use. Spending days or even weeks learning, just to master one app? That stinks. All the apps on this list are top-of-the-class when it comes to intuitiveness and ease of use. They work for you, not the other way around.
Solid user reviews. SEO is a marathon, not a sprint. We've done extensive research on all the apps on this list, finding both pros and cons coming from long-time users. If an app is on this list, it has a lot of happy customers.
Why is SEO important for a Shopify store?
Here are some of the main reasons why you should be focusing on SEO for your Shopify store:
A cost-effective way to get new visitors. Other means of marketing can be very effective – but they can also be very costly. SEO doesn't require a lot of initial investment, and can help you get a solid return for your business.
Guaranteed passive income. Marketing works as long as it's active. Advertisements don't last forever, and once they expire, so do your profits. SEO can help you constantly rank on various keywords, giving you plenty of buyers without having to run any extensive marketing campaigns.
Gives you an advantage over your competitors. Ranking high for various keywords on search engines can help you get a fighting chance against the bigger competitors in your market. By finding the right opportunities and capitalizing on them, you can use SEO to grow your business faster.
Better data for your business growth. SEO visitors represent a wide variety of user groups – by having a larger number of search engine visitors, you can get valuable data for your Shopify store. Knowing what your visitors like and don't like can be incredibly valuable as you move on to scaling your business.
Recommendations for optimizing your Shopify store
Looking to use SEO tools to improve your Shopify store? Here are some of the main things you should be going for:
Keyword research. You can't begin your trip if you don't know where you're going. Before setting off, you need to know the keyword for your business to target – so your SEO attempts don't go to waste.
Keyword optimization. With keywords on your mind, it's time to optimize. Look for the opportunities to improve your existing content by making it more search engine-friendly.
Content for all your pages. If a page can be found on Google, it should be ready for Google. Don't leave your valuable pages empty – write content that's helpful to your reader, and easy to understand for the crawler bots.
Blogging. It's an excellent way for you to gain credibility in the topic, and attract some new buyers. Informational topics not only impress your readers – it also makes your page an authority on your business topic!
Eliminate duplicate content. Repeating yourself is rude – especially if you're talking to a search engine bot. Make sure to keep your pages clean and don't have multiple pages targeting the same simple keyword. You can use a Kanban board to keep an eye on that process.
Speed. A fast website is a good website: there's no surprise there. Google unapologetically agrees – it sees speed as one of the key metrics for search engine rankings. Another metric is user satisfaction: and if your site is slow to load, that will go down as well. Something to think about, for sure.
Images. Websites full of media look good on the human eye – but might look bad to the cold and calculating crawler bot brain. Fast-loading, fully-compressed images complete with relevant alt tags can help you get the best of both worlds – resulting in high search engine rankings.
Internal linking. Internal linking is a good way to let your visitors (both human and bot variety) know which of your pages have connecting, relevant topics. By maintaining a smart internal linking structure, you'll give your site the best fighting chance to rank on your desired topics.
Hard to keep up with all of this? Apps on this list might help you with some of these issues right off the bat. See how they can help you optimize your store to reach the top of search results pages.
What about free SEO apps for Shopify?
Free SEO apps are good for starting out, or for testing a specific platform – but if you're serious about SEO, you should not rely on them.
The reason is simple: free Shopify SEO apps have very limited features. Same way we like to get paid for our work, app developers are also much more interested in getting paid for their products. If you happen to pick a product's free plan, prepare for certain features not being enabled, as well as strict limits of existing features. For example, an image compression app may only work on a highly limited number of files.
This is exactly the reason why several products (as well as many on this list) choose to forego a free plan altogether – and instead offer a limited-time free trial to test out the premium features in full.
Conclusion
Shopify is a great platform for SEO – and with a wide range of custom SEO apps, it can get even better. From more specific tools, such as image optimization services, to versatile all-around solutions, there's plenty to choose from.
If you're less experienced in SEO and still don't know where to start, picking up an all-in-one solution that will give you tips and hints along the way is a great way to go. SEO is not an exact science, it's an ongoing process, and a versatile tool can be a great way to learn everything about it.
Alternatively, if you're already experienced in SEO, and need a specific tool to give you an edge against your competitors, there are excellent tools that do just that as well.
Depending on what you're looking for, TinyIMG and SEO Booster are our best SEO apps for Shopify. They're different in their own right, but can be extremely helpful as you build your store.
All it matters is for you to know who you are and what you're looking for – then, just pick out the right tool, and start climbing your search engine rankings.
FAQ
Which is the best SEO app for Shopify?
The best SEO apps for Shopify are probably TinyIMG, SEO Booster, and Avada SEO. Covering various facets of SEO optimization, they are all-around tools for helping any business rank higher online.
Do apps slow down Shopify?
Apps should not slow Shopify down too much. However, a badly-optimized application can cause issues that might slow your website down. If your Shopify website is slow, try removing applications one at a time – maybe you'll find the culprit.
Is Shopify website SEO-friendly?
Shopify is quite friendly for SEO. It gives you enough freedom to edit just about any facet of your site's code, letting you optimize everything for optimal search results.