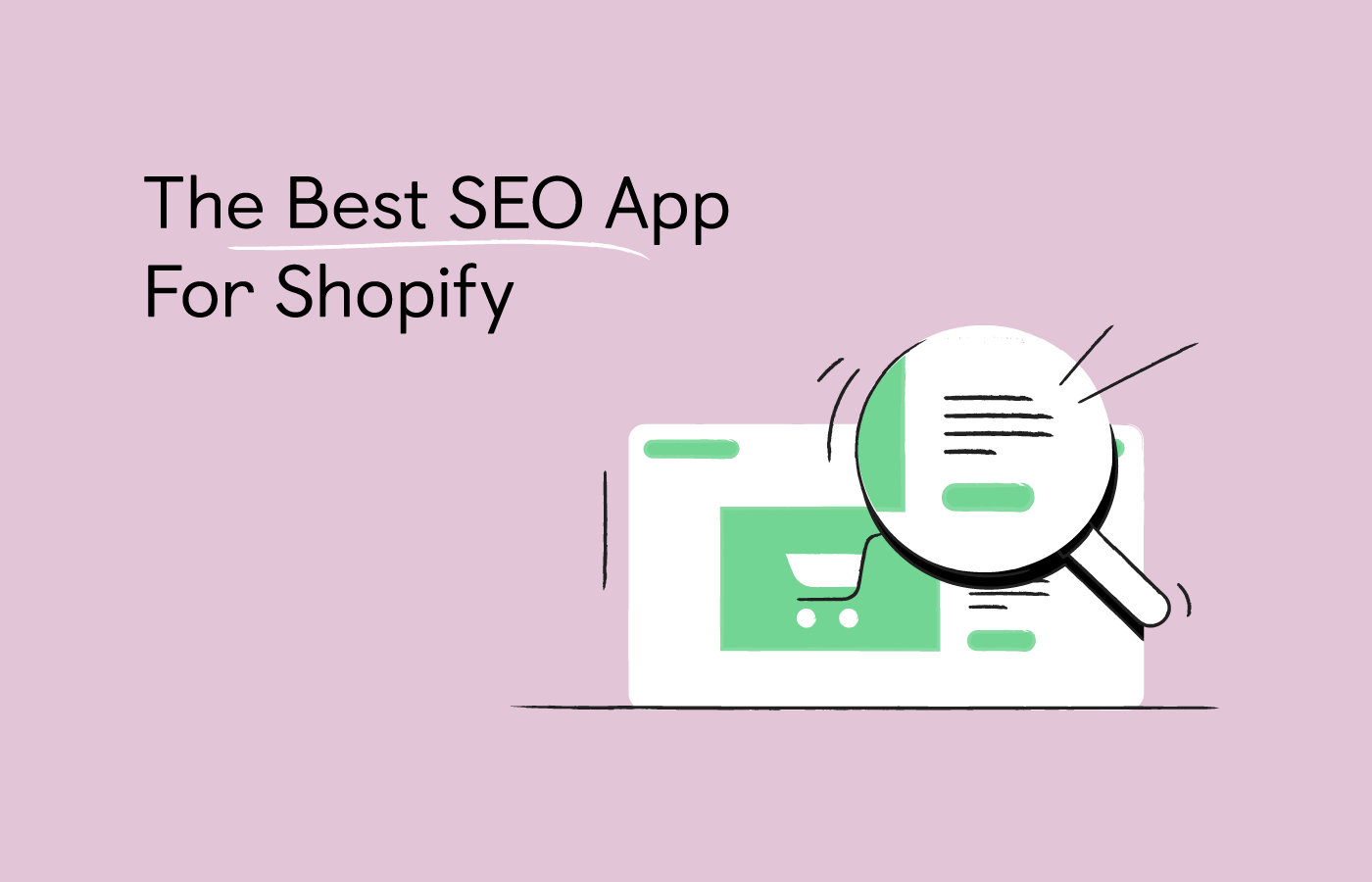 Implementing the best SEO practices for your Shopify store is key to increase the number of visitors and sales.
For anyone who has no experience with SEO, getting started might be tricky. But no worries: with a good Shopify SEO app, you can take care of many things with no experience and put optimization on autopilot.
In this guide:
Tips to find the best Shopify SEO app
10 best SEO apps for Shopify
Not here for SEO apps? Take a look at these instead:
Best SEO Apps for Shopify

TinyIMG is the best Shopify SEO app for image optimization. The app takes care of image compression so your store loads faster. An effective optimization tool ensures that images don't lose quality and look exactly the same.
Shopify merchants rate TinyIMG a high of 4.9 because it's easy to use and optimizes images automatically. Should any user face problems, the app's highly rated 24/7 support team is ready to help.
Best features:
Optimize any visuals on your store manually or automatically
Optimize filenames and alt texts for Google
Convert images from PNG to IMG
Set up JSON-LD (structured data)
Optimize metadata for images
Price: from $0.99/month + free plan
Free trial: No
Ease of use: 5/5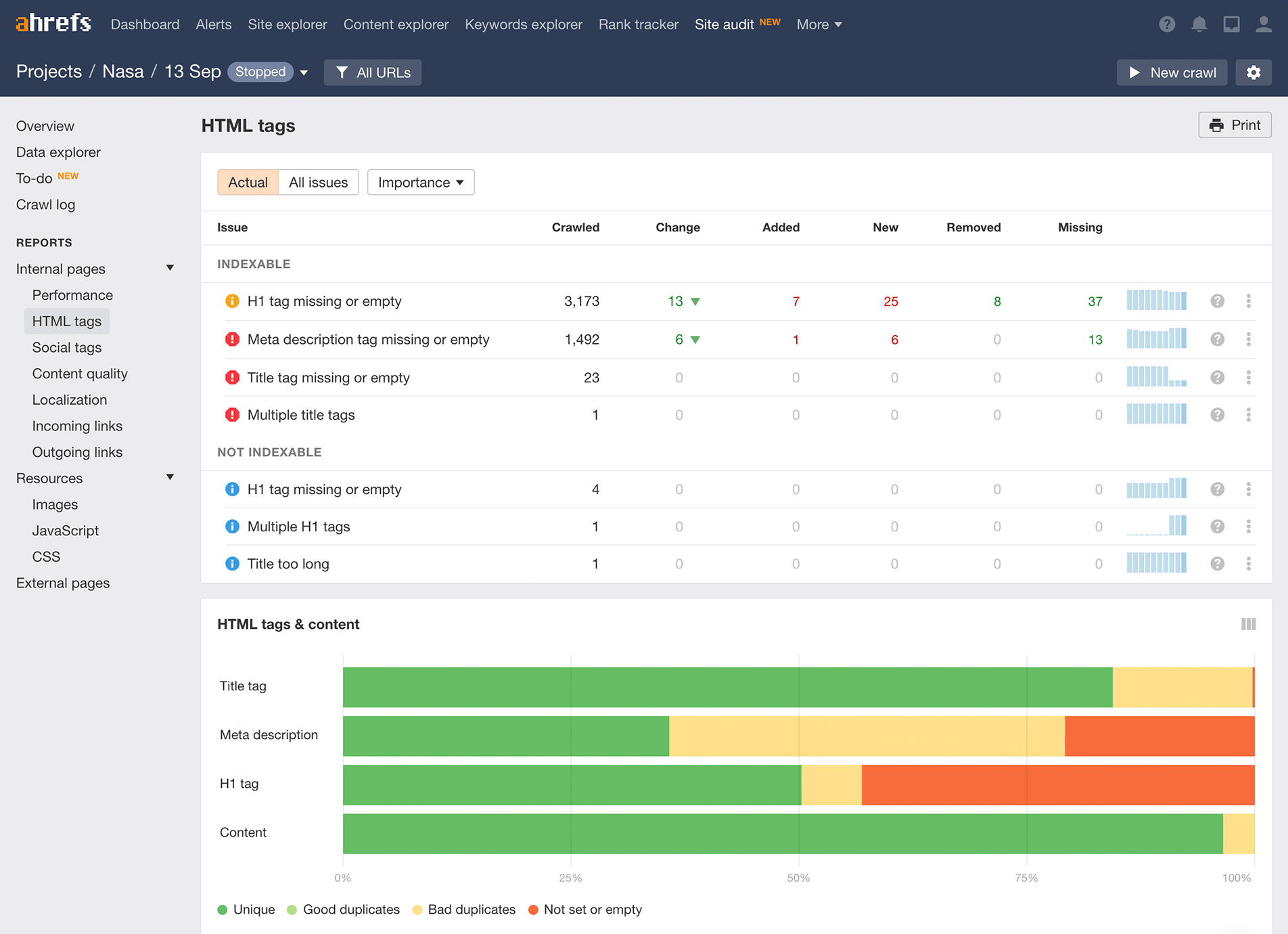 Ahrefs offers an all-in-one SEO toolset designed to take your Shopify store to the next level. There is a tool for keyword research, traffic watch, checker for SEO issues, and everything to ensure a high position on Google results.
Ahrefs is widely used among Shopify owners and content creators. With this best SEO app for Shopify, you'll get a chance to understand your competitors better, avoid their mistakes, and implement the needed practices to grow your Shopify business.
Best features:
Check and find SEO issues with the Site Audit tool
Analyze your competitors with Site Explorer and find their best keywords
Study what your customers are searching on Google and other search engines
Learn from your industry's top-performing content with Content Explorer
Track your ranking progress with the Rank Tracker
Price: from $82/month
Free trial: No
Ease of use: 4/5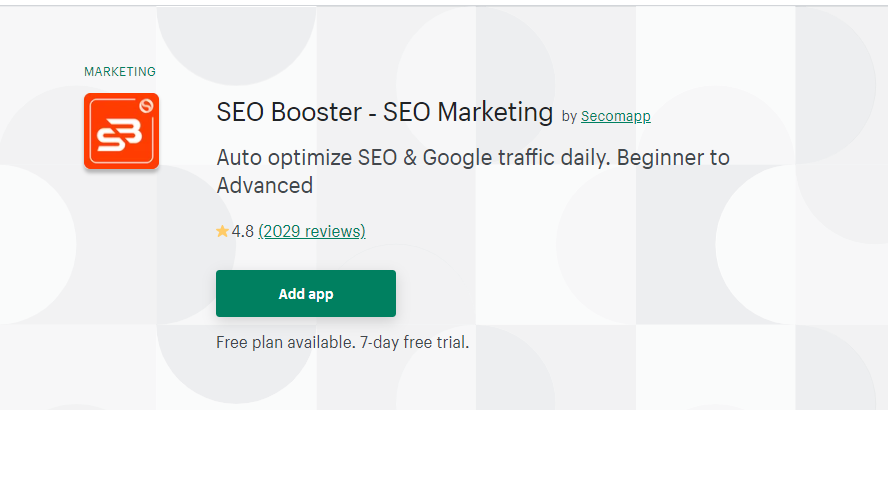 SEO Booster is one of the highest-rated Shopify SEO apps that's an excellent choice for entrepreneurs of all skill levels. The best thing about this app is that it takes over SEO reporting and fixing, you can just have to approve optimizations when required.
Best features:
Find ideas to optimize your Shopify store
Structure your Shopify store data with JSON-LD
Automatically update ALT texts for new images
Redirect broken links
Optimize content for keywords
Competitor Diagnosis
Email Report
24/7 Support
Price: professional plan for $29.99- $79.99/month + free plan
Free trial: 7-day free trial
Ease of use: 4/5
Checking competitors' best practices is always a good idea. Here are 15 Best Shopify Stores to help you discover how others optimize their businesses.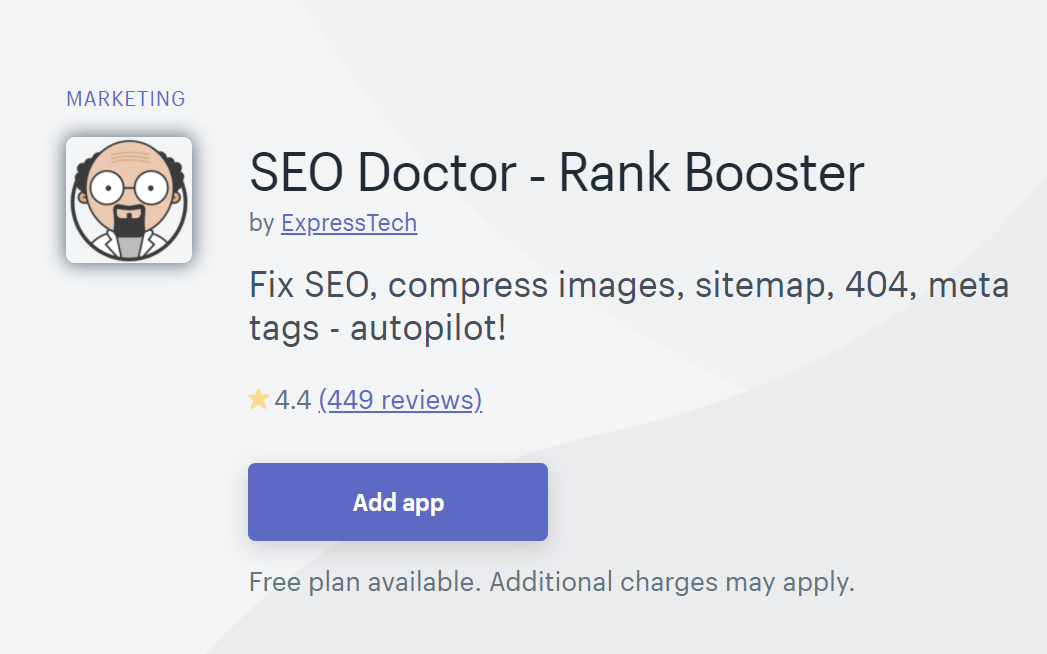 SEO Doctor is a handy Shopify SEO app to fix most issues you might encounter on your Shopify store. The reviews from other store owners suggest that store owners appreciate automation of optimization tasks and useful reporting.
Best features:
Scan your Shopify store to detect any SEO errors
Image optimization to increase store speed
Discovery and repair of 404 pages
Manual SEO optimization (metadata, keywords, search analytics, and more)
JSON LD & Structured Data.
Price: from 10/month
Free trial: 5-day free trial
Ease of use: 4/5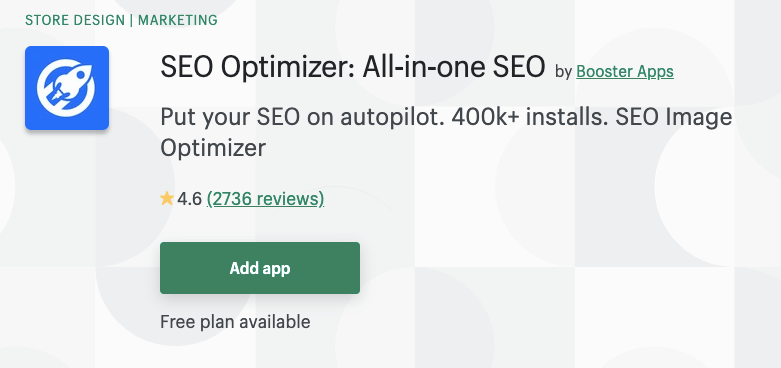 This Shopify SEO plugin checks and optimizes on-site SEO to make sure that a website meets the technical requirements of Google (meta data, image optimization, etc.). One great thing is that SEO Optimizer sends users a weekly report with the SEO status of their store + email updates about problems.
Best features:
Generate image alt texts to increase website speed
Optimize meta titles and meta description in pages for easier ranking on Google
Add JSON-LD to your website automatically
Generate custom URLs with a special tool
Find and set up an automatic redirect for 404 pages
Price: $29.88/month + free plan
Free trial: 5-day free trial
Ease of use: 5/5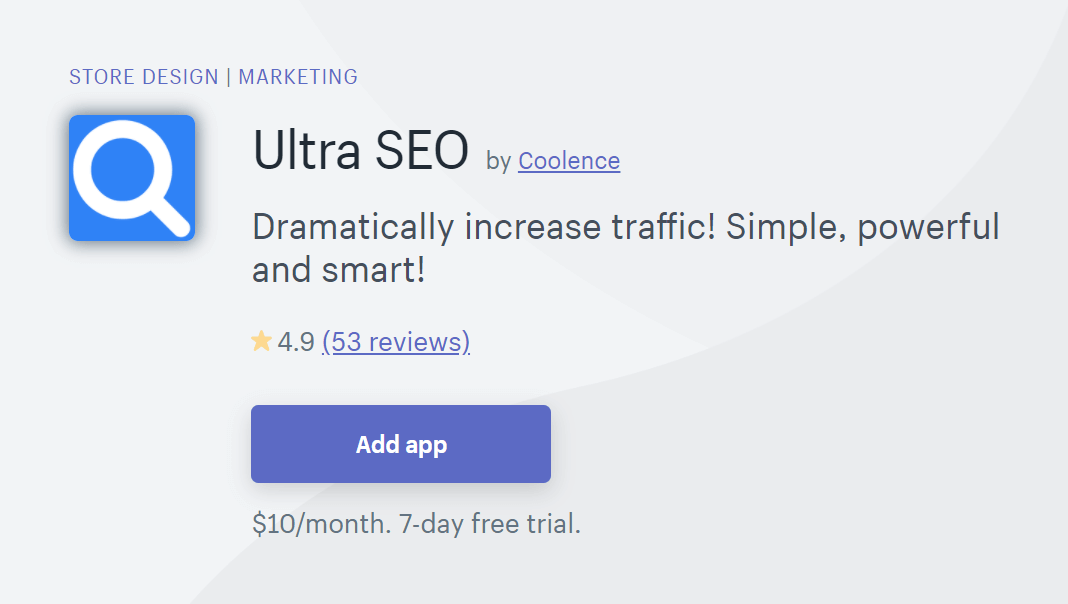 If you're looking for a simple Shopify SEO app to manage shop and product meta data, this might be the one. The best thing: you can manage everything from your Shopify panel, so no need to deal with the store's code.
Best features:
Optimization of store and product metadata from one place
Automatic code updates without manual work
Add keywords and author tags
Price: $10.00/month
Free trial: 7-day free trial
Ease of use: 5/5

Accelerated Mobile Pages (AMP) is a technology that Google has recently introduced to speed up loading time on mobile devices. AMP by Shop Sheriff is one of the top-rated Shopify SEO plugins you can use to optimize your store for this requirement. It's officially recommended by Google, too.
Best features:
Intuitive AMP page builder to create optimized store pages
Conversion tool to make every page into the AMP format
Page URL optimization for AMP requirements
Conversion of any web page media (video, audio, iframes, etc.)
Price: free plan + paid plans from $9/mo
Ease of use: 5/5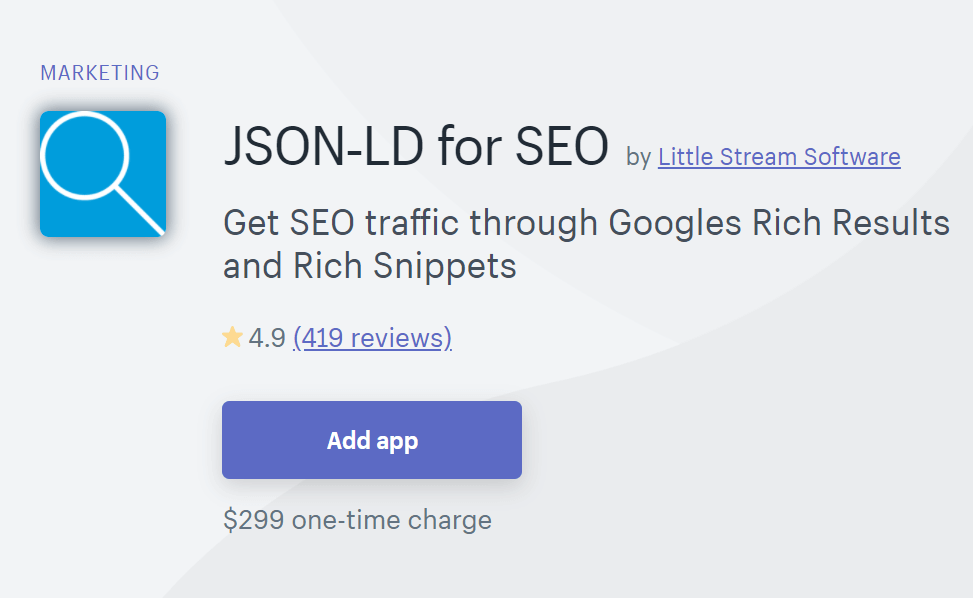 Your Shopify store needs JSON-LD because this technology makes it easier for Google to "read" your content and extract the most important information. This way, you can attract more organic traffic. Taking care of this optimization is possible with a good app like this one
Best features:
Add a special code to every page to help Google recognize its content
Get structured data updated automatically when Google updates its search algorithms
Price: $299 (one-time charge)
Ease of use: 4/5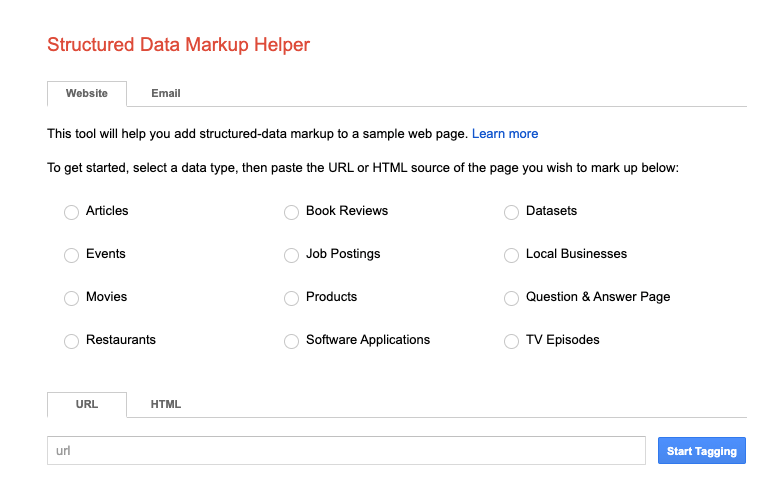 If you are looking for a free JSON-LD alternative, check out Structured Data Markup Helper by Google. The biggest difference between the two Shopify SEO apps is that this one requires some manual work.
Best features:
Add structured data markup to a sample web page
Organize your site's data structure for easier understanding by Google
Price: free
Ease of use: 4/5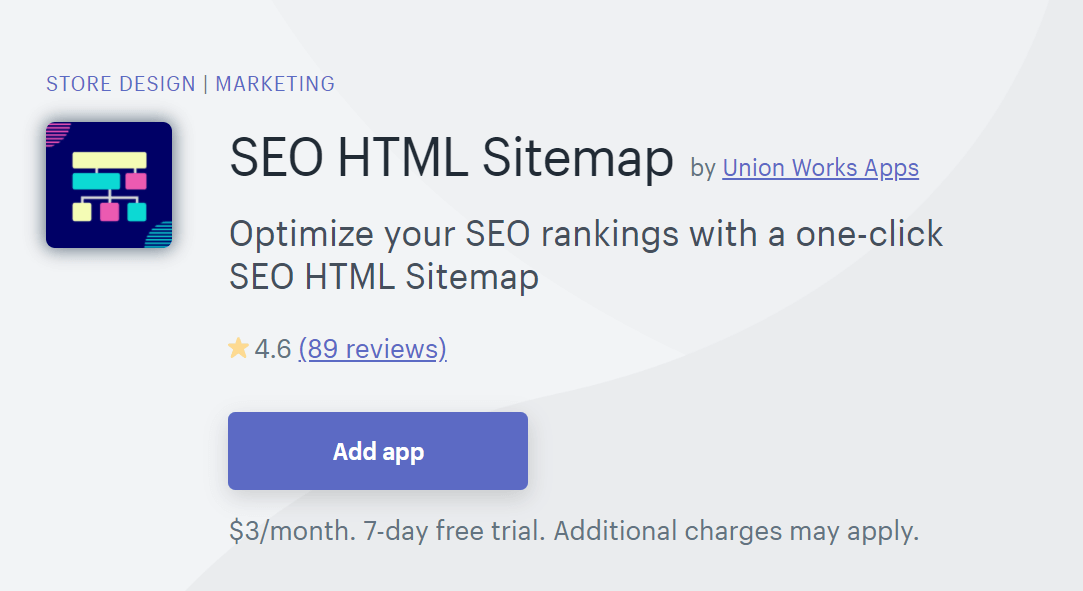 The SEO HTML Sitemap app provides an HTML sitemap page that gets updated every time you add new products, collections, or content. Doing so ensures that your site is 404 error-free, which is a plus for SEO.
Best features:
Generate a sitemap for your Shopify store automatically
Make automatic sitemap updates
Submit a sitemap to Google
Price: $3/month
Free trial: 7-day free trial
Ease of use: 4/5
Shopify SEO Apps: Final Thoughts
Shopify SEO apps are important for every store owner who wants to boost sales and increase brand awareness. The best thing about using the apps is that they take care of many processes automatically, so there's no need for major time investments.